Not too long ago I showed off our finished bathroom shower!  You can read all about it and see all the photos HERE.  After all our hard work tiling the shower my husband and I knew we needed to choose a shower door that would compliment the space and not hide the beautiful tile.  So it took us a little time to find and purchase a new shower door.  But it is so beautiful and was well worth the wait!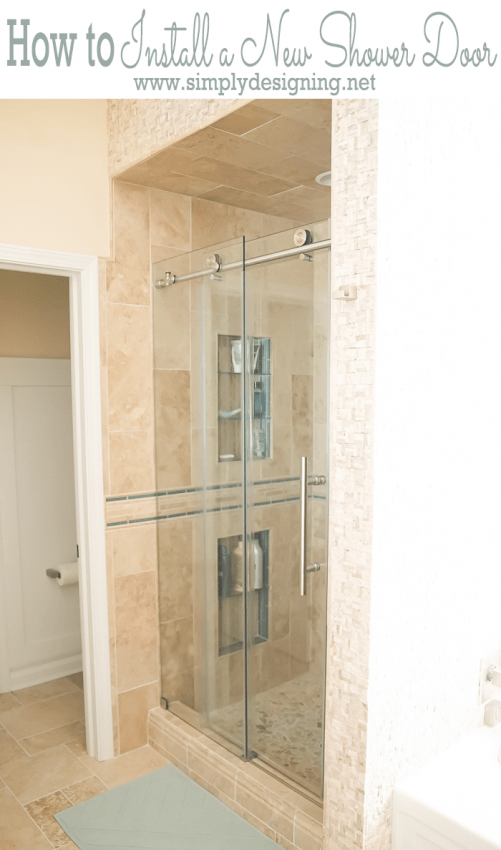 Isn't it just so beautiful!  But just so you can fully appreciate what we were dealing with, we had a beautiful, newly custom tiled shower, and a $5 shower curtain.  Yup, we really did!  And here is the proof...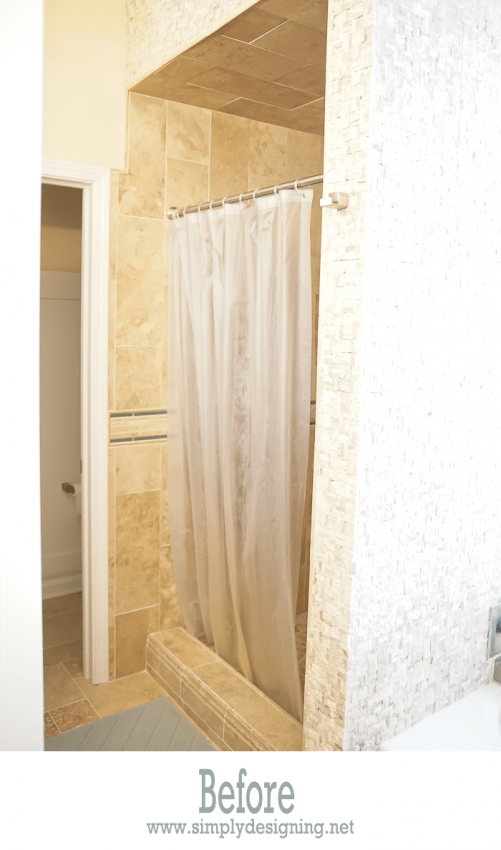 Yikes that's bad.  We are so grateful that Westside Wholesale offered to partner with us on purchasing a new shower door at a great price so a big thank you goes out to them today.  And after spending a few minutes on the phone with their customer service line, I was able to select and order the new glass door for our shower!  (See the door we purchased HERE.)  (As a side note, they were so helpful and incredibly nice to talk to over the phone.)  We were so thrilled when this glass shower door arrived at our home!
It took two of us to carry the glass door panels inside the house and upstairs.  The glass was super heavy and of course very fragile, so we went slow. Because of this, it also took both of us to do the installation.  Having a second set of hands and eyes is important for a job like this.
Please note that all shower doors may be installed differently, so it is important to follow the manufacturer instructions when choosing to install a new shower door yourself.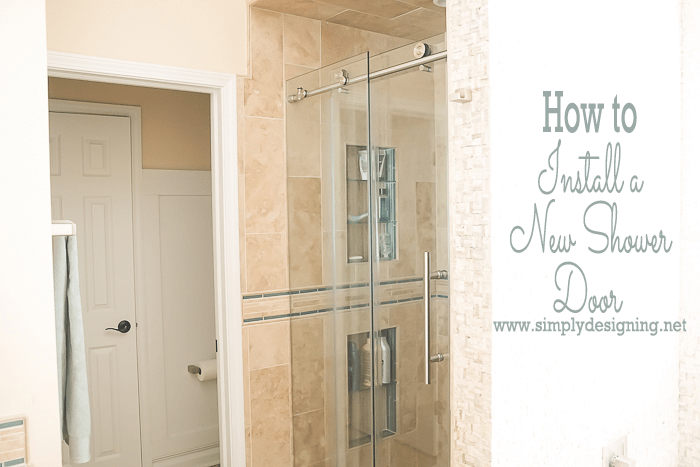 How to Install a new Shower Door
The shower door we chose has one stationary piece of glass and one sliding door.  The first thing we did was to measure the exact width of our shower opening and trim the support bar to fit.  We did this with a compound miter saw and a metal cutting blade.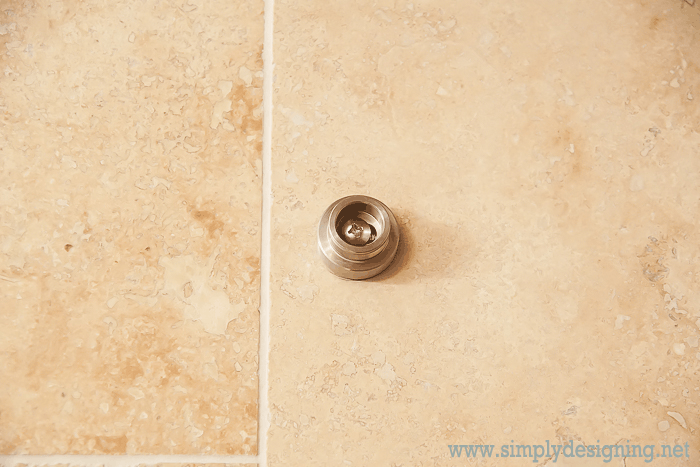 Then we attached the support bar to the stationary piece of glass and set it in place to mark the locations of the support bar mounts along the top and floor mounts along the bottom.  We used a level to make sure the support bar was horizontal and the glass was vertical.  It was important to make sure the glass was parallel with the vertical grout lines in the shower tile too.  Then we drilled holes for the mounts and secured them in place.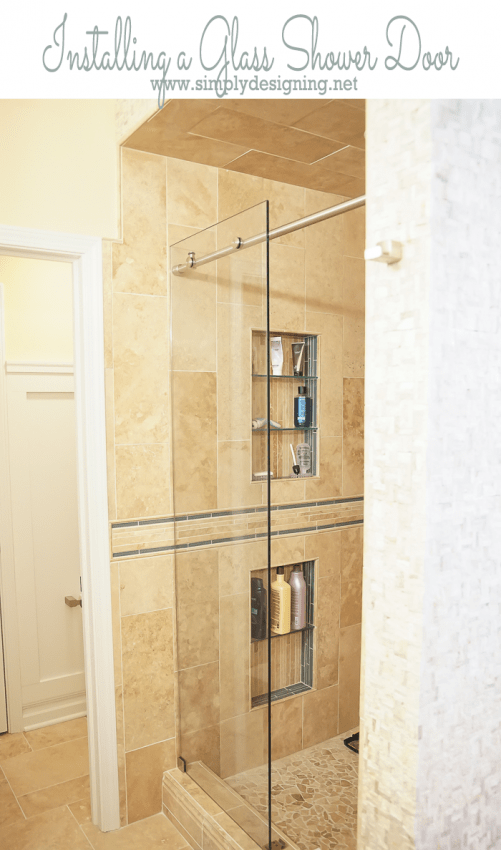 After that we followed manufacturer instructions to install the stationary piece of glass by securing the support bar and glass to the mounts.
Then we assembled and hung the sliding door in place and added all the finishing touches like the water strip and the handle.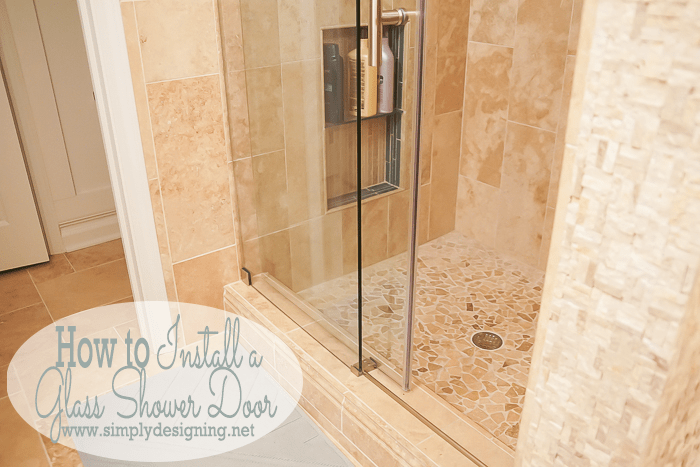 I love how thick this glass is!  And it is so well made, this shower glass door is amazing!  It glides so smoothly and looks stunning.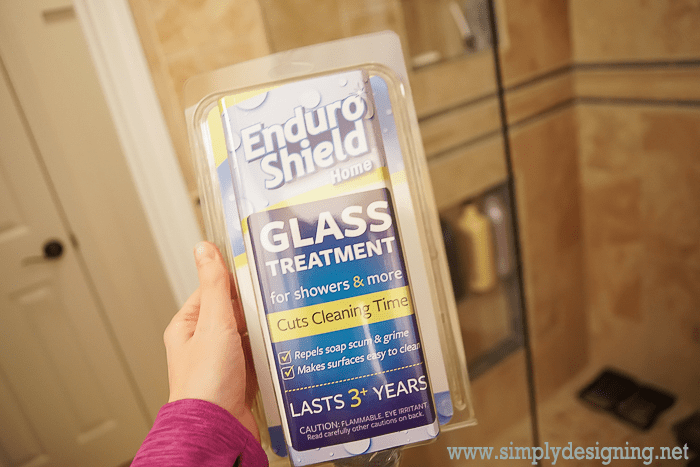 Because we have hard water I wanted to protect my glass from too many hard water stains.  I had received this sample of EnduroShield after a blog conference last year and was thrilled to finally put it to good use!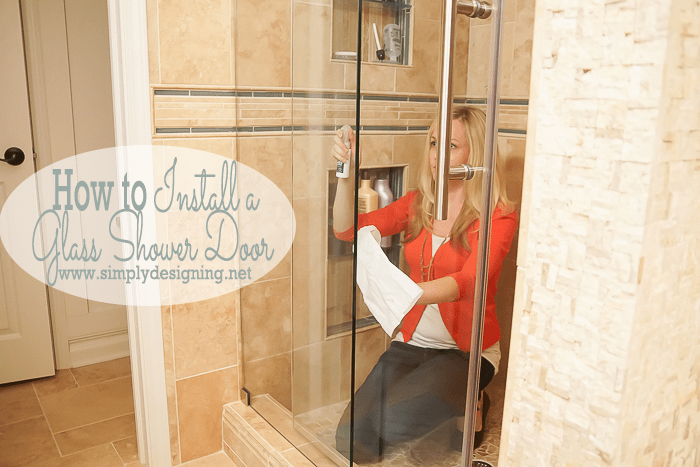 It was really simple to apply the shield to the glass doors and after using our shower with our new glass doors for a few weeks, I am really happy to say I have a lot less hard water stains then I normally do and it makes cleaning a cinch!  This really has helped protect my glass which I am truly grateful for!
So, just to remind you what a BIG difference it makes to install a new shower door versus having a $5 shower curtain up...here is one last before and after: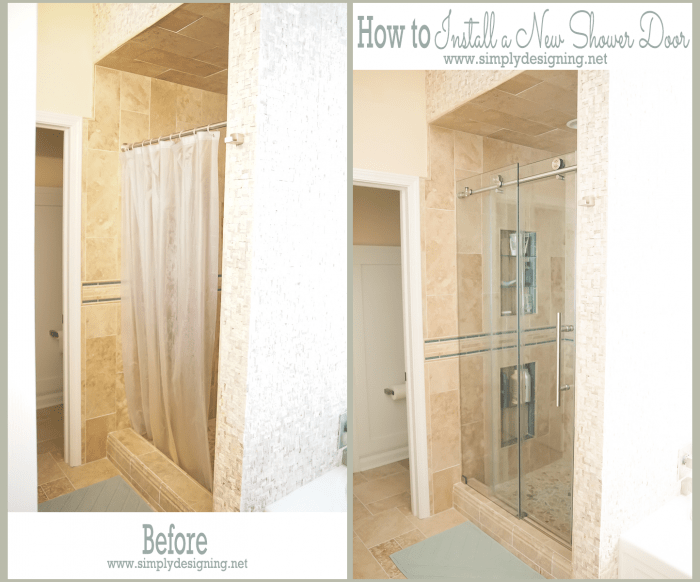 Seriously!  Isn't that stunning!?!?  We love how the tiled shower and the shower door look and are excited to share the next step in our bathroom make-over process with you really soon!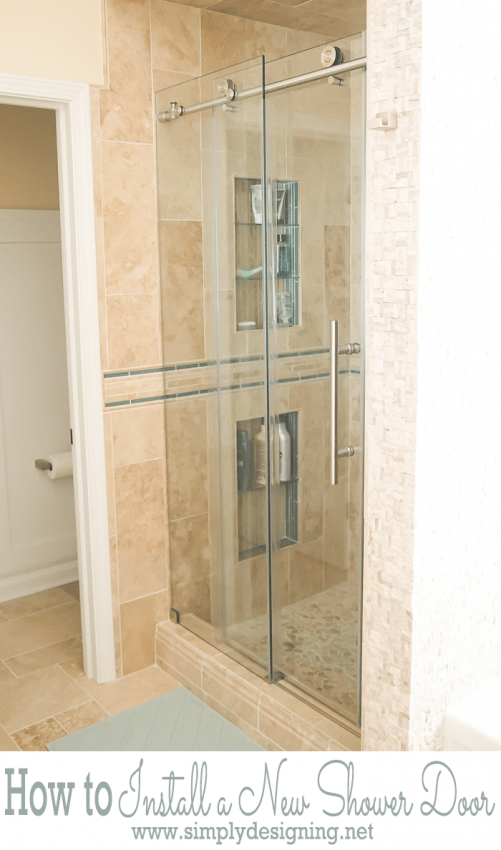 Check Out Our Master Bathroom Remodel Series:
Part 1:  Master Bathroom Inspiration
Part 6:  Installing Moen Posi-Temp® Shower Fixtures
Part 7:  How to Install Radiant Heated Tile Floors
Part 8:  Install New Tile Counter Tops
Part 9:  Install a Tile Accent Wall
How to Install a new Shower Door
How to Install new Bathroom Mirror Frames (in about 10 minutes!)
DIY Framed Mirror with Hidden Jewelry Organization
Please note that I am not a professional.  I am just sharing what worked for us.  As always please use all proper safety precautions and read and follow all manufacturer instructions.  Please note that I am not responsible in any way for any outcome if you try this yourself.  I am not liable for any injury or additional cost or expense incurred.  I always recommend consulting and hiring a professional if needed.  And always be sure to check with local building codes to obtain all permits needed for any DIY project.