A big huge thanks to Moen for sending us product to help make this post possible.
Our master bathroom is nearly complete!  It is beautiful and amazing and I basically want to move into this room and forget about the rest of my house.  Seriously it is the best looking room in my home and it is so relaxing too!  A little while ago we finished installing our beautiful Master Bathroom Tile Counter Tops and Vessel Sinks!  These sinks are to-die-for and the counters and back splash is amazing as well!  I love the corfu blue glass tile accents we added throughout our bathroom.  Well, to complete our sink and counter installation, we installed brand new Moen 90 Degree Vessel Faucets in Brushed Nickel.  And these are simply stunning!  I can't say enough about how beautiful they are!  And they are so well made and durable.  So today I created a fun and short video to show you just how simple it is to Install a Vessel Faucet!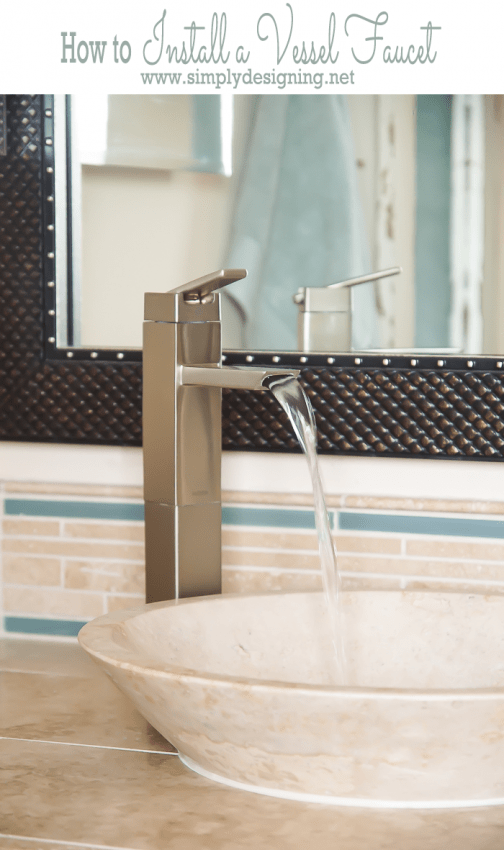 How to Install a Vessel Faucet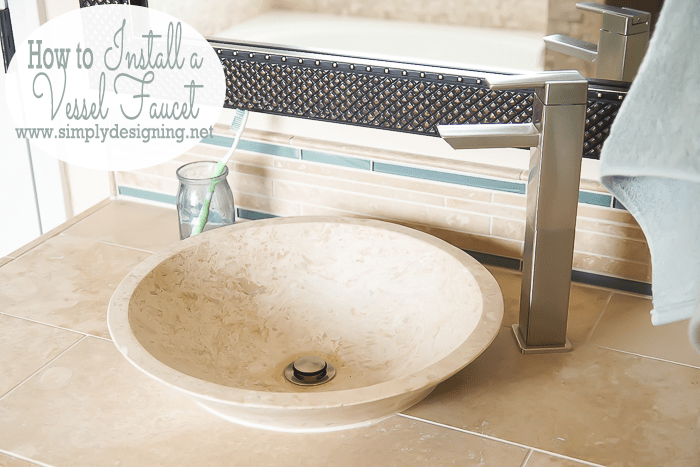 Check out my short 4 minute video below.
See it really is quite simple to install a vessel faucet!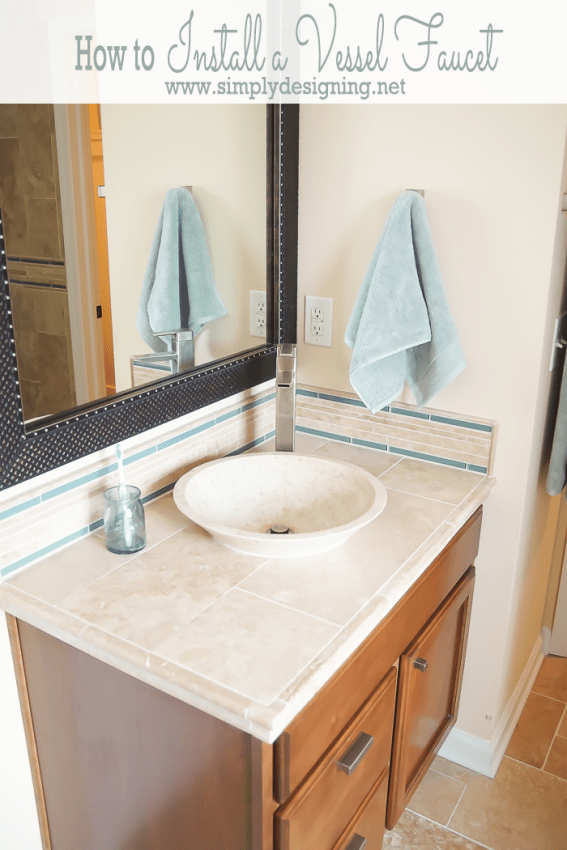 Be sure to check out our previous posts about our bathroom remodel to see the latest details!
Check Out Our Master Bathroom Remodel Series:
Part 1:  Master Bathroom Inspiration
Part 6:  Installing Moen Posi-Temp® Shower Fixtures
Part 7:  How to Install Radiant Heated Tile Floors
Part 8:  Install New Tile Counter Tops
Part 9:  Install a Tile Accent Wall
Part 10:  Install a Bathtub Faucet
Part 11:  Install a Vessel Faucet
How to Install a new Shower Door
How to Install new Bathroom Mirror Frames (in about 10 minutes!)
DIY Framed Mirror with Hidden Jewelry Organization
Please note that I am not a professional.  I am just sharing what worked for us.  As always please use all proper safety precautions and read and follow all manufacturer instructions.  Please note that I am not responsible in any way for any outcome if you try this yourself.  I am not liable for any injury or additional cost or expense incurred.  I always recommend consulting and hiring a professional if needed.  And always be sure to check with local building codes to obtain all permits needed for any DIY project.