This post is sponsored by the maker of ARM & HAMMER™ Super Washing Soda.
Hey there!  Today I decided to bring back a favorite recipe but with a new twist!  A few years ago I made my own homemade laundry detergent and I love it!  It is inexpensive and works well in my HE washing machine and it smells heavenly!  Plus it doesn't contain any crazy chemicals and I know exactly what is in it which makes me feel better about using it on our clothing and in our home!  So today, I am revamping my old homemade laundry detergent recipe and modifying it so that it is Lavender Scented!  Yes!  A Lavender Scented Homemade Laundry Detergent Recipe!  And I promise it smells just as heavenly as it sounds!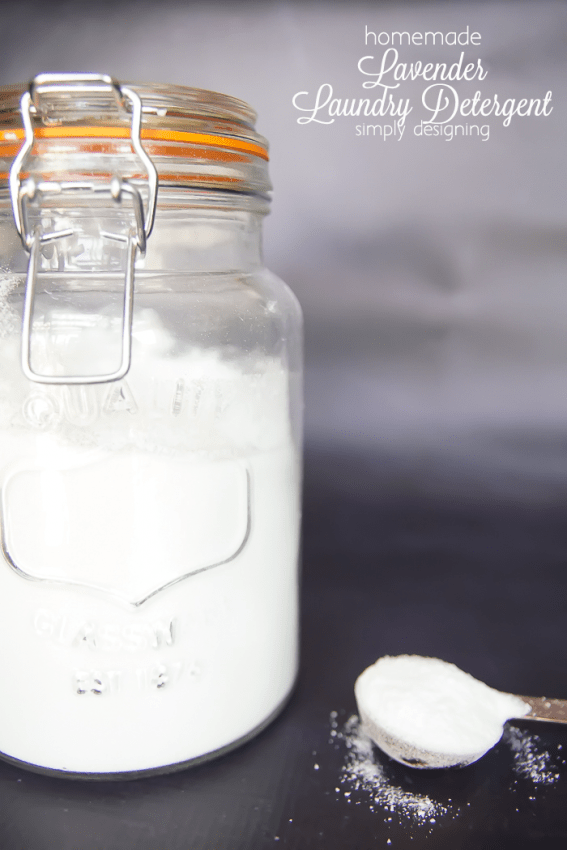 I was recently challenged by ARM & HAMMER™ to show you how I use ARM & HAMMER™ Super Washing Soda around my house!  So thank you ARM & HAMMER™ for making today's post possible!  I honestly already use their product around my home regularly so this really is just a fun opportunity to show off a few more uses and share my recipe for homemade laundry detergent with you!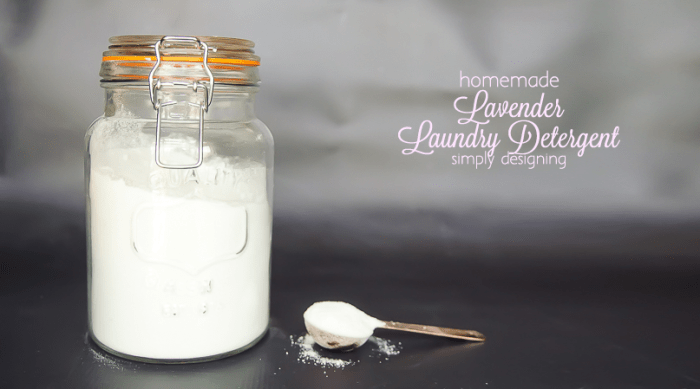 In addition to using ARM & HAMMER™ Super Washing Soda for DIY laundry detergents, it is also great for cleaning things like tile and grout, toilets, microwaves, sinks, stainless steel, bathtubs, refrigerators, outdoor furniture, silver, upholstery and more!  Simply dissolve in water or make a thick paste to clean with, or add some directly to your laundry for an extra boost!  I love using it because it adds extra cleaning and freshening powers and helps cut through greasy messes.  And most of all I love that it is a natural product and is fragrance and phosphate free!  I am a big fan of getting rid of chemicals in my home and this is a great way to do it without compromising cleanliness.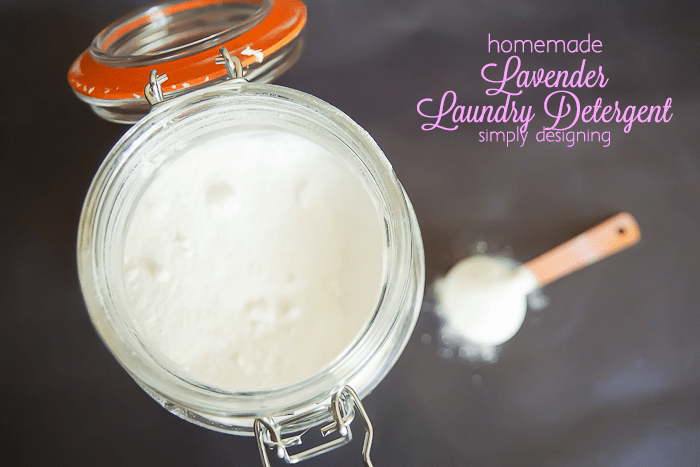 And now I am thrilled to share my recipe with you!
Lavender Scented Homemade Laundry Detergent Recipe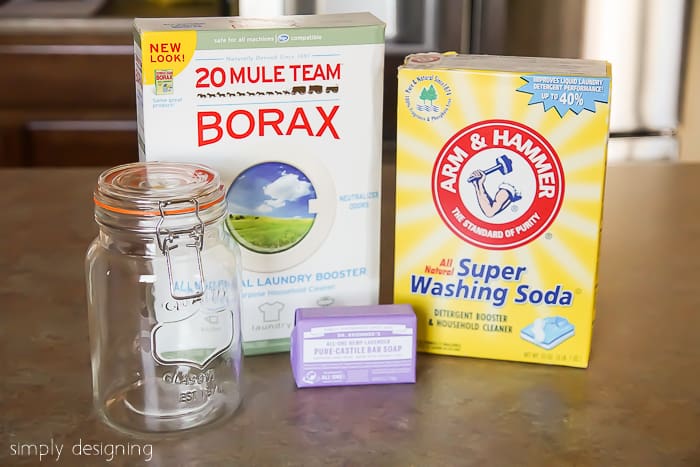 Ingredients: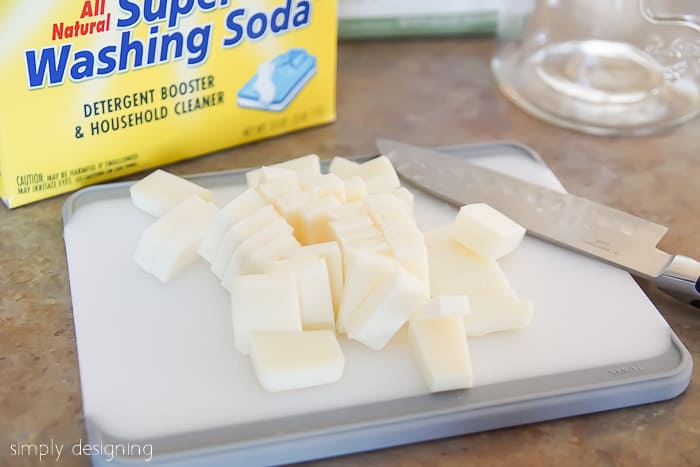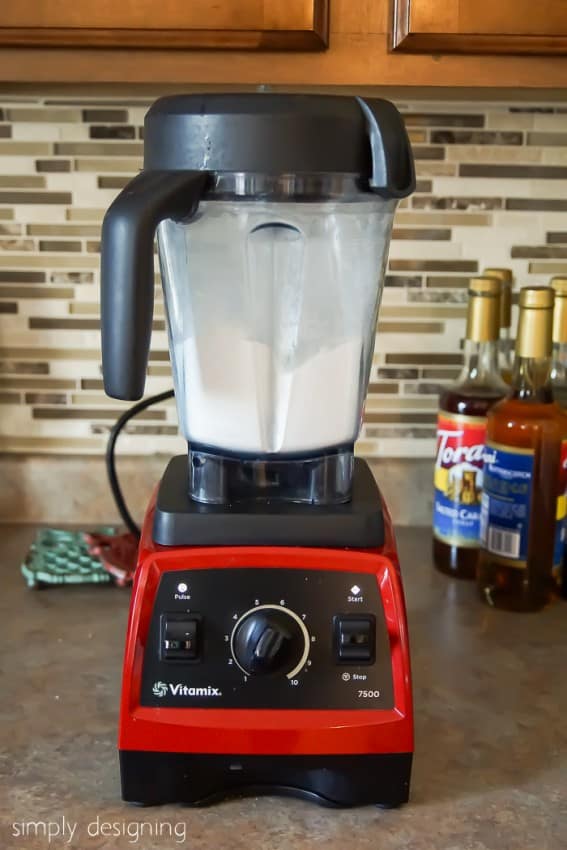 Directions:
Measure your ingredients and place ARM & HAMMER™ Super Washing Soda and Borax into a blender or food processor.  I use my Vitamix blender for this and it worked perfectly!  You will need something with strong blades for this.*
Cut the soap into small pieces and place in blender.
Blend for a few seconds until the soap is fully chopped up and the mixture is consistent throughout.
Place in an air-tight container like this one HERE.
Use 1 Tablespoon of laundry detergent per load.  (I am using this cute copper tablespoon found here.)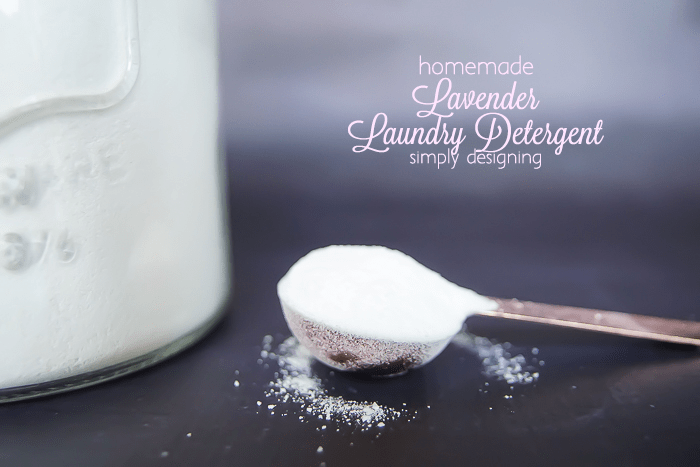 *If you do not have a blender or food processor strong enough to handle this, you can use a cheese grater and grate your soap by hand.
I placed the ARM & HAMMER™ Super Washing Soda and the Borax into the blender with the soap for two reasons.  First I did not want my soap to stick to the blades and adding the powder into the blender alleviates that issue.  Second it mixes the mixture easily and quickly in one step and without the need to get a bowl dirty.
Be sure that you clean your blender or food processor REALLY WELL after use.
Yes this will work for HE washing machines.  HE machines require low suds-ing detergents and this is a low suds recipe.  I use it in my HE washing machine without any issues.  But I always recommend that you check with your manufacturer instructions first.  Please note that I am not responsible for anything that happens to your washing machine if you use this recipe.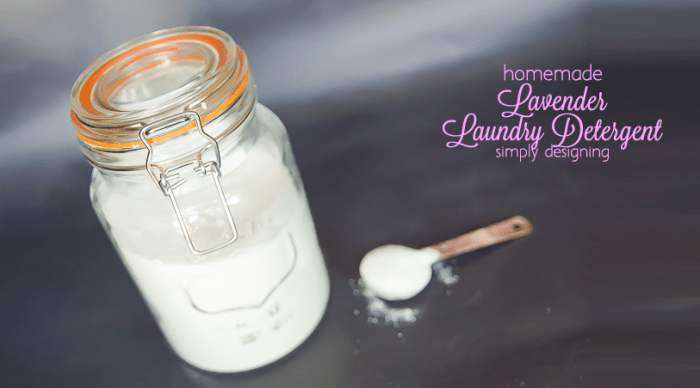 Honestly, I love this lavender scented homemade laundry detergent!  It smells HEAVENLY!  And it is perfect for my whole family to use!
Come learn more about ARM & HAMMER™ Super Washing Soda HERE and its many uses HERE.  
Watch this short video to learn about more ways to use ARM & HAMMER™ Super Washing Soda in your everyday life.
So I want to know, do you make your own laundry detergent?
You might also enjoy:
Homemade Laundry Detergent (no scent)
Reusable Swifter Duster Covers