Alright sweet friends!  Today is the day!  I have already shared what a huge impact decorating a Habitat for Humanity Home with GMC had on me HERE.  Be sure to click over, you don't want to miss that post!  And today I am really excited to give you a few more details and also to share my Living Room Reveal with you!!!  Wahoo!  So here we go!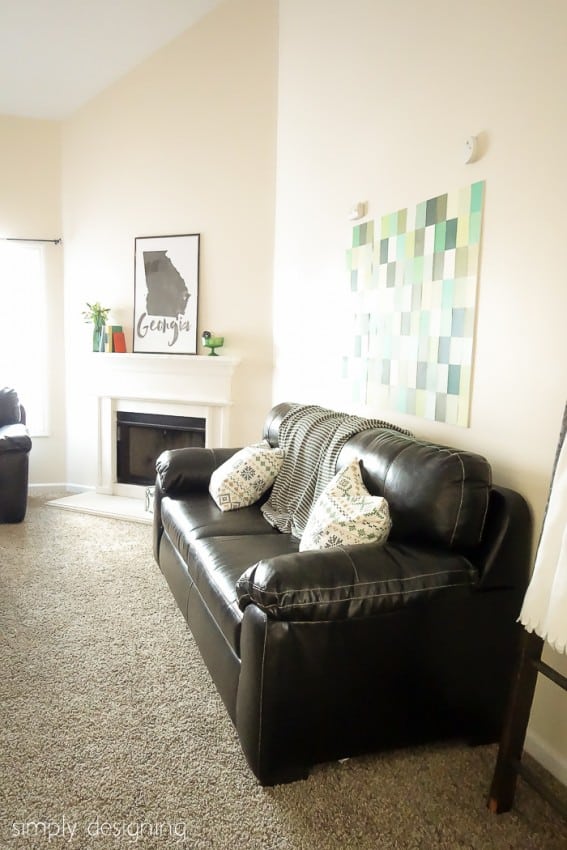 Participating in the GMC Hidden Treasure Adventure has probably been one of the biggest highlights of my life!  It was one of the most rewarding and fulfilling experiences.  (See why here.)  I was so grateful to have been chosen to participate in this amazing adventure.  And here is how is all went down...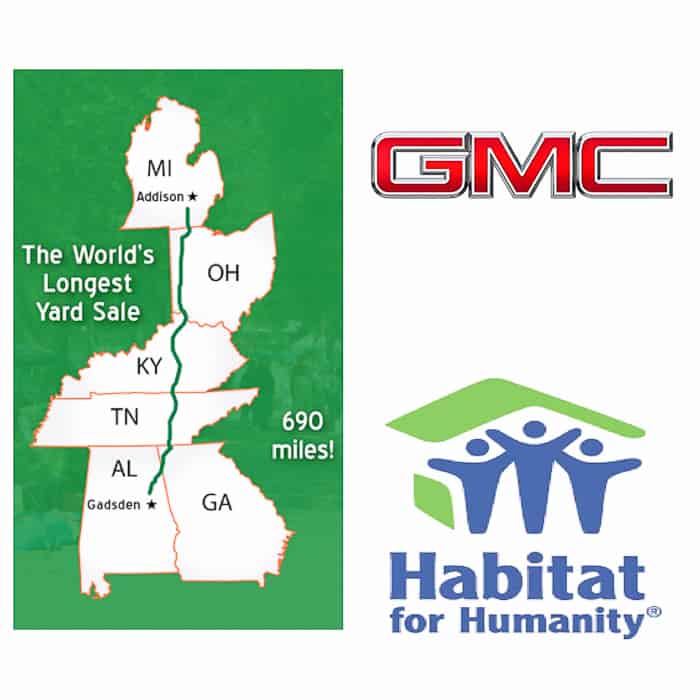 Day 1
On Wednesday August 5th, 2015 I flew out of Indianapolis Airport and into Detroit, Michigan.  After a bit of trouble finding my luggage (because they forgot to unload it from the airplane...) I walked over to the adjacent hotel and met my 7 fellow bloggers and the wonderful people from GMC.
The other bloggers included in this adventure were:  Lucy from Lucy Inspired, Sarah from Nestrs, Michael from Inspired by Charm, Rhoda from Southern Hospitality, Dusty from All Things G&D and our two fearless mentors: Allison from Two Thirty Five Designs and Brooke from All Things Thrifty.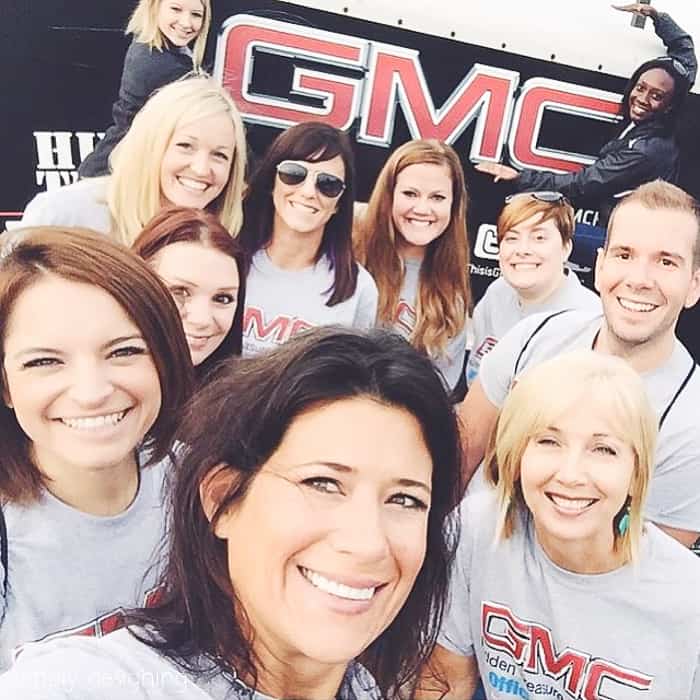 I know right!?  I can't even get over the amazing talent all these bloggers have!!!  Serious.  World-Changing.  Talent!  And I was able to work with all of them, grow to love them, and wish I could bring them all home with me!  They are all awesome!
We were also met by our fearless GMC team!  Wahoo!  Thank you Megan, Jenn, Dee and James for making this trip so amazing and for making it possible!
We ate lunch and discussed our upcoming adventure.  Then we were given our room assignments.  Mine was the Living Room!  Which was exciting, and nerve wracking because it would be the first room the family (and their guests) would enter into every single day.  This was an important room!  But I was thrilled for the challenge!!  I was told that black couches had been donated for this room.  Which was a wonderful blessing to not have to find and purchase couches for the family during the yard sale.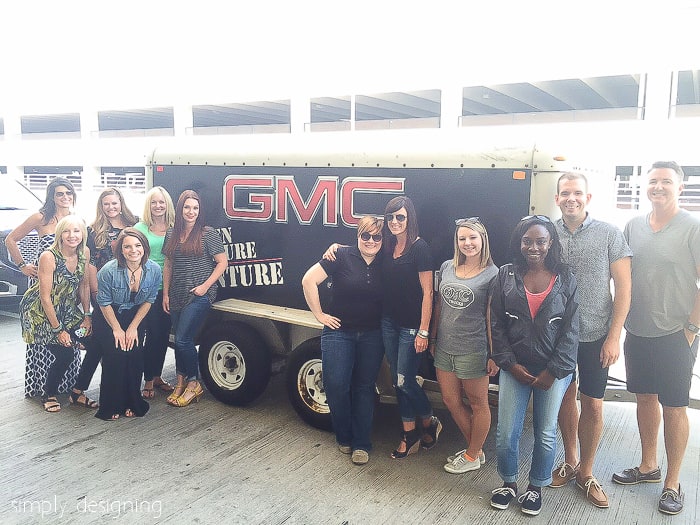 After that we loaded up into GMC Yukon XL Denali's (uh....whoa...this is an amazing car by the way...) and took off!  We drove only about an hour and a half that day to Montpelier, Ohio where our journey would begin the next day.  We did a little sneak peek yard sale shopping, met for a yummy dinner, celebrated Michael's birthday and headed off to bed at a reasonable hour.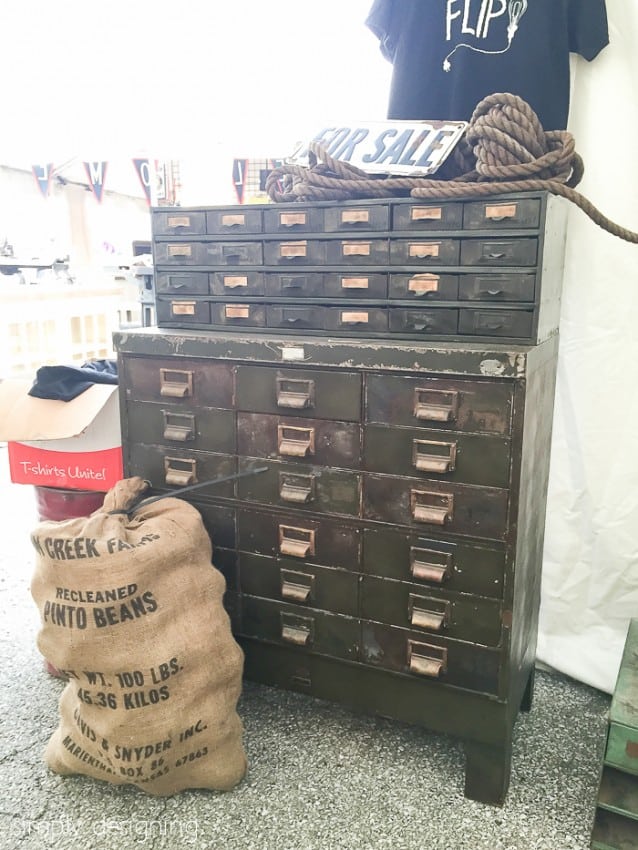 Day 2
We woke up and left Montpelier, Ohio to begin our trek down route 127 for the World's Longest Yard Sale!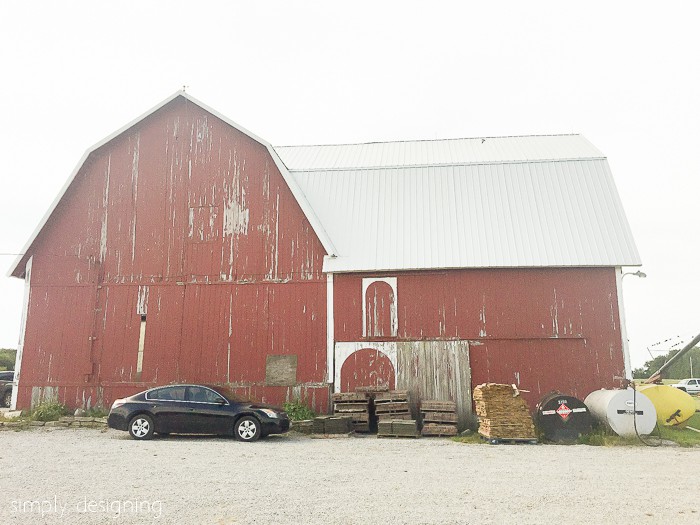 I can not fully describe this adventure!  Yard sales lined the street!  Some were big, some where small, some were individual people selling items, some were vendors and companies.  Each yard sale had its own feel to it and no two were alike!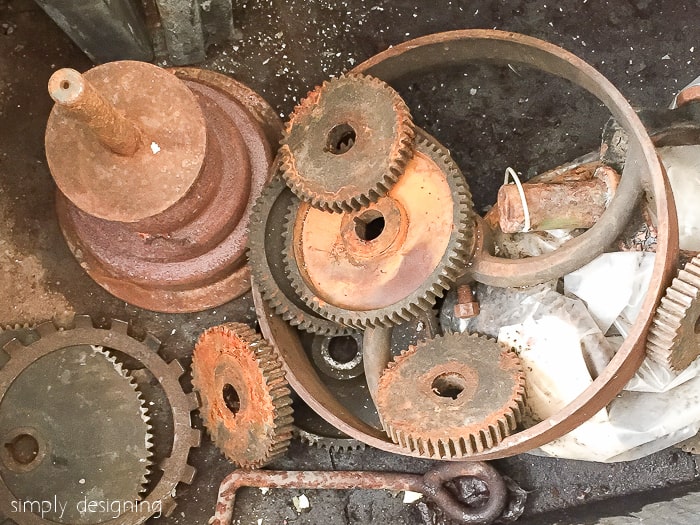 We could not stop every place though because we had to travel quite a distance this day all the way down to Frankfort, Kentucky.
However I really focused on finding the main pieces of furniture for the living room this day!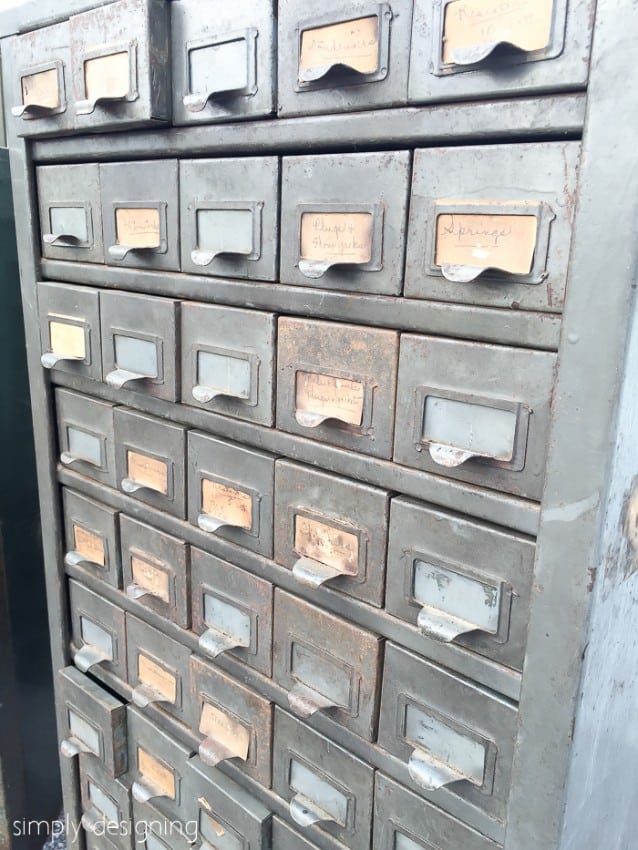 I found a dresser / buffet, (2) wire spools (that became end tables), a ladder, an amazing green metal chair and two wood and metal pallet things that I turned into my favorite coffee table ever!!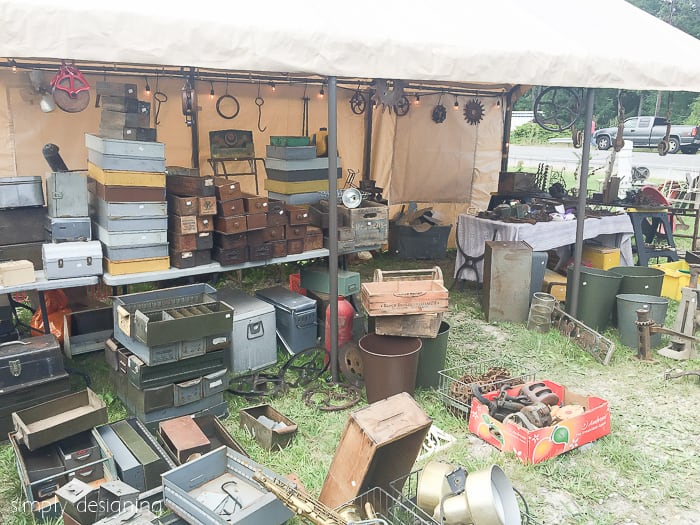 While we were passing through Cincinnati we came to a point where I was fairly certain that we were close to IKEA.  So we decided to make a quick stop!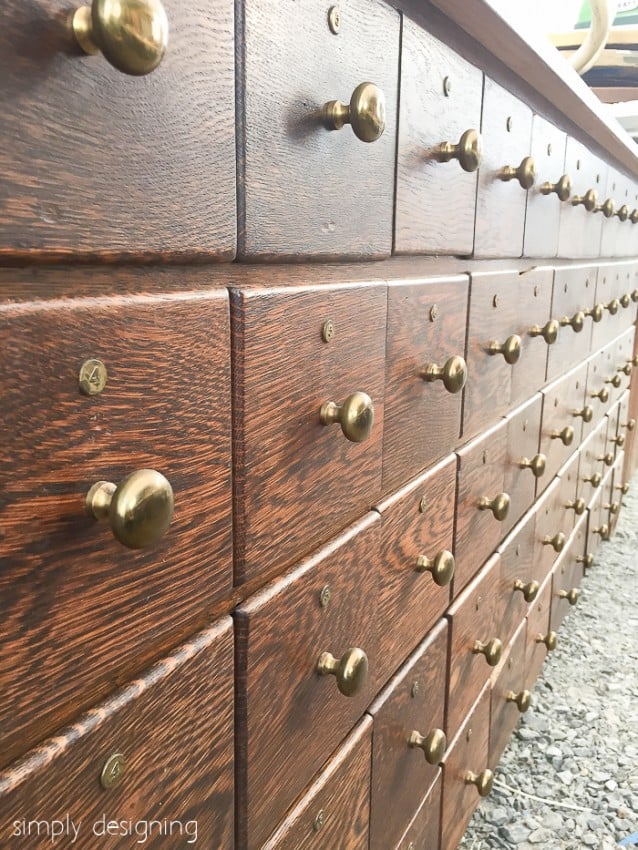 Most of the items in the living room are from a yard sale.  But certain things, like fabric items, I wanted new because I knew I would not have proper facilities or time to properly clean any fabric items.  I had the best luck at IKEA and found the perfect pillows in colors that the family loves!  I also snagged two throws and a few other random little items while I was there.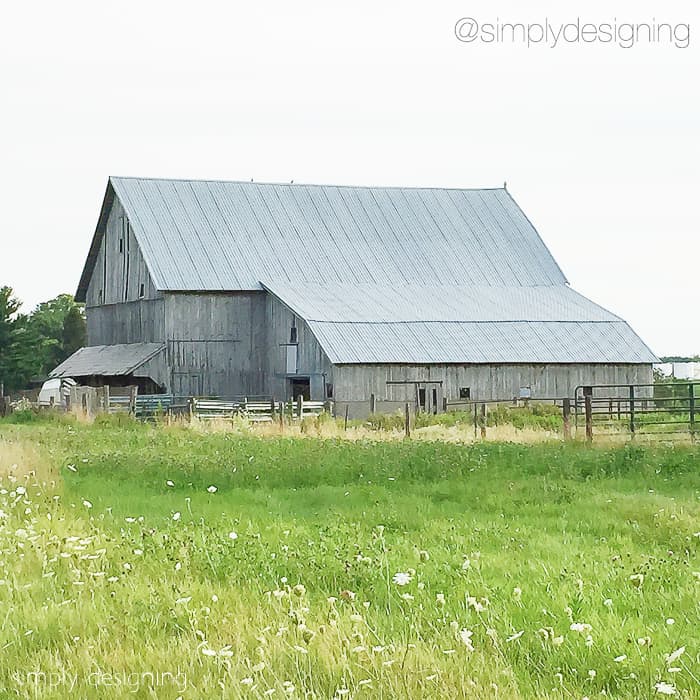 By the end of day 1 I had found nearly everything for the room except art for the walls and I needed a few more decorations.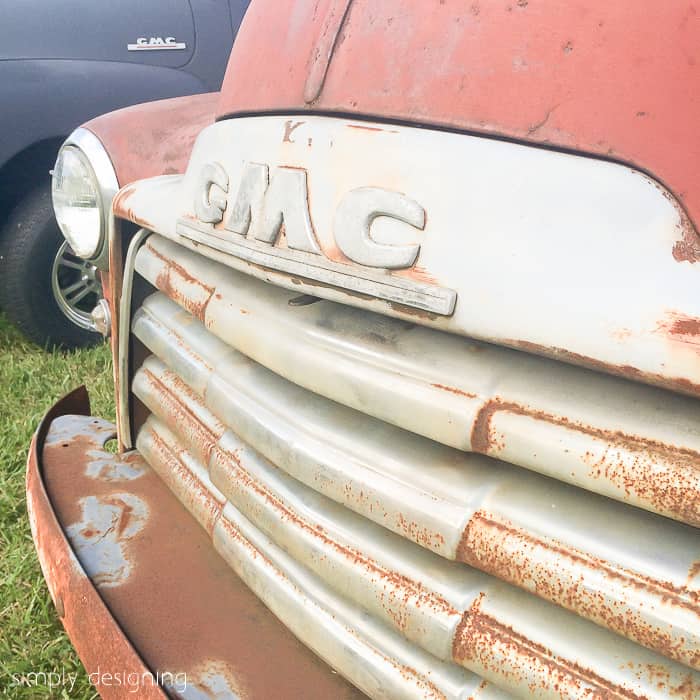 Day 3
We started off our second day of shopping a little more tired then the day before!  We still had a lot of ground to travel and a lot of shops to check out!  But because I had found most of my items the day before, today I was able to relax a little bit more.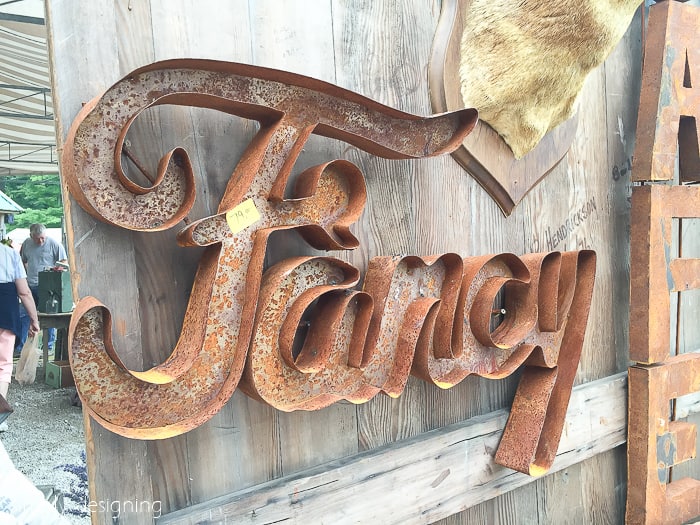 When an opportunity came up that a local news station wanted to do a quick segment with a couple of us bloggers, because I had most of my shopping done, Allison and I were able to hang back a bit to do this!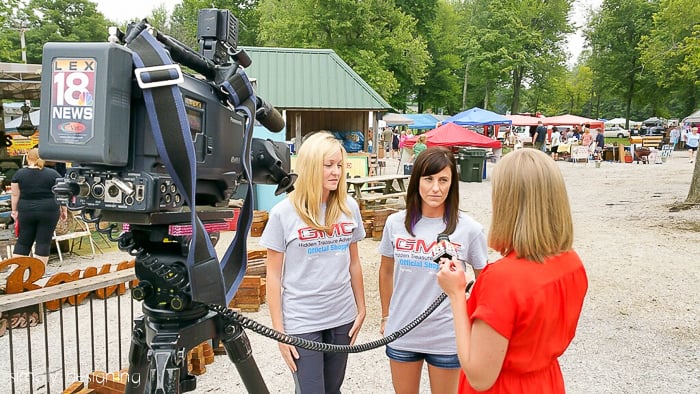 Here is my world debut on Kentucky News!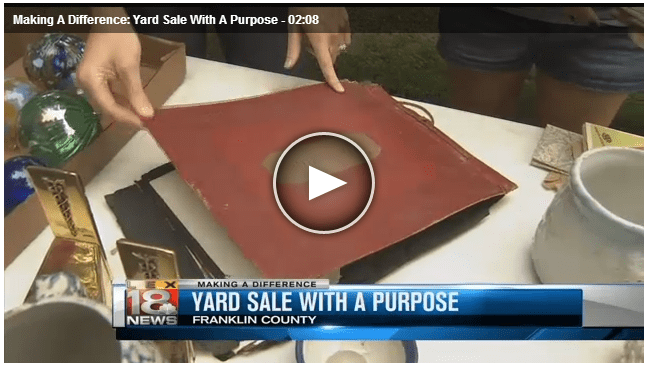 We also had a little more time to explore just for fun.  But we still had to travel a big distance today to end up in Chattanooga, Tennessee.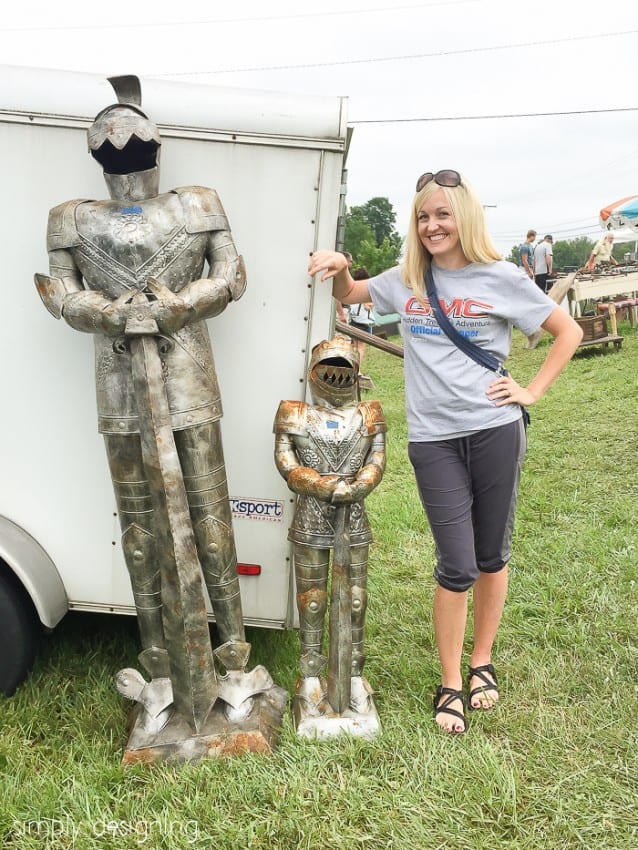 That night we had dinner at the cutest, yummiest restaurant ever!  The Public House in downtown Chattanooga.  Dinner was amazing and I simply loved getting to talk to the other bloggers to see how everyone was doing.  It was so fun!  But we were all exhausted by the end of dinner.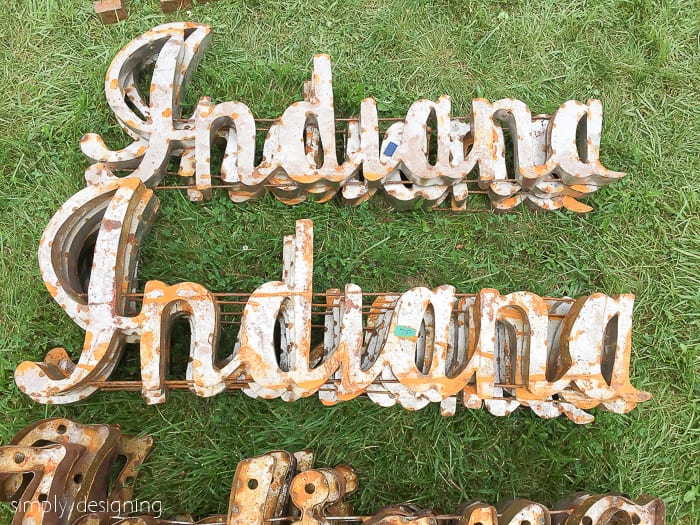 Day 4
Today we only had a few hours to travel to make our nearly 1,000 mile road trip complete!  We didn't stop at any yard sales today because we needed to get down to Lithonia, Georgia to FINALLY see our Habitat for Humanity home and begin pulling our rooms together!  Yes, we were buying and planning for a home we had never seen in person!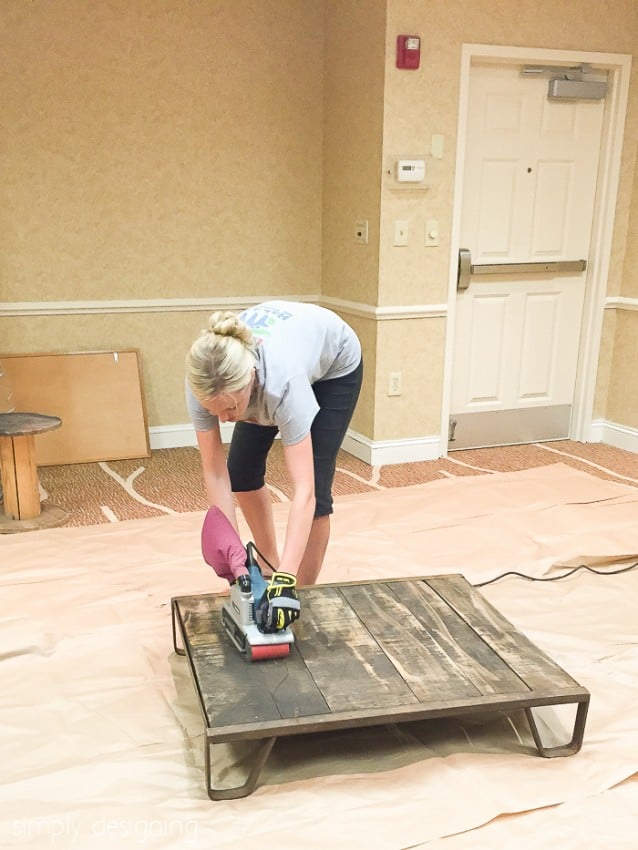 This was a long day and night for many of us as we refinished and repainted furniture and decorations!  We also had an insane amount of fun and I don't think I have ever laughed so hard!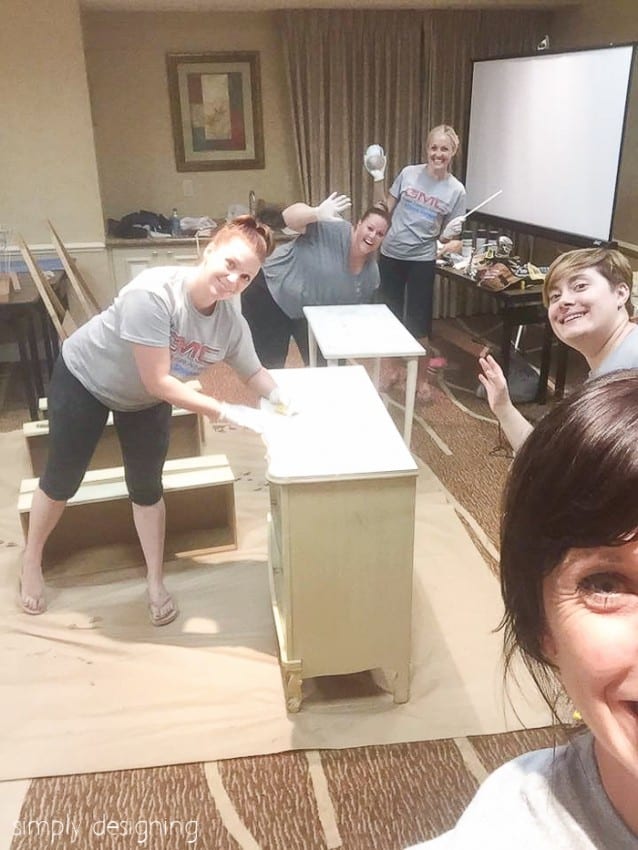 This is the best group of friends and bloggers I could have spent 5 days with!!  Love them all!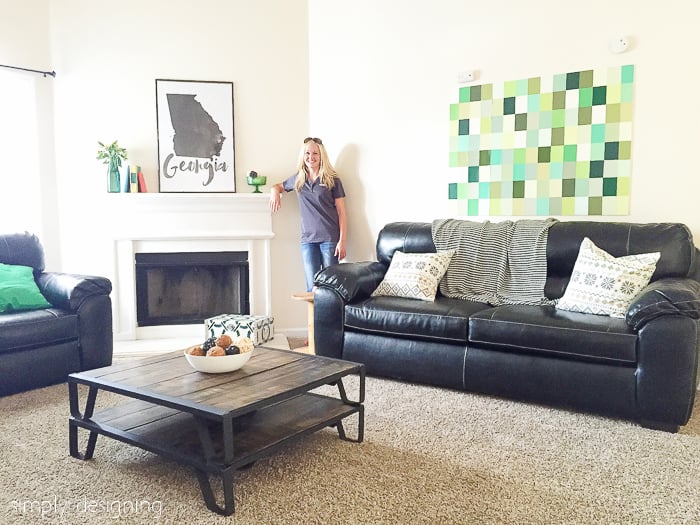 Day 5
We were up early this morning so that we could take furniture over the the home, finish putting the rooms together and create some awesome art for the walls!!
Things came together really nicely!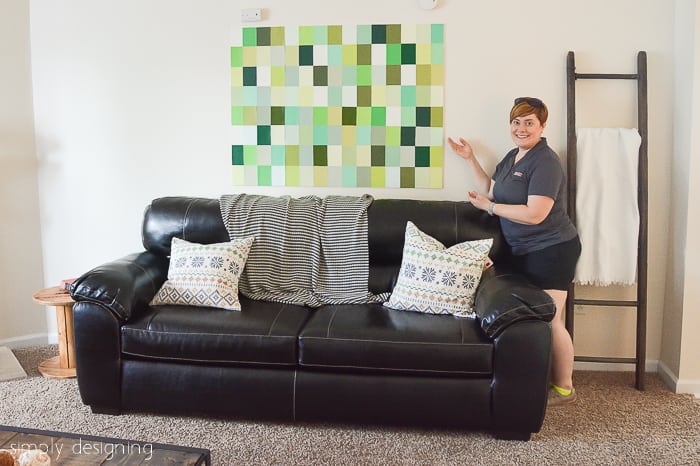 Megan from GMC helped me with a little paint chip art for the walls!  (Isn't she the best!)  All three of the girls from GMC helped me with my room in some way!  And all the bloggers gave amazing support and encouragement!  They.  Are.  All.  AMAZING!!!!  Truly some of the best people I know.
And here is it!  An onslaught of too many living room photos!!!!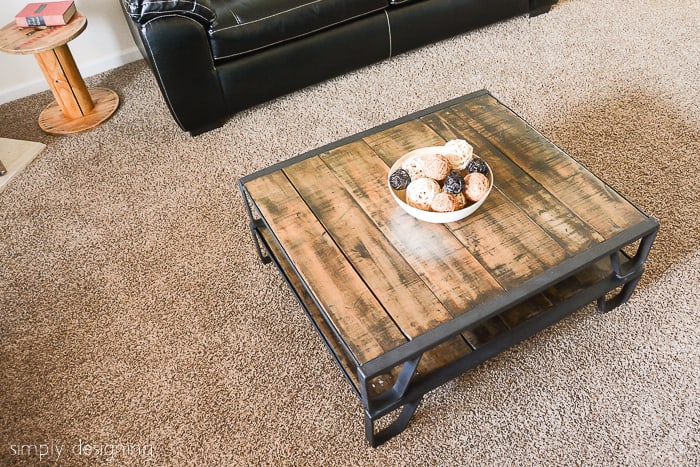 I am in love with this coffee table!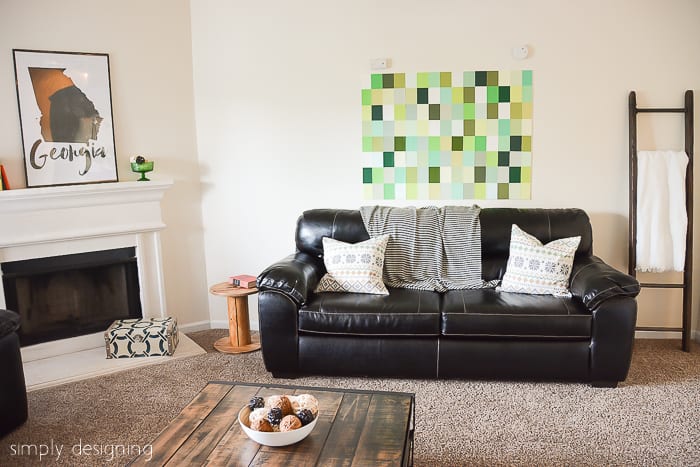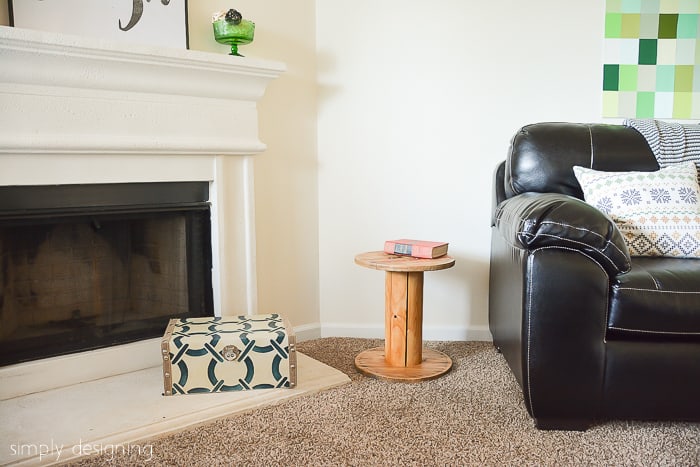 These wire spools made great end tables!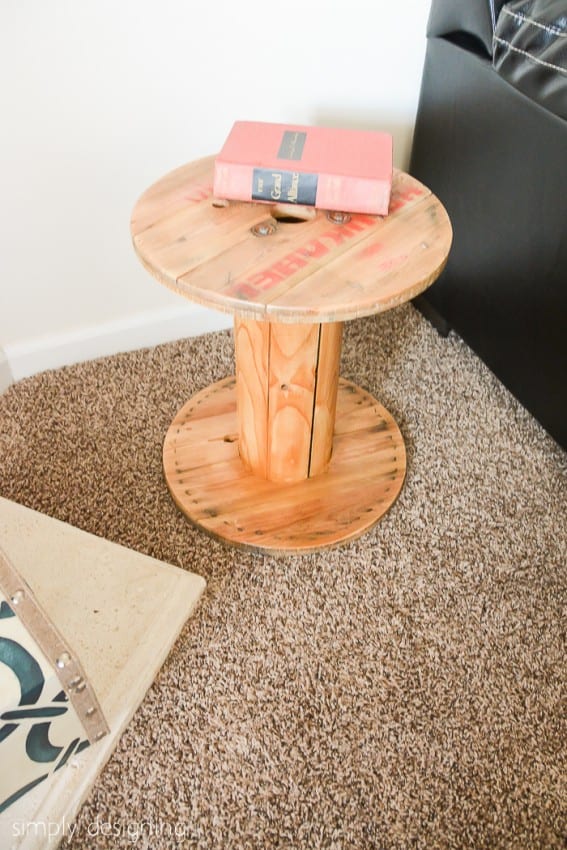 As soon as I saw this green chair I knew it would be perfect in this room!  Love it!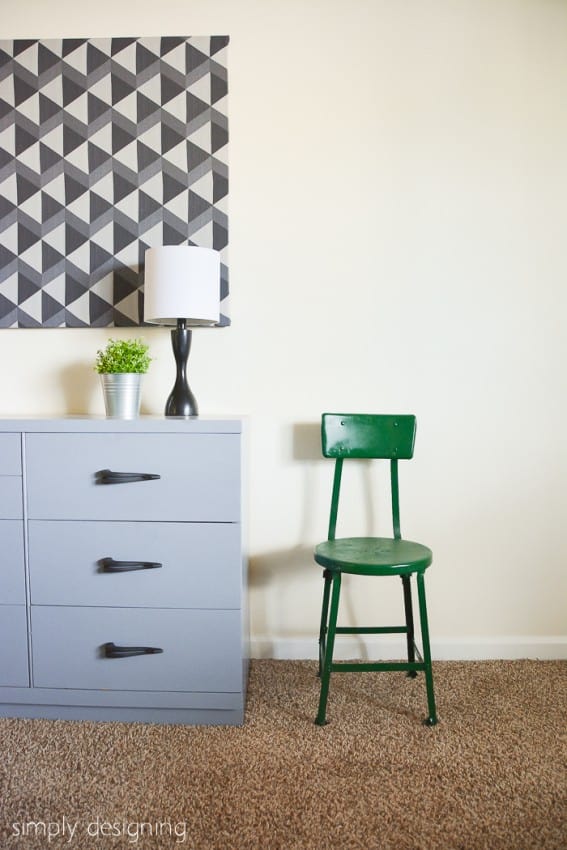 The whole room!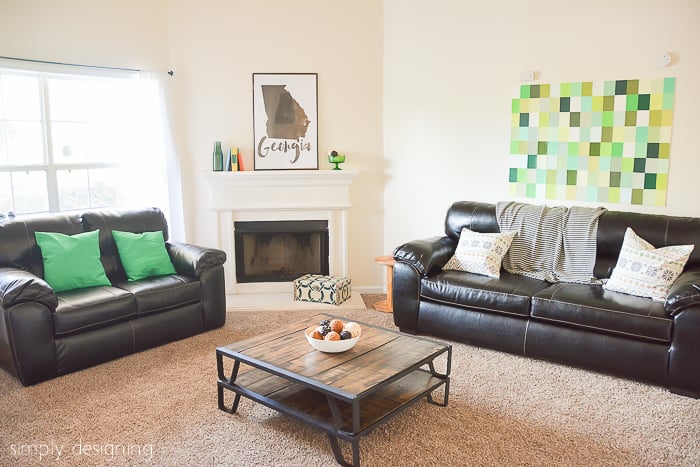 I refinished this dresser and hardware.  And this wall art was created using a large body pillow case cut and stretched around a wooden frame I built.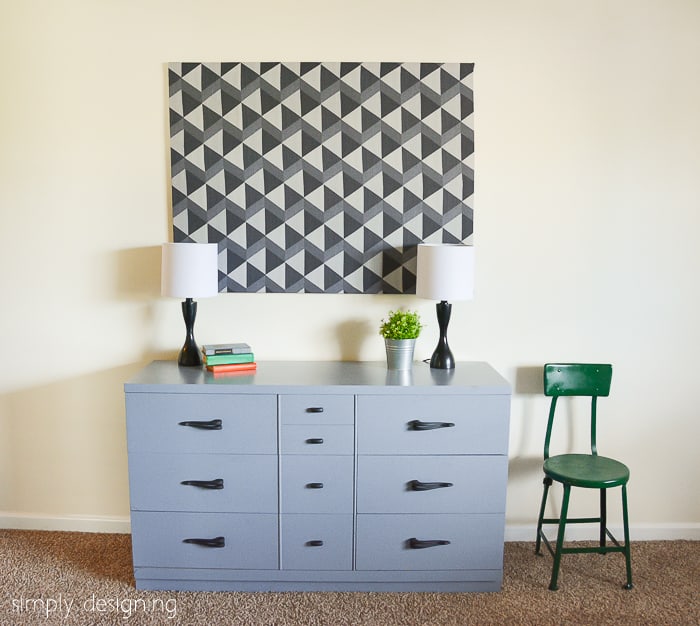 I love decorating with old books!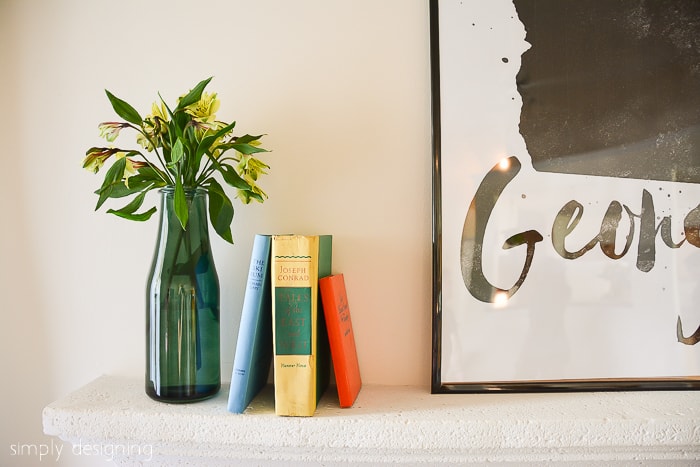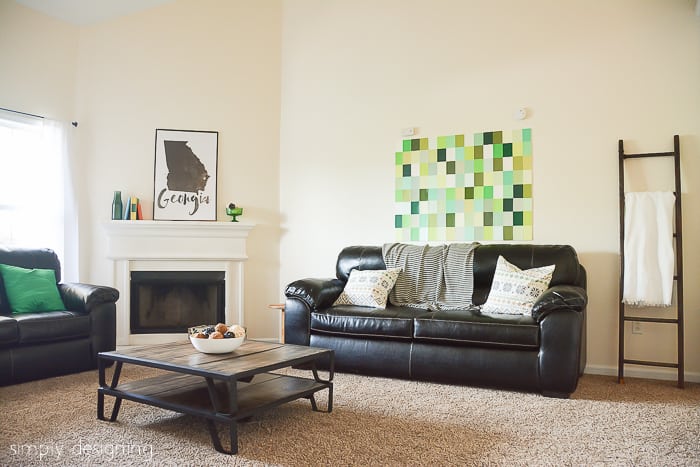 Seriously.  This coffee table!  It was made from two wood and metal "things" I found, stacked on top of each other (I secured them together so they wouldn't fall.).  The wood and metal was sanded and then we applied a coat of polyacrylic to the wood and painted the metal black.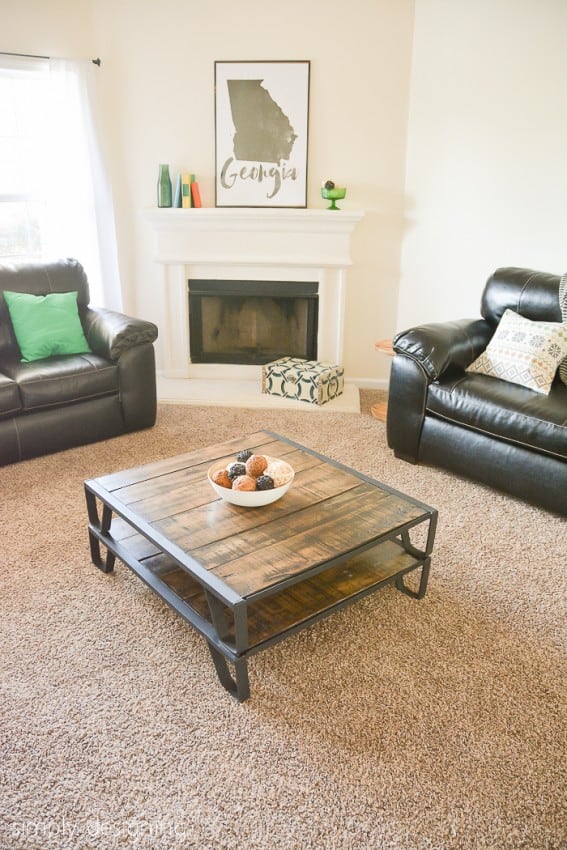 I found this cute Georgia print online, bought the file and had it printed!  I love what a fun touch it adds to the room!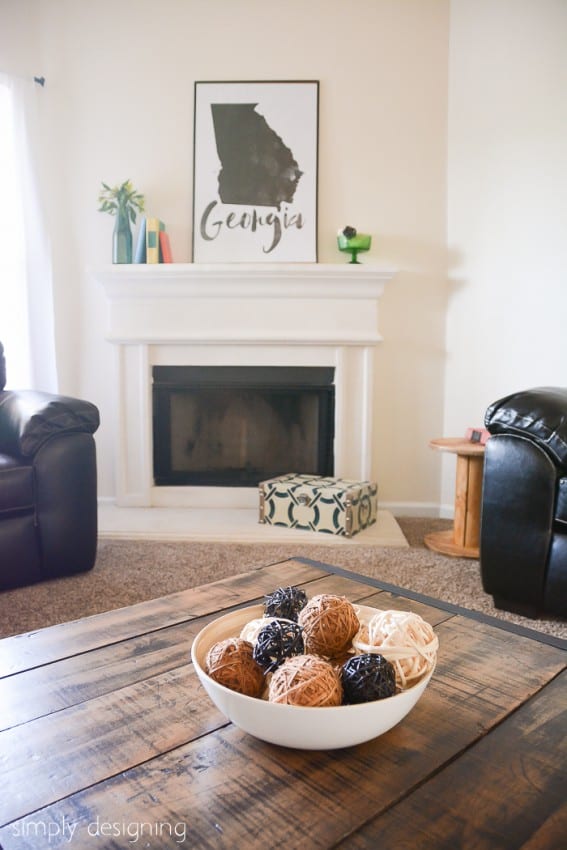 The colors they like are black, white, green and blue by the way!  I tried to keep a lot of neutral colors in the living room with fun pops of color and I definitely leaned more towards adding green to this room.  And I love how it turned out!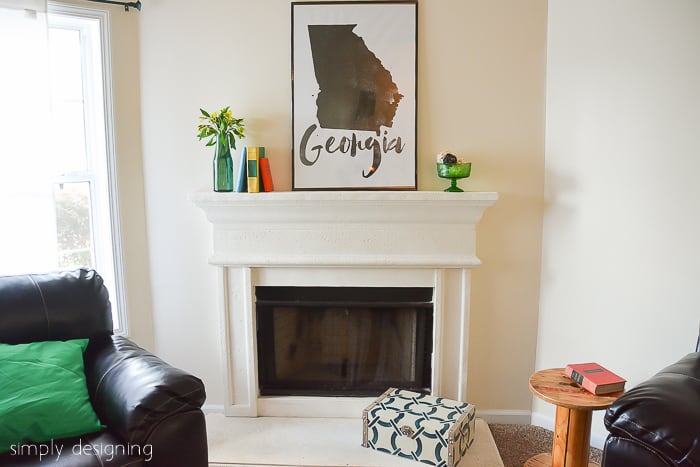 This ladder was one of my first purchases and I really love how it looks in the space!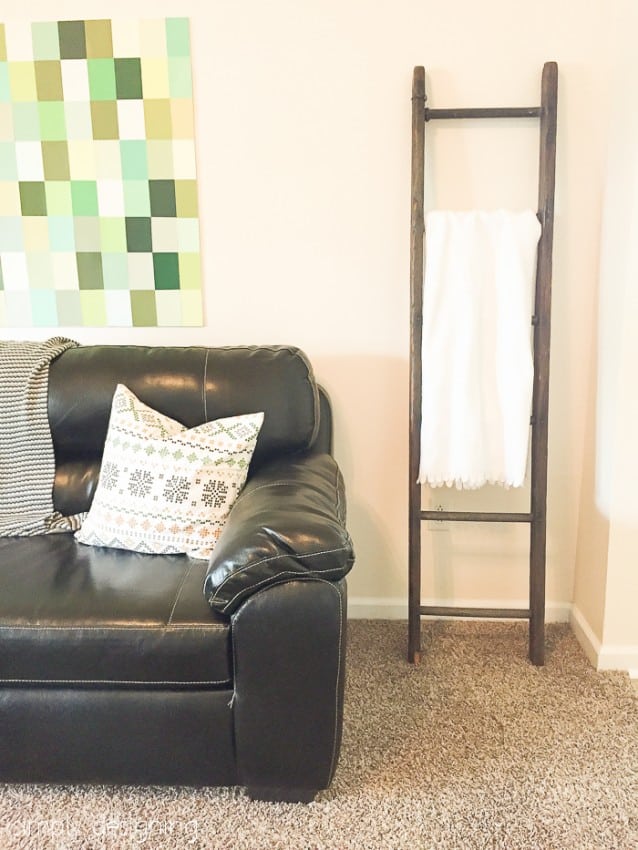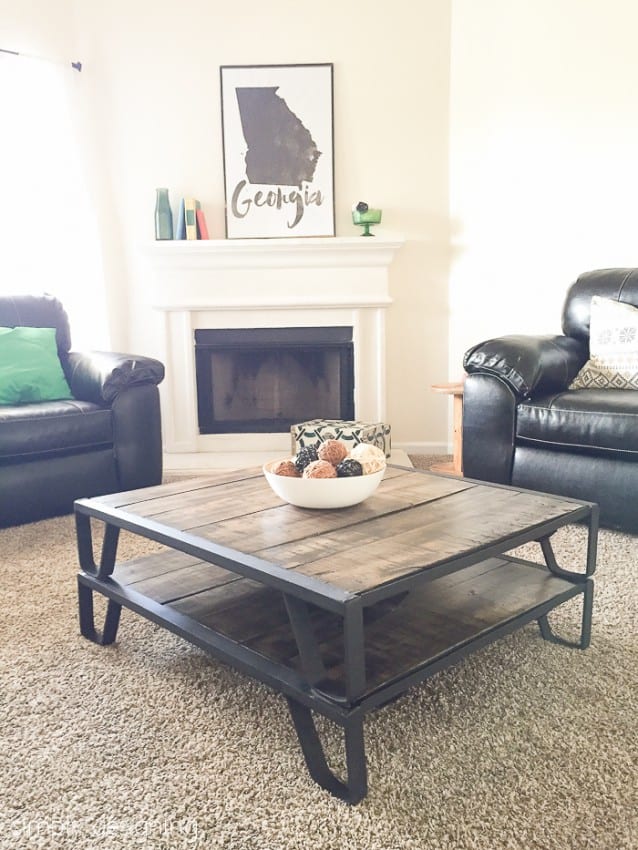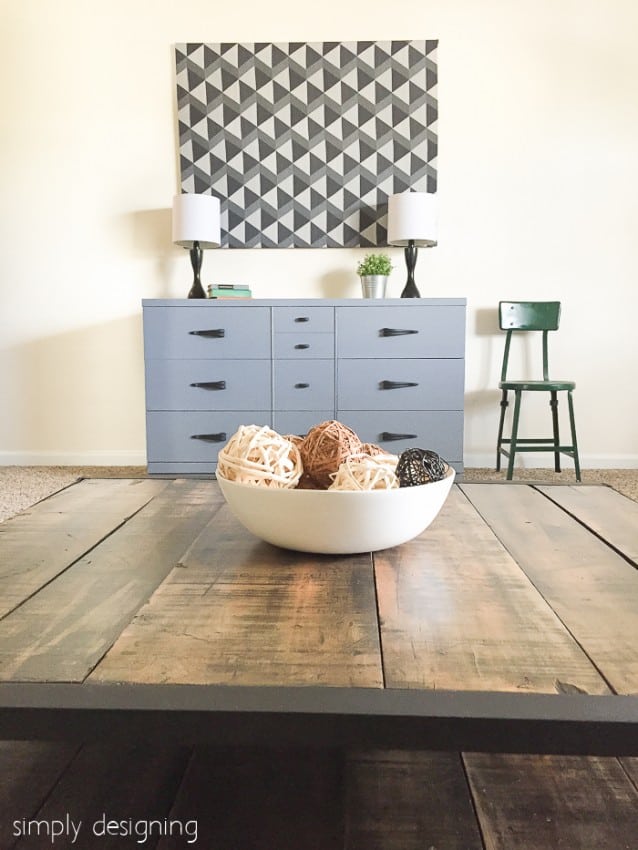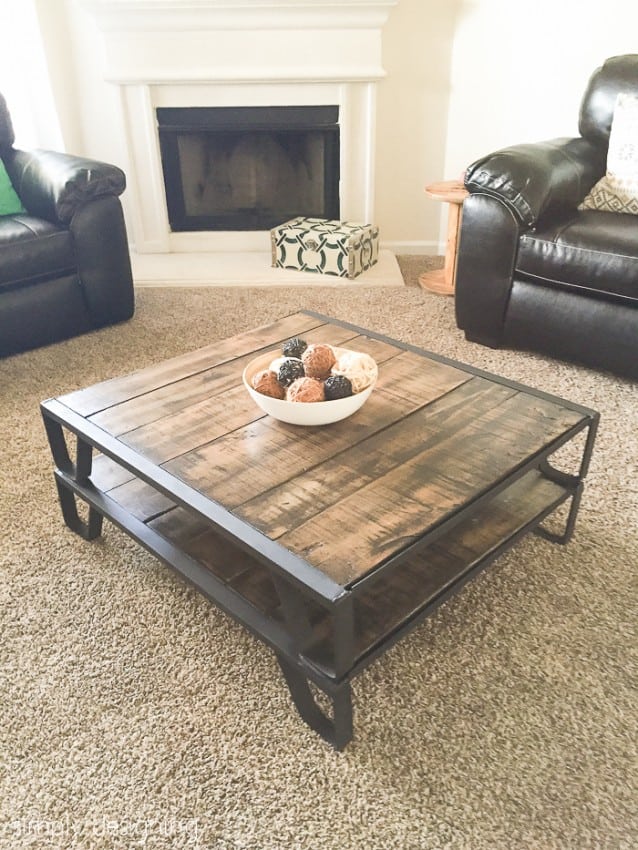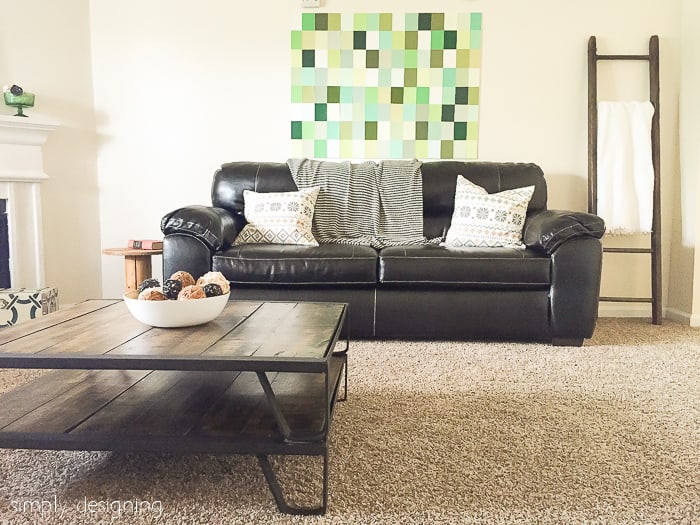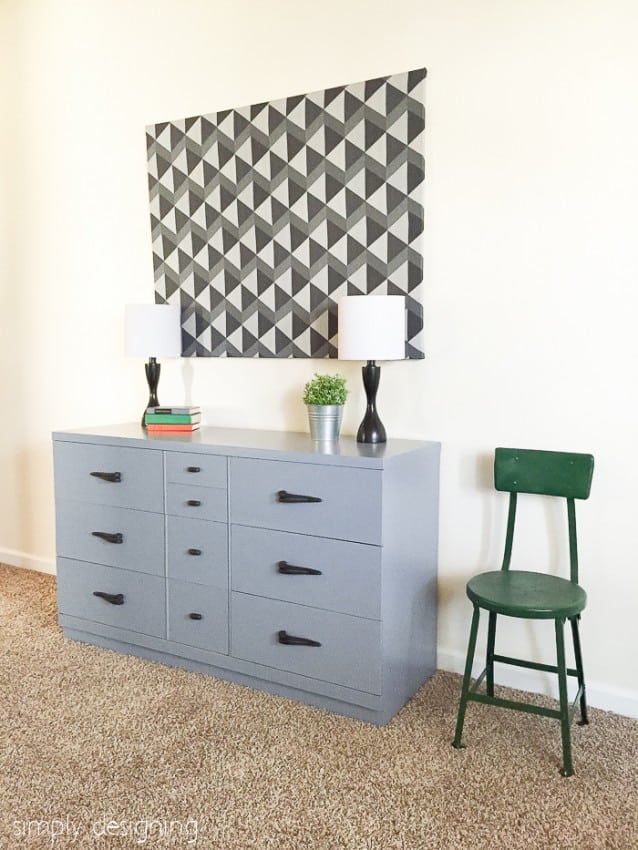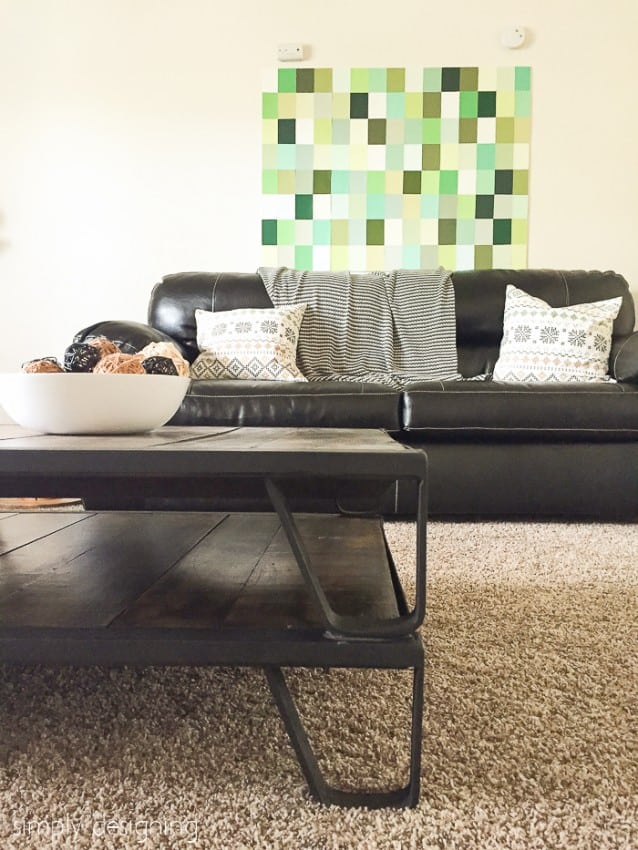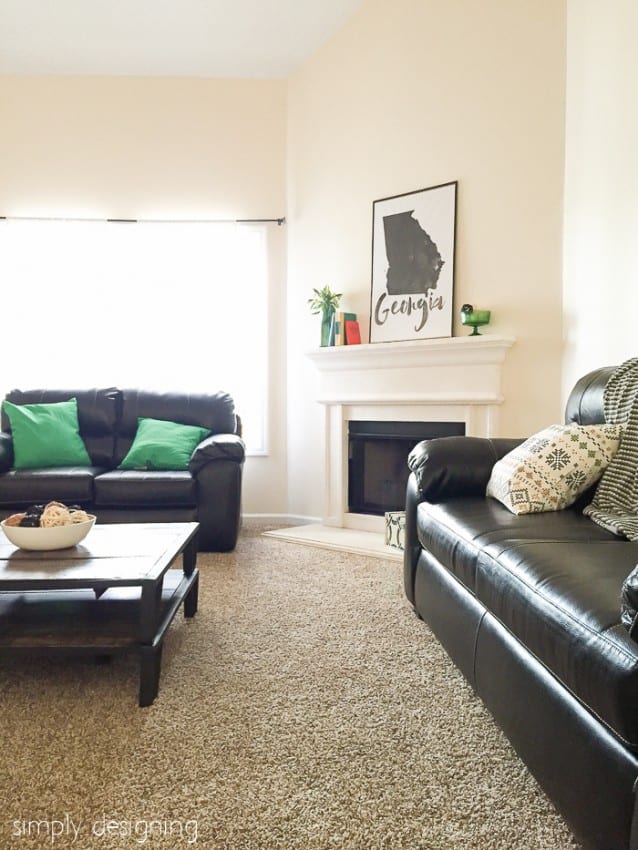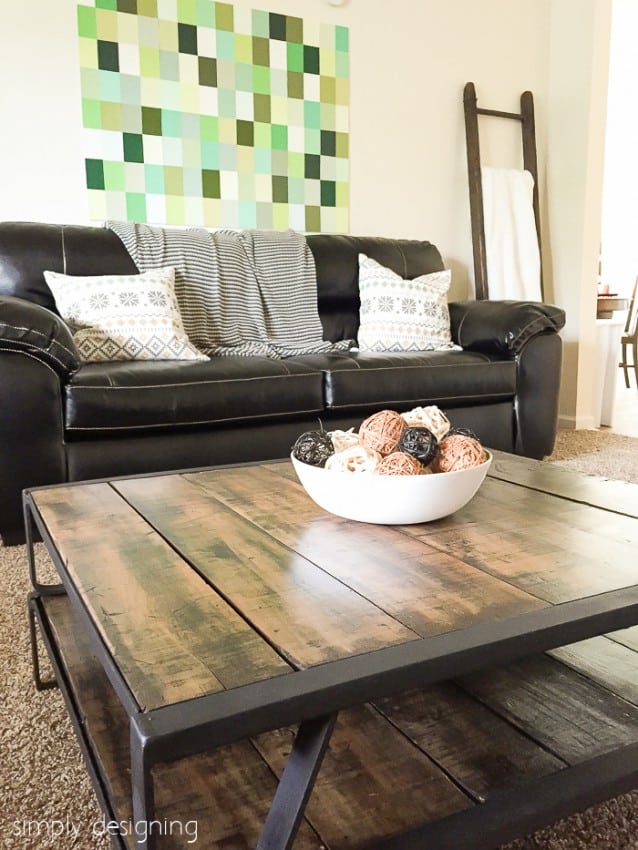 We all finished our rooms and cleaned the house in the nick of time!  At 3:00 the family arrived!!
Oh, this sweet family!  They were told they were coming to see their new home.  They had NO IDEA that it would be fully decorated!  Ready to move in!  And we were able to be there for the reveal!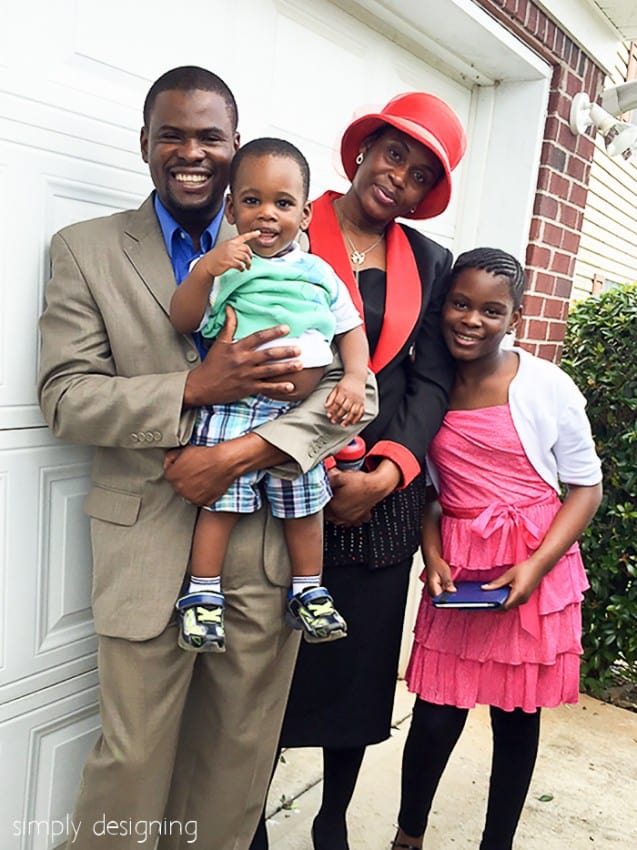 If you follow me on Periscope, I even did a quick reveal tour!  Wahoo!  Follow me on Periscope @simplydesigning to check out my fun live videos there, but here is the video I did!  It was my first periscope, so be kind!  If you notice in the beginning of the video, maybe you can tell by my voice, but I was already fighting back tears.
As we waited in the home for the family to walk in, I had the hardest time fighting back tears.  This was such a neat thing to be a part of.  It was so incredibly special.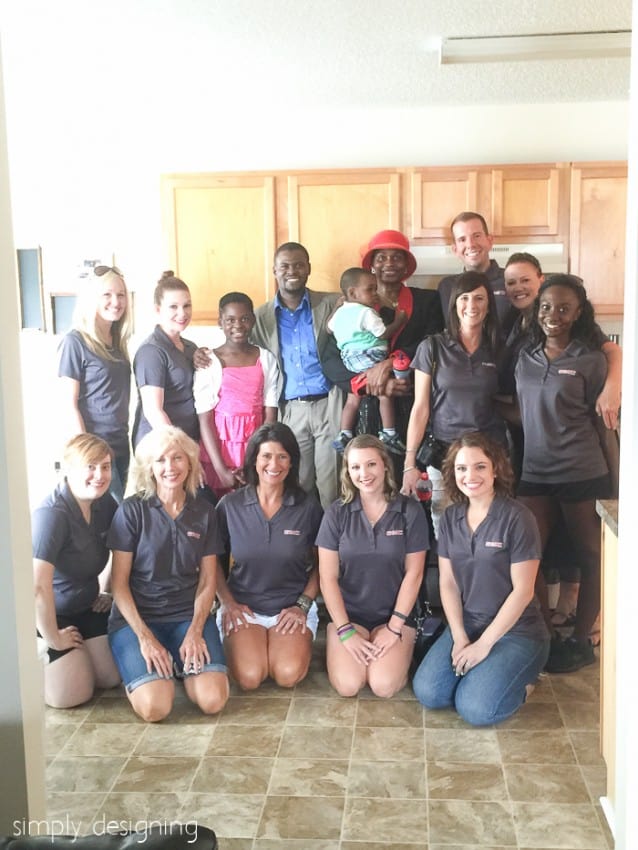 As the family walked in, tears were shed by many of us.  The family was so surprised and grateful.  And I could hardly believe that I was able to be a part of this amazing experience!  It was simply indescribable.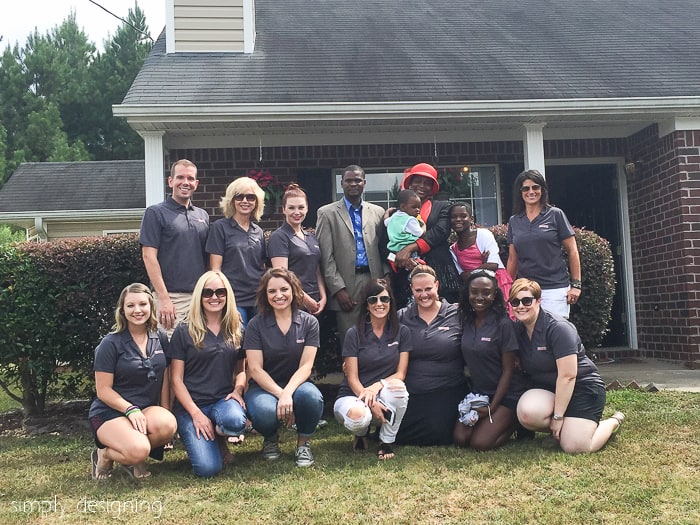 As we got to know the Yaro family we knew that this home would be perfect for them.  They are so deserving of it and are such amazing family.  Their son loved his cute new room and their daughter was elated with her new room!  And the whole family was happy.  They said that the home looked like a show room or something on tv.  They were so happy with it!
And these bloggers....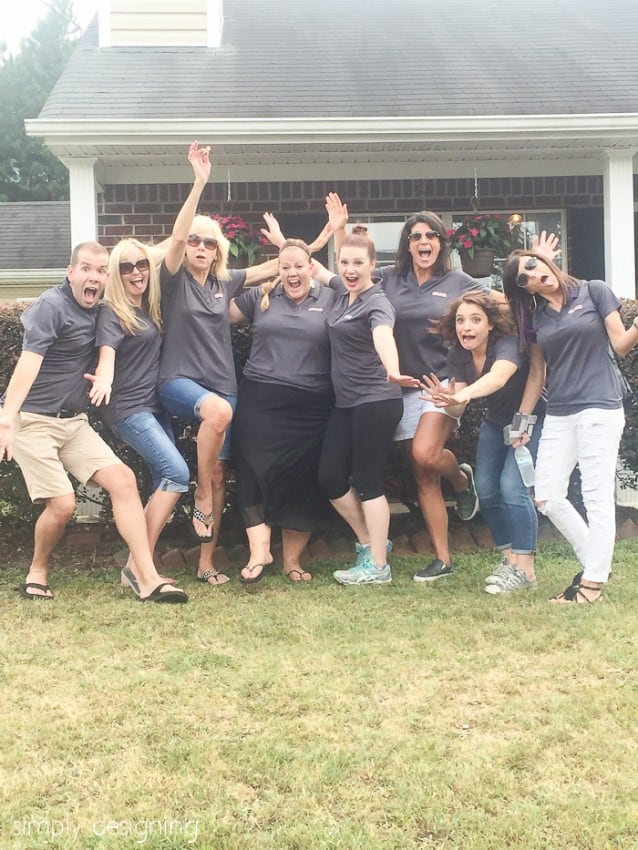 I love them all!  And I wouldn't have wanted to experience this without them!  They are incredible!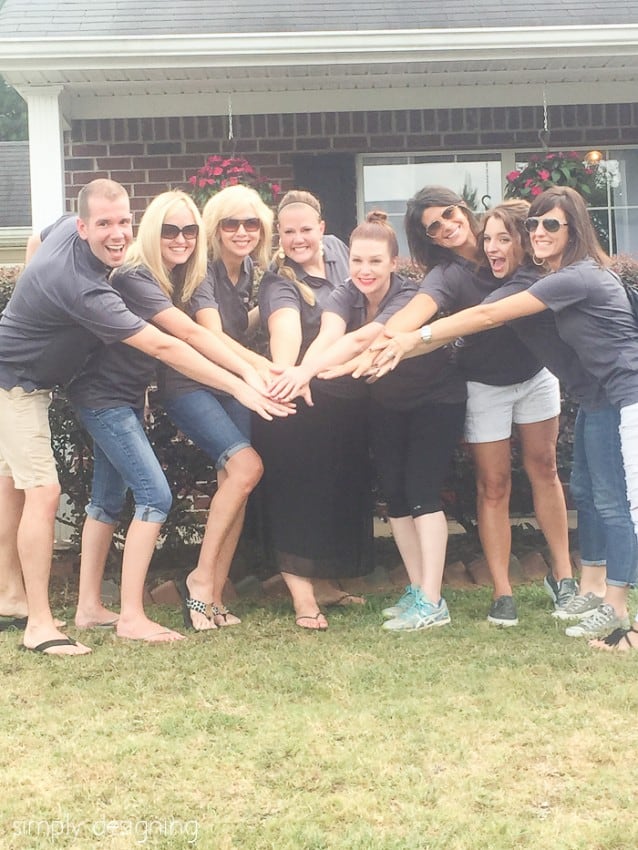 And they are all so talented!
And so fun!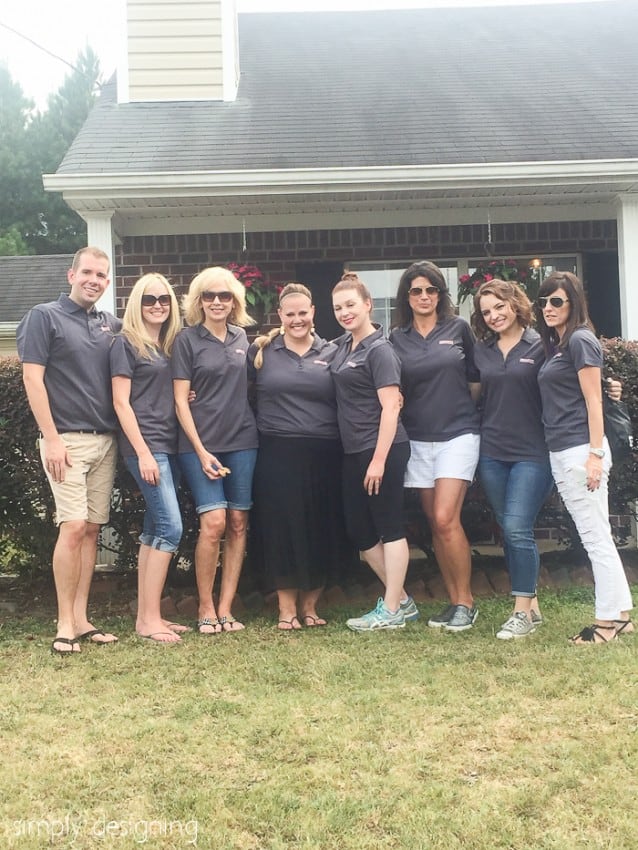 It was an amazing adventure to be a part of.  To be able to use my talents for decorating and refinishing and reusing items to DO GOOD and to help someone was such an incredible experience.  And I am incredible grateful for this opportunity.  It has truly changed me.  It has changed everything.  You can read more about this here.
In a few days I will be revealing the rest of the home so that you can see all the fun photos of the entire Habitat for Humanity Home sponsored by GMC.  So stay tuned!
Also, a BIG HUGE GIGANTIC THANK YOU to GMC for making this whole adventure possible and for inviting me to be a part of it!  Love and hugs to all of you!
Be sure to check out my first post about this adventure HERE: