I always love a good challenge and so I am excited about today's project because it was an IKEA Hack challenge!  Which happen to be one of my favorite types of challenges ever!  Can you believe that this beautiful Modern Industrial Nightstand used to be a plain and boring Rast Dresser from IKEA!?  It really did!  Now it looks like a beautiful piece of custom furniture and I am simply in love with it!  Keep reading to find out exactly what we did for this IKEA Rast Hack project!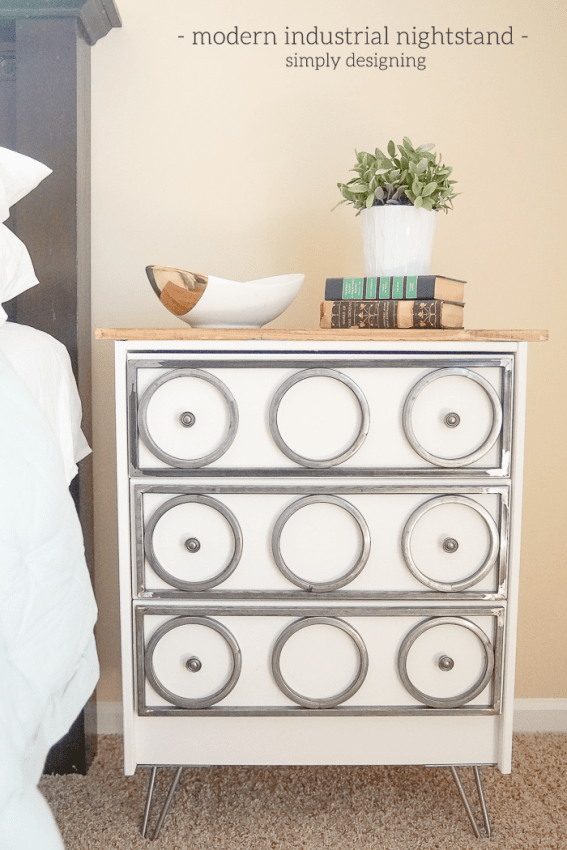 First of all a big huge thank you to Hickory Hardware, Pittsburgh Paints and Stains and Menards for helping to make this post possible today.  All ideas and opinions are my own.  
In case you aren't familiar with it, this is what an IKEA Rast dresser looks like.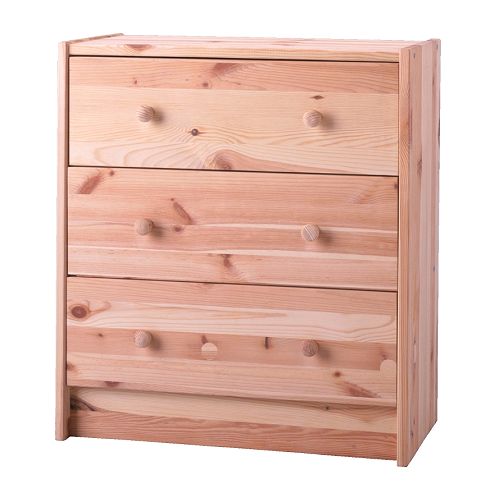 I say "dresser" because that it what it is called, but it is only about 2' x 2' so it is actually quite small, more like a large nightstand size.  And since my new guest bed is a very large and tall bed, I thought this would make the perfect nightstand for the room!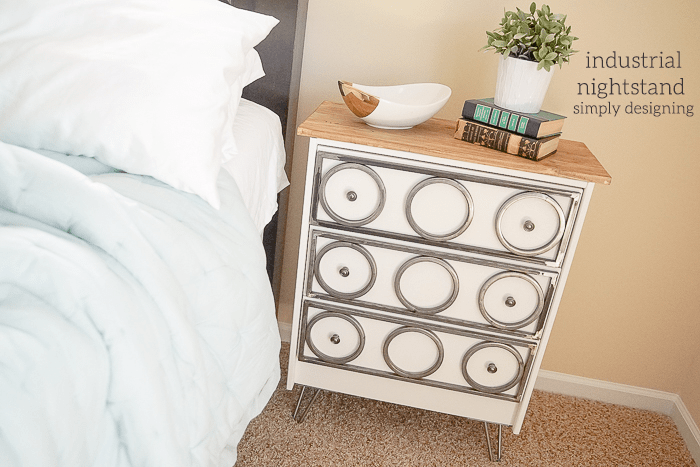 Modern Industrial Nightstand [IKEA Rast Hack]
We are lucky to have three home improvement stores so close to us and they are all different, but for this project I went to Menards to snag my paint, paint brushes and wood using a gift card I was sent.  You can find Hickory Hardware there too, but they were nice enough to send me what I wanted directly.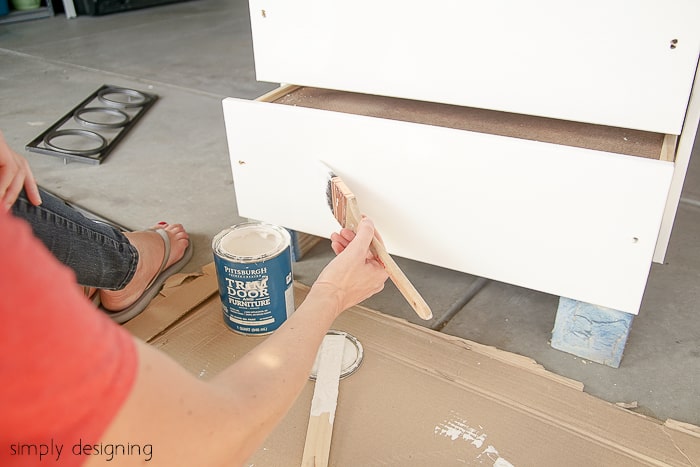 First we put the IKEA Rast dresser together according to the directions.  Then we took it outside, trimmed the top of the sides down to be level with the top of the dresser and puttied the holes.  After the putty was dry we sanded it down with 120 grit sandpaper.  Next we primed the nightstand using an oil based primer and then we painted it using Pittsburg Trim, Door and Furniture Paint in Antique White with a 2" Purdy paint brush.  This paint is an oil based paint that does not leave brush marks.  It is a really thick paint with the consistency of a gel paint that goes on easily and leaves a glossy finish.  I really love that this paint does not drip!  Because this paint is intended for trim, door and furniture, it is really durable which is important since I have little ones in my home.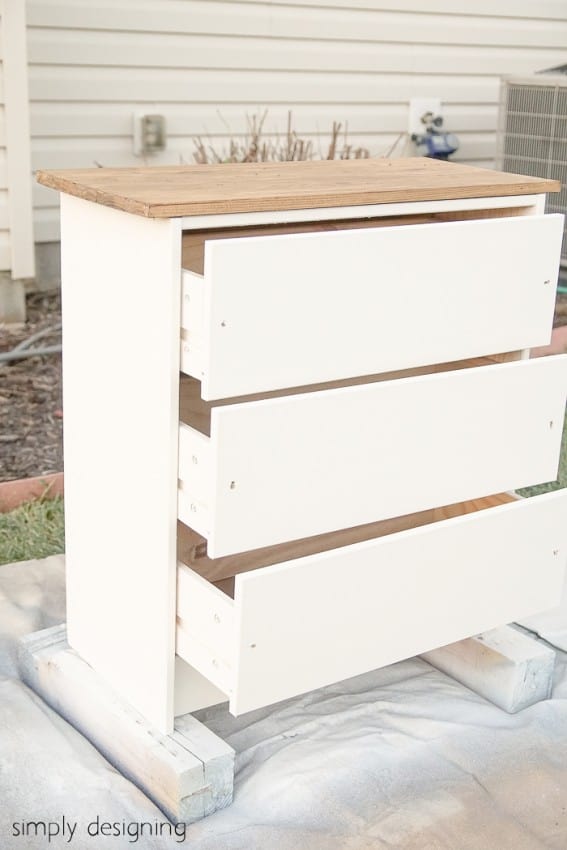 But because it is an oil based paint, it is important to only paint in a well ventilated area which is why I took mine outside to paint.  Also remember to use mineral spirits to clean up your brushes when you are done painting.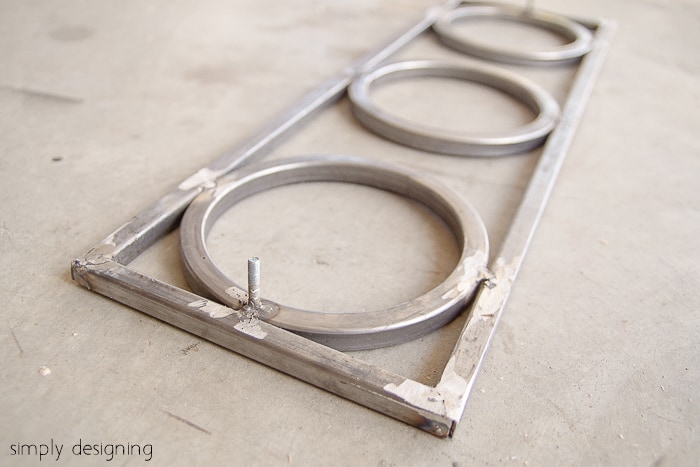 While my nightstand was drying, we went to work on our custom overlay.  And by "we" I actually mean my husband.  He found these really neat round metal things and cool square metal trim and he went to work cutting everything to size and welding it together.  He is pretty awesome like that, and I think the overlays turned out amazing!  He also welded bolts onto the back of the overlays so that we would be able to attach them to the Rast drawers.  We sprayed a clear coat on top of these to help prevent rust.
After the paint was dry we drilled holes into the front of the drawers to attach the metal overlays.  We secured these on the inside of the drawer with a nut.
Next we cut and stained a piece of wood to be the new top of our nightstand.  We used a hammer to distress the wood a bit before we stained it.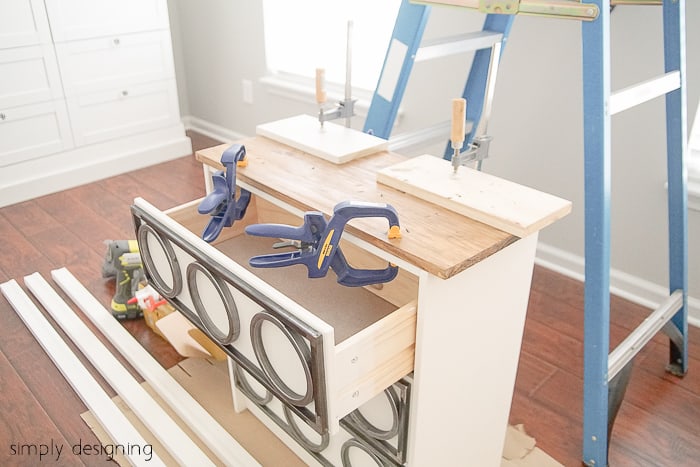 Then we glued it down to the top of the nightstand, used a nail gun to secure it in place and added a few clamps to help hold it down well until the glue dried completely.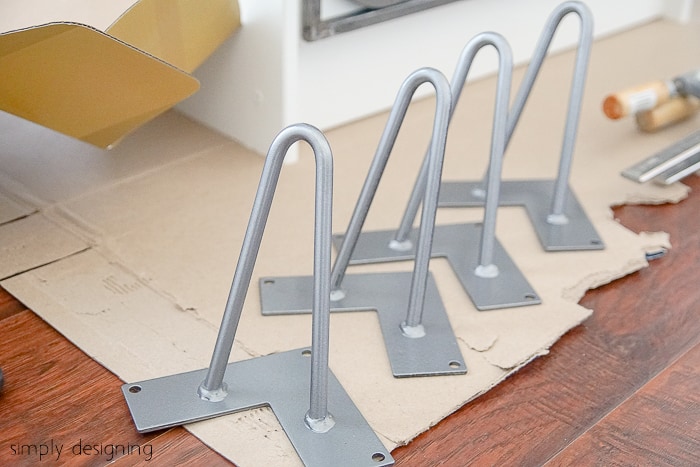 Then we painted our 6" hairpin legs a hammered metal color to help match our metal overlay and let those dry.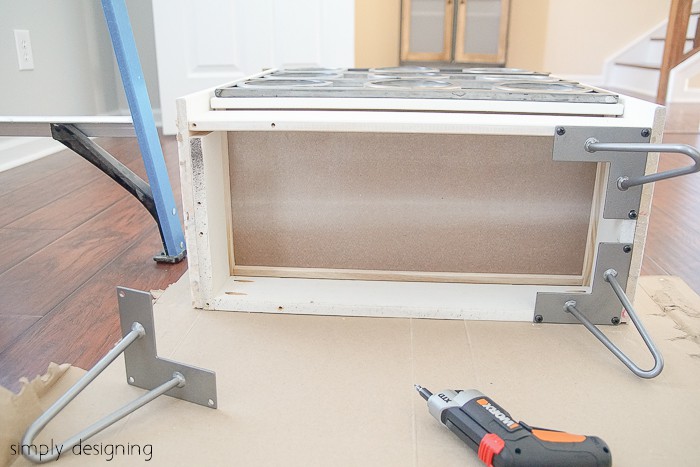 Once the top and the hairpin legs were set, we turned the nightstand over and added 1" x 4" pieces of wood to the inside of the bottom to build the area up a bit.  Then we installed our hairpin legs.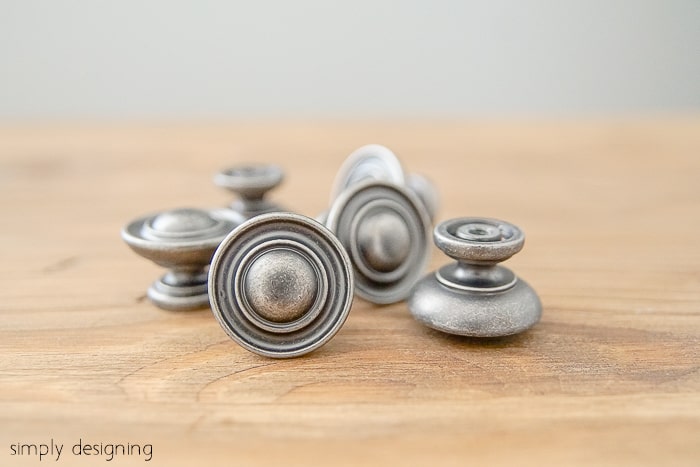 The last step we took was to attach new Hickory Hardware (#434329044).  I measured and marked 6 holes in the middle of the outside rings, then I used my electric drill to drill holes for the hardware.  Once that was done, the hardware simply screwed in place.  But they really make this dresser look amazing!  I love how nice of quality they are and how beautiful they are!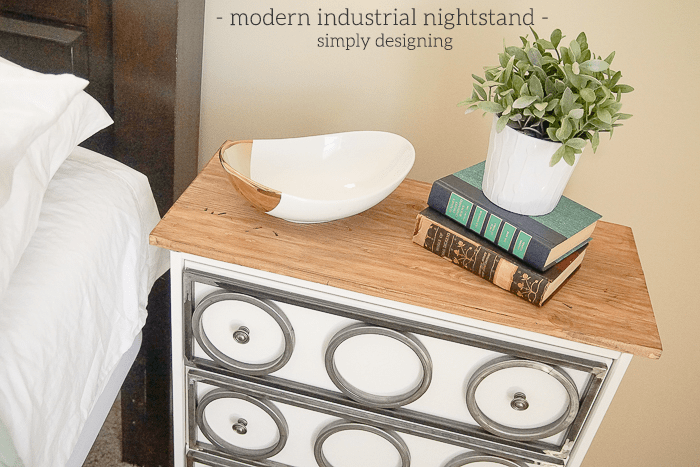 And that it is!  That is how we took an ordinary IKEA Rast dresser and turned it into this beautiful Modern Industrial Nightstand!!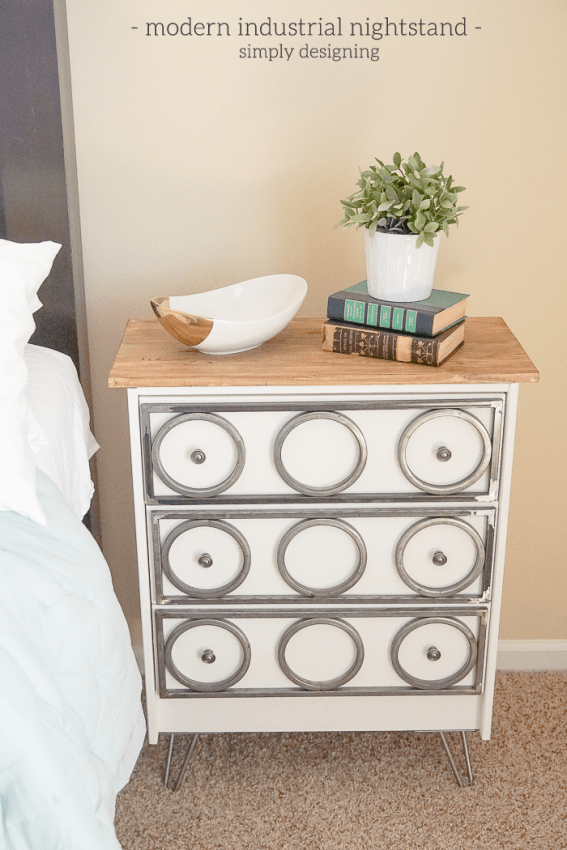 And just a few more photos because I love how it turned out!
I love these knobs!!
Eek so pretty!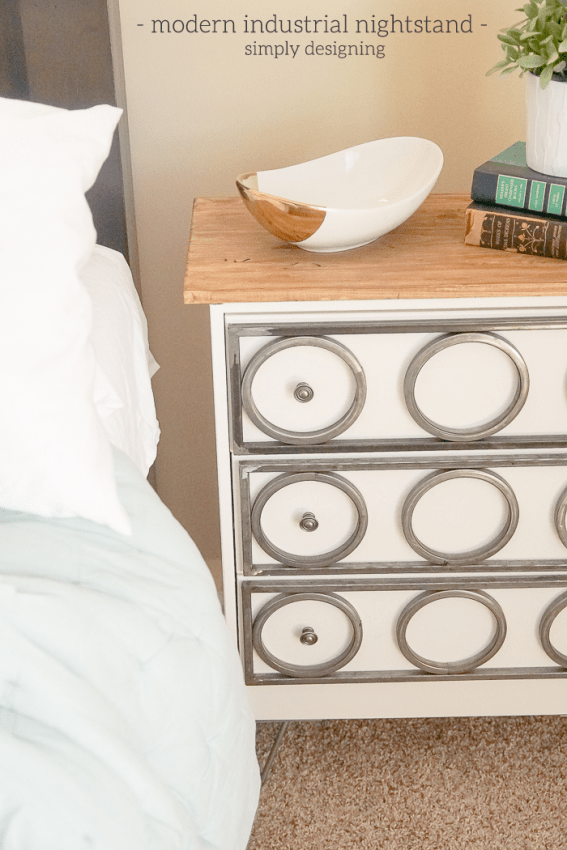 And these hairpin legs...oh I am just in love with them!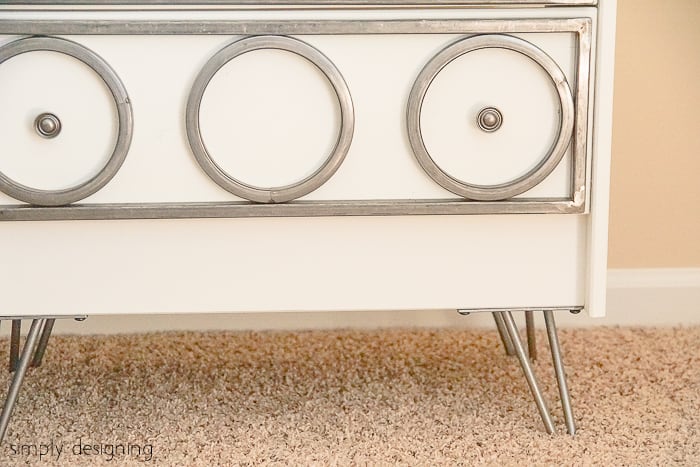 And one last photo...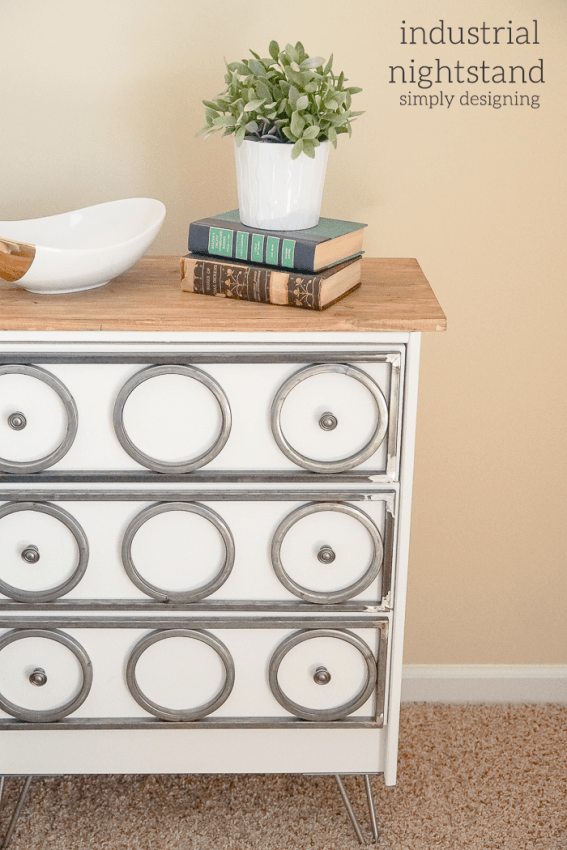 I mentioned that this project came by way of a challenge right?  Well, this challenge was extended to several other bloggers as well!  And I will need your help because it is a contest!  As soon as I have the link to where you can go and vote I will share it here in my blog post AND on Facebook (so be sure to go and follow me on Facebook HERE please!)  And please, pretty please, vote for me!  (Or your favorite hack if it's not mine.)
You might also enjoy: