Today I am getting a little personal...not too personal (don't run away!) just a little personal!  My whole family has allergies.  I suffer the least with mild seasonal allergies.  I don't usually take medicine, but some months I just grin and bear it.  Then my daughter is next with just a few more seasonal allergies.  My son has allergies too but he typically has asthma flare ups to go along with it.  So when allergies hit him, he is stuffed and coughing for a long time.  And then there is my husband.  My sweet, dear husband.  Poor guy can barely breath most of the time.  He is on several medications which help but don't eliminate the problem, we keep the house as dust-free as possible (he is allergic to dust, mold and something nearly every season too) but the poor guy wakes up nearly every morning completely and totally stuffed up.  The poor guy just can't breath.  So I am always looking for ways to relieve allergies, diminish allergy triggers or do anything to help my family just feel better!
5 Tips to Relieve Allergies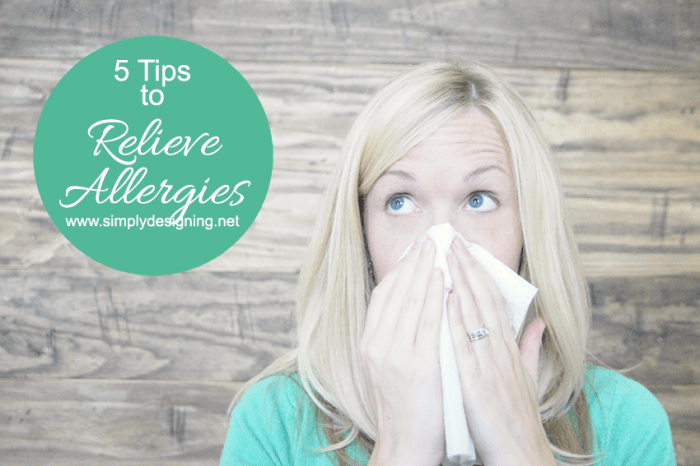 So today I am excited to share with you our 5 (none-medical) tricks to help relieve allergies!  These won't cure them, but they have really helped the allergy suffering in our house.  (Thanks Honeywell for making this post possible today!)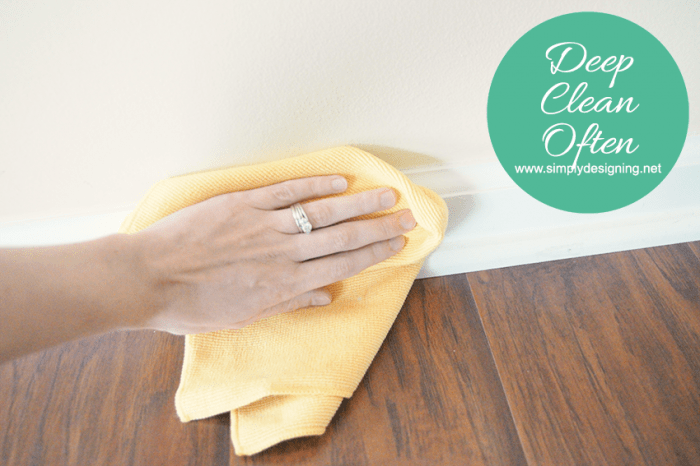 Deep Clean Often
One of the many things my husband is allergic to is dust.  So we make sure to deep clean our house often.  Dust gets everywhere so it is important to clean things like the tops of lights, baseboards, blinds etc. as well as the rest of your home often.
Download a great cleaning checklist here and here.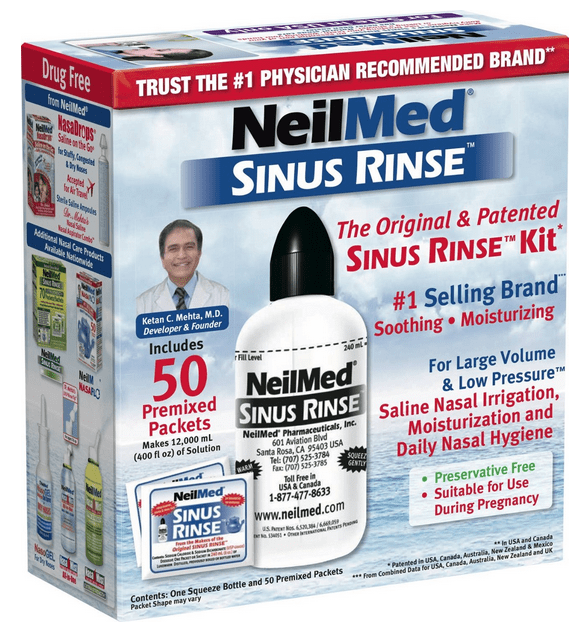 (photo from Amazon)
Sinus Rinse
My husband takes daily prescription medicine to help alleviate his sinus issues.  He also uses a Sinus Rinse twice daily and that seems to help a lot.  In fact, on days when he is suffering really badly, he will rinse a third time!  Just be sure to follow all the instructions carefully and use the salt packets.  But this has helped him a lot!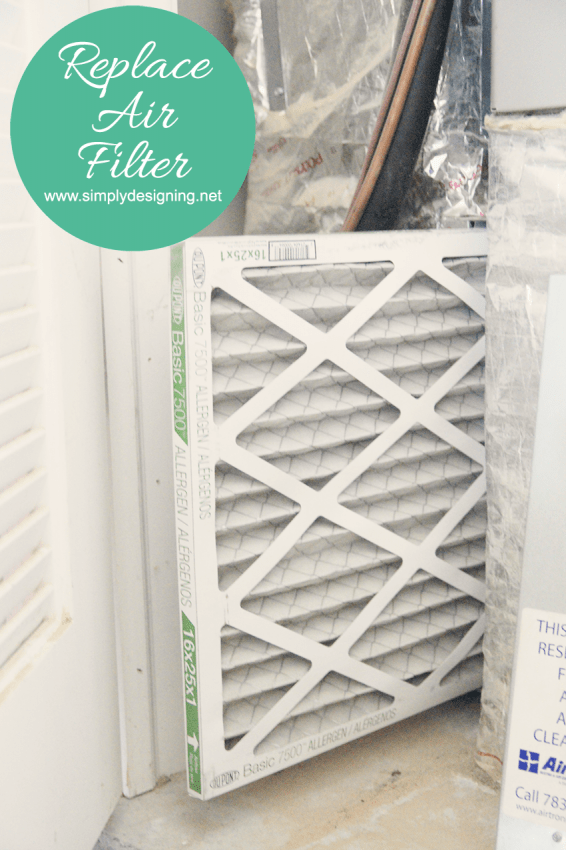 Replace Air Filters Often
This is such a simple thing, but it is easy to forget to replace your house air filters!  So set an alarm on your phone and remember to change it once a month (or according to package instructions).  If you can afford it, pick up HEPA filters instead!  They do an even better job at filtering out allergens.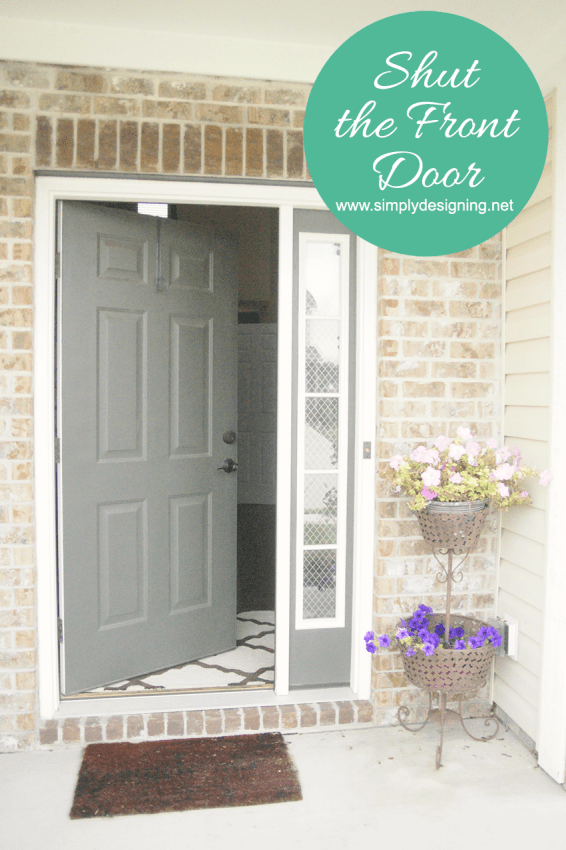 Shut The Front Door
During the spring and fall months it is tempting to open up all of our windows and doors, however, spring and fall tend to be high allergy times for my family.  And I know if I open the doors, along with the beautiful fresh air, I also let in many allergens for my family.  So despite my desires for an open house, I tend to keep my windows and doors shut as much as possible.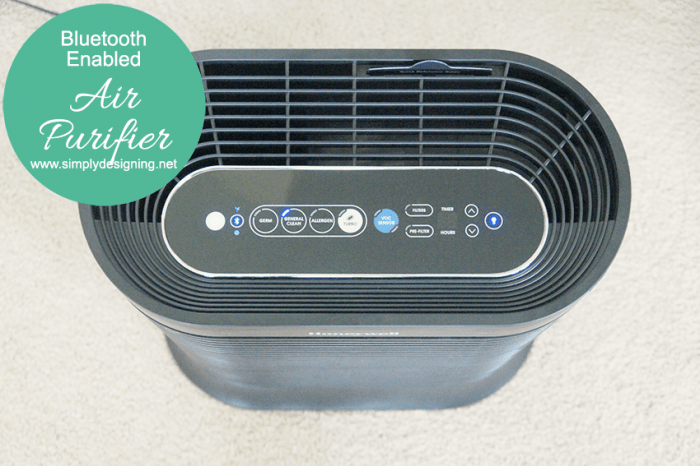 Air Purifier
When I was at Haven blog conference a couple of months ago I had the pleasure of getting to know more about Honeywell and their really amazing air purifiers!  I knew Honeywell made thermostats, but I did not know that they also have an amazing line of air purifiers too!  Due to my entire family suffering at some point throughout the year with allergies, they recommended that we try a blue tooth enabled air purifier in our bedroom.  I was so grateful that Honeywell sent me an air purifier for our own use and for the purposes of this review!  (All opinions are mine though!)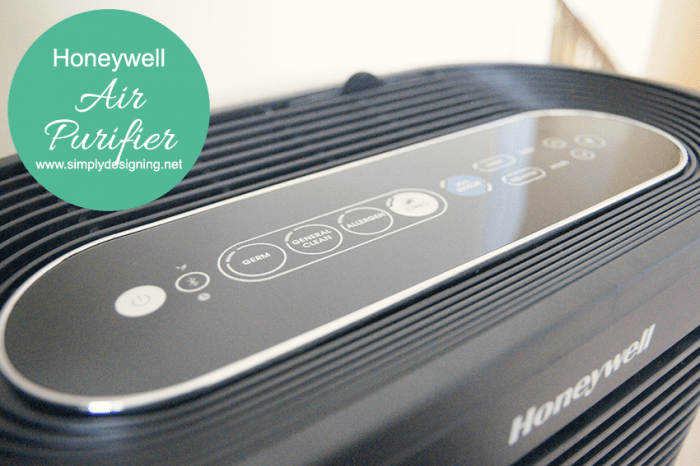 Despite his medication and sinus rinses, my sweet husband still wakes up stuffed every single morning.  And the fact that we are doing a major master bathroom renovation right now makes it every worse for him.
At this point, I felt that no one thing could make a big difference in my husband's life, but we were still really excited to try the Honeywell Bluetooth Enabled Console Air Purifier to see if it helped at all!  So as soon as it arrived, we turned it on and let it get to work!  We placed it in our bedroom and let it run all night long.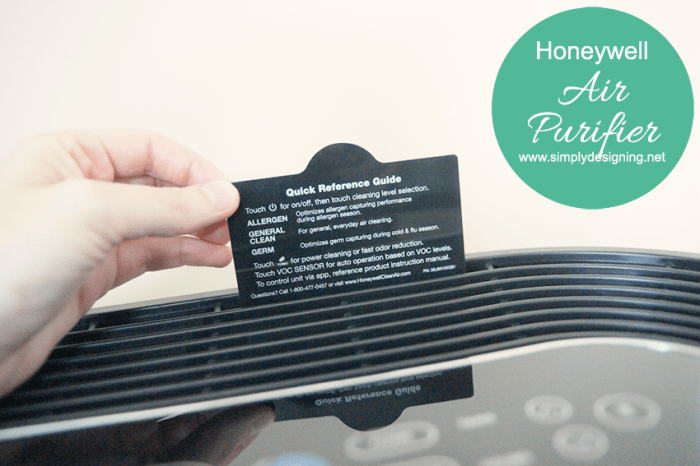 And when we woke up, I noticed that for the first time in weeks, I was not congested.  At all!
So I hesitantly asked my husband how he felt and if he was congested.  He said that he felt great and that he wasn't congested at all!  Seriously!!  My husband who wakes up every day, stuffed, had no congestion at all.  Holy cow.  We were both so excited!
But just to be sure it wasn't a fluke, we have used it every night since and myself and my husband feel so much better!  My husband even noted that the air in our room smells cleaner to!  And he wakes up every day without a stuffy nose!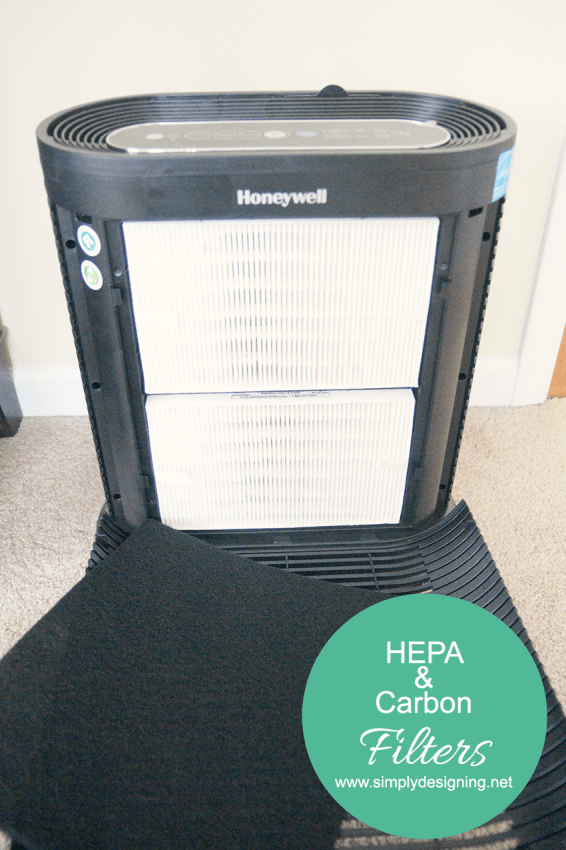 The Honeywell Bluetooth Enables Console Air Purifier actually helps remove VOC's and toxins from the air and purifies the air with a HEPA and carbon filtration system that captures up to 99.97% of microscopic allergens as small as .3 microns in size.  It removes germs too!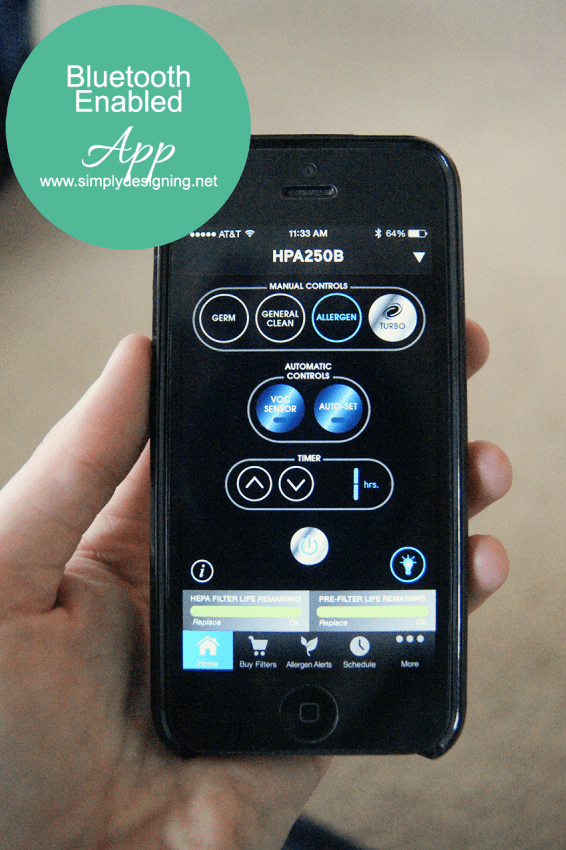 I also LOVE that it is Bluetooth enabled so if I forget to turn it on before bed, I can just open up my iPhone app and turn it on from the comfort of my couch!
I did not expect the air purifier to make such a big difference in my family's health, but my husband and I have both woken up feeling so much better and not at all congested, which is saying a lot!
You can learn more about this and other air purifier options on Honeywell's site HERE.
And be sure to follow Honeywell on Facebook HERE.
One more (expensive) idea to help with allergies is to Rid Your Home of Carpet and install wood flooring (see how we did ours here) or tile (see here, here and here).