This year I am looking for a few fun and SIMPLE ideas to give to friends and neighbors for holiday gifts.  Oh and they also need to be inexpensive without feeling "cheap."  I love hot cocoa and so this year I came up with these really tasty and delicious Salted Caramel Chocolate Hot Cocoa Spoons!  These make a perfect gift on their own, or you can pair it with hot cocoa mix for an even tastier gift. Either way, you can't go wrong with these delicious and so simple to make chocolate spoons!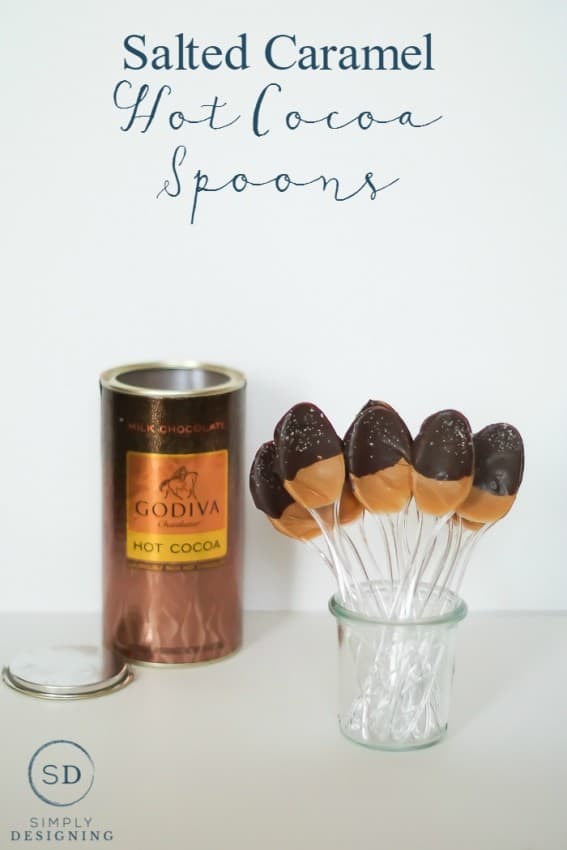 Salted Caramel Hot Cocoa Spoons
To create these you will need (Contains affiliate links):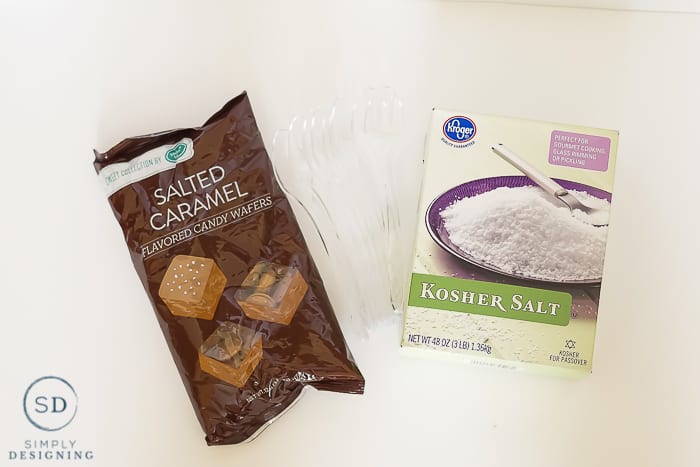 First you will melt your salted caramel wafers in a microwave safe dish in the microwave.  You can see all my tips and tricks for melting chocolate here, but basically you will add your wafers to the dish, and melt for 30 seconds at a time on 50% power, stirring in between.  You can add vegetable oil to help your chocolate be silky smooth and to avoid over heating, but I prefer not to when you want your chocolate to harden well.  Note that the more veggie oil you add, the softer your chocolate will harden to.
Once your wafers are melted, dip your plastic spoon in and tap off the excess.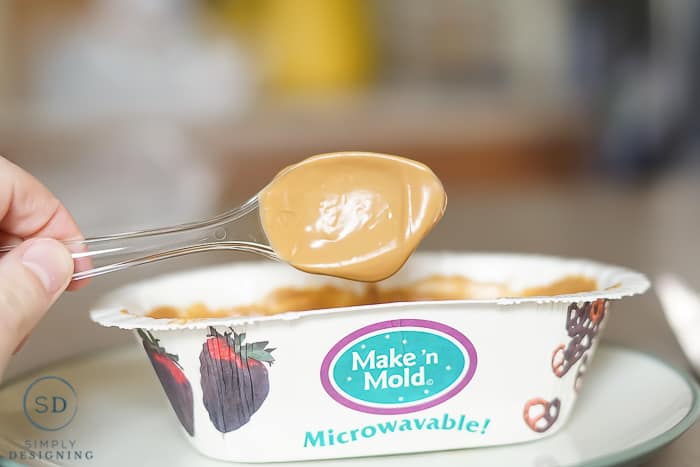 Set your spoons onto a piece of foil or wax paper until the salted caramel layer is completely set.
Once it is set, melt your dark chocolate wafers and then dip your spoons partially into the chocolate.  Then place your spoons on foil or wax paper to harden.
Before the chocolate completely sets, sprinkle a dash of kosher salt on the spoons for an added touch of salt as well as a beautiful accent on them!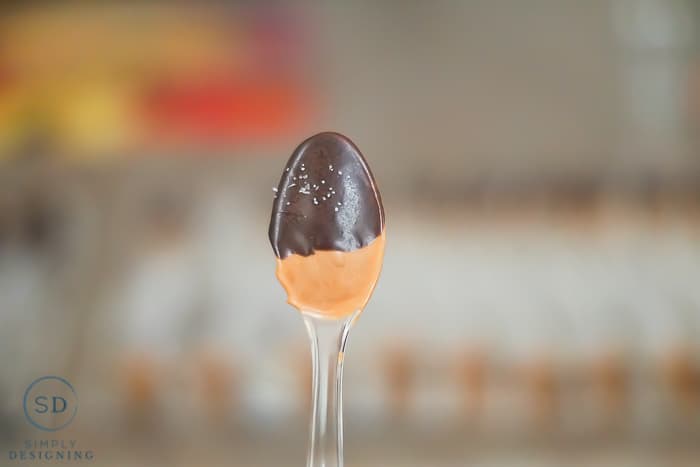 The salt really does look pretty!  But also, have you ever added a pinch of salt to hot cocoa!?  It makes it so much better!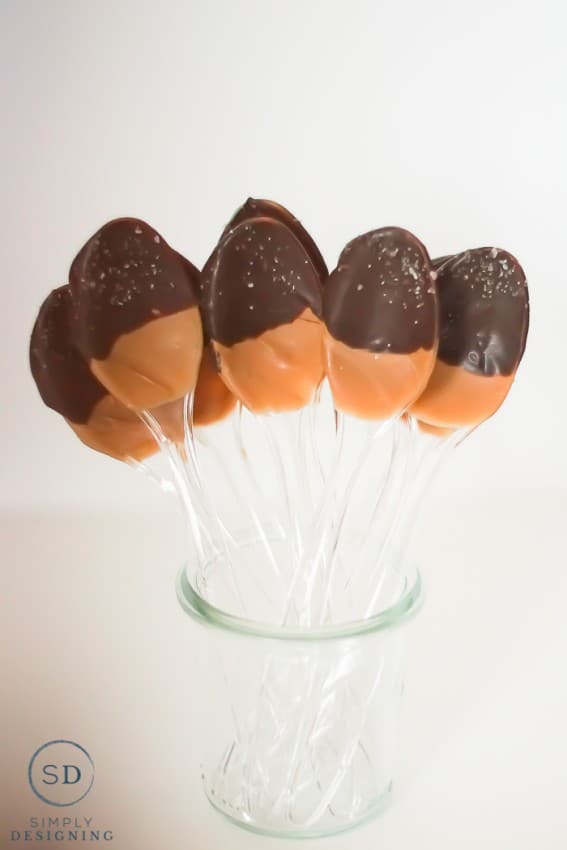 You can set these out at a holiday party near a hot chocolate bar or you can wrap them in cello to give as a gift to friends and neighbors this year!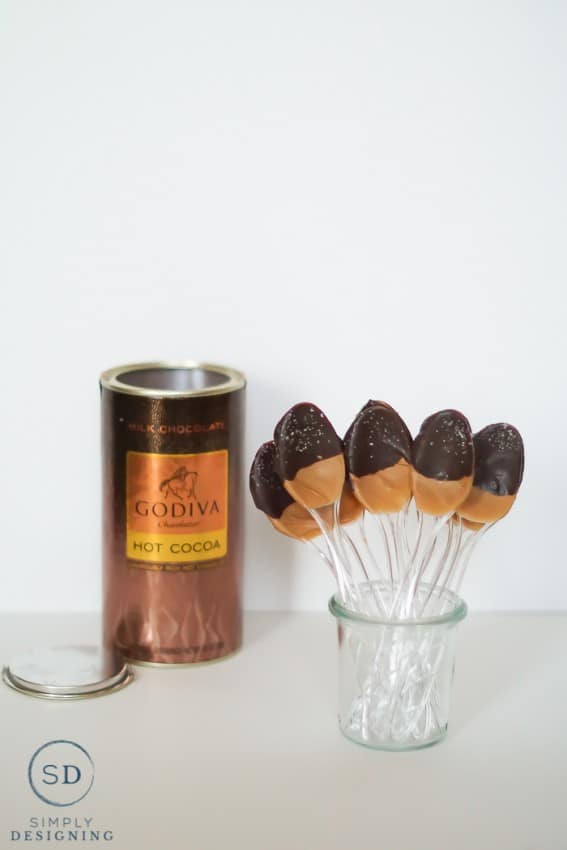 Or you can simply dip them in hot cocoa and enjoy them all yourself!  This is the perfect way to mix your hot chocolate and add a little caramel flavoring to your drink as well.
These truly make hot cocoa luxurious!
And minus the dry time, these spoons only take a few minutes of hands on-work time!  They are inexpensive.  And then are such a fun and unique gift to give this season!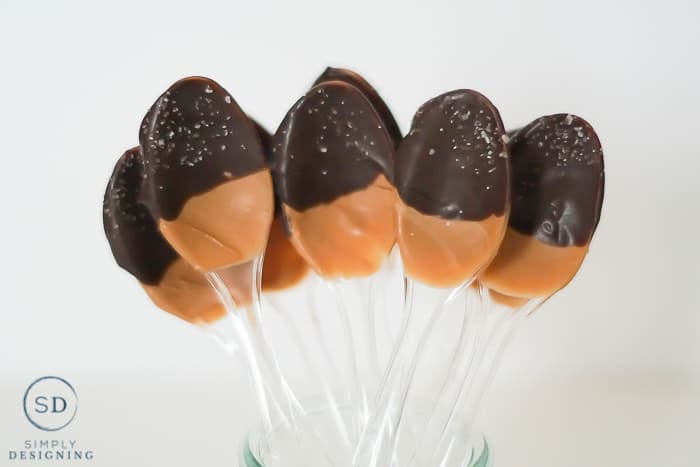 Enjoy!