I recently shared that we are going to live in a travel trailer full-time while building our own home on a gorgeous piece of land! It is such an exciting adventure and so today I want to share a few things that I have learned over the last few weeks of Fulltime RV Living! I am sharing my tips so that you can live in an RV with a family, without losing your mind. It's a tall order, I know, but it IS possible!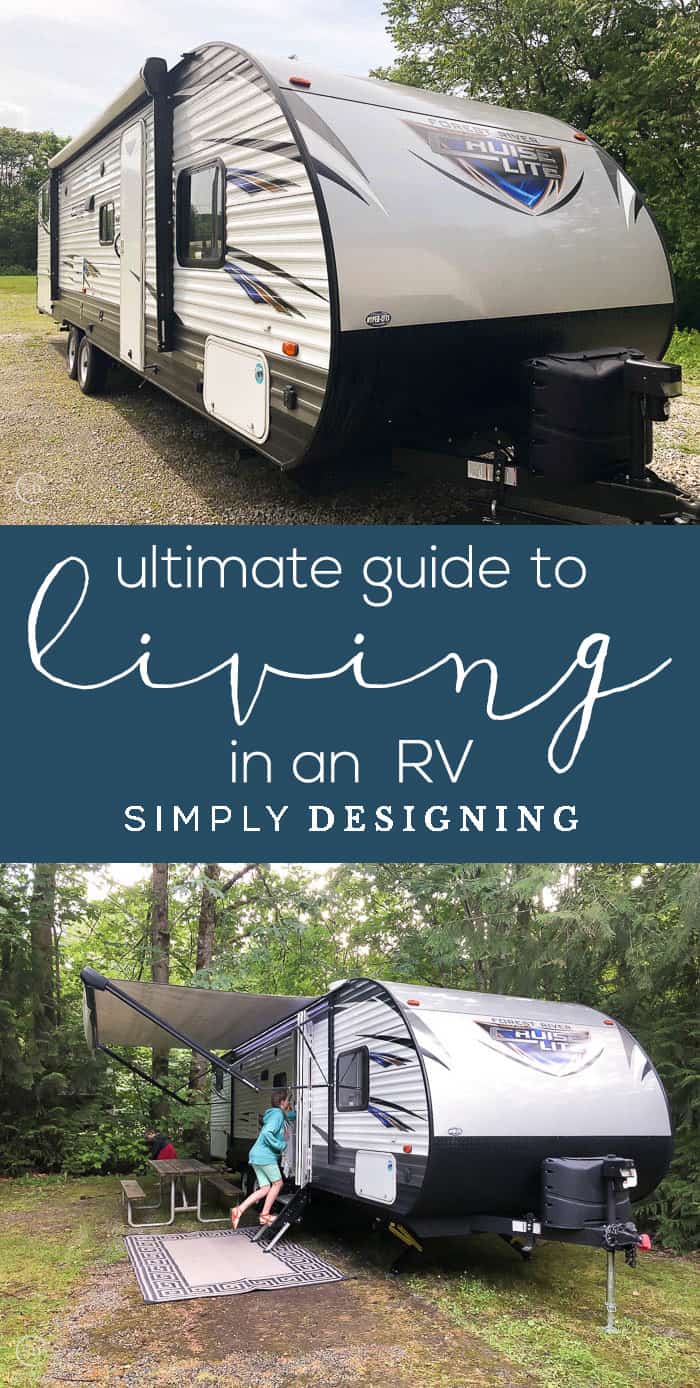 Full-Time RV Living With a Family
Some people choose full-time RV living so that they can travel the world. While I think that is super cool #goals...that is not what we are doing. We are living in an RV full time so that we can build our dream home in a dreamy location. You can read more about our decision making process for this HERE and HERE.
So today I wanted to share a few tips and tricks for Full-Time RV Living so that you can do this just a little more gracefully then we did for the first week.
First of all, I want you to know that we did not start this process very gracefully.
After driving from Indiana to Washington, towing our trailer, with all of our children (i.e. it was a looooooong drive here) we arrived at our temporary campsite and attempted to get set up and settled for the evening. When things started to go wrong (i.e. nothing was working right) I held it together...until we all went to bed at night.
And then I just cried and wondered what I had gotten myself into. True story.
Don't worry, I am ok now. And I think this was probably a normal reaction to everything going on.
And the good news is, I have not shed a tear about it since!
It was just the culmination of being over-tired, drained and struggling to get things working correctly. I am ok now, I promise.
Over the next days and weeks, we got our travel trailer to a point where we can COMFORTABLY live in it full-time.
The RV Life may not be for everyone, and while I don't think it would be for us long term. For the time we need to build our home, it will be great!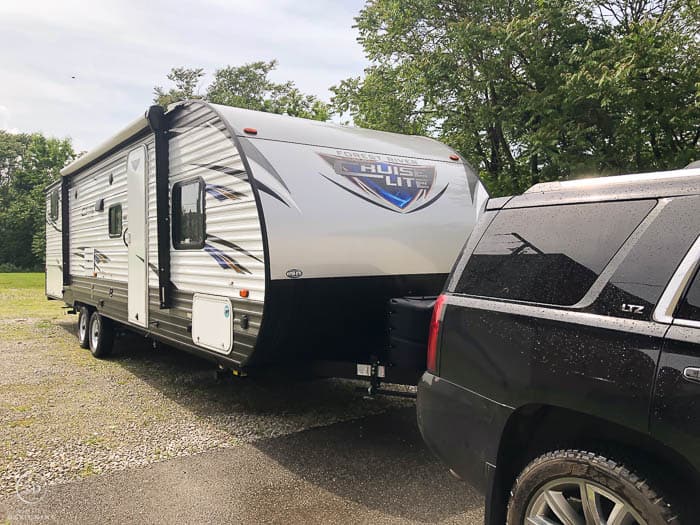 Here are my tips and tricks for full-time RV living with a family
(Affiliate links included for your convenience, thank you for supporting my blog.)
Buy an RV That Will Actually Meet Your Needs
I recommend that you buy an RV that will actually meet your needs. Here are a few things to consider:
Do you have a budget to stay in (we all do)?
Do you need a certain number of beds?
Are you ok making up beds every night by turning couches and dinner tables into sleeping areas?
Do you need a bathroom and a shower?
Do you need space for laundry hookups?
Do you have a car already that you need to tow it with?
Do you need an actual RV or will a 5th Wheel or a Travel Trailer work?
These are just a few things to consider when making your RV or Travel Trailer purchase. But I recommend sitting down and making a list of your NEEDS before you even start looking.
You can also make a list of WANTS too 🙂
Here are a few initial recommendations from me for choosing an RV for Full-Time Living
Choose a Travel Trailer, Park Model or 5th Wheel over an actual RV because there are fewer things to break and go wrong. If the car part of your RV has an issue, the whole vehicle (read: your home) is in the shop for as long as they need it. If you choose an RV, be sure to keep a reserve of cash for hotels for when you run into car trouble.
Choose a trailer that your existing car can tow. This one was big for us! We wanted to be able to tow our trailer ourselves, and we didn't want to buy a new car. So we specifically looked for one that we could tow with our SUV.
Laundry hookups sound nice, but definitely not needed. Typically they are very small and so you can only wash a few things at a time. And it will increase your greywater usage by a lot. It is more efficient to visit a laundromat or stay at campgrounds with laundry facilities.
A bathroom and shower were essential to us! Because we are living in a campsite for now, but then on our property later, we needed access to a bathroom and shower. I will note though that unless you have a really big hot water tank or a tankless water heater, you will only get very very short, or very very cold showers. We have a small water tank and are currently using the campground facilities to shower. But we quickly switched out to a tankless water heater so that we can have endless hot water in our trailer! Yay!
We needed a bed (and separate bedroom) for my husband and I. Yes, I said NEED. We consider having a little space from our kids a need. It is 1000% ok if you feel differently! We don't need space all day every day, but living long term in a small space meant that having a space to call our own was important. But we also needed beds for our three children and we did not want to have to make up beds every night. So we looked for a travel trailer with a bunkhouse. The one we ended up buying has 4 bunks plus a master bedroom.
Let's chat budget real quick. You can get an RV loan for up to 30 years. 30 years you guys. That's the length of a home loan, but your RV might not be worth even close to a home price. We did not want to be paying for our RV into our 70's, so we did not want to go this route. This meant, no new trailer for us (which is ok...I will explain why later). So we decided to buy used to keep our monthly payment in check and our loan terms low. If you can pay cash for one, I definitely recommend doing that!
Buy Used
RV's take a big hit in depreciation the moment you drive them off the lot. Don't buy new unless you have endless money to throw around for fun. It is possible to buy used from a dealer, or from a private party that is in good condition. Let someone else take that hit. Buy used!
Take Your RV or Travel Trailer for a Dry Run
One of our biggest mistakes was not taking our travel trailer for a dry run. We bought it right before we left Indiana and just didn't have time to take it out to work all the kinks out of it before we left to move to Washington. Having time to take it out for a weekend beforehand would have been helpful for us to know how to get everything up and running before we ended up with our family at a campground not knowing how to make everything work.
Thankfully we DID get everything working. It just took a little research, and trial, and by the end of day two, we were up and running perfectly!
Use Every Vertical Space
Because closets and pantries are limited in a small living space, it is important to use all your vertical spaces that you can to stay organized. We currently have a variety of door hanging contraptions and hooks we stuck to the wall. We also have installed some shelves. These things have all made living in an RV actually doable!
Yes we all have too much stuff, and we all need far less then we have, but 5 people living in an RV full-time means we do need some stuff. So use every vertical space you have! Here are a few items that we have and love for organizing our vertical space:
Everything Has a Home
When you decide what you are bringing with you and what you need storage space for, give everything a home. Every single item in your RV needs to have a spot to be put away, otherwise, it will always be messy in your trailer.
SIDE NOTE: it will still always be messy in your trailer if you have kids, one thing out of place and the whole room is a mess hahaha, so go ahead and try to calm your heart and know that you will have to work through this if it bothers you.
Shoe Storage
We all know that IKEA is the bomb for small space living! So it is only reasonable that we took a huge trip to IKEA the day after we moved into our trailer to stock up on storage solutions. We found the best, vertical shoe storage. It was similar to THIS HERE, but they were plastic and each bin was individual (but was still sold as a set of two). It takes very little room and can totally be used in a travel trailer. Ours are right by our door on the back of a cabinet. It works SO well for storing everyone's shoes! I love them!
Toiletry Storage
So I guess I have a lot of toiletries. Between makeup, shower stuff and skincare items, I win for most bathroom stuff that I really truly do use daily. So proper storage was important to my day-to-day functioning.
We found the best shower tension pole for in-shower storage and we added 6 more shelves from IKEA into the bathroom. The shelves are all mine. Nope, I don't share. Haha
Shower Storage Tension Pole (I have never seen a shower tension pole with such big shelves! Most are half this size! This is amazing and seriously the best!)
IKEA Spice Shelves (For all the things: toiletries in the bathroom, makeup etc.) PRO TIP: install these in your walls using cabinet anchors!
Clothes Storage
One of the issues we knew we would have would be clothing storage. Closets are limited in our trailer and we needed more space. So we added a few rolling bins underneath our bed. And in my kids' bedroom, because we only needed 3 bunks, and it came with 4, we removed the mattress from one of the bunks and put a dresser in the space instead.
I am totally serious. My kids have a dresser to share! Aren't they so lucky?
Let me answer that for you, yes they are lucky! I don't even have a dresser! We found something that fit the space at IKEA.
Pantry Tips
Space is a premium and we don't have a ton of space for dishes and pantry items. But we are working to organize our pantry as efficiently as possible.
We use a variety of storage bins from Target and these SPICE HOLDERS for spices.
Fridge Tips and Meal Planning
After a little trial and error, I figured out that I can keep 5-6 days worth of food in my fridge. If we eat pizza one day, I can go grocery shopping once a week even though my fridge is super small compared to my previous fridge in my home.
How do I do this?
I meal plan!
Yup. I meal plan meticulously. I know exactly what we are eating every day, and I only buy what we absolutely need.
If you like to write your lists down like I do, I have a FREE BULLET JOURNAL MEAL PLANNING SHEET HERE.
How to Cook In an RV When you Live in it Full Time
Ok, guys. This is a real moment for me.
I. Don't. Love. To. Cook.
I know, I know. I'm that mom.
I DO love eating good, healthy food though, and eating good, healthy food for me means I have to cook.
But cooking in a travel trailer was a huge shock. I have very little counter space. My utensils, cooking appliances and ways to cook are extremely limited.
I can't cook like I used to cook, easily, so it feels like I am learning how to cook all over again. And for someone who doesn't love to cook, this has been a bit rough. Ha
But, I am learning to use my SLOW COOKER and INSTANT POT daily.
I will admit, my SLOW COOKER was a splurge, but it cleans like a dream! I never ever have to let it soak. It just wipes down super easy, which is a big deal when you don't have soaking space!
But these SLOW COOKER LINERS also make clean up in any slow cooker super easy.
I used to have a different pressure cooker, but it was having issues, so I bought this INSTANT POT recently and absolutely LOVE it!
I also have an old rice cooker I use almost daily.
And I have an AIR FRYER but to be honest, I haven't fallen in love with it yet.
Our trailer did not come with an oven. We had heard mixed things about RV ovens. So we were ok without having one.
Instead, we got our hands on a BRAVA.
A Brava is an amazing cooking appliance that is perfectly sized for RV living! It is similar to a toaster oven, but does so much more!
It cooks with light and you can cook differently in different zones of the appliance, meaning you can cook a three-course meal on one pan. And it cooks so much faster than a traditional oven with very little or no pre-heating time!
It can sear, toast, bake, dehydrate, air-fry and more! And having machines that can do multiple jobs in one, are a necessity when living in a small space.
I am going to be sharing more about this amazing machine plus a yummy recipe using my Brava soon with you (don't worry, those with traditional ovens can still make this too).
In the meantime, you can learn more HERE.
The Brava has truly become a must-have for our family's RV living.
Your Bed IS Important for Full-Time RV Living
So the bed that came with our trailer was...not ideal.
Maybe I am old. Maybe I am picky. But I need a good bed!
While a lighter-weight mattress may be ok for short-term camping, it is not something we could hack for the long term.
As soon as we could, we threw away the mattress that bought a new one. We bought ours from Costco, but feel free to buy whatever mattress you love that will fit in your bed space.
Note that you need to be able to get it into the trailer! (We have a small door.) Our bed is memory foam so it came wrapped very tightly and small so we were able to get it into the trailer, and then unpackage it once inside and on our bed.
Bedding Suggestions
Making beds isn't anyone's favorite job. But when you live in a small space, an unmade bed is very noticeable and makes the whole space look messy.
So we decided to splurge on Beddy's for our kids.
We bought the cutest matching Modern Gray All Cotton Beddy's bedding for all three of our kids so that they matched and looked great together. And all my kids have to do is zip it up every morning to make it and it looks great!
Dehumidifier
RVs and travel trailers can get humid depending on where you are at. It is important for your health and upkeep of your trailer to keep the humidity levels to a minimum so that mold doesn't grow in it.
Also, your clothes can start to smell musty if it is humid in your trailer. Yuck.
Here are a couple of suggestions for dealing with humidity in your trailer:
After a lot of research, we just ordered THIS DEHUMIDIFIER HERE! (*9/30/19 update: we love this dehumidifier! Although it is a bit big for the space, the amount of moisture it takes out of our trailer is incredible! It is amazing!)
A few more must-have items for full-time RV Living with a family:
Here are a few things on my RV Wish-List that I think would make Full-Time RV Living a little nicer:
Whew. I know that is a lot of information on Full-Time RV Living. But if you are seriously considering living in an RV with your family, you need to do it right!
You might also enjoy these posts: