Hi friends!  You all know I love my Young Living, right?  Well today I have decided to join forces with a dear blogger friend of mine and giveaway a Young Living Premium Starter Kit!  Woot woot!  I am going to share all the details about the kit, why you want it and how you can enter  to win!  Are you ready?
If you follow me on Facebook or Instagram, you know I am on a mission to clear my home from all unnecessary toxins and chemicals.  We are slowly replacing items we use every day with BETTER options.  Along the way, I have learned so much and falling in love with BETTER products that don't cost more.  We are seeing so many amazing wellness benefits too!
If you want to learn more about my journey or these oils, you can check out my post all about essential oils HERE.
While working on ditching and switching my chemical laden products for better ones, I have been able to cut my migraines almost completely out of my life, support my family's immune system, support our emotional health, support our digestive tract, support our respiratory system and so many other things!  These little bottle's of goodness have truly been life-changing for us!  And because I love learning and researching these things, I also love sharing, educating and helping others to benefit from this information too!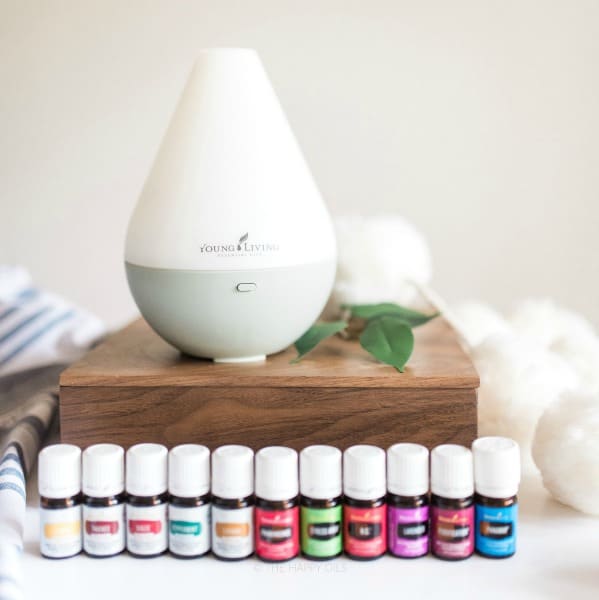 The Young Living Premium Starter Kit
This kit is valued at over $340! It comes with 11 therapeutic grade essential oils, a diffuser, literature and samples!
The oils that are included in the Premium Starter Kit are:
LEMON: supports nervous system and is invigorating, cleans bodily systems, supports proper nasal function, tasty in water
DIGIZE: supports a healthy digestive system, can help alleviate occasional nausea and upset tummy
LAVENDER: relaxing, calming
COPAIBA: promotes youthful appearance, supports the body's natural response to injury and irritation
THIEVES: supports healthy immune function
PURIFICATION: neutralizes odors in the air, uplifting and invigorating aroma
PANAWAY: relieve occasional muscle soreness and tension,
FRANKINCENSE: supports healthy skin and feelings of balance and calm
R.C.: respiratory comfort
STRESS AWAY: the name says it all 🙂 help to reduce nervous tension and induce relaxation by supporting the nervous system
PEPPERMINT: gastrointestinal system comfort, promote focus and clarity by supporting a healthy nervous system, helps relieve minor aches and pains associated with daily life
This kit is AMAZING and truly has been life changing for me and I am so happy to be able to bless someone with this amazing kit too!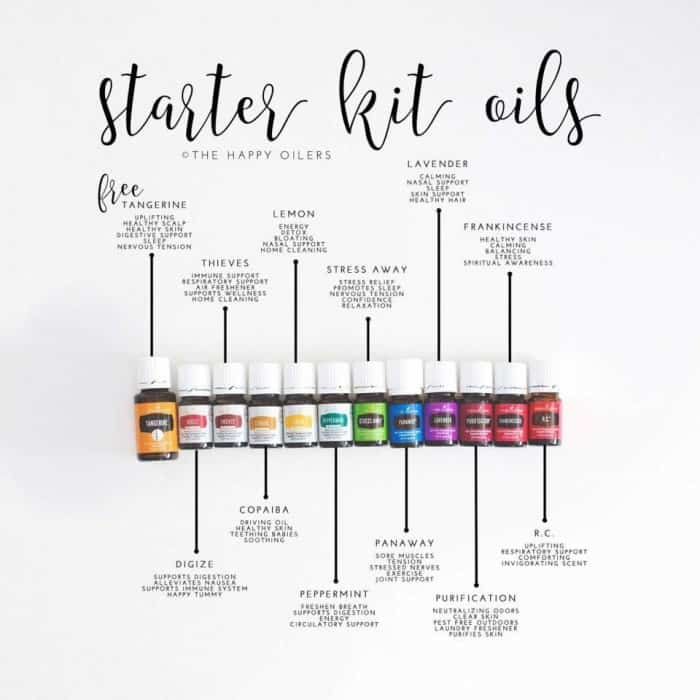 WIN a Young Living Premium Starter Kit!
Simply Designing is not administering this giveaway and is not responsible for selecting and notifying the winner.
If you love essential oils, you might like these fun DIY beauty gift ideas: