Occasionally a crazy idea hits me like we need to rip up part of our nice deck and build a swing!
We have a beautiful deck that we spent a lot of time building and staining and re-staining!
It has gorgeous landscaping thanks to my husband and the deck has pretty built-in benches too.
Unfortunately, we rarely use the benches.
So today it hit us to rip out one of the benches (ie take apart half of the deck) and build a porch swing instead!
My whole family LOVES porch swings!
I don't know why we didn't think of this sooner!
So today, I am going to show you how to Build a Porch Swing.
This post on how to Build a Porch Swing is made possible by HomeRight.
Oh, and the best part is that I only needed to purchase (1) 2x4 for my swing, rope and a few pieces of hardware to make this work.
That's because we were able to re-use the wood from our bench and our deck to create this beautiful porch swing! Isn't that the best!?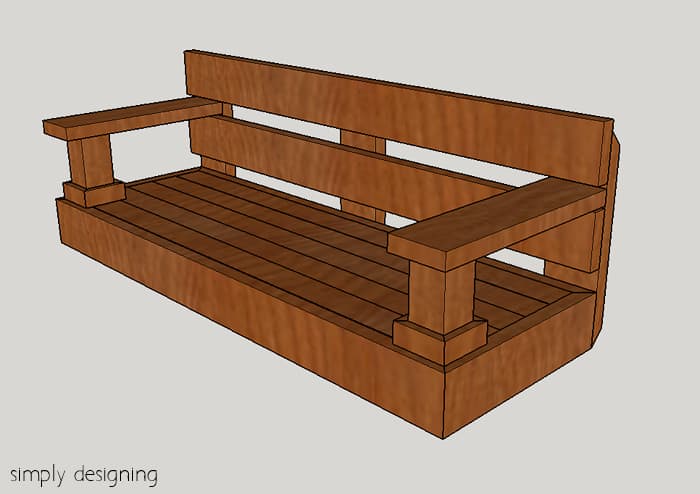 So today I am sharing my tutorial as well as my plans on how to build a porch swing!
Yes, plans! I finally took the plunge and decided to start learning SketchUp!
So this is my first attempt at a 3D furniture plan in SketchUp and it should help you build your own porch swing a little more simply than only written instructions I hope.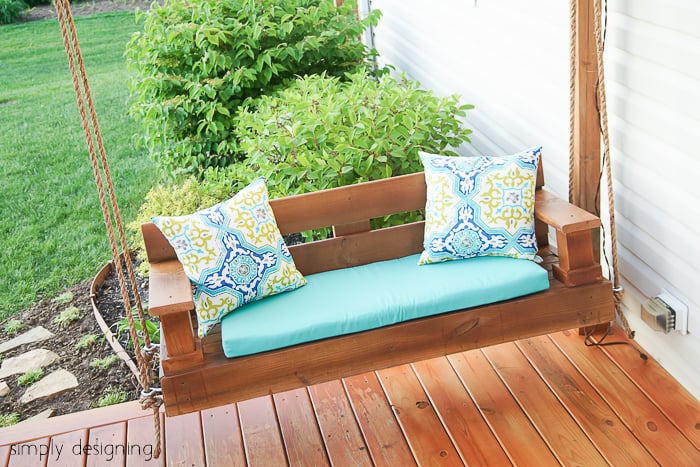 Here is what our patio looked like BEFORE we built the porch swing: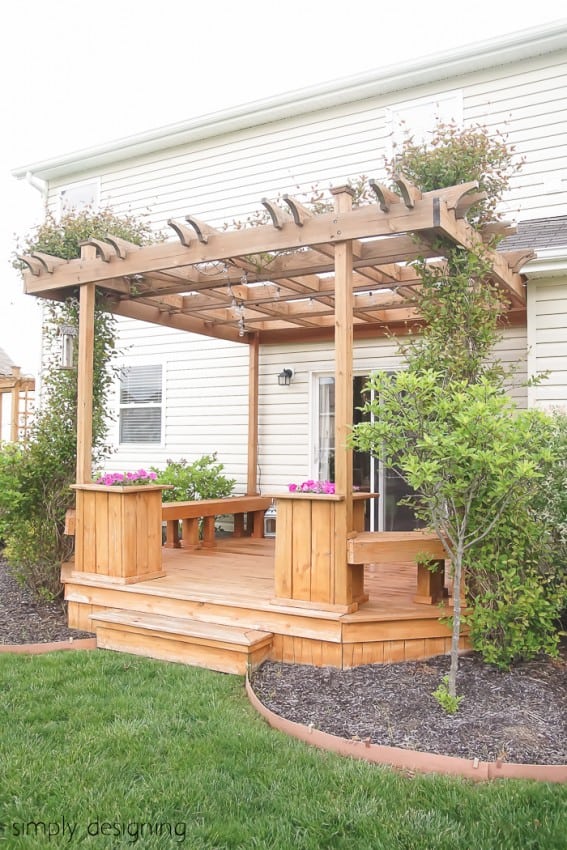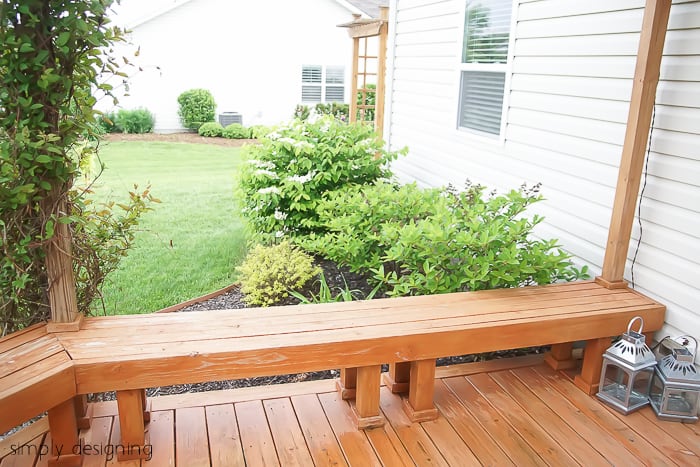 And here is AFTER we hung the porch swing: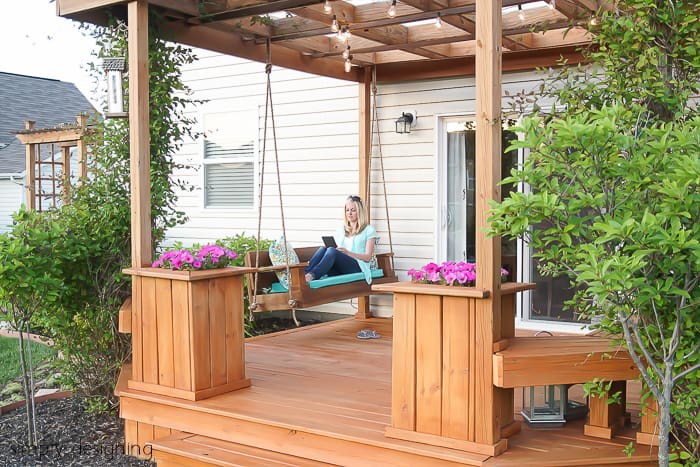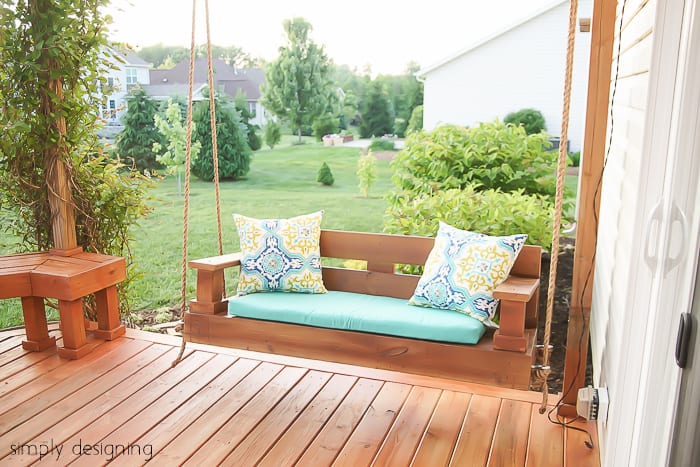 Isn't that so much fun!?!?! I am in love with our new Porch Swing!
Here is what you will need to Build a Porch Swing
Wood Boards and Cuts to build a porch swing

Frame Boards

(2) 2" x 6" x 60" bevel cut
(2) 2" x 6" x 20.75" bevel cut

Corner Posts

(2) 4" x 4" x 13.5"
(2) 4" x 4" x 4"

Seat Boards
Vertical Back Support
Horizontal Back Boards

(2) 2" x 6" x 60" (we used deck boards for this, but regular boards would work too)

Arm Rests

(2) 2" x 6" x 21.125" (we used deck boards for this, but regular boards would work too)

Cross Beams

Trim

37' Manila Natural Rope, ¾" thick
(4) Eye Screws, ½" thick
(2) Eye Bolts, ½" thick
(2) Large Washers to go with eye bolts
(2) ⅜" Anchor Shackle
1 Box 2 ½" Wood Screws (approximately 72 screws)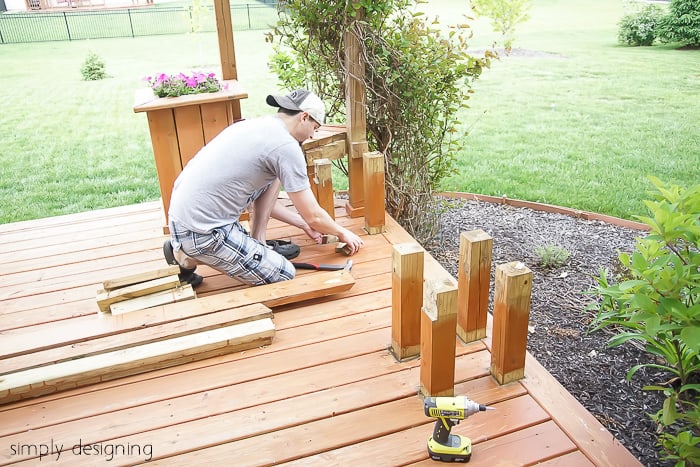 Because we already had a bench on our patio, the first thing we did was to remove the top of the bench.
This was easily done by unscrewing the boards and carefully laying the wood off to the side.
We wanted to reuse most of this wood so we were careful when removing it.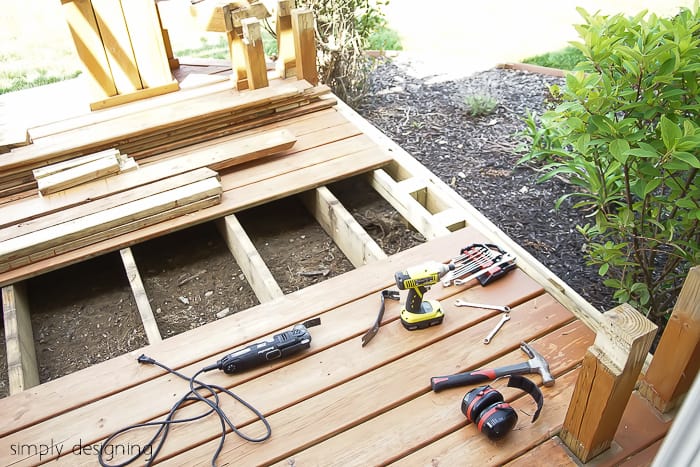 Our bench legs were bolted into the deck support boards that ran under our deck top.
So in order to remove the bench legs, we needed to remove several deck boards.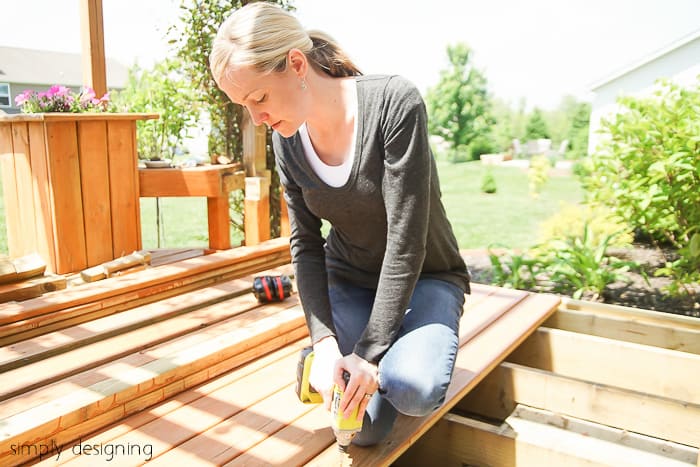 Once the bench was completely removed, we installed new deck boards.
We ended up rearranging the boards so that all the new boards were next to each other.
This is not necessary, but it was our personal preference.
After our deck was put back together, we were ready to build a porch swing!
Most of the boards we used for our porch swing were boards that came from the bench and deck that we removed.
You can use new boards instead.
Cut the boards according to the cuts mentioned above.
Note that this swing was custom designed to fit the space that we have but it builds a 5' long bench which is a pretty standard size.
You may need to adjust the sizing of your materials to fit the space you have.
After our boards were cut, we began assembling it in the following manner.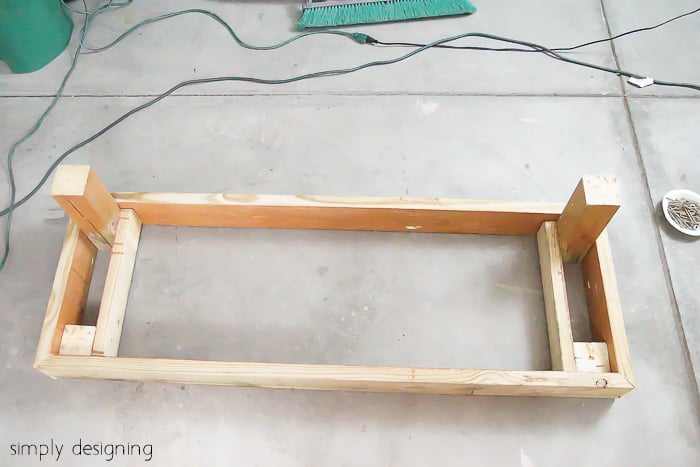 First, we used the 2" x 6" frame boards to build the bottom frame with the 4" x 4" corner post in each corner.
We used screws to attach the 2" x 6" directly into the 4" x 4" corner posts.
Then we used 2" x 4" boards to build cross beams that the seat top will rest on.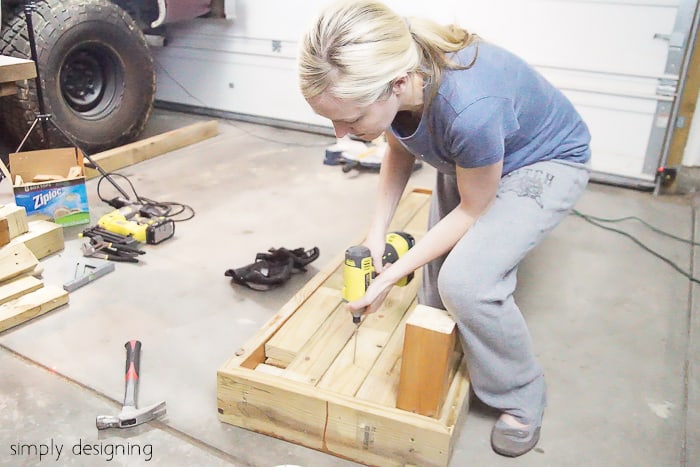 Next, we assembled the seat top using the remaining 2" x 4" pieces and screwed them into the cross beams.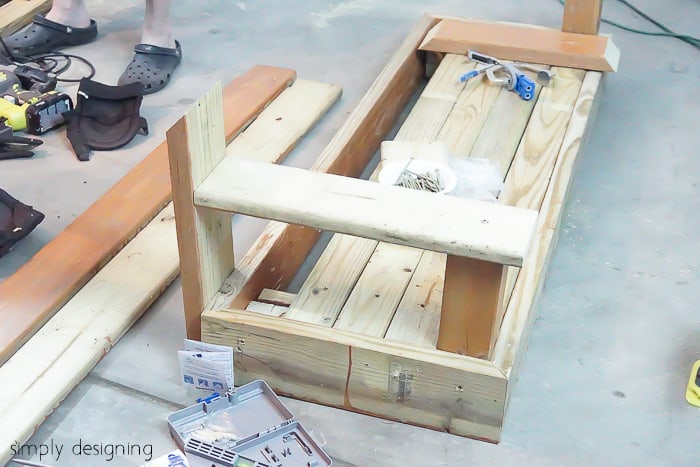 Then we attached the three 2" x 6" vertical back support boards onto the frame with screws.
Then we used our Kreg Jig to place pocket holes into the bottom of the 2" x 6" armrest pieces and attached those to the vertical back support boards.
We also screwed the armrest straight down into the 4" x 4".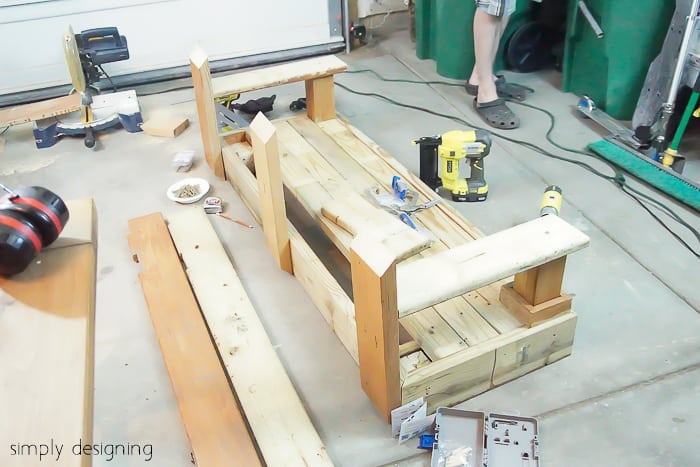 After that, we attached the 2 horizontal back support boards by screwing them into the vertical back support boards.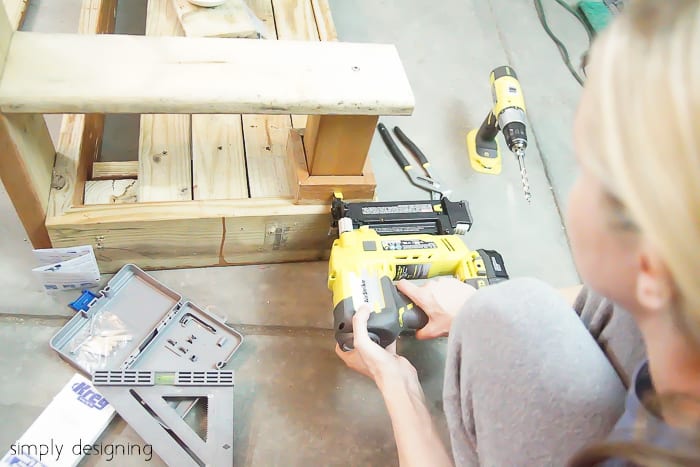 Then we added the trim around the bottom of the 4" x 4" armrest supports using a nail gun. (I know I am missing one seat board in this photo...I was working late at night and ran out of boards, so I bought a new board the next day and installed it in place.)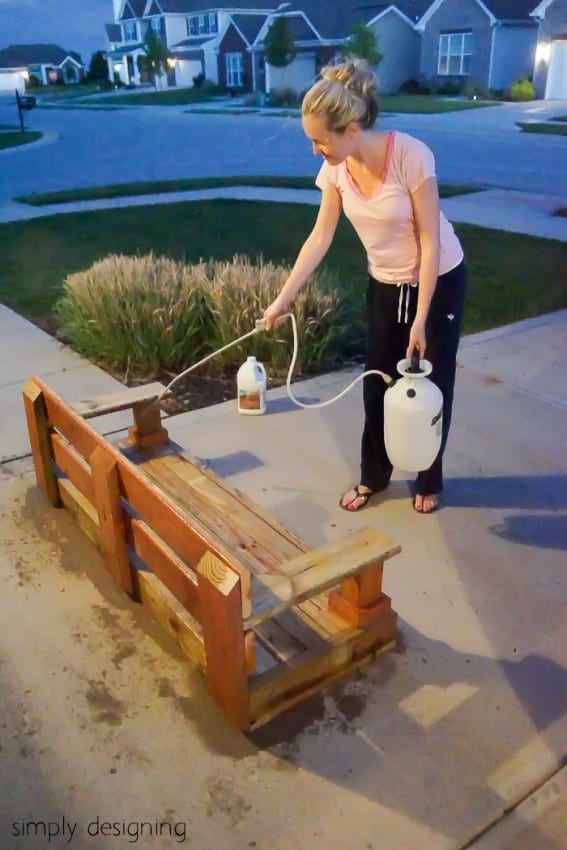 After the swing was assembled we sanded it down well.
Because our boards were previously used, we sprayed it with deck cleaner and let it dry completely before proceeding.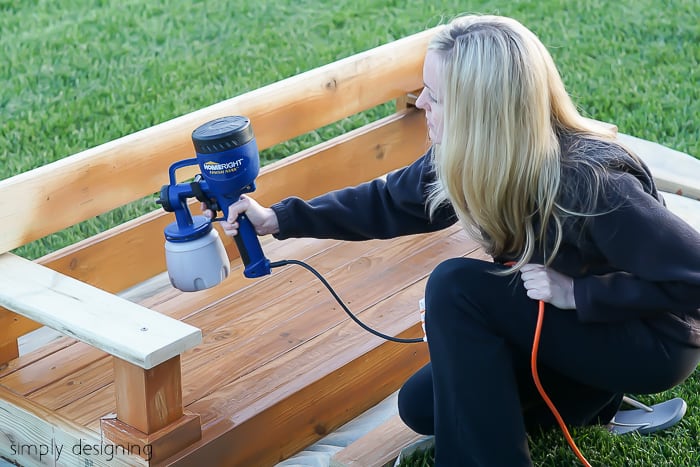 Next comes the fun part!! Because I am a HomeRight Ambassador I have the privilege of using many of their amazing products! So a big huge thank you to HomeRight for helping to make this post possible!
I love my FinishMax for painting projects but had really wanted to use it for staining something. And I finally got my chance!
I simply filled my FinishMax with stain (no need to thin stain) and went to work staining my bench!
The FinishMax did an AMAZING job coating the swing in an even coat of stain and I love how fast it is!
I am now addicted to using my FinishMax to stain things!
After my swing was stained I let it dry completely.
Then we drilled pilot holes into each of the sides of the frame and into the 4" x 4". We screwed the Eye Screws into the pilot holes.
We needed to create a support system to hang our swing.
Since we already had an existing pergola, we simply screwed pieces of 2" x 8" board into the cross beams of the pergola where we wanted the porch swing to hang from.
Then we drilled a ½" hole into the 2" x 8" and put the eye bolt through the hole and attached it to the board using a washer and the nut on top of the board.
We were sure to tighten this well.
Then we cut the rope into 2 equal pieces and tied a loop in the middle of each piece.
We used the anchor shackles to connect the rope to the eye bolt.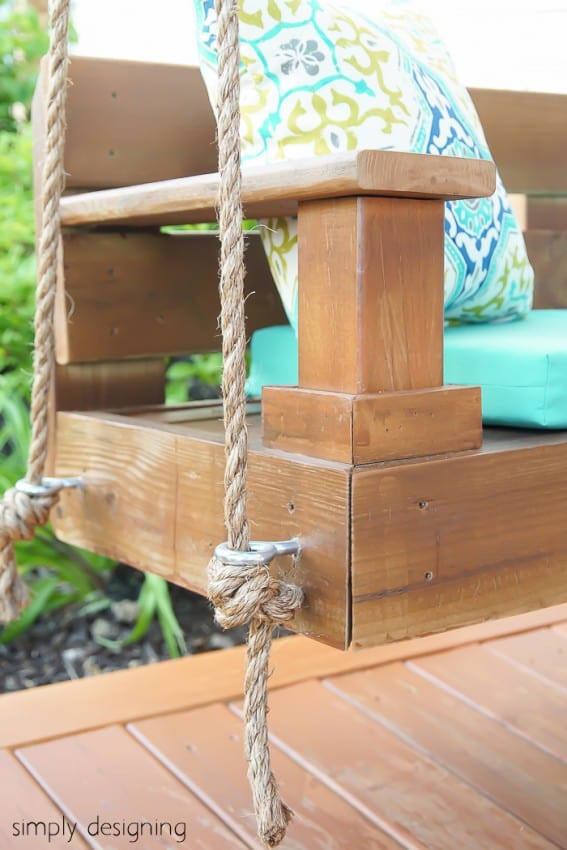 Now comes the final step!
Simply run your rope through the eye screws in the bench and tie two knots to keep the bench in place.
We tied the rope so that the swing tilted back ever so slightly and so that it was at a comfortable height.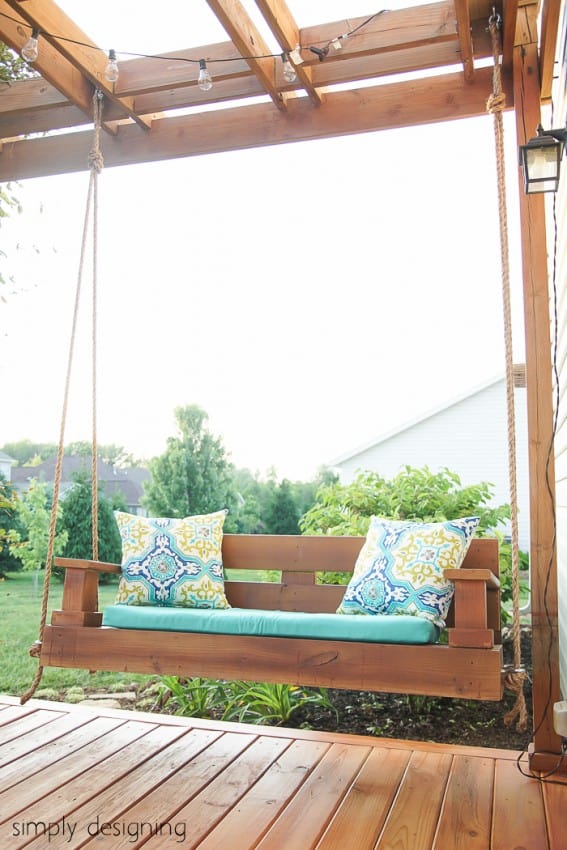 And that's it!! We chose to add an outdoor cushion and cute pillows from World Market to our cute porch swing, but that's completely up to you! (We bought this Bench Cushion and these Outdoor Pillows.)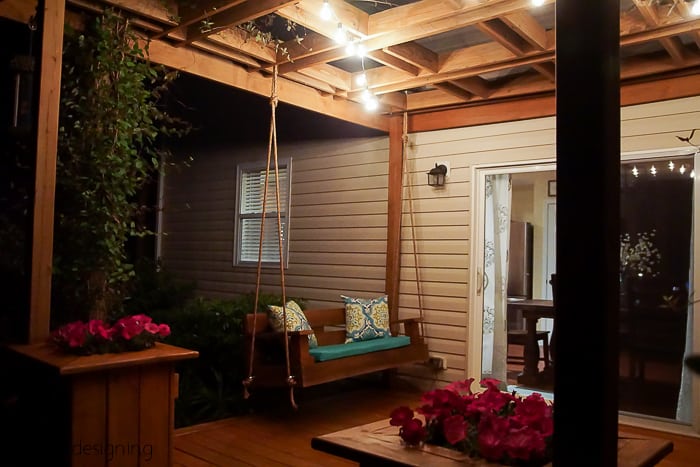 Isn't that so beautiful! We really do love our swing!
And I am so glad that we have an outdoor space that my family will enjoy using more.
This is a favorite spot for my husband and I to go and sit on at night after the kids are in bed.
We turn our Edison Patio Lighting on and sit and talk.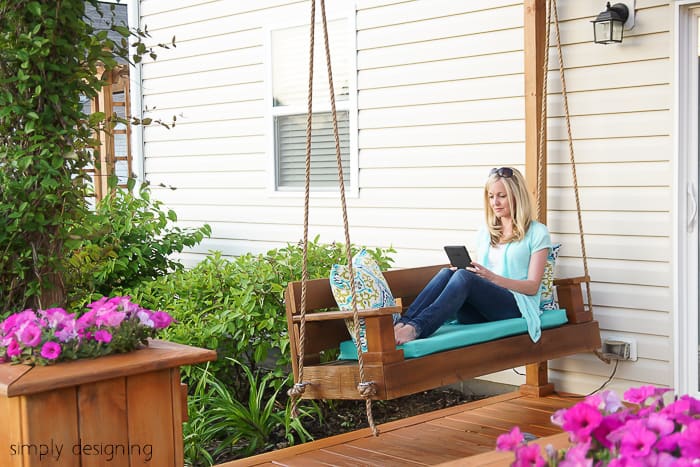 And in the day it is a perfect spot to enjoy the sunshine and read!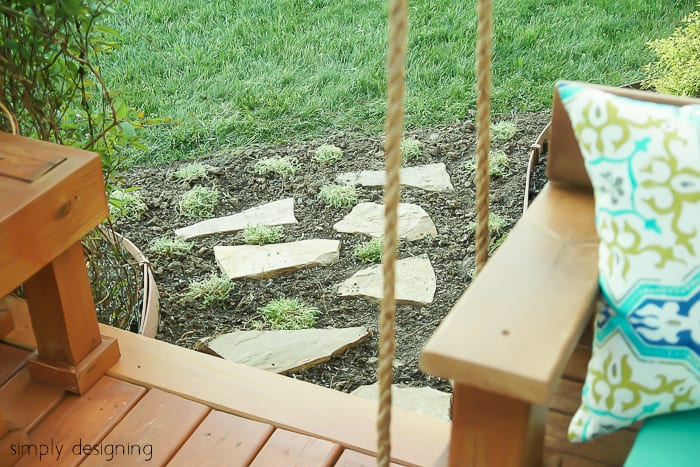 And if you notice, we now have a little walkway to the side of our patio too! Our children always climb through the bushes and on to the deck this way, so now they have a designated path. Plus we are hoping to one day put a lower patio space here. But until then, it will keep my bushes from being stepped on!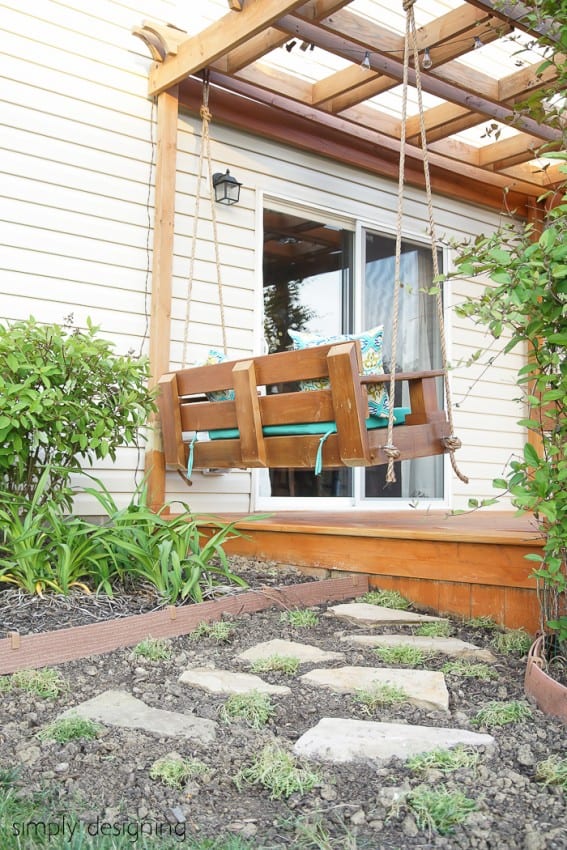 Isn't this so much fun!?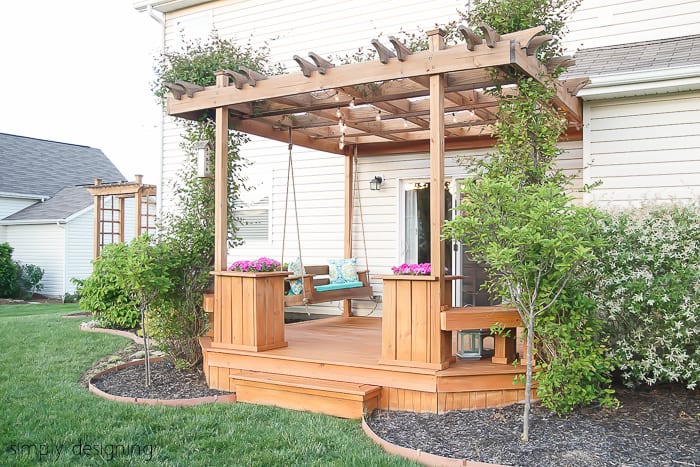 Here are detailed porch swing building plans to help get your dimensions and layout right.
I really hope these help! I'd love to know if they do!