Pipe shelves are some of my favorite shelves ever!  They have been popular for a while and there are countless DIY tutorials for pipe shelves all over.  But several months ago I decided that I wanted to create my own version of DIY Pipe Shelves with a twist!  It all started with a challenge I was given to create something, anything, with concrete!  And I came up with the idea to create my own unique version of a pipe shelf.  Instead of using wood for the shelves...I would use concrete!  So here is my DIY Concrete Industrial Pipe Shelf.
DIY Concrete Industrial Pipe Shelf
I love the cool, industrial, raw look that these shelves have!  They are a really fun and updated look to the typical wood and pipe shelves.
And yes, you can totally DIY these yourself!
Don't be intimidated, it really is not too difficult to create a mold and pour your own concrete.  And I've done all the hard work for you already by figuring out all the parts and pieces you need to buy at the hardware store so you can quickly get to work on your concrete industrial pipe shelf.
Do allow time for this project though as it will simply take time for the concrete to fully set.  And please please please don't try to install this on your own.  You definitely need a second or third set of hands for the installation portion of this.  This shelf is quite heavy.
Oh!  And I was inspired by this Restoration Hardware Baby industrial pipe shelf here.  Which I love by the way!  But I wanted a twist on it.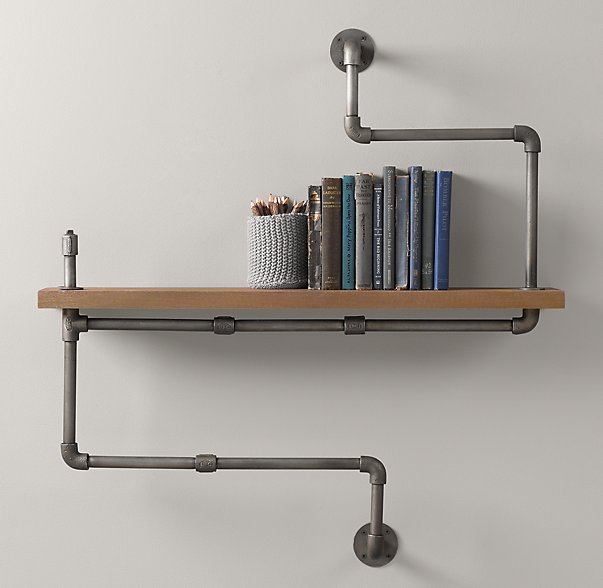 (source)
And here is my concrete version: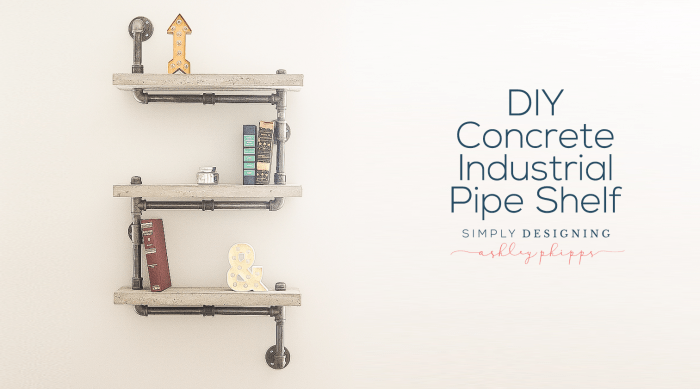 I wanted to create cool custom concrete shelves and I wanted to make it bigger to fit on a specific wall in my office in between two windows.  I wanted to make use of the space and I knew three shelves would be perfect.  So I modified the design and tweaked it to fit my space and my new vision for it!
And I truly do love how my DIY Concrete Industrial Pipe Shelf turned out!
Click below to get ALL the details, information and supply list to create your own DIY Concrete Industrial Pipe Shelf!

Check out the whole Craft Room series here: