An industrial pipe shelf is one of my favorite types of DIY shelves ever! They have been popular for a long time and aren't going out of style any time soon. So keep reading for all the details on how to make this DIY Concrete Industrial Pipe Shelf for your own home and leave me a comment letting me know if you do!
DIY Concrete Industrial Pipe Shelf
While there are countless DIY tutorials for pipe shelves all over the internet, I wanted to create my own version but with a different twist.
Most pipe shelves have wood slabs for shelves. But I wanted to make one with concrete shelves! Yes, it is a bit more work, and yes it is a lot heavier, but oh man, the end result is completely worth the work!
Concrete Shelf
I love the cool, industrial, raw look that these concrete shelves have! They are a really fun and updated look to the typical wood and pipe shelves.
And yes, you can totally DIY these yourself too!
Is making an industrial pipe shelf with concrete shelves hard?
Don't be intimidated, it really is not too difficult to make this concrete pipe shelf. And I've done all the hard work for you already by figuring out all the parts and pieces you need to buy at the hardware store so you can quickly get to work on your concrete industrial pipe shelf.
Do allow time for this project though as it will simply take time for the concrete to fully set. And please don't try to install this on your own. You definitely need a second or third set of hands for the installation portion of this. This shelf is quite heavy.
Oh! And I was inspired by this Restoration Hardware Baby industrial pipe shelf here. Which I love by the way! But I wanted a twist on it.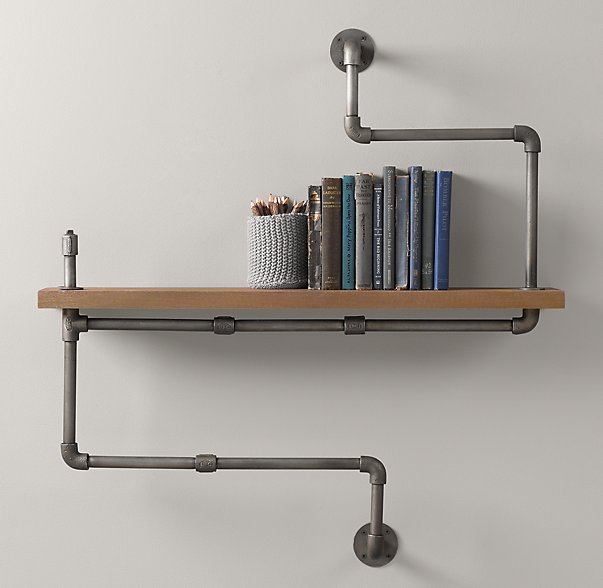 (source)
And here is my concrete version of this industrial pipe shelf: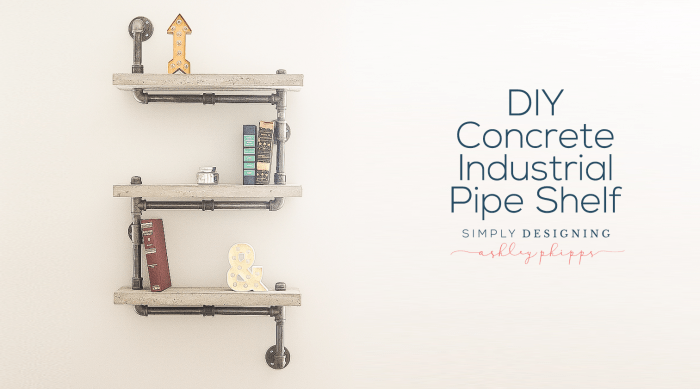 I wanted to create cool custom concrete shelves and I wanted to make them bigger to fit on a specific wall in my office between two windows. I wanted to make use of the space and I knew three shelves would be perfect. So I modified the design and tweaked it to fit my space and my new vision for it!
And I truly do love how my DIY Concrete Industrial Pipe Shelf turned out!
The details of this post were originally posted on The Home Depot's Influencer page, but it appears to no longer be on the website. As such I am reposting below so that if you've come looking for details, you'll be able to find them below!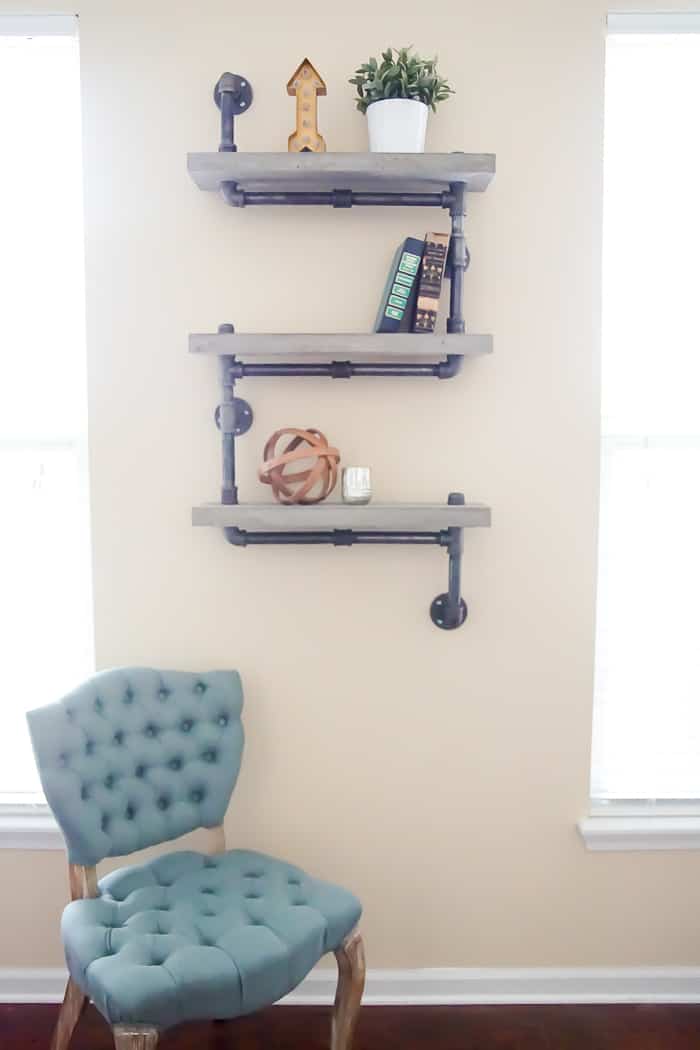 This DIY shelf definitely is a statement piece and would look in almost any space.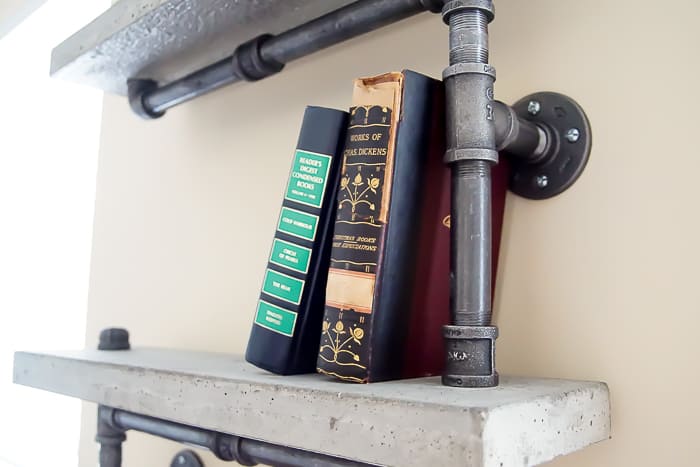 You will begin by creating a mold for your shelf out of melamine.
The final size of our shelves was approximately 24" x 6" x 1.5", but feel free to make these larger or smaller depending on your space.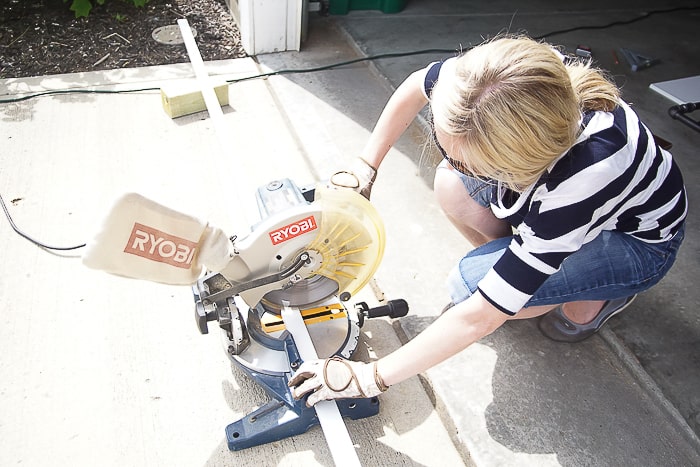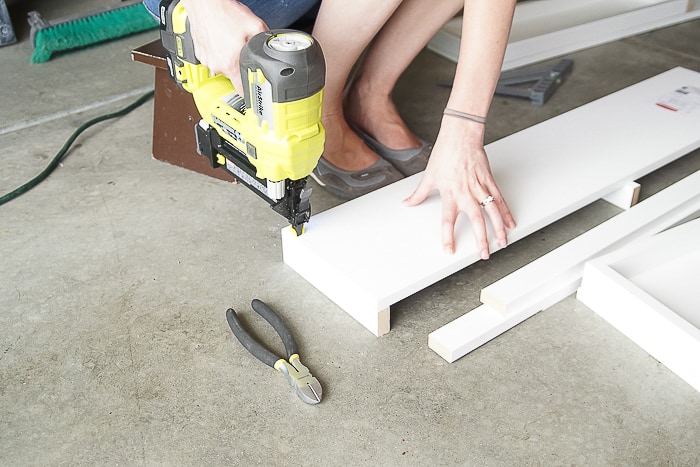 After we used a nail gun to assemble our molds, we wrapped a piece of PVC pipe larger in diameter than the steel pipe we used in plastic and used a screw, nut, and a large washer to hold it in place in the mold where the steel pipe would need to go through the shelf.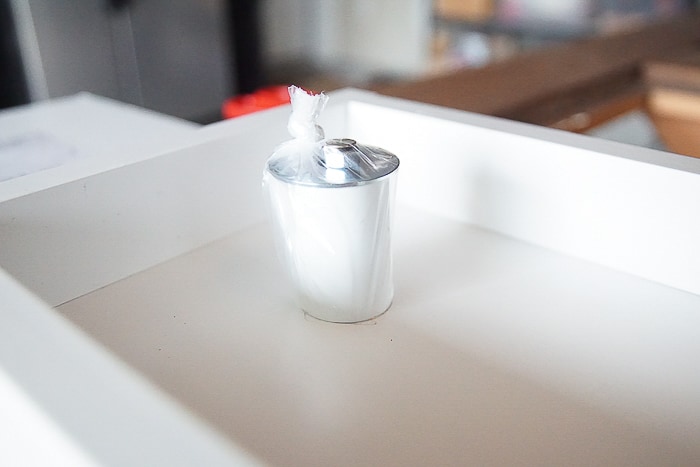 We caulked all the edges of the mold.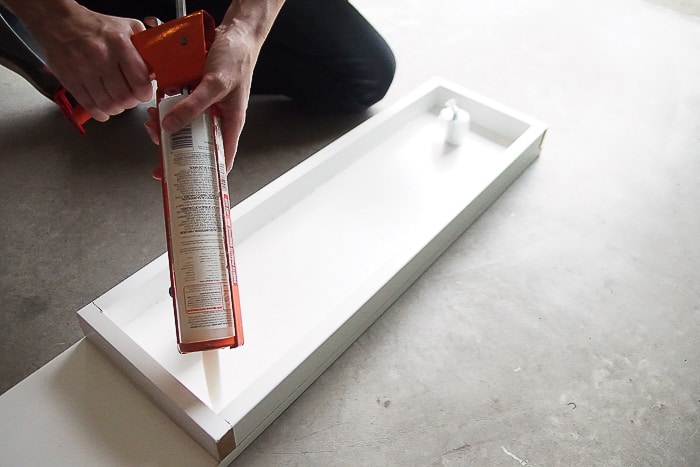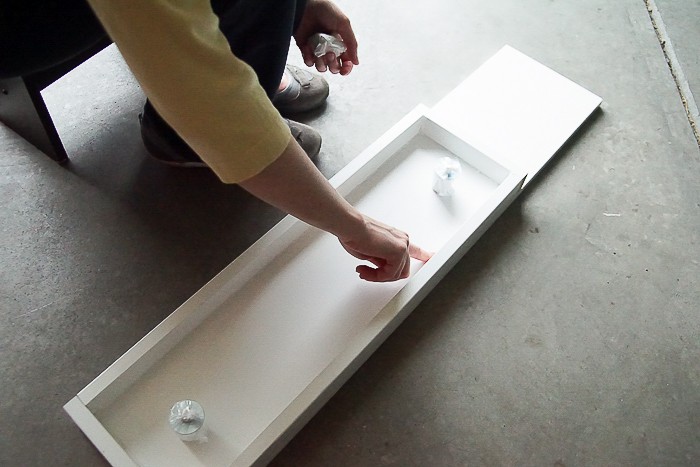 And then we coated the inside of the mold with olive oil to help prevent the concrete from sticking to the melamine.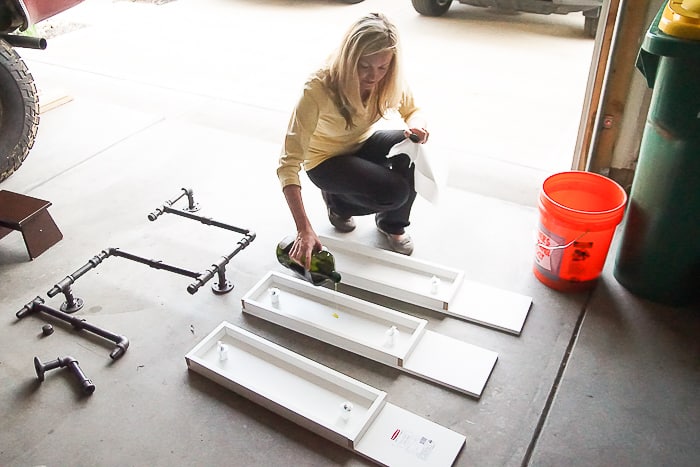 We mixed the concrete according to the package directions.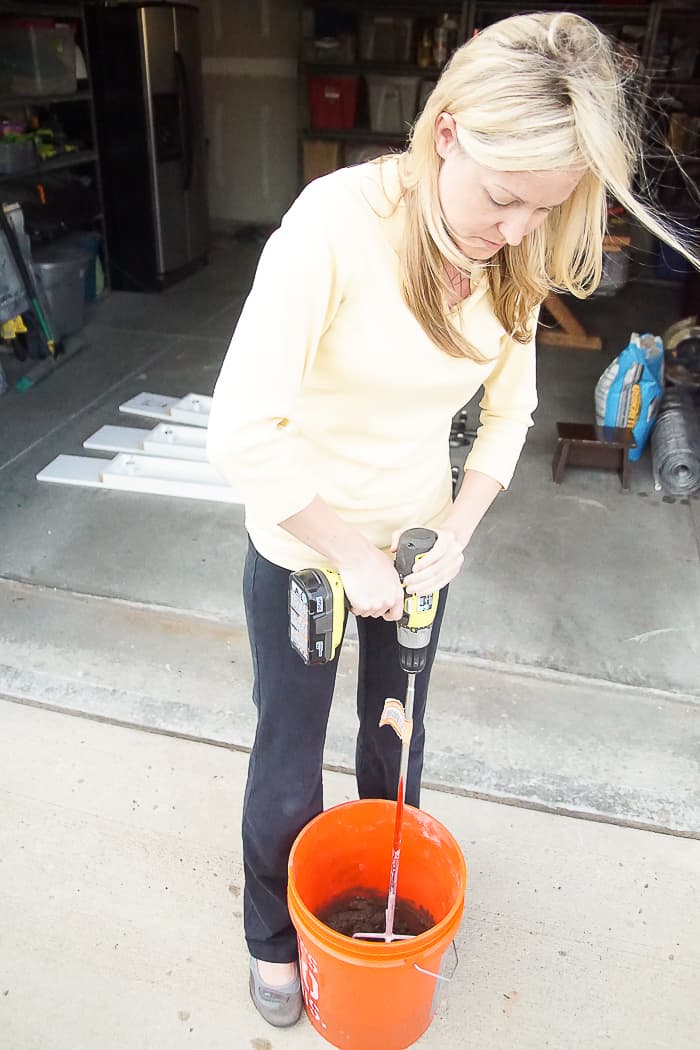 And then we filled the molds about ½ way with concrete.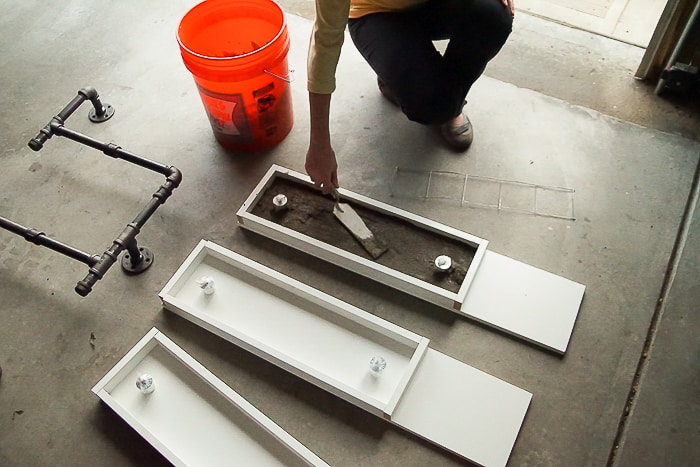 We added a piece of a metal mesh sheet onto the concrete.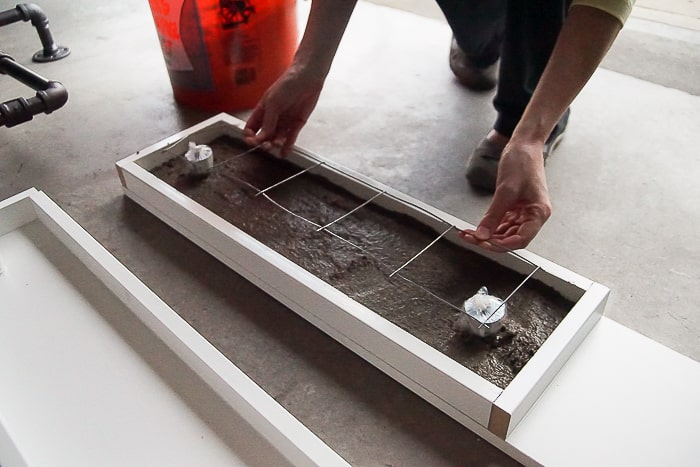 And then we filled the molds to the top with concrete mixture.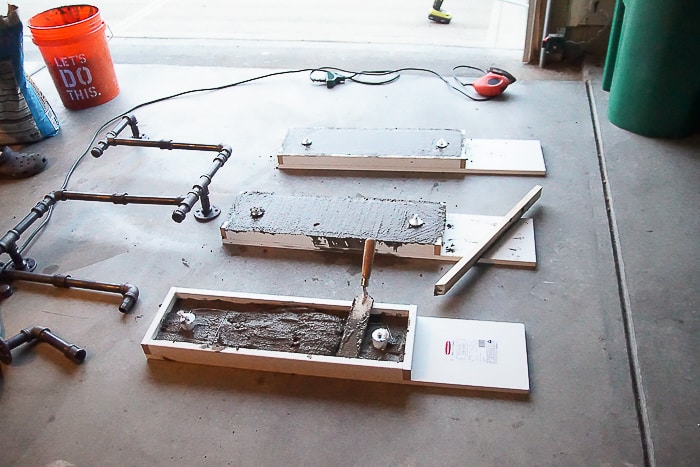 We used a piece of scrap wood to ensure that the concrete was smooth.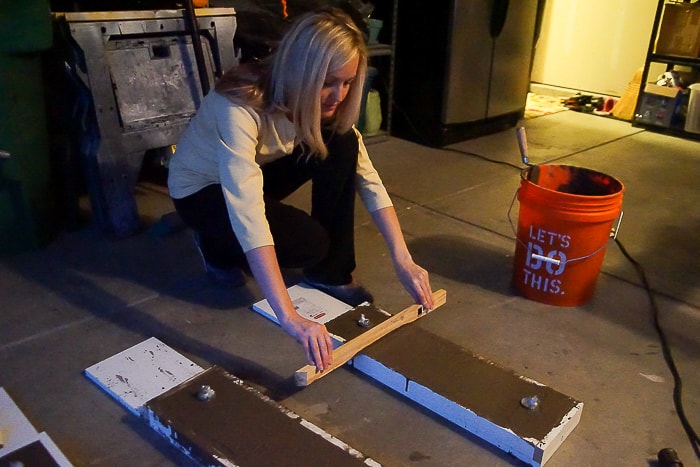 And then we used an electric sander on the sides of the molds to help any air bubbles make their way to the surface of the concrete.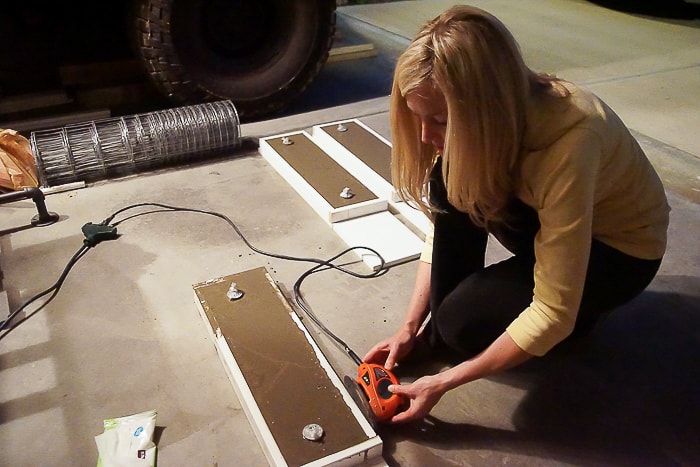 Then we waited until the concrete fully cured. We followed the instructions on the concrete package and then gave it a little extra time for good measure.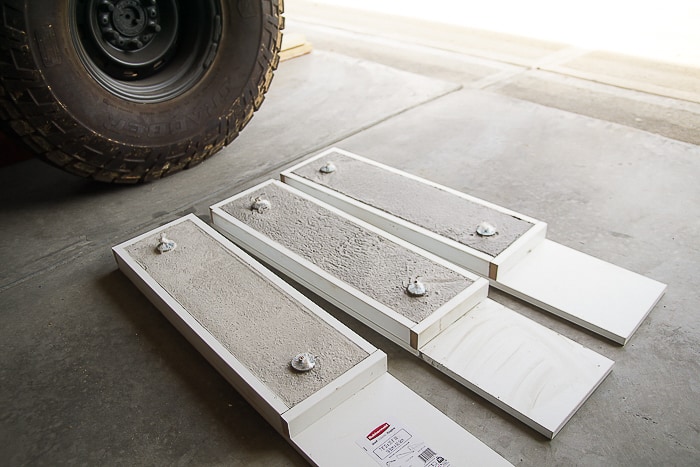 Once the concrete was fully cured, we removed it from the mold carefully.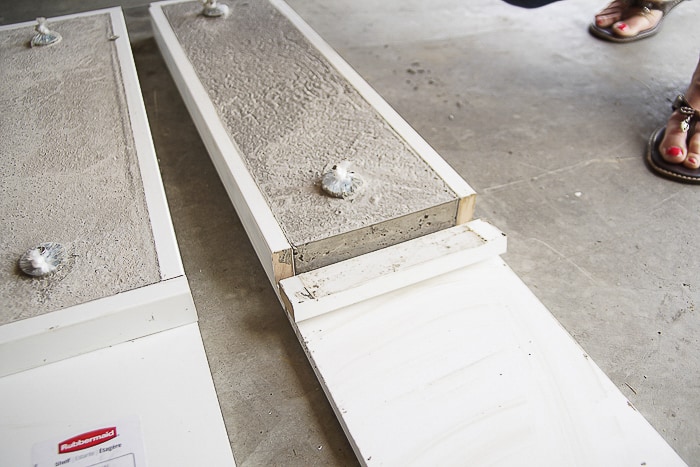 We removed the screw and the PVC pipe carefully as well.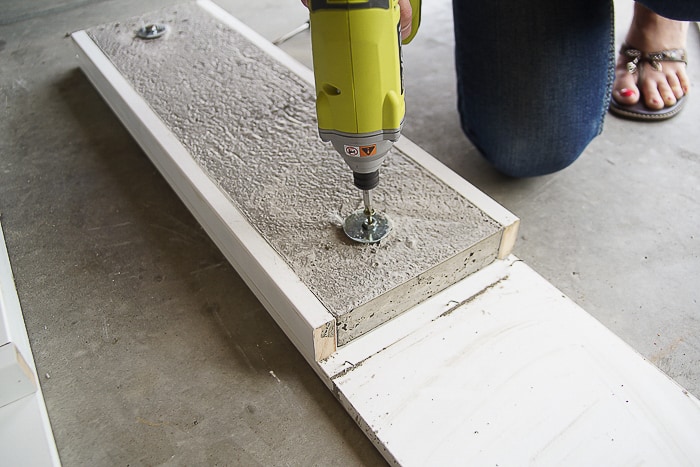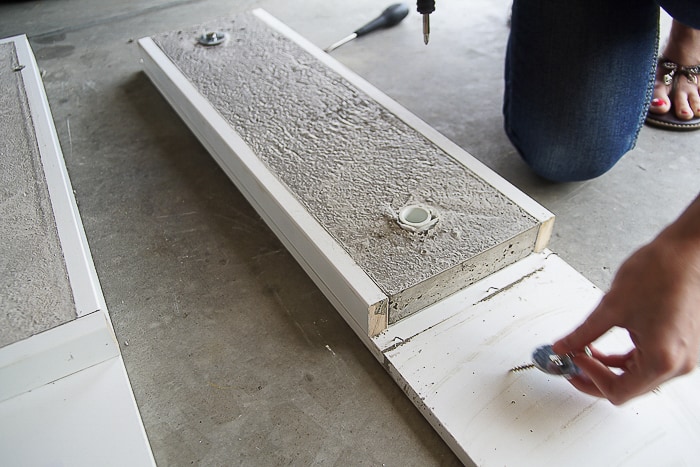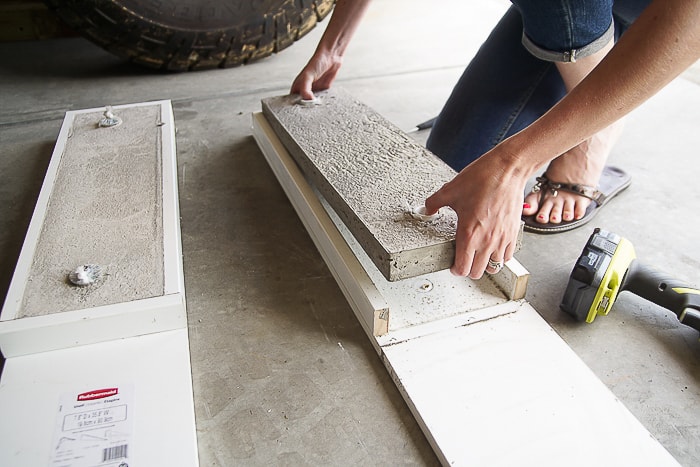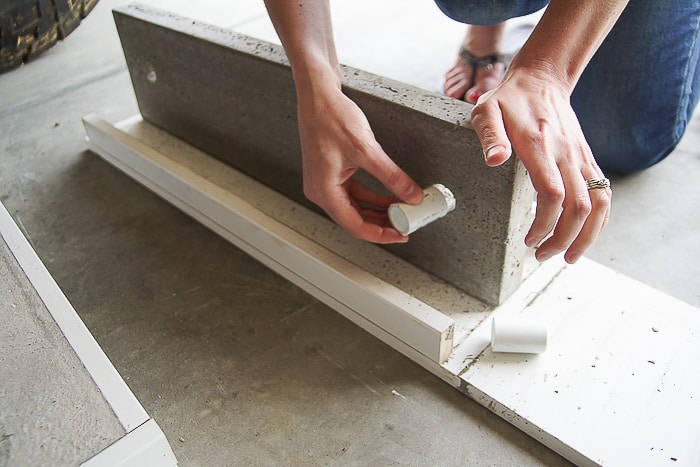 The next step is to assemble your pipe. Here is a diagram showing what pieces you need and how they will all fit together.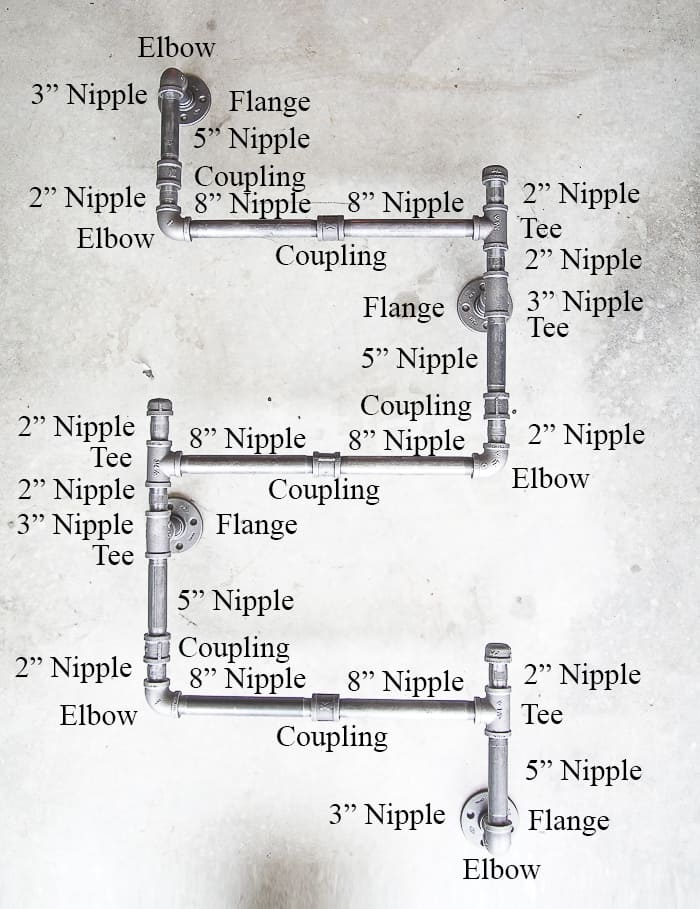 You will assemble your pipe and attach your concrete shelves as you do so.
We decided to assemble it all together close to the location where we would install it as we knew it would be very heavy and difficult to move once assembled.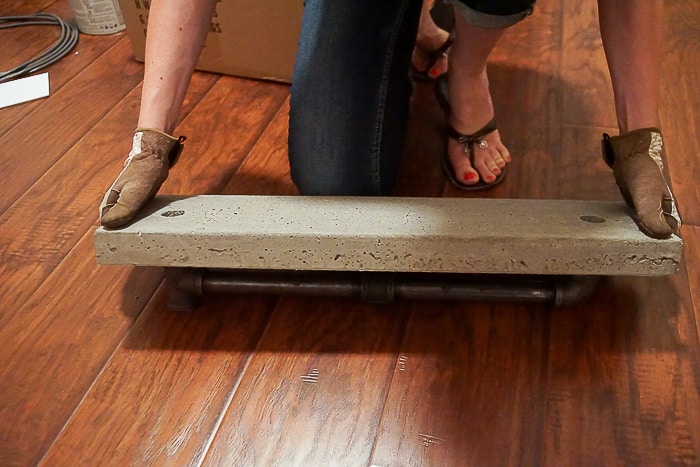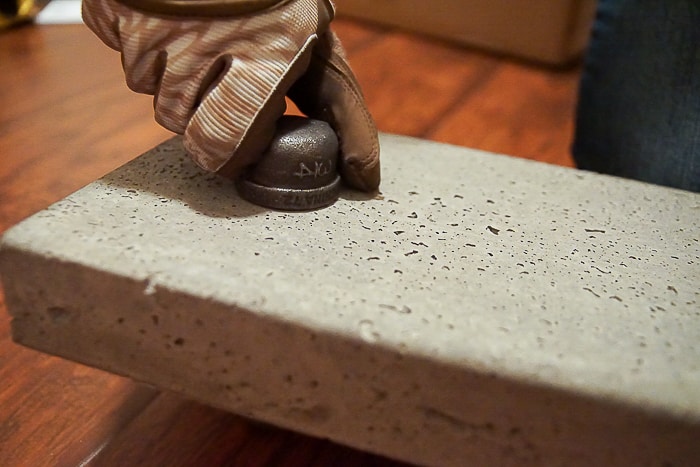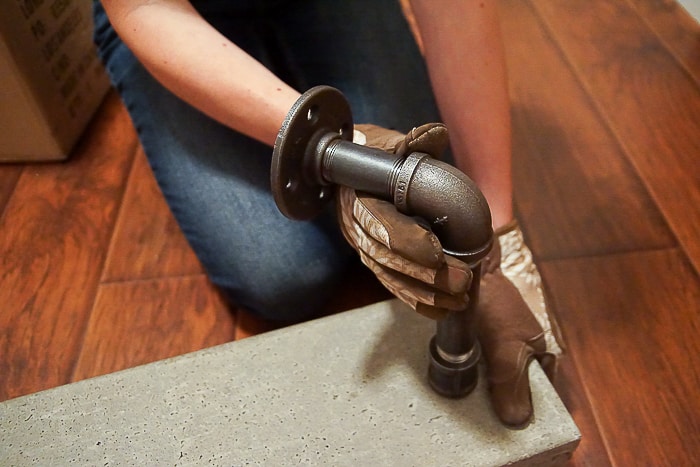 We marked and drilled holes in our wall and then added drywall anchors that could hold up to 100 lbs each to the holes.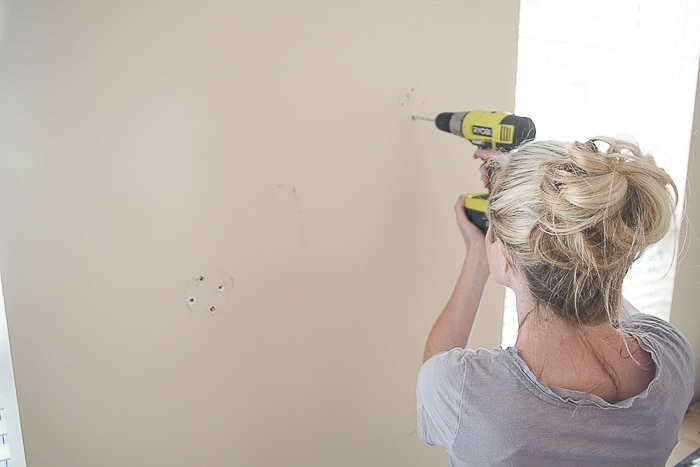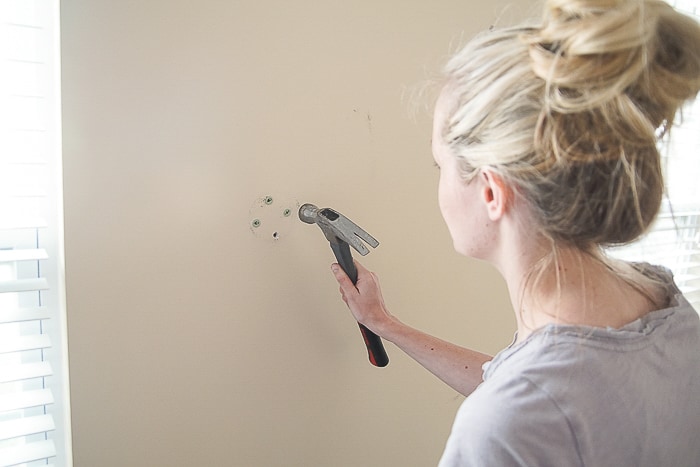 Because of the size and weight of our shelving unit, we decided to hang ⅔ of it and then add the last portion to the wall.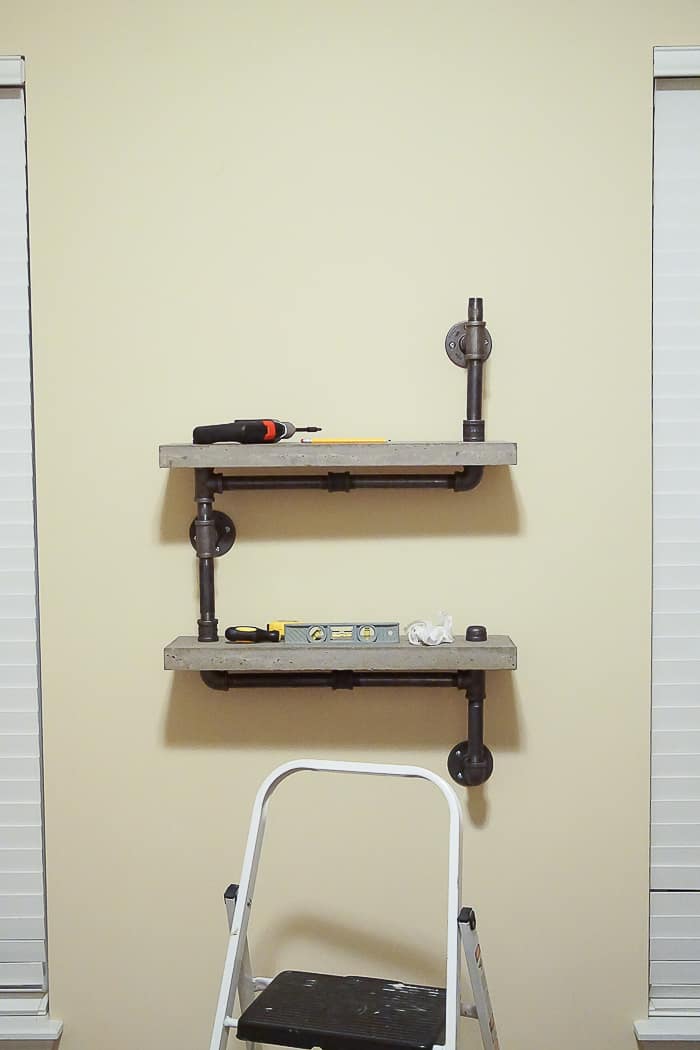 After it was on the wall we were able to style it!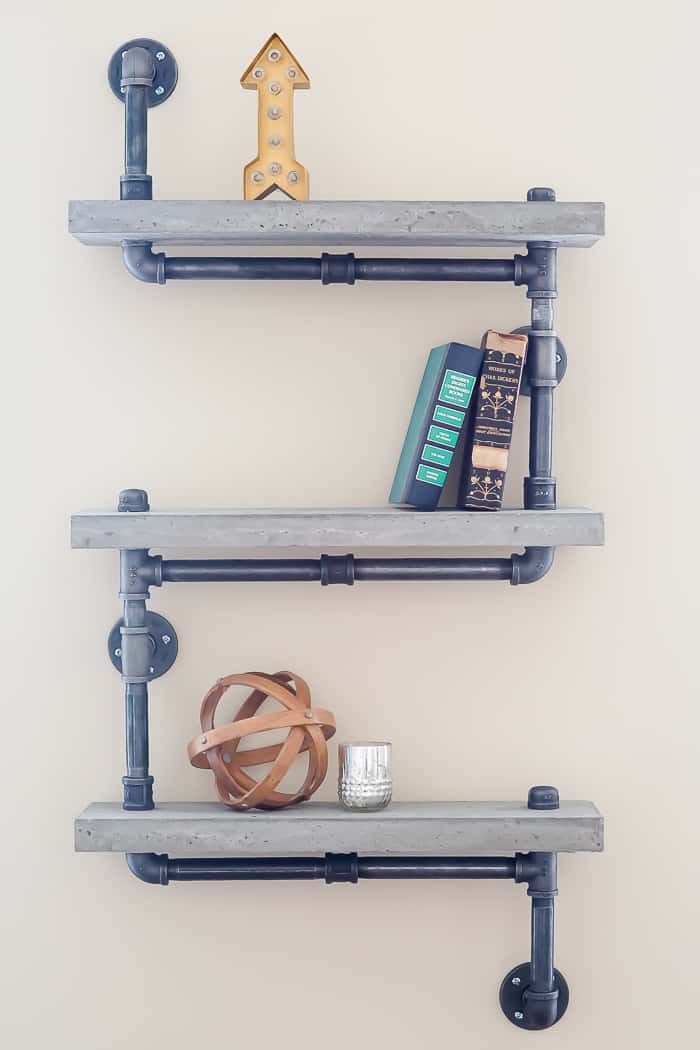 I really do love how my concrete industrial pipe shelf turned out!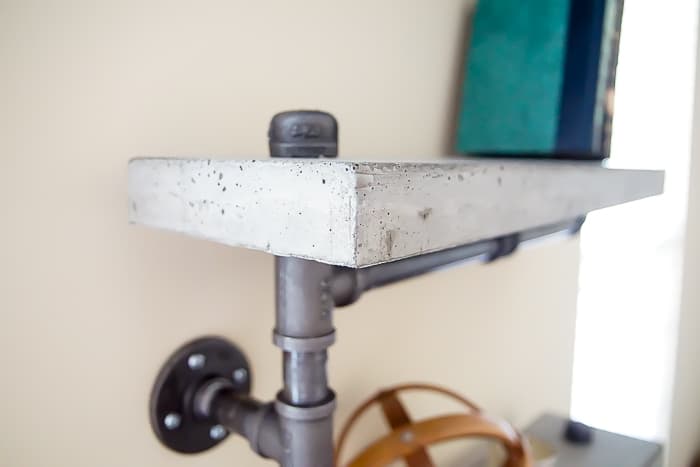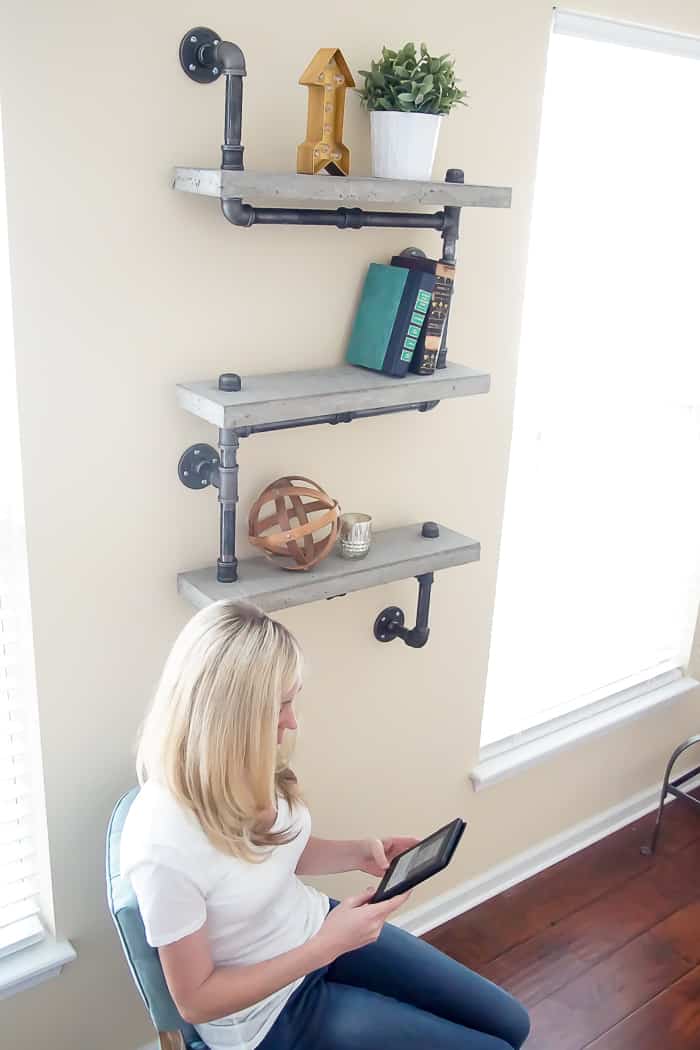 And here are some awesome detail shots so you can see how the whole shelf looks!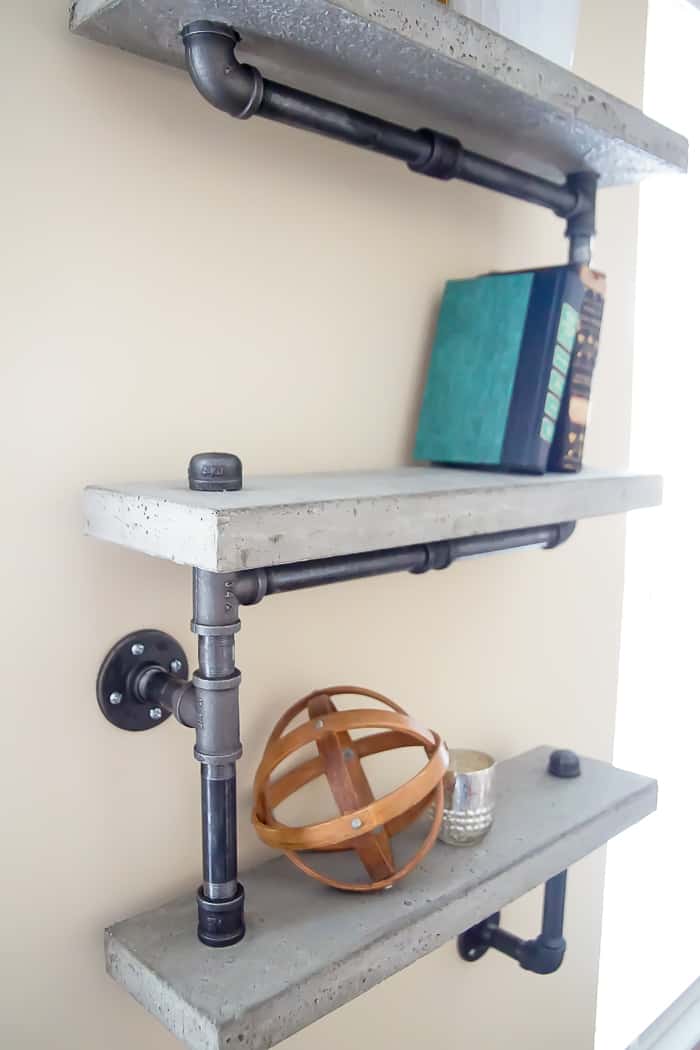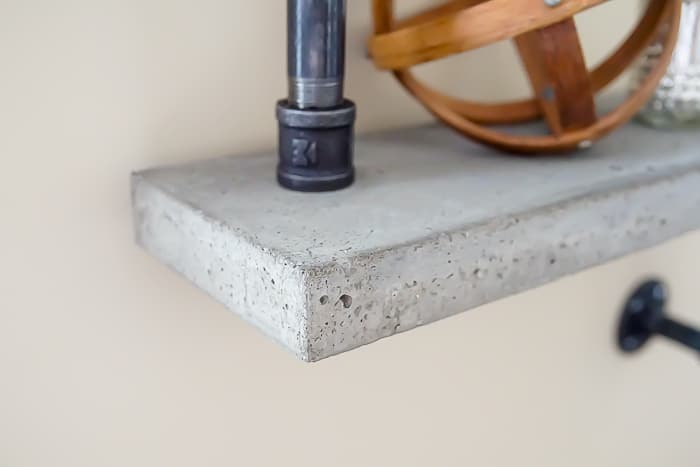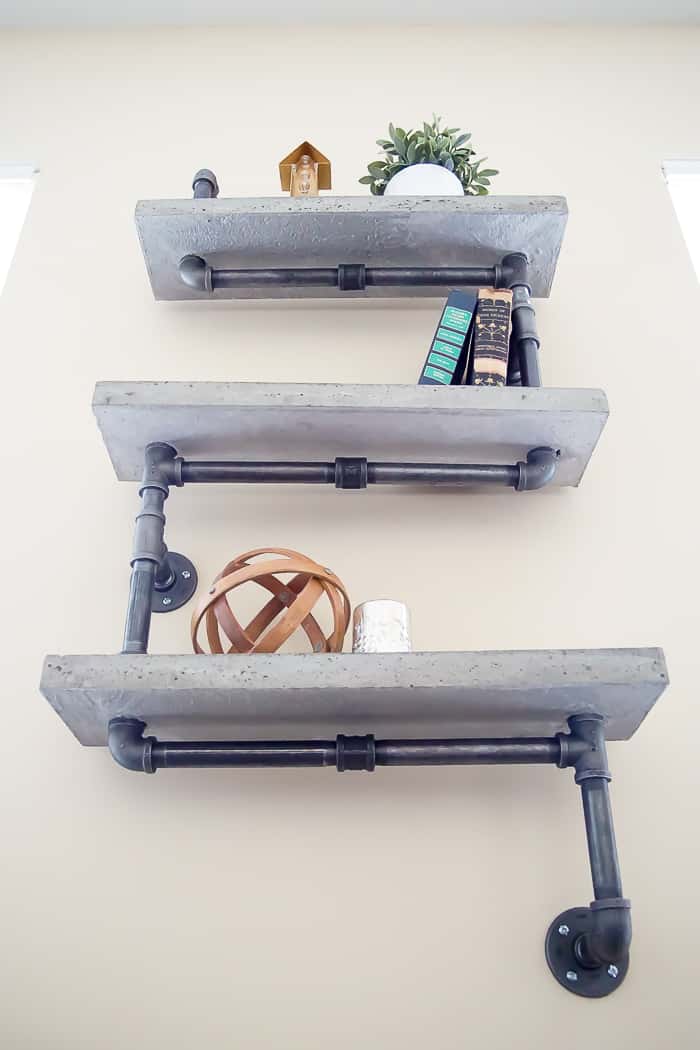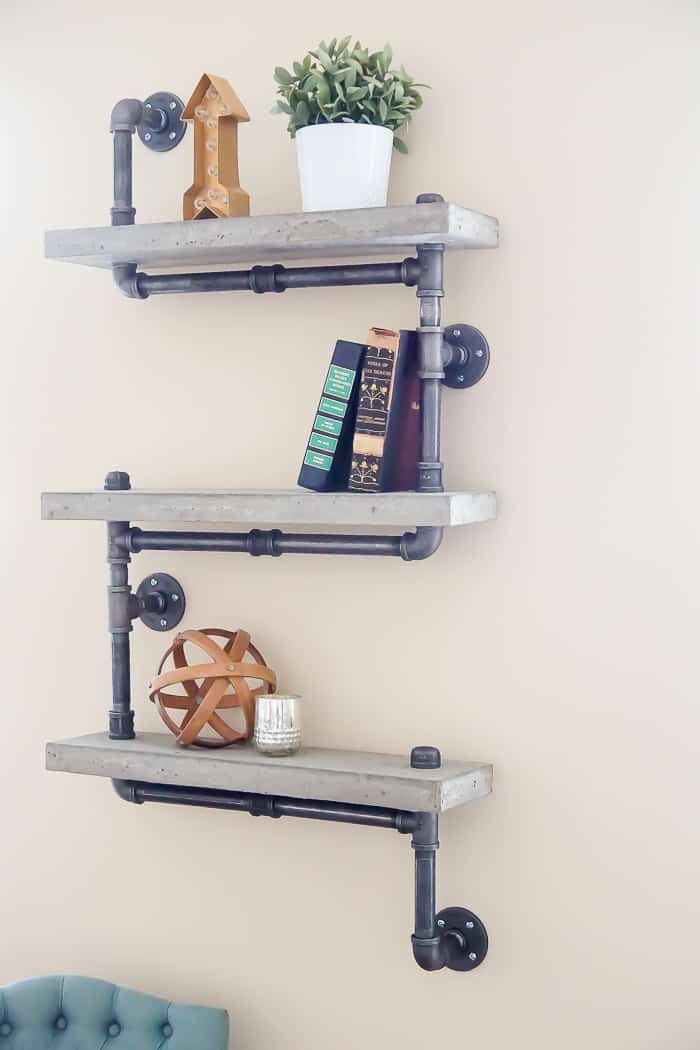 If you liked this industrial pipe shelf tutorial, you might like some of these other DIY ideas too!
Check out the whole Craft Room series here: