Have you seen the new Lego movie?  I took my kids to see it over the summer and my kids couldn't stop laughing!  And then they couldn't stop singing "everything is awesome!"  It was stuck in our heads for days.  (Is it stuck in your head now too!?  Just know I am writing this entire post with that song running through my head!  ha!)  So when Expressions Vinyl sent me their awesome Lego pack of heat transfer vinyl as part of this month's ambassador post (thanks EV for making this post possible!), I knew we needed to create the most AWESOME DIY Lego Shirt!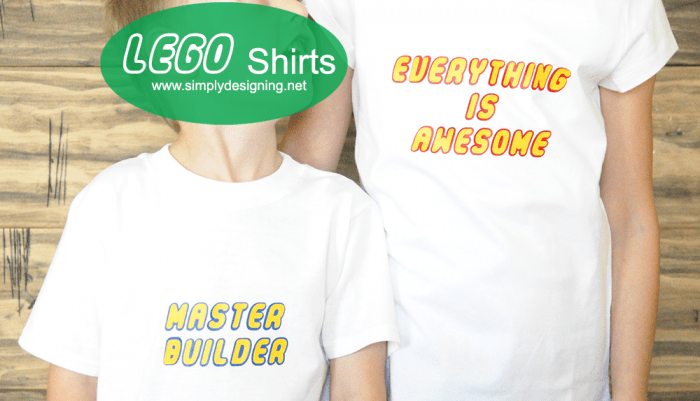 Because...everything is awesome, everything is cool when you're part of a team.  And if you can believe it, the whole awesome team of Expressions Vinyl blog ambassadors came up with cool projects based off of EV's Lego vinyl pack!  Scroll down to the bottom to check them all out!
And of course we have another awesome GIVEAWAY today too!  Woot woot!
But before all of that fun, here is how to make this cute DIY Lego Shirt.
DIY Lego Shirt
Supplies:
White tshirt
Silhouette Cameo (or similar)
Silhouette Studio
Lego font
Iron
A quick internet search for "lego" font will reveal several options from several downloadable sources.  The one I chose was called "legothick" but feel free to select one that you like best and always be careful when downloading anything from the internet that it is from a reputable source.  And be sure to read all the TOS before downloading too.  Or you could chose an existing font on your computer to use!  Just be sure it is a True Type Font (TTF).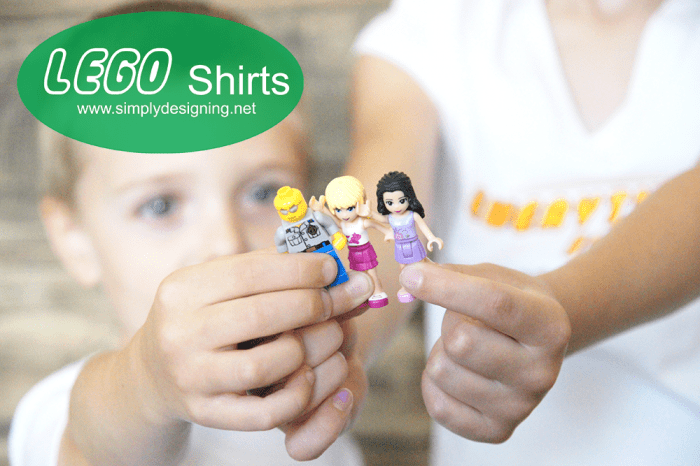 Anyway, after I had downloaded my font, I opened my Silhouette Studio program and simply typed my words onto my cut area.  My daughter wanted her shirt to say "Everything is Awesome" and my son wanted his to say "Master Builder".
The font I chose had two cut lines, an interior one and an exterior one.  I un-grouped the font and then I released the compound path (right click on the text to do this).  After that, every cut line of the font was separated out individually.  So I selectively went through and deleted the parts I didn't want to cut and then re-grouped the letters back together.
I cut all of my inside cut lines first, using the yellow heat transfer vinyl.
Then I did it all again, but left my exterior letter cut lines.  I cut this out of red for my daughter and out of blue for my son.
REMEMBER to always FLIP (your text) HORIZONTALLY (aka mirror) before cutting it out!  Otherwise your words will be cut in reverse.
Also, when cutting your HTV, remember that the shiny side of the vinyl goes down.  This shiny surface acts first as your backing paper and second as your transfer tape.
After my letters were all cut out, I weeded the vinyl.  Taking off the excess vinyl on HTV is a little more time consuming then regular vinyl.  I highly suggest using either a tool meant for weeding vinyl or a pair of tweezers.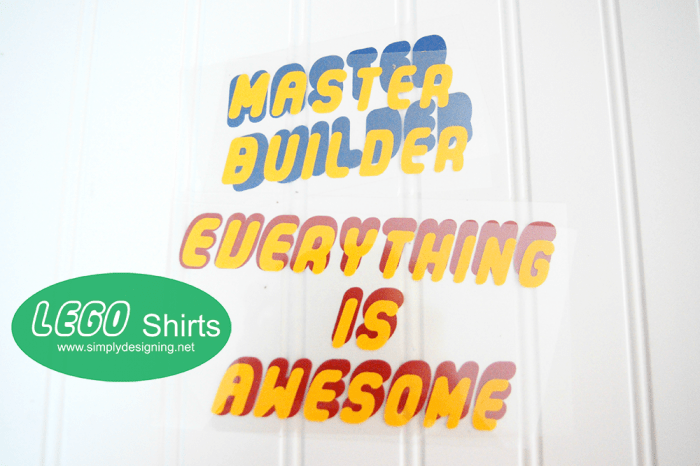 Then I heated my iron to the cotton setting, without steam, grabbed a smooth cotton cloth (not terry) and began ironing my HTV to my shirts!  First I placed my background color down first (red for one and blue for the other) shiny side up.  I set the cloth on top of this and then ironed it for about 20 seconds or so.  Then I set this shirt aside and let it cool completely.
While this was cooling, I grabbed the other shirt and ironed the bottom layer on that one!
Then I took my first shirt and carefully peeled the shiny backing off of the shirt ensuring that the vinyl stuck properly to the shirt.  Then I placed my top layer in place, and ironed it, again using a cotton cloth.  I let it cool and did this for my second shirt.
After both shirts were cooled, I removed the plastic backing carefully and our diy lego shirt was ready to be worn!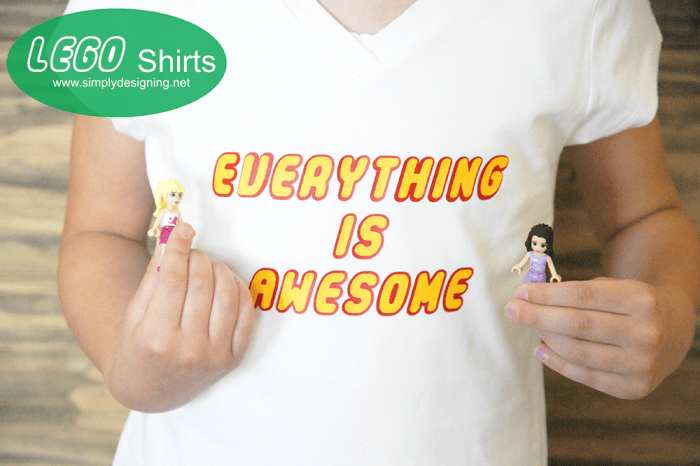 Creating your own custom shirts using vinyl is so fun and simple to do!  It really is a fun thing to do for holidays or special occasions, or just for fun like this DIY Lego Shirt we created!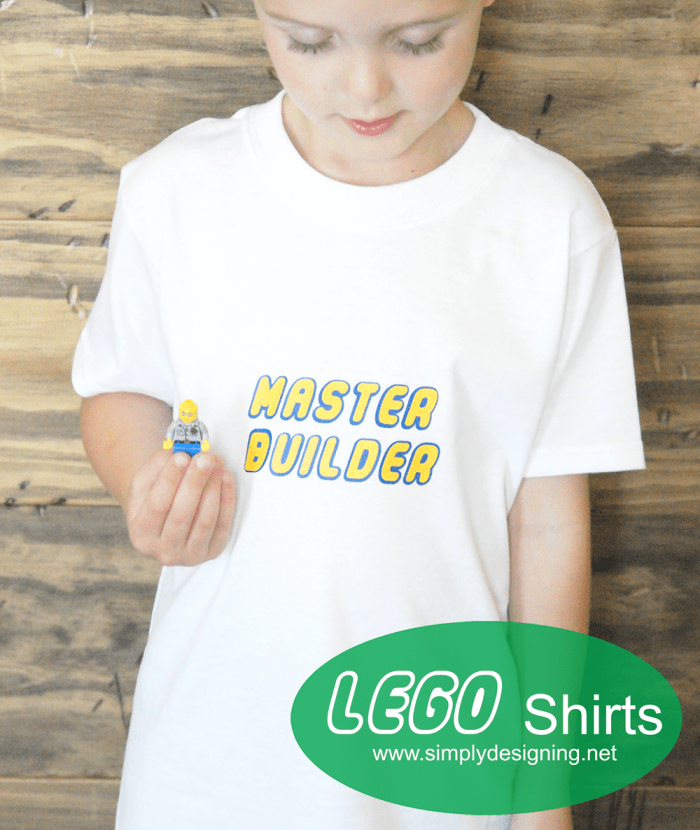 If you are looking for more inspiration, come and check out the other Expressions Vinyl Blog Ambassador Projects this month here!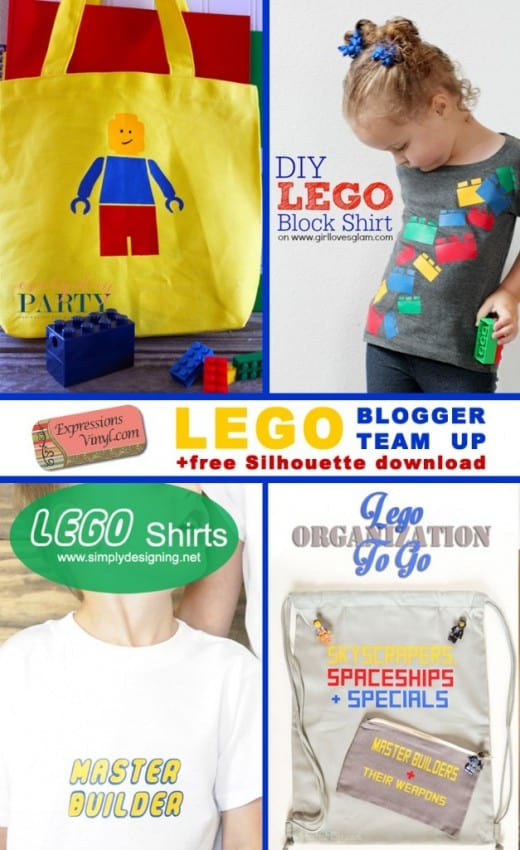 And now it's time to enter to WIN a $100 GIVEAWAY from Expressions Vinyl! 
click here to enter via a Rafflecopter Giveaway
Please know that Expressions Vinyl is hosting this giveaway and is responsible for it's terms and conditions, execution of giveaway and fulfillment.  Facebook is in no way responsible or associated with this giveaway.  
You might also enjoy: