You guys I am addicted to making free printables right now.  They are so fun and they are such a great creative outlet for me.  I hope you are enjoying them as much as I am!  They are also a great way to decorate my home!  I really really loved my "I Love You" printable that I created for Valentine's Day and gave you in January, (although I personally think it would be pretty in my home any time of year!) and my St. Patrick's Day print I shared with you in February!  But for today I wanted to share my Dream Big printable!
Dream Big.  As I started out 2017 I reflected a lot on what I wanted this year to look like.  Being pregnant last year, I felt like I was in survival mode most of the time.  But now that my sweet little bundle is here and I am feeling better, and sleeping again, I am excited to get going this year, even if I am a bit late, traditionally speaking.  I'm starting to Dream Big!  I love the fresh start the new year can bring, but I also think that you can dream big and start again any time of the year, or even any time of the day!
So if you need a little inspiration for your home, your office, your child's room or by your back door so you can see it every time you leave the house, I've got a printable for you!
Dream Big Printable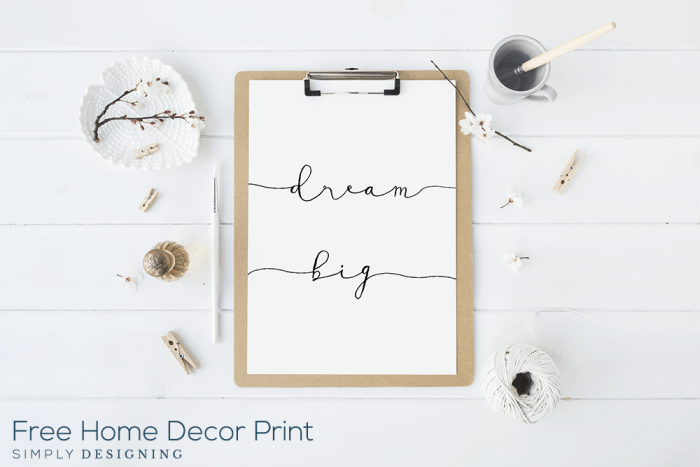 This handwritten font just makes my heart sing and it looks so pretty!  You can easily print this at home or at the print shop.  And place it wherever you need a little inspiration.
I am giving the print away FOR FREE!  Yes it is true.  For a limited time I am allowing you to download this printable completely free for personal use only.  So snag it while you can!  Please note that this is for personal use only.  Thank you.
To download this print, simply click the link below and sign up to receive my weekly newsletter.  You will almost immediately be sent an email with a link to my printable library and the password you need to access it!  Every week when I send my newsletter out, I resend the password so don't worry, you only need to subscribe once to get all the insider access to my free printable library!  

You might also enjoy: