Ack, you guys, where has 2019 gone...I can't believe I am just now getting to share my FREE 2019 Printable Calendar with you. In case you haven't already planned your entire year (I certainly haven't) it is not too late to start and this free calendar is a great way to kick-start your planning. If you loved my 2018 Calendar here, you will love my free 2019 printable calendar I am sharing today.

FREE 2019 Printable Calendar
I have a few really amazing things going on this year. I announced in my IG Stories (here) the other day that we are moving! Eek! It's a big move too.
But it means some crazy and exciting things will be coming to Simply Designing this year.
In addition to that, I have some pretty amazing things happening on my Simply Blended Smoothies blog too!
Did you know I have a smoothie blog? It is full of smoothies and milkshakes and I am absolutely in awe of how popular it is becoming. Come and check it out here.
And I also have an essential oil website. Yup! You know I love essential oils and I love sharing all sorts of information and DIY's here. But I also have a site completely devoted to education about oils too. Be sure to check it out here.
And while I am busy planning a move, a new home and new projects that I will be sharing on my blogs...I absolutely NEED a way to stay organized.
For my monthly planning, this free 2019 printable calendar is absolutely the BEST! Really, I have been through so many different calendar designs and we really have this one nailed in.
Be sure to scroll down to the bottom of this post to download it for free.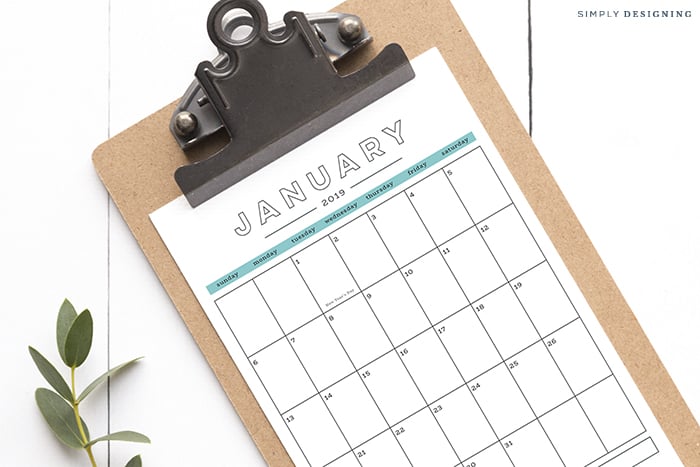 FREE Weekly Planner
If you are anything like me, I need a place to keep track of my monthly calendar items, but I also need a place for my daily and weekly to-dos.
This FREE Weekly Planner HERE is the perfect blend of form and function. It is beautiful and totally useful and it is how I keep track of all the things on my list.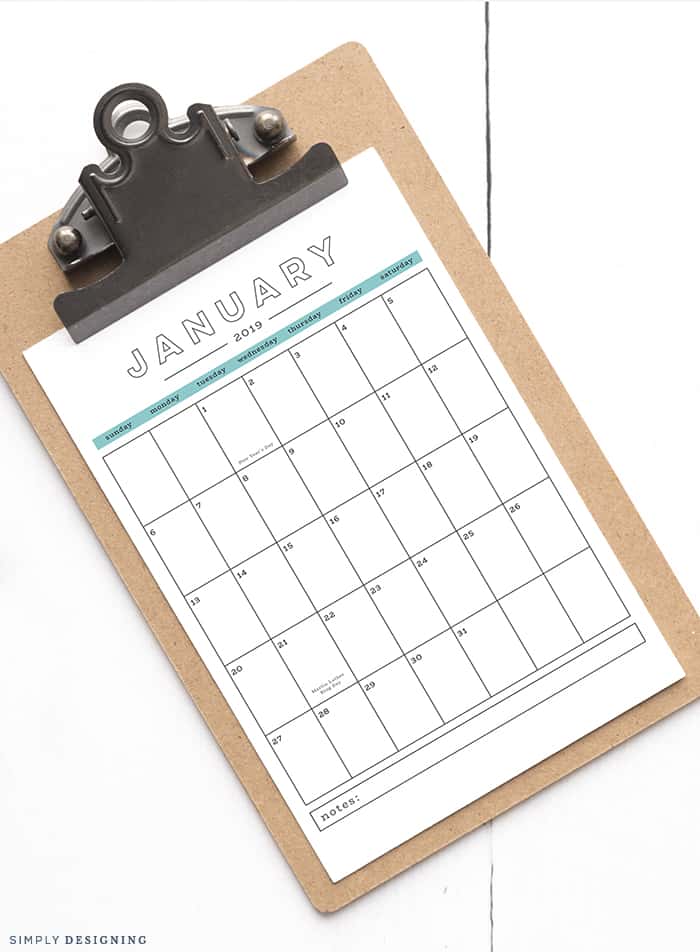 Free 2019 Calendar
My sweet friend Courtney from Paperelli designed this for me based off of the one she designed for me last year. She does beautiful work and you can see more of her designs here.
I love this calendar because it has a sleek modern design with a splash of color and the daily squares have lots of room for writing out your busy schedule.
I have one printed for each of my blogs and also one for my life. It helps me keep every single aspect of my life organized!
This free 2019 printable calendar also comes with many of the standard US Holidays already on it for you! Woot woot!
To download this free print, simply click the link below and sign up to receive my weekly newsletter. You will almost immediately be sent an email with a link to my printable library and the password you need to access it! Every week when I send my newsletter out, I resend the password so don't worry, you only need to subscribe once to get all the insider access to my free printable library!
Please note that all printables are for personal use only and only for those signed up to receive my emails. If you would like to share the file with someone, please send them to my blog! Sharing of files in any manner is strictly forbidden. Any commercial use of these files or the design of these files is strictly forbidden without prior written approval. You may not sell any part of these images, use them to make anything to sell, or in other way engage in any commercial activity with part or all of these images. You may not recreate your own for commercial use either. But please print and use these for your personal use! If you are looking for a commercial license, please email me at [email protected] Thank you!

If you like this Free 2019 Printable Calendar, you might also enjoy: