Since St. Patrick's Day is over and so I need to take down my Lucky Me Lucky You Lucky Us print I had in my foyer.  I really liked that print.  I have been stewing on my spring print for this space since about Valentine's Day and I was quite stumped for a while.  The constraints for my design are as follows: I need a print that is 24" x 36" so quite large, and because I want to keep it cheap, I need to print it as a black and white print.  But I was up for the challenge.  I came up with a few different options but this is the one I love the best!  So today I am sharing my Free Hello Spring Print with you!  I hope you like it as much as I do!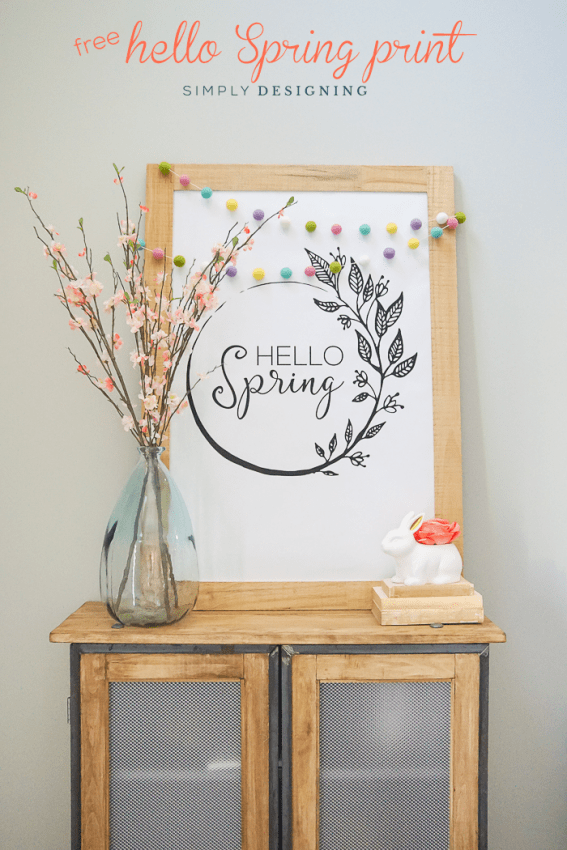 Free Hello Spring Print :: Large
I printed this at my local copy shop.  If you ask them to print it as a black and white architectural print, it will be super cheap!  Mine cost right around $5 to print!  I put it in my large frame I have in my foyer and then decided to do a little decorating to make my entry way perfect for spring!
I added a few flowers to my vase from the craft store, a cute little bunny I found at the dollar spot at Target (I think she was $3 though) and a super cute wool ball garland I bought from The Garland Gal on Etsy.  Isn't it all just so cute!?  And perfect for spring!  I just love how it looks!
I am giving the print away FOR FREE!  Yes it is true.  For a limited time I am allowing you to download this printable completely free for personal use only.  So snag it while you can!  Please note that this is for personal use only.  Thank you.
To download this print, simply click the link below and sign up to receive my weekly newsletter.  You will almost immediately be sent an email with a link to my printable library and the password you need to access it!  Every week when I send my newsletter out, I resend the password so don't worry, you only need to subscribe once to get all the insider access to my free printable library!  

You might also enjoy: