Today I am excited to share my guest bedroom makeover with you!  I recently shared my tips on how to paint a room when I repainted our guest bedroom, but at that point my makeover process had just begun.  With a fresh coat of paint, I was ready to hang new art, find new bedding and just make this room into a really lovely guest bedroom!  So I am really excited to share all about my changes to our guest bedroom with you today and my tips to make a guest room comfortable.
A big thank you to Better Homes & Gardens for sponsoring today's post.  All opinions and ideas are mine.
Guest Bedroom Makeover
So here is a BEFORE photo of what our guest bedroom used to look like: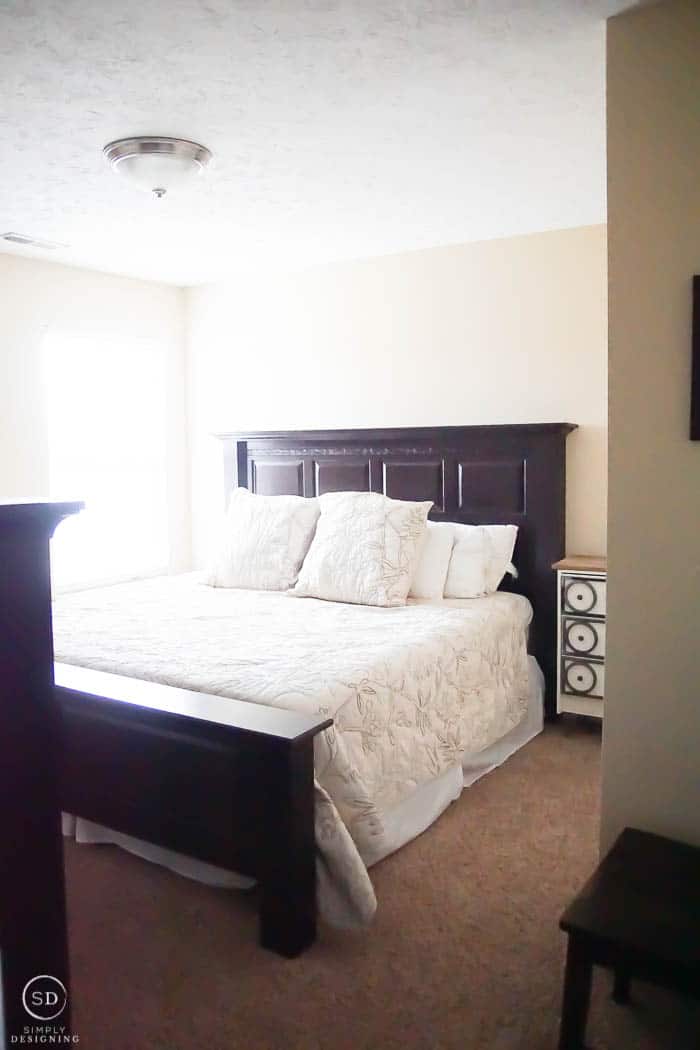 And then we painted the room and removed the bed frame from the space.  The bed we had in the room was simply too big.  It took up too much space in the room and so I already had already ordered a new headboard for this room before the paint was even dry.  But this is what the space looked like after we painted and removed the bed frame...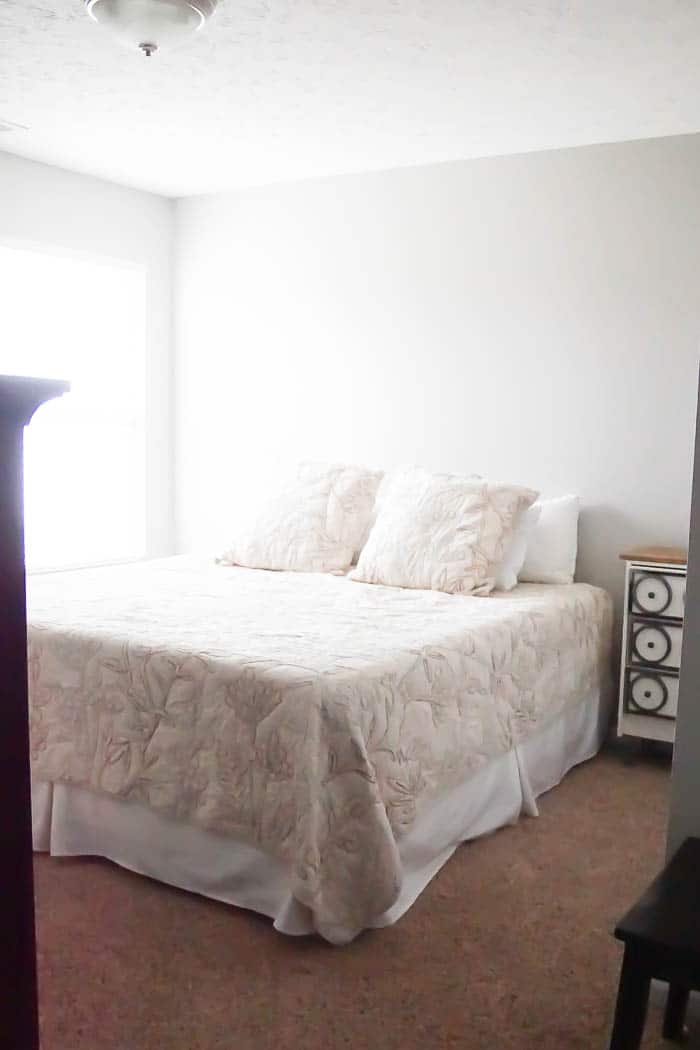 As soon as my headboard arrived, we put it in place and I have loved having something smaller and a bit softer for the bedroom.  But then I really couldn't wait to add more bedding and decorations to the room and make this guest bedroom comfortable and inviting!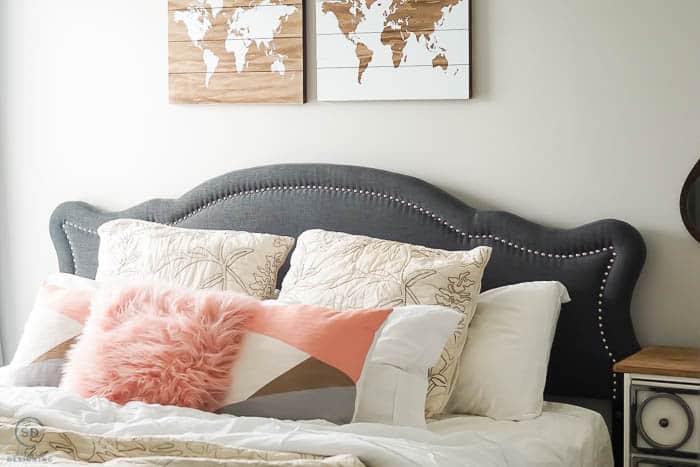 How to Make a Guest Room Comfortable
We love it when people come to stay with us, and while we can't promise that my children's noise won't wake them up in the morning or that they won't have to share a bathroom with my little ones, I can provide a beautiful sanctuary for them to retreat to.  Here are my tips for how to make a guest room comfortable:
Layer the bedding
Lots of comfortable pillows
Seating
Lighting
Mirror
Art
Provide privacy 
As soon as I had a few ideas for how I wanted to transform the space for this bedroom makeover, I went to work.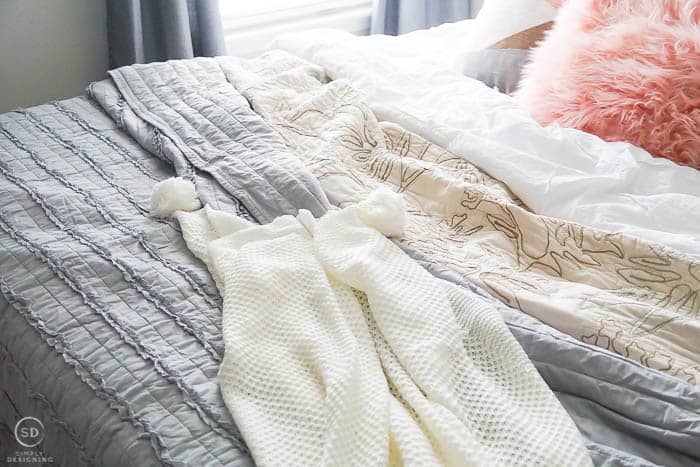 Layer the Bedding on your Bed
I am the person that is always too hot or too cold...usually too cold.  So having extra bedding on hand is so important to me because I never want my guests to be too hot or too cold or worry about asking for additional bedding if they need it.  Also, I just LOVE how 3-4 layers of bedding looks on a bed.  Layers of bedding actually make the bed look and feel more comfortable and luxurious.  The more bedding the better!  Right now I am just loving having 3 layers of bedding plus a throw on beds.  It makes the bedroom look so comfortable and so inviting.
I decided to keep the quilt I already had and add two others quilts.  I wanted something with lots of texture but not too much pattern since the existing quilt had a pattern.  I found a beautiful grey quilt and an amazing white comforter from the Better Homes & Gardens bedding line sold exclusively at Walmart and couldn't wait to get them added to my bed.  I used the Better Homes & Gardens Solid Ruffle Stripe Quilt and the Better Homes & Gardens 5-Piece Pintuck Comforter Set and accented the look with the Better Homes & Gardens Knit Pom-Pom Throw Blanket.
I love how layering the bedding creates such an inviting feel to the room!  Who doesn't just want to curl up on this bed!?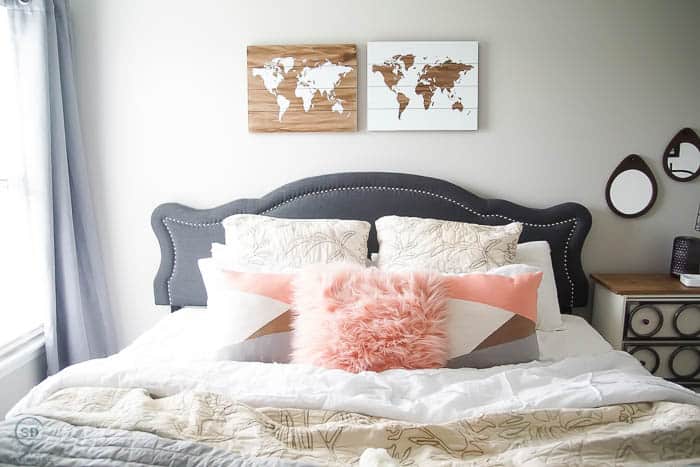 Add Comfortable Pillows onto your Guest Bed
When guests are visiting, they may want to do something other than just sleep in their bed. They may want to watch tv or read a book and having a few pillows already in the room for them to prop themselves up with can help them be comfortable.  I also know that people like different numbers of pillows when sleeping.  So in our guest bedroom, I offer two sleeping pillows on each side of the bed, a Euro Sham that we already had from our existing bedding, and then I added two of the white shams from the Better Homes & Gardens 5-Piece Pintuck Comforter bedding set.
I love how the room has a very serene, relaxed feel with the greys, whites, relaxing hues, but I wanted to add just a tiny pop of color to the space, so I found three fun accent pillows to add to the bed as well!  These are perfect for helping to prop yourself up while reading or to prop your feet up at the end of the bed.  I love the modern geometric feel to the two pillows, but couldn't resist adding the blush faux fur pillow onto the bed too because it just adds a touch of fun and silliness to the room.  I used two of the Better Homes & Gardens Triangle Geo Decorative Throw Pillows and one of the Better Homes & Gardens Angora Decorative Throw Pillows.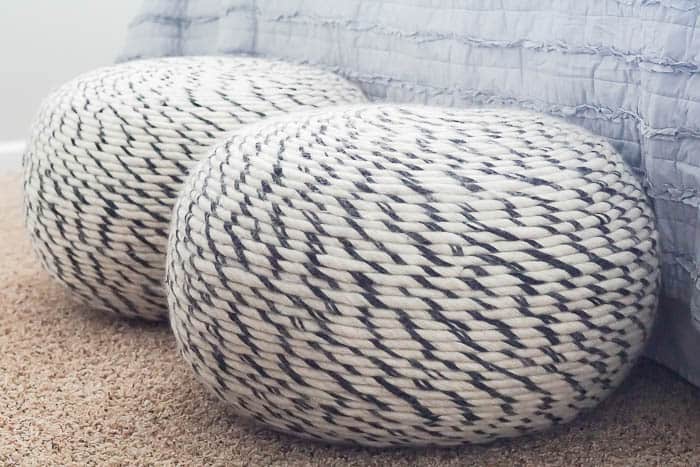 Add Soft Seating
Yes, you can always sit on the bed, and in a small guest bedroom, like ours is, that had been the answer for so many years.  However, when I found these super cute poufs (Better Homes & Gardens Wool Swirl Pouf), I knew they would be perfect at the end of the bed!  They are soft so no stubbed toes will result from them, but they add a little something to the end of the bed, while also providing a place to sit, lay out clothes, or set a suitcase.  Ensuring you have horizontal surfaces and a place to sit in a guest bedroom can go a long way to helping guests feel comfortable in your home.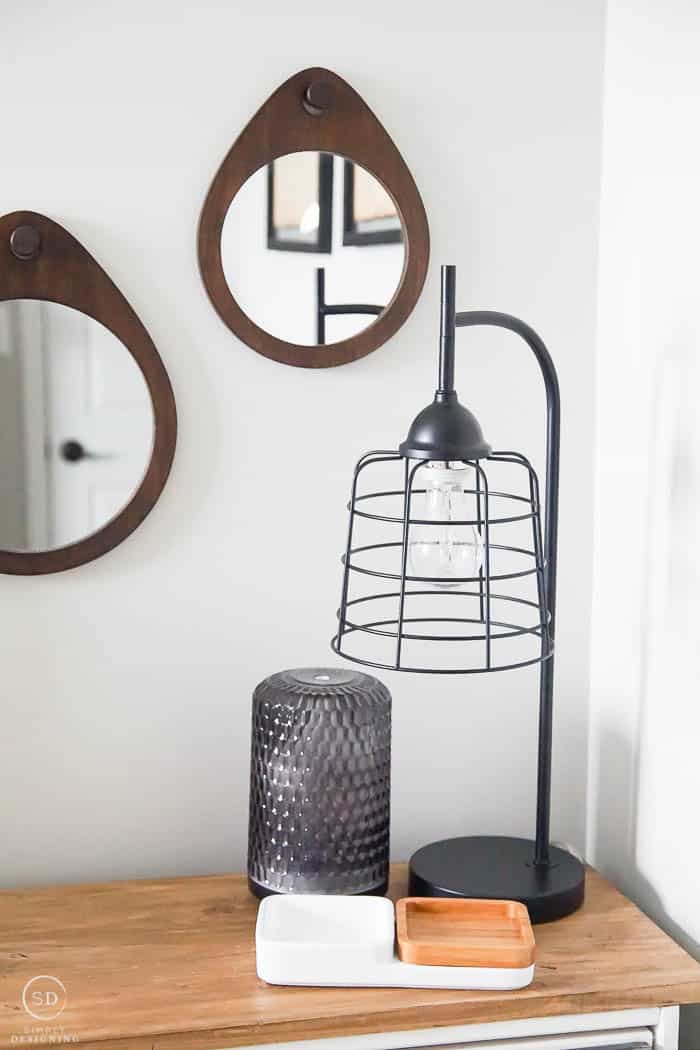 Add Lighting to your Bedroom Makover Plans
Our guest bedroom has an overhead light, which is a great start to lighting the space, but who hasn't tripped over something in an unfamiliar place while trying to find their way back to the bed after turning off the overhead light?  Everyone has.  So in order to help with this, I put a really fun and beautiful lamp on the nightstand (Better Homes & Gardens Caged Metallic Accent Lamp).  (PS - you can check out how we created this nightstand HERE)  Having a lamp on your nightstand will result in less stubbed toes and also allow guests to read at night a bit easier.
I also added a Better Homes & Gardens Ceramic and Wood Tray so guests could put small items by their bed, and a Better Homes & Gardens Diffuser that I had been given previous from Better Homes & Gardens found its way into the guest bedroom as well so that I could diffuse essential oils to help the room smell fresh and inviting too.
Add Mirrors to your Guest Room
Adding a small mirror to a guest bedroom can allow guests the small kindness of checking to make sure they don't leave the guest bedroom wondering how bad their bed head is.  I love this cute set of mirrors from Better Homes & Gardens and think it is just the perfect functional decoration to add above a nightstand or any place in a guest bedroom. (Better Homes & Gardens 2 PC Modern Wood Mirror Set)

Add Art to your Guest Bedroom Makeover
Don't forget to add art to your guest bedroom makeover!  It is so easy to a guest bedroom to become the place where old family photos go to die...but please don't do that.  There is nothing relaxing or welcoming about a life-size family portrait of someone else's family staring at you while you try to go to sleep at night!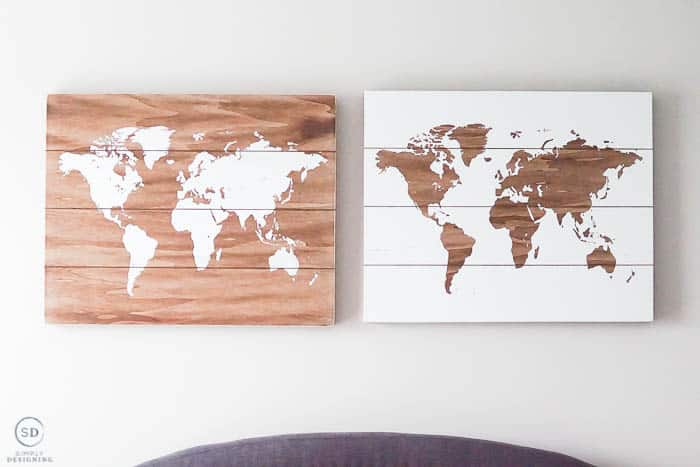 Find art that is fun, beautiful, or even just quirky to add to the room instead.  I love these really fun world art and think they would be fun in so many places, but I love them in our guest bedroom.  I used one each of the Better Homes & Gardens Ash Wood With World Print and the Better Homes & Gardens Maple Wood With World Print.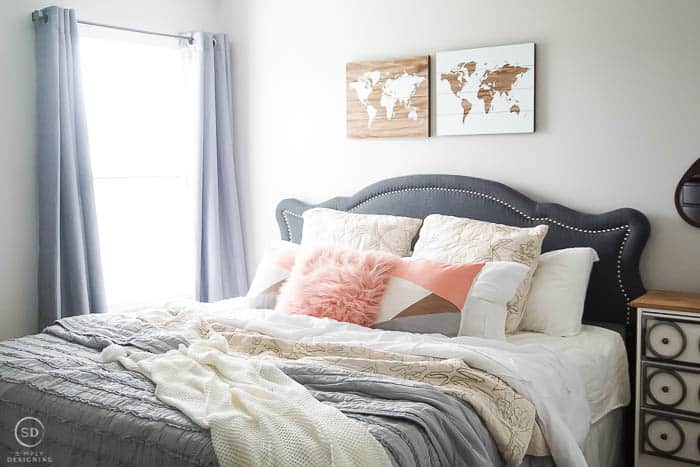 Provide Privacy in your Guest Bedroom
Provide your guests privacy with a door that locks and a way to block the window.  Whether you have blinds or curtains that pull shut, it is important for guests to feel safe and secure in your home.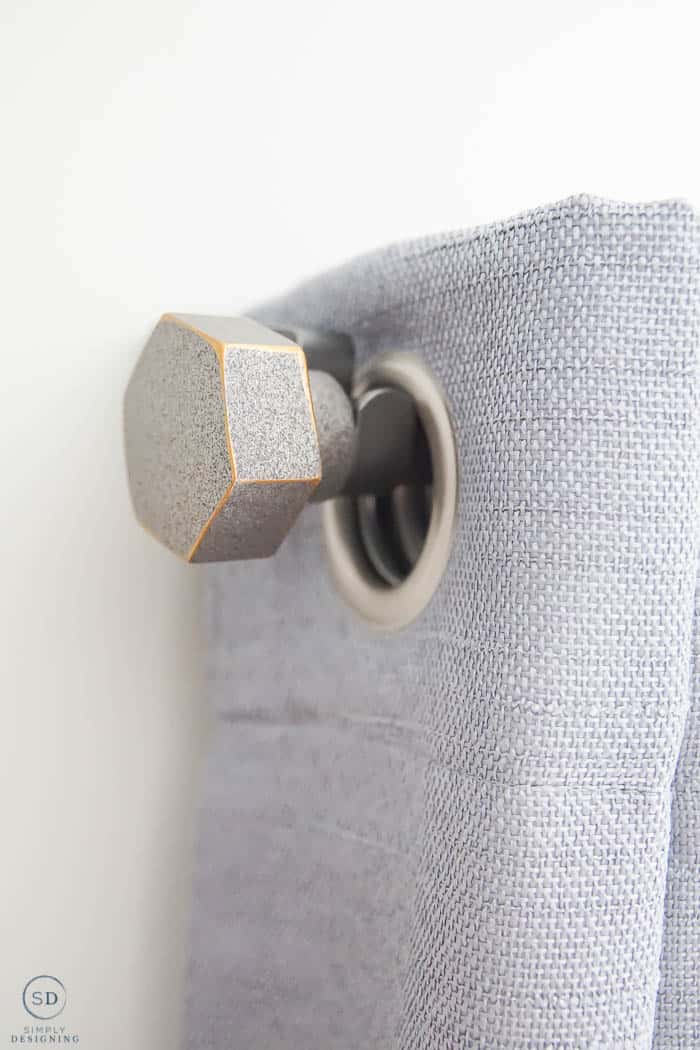 I decided to add curtains to my guest bedroom to help create a softer look and provide privacy.  So, I added this amazingly beautiful Better Homes & Gardens Industrial Bolt Curtain Rod and two Grey Better Homes & Gardens Basketweave Curtain Panels into the room and it adds a beautiful soft touch while adding privacy and some much-needed light-blocking too.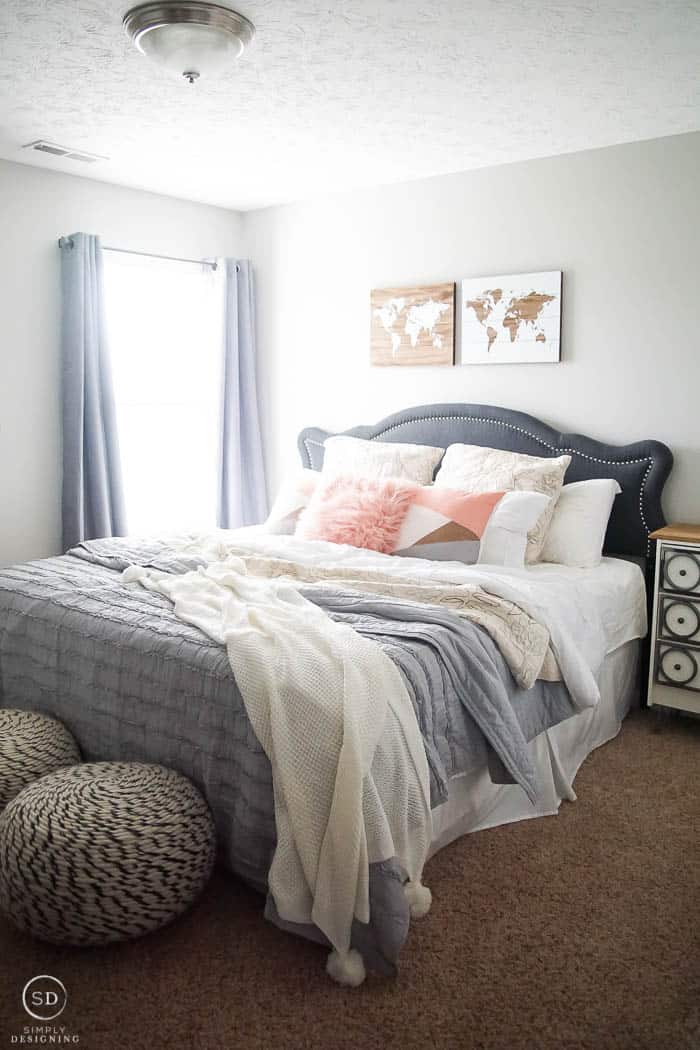 When all is said and done this guest bedroom makeover looks inviting, comfortable and like someplace I would want to stay!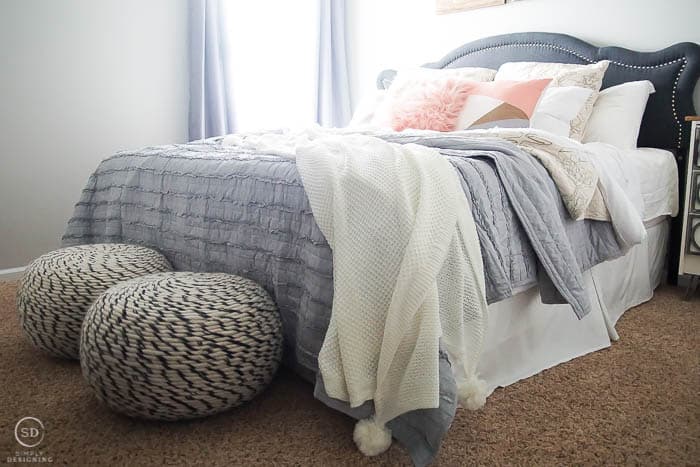 I can't wait until the next time I have guests overnight so they can enjoy this room!
Can you believe the before and after!?  This bedroom makeover is so fun!

It's amazing the difference a little bedroom makeover can do!

SHOP THIS GUEST BEDROOM MAKEOVER LOOK: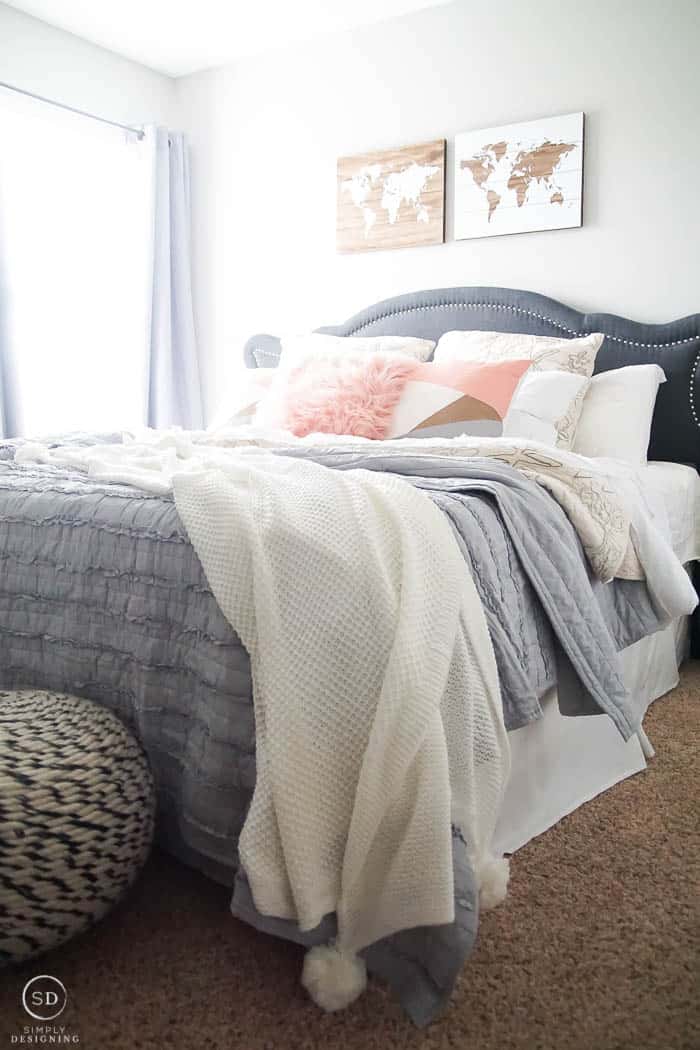 You might also enjoy: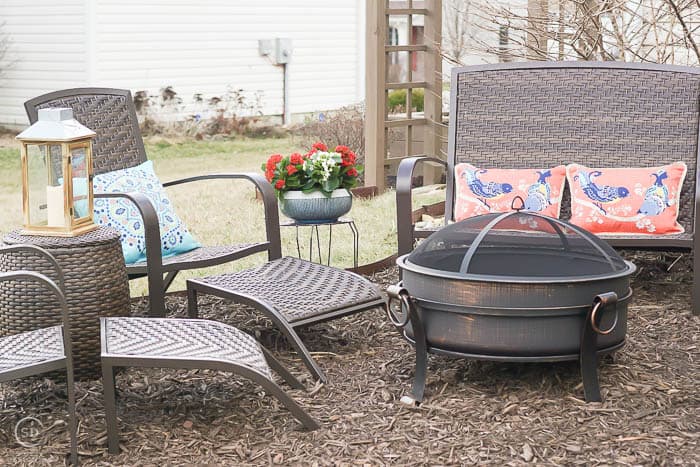 Outdoor Living with an Easy Backyard Firepit