Can I be honest with you for a minute?  I have done the diaper bag thing.  Twice.  The last time was 6 years ago.  I simultaneously don't want a "traditional" diaper bag and also have absolutely no recollection of what I even need to carry around in a diaper bag anymore.  It is an odd combination that has had me considering not getting a diaper bag all together as well as just giving in and finding something cheap to make due with.  In the end, I knew I would actually not be happy with either of those options, so I set about looking for the best, most functional, and cutest (ie least diaper bag looking like bag) I could find and I am absolutely in love with the diaper bag I ended up with!  But I will admit that I was really overwhelmed during the process of picking out a diaper bag!  There are so many options and things to consider, I became overwhelmed quickly.  But I am truly in love with the bag I ended up choosing, so today I am sharing my tips for How to Choose a Diaper Bag.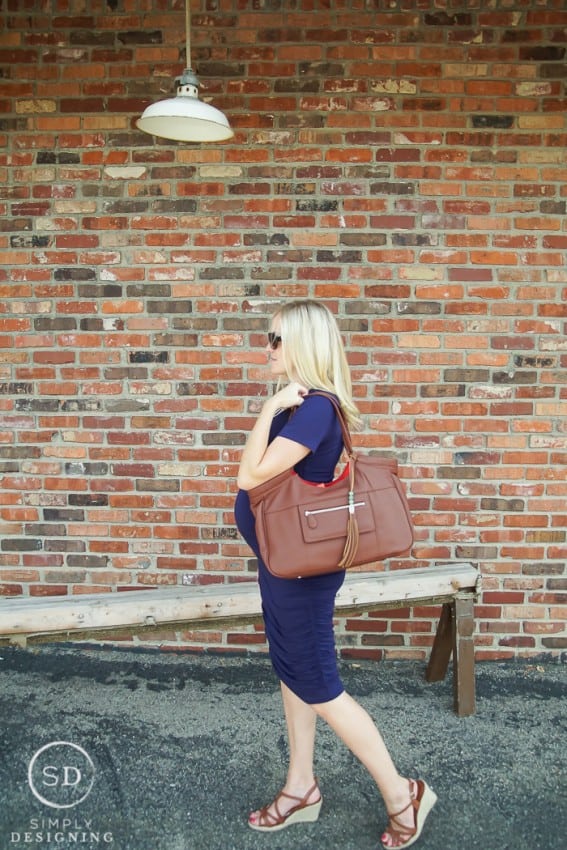 How to Choose a Diaper Bag
I looked at many, many...many diaper bags before deciding on the Caroline Bag in Brandy from Lily Jade.  I spent hours upon hours painfully researching the best new diaper bags, diaper bags that don't look like diaper bags and all sorts of other things before determining which bag would work best for me.  I went to stores, visited websites, asked friends and in the end, I felt that the Caroline bag would be best for me.
So I was extraordinarily grateful when Lily Jade offered to send me a Caroline diaper bag for review purposes on my blog!  I am not being compensated in any other way for this blog post, but I am super duper excited to share with you a few tips and things to consider when buying a diaper bag because I will admit, it is overwhelming choosing a diaper bag!  But with these tips, it should help narrow your search down so you can find exactly what you need!

Consider who will use it
Will this just be a bag for the mom to use?  If so, go for a bright girly color, pattern or style and don't look back!  Embrace it and enjoy it.  But if you are hoping your husband helps out with diaper bag carrying duties, it is important to take his opinions into account.  Choosing something a little less girl-y or even made out of leather might be a better option.  Or consider getting him his own diaper bag.  (Although I will admit we did this with baby #1, and his diaper bag rarely got used because we didn't want to have to re-pack another bag.  So if you opt for two bags, consider keeping both fully stocked and ready to go all the time.)  I will admit that my new diaper bag looks pretty purse-like (which I love by the way!)  But it is made out of leather so it isn't too girl-y and is really just a nice looking bag!

Style
The style of the bag can make or break your love of it in the end.  Bags come in all sorts of forms, from backpacks to messenger style bags, even ones that go over one shoulder more like a traditional purse does!  Consider how you plan to use it, where you plan to take it and if you need your hands free to help wrangle other children while carrying your diaper bag.  Many bags nowadays come with options, so the one I ended up with can be worn over the shoulder, or I can attach a longer strap to carry it across my body.  Having options is a good thing.  (Lily Jade also makes diaper bags that can convert into a backpack too.)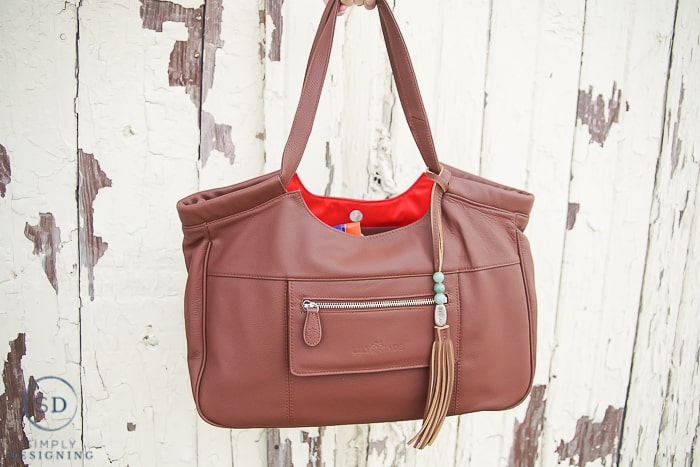 Material
Material is a big one.  It is inevitable that something will spill at some point in your diaper bag.  When I had my first baby nearly 10 years ago, a popular line of diaper bags came exclusively in silk fabrics.  That made no sense to me.  One spilt bottle and you would have a near-permanent wet looking stain in the fabric.  They were pretty, and trendy, but not at all practical!  So opt for a diaper bag that is cleanable because I guarantee you will need to clean it at some point.
One of the reasons I really love my Lily Jade Caroline bag is because while the outside is leather (and completely wipeable) the inside is removable and washable!  So I can take the entire inside out if needed to clean it well.  This is a huge plus in my book.  (And it also means I can remove the insert and use it as a regular purse if I wanted to also!  Woot woot!)
Shape
Shape is important because it determines how you will fill and find things in your diaper bag.  I have found that diaper bags that are too tall are difficult to use.  I end up stacking things on top of each other and then have to go through layers of items to find what I am looking for.  I love bags that are shorter but offer more width or length to them because you can easily see everything in the bag at a glance.  I love how the Caroline bag is tall enough to fit a bottle, but not too tall that I can lose anything in the bottom of the bag!
Also I think it is important for the bag to be somewhat structured in form.  I want a diaper bag that when I set it down, it will still sit upright.  A floppy tote or purse will lead to a bag falling over, you not being able to find anything in the bag, and possibly a spilt bottle, which is one of the worst things (and smells) ever.  So I always look for a diaper bag that retains it's shape when set down.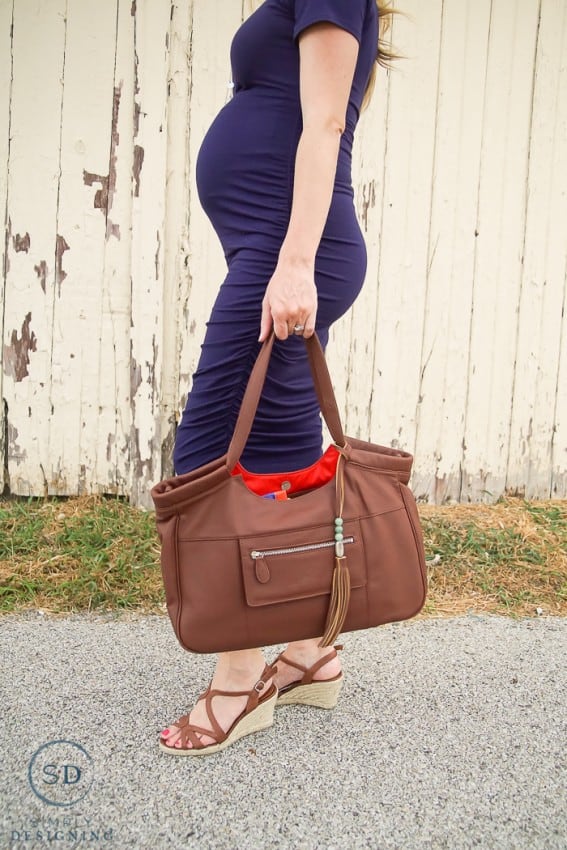 Size
Size does matter.  As I mentioned before, I don't really remember what I even need to put in a diaper bag, but as I have had more children, I feel the need to carry less stuff with me.  I don't want a huge diaper bag, I never have.  But I want something that is functional.  Just because it is big doesn't mean it is functional.  So I looked for a smaller sized, not too tall diaper bag that would give me just enough room for baby essentials PLUS the things I typically carry in my purse.  My Lily Jade bag is the perfect combination of size and function and allows me to carry all the things I need plus all the things I would need for a day out with baby.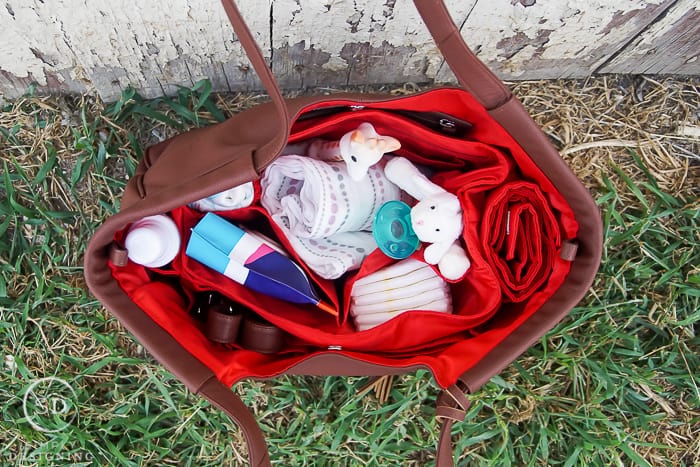 Functionality
How a bag functions is the main criteria for me when picking a diaper bag (or even a purse for that matter) out!  It needs to be functional.  For me that means it needs to not be too tall, it needs to be big enough to carry the contents of my purse plus essentials for the baby, it needs to be cleanable and it also needs to have pockets.  Oh.  Pockets.  How I love pockets!  Pockets make packing, and finding everything so much easier!  Just buying a big-ole-diaper bag does not mean it will function well.  Sure you can fit all of your things in it, but can you find anything?  Probably not.  Plus, once you have had a bottle spill in your diaper bag (believe me, I have) you will realize that a big bag with no pockets is just not a good idea.  At a minimum I like to have pockets for a bottle, diapers/wipes and for my cell phone and wallet.  That means a minimum of 3-4 pockets is essential in my book.  But the more the better.  Seriously.  The more pockets you have, the better you can organize everything, the better you can find everything and the easier it becomes to pack a diaper bag as you head out the door!  Seriously!  If you have a place for everything to go, you can quickly glance in your diaper bag and see that you are low on diapers, or need an extra burp cloth.  But if everything is just thrown into the bag, you very well may walk out the door without diapers one day.  Believe me, it has happened to me!  So having pockets is essential.
The Caroline diaper bag from Lily Jade comes with a large zippered pocket, two medium pockets (one is the perfect size for a cell phone), a small zippered pocket on the outside, plus a key clip (which is useful so your keys don't end up in the bottom of your diaper bag!).  It also comes with a detachable, washable baby bag organizer (and changing pad) which has 15 pockets, one larger main compartment and a zippered pocket too!  These pockets are the perfect size for storing a bottle, a few diapers, wipes, and organizing all the other odds and ends of items you inevitably take with you when you have a baby or toddler in tow.
How Long Do You Want to Use it For
How long do you plan to use this diaper bag for.  You might not know the answer to this right away.  But generally I find that most moms or dads carry a diaper bag until their baby is eating normal foods and fully potty trained.  So there is a good chance you will carry some sort of diaper bag for 3 or more years.  That is a long time.  It also means, I want a bag to last!  I don't want to spend money replacing a diaper bag every few months.  No I prefer to find something that I love and will use it for a long time.  It also means I am prepared to pay more upfront for a better quality bag.  With diaper bags, you truly do get what you pay for in many cases.  You can buy a cheap bag but it most likely won't last much longer than a few months and then you will be searching for a new diaper bag.  I much prefer to find one I love, that is truly functional and beautiful and stick with it until I don't need it any longer!  Finding a well-made bag from high-quality leather with a washable insert is one combination that I know will make owning this diaper bag a good long-term investment for this stage of life.  But if you are someone who prefers to buy a new purse every 2 months, you might prefer to just plan on changing our your diaper bag often too.  So this is really a preference thing, but take it into consideration when choosing a diaper bag.

Pretty IS Important
Let's face it, women, you have been through a lot.  From growing a human being inside of you for 9 months to giving birth (or the long and difficult process of adoption), and the sleepless nights, sometimes you just don't feel you best.  At least, I never have.  And sometimes having something pretty is just important.  If you are going to have to carry a diaper bag for years to come, pretty IS important.  You need to love the bag you choose.  You need to love the color, the style and the function of it because honestly, having well functioning things helps make the transitions that come along with motherhood just a little bit easier.  And having a pretty bag on your shoulder can sometimes just add a little sunshine into your day.
I personally love my Caroline bag from Lily Jade!  I already have it packed and can't wait for our little girl to arrive to use it!  It meets and exceeds so many of my expectations for a diaper bag and I really truly do love it.  As you are searching for the diaper bag of your dreams, do take a moment to look at some of the beautiful bags that Lily Jade has to offer!  And just be sure that in the end, you find something that you absolutely love and that will work well for you and your family's needs.
You might also enjoy: