My bedroom.  It's time we had a heart to heart discussion about it.  I have focused on re-doing my kitchen and my bathrooms, I have added fun home decor throughout my home and totally made-over my office space!  But my master bedroom...well...it has been mostly ignored for the better part of 6 years.  We did upgrade our bed recently, and happened upon a new headboard we liked.  We even installed a lamp from the ceiling and I found a chair I liked for the corner.  But the view from my bed was a blank wall...that happened to have a tote bin against it.  A big, plastic, tote bin.  The dresser we used to have in there was too small and we ended up moving it to our guest bedroom.  The result is...well...let's be real here, we kind of look like college students.  Which is fine if you are college students.  We haven't been college students for...well...let's just say, a long time, so this room just was slightly embarrassing.  But I am really excited because today, I can finally show some progress and I am excited to share how we completely transformed this wall in our bedroom to help us create our industrial bedroom make over!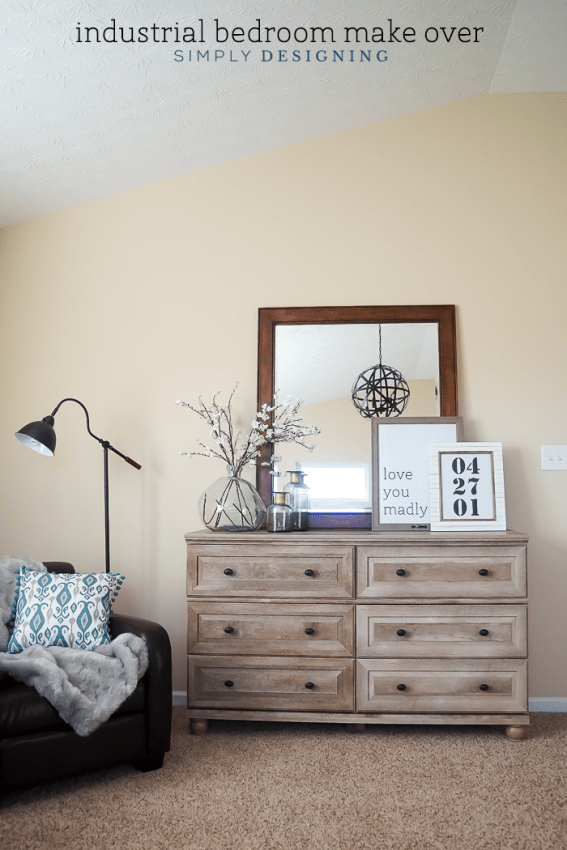 There are still a few things we need to do to get the entire room completed, but I am absolutely in love with how this wall turned out!
First of all I want to give a big thank you to Better Homes and Gardens for inspiring me to finally makeover this part of my master bedroom and for making this post possible today.  Please note that this post contains affiliate links, thank you for helping to support my blog.
Ready for it!?  Here is how it looked before we began working on it: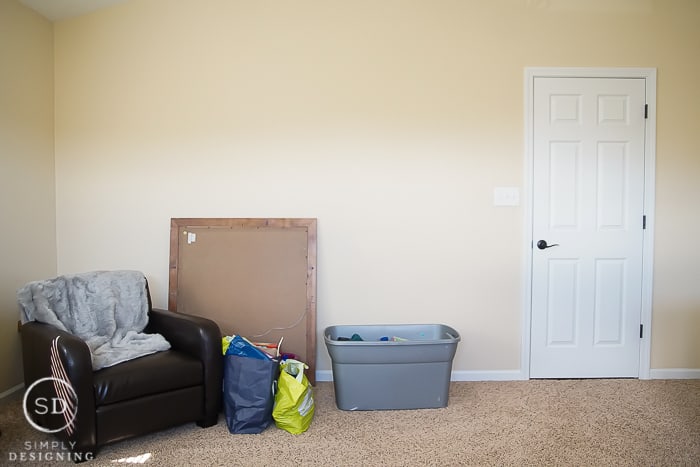 Yup,  There is a plastic bin, and a couple of bags with fall clothing for my kiddos.  It really was embarrassing.  But the after is so lovely!
Industrial Bedroom Make Over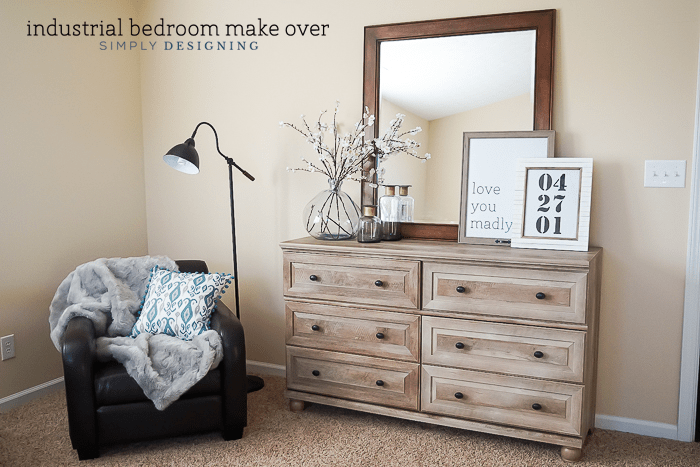 A few months ago, we added the leather chair and throw into the room.  And the large mirror we already had on hand (it used to be in our front entryway but didn't work anymore once I built and installed our Industrial Cabinet in the entry way).  I picked up the vases and flowers from another store, but everything else in this little corner of our master bedroom is from the Better Homes and Gardens line sold exclusively at Walmart!  And doesn't it look so lovely!?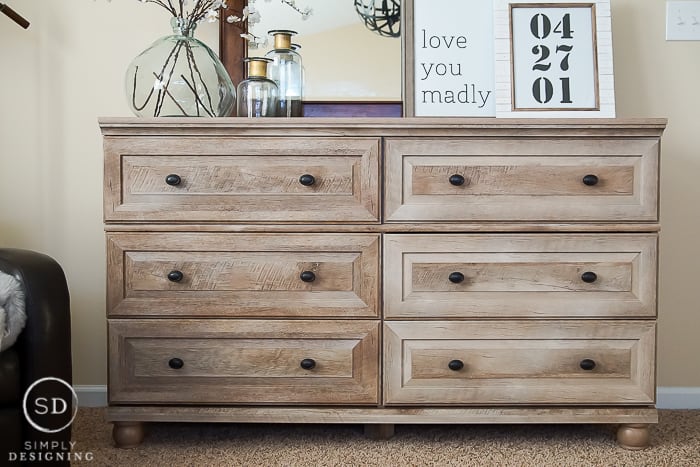 I have been looking for an affordable yet big, dresser for my bedroom makeover for a long time but really hadn't had any luck!  Most dressers over 48" long cost thousands of dollars or a really cheaply made.  When I went to a Better Homes and Gardens ambassador event earlier this year, I was able to see their Crossmill line of furniture up close and personal.  And I was impressed with how sturdy it was and how beautiful it was!  And this Better Homes and Gardens Crossmill Dresser in a weathered finish came in a really large size of 58.5" wide, I knew it would be perfect for the space!  My master bedroom has tall ceilings and large walls and so I needed a big piece of furniture in the room to look substantial!  And the price was incredible!  So this entire area began to transform once we bought this dresser!  (And don't worry we properly secured the dresser to the wall so it will be already safe when baby arrives!)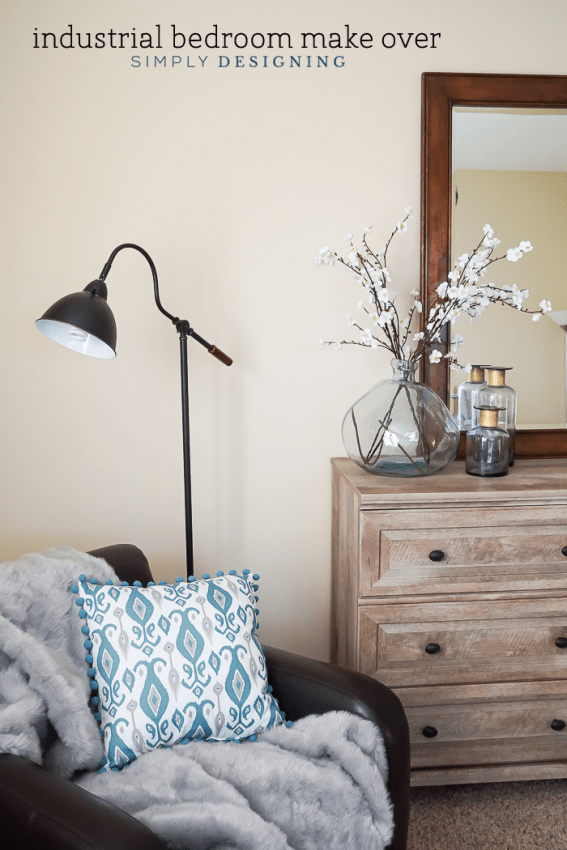 I also snagged this Better Homes and Gardens Adjustable Arm Floor Lamp in oil rubbed bronze so that I would have a reading light by the chair.  I really love how it looks and it is so affordable!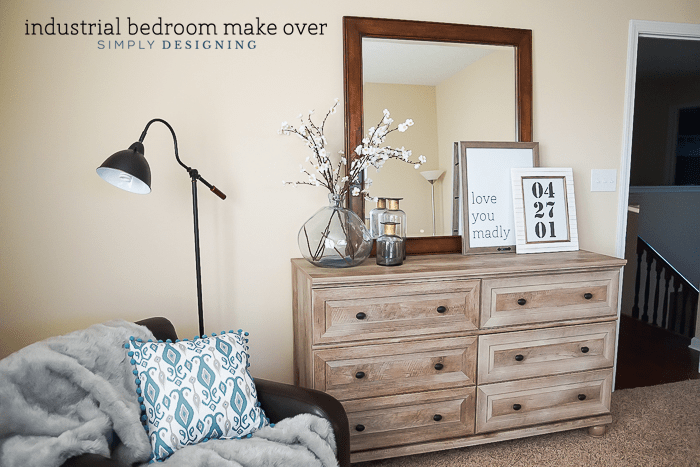 Even though I want to keep this part of my bedroom makeover fairly neutral, I decided it would be fun to add a tiny pop of color here.  So I placed this cute Better Homes and Gardens Ikat Pillow with Pom Poms in teal on the chair.
We had a huge mirror that I knew would fill a large part of the wall.  Instead of hanging it above the dresser, we decided to create a stacked look by setting it on the dresser directly.  But even though we wanted the "look" of it sitting on the dresser, this mirror is big and heavy and so we actually did secure it to the wall properly.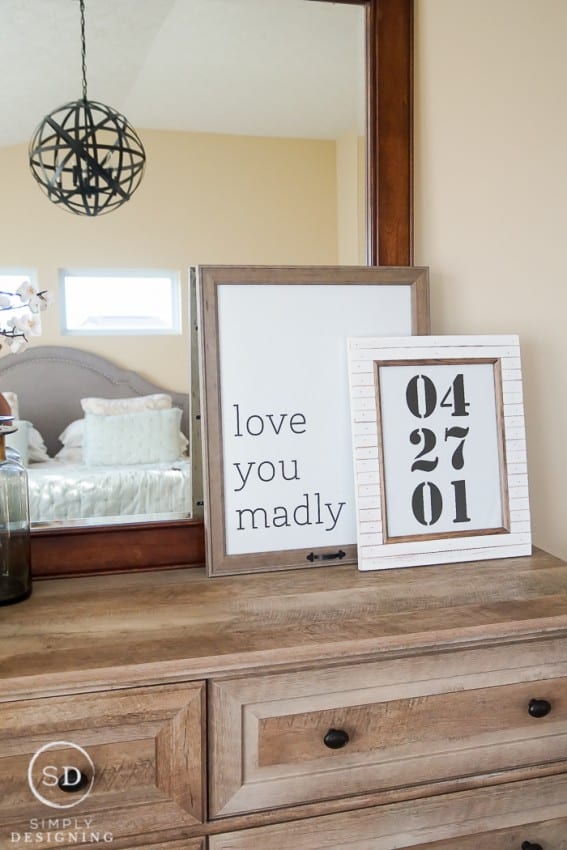 I bought two frames to stack on the new dresser in front of the mirror.  I bought the Better Homes and Gardens Oracoke 10x13 Soft White Picture Frame and the Better Homes and Gardens 4-Opening Rustic Windowpane Collage Frame.  I just love how the Oracoke picture frame looks and the 4-Opening Rustic Windowpane collage frame I knew would be perfect...with a itty bitty tiny tweak.  I wasn't sure if it would be possible when I ordered the frame, but I was hopeful.  When the frame arrived I carefully removed the windowpane from the middle of the frame so that I could place one large picture inside of the frame instead of four smaller ones.  If you choose to do this, you need to do it very carefully.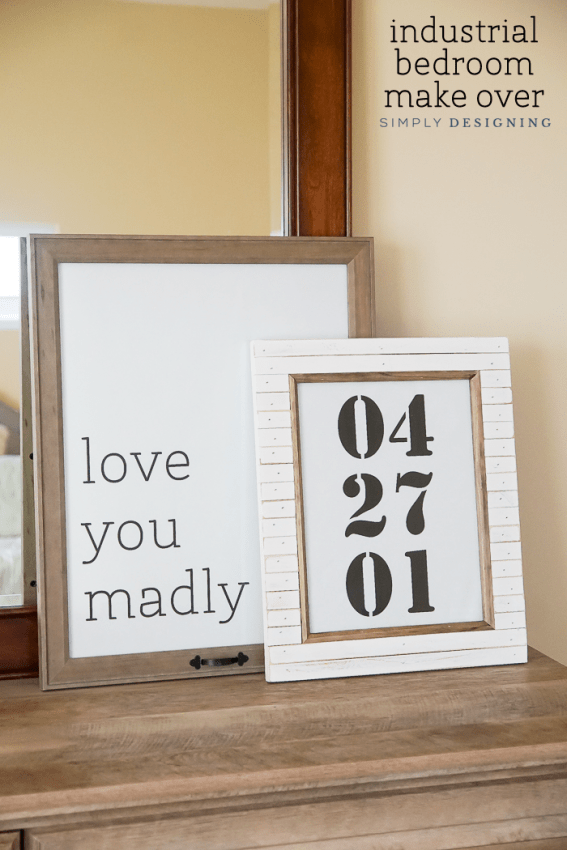 Then I created some fun typography artwork to place in my two frames!  The first piece I created was a fun anniversary typography print I made for my 10x13 Oracoke frame.  The second print says "love you madly" and I just love how it turned out!
You can download my 16 x 20 love you madly printable for FREE HERE.
Honestly, I think these are so fun and add such a fun industrial look to the room.  The love you madly print I created for a 16x20 frame, but I had to trim it just slightly to fit into the windowpane frame, and the anniversary print is formated to print at 10x13.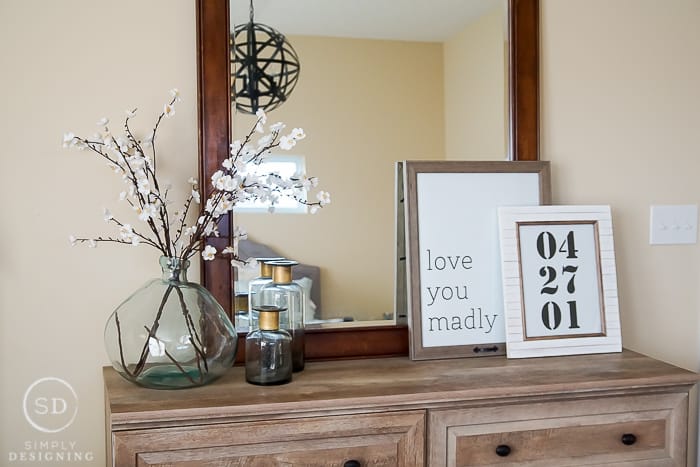 I didn't want to spend a lot of money on printing them though, so I took them to Kinko's and asked them to print an architectural print, black and white.  It only cost a couple of dollars to print both of them.  So it was really inexpensive artwork and I love how it looks in my bedroom.
Here are a few more photos of our industrial bedroom :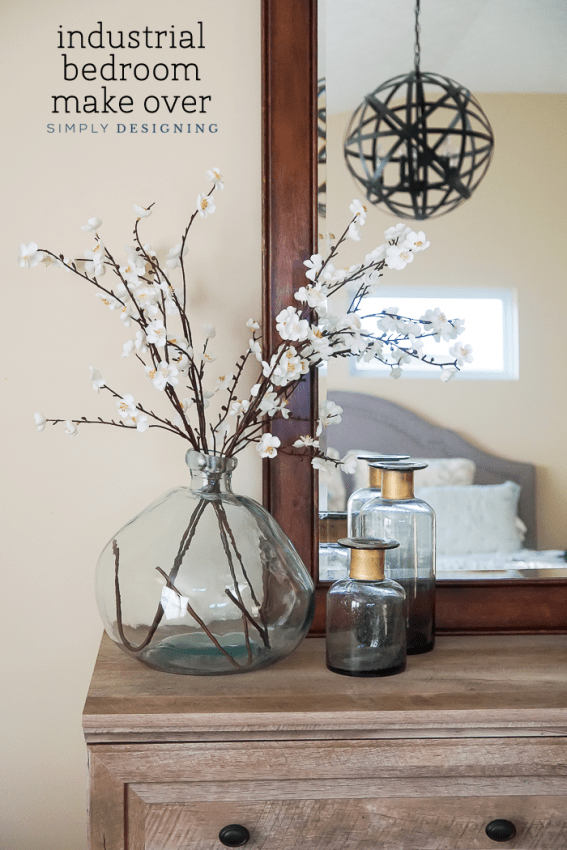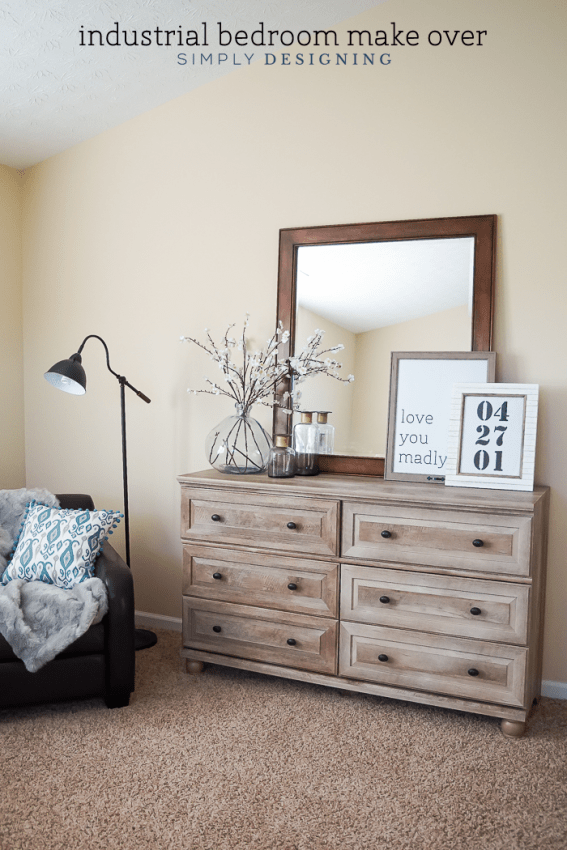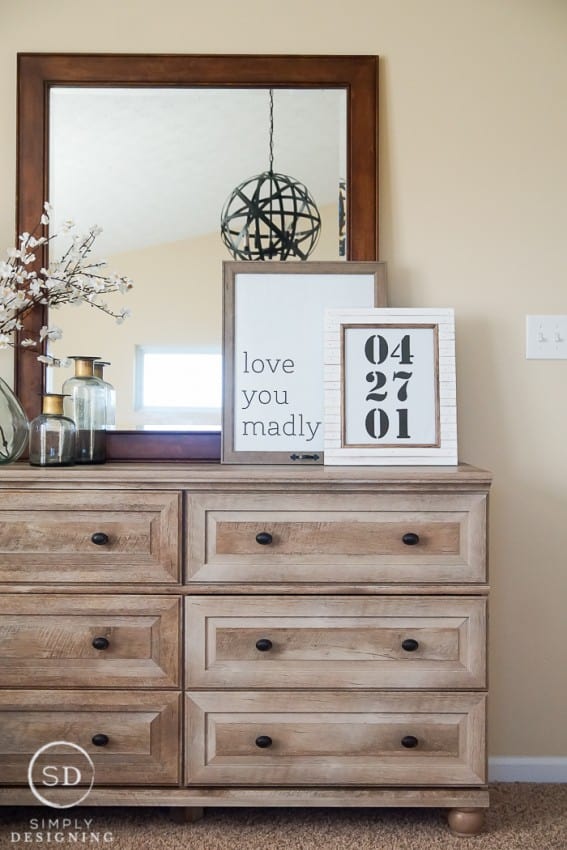 I love how this transformation took shape, and how it turned out.  I really love feeling like my bedroom is finally coming together!  And I am just in love with my new dresser and my new decorations!
You can find some more amazing inspiration from the Better Homes and Gardens line at Walmart on these blogs: