I love updating my home and one of the places in my home that has really needed an update is my laundry room.  I have a decent size laundry room but there is an ordinary wire shelf over the washer and dryer that was not the prettiest and it was also a bit too high up for me to reach.  It just made the whole room a bit awkward and while it wasn't completely unusable, I have been hoping to make a few tweaks to it to make it a bit prettier and a bit more functional.  Today I am excited to share my mini laundry room make-over with you!

Thankfully, as one of HomeRight's ambassadors, I was able to finally update this laundry room with a mini make-over.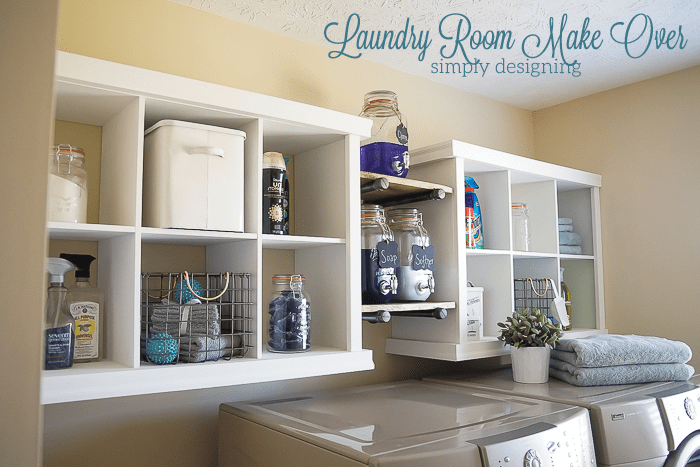 I love how a few simple changes transformed this room into a beautiful and usable space. The requirements for the HomeRight hack challenge are to take this simple ClosetMaid storage unit and transform it.  I also needed to use Valspar's Chalky Finish paint and my HomeRight FinishMax for this project.
You know I love a good hack and this one was definitely a fun challenge!
I decided that this unit would make beautiful storage in my laundry room!
Here is what my laundry room looked like before: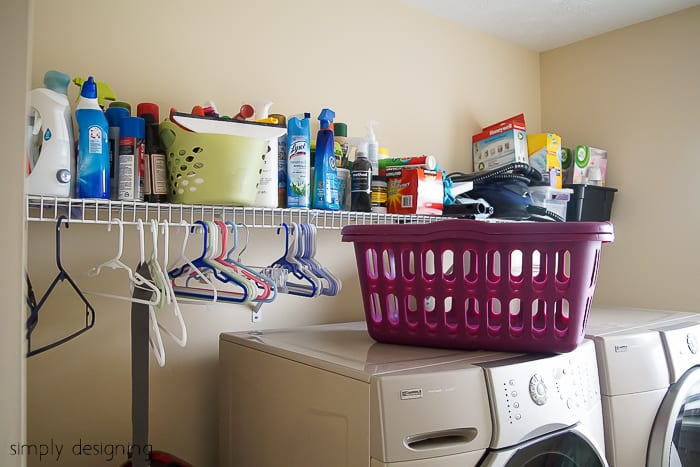 Supplies to make DIY Laundry Room Shelving:
ClosetMaid 6 Espresso Laminate Storage Cubes (because my laundry room wall is so big, I decided to pick up two)
Decorative Trim
1" x 2" wood
Steel piping
12" wide wood
Wood stain
Valspar Chalky Finish Paint (the color I used is Kid Gloves)
Polyacrylic
And I, of course, used my awesome HomeRight FinishMax for this project as well!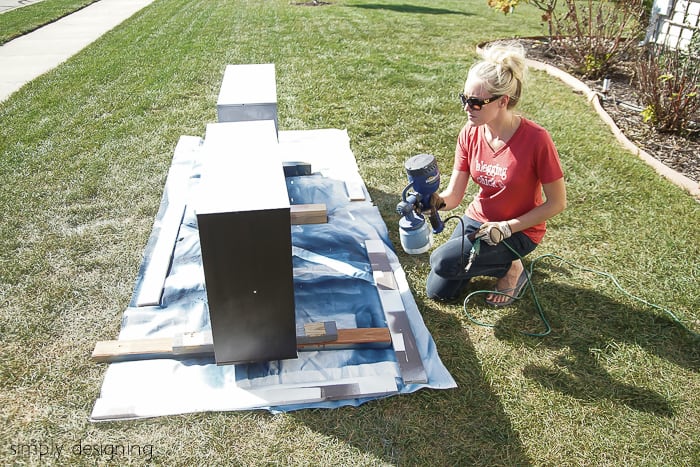 How to paint laminate furniture for this laundry room makeover.
We began by assembling the storage unit, I left off the back.  Then I used my FinishMax to spray primer onto the cabinet.
I will be honest with you, spraying cheap laminate furniture can be a challenge.  Sometimes I have success with lightly sanding the piece of furniture first and sometimes I just need really light coats of primer.  This is a case where doing both is a good idea, but I just opted for spraying several light coats of primer onto the storage unit.
I allowed plenty of dry time too.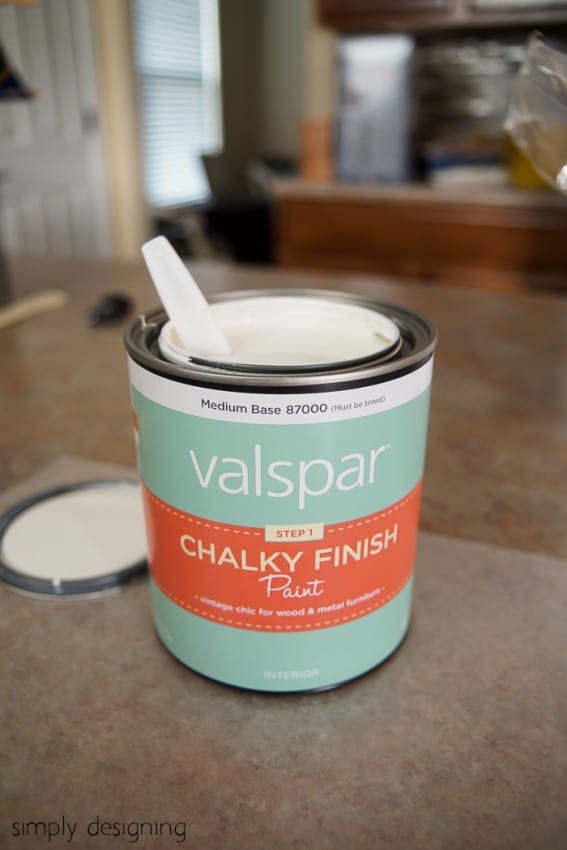 After the unit was primed, I filled my FinishMax up with Valspar's Chalky Finish paint.  I had to thin this accordingly and again I opted for several very thin coats of paint.  I also painted my primed trim as well.
While my new storage units were drying, we removed the wire shelf from the laundry room.  We then patched the walls.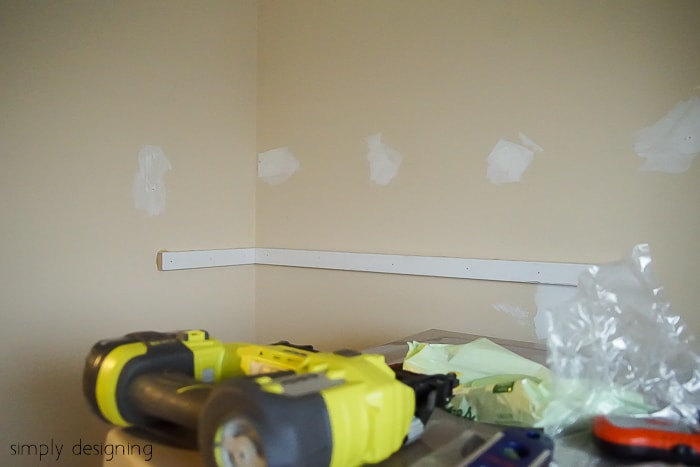 Mounting the storage units in the laundry room:
After determining where we wanted the new storage units to be, we attached 1"x2" directly onto the walls below where the bottom of the shelf would sit by using liquid nail and a nail gun.
Then we installed the storage units by resting them on the 1"x2" and used liquid nail and a nail gun to attach them to the 1"x2" and the wall on the side of the unit.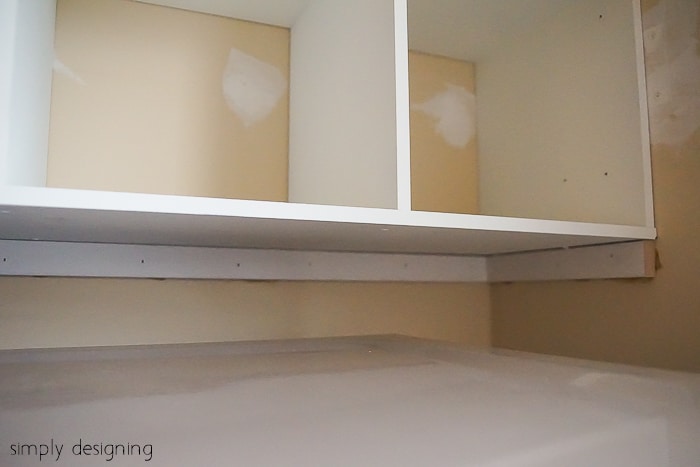 We also installed the safety bracket that came with the shelf to help hold it securely to the wall.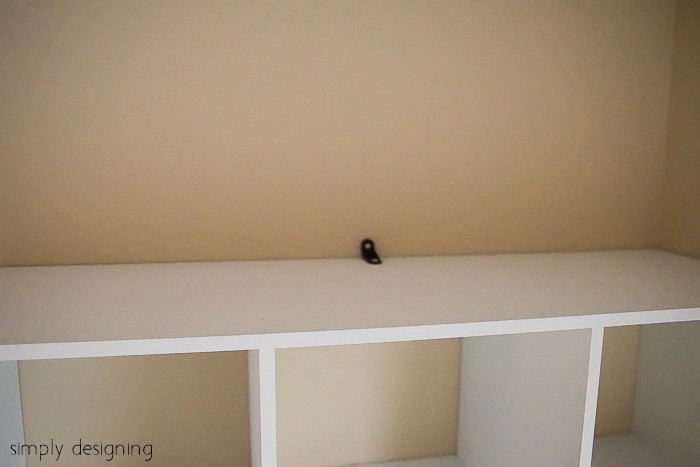 After mounting the shelving units in the laundry room we used our nail gun to attach the trim to the top, bottom, and sides of the unit.
We used a decorative trim on the top and bottom and a plain trim on the sides.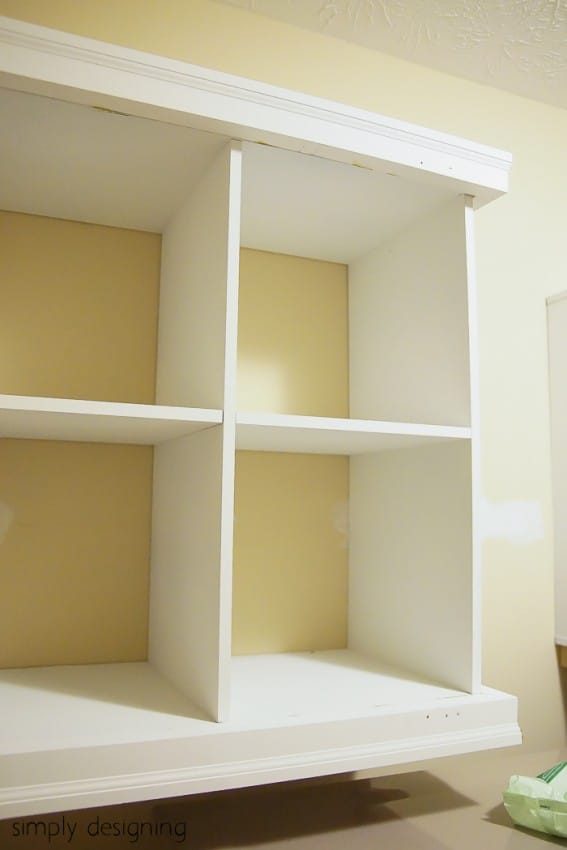 If you noticed, I have a space about 15" between my two shelving units.  I decided to use this space to add a bit of character to my laundry room.
I used steel flanges to attach steel pipe to the wall.  We cut 12" wide boards to fit the space and stained them.  Then I placed the wood on top of the pipe.  I love that this adds a unique industrial touch to the space!
I chose to place my Mason Jar Laundry Soap Containers on the shelves.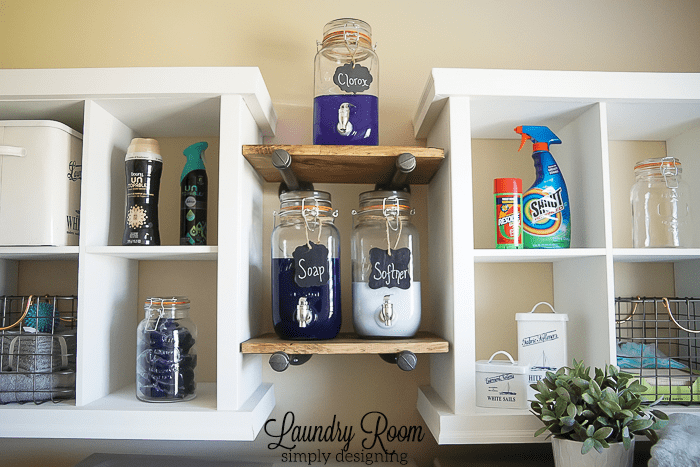 At this point, we had some touch-up work to do.  We patched and painted the places where we had used the nail gun and any other places that got dinged.  We also touched up the walls as well.
Because I knew I would have touch up work to do, I left sealing it until this point and choose to do that with a brush.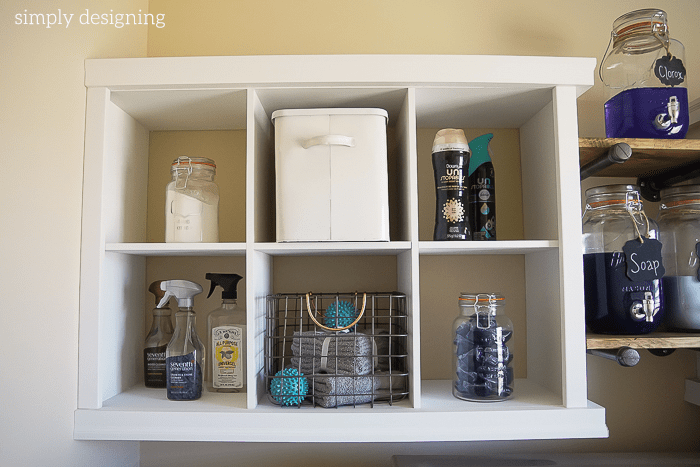 After it was dry it was ready to fill with pretty laundry and cleaning items that I use often.  I weeded through all of my laundry and cleaning items and choose to only put back things that I actually used.
I got rid of quite a few things.  I added a few baskets and put everything back in an orderly way.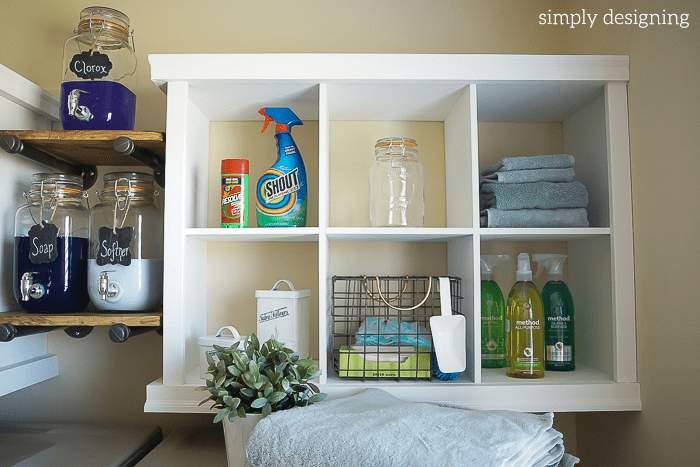 I honestly can't believe how much additional storage space these laundry room shelves have given me!  And can you believe the difference these shelves make in the space!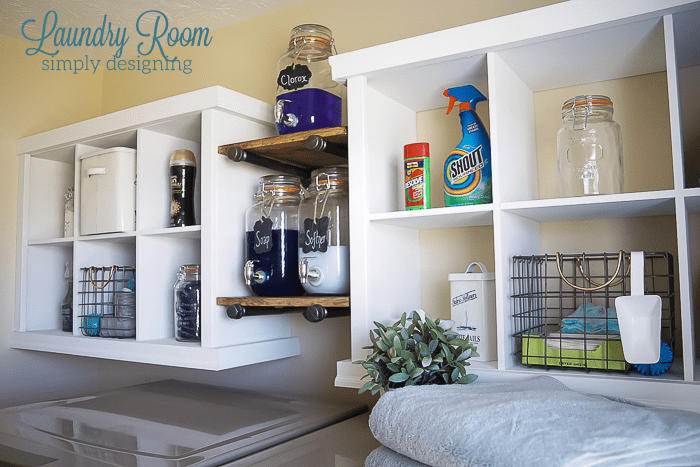 I can't believe the transformation!  And I am just in love with my laundry room!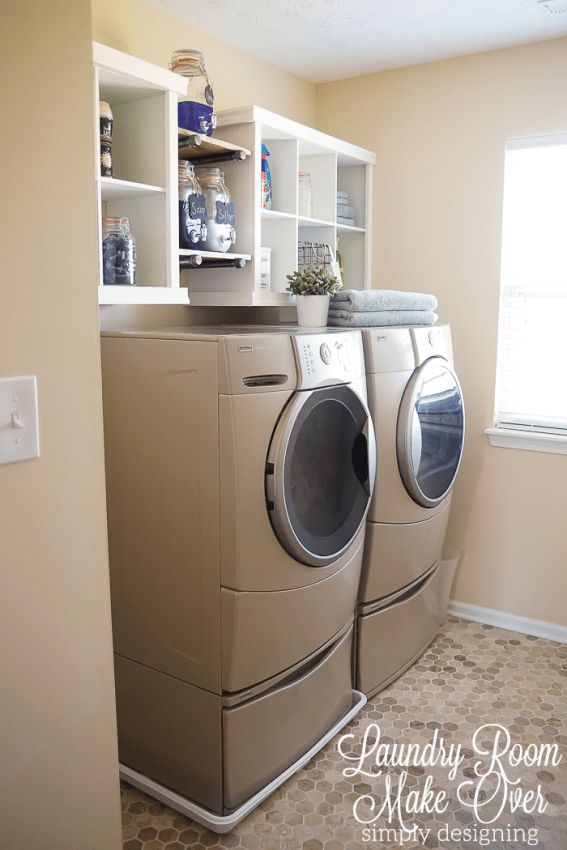 Isn't it amazing how a little project can completely transform a space!?  And I can't believe my pretty shelving started out as two shelves!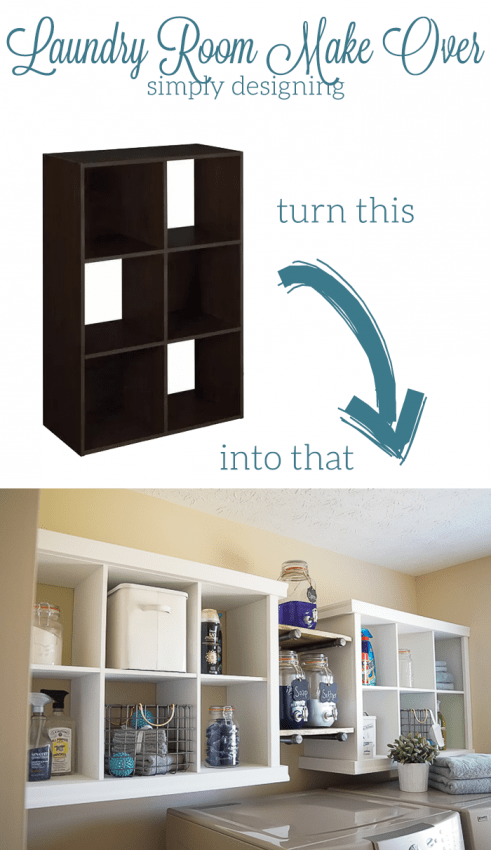 I absolutely love how my laundry room turned out!  It is so functional and beautiful!  It is so light and bright and open.
2018 update: And even now, a few years later, I still just love it!  It is still really functional for my family and I love all the organizational spots it gives us. 
Now I know that open shelving in a laundry space may be a little controversial.  Some love to be able to hide all of their laundry things behind closed cabinet doors.
And while I totally see the allure of that, I actually am in love with the open shelving in my laundry room!  It makes everything super accessible and easy to get to even if my hands are full of laundry.  I know that sometimes open shelving can look unorganized and messy, but with all the bins and square shelves, it is really easy to keep organized and looking nice.
Check out these cool posts too: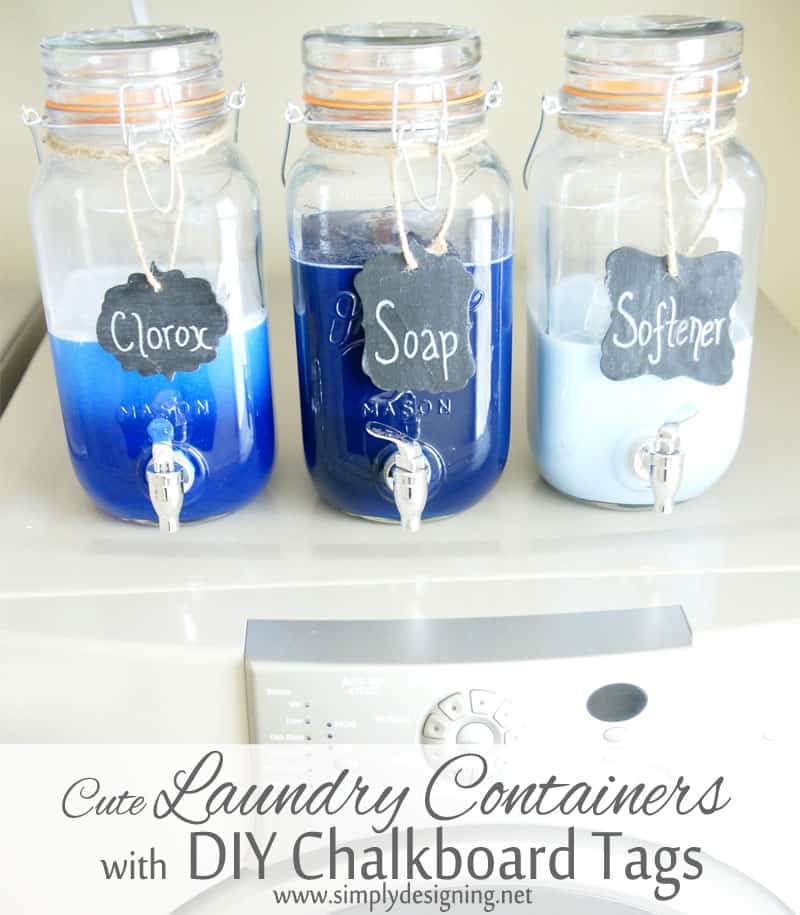 Mason Jar Laundry Soap Containers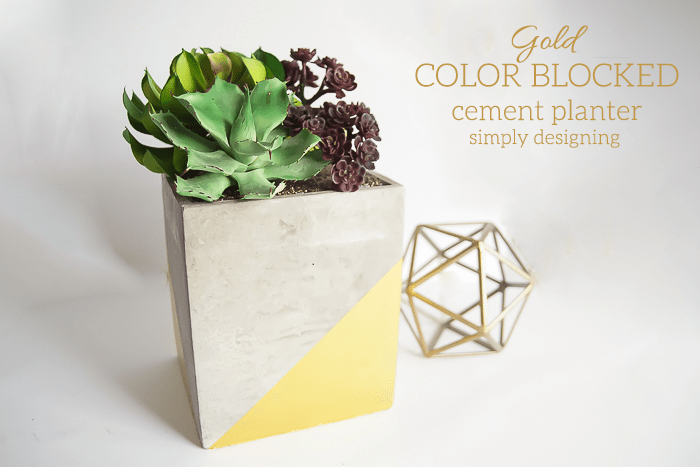 Cement Gold Color Blocked Planter