I love finding new techniques to finish wood projects and I am absolutely in LOVE my newest technique that I came up with the other day!  It is a no-sand distressing technique that provides a beautiful, rustic finish to any piece of painted furniture without the difficulty of sanding.  I created a really beautiful new photo holder and used this technique to finish the wood and I just love how it turned out!
Here is my pretty new No-Sand Distressed Photo Holder!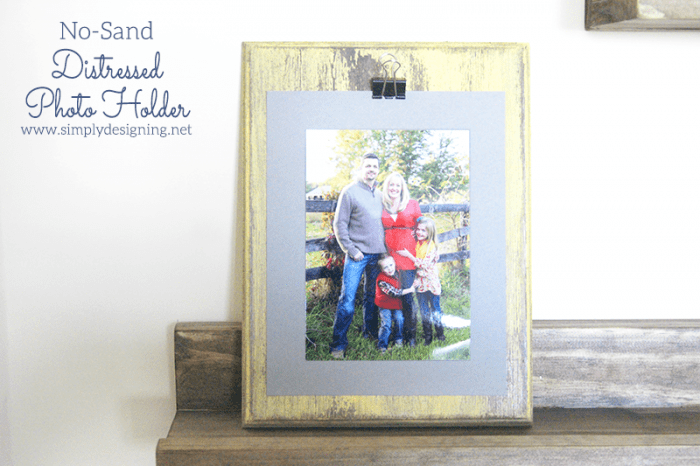 As I have mentioned before, sanding is actually one of my least favorite parts of refinishing furniture or finishing new projects.  I don't know why, but I just don't love sanding.  So I was really excited to discover a way to get a similar look, without the mess or frustration of sanding.
Here is what you will need to create your photo holder:
Wood Plaque, unfinished
Minwax Dark Walnut Stain (or other)
Latex Paint
Rag for Staining
Foam Brush for Painting
Gloves to protect hands
Binder Clip
E6000 Glue
Hot Glue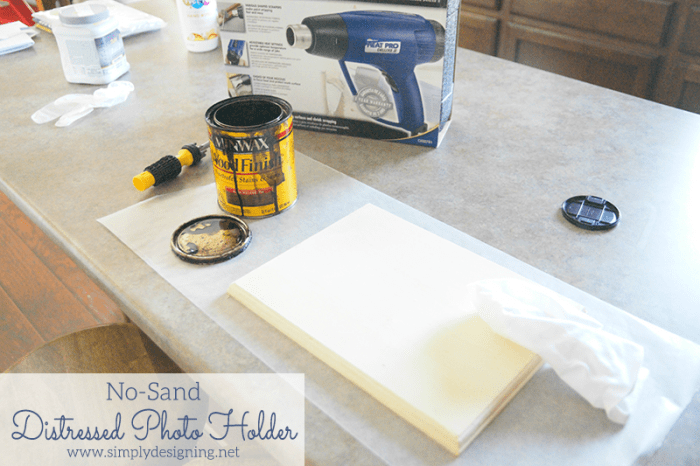 First I want to take just one moment to tell you about this awesome new tool I just received from HomeRight!  Heat guns have so many purposes such as removing paint, shrink wrapping, embossing and may more uses!  And this little tool packs a huge punch, with two fan settings and multiple heat settings, you can really use it for many purposes.
Because I knew you could use this to strip paint, I wanted to see if I could use it to systematically remove paint to create a distressed look, and I was so happy to find out that it works!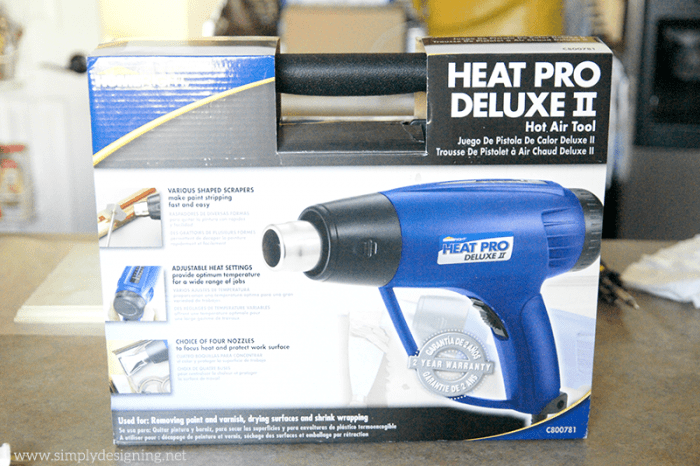 First I stained my wood plaque with a rag and then I let it dry completely.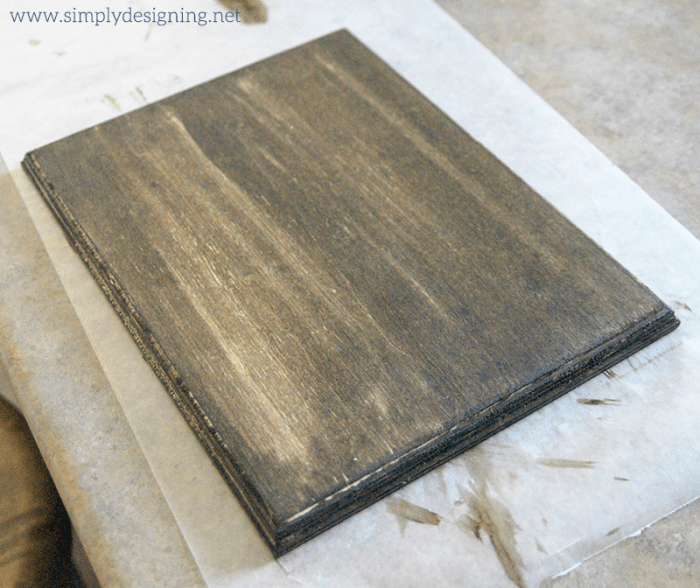 Next I painted my plaque with yellow latex paint.  I used one thick coat and painted it on very quickly.  As soon as my plaque was painted I grabbed my heat gun and got to work.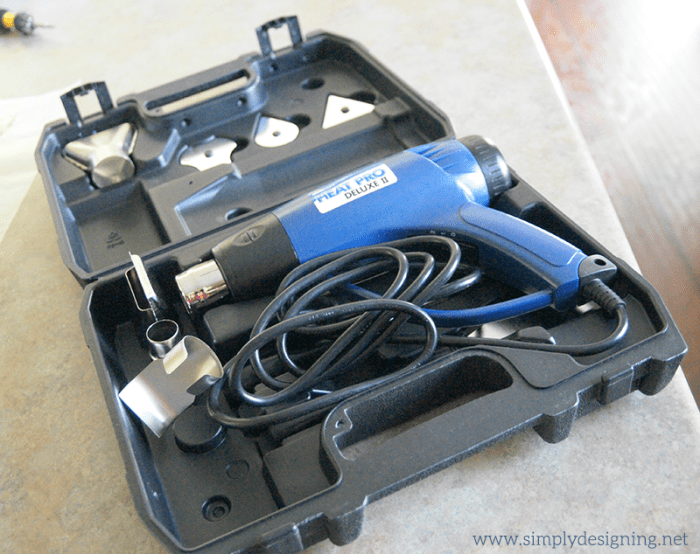 I carefully began to heat my paint up in various places on my plaque.  After only a few seconds, my paint began to bubble.  Once it bubbled in an area, I moved on to heat a new area on my plaque until I had several places on my plaque that were bubbly.  At this point, because of the added heat the rest of my plaque was dry too!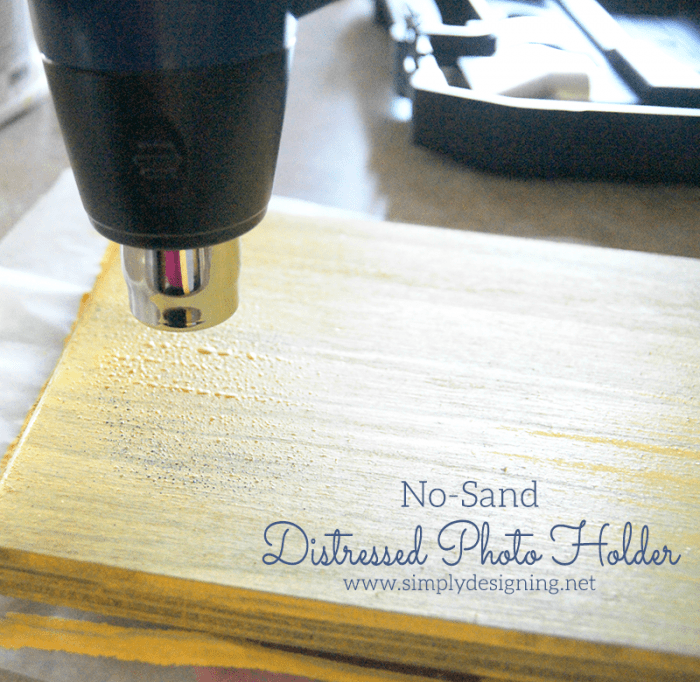 Then I took a scrapper tool and began scraping the paint off of the bubbly areas on my plaque.  The harder you scrape, the more paint will come off.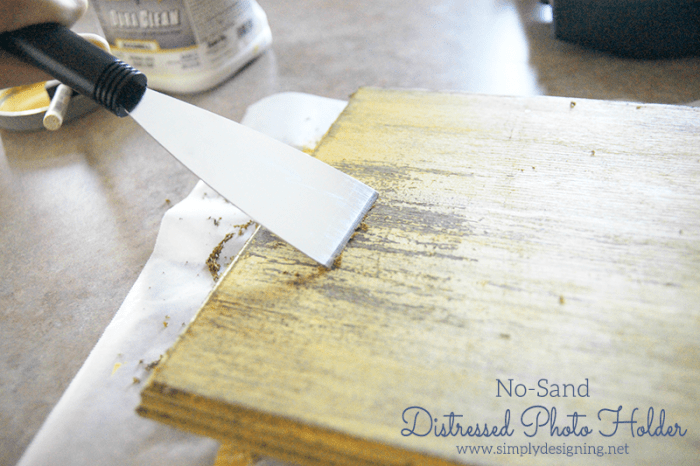 After a few minutes of scraping I had a really pretty distressed board!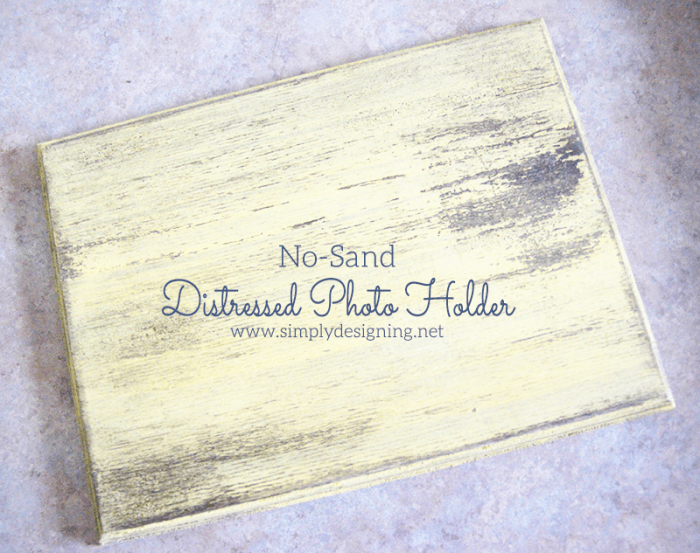 After I was done, I placed a little bit of E6000 Glue and Hot Glue on the back on my binder clip.  No you don't need both types of glue, however, I wanted to strength and durability that E6000 Glue would give me, but I didn't have the patience to wait overnight or longer for it to fully dry.  So I added a touch of hot glue to create a strong bond instantly, and allowed the E6000 glue time to dry while the hot glue held the binder clip in place.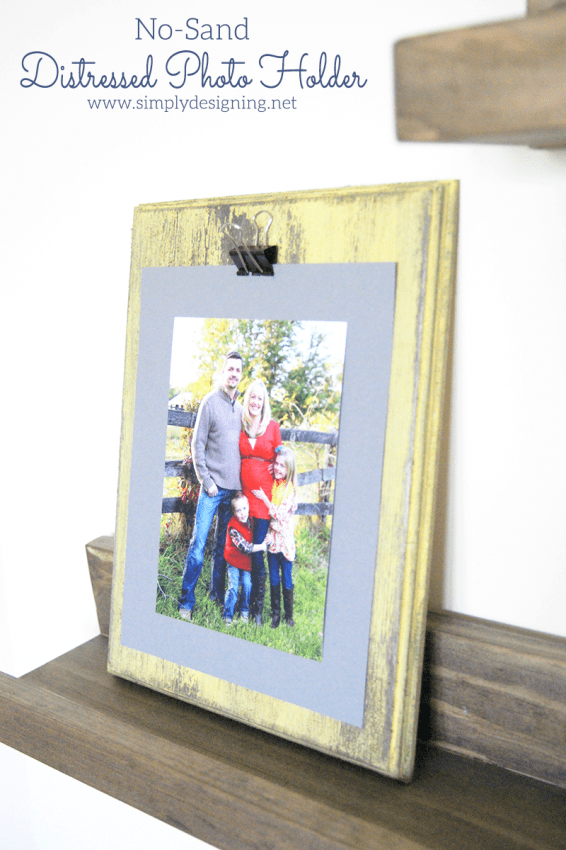 Then I simply added a bit of colored paper and a photo to my photo holder and in not a lot of time, without a lot of work, and without a single bit of sanding, I had a really fun and cute Distressed Photo Holder!
I love my new HomeRight Heat Gun and can't wait to show you other used for it too!
But first, I am really excited to be able to GIVEAWAY a HomeRight Heat Pro Deluxe II Heat Gun to one lucky winner!
Please wait until Rafflecopter fully loads and then enter to win:
a Rafflecopter giveaway
*Winning entries will be verified.  This giveaway is in no way affiliated, administered or endorsed by Facebook, Pinterest, Twitter or Instagram.  No information will be disclosed to Facebook, Pinterest, Twitter or Instagram by entering this giveaway.  No purchase necessary to win.  Odds of winning are based on number of entrants.  Winner for prize package will be chosen randomly through Rafflecopter.  Giveaway will run from July 30, 2014 at 6:30am EST until August 7, 2014 at 12:00am EST.  Winner will be announced on August 7, 2014 in this blog post and the winner will need to respond within 48 hours of announcement via email to claim their prize or another winner will be chosen.  Winner must be 18 years of age or older and a US citizen with a US mailing address in order to win.  Winner is responsible for paying any necessary taxes on winnings.  All prizes will be mailed / emailed / fulfilled by the sponsor and the blog owner(s) involved are not held responsible if the prize is not fulfilled.  A list of winners may be requested after the giveaway has ended.  Please email me with any questions or to obtain additional information at: [email protected]
Thank you to HomeRight for making this post possible.