Most of you know that we have two children.  They are really good children, I couldn't be more lucky to have them in my life!  But my kiddos thrive on routine.  They love to know what is expected on a daily basis and the more I adhere to a routine the better my children thrive.  Even with our best efforts though the morning and evening routine tend to struggle a bit.  I have never seen someone take so long to get ready in the morning, or evening...and for some reason even though they are only required to do they same three or four things every morning and evening, they seem to conveniently "forget" what they should be doing and end up playing instead.  So we decided to take action!  And we finally figured out how to teach responsibility with the jewel method.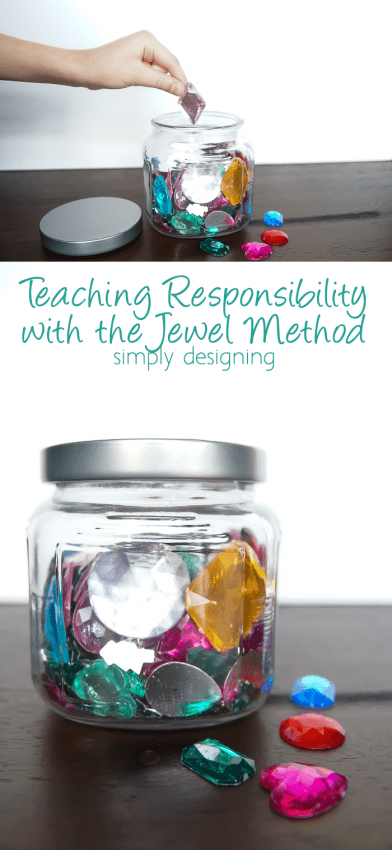 Teaching Responsibility with the Jewel Method
There are MANY chore charts, reward systems and even systems who use jewels, I have read all about them.  I have tried nearly all of them too.  But after a lot of effort, trial and error and about a year of perfecting, we came up with a system that works really well for our family!  Here is how it works...
We have a large jar full of craft jewels similar to these HERE (affiliate links may be contained in this post).  And my children both have plastic jars with lids where they can place their jewels as they earn them.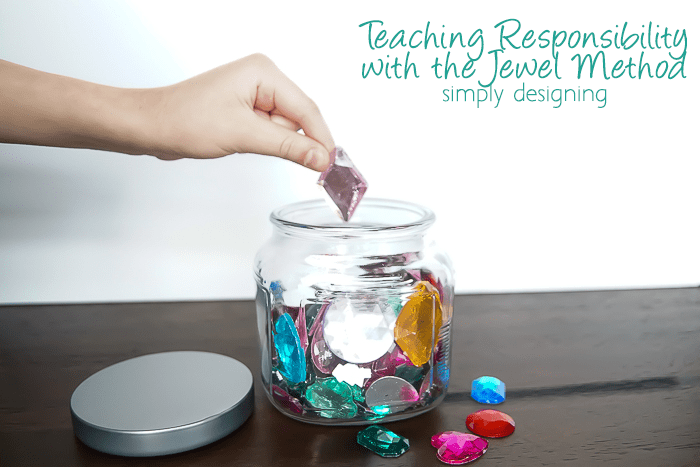 Earn Jewels
Our children earn jewels for doing basic things without being asked twice and in a reasonable time frame.  They earn jewels for things like putting on their clothes in the morning or their pj's at night, making their bed, brushing their teeth and taking a shower etc.  
If we have to ask more then once, they do not earn the jewel.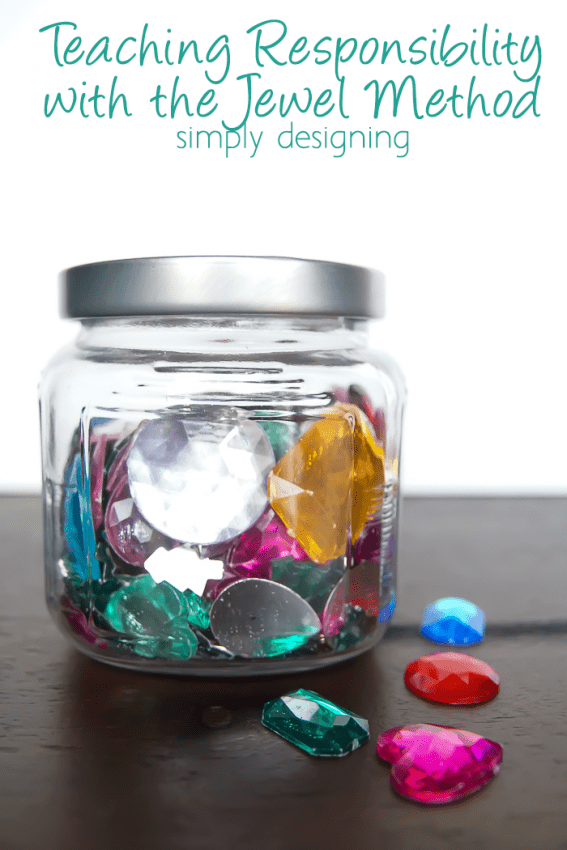 Redeem Jewels
Earned jewels can be redeemed for things like staying up an extra 20 minutes to read in bed, watching a 30 minutes tv show, playing an extra game with mom or dad etc.  Jewels are mainly redeemed for things that are special but that we would allow our children to do anyway.  So they have to earn any and all tv time etc. or the privilege of staying up late to read.  It is wonderful because there is no fighting about the tv anymore.  If they do not have a jewel to spend, they do not get to watch a show!  (see Jewel Free Time for exceptions to this)
My husband has also started allowing them to redeem jewels for a slushie.  They have to have 20 jewels saved up in order to get this though on a Saturday.  This is teaching them to think about how they want to spend their jewels and giving them motivation to earn them and not spend them all watching tv.  (I know...I can't say a slushie is a better choice then watching tv...it's just different.)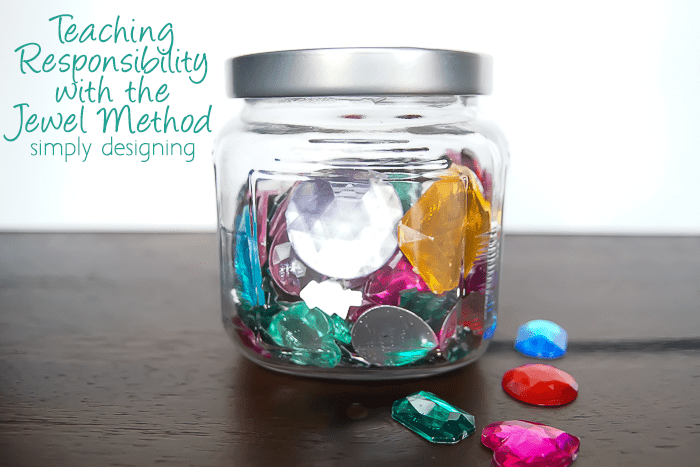 Losing Jewels
We take jewels away for attitude or back talking, rude behavior or disobeying family rules.  When they disobey, I simply ask them to give me a jewel.  It's a no-yell, no-argue way to discipline the kids and a great way to keep behaviors in check as needed.  I don't try to correct every behavior at once, but I will focus on one area at a time.
Jewel Free Time
Occasionally we have jewel free time.  Vacations are jewel free time and often on Saturday morning we will allow our kids to watch a couple of shows without needing to redeem jewels.  This allows us to stay on track and have a system in place that works well for our children however we are flexible as needed too.
This system has worked really really well for us!  My children LOVE earning jewels and count them every night!  They also really like to select their own jewels too.  And if my children want to earn their jewels, they have to be responsible in the tasks they have been assigned.
Currently, my children can earn 7 jewels a day.  Three in the morning (get dressed, make bed, brush teeth) and four in the evening (shower, pj's on, brush teeth, room cleaned).  With the possibility of earning 7 jewels a day, it becomes possible to stay up late to read a book often, redeem them on the weekend for slushies and watch an occasional tv show.  My children aren't deprived in any way and have to "earn" many privileges in our home.
This has been such a great way to instill a sense of responsibility and accountability in our children.  And after over a year of using this method, we still love it!
How do you teach your children responsibility?
You might also enjoy these ideas too:

Free Kids Chore Chart Printable