If you follow me on Instagram or Facebook you know that a couple of weeks ago, our family got to take our dream vacation! Ok, so maybe it wasn't a dream vacation since we actually just tagged along on my husband's business trip, but honestly, I felt like we won the lottery! It was such a fun trip and we all truly enjoyed ourselves! My kids and I were so excited to be able to hit a few amusement parks in between hitting the beach and one of our favorite parks ended up being Universal Studios and Islands of Adventure in Orlando! And so today I am really excited to share with you How to do Universal Studios in 1 Day with young children.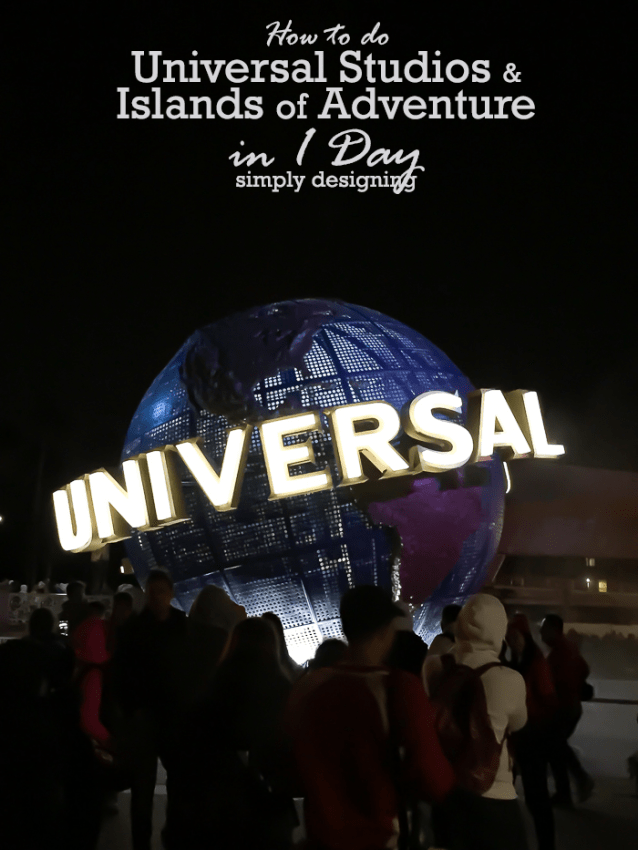 Truthfully, we actually hit Universal Studios and Islands of Adventure in one day. Seriously! We hit two parks in one day, just the kids and I! And not only did we survive it but we absolutely LOVED it! The crowds were light and the ride lines were mostly short, but I do realize that we were there mid-week in January which probably helped. But I have a trick for helping to combat that any time of year!
My children are 8 and 4 and they were honestly the perfect ages for Universal! My children could ride on nearly every ride and they actually enjoyed these rides more then at some of the other parks because they were really just fun and silly, and not too scary.
So today I am spilling it all! Here are all our secrets and tips for How to do Universal Studios in 1 Day with young children.
A big huge thank you goes out to Universal Orlando for providing us with tickets for purposes of this blog post. But don't worry, all opinions, information and photos are 100% mine!
Buy Tickets Ahead of Time
Skip the crowds before you even get into the park and snag those tickets ahead of time! This one tip can save you an hour of time in line or more depending on the time of year. So if you are really serious about hitting both parks in one day, you need to be prepared to just hit a kiosk to print your tickets or have your tickets in hand ahead of time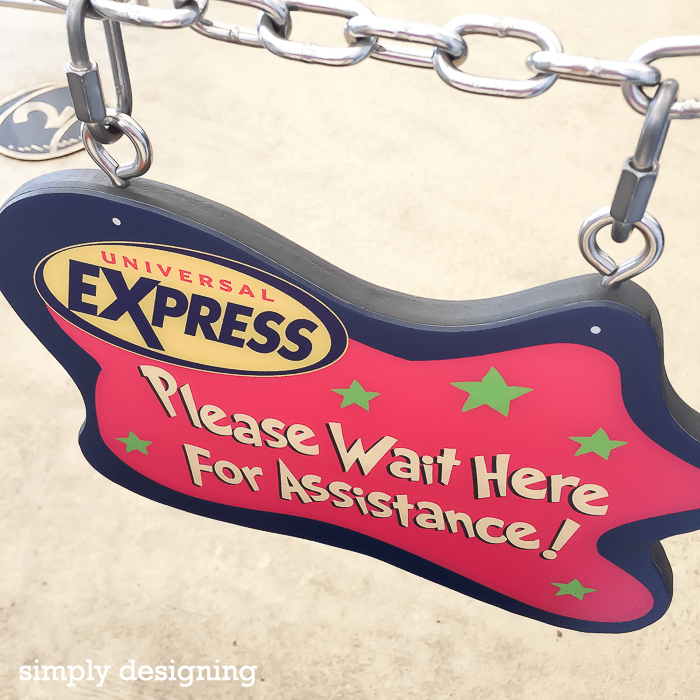 Get an Express Pass if you can
Ok. You don't need an express pass, but if you are serious about hitting two parks in one day, spend a little extra and get an Express Pass. This allows you to skip lines on most of the rides the entire day long. You don't have to pick and choose what rides to use this on, or come back at a certain time of day, you simple show up at the ride, scan your pass and go through the Express line instead of the normal line. It is simply amazing!
On the day we went, most rides had a 5-20 minute line (except the Harry Potter rides), but when you are trying to hit nearly all the rides in two parks in one day, 20 minutes here and there adds up really fast. So I would suggest if you are able to, snag an Express Pass no matter the day or time of year you go. This will help enable you to make the most of your day! You can thank me later.
Plan Your Day
One of the biggest mistakes that people make is they think they will just show up at the park and do whatever strikes their fancy. Instead of having a plan, some people spend half their day trying to decide where to go next. Don't do that.
The evening before we went, I sat down and looked through all the rides, the height restrictions and where they were on the map. I made a basic plan of what rides were my top to-do and put those on my list first. This gave me a basic plan to go by and if we had extra time in our day, we could add other rides in as we came upon them or fit them in at the end.
It is worth the 30 minutes of time to make a basic plan.
Also, prepare your family for this! When people walk into an amusement park, it is easy to become overwhelmed and want to do everything right now, in the order they see it. But this isn't always the best way to do it. So I talked to my kids before hand about how I had a plan to hit the best, most fun rides. I told them we might not get to ride everything (even though we ended up being able to). But I wanted to ensure that we rode the most fun rides, and I needed my children on board too if I wanted this to happen.
My kids knew I had a plan and they were great at following along, knowing they would have lots of time to do lots of fun rides.
Also, show up right when the park opens, or a few minutes before. Crowds are always lightest in the first few morning hours at amusement parks so take advantage of that time to get through rides quickly!
Here is the Order We Did:
So you want to know our plan!? Here it is! I will share the exact order we did everything in and share some tips along the way too! This should help immensely when planning your own Universal Resort trip! This is the ultimate guide to planning your Universal trip! But please feel free to modify it to fit your family.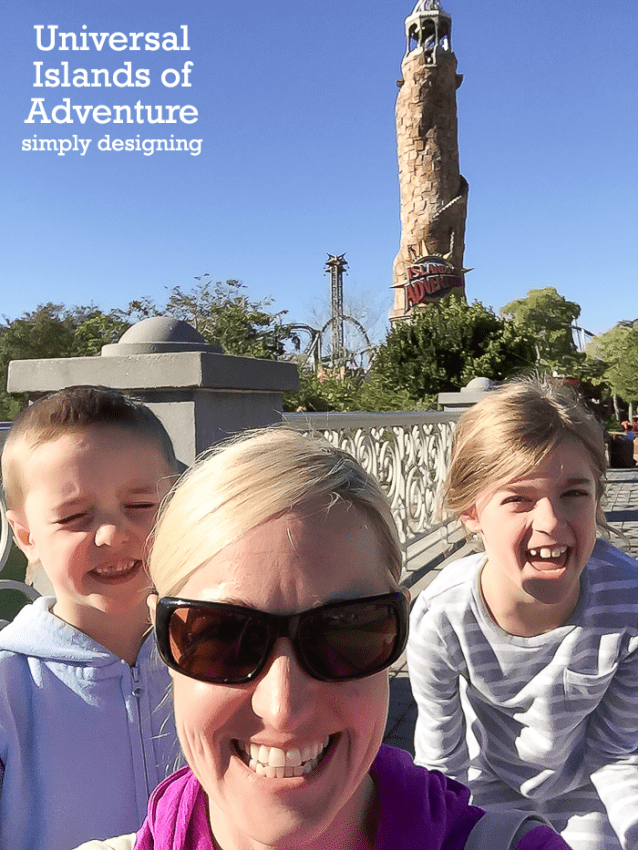 Islands of Adventure
Start your day at Islands of Adventure. The crowds were really light in the morning and it was easy to quickly do everything we wanted to do at this park in the morning.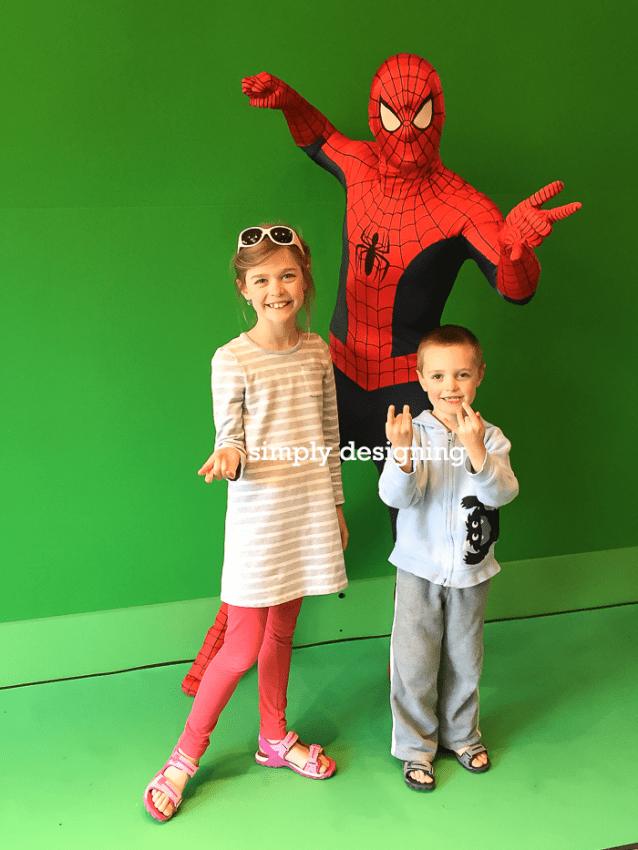 Photo with Spider-Man

We lucked out here. As we entered Islands of Adventure, we saw someone holding a sign that said "take your photo with Spider-Man." I looked over and there was no line. Not a single soul. So we hopped over, grabbed a photo and went on our way! Spider-Man was so nice and an awesome character to see! As soon as we were done I looked behind me and the line was huge! So if you are lucky to spot a short or no line and your children are interested, snag photos with characters as they come.

The Amazing Adventures of Spider-Man

This was a fun way to start our day and even though it was near the entrance to the park, the regular line was only a short wait.

Dudley Do-Right's Ripsaw Falls

This was closed for maintenance when we were there, but put it on your to-do list, I hear it is fun! I also hear you will get wet. You will want to stow your belongings before you get on this ride.

Popeye and Bluto's Bilge-Rat Barge

You will get wet on this ride too but it is fun! Lots of water coming into the barge worried my son a little bit but he cuddled next to me and by the end of the ride he was begging to do it again! You will want to stow your belongings before you get on this ride. There are lockers close by.

Jurassic Park River Adventure

The dark rides with flashing lights worry my kids a little bit. But I prepared them ahead of time and they did great! (see my notes below on preparing kids for scary rides!) Again, you will want to stow your belongings before you get on this ride. (I kept mine stowed near Popeyes Pluto Barge while we rode this ride.)

Pteranodon Flyers

Oh my goodness this was such a fun ride! It was up really high but smooth and fun! It was a hit for both of my kids.
This whole area is fun to explore IF you have time.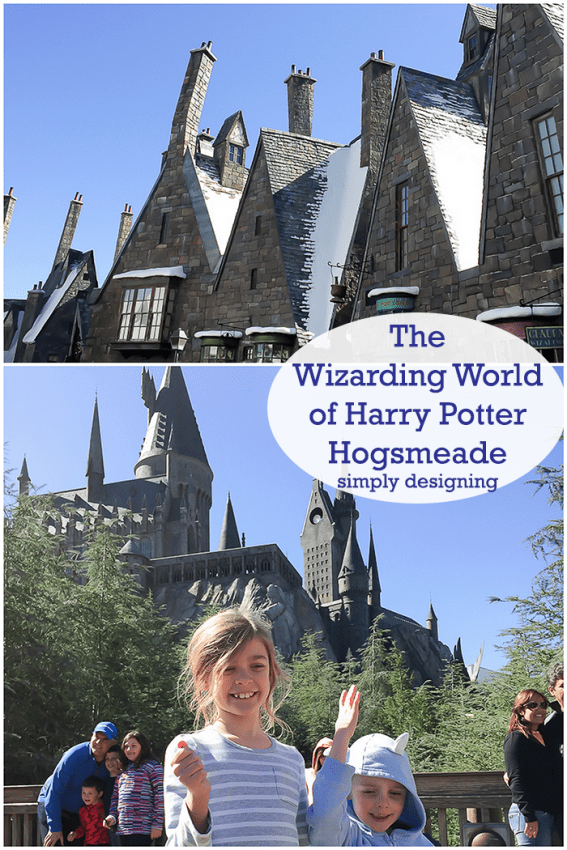 Flight of the Hippogriff

I think this was my children's favorite ride of the day! They LOVE open air roller coasters and this one is really good! Perfect for my 4 and 8 year old, not too scary but enough of a thrill that they loved it! Use your Express Pass to skip the line on this ride!

I hear there is a candy shop in this area that has really yummy candy! We weren't able to try it though as I didn't find out about it until after we had left this park and we didn't have time to go back. But someone who works there recommended it so if we go back, this is high on our list to try!
Take a moment and evaluate your time. I suggest heading over to the Hogwarts Express around 12:30-ish, so if you have extra time, head over to Seuss Landing and hit a couple of rides there. Or if your children are tall enough, stay in Hogsmeade and ride the other rides.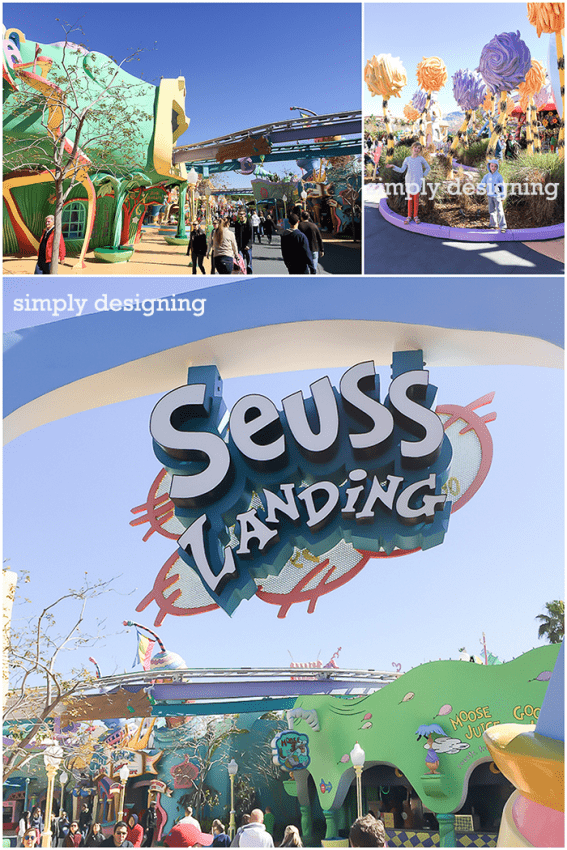 The High in the Sky Seuss Trolley Train Ride

A fun little trolley ride up high! You get a great view of the park.

The Cat in the Hat

This is another fun ride to hit if you have time! My kids loved it. It's a silly storybook type of ride that was really cute and fun.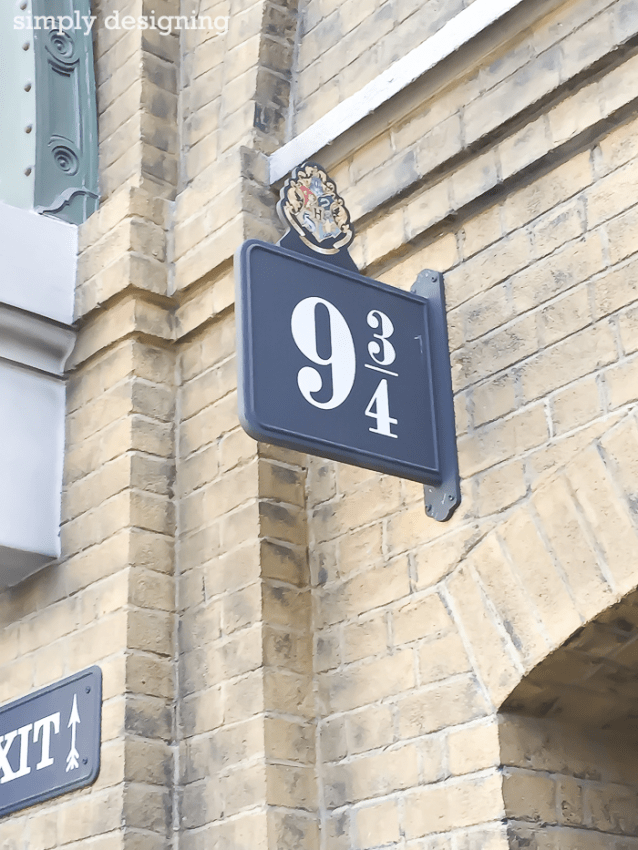 Hogwarts Express to Universal Studios
Try to hit this around lunch time. The wait time was not long and the ride was fun. You get on the train at platform 9 ¾ of course and this is a surprisingly fun little ride over to Universal. This will drop you off right near Diagon Alley. And when you walk past it, you will want to go in! But wait and hit it a little later in the day.
Go and grab lunch before you get going so that hungry or grumpy bellies don't get in the way of your fun day!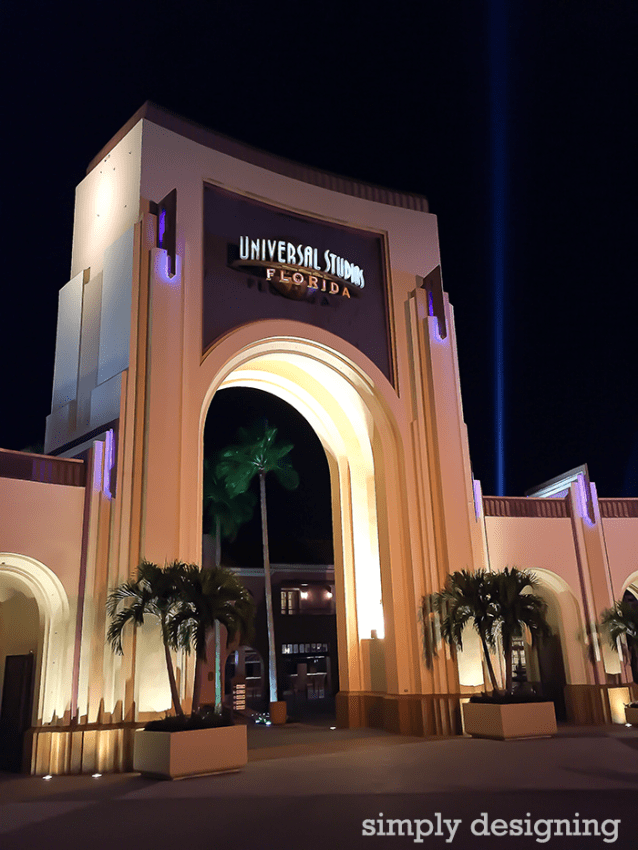 Universal Studios
The Simpsons Ride

My kids have no idea who the Simpsons are, but they still enjoyed this fun and bumpy ride.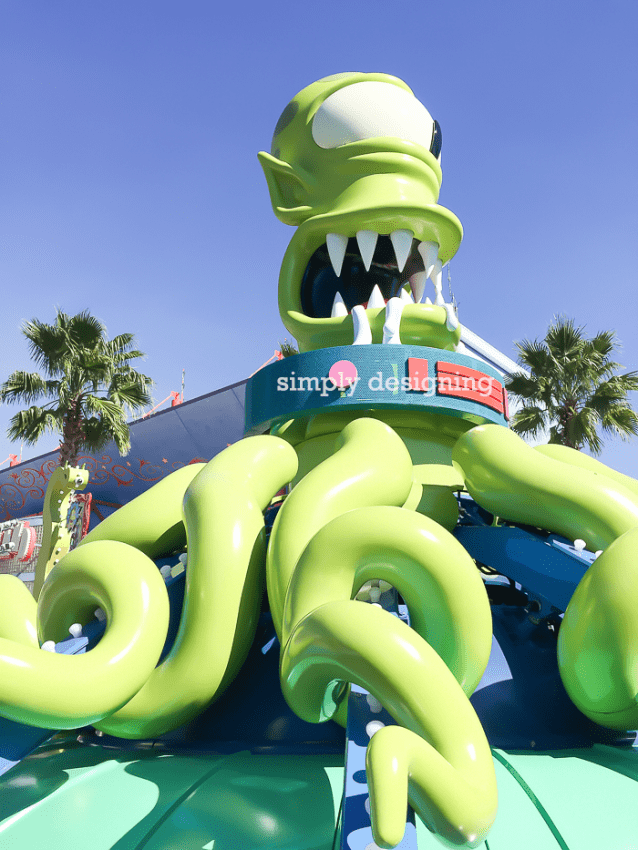 Kang and Kodos' Twirl 'n' Hurl

When in Simpson land, your kids will want to ride this alien ride. It is fun and I never saw a long line here, so if you are doing ok on time, go ahead and hit it.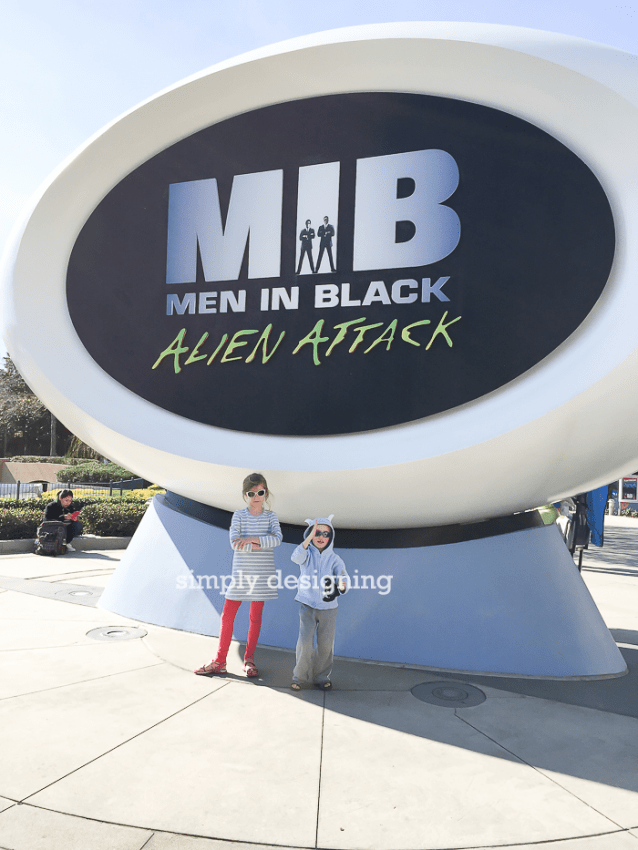 Men in Black Alien Attack

You will need to stow your items before riding this but lockers are close. This was by far one of our favorite rides though! I was worried because I wasn't sure how scary this would be for my young children but it wasn't scary at all for them! It is one where you try to shoot aliens and while it is a little dark, nothing really jumps out at you in a scary way so my kids totally loved shooting at all the aliens in this ride! And of course all the workers here wear black suits and dark sunglasses.

Transformers: The Ride-3D

Another fun 3D ride. My son loves Transformers so he was really excited to ride this ride even if he had his 3D glasses off most of the time.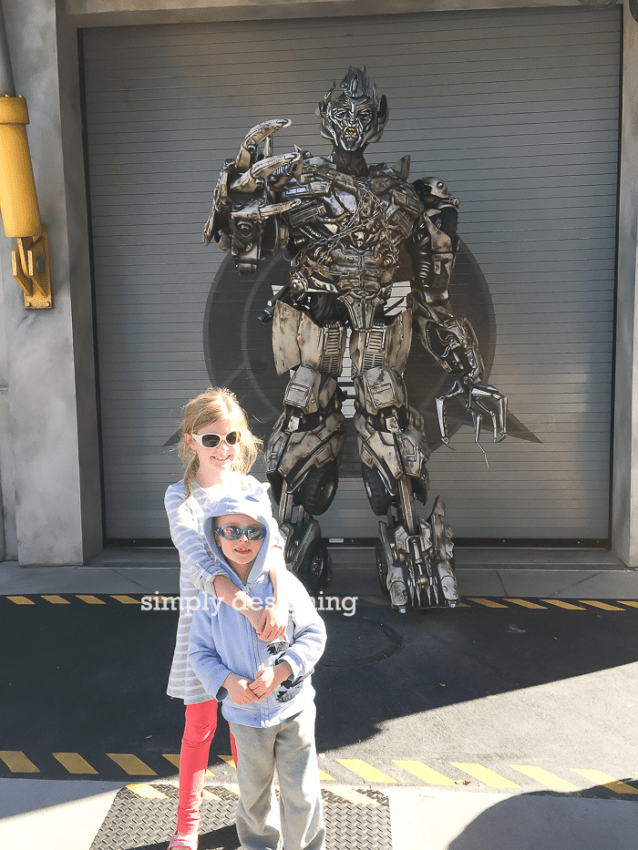 Photo with Transformer

When we exited the Transformer ride, we saw a big transformer that you could take your photos with. This was entertaining and so much fun! The transformer talks and moves and is huge! (It is a person in the large robotic costume.) So you can have fun and take your photos with the Transformer if you have kids (or adults) that would enjoy it! If the line is long though you may want to skip this to hit other rides.

Despicable Me Minion Mayhem

This was probably our second favorite ride of the day! It was a 3D ride with little movement but lots of fun 3D action. And even though it was 3D, it was totally silly and not at all scary so my kids LOVED it!! They were laughing the whole time.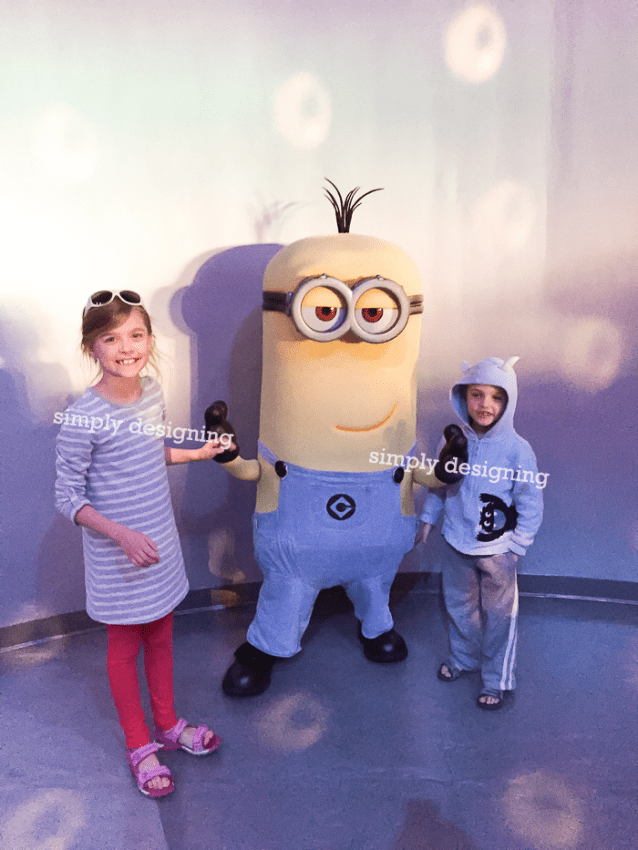 Photo with a Minion

When we exited the ride, we saw Kevin the minion (at least my children tell me it is Kevin, I honestly have no idea what any of their names are!) There was no line so we snagged a quick picture and autograph. He was cute and fun and my kids are still talking about meeting Kevin.

Shrek 4-D

Another fun 3D ride based on the movie. My kids enjoyed it and if you have the time, it is a fun one to hit too.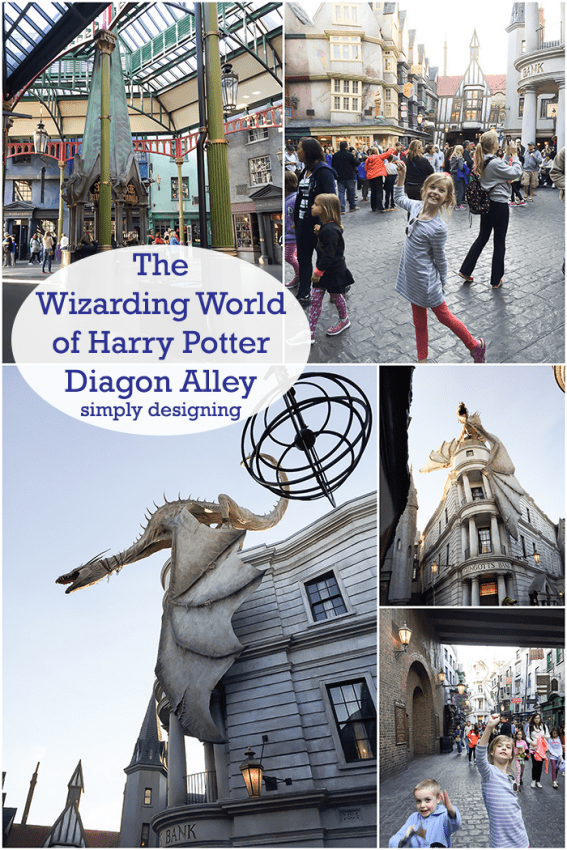 Head over to Diagon Alley

This is such a fun and beautiful area to explore. Be sure to allow yourself time to explore the whole area. It is really really neat!
You will want to allow 2-4 hours in the Wizarding World of Harry Potter. So back track from the time the park closes and be sure to head over with enough time to fully enjoy the area. The Express Pass does not work on the rides here, so you will have to be prepared to wait. When I got here, I realized why the rest of the park wasn't too busy, everyone was here. It is a busy place, but it is AMAZING! The buildings and architecture are simply beautiful and you really feel like you are in another world. It is amazing!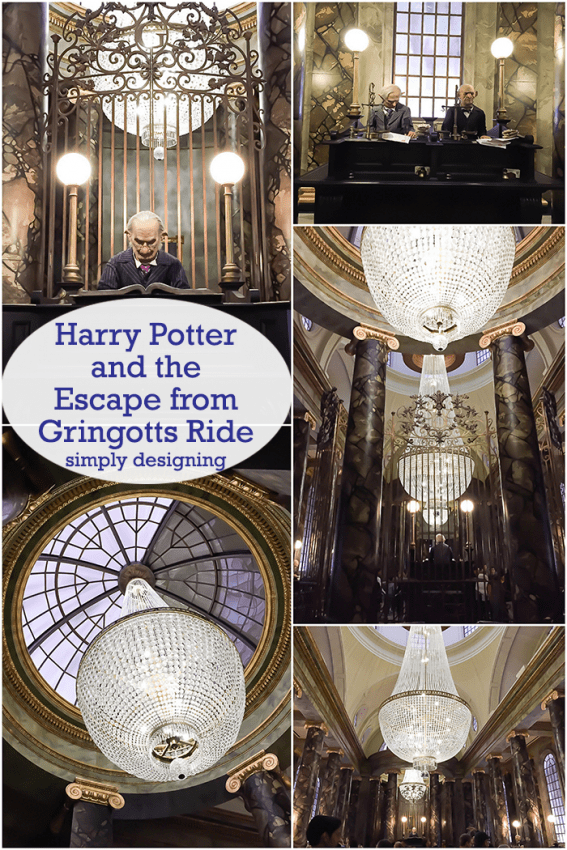 Harry Potter and the Escape from Gingotts

The Gringots ride will have a line. So you just have to bite the bullet and stand in it. The ride was fun and the wait inside the building was amazing too! The detail that went into this whole Harry Potter area is stunning! You don't want to miss this!

Near this ride is a dragon. Every once in a while it breaths real fire. It is pretty awesome to see so watch for it!
My son wasn't tall enough to hit the other ride in this area so we just skipped them, but depending on the height of your children you may want to add them to your to-do list.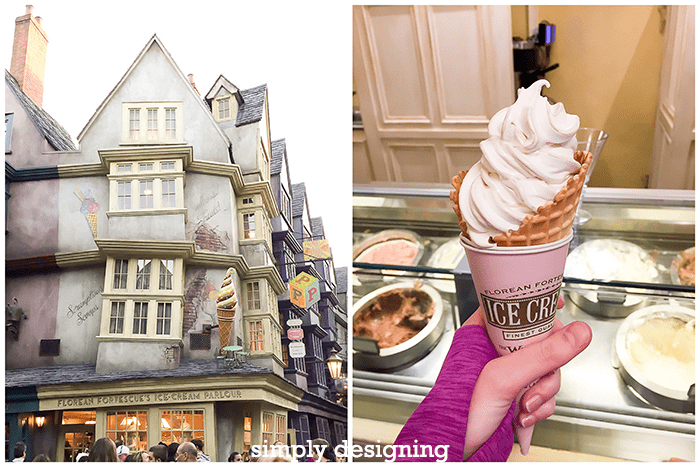 Ice Cream Shop

If you're ready for a snack, you don't want to miss the ice cream shop here. We got Butterbeer Ice Cream in a waffle cone (and no it doesn't have actual beer in it...yes I totally asked someone because I wasn't sure! hahaha!) But the ice cream is amazingly delicious and my kids and I both loved it! When in Harry Potter world, order Butterbeer Ice Cream, it is a delicious mix of shortbread and butterscotch flavors; it is not to be missed!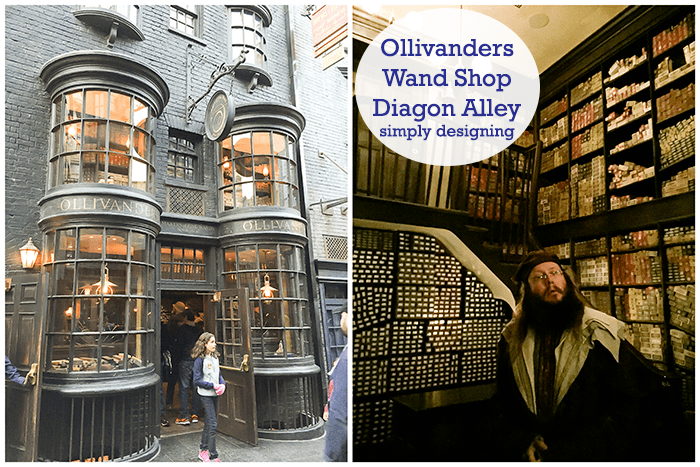 Olianders Wand Shop

Like I mentioned we are not big Harry Potter people, I have nothing against it, but my kids are too young and I was a bit old when the books came out, so we sort of missed a lot of the excitement for them. But the wand shop is still a fun place to visit. It has a fun demonstration where they select someone and try to find the perfect wand for them. And then of course you can look at all the wands. This shop was busy! But fun to poke around in! You can buy a wand of course, but we didn't. If you buy one, you can get a magical one and then go around the whole area casting spells and seeing the results actually happen! It is really fun to watch!! You can also buy non-magical wands. We just enjoyed watching other people cast spells throughout this area.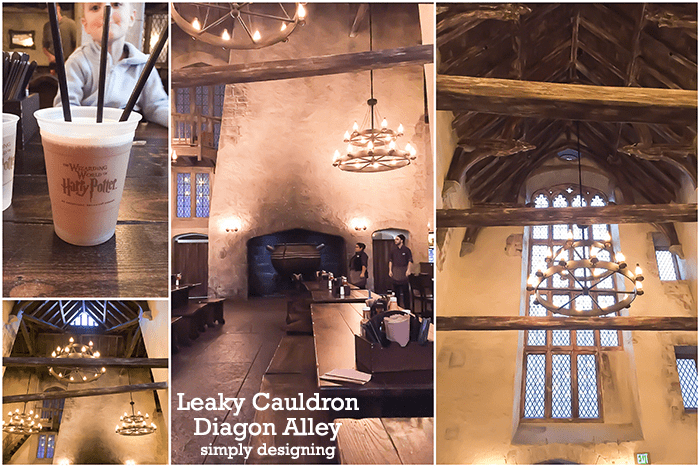 Leaky Cauldron

By this time we were hungry! So we stopped here for dinner. It was surprisingly good! I got their chicken sandwich and it was really quite tasty! I highly recommend this for a place to eat in the park! We also shared a glass of their frozen Butterbeer. It was a bit too sweet for me but my children loved it and I am so glad we tried it!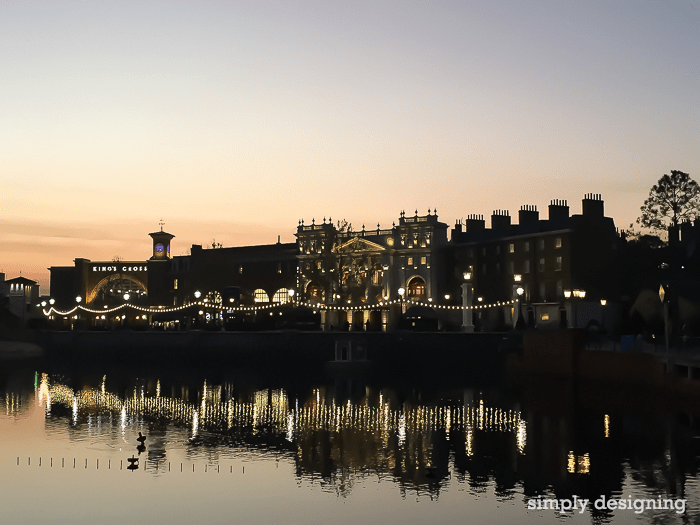 London Waterfront

It's just beautiful. Take a moment to actually look around while you are walking through this area! I also loved the San Francisco waterfront too!

E.T. Adventure

Just because you have to! It is a fun ride and my kids have seen the movie so they thought it was really fun. I loved that instead of a traditional ride seat, you sat on bikes for this ride!

Woody Woodpecker's Nuthouse Coaster

At this point we had extra time before the Cinematic Spectacular so we headed over to hit the Woody Woodpecker's Coaster. Again this proved to be a favorite with my kids because they love open air roller coasters! I think we rode this at least three times because we had time and with an Express Pass there was no wait.
Cinematic Spectacular
This happens as the park ends on the water front. It is a really fun celebration and night time activity, so stay around and watch it! There are clips of many Universal movies, music and fireworks! It is a fun way to end your day.
Then slowly make your way out through the Universal City Walk. This is a bustling area full of lots of shops and yummy restaurants. If you are starving you can grab dinner on your way out or simple head out to your car and call it a night.
Other Tips
Height and Age Limits
My son is 44.5" tall. 44" is a height restriction on many rides so be sure to check your child's height before planning your trip. He was able to go on nearly every ride so it worked out really well for us. Also, because my daughter was tall enough and she was over the age of 7, she could ride by herself. So on 2 seat-er rides, my daughter rode by herself and I rode with my son. Again this is something that worked really well in our favor since it was just myself with the kids that day, but something to consider if there are more children then adults.
Prepare Your Children for a Busy Day
At amusement parks there is a lot of hurry up and wait. My children became used to walking fast with me to get someplace and then wait in line for the ride. So talk to your children ahead of time to let them know you will be walking a lot, and waiting a lot.
Comfortable Clothes and Shoes
Orlando can be hot during the day and cold once the sun sets. So besides wearing comfortable shoes, bring a sweatshirt or jacket. And if you plan on getting wet, bring a change of clothing and shoes and/or wear a bathing suit. Universal does require that everyone wear shoes and shirts on every ride. So even the boys wearing a bathing suit, need to also have a t-shirt on at all times, so pack an extra one just in case it's chilly and you want to change.
Be Prepared to Stow and Go
Several rides require that you stow all your belongings prior to getting on the ride. And for the wet rides you will want to do that because you will get wet! Most of these rides have lockers close and if it is a requirement, the lockers are often free to use for a certain time period.
Prepare Your Kids for the Possibility of Scary
Sometimes rides become a bit scary for younger children, and you might not always know ahead of time. My daughter is particularly sensitive to dark rides with strobe lights and where things may move towards you. My son and daughter are a little worried about most 3D rides. So I always prepared them. Before ANY ride I told them, if it gets scary, just close your eyes. And if it was a 3D ride, I told them that if it got scary to take their glasses off. This takes ALL the scary out of 3D when your glasses aren't on. Preparing your children with a plan for if it gets scary empowers them! My children were excited to go on any ride and weren't worried about whether or not it was scary because they knew how to handle it and they knew ways to take the scary out of any ride. So EMPOWER your children by preparing them!
Parking
For a few dollars more we parked in the preferred parking section. The parking garage was really well lite when we came back to our car at night and the moving walkways were really nice on our tired feet.
And most importantly, remember that you are there to have fun! If your kids aren't up for such a big day, that's ok. It is more important to create good memories then hitting every single ride. This plan is what we did and what worked for us, but please take the time to modify the plan to fit your own family! And be flexible enough to realize you may have to adjust as you go especially with young kiddos.
And be sure to check out Universal Orlando's website to help plan your trip, check out park hours and see more information about rides and restrictions HERE. And follow Universal on Facebook, Twitter and Instagram too!
You might enjoy these posts too: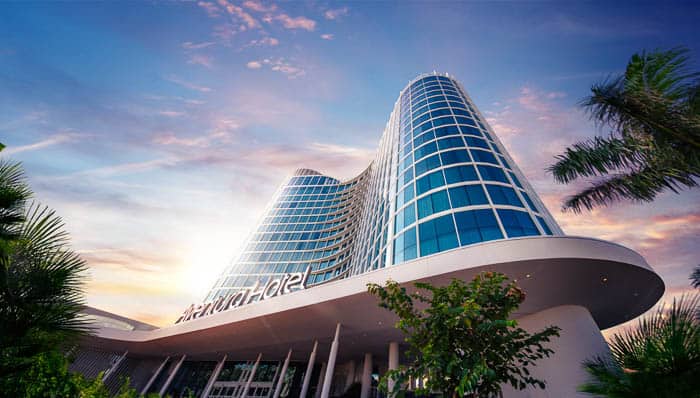 5 Reasons to Stay at the New Aventura Hotel at Universal Orlando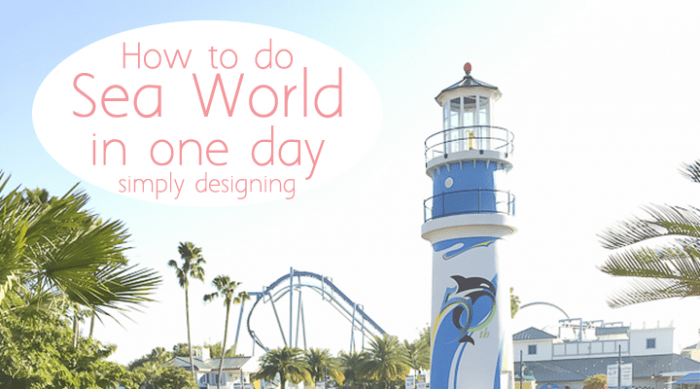 How to do Sea World in One Day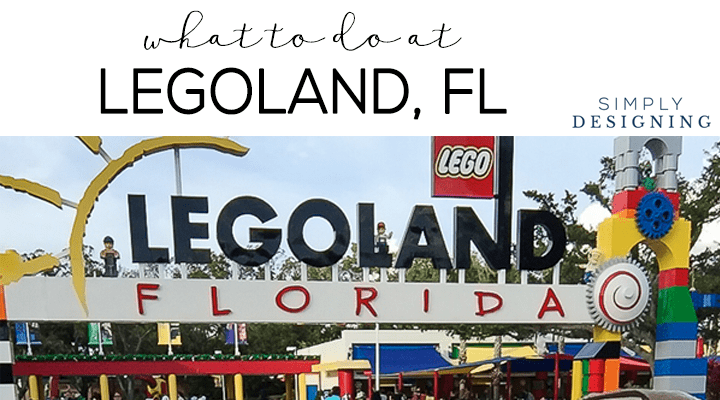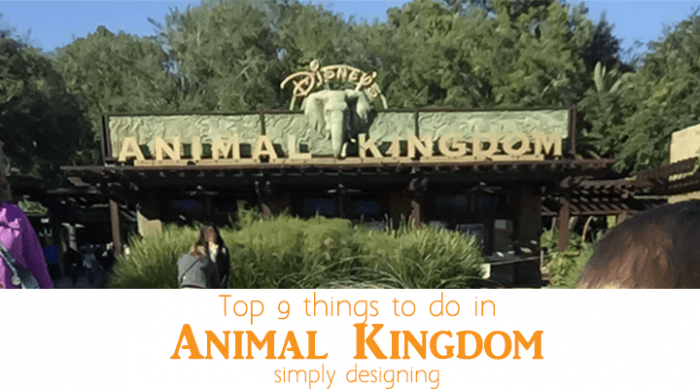 Top 9 Things To Do In Animal Kingdom