I have been very pregnant in the summer 3 times and so today I wanted to talk about my tips and ideas for how to look your best in Summer Maternity Clothes! Maternity clothes have come such a long way since the time I was first pregnant with my oldest, and there are so many super cute options. But today I am sharing some basics, some tips, and a few fun finds too perfect for your Summer pregnancy!

How to Look Your Best in Summer Maternity Clothes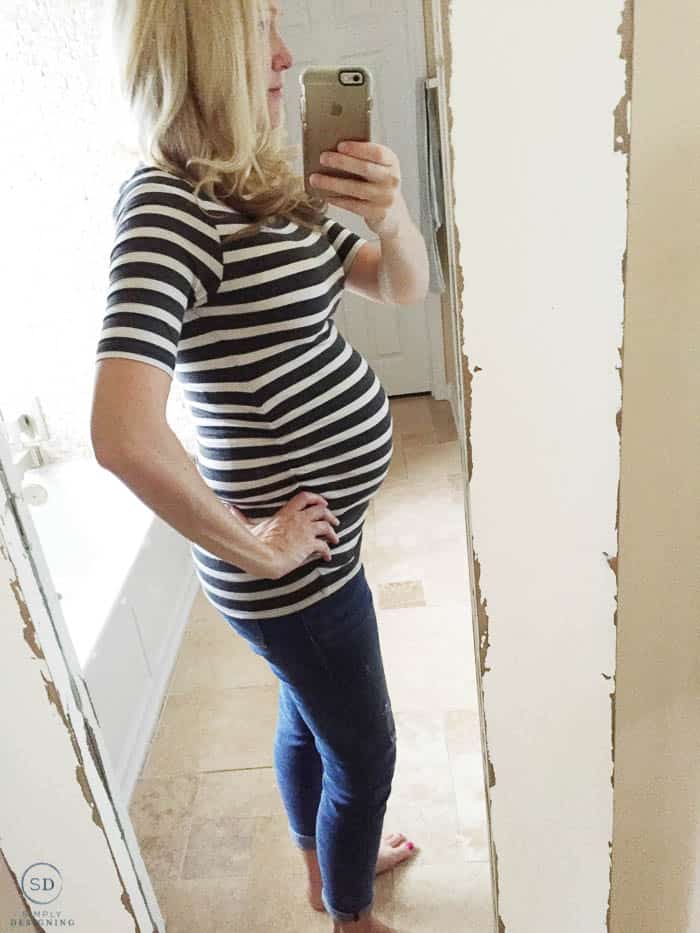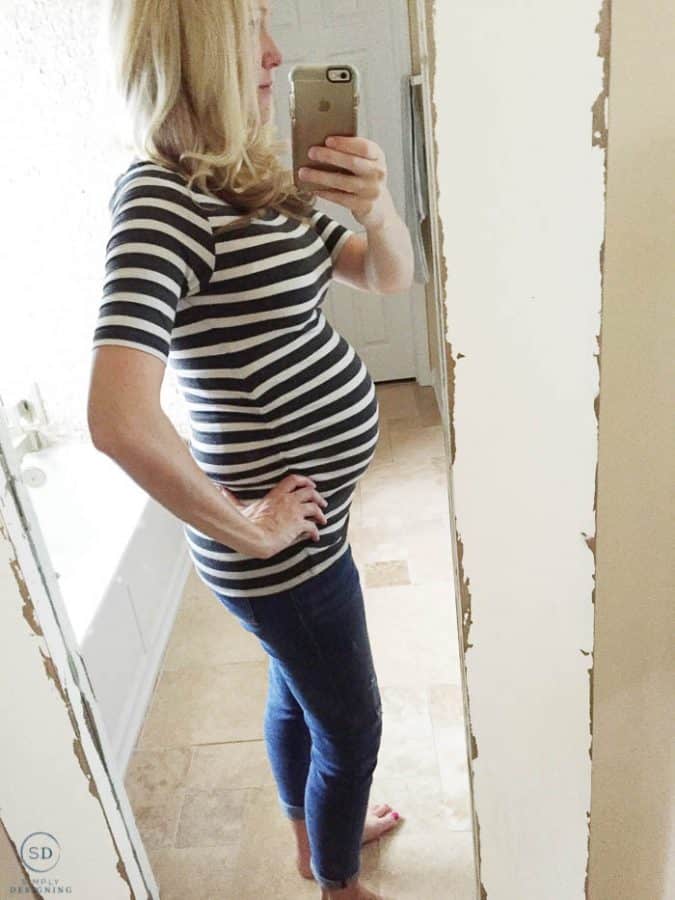 At the core of who I am, I love to dress up and I also love to be super casual. I typically stay in normal "day clothes" long enough for my husband to see that yes, in fact, I DID get dressed today, but as soon as dinner is over, I am usually curled up in nice comfy PJs on the couch. True story.
There are days when I want to put on make-up and days when I prefer to go without. There are days when I want to wear something a little nicer and others where I wonder if I can just wear my yoga pants all day long and get away with it.
I love accessories though and use them a lot to change the look of my outfit! I love to find accessories and shoes that can be both dressed up and dressed down!
And while my belly is growing (can you believe I am over 26 weeks pregnant!?) and I need new clothing, I don't like to spend a lot of money on things I will only wear a few months, and I want to be sure that I have options for both casual and nicer outfits.
So today I am sharing a few of my tips for How to Look Your Best in Summer Maternity Clothes (although these are also good tips for everyday clothing too even if you aren't pregnant!).
What Should a Pregnant Woman Wear in the Summer?

Maternity Pants
It is important to have a few basics while you are pregnant. Since I have often been "big" during the summer months, I found two pairs of jean capris and one pair of white jean capris to wear from a maternity store. I mainly shopped at Destination Maternity because I had really good luck with their Pea in the Pod clothing line. But there are so many AMAZING Summer maternity clothes options at Target and on Amazon now!
Jeans are easy to mix and match, I can dress them up or dress them down. They look cute and are comfy as can be.
I also highly recommend picking up a cute pair of maternity leggings! Oh my goodness you will grow to love these so much! And since it is super easy to find long maternity shirts to cover your bum, leggings are a great, lightweight, and comfortable option for pants while pregnant.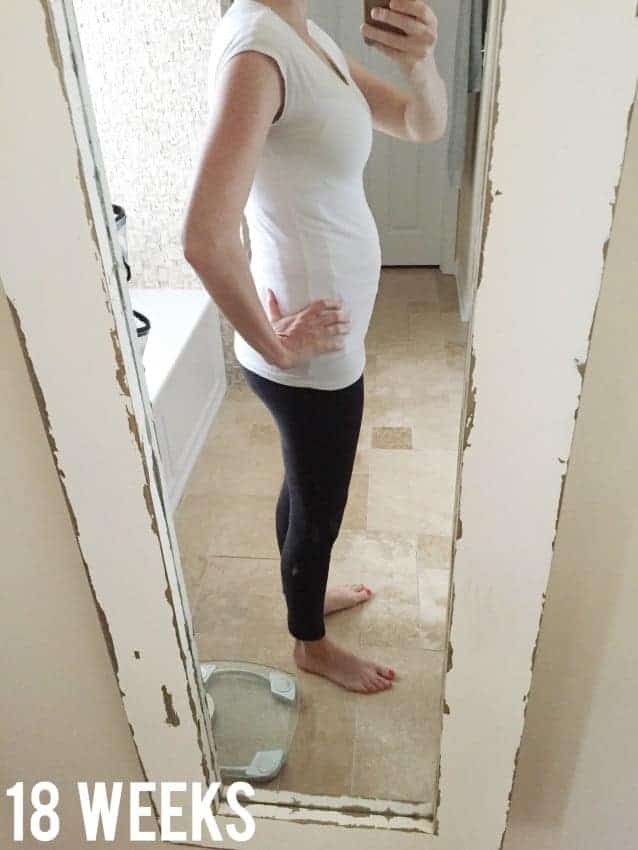 Comfortable Summer Maternity Clothes
It may seem ridiculous at the time, but splurge on something comfy! Yoga pants, sweat pants, a sweatshirt or comfy t-shirt; something that you can wear around the house (or out in public) and just be comfy in. Sometimes, you just need to be comfy. Also, snag a couple of pairs of weather-appropriate leggings as I mentioned before, you can thank me later!
Maternity Shirts
I bought a variety of shirts, but I was careful about what I bought. For my last pregnancy, I only bought 6 shirts in total. I snagged 3 v-neck t-shirts, 2 nicer material round-neck shirts with slightly longer sleeves (one plain and one stripe), and one short-sleeved fitted tunic. The t-shirts and nicer shirts all look good with my blue or white jean capris (they can be dressed up or dressed down) and the tunic worked well with jeans or leggings. This gave me a versatile wardrobe which made mixing and matching easy and fun.
Summer Maternity Dresses are a Must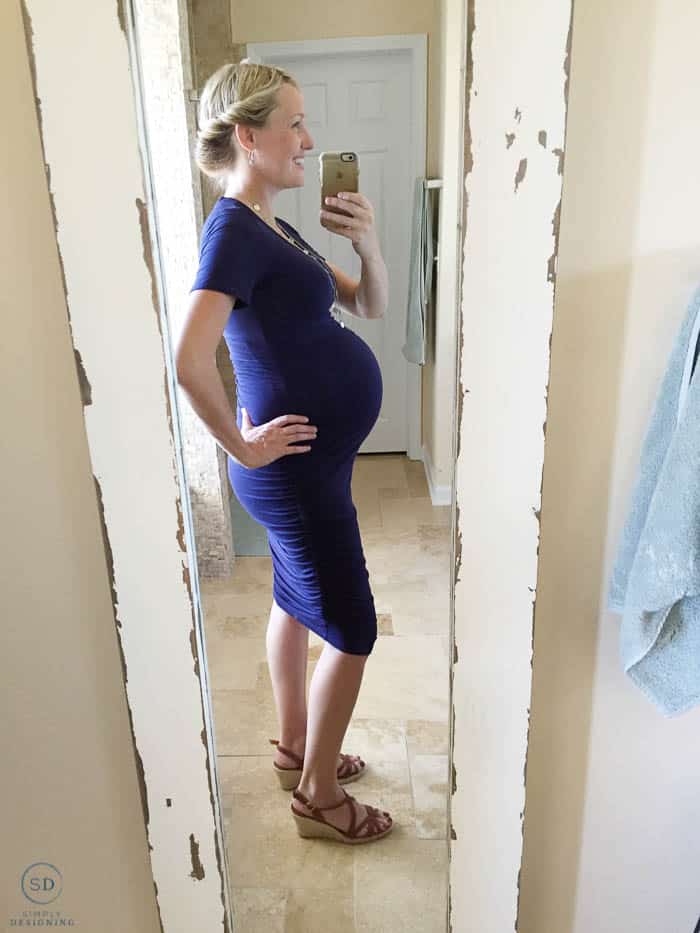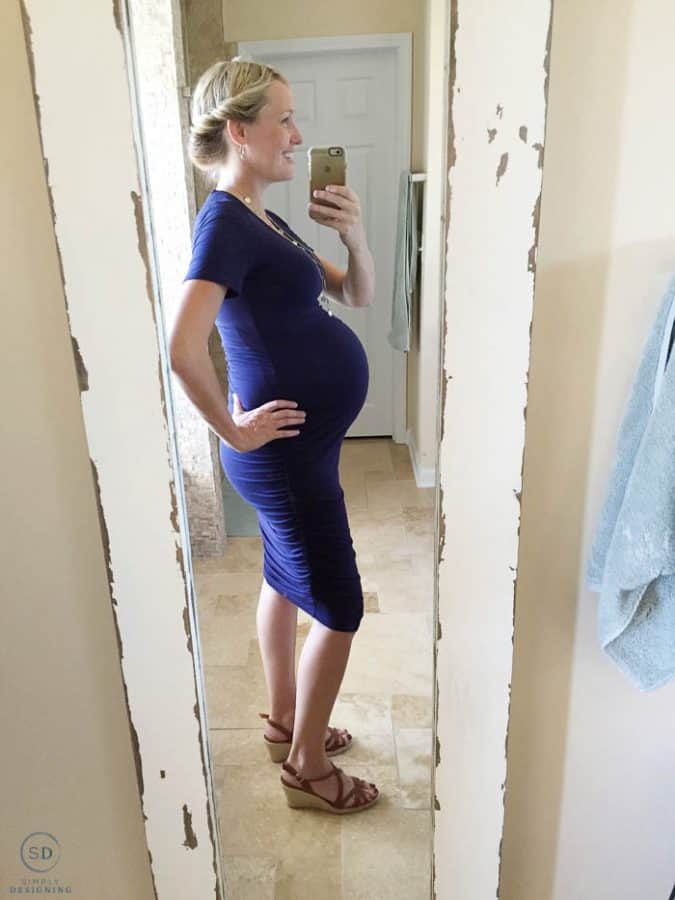 Dresses. If you are pregnant in the winter, a dress with leggings and boots is super comfy and cute! In the summer, it helps keep you cool and looking good no matter the occasion! I snagged a nicer striped dress from Target that was my absolute favorite! I wore it to church and it worked well at a nicer event too.
I also grabbed a more casual striped short-sleeved dress from Target too. It was inexpensive and is my go-to outfit when temps get really high here. I could also pair it with a pair of capri leggings if I wanted to wear the dress but wanted a little extra coverage or I want to be active while wearing it.
I really fell in love with wearing dresses while pregnant during my last pregnancy!
I also bought a solid navy dress from Destination Maternity that is perfect for church or would be perfect for a night out or even a wedding! Yes, I had a wedding to go to and a blogger event where I needed to wear something a little nicer during that summer while I was prego so finding this dress was essential!
It is also one of my favorite dresses to wear to church because it is super comfy too! I also love that I don't have to wear any extra layers under it too. Summer maternity clothes need to be just one layer to keep cool!
Accessories
Here is where it is at ladies! Accessories will make your summer maternity clothes look amazing! Yes, you will need to buy a few clothing items, but if you choose well you won't spend more than a couple hundred dollars on all of the clothing you will need for your entire pregnancy. However, accessories are super fun because you can use them to dress up or dress down any outfit, add versatility to your wardrobe, plus they will last you after you are pregnant too!
From necklaces, cute (and comfy) shoes or even a new watch, new accessories are a great way to help you feel more put together and like the cute pregnant (or non-pregnant) woman you are!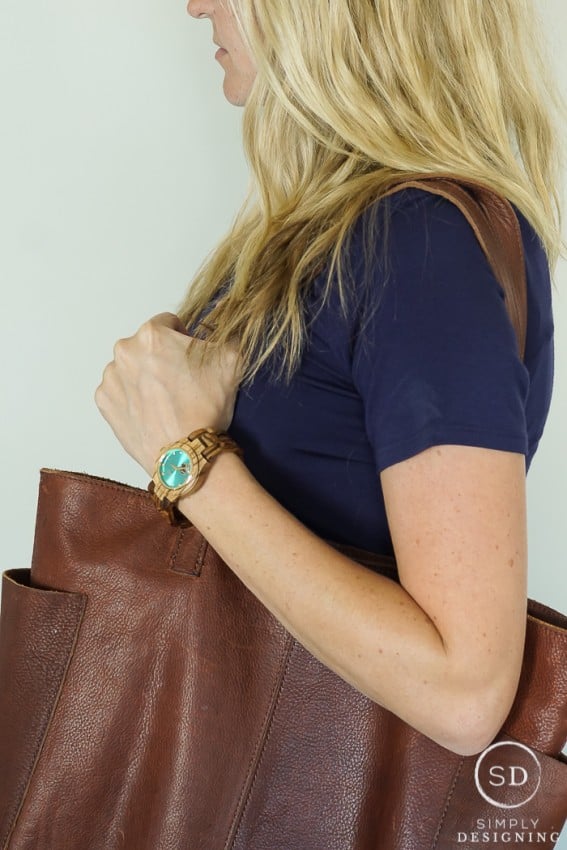 A new purse or bag is a fun way to add a little extra touch to your outfit! And while this bag isn't new, it is one of my favorite totes from Duluth Trading every and I use it all the time!
Also, I recently have wanted a watch. It all started with my phone failing and needing to know the time while out and about without having the clock on my phone to look at while it was being repaired. I have looked at and owned many watches over the years but often the face is too large to my wrist or the style isn't quite right. It is really hard for me to find women's watches that are cute and fit my petite wrist well.
And of course, I wanted a watch that I can dress up or dress down. I was thrilled when JORD Wood Watches reached out to me and offered to send me a wood watch to review and I liked it so much! I chose the Zebrawood and Turquoise watch because I loved the look of the zebrawood and I think that turquoise goes with nearly any color (at least the colors I have in my closet) so it is a really versatile watch for me.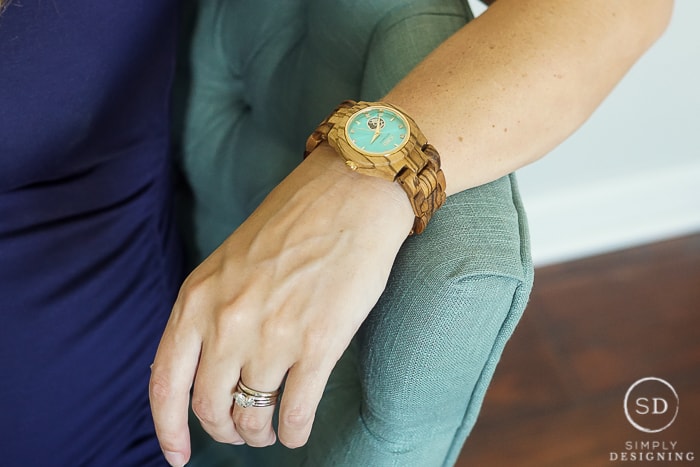 Shop My Summer Maternity Clothes Closet
How to Look Your Best in Summer Maternity Clothes
My Best Suggestions for Summer Maternity Clothes that You Can Actually Live in and Love

You don't have to spend a fortune on good quality, comfortable maternity clothes for summer. Amazon has some great, affordable options. So does Destination Maternity. Being pregnant in the summer can be uncomfortable, but take my advice and create a maternity wardrobe you'll love and feel good in all season long.
Want More Maternity Tips? You Might Also Enjoy:

How to Sleep Comfortably When You're Pregnant
And if you'd like even more fashion, hair and beauty ideas - visit me on Pinterest.