I am all about easy, simple and affordable and so today I am excited to share an Affordable Master Bathroom Makeover with you! You can see the huge transformation my master bathroom took over the years here, but today I am sharing about a bathroom makeover I did in someone else's home. Keep reading to get all the details and links to purchase everything I used in this beautiful space.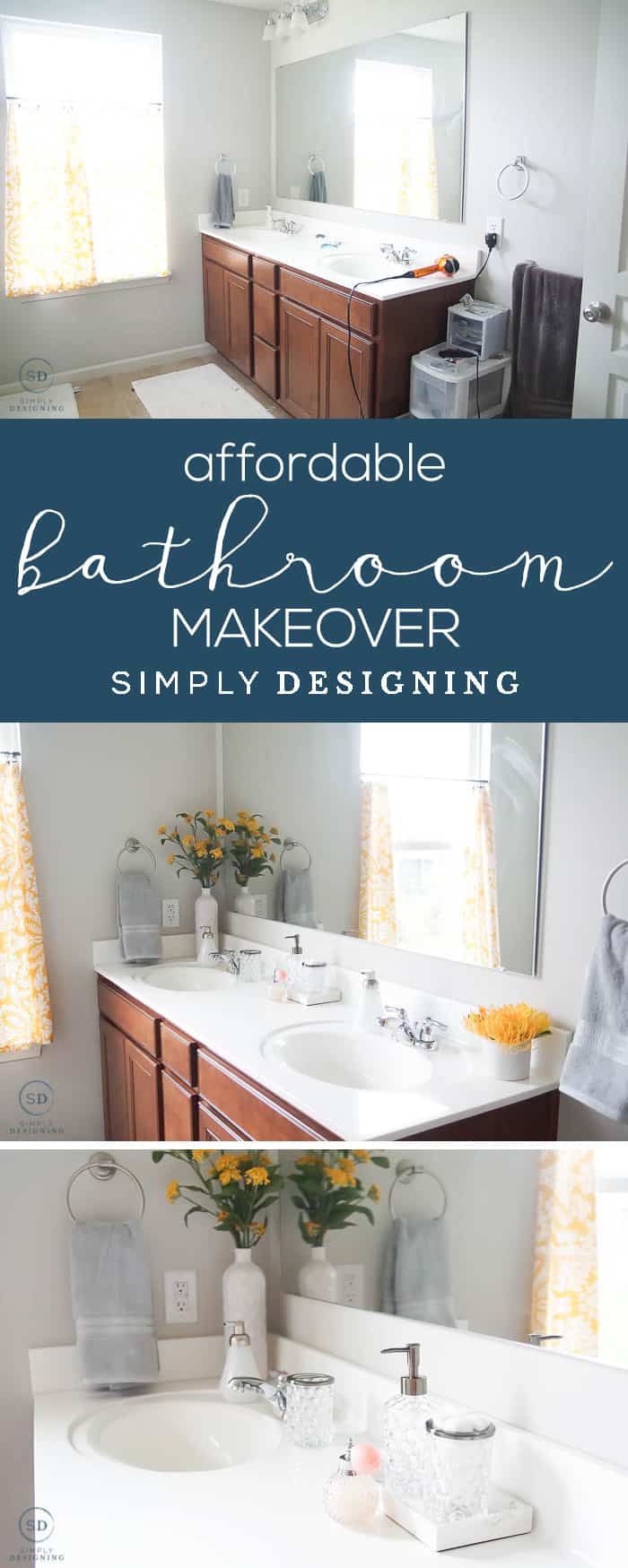 A big thank you to Better Homes & Gardens at Walmart for sponsoring today's post about How to Pot a Plant and a simple Patio Makeover. All opinions and ideas are mine. Affiliate links may be included in this post for your convenience. If you make a purchase through these links, you will never pay a penny more, but I receive a small commission for it. Thank you for supporting my blog.
Affordable Master Bathroom Makeover
I will be the first to admit that the last space I ever decorate is my master bedroom and bathroom. It is a little sad when you think about it, but it is true.
I always concentrate on decorating the main living spaces like the family room, kitchen and dining room first. Next, I usually move onto the kid's spaces because, let's face it, they are just so fun! (see my boy's room here and my girls' room here)
And lastly, I decorate the master bedroom and bathroom. (see my master bedroom here)
I don't think it is necessarily good, or right that I leave the spaces that are my sanctuary until the last. But for some reason, that's what seems to happen.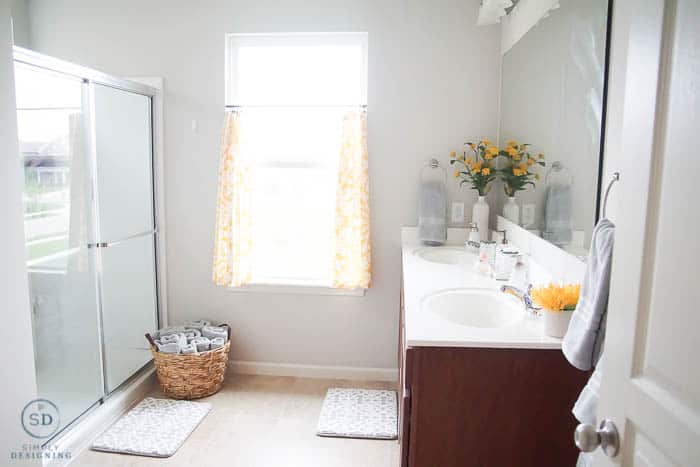 How do you do a bathroom makeover on a budget?
Completing a bathroom makeover on a budget is no small task. The key is to find nice quality, affordable items, use things you already have, and get a little creative. Here are a few ideas for a budget-friendly bathroom makeover:
Add flowers or greenery (fresh or fake depending on your preference)
Purchase new towels
Accessorize with things you use regularly
Add pops of color
Update lighting
Get new rugs
Hang a new shower curtain
Add storage
Install artwork on the walls
Place a large basket on the floor to store extra towels
Install new towel hooks
Add a frame around your mirror
Install new cabinet hardware
Paint your cabinets
Organize all drawers
Paint your walls
Add new accessories like toilet roll holder, trash cans, and toothbrush holders
Don't be afraid to make this space your own, make it spa-like serene, or bold and energetic, whatever suits your personality and preference best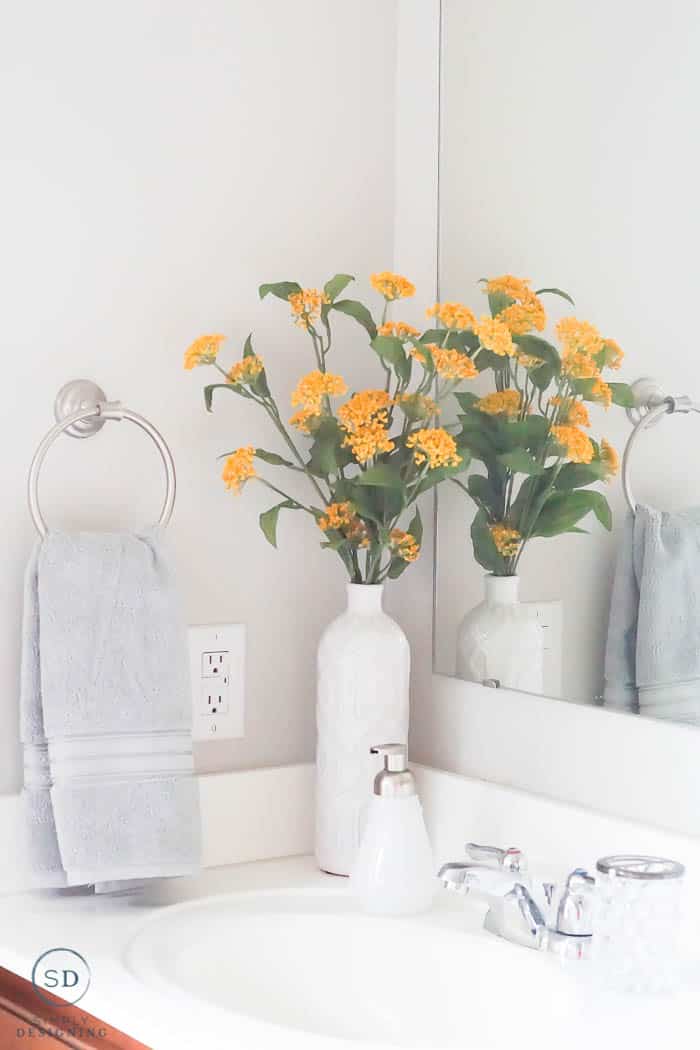 Not too long ago, I helped a dear friend of mine makeover her master bedroom HERE, and I just love how it instantly changed the look and feel of her space into a beautiful, comfortable sanctuary.
So this month, I decided it would be really fun to update her master bathroom with an affordable master bathroom makeover! I wanted her bathroom to feel as comfortable as her bedroom.
I think it just does something for the soul when your space, your bathroom, and your bedroom, get a little makeover. You do not need to spend a lot of money, just a few updates and tweaks can totally transform a space into something amazing!
If you have a neglected master bathroom too or are looking to update your space, or just get a new look in your space, keep reading to see what we did and feel free to borrow as many of my ideas as you'd like!
I am including a link to all the products I used for this space at the bottom of this post for your convenience.
Shall we see what the bathroom looked like before?
BEFORE: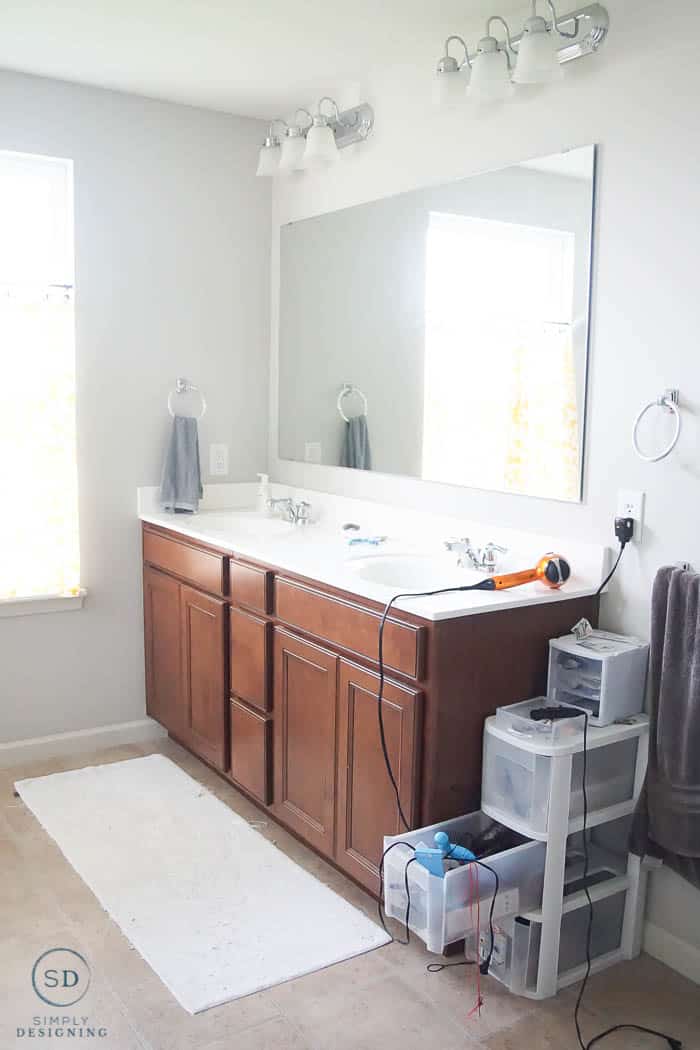 And let's check out an after photo!
AFTER: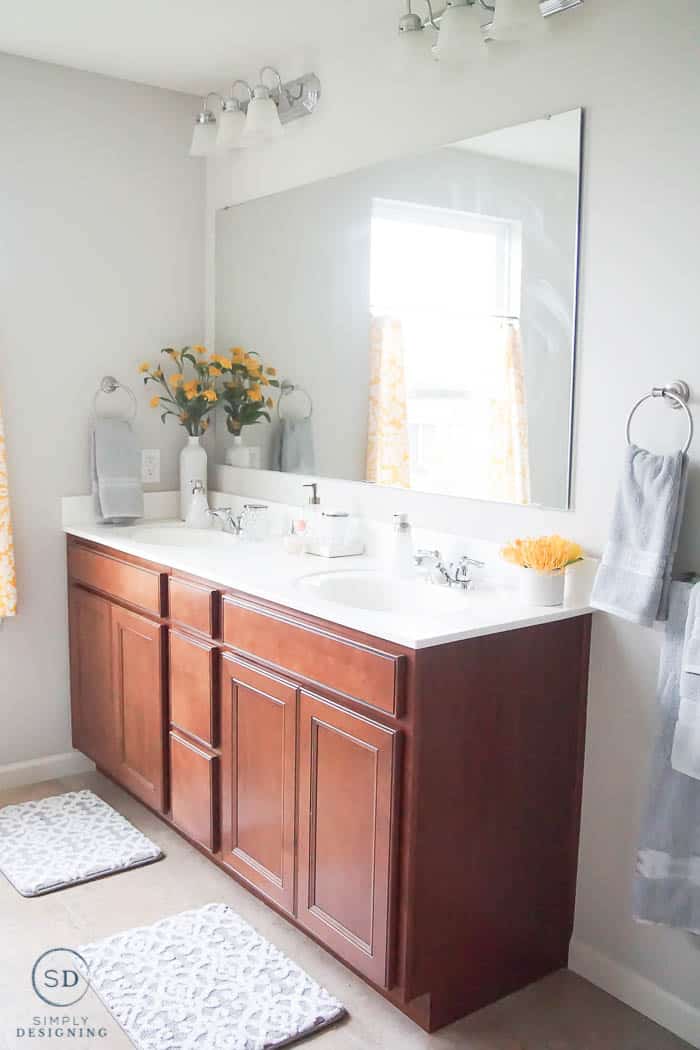 Isn't it amazing what a difference a few decorations and an affordable bathroom makeover cam make? The bathroom now feels put together and looks super cute too!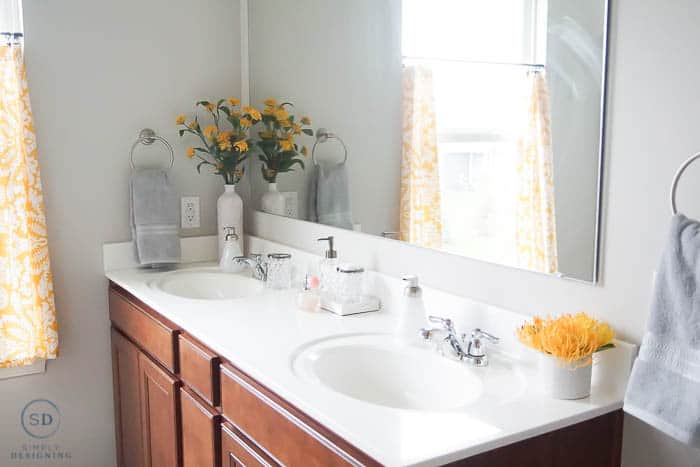 How can I make my small bathroom look cute?
It is easy to make a small bathroom look cute without breaking the budget. Here are a few easy ideas for making a bathroom look cute:
Go neutral or go bold. Pick colors and patterns that make you happy! But be consistant and don't try to do too much in a small space.
Brighten and lighten the room with light or bright colored walls.
Add wallpaper! Wallpaper is cute and oh-so-trendy right now! Find something that you love and install it on one wall, or in your whole bathroom. Worried you might not love it forever, purchase removable wallpaper for easy installation and removal.
Install lights with personality. Pack a punch in your small space by installing a light fixture in your space that is unique and has personality.
Install new flooring.
Add a new shower curtain.
Add useful shelving to the space.
Decorate with flowers! Even a tiny vase with a single flower will add a touch of life to your space.
Be sparing. Don't try to add too many decorations to your small space.
Check out my other tips above for completing a makeover on a budget for more tips!

How to do an affordable master bathroom makeover
So let's chat the details about our affordable bathroom makeover. I really think that with a few great accessories, you can easily turn any bathroom into a beautiful and functional space. Here is what we did: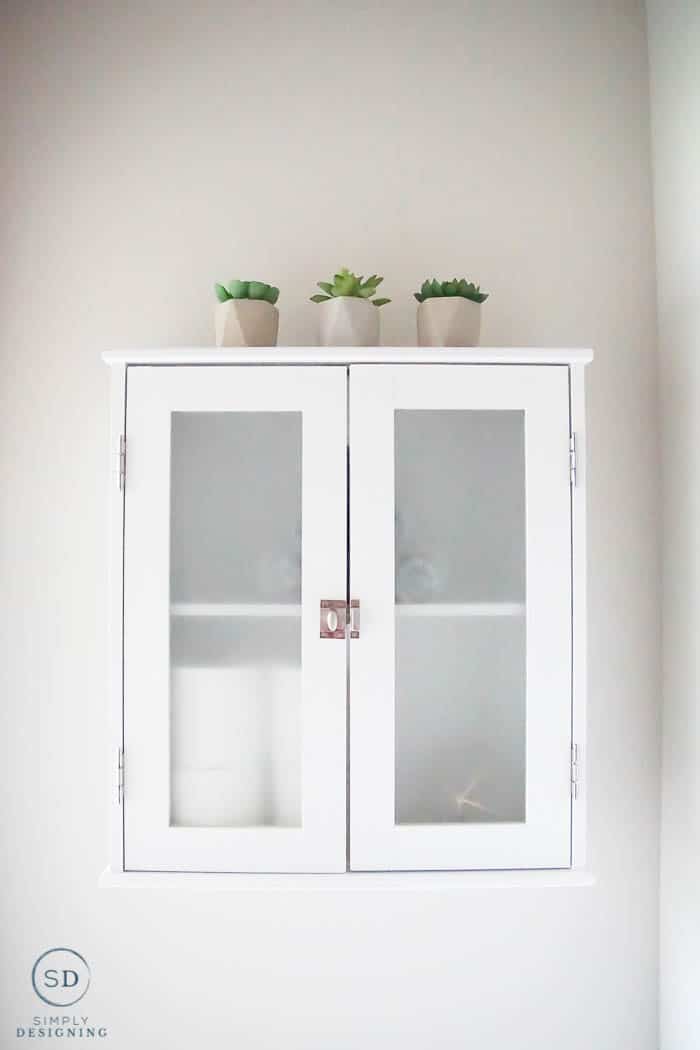 We removed the storage that was sitting on the floor next to the countertop and added gorgeous wall storage to replace it! This white wood and frosted glass cabinet is perfect for storing all sorts of things from extra towels to extra toilet paper and any toiletry item you might want to tuck behind a door.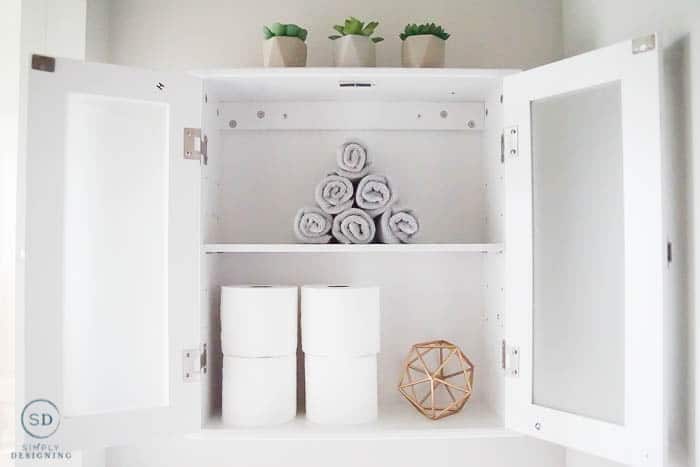 I love how spacious it is inside!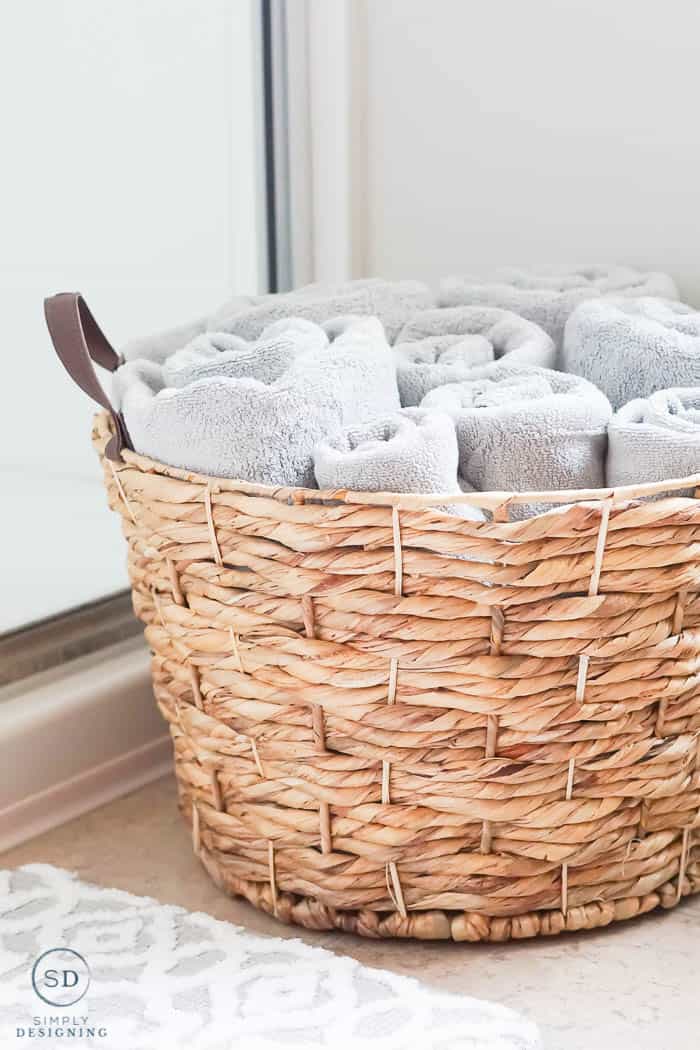 I love adding soft touches to bathrooms while making them super functional. Adding a pretty basket to the floor with extra towels is the perfect way to ensure you'll never get out of the shower and not have a towel near by!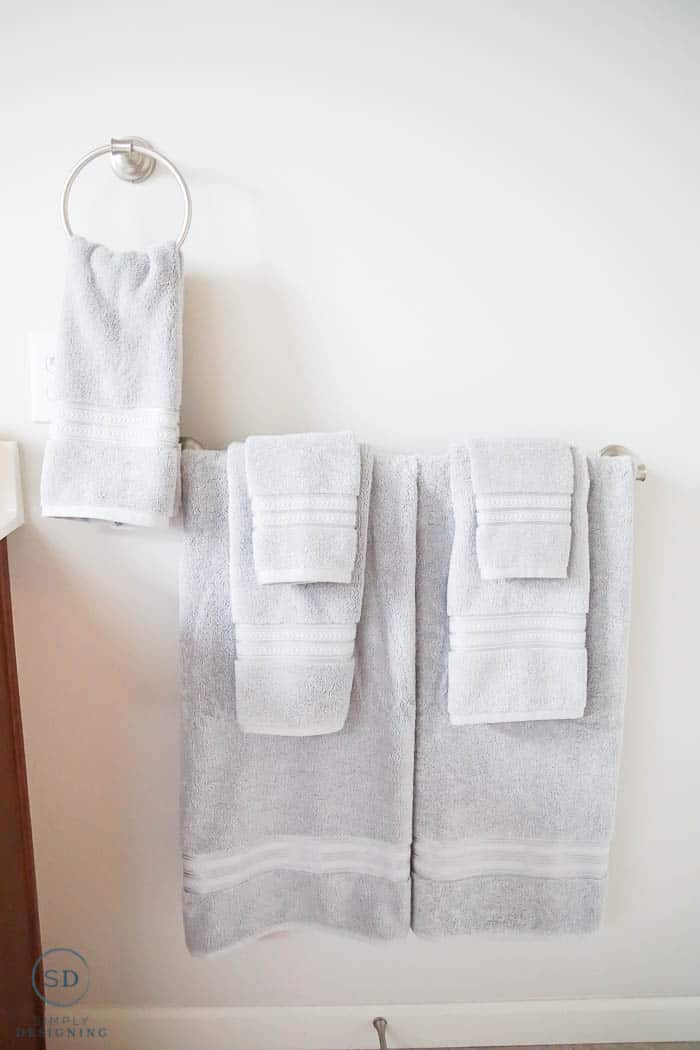 We replaced the worn towels with new ones! We kept them a neutral with this beautiful light gray color.
We changed out the towel rack and hand towel hooks with brand new upgraded ones! Here are a few close ups of how pretty these are in person!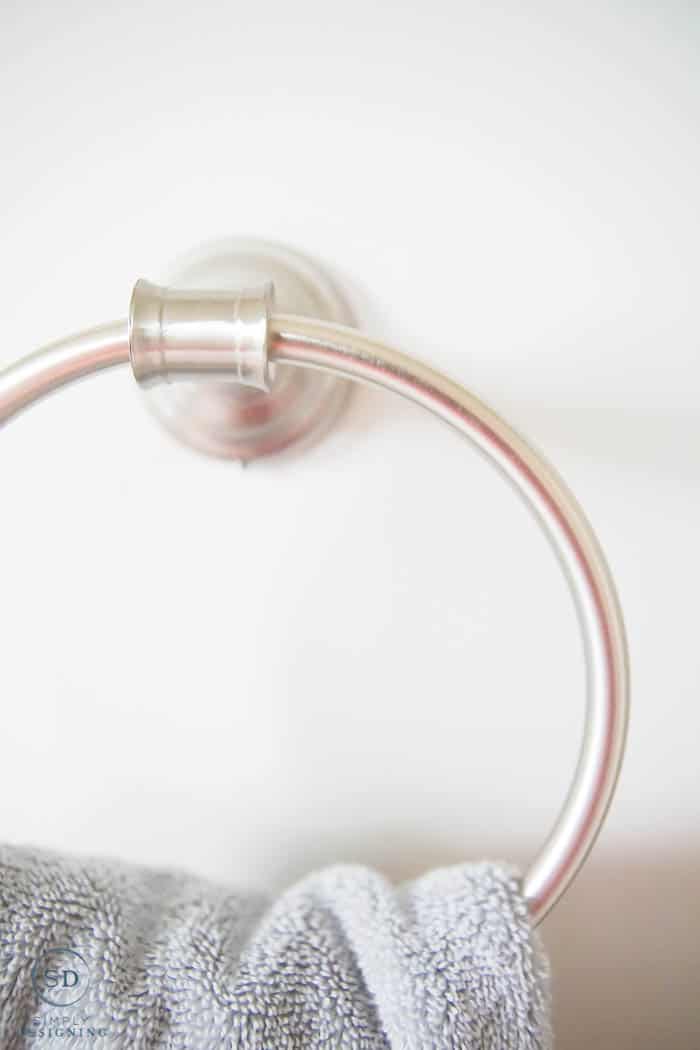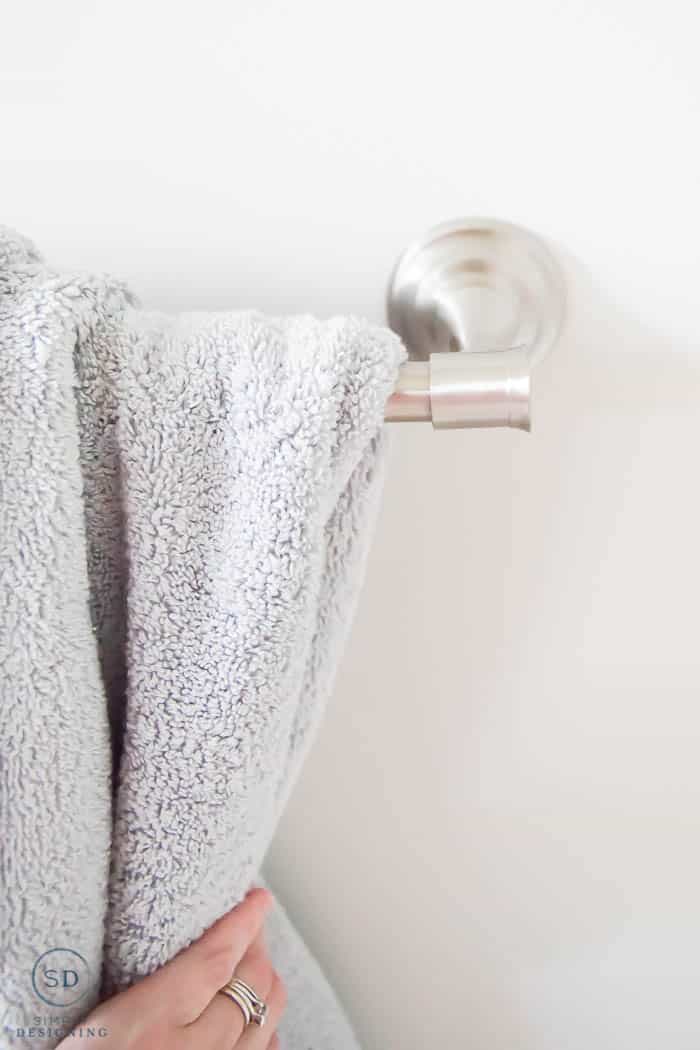 We kept her existing yellow curtains and I used that yellow as an accent color in the space while keeping the rest of the space neutral. We added pops of yellow in the room with fake flowers to tie it all together!
We also swapped their old rugs for new rugs.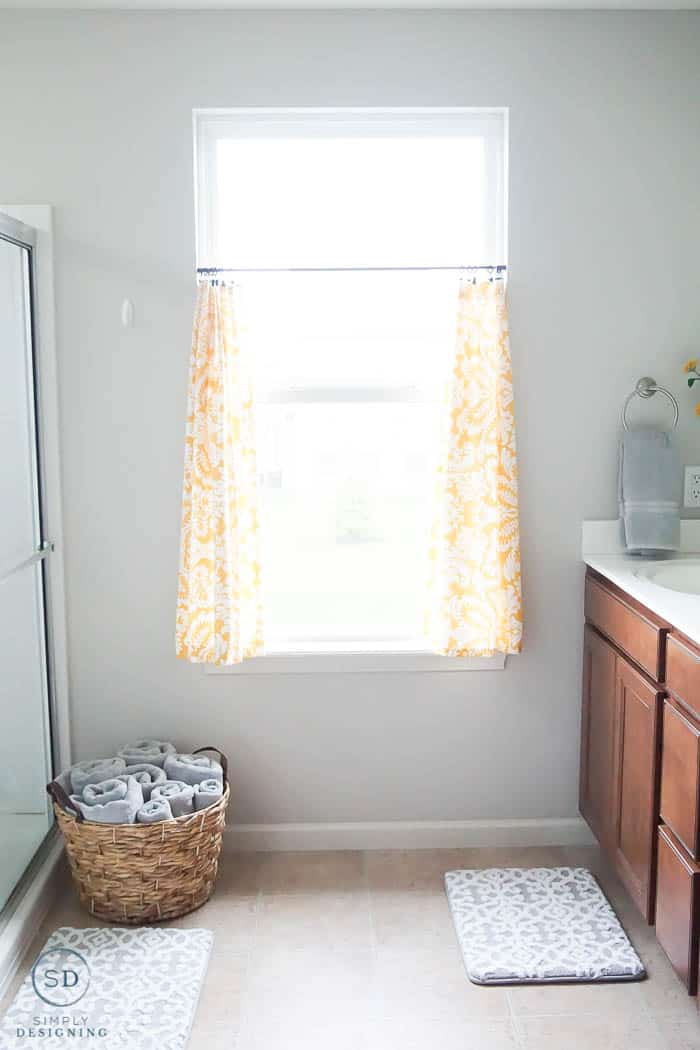 These rugs are super comfy to stand on while you get ready in the morning and are so cute!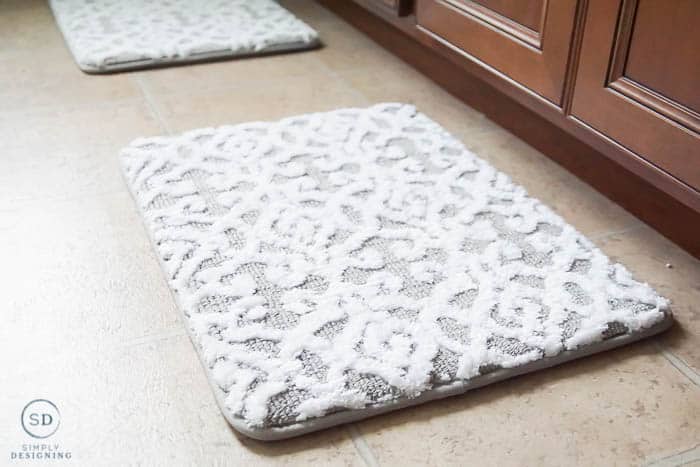 I love adding little touches to the walls to make them decorated and beautiful!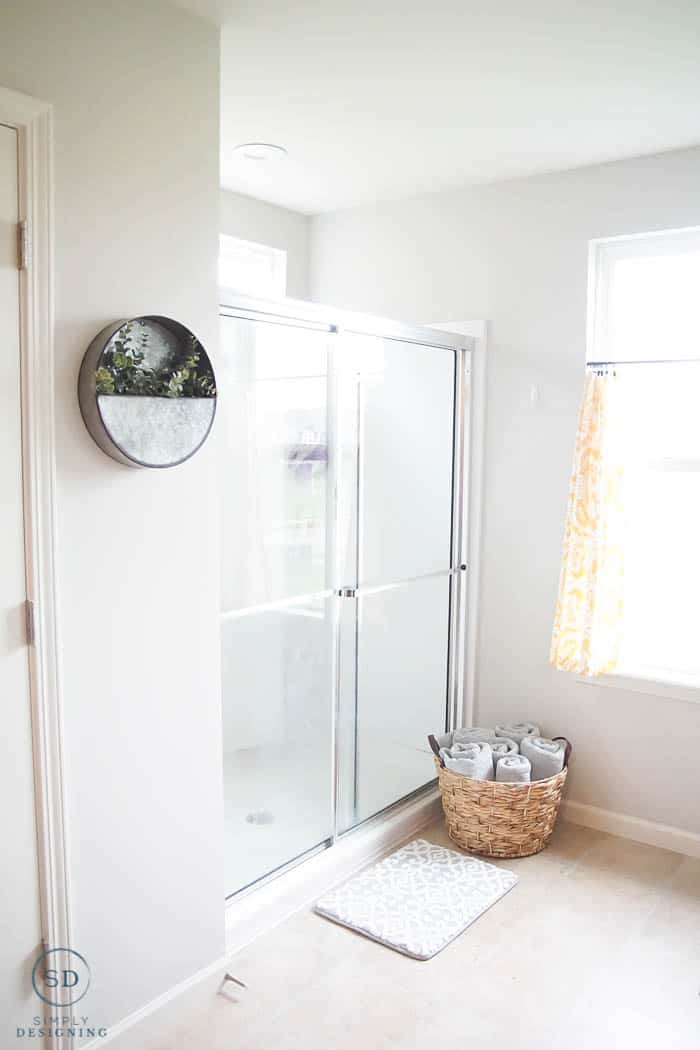 This galvanized metal round shelf is just so beautiful and full of style! I placed a few pieces of fake greenery into it to warm the space up a bit! I really love how this looks in the space!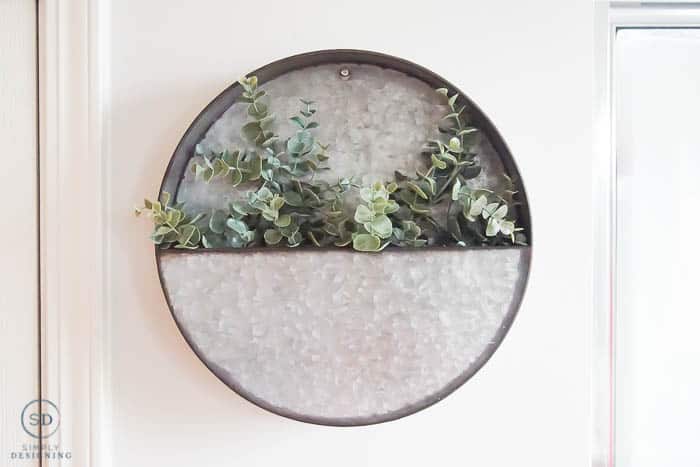 Next, I addressed the countertop. I wanted to add a few beautiful and functional decorations to the countertop without overwhelming the space.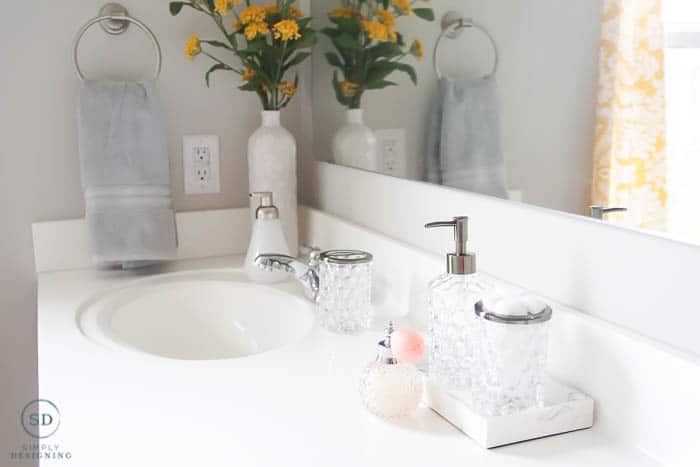 My favorite addition to the space was this marble tray. It is so pretty and is the perfect spot to hold a cute lotion dispenser and a toothbrush holder that I am using as a cotton ball holder instead.
These bathroom accessories are so light and clean looking while giving the space a ton of character and style.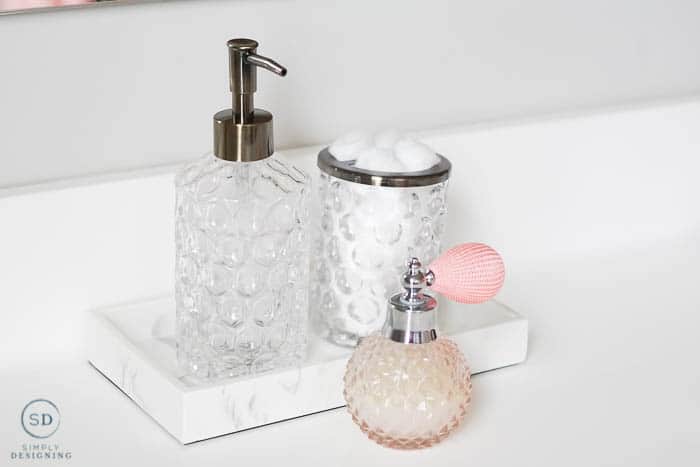 Next to both sinks I added these glass foaming hand soap dispensers. I love that you can simply fill this with your favorite soap plus water and you instantly have foaming hand soap!
My kids love these and they are super cute too!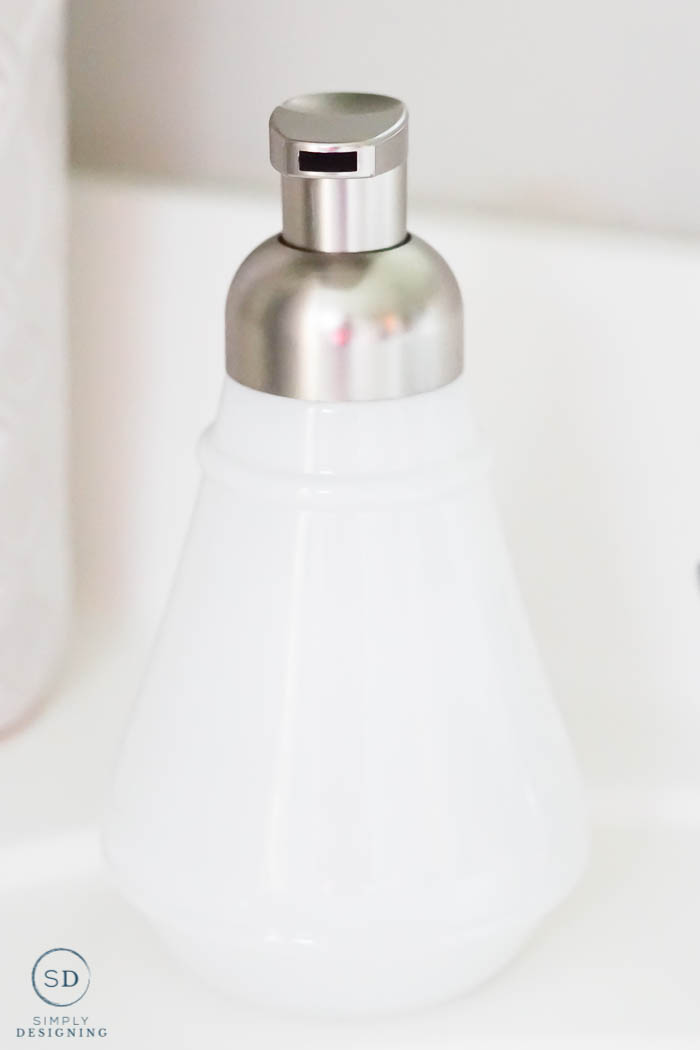 In the corner on the counter, I decided to add some pretty yellow flowers to coordinate with the existing curtains. I put these in an existing white vase.
And you can see in this photo how cute the flowers, new hand towels, new hand towel hook, and foaming hand soap dispenser look in the space!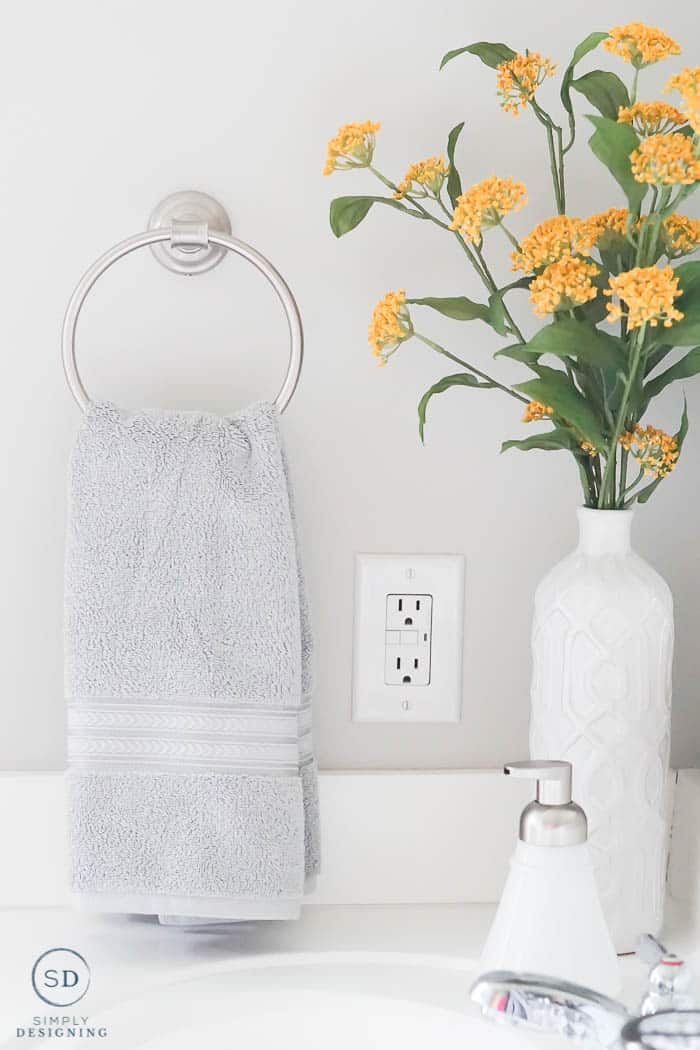 The opposite end of the counter is accented with another yellow flower in a small ceramic vase. This container is intended to hold sugar in the kitchen, but I thought it was so cute and no one is any wiser!
I love finding alternate purposes for cute accessories.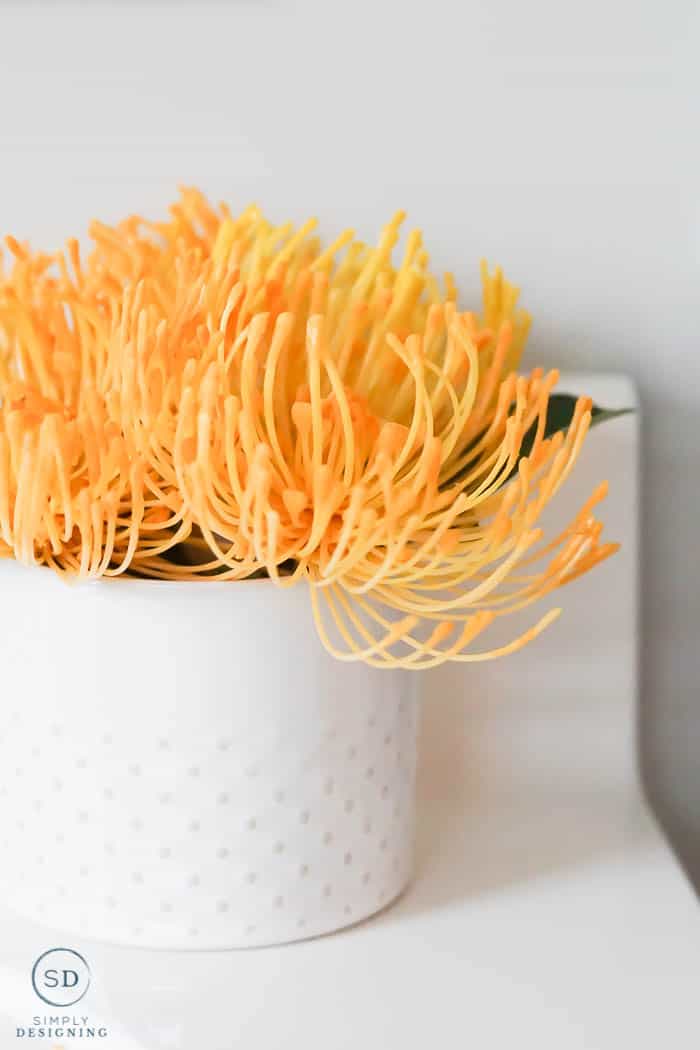 The overall bathroom still has a very light and open look. I kept things neat and clean while adding some cute touches that are both functional and beautiful!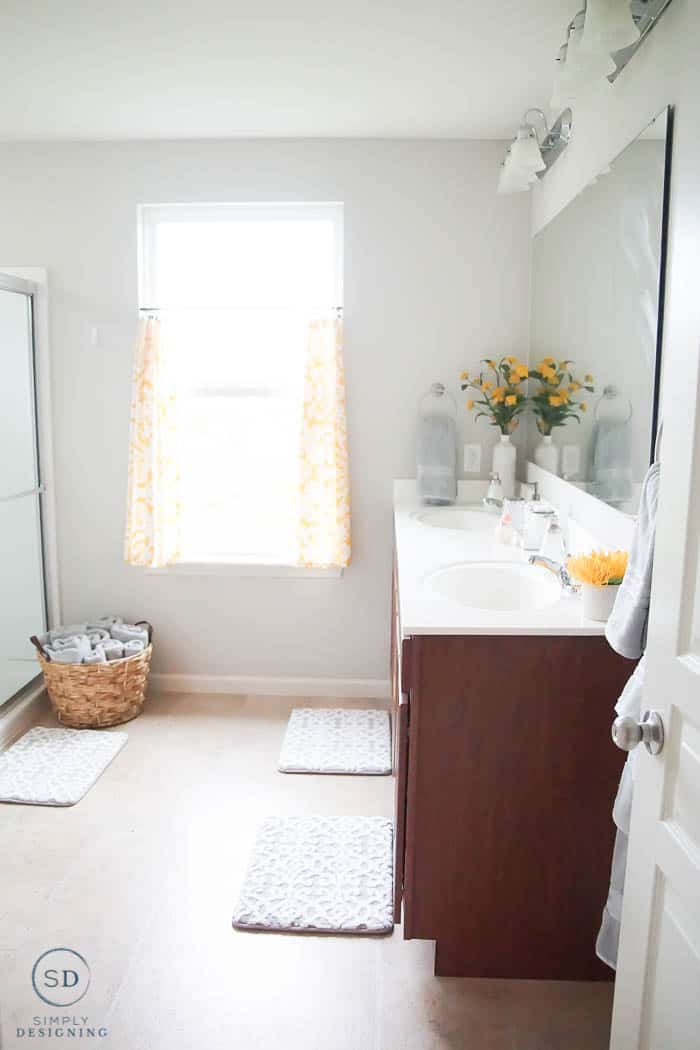 Shop this budget-friendly bathroom makeover: