I have never sat and counted how many pregnancies I had had until that day.  And when she said 6, it was a punch to the gut.  I have 2 living children, I have struggled with secondary infertility, lost a baby at 28 weeks and had 2 miscarriages.  And here I was, weeks after I had been in to see my doctor for a yearly exam.  I was in my doctor's office again, another positive pregnancy test had been taken, this was my sixth positive pregnancy test and I was at my doctor's office for an early ultrasound.
When she asked me how many pregnancies I had had, I hesitated.  I didn't know how to answer.  So I said simply that I have two living children, I have had two early term miscarriages and I lost a baby at 28 weeks due to trisomy 18.  She said simply "so this is your 6th pregnancy."  And it hit me like a wall.  I had never stopped to count the number of times I had been pregnant.  6 sounded like so many.
So here I was, in with the ultrasound tech, scared, uncertain, hesitantly excited and nervous at the same time with baby #6. 
We had early blood work done to see if the pregnancy was in fact viable, and as of a couple weeks before, things looked good.  But that didn't completely calm my nerves as we waited to see a heartbeat on the screen.
But after you have miscarried and lost a baby, everything becomes possible.
The naive excitement I felt the first two times I was pregnant simply doesn't happen anymore because there is a real, tangible fear of loss. 
Although in my heart I didn't think I was going to miscarry and all medical signs pointed to a viable pregnancy.  And in my heart I didn't feel that anything was wrong with this baby, the fact that I have had complications with prior pregnancy means that the possibility is very very real to me.
We had just listed several of our baby items for sale including a stroller.  (Isn't that how it always happens!?)  The stroller brand we have doesn't make car seats so you need an adapter for it.  The line of strollers has been discontinued because we have had it for nearly 10 years so we weren't sure if we could even get one.
So we unlisted the stroller and at about 5 or 6 weeks, we walked into a baby store to see if we could make this stroller work for another baby.
About 2 minutes into the store I couldn't handle it.  I got anxious, nervous, mad, sad and (self admittedly) snippy with my dear husband.  Who kindly asked if I was ok.  I told him no.  I was not ok.
The last time we had been to this store was to return baby items for our sweet Deakin that we lost.
No.  I wasn't ok.
We left the store and haven't been back since.
In fact, I can't bring myself to buy a single baby item for fear that I will have to return it. 
So here I was, at the 8 week ultrasound.
And everything looked good!  This thrilled us and gave me temporary peace.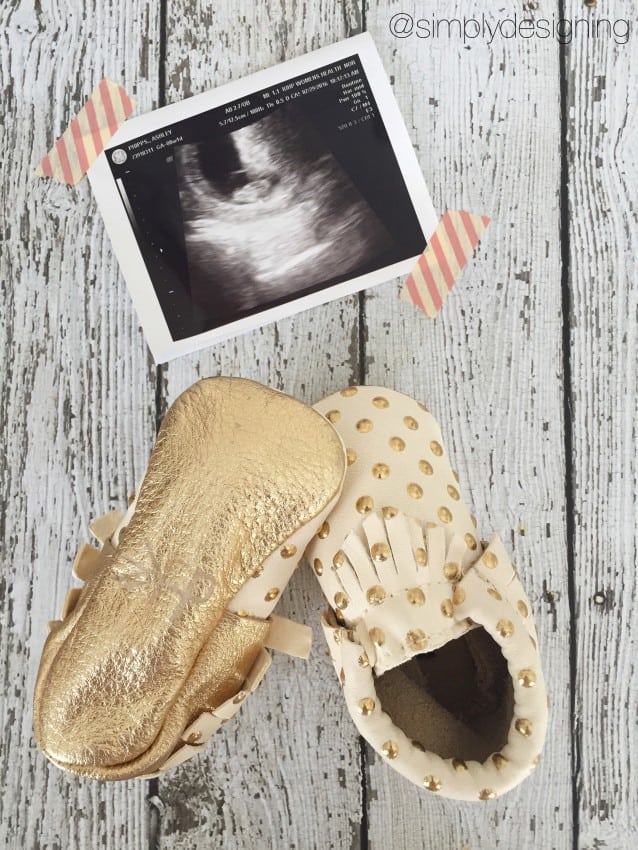 Gosh at 8 weeks they look just like a little peanut and not much more!
At my 10 week appointment there was still a strong heartbeat, we saw our little baby again on the ultrasound monitor because my uterus is tilted back and it is sometimes difficult to find a heartbeat.  They didn't even try because they didn't want to rick any worry given my history of loss.  So they went straight to a quick ultrasound.  It was so fun to see our little baby's arms moving and the little heart beating!  It was such a joy to see this and again it brought us temporary peace.
We opted to have additional early generic screenings done.  It was an additional cost, but I knew the early peace of mind would be worth it given our pregnancy history.  We took the Harmony test which screens for Trisomy 21, 18 and 13.
And then we waited.  They said it would take up to 14 business days.  (Which is nearly 3 weeks!)  Waiting was hard.  But in about two weeks, my dr's office called.
I was a little relieved when it was the nurse calling me, not my doctor.  I had gotten enough phone calls over the years to know that a call from the doctor is usually bad news, but a call from the nurse usually is good news.  So I was optimistically hopeful.
The nurse confirmed that our baby was at low risk for Trisomy 21, 18 and 13!
Instantly the tears came.
What a relief to know that things were in fact looking ok.  Our baby was at low risk.  What a relief.  The tears came and I was incredibly happy and relieved to hear the news.
I immediately called my husband and could barely get the words out between tears.  We were both so relieved and so excited to know that our baby was looking healthy.  With our previous experience of having a Trisomy 18 baby, we knew it was a possibility, a very real possibility.  And deep down I knew I could handle it again if I needed to.  Not on my own, but with the Lord, I knew that I would be able to handle anything thrown my way.  But I really really didn't want to have to handle anything else.  I don't mean to sound selfish, but we were hopeful for a healthy baby.  At this point, I felt like this was it though, no matter the outcome, this was our last baby for our family.  So we desperately hoped that everything would be ok.  And we can not explain our joy when we found out that so far, things were looking good.
While on the phone, the nurse had another piece of news to share with us, if we wanted.
She asked if I wanted to know the gender...
To be continued...
Here are all the posts in this series about our family's journey: