This post is made possible by BISSELL.  All opinions are mine.
I have recently shared many of my cleaning secrets!  I have shown you How to Clean Laminate Flooring, How to Clean Tile and today, I am happy to show you How to Clean Carpet!
We have lived in our home for over 4 years.  The carpet was brand new when we moved in, but it was not the best carpet.  In fact I am hoping to replace it soon!  It is builder grade, ok carpet that, after four years of use, is looking worn!  We do not typically eat on the carpet, so we don't have too many bad stains, but they look worn, and I know they are dingy.  No matter how much we vacuum them, carpets just get dirty!
And all of our construction mess doesn't help!  Since we have replaced all of our other flooring with laminate hardwood or tile and completed many other building projects in our home like installing plank walls or board and batten.  The dust from all of it, I know has sunk into all of our carpets.  We vacuum a lot, but my carpets need more.  They need to be cleaned!
And of course, I don't want to hire a professional to clean my carpets when I can do it myself!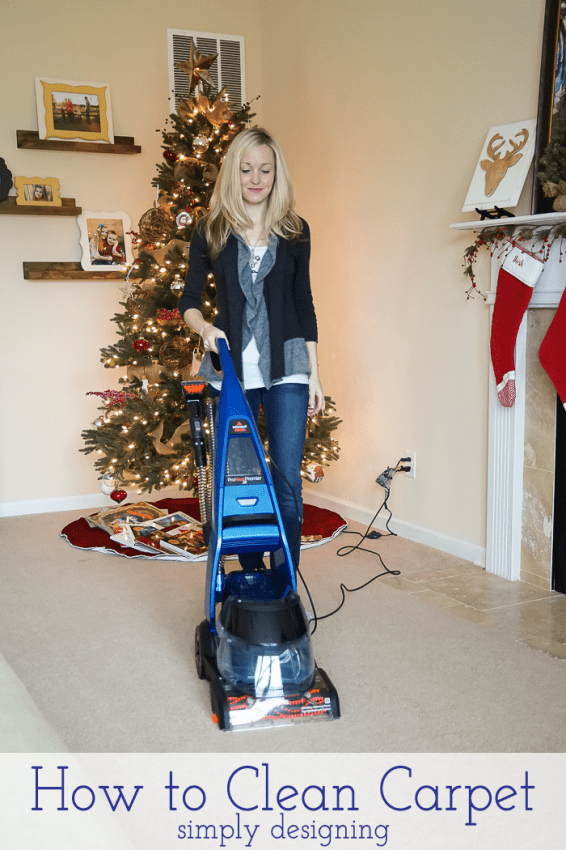 With the holidays coming up I wanted to deep clean my home and my carpets prior to guests arriving!  So I was so thrilled when BISSELL sent me their BISSELL ProHeat 2X® Premier 47A23 Upright Deep Cleaner and BISSELL carpet cleaning formula with Scotchgard™ Protector!
I love that I can now clean my carpets myself with my new BISSELL Carpet Cleaner!  I also love the cleaning formula with Scotchgard™ Protector because I not only get clean carpet, but it also protects them from future spills and stains!  Which is perfect because we do plan to host a little New Year's Eve gathering and so I am grateful to know that my carpets will be protected from any mess that may occur that night!
And the best part is is that now you can save $1 on BISSELL HERE!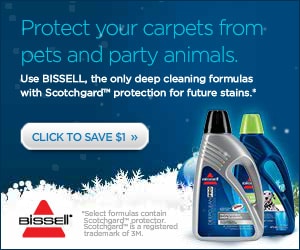 Click HERE to snag your Coupon
How do you keep your carpets looking clean?