Thanks to Bona for sponsoring today's discussion.  #BonaHolidayShine
Getting ready for the holidays can be very stressful, especially if you are trying to shop, cook, clean and prepare for guests.  There are many tricks I use to keep my house fairly guest ready, clean, warm and inviting so that it is never too stressful.  I love to have a decorated, clean and calm home and so today I am really excited to share with you 7 Stress-Free Holiday Entertaining Tips.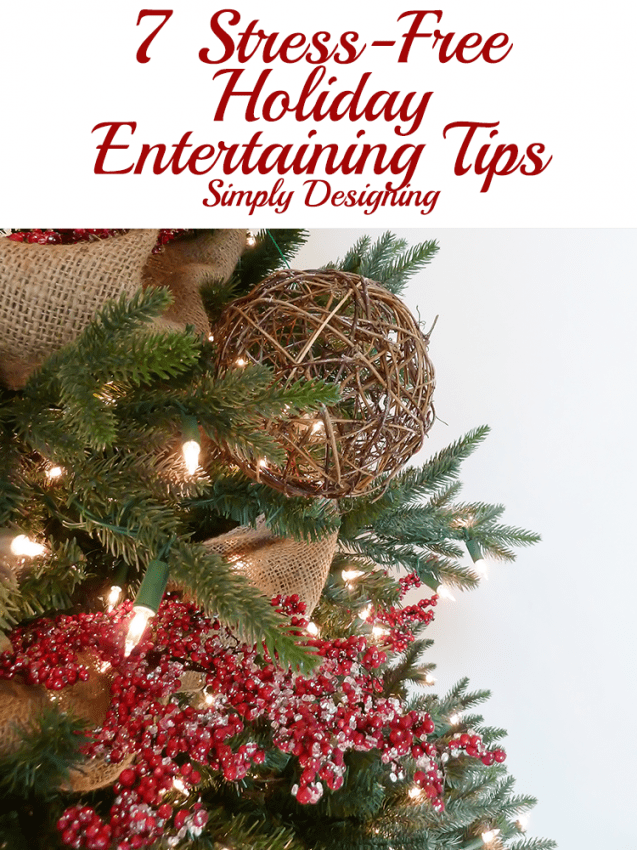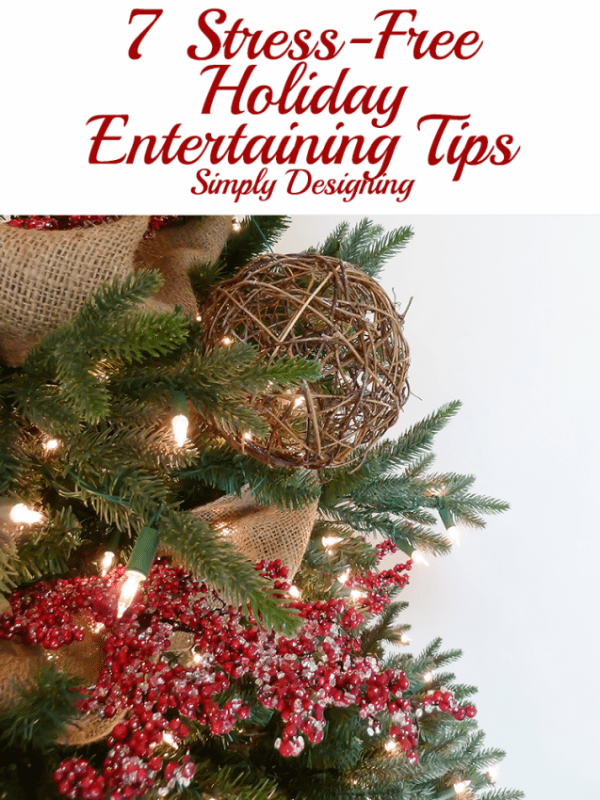 7 Stress-Free Holiday Entertaining Tips

Decorate Early
Forget "rules" like not decorating for Christmas until after Thanksgiving.  Decorate early this year to avoid the stress of trying to decorate last minute.  I always love putting my Christmas tree up early, decorating my mantle and putting a festive wreath on the front door.  And I am in love with this fun DIY Gold Reindeer decor I made this year!  We also have a nativity we love to set up every year.  I don't go over board with decorating, but it is a fun family tradition to decorate our home together for the holidays.  And so sometimes we decorate early so that we are able to enjoy the season and stress less.

Prepare the Guest Room
If you have guests coming into town to stay, prepare the guest room early.  Set out towels and extra blankets ahead of time so that there is no last-minute rush to get the room ready!  Be sure to add a few magazines to the nightstand and maybe even a fun welcome basket to the room!  I have 7 simple tips for preparing your guest room HERE.

Schedule Food Prep
It may sound silly, but plan your food prep ahead of time!  It's amazing what you can actually make prior to the day-of!  Pies are just as good a few days before eating and so are foods like cranberry sauce and my delicious cranberry relish.  So plan ahead and start food preparations early!

Organize
It is actually a lot harder to clean your home if it is not organized first!  Before the holiday season gets too crazy, take a few moments to ensure that everything in your home has a place.  If everything has a designated place, it makes cleaning up a lot more simple.  Check out some of my favorite organizational tips here and here.

Deep Clean Your Home
Deep clean your home ahead of time.  A couple of weeks ahead of time if possible!  There are some things (like cleaning the tops of fans, and baseboards that simply do not need to be done weekly.  So get this out of the way ahead of time.  Be sure to clean your stainless steel, wipe your blinds and baseboards, your doors and door knobs and clean your appliances.  Also be sure to give your bathrooms a really good deep clean!  And be sure to down load this free spring cleaning check list here or this winter cleaning check list here.

Last Minute Cleaning Tips
If you have clean floors, your whole home will feel more clean!  Seriously!  One of the first things I notice in a home is if I am stepping in crumbs on the floor.  So before guests come I love to do a quick sweeping and mopping of my floor!  We recently installed laminate floating hardwood flooring and we simply love it!  It is so much nicer then what we had previously and it looks stunning!  But we weren't sure the best way to clean them.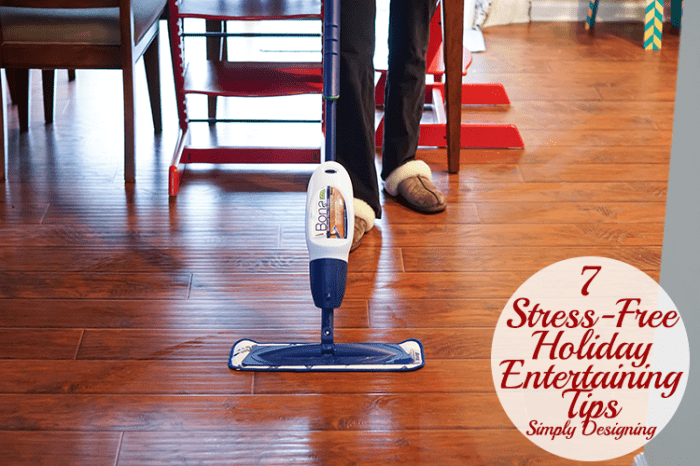 So after a lot of researching we discovered that probably one of the best things to use on our flooring was a Bona Hardwood Floor Mop.  Bona is non-toxic and GREENGUARD certified.  But most importantly, it works well and it does not leave a residue behind!  My floors end up beautiful and clean without a lot of time or effort!
You can visit Bona HERE to download a $3.00 coupon so that you can discover how great this is for your hardwood floors too!  And yes, the kit does come with the Bona Hardwood Floor Cleaner too!

Relax and Enjoy
If you have taken the time to relax and prep ahead of time, you will truly have time to sit down and relax for a moment.  Enjoy a yummy cup of caramel apple spiced cider or a vanilla steamer before your guests arrive and just enjoy the season!  And once your guests do arrive, you will be able to relax and enjoy entertaining and just spending time with your guests!
How do you have a stress-free holiday season?
To learn more about Bona and to snag your $3 off coupon, go HERE.