I love that I have the opportunity to share a project that I worked on for a friend, and so today I am revealing a Cool Boy Bedroom Idea, complete with before and after photos, of how easy and budget-friendly it can be to do a boy bedroom makeover!  I will admit that one of my favorite boy bedroom idea is still my Industrial Boys Bedroom I shared on my blog here.  But that was a very labor-intensive project, and for those wanting a quick boy bedroom idea, that doesn't require much DIY, this cool boy bedroom idea is absolutely perfect for you!

Cool Boy Bedroom Idea
For this project, I was very excited to be able to bless someone else.  I have a friend who fairly recently moved into a new home, she has 6 cute kiddos that I love like my own, and a lot of bedrooms and new spaces to decorate!
I was really happy that when I asked if I could decorate one of her bedrooms for her that she said yes!!  Wahoo!
So a big thank you to my friend for trusting me to work on decorating this room with her!
This is what her boy's bedroom looked like before: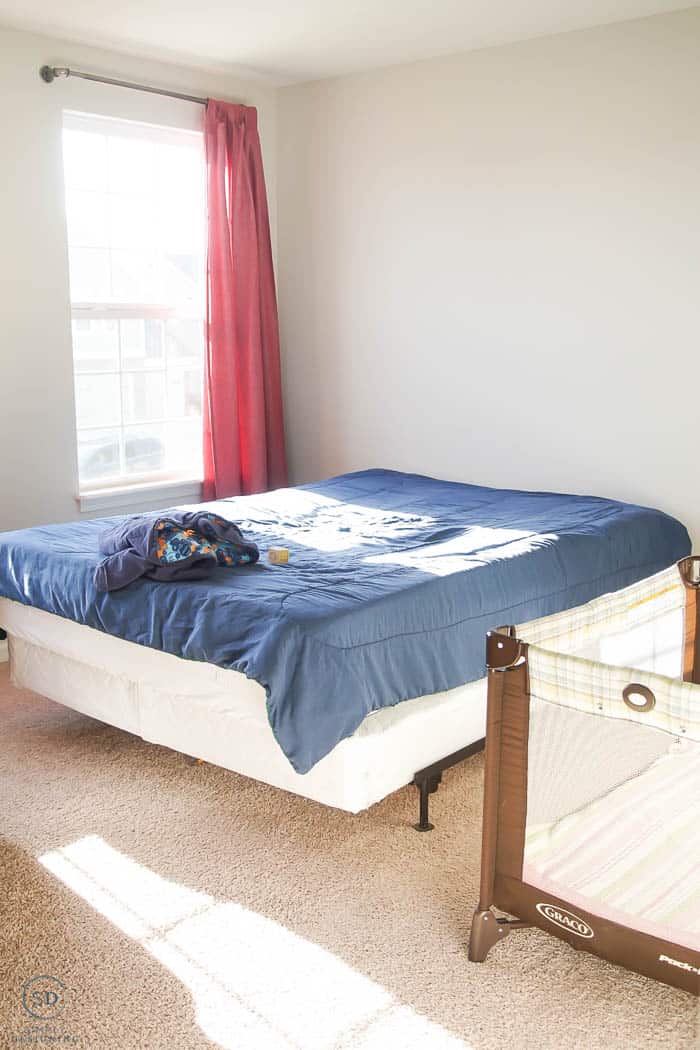 It was completely functional but lacked decoration and direction and so I knew this would be such a fun space to decorate!  I decided to transform this space into something that would grow with her son and look great for years to come.
Thankfully, the bedroom had recently been painted so we didn't need to do that.  But if you have a room that needs to be painted, I would check out my post about How to Paint a Room before tackling your next painting job.
The after still makes my heart so happy!  How cute is this boys room???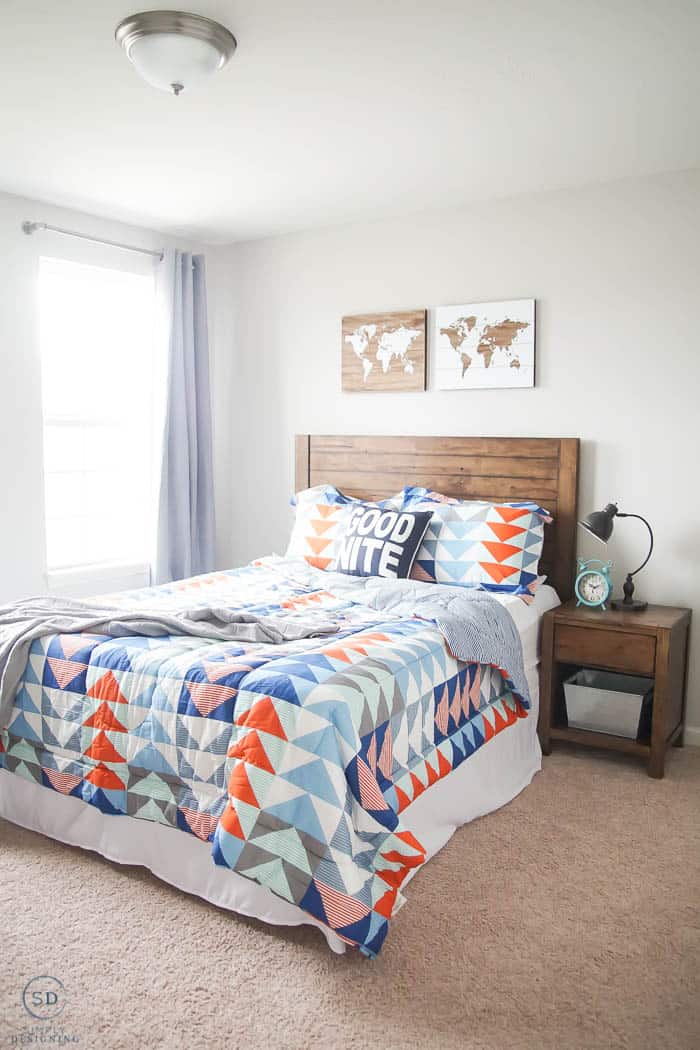 A big thank you to Better Homes & Gardens at Walmart  for sponsoring today's post.  All opinions and ideas are mine.  Affiliate links are included in this post for your convenience.  If you make a purchase through these links, you will never pay a penny more, but I receive a small commission for it.  Thank you for supporting my blog.
My goal for this space was to create a room that was fun, totally good-for-a-boy, and that would grow with him.  This boy bedroom idea would work for a young child or even a tween.
I love how versatile this design and space ended up being.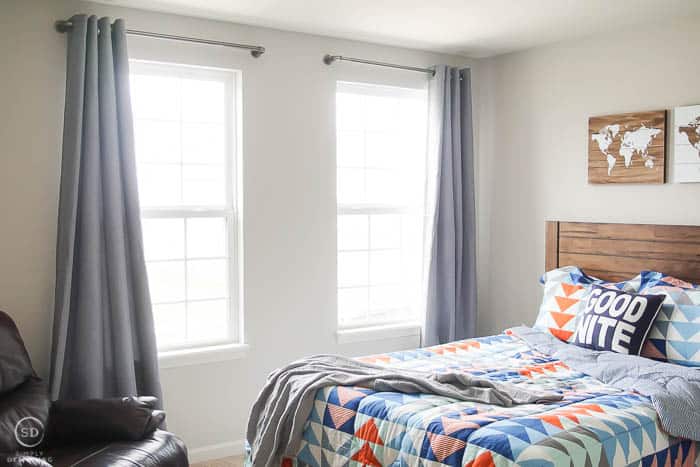 The boy who uses this room is two years old and recently transitioned into a big boy bed.  But I really love that this look will last him for years!
I can see a child at 2, 5, 8 or even 12 still loving this bedroom, making it the perfect boy bedroom idea for a boy of any age!!
Should we delve in?  Ok, let's go!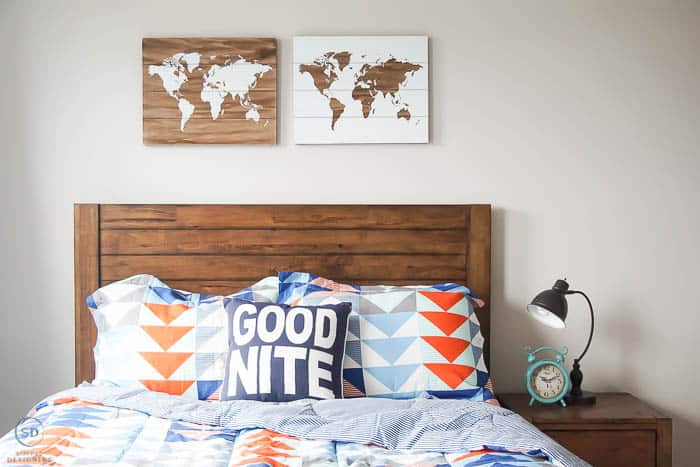 I decided to start with adding a headboard to the space.  The room isn't huge so we thought that just a headboard (and not a headboard/footboard combo) would be perfect for this room.  We went through all of the headboard options from Better Homes & Gardens sold exclusively at Walmart, and ended up both loving the Bryant Wood Headboard.
It is so beautiful in person and has a lovely rustic look that will still look great even after years of wear and tear from kids.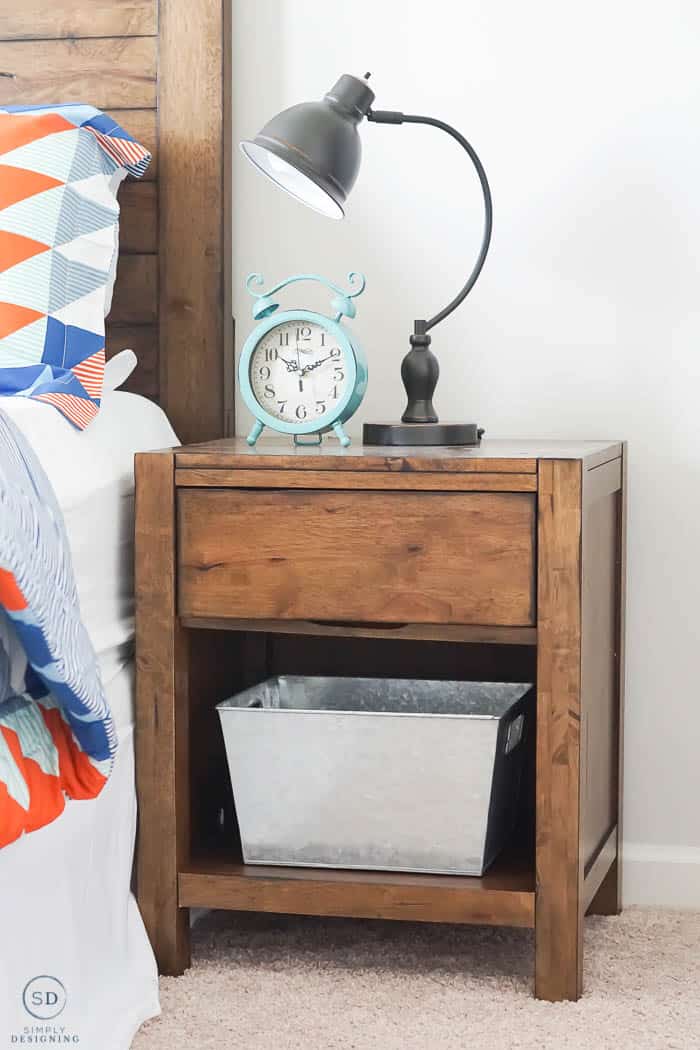 I decided to snag a nightstand to match. (Bryant Nightstand)  It is such a great nightstand and is so sturdy.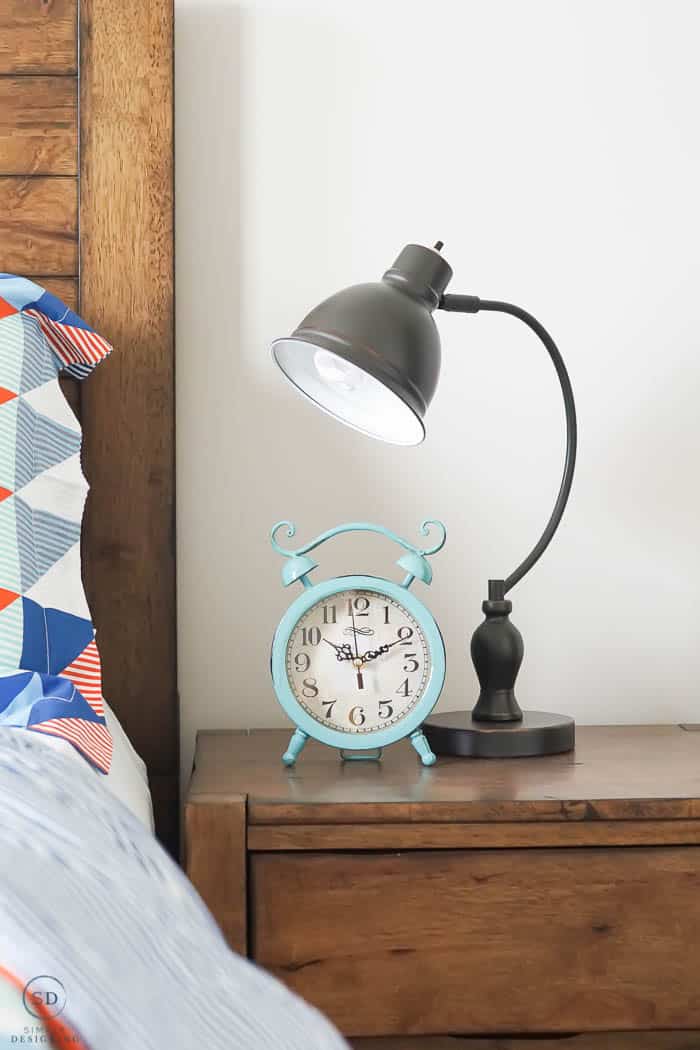 We added a fun metal lamp ( Traditional Desk Lamp) and a table clock (Teal Table Clock) on the nightstand.  And we placed my favorite metal bin (Small Galvanized Bin) in the nightstand for extra storage.
I love using bins in kids rooms because it is the perfect way to store things like books and snuggies, but keep them out of sight.
And now back to the bed...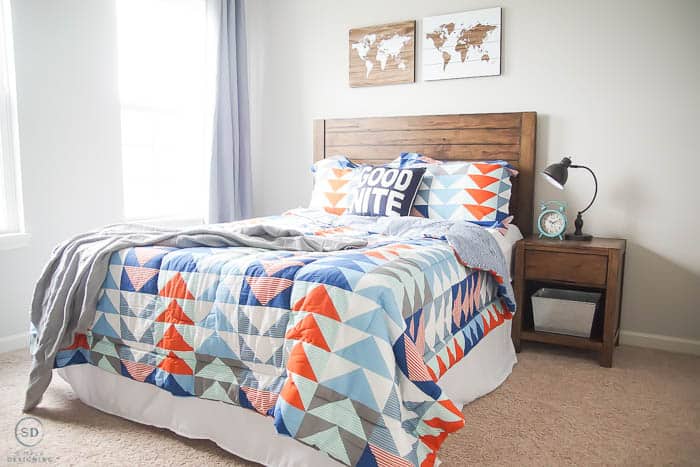 A bed is not complete without bedding!  We added this really adorable geometric bedding set (Kids Striped Triangle Comforter Set) to the bed along with this cute pillow that I couldn't resist (Good Nite Pillow).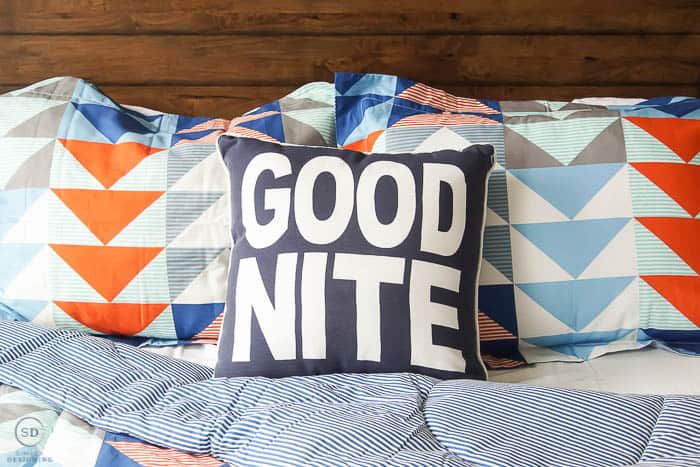 And you guys, I seriously can't believe how affordable this bedding was!  It is really great quality and will definitely last for years to come!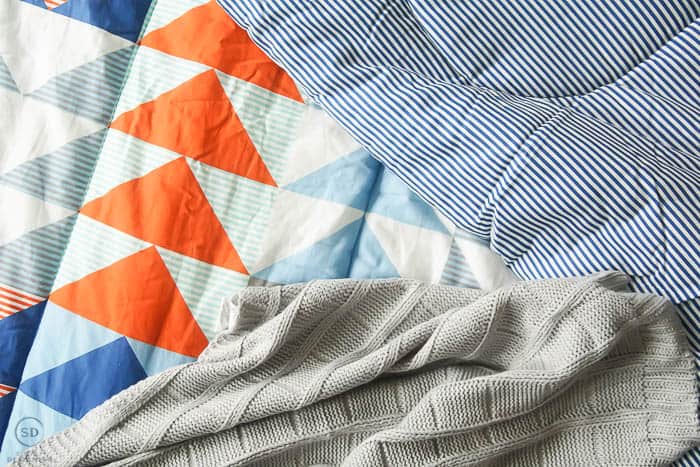 This bedding is also just so dang cute!  I topped the bedding off with a nice throw blanket for added texture, comfort and warmth (Grey Chunky Knit Throw).
I love having both a comforter and a throw on the bed because it adds texture and color to the space while also providing ways to accommodate for changes in the weather.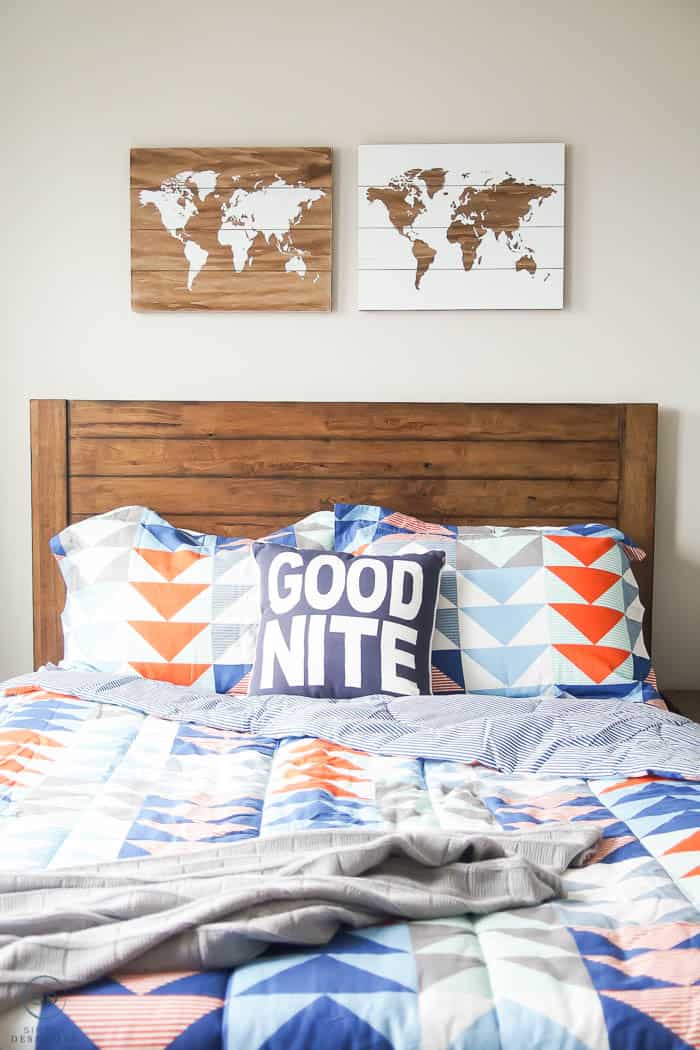 And because I couldn't resist...I had to hang a set of these wood World Prints above his bed!  I knew they would look adorable in a boy's bedroom and be perfect for this space (Better Homes & Gardens Ash Wood With World Print and Better Homes & Gardens Maple Wood With World Print). They are pretty, nice quality and they are such great decor to grow with a child.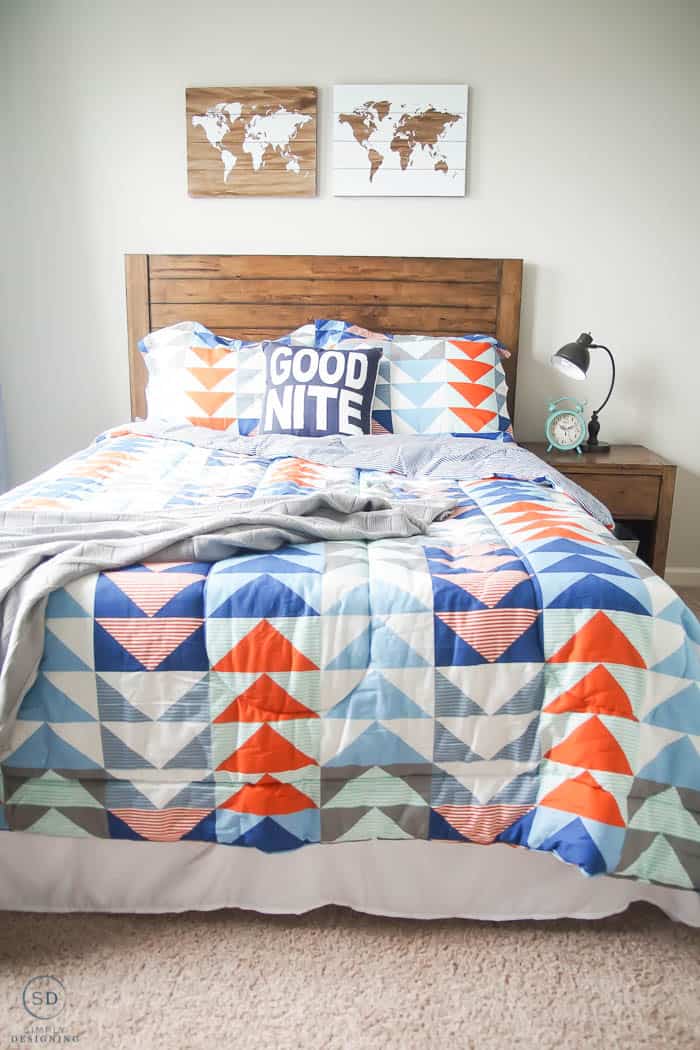 And I exchanged the red curtains for two Basketweave Curtain Panels in grey which updated the space and provided more light filtering then they previously had in the room!  Woot woot!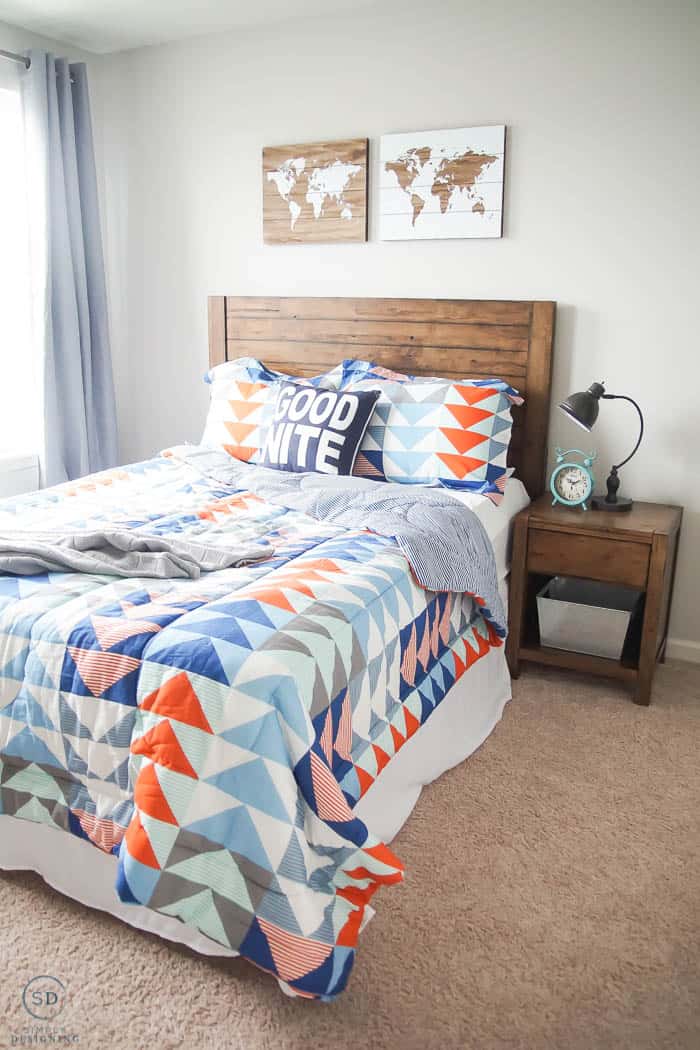 Whew!  What a transformation!  This space went from blah (sorry friend!) to BEAUTIFUL in no time with a bit of new furniture and decor!  This boys bedroom is now easily one of my favorite easy boy bedroom makeovers!
It is also such a great boy bedroom idea on a budget because even though all of these products are from Better Homes & Gardens, they are sold exclusively at Walmart so anyone can create a similar look without a huge price tag.  Keep reading to snag all the products I used below.

SHOP THIS COOL BOY BEDROOM IDEA HERE:
You might also enjoy: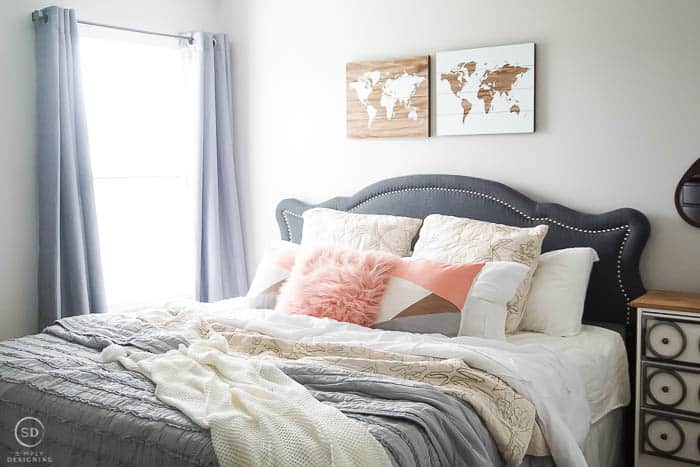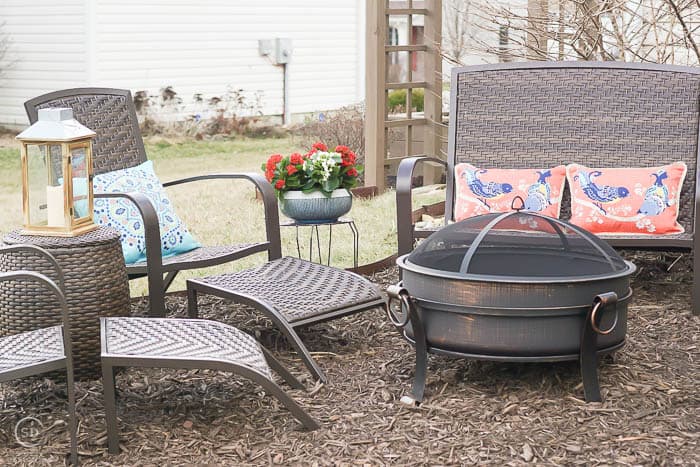 Outdoor Living with an Easy Backyard Firepit