Wahoo!  I have been dying to show you this latest update to my craft room!  Dying!  I seriously can not believe what  difference a coat of paint makes!  Seriously today is a great day to be here to see what I've been working on in my craft room!  It is coming along slowly but today I am sharing with you the latest update and also a fun post about the perfect gray paint!  Yes!  I ditched the tan paint and painted my craft room the perfect gray!  Oh and I am so in love!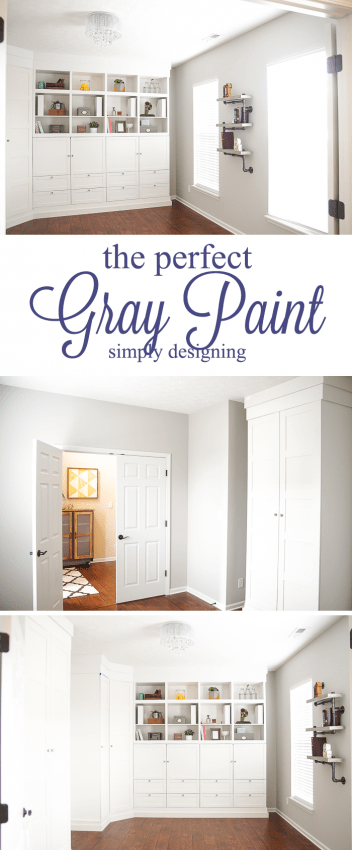 First of all I want to say a big huge thank you to Sherwin-Williams for sending me paint to help make this post and my craft room possible!  Please know that all ideas and opinions are mine.
My wall.  They needed lots of help.  To be fair, this was previously a play room.  So the walls were kind of gross.  And to be honest, I wanted a change from my tan paint.  I desperately wanted gray!
Here are a few photos of my room before I painted it: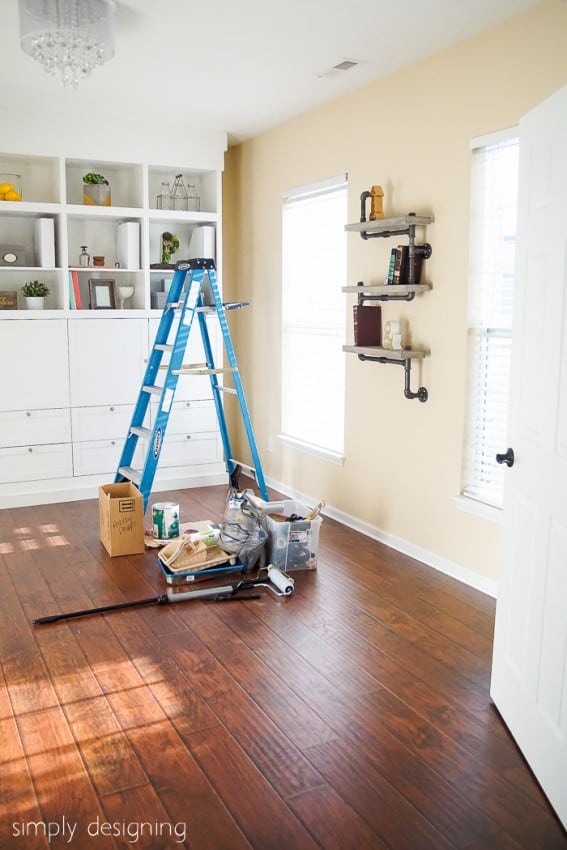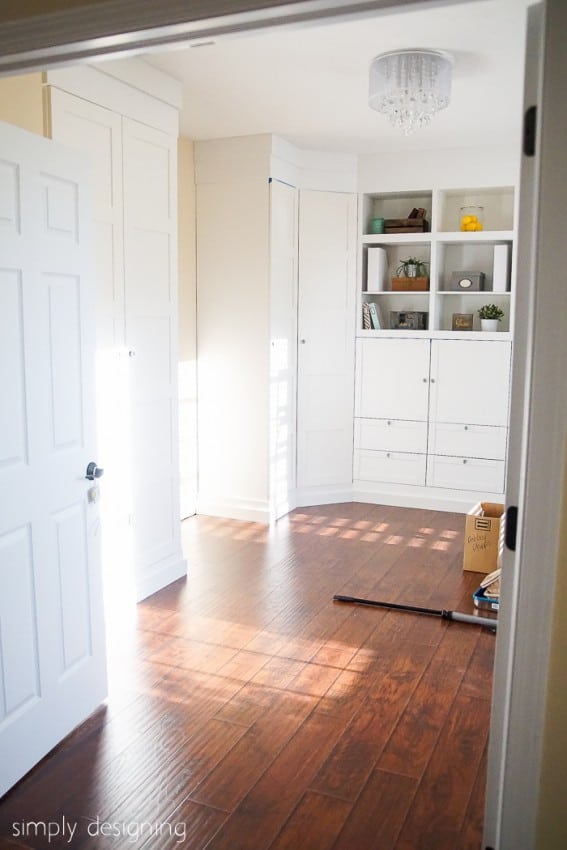 So I began the process of choosing a paint color.  I ended up falling in love with Sherwin-Williams Repose Gray!  It is a beautiful gray that doesn't go purple or blue.  It is not too dark or overwhelming.  It is so so pretty!  The perfect, light and airy, gray color in my opinion!  (At least in my home it is!)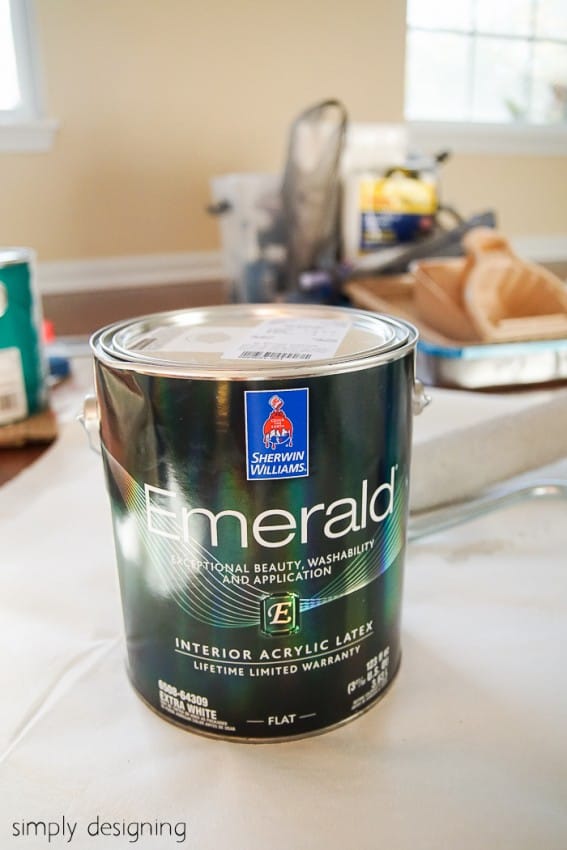 Sherwin-Williams recently released a brand new line of paint that when I found out about, I knew I had to use!  I love the look of Flat paint!!  Do you?  It is so pretty and I just love how beautiful it looks!  But flat paint is difficult to clean, anyone with little children understands this.  So I am always torn between looks and clean-ability.  But Sherwin-Williams recently released a truly flat paint that is washable in their Emerald interior paint line.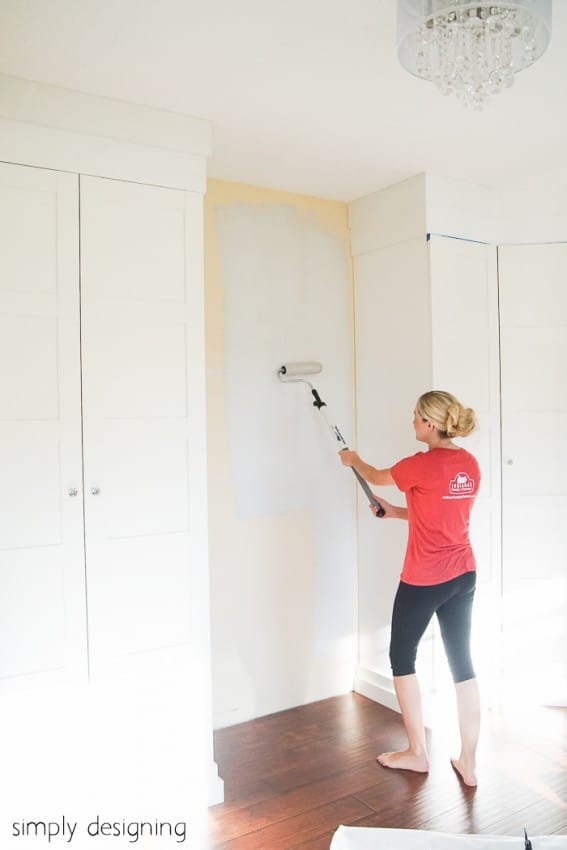 Let me say that again.  They offer FLAT PAINT that has EXCELLENT WASHABILITY!  Wahoo!!!!
The great thing about this paint is that it goes on well, has great coverage and hides darker colors.  It is a paint and primer in one so I only needed to give my walls two coats of paint and my room looked fresh and new in no time!  Also the Emerald line meets stringent VOC regulations so this paint has nearly no bad smell to it!  I couldn't believe it!  (Of course it is always recommended that you open windows and only paint in a well-ventilated space.)  And I love that I can get a truly flat finish that is wipe-able without color fading!  Wahoo!  This paint is availability in a wide variety of finishes but I am personally in love with the flat.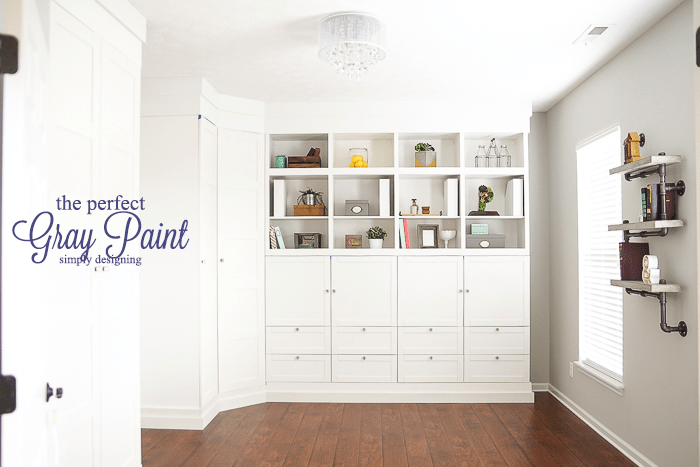 Anyway....I just LOVE my new paint color!!!!  Wahoo!
Here is another glimpse of the new gray paint in my room but you can see it contrasting against the tan out in the hallway.  Now I want to repaint my whole home in this beautiful grey color!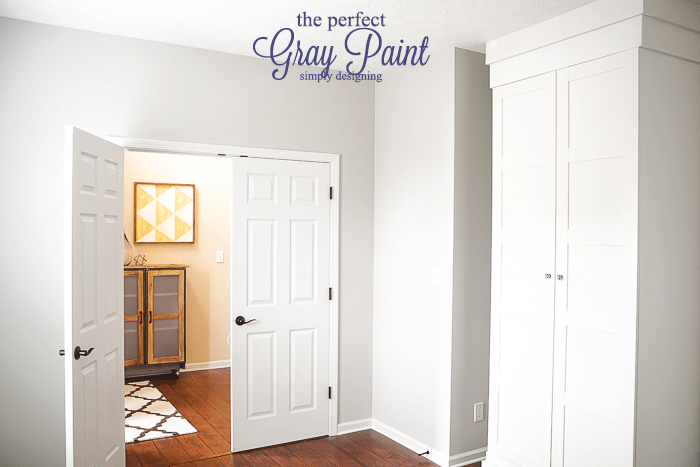 So now my room is painted, trim is up, a new light is in place, my storage is built in and I have new knobs on all my cabinets!  Wahoo!!  I am so excited that my room is coming along!  I just love how it is turning out!
I have a few more upcoming projects to share with you for this room including my new fun DESK!  I will also be working on building some big paint storage as well as a work island for the space!  And I still have an amazing shelving fixture I built that I want to share with you as well!  Oh I can't wait!  When I am done with this space it will be truly beautiful and functional I believe!  I think it will be my favorite room in the house.  You'll have to all come over to see it in person!
Check out the whole Craft Room series here:
Play Room to Craft Room : Part 1
Choosing Cabinet Knobs : Part 5
The Perfect Gray Paint : Part 6
Industrial Pipe Leg Desk : Part 7
Industrial Rolling Paint Storage : Part 8
Concrete Industrial Pipe Shelf : Part 9
Until then, you might enjoy some of these fun posts and ideas as well:
Chocolate Dipped Bacon Pretzels