I am so excited to be finishing up my series about decorating a man's office with farmhouse design today!  We started this process several months ago when I revealed our farmhouse office makeover part 1 HERE.  And then we added an overhead light that is also secretly a fan too HERE.  But the rest of the office was still really sad looking.  My husband was using a desk that we bought 16 years ago where kept important papers, bills, his computer and an ever-growing collection of hats.  We had an oversized chair in the room that we have had for equally as long and really didn't fit the space well.  I think I have mentioned before that this space was where all of our poor-college-years furniture went to die, and it was truly the case.  But the changes we had made so far inspired me to finish this room and finally give my husband a masculine office with industrial farmhouse decor...because, well that's our favorite style, and since I have an amazing office, he deserves one too!

A big huge thank you to Better Homes & Gardens for sponsoring this post today.  All opinions are mine.
Decorating a Man's Office with Farmhouse Design
I think this is the part of the post where I am supposed to show you a before photo...but it is sooooo embarrassing.  So please promise that we will still be friends after I share this...ok?!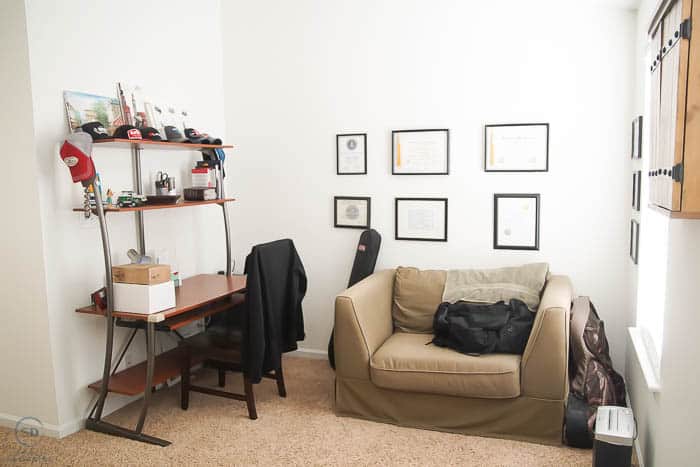 Yup...this space wasn't great.  And in all honesty, it was the most embarrassing space to show guests when they would come over and want a tour.  This office space is off of our master bedroom, but because we remodelled our master bathroom a few years ago, and everyone wants to see that, it means they inevitably see the man's office space too and it was always the place I hated everyone to see.  Plus it just wasn't pretty for me to look at either.  And in all honesty, it wasn't the most functional space either and it felt overcrowded.  It is fine, but I knew that we could make better use of this space and also make it nicer for my family to enjoy and not quite the eye-sore when guests came over too.
A few months ago, we got rid of an unused tv, a tv stand and a printer table from the man cave.  We reorganized and redesigned the space a bit and added a beautiful Modern Farmhouse TV Stand that we use as a dresser, and installed a lovely gallery wall showcasing photos my husband took above the dresser.  You can see all of the details in my Farmhouse Office Makeover Part 1 post HERE, but here is a photo of the final space so you can see where we were at with this farmhouse office makeover.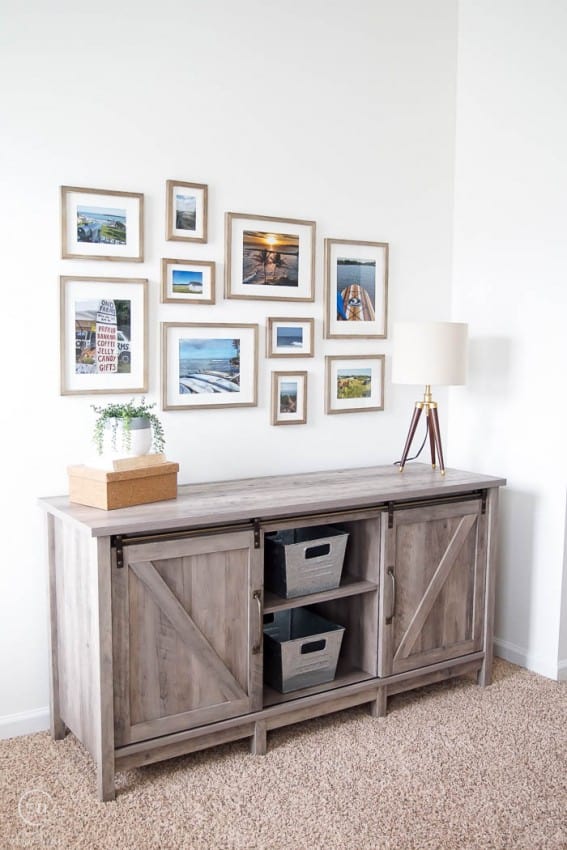 The whole rest of the space needed to be planned, designed and then pulled together in order to create a useable and pretty farmhouse office for my husband.
We knew we wanted a new farmhouse desk for my husband; something that fit the space and matched the Modern Farmhouse TV Stand we already had in the room.  I also wanted to have a masculine chair in the space because I am often in the room with my husband and I like having a comfortable place to sit, but I also wanted it to fit my husband's style.  And lastly, I really wanted to display his photos, nicknacks and hats in a nice way.  My husband loves to collect hats and any time he goes somewhere fun, he comes home with a hat, or two.  So he has a growing collection of hats from fun places we have visited and I thought it would be really fun to create a place to store them that would also be kind of fun and perfect for a man cave.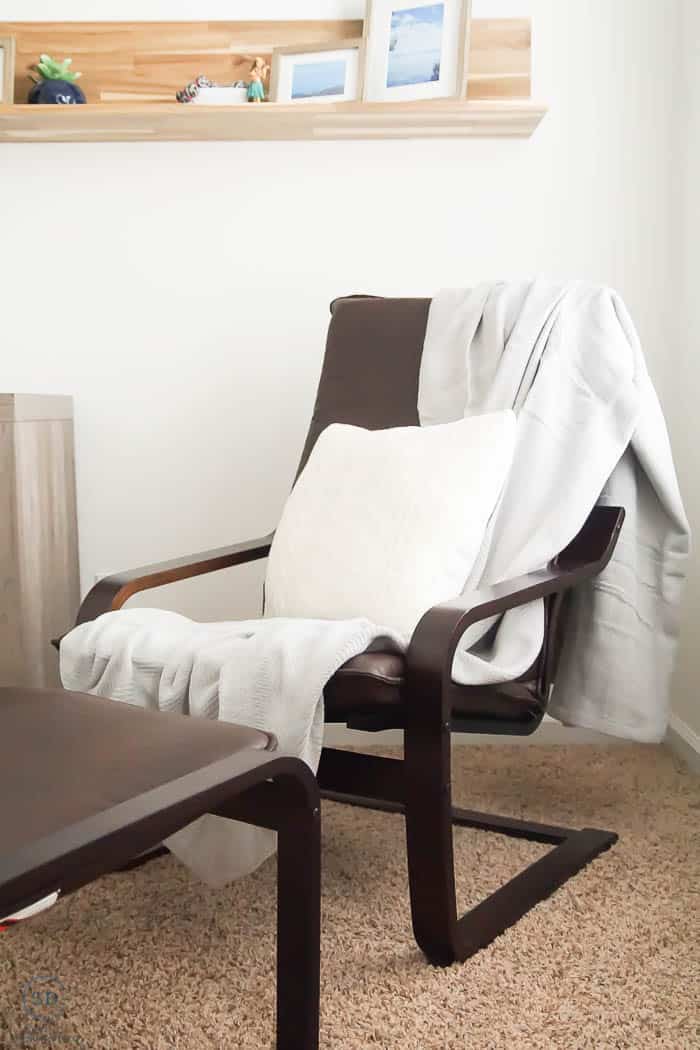 Because of how large the previous chair was in this space, and where the desk was placed, the room always felt a bit overcrowded.  I didn't love the desk on the wall that it was on because as soon as you entered the space, you felt like there was furniture right there and so it felt crowded.  By switching out the existing chair for this Better Homes & Gardens Sloane Bentwood Chair & Ottoman Set we were able to add a whole lot of style to this space and a more proportioned chair to the room which completely opened up the room!
I snagged a Better Homes & Gardens Cotton Blanket in Soft Silver and a Better Homes & Gardens Cable Knit Chainlink Throw Pillow to add to the chair for a bit of softness and comfort.  I get cold easily so I love having throws nearby to snuggle up in when it is cold outside. I love how these two things add the perfect warm and cozy, farmhouse office decor touch to the space.
 Switching out the chair enabled us to place the desk along the same wall as the chair, thus opening up the entire room and making the room feel larger, more inviting and more spacious!
Oh my, what a different properly proportioned furniture can make in a space!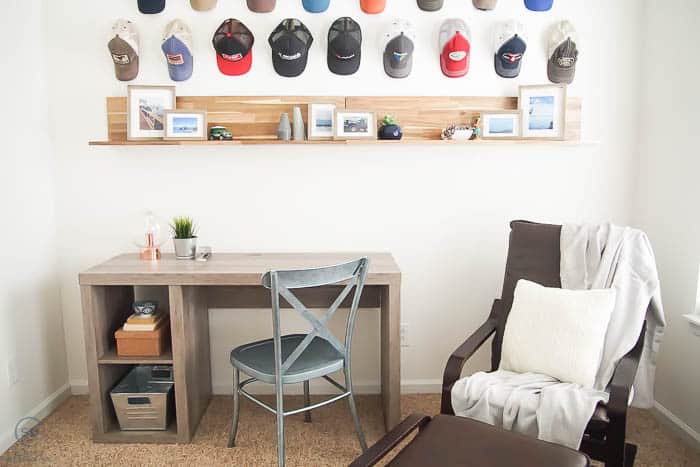 After a lot of looking, we decided that this Better Homes & Gardens Cube Organizer Desk in Rustic would be the perfect desk for space.  It has nice clean lines, is quite big (54" long) and comes in a finish that is similar to the tv stand we already had in the space!  Plus the hidden wire organization in this desk makes my organizational heart so happy!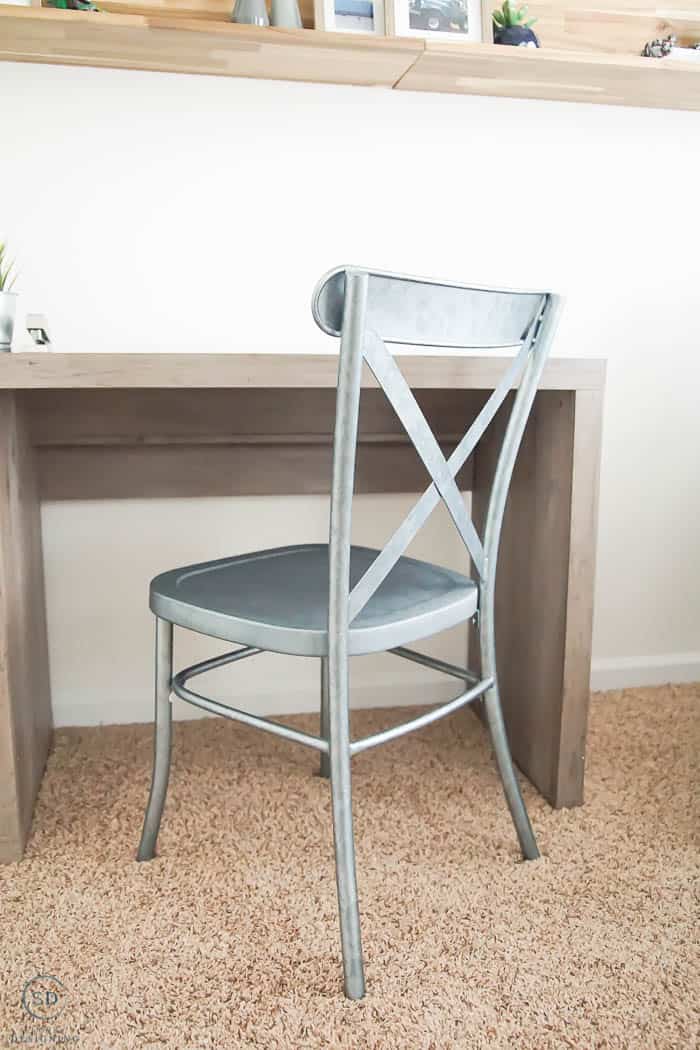 I loved my Better Homes & Gardens Collin Silver Dining Chair in Silver that I put in my front entryway so much, that I knew I needed to put one in this space too!  It is such a fun, farmhouse office chair that is masculine and stunning in the space.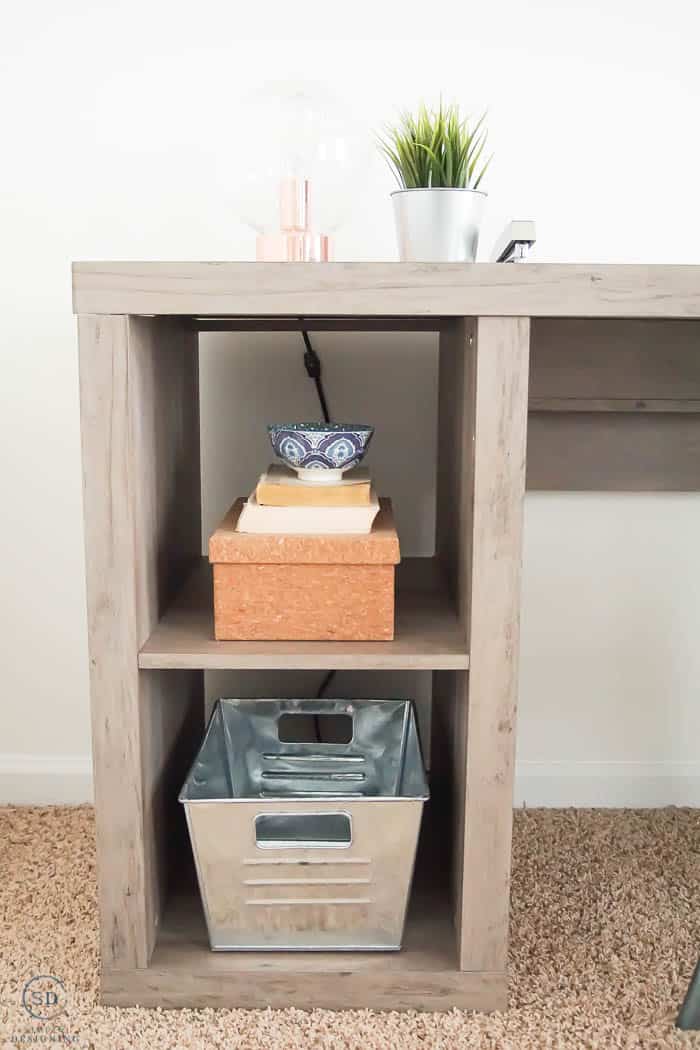 In the side of the desk, I added a Better Homes & Gardens Small Galvanized Bin to help give my husband some organizational space for things you often need at your desk but don't necessarily want out in plain site.  I love using baskets and bins to create hidden storage.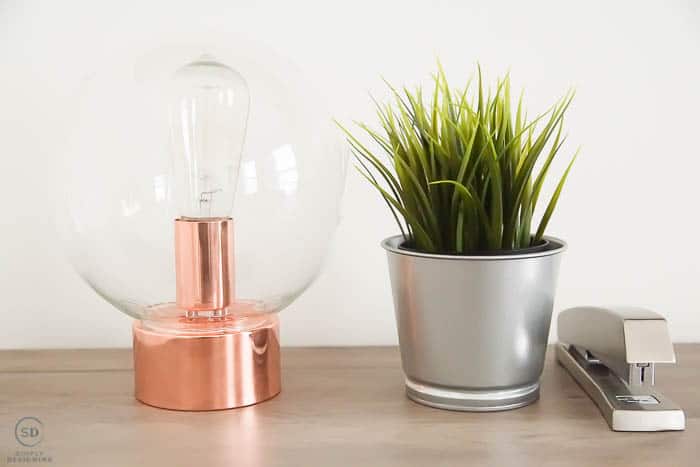 On top of the desk, we added the coolest, industrial light!  This Better Homes & Gardens Orb Bulb Accent Lamp is so stunning in person and makes a great addition to the industrial farmhouse decor thing we have going on in my husband's farmhouse office.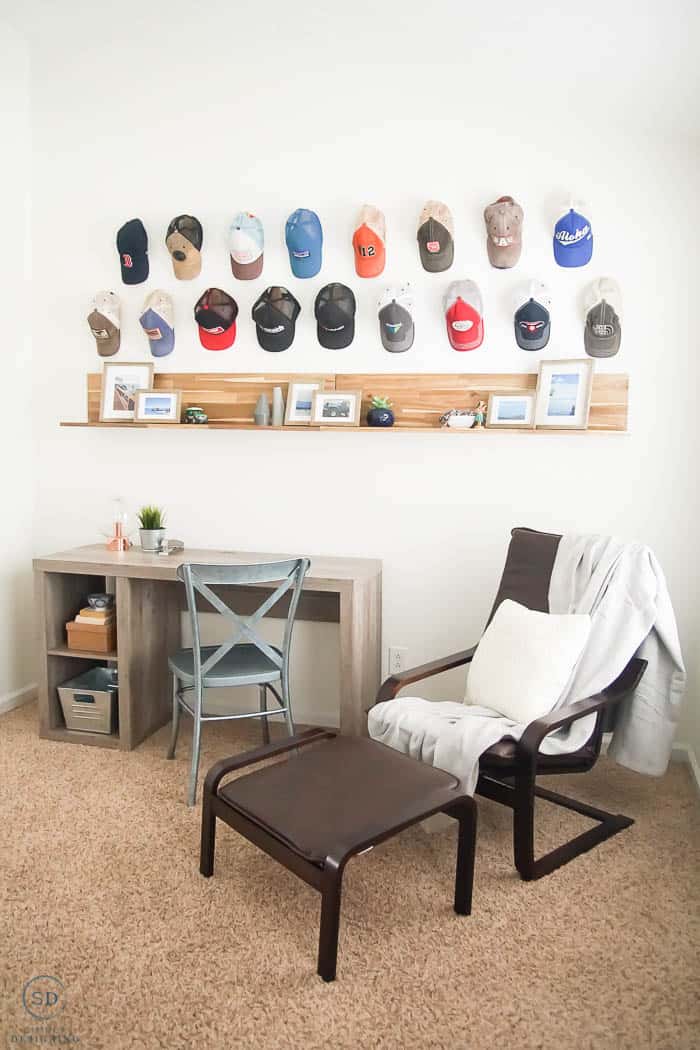 We installed a couple of shelves I already had in this space and then 17 hooks that we also already had on the wall for my husband's hats to hang on.  I love how this unique and fun decor makes this space feel so personalized.  It is such a functional and masculine office.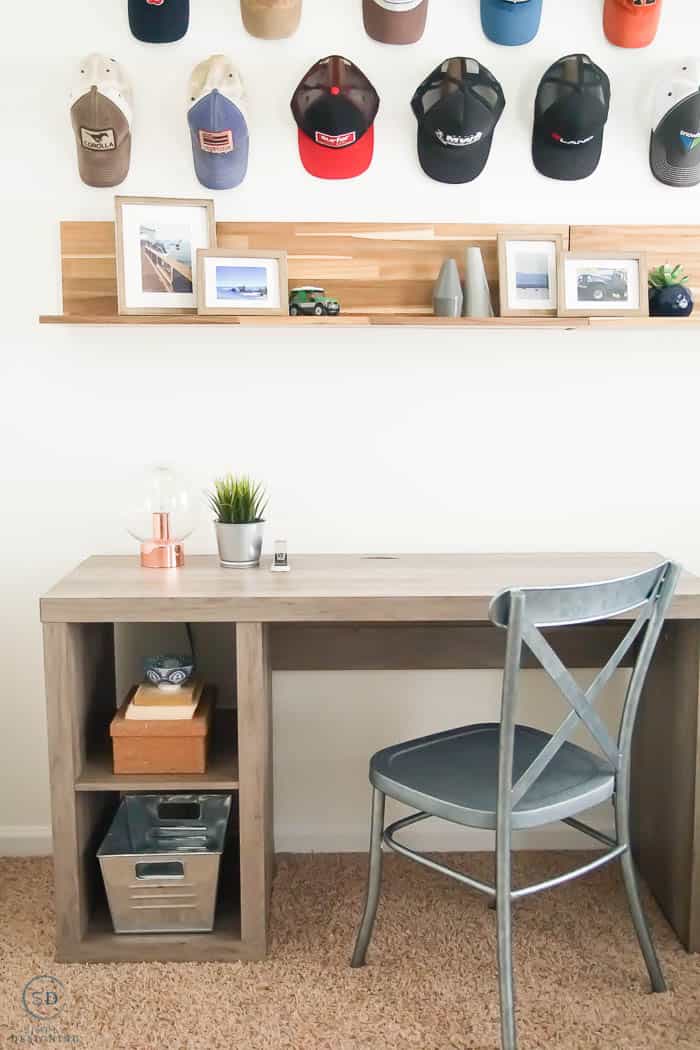 On top of the shelves, I added Better Homes & Gardens Solid Wood Picture Frames in Natural Rustic in both the 8 x 10 and 5 x 7 size.  These frames are the same frames that we used on the other side of his office space on his Gallery Wall.  We filled these frames with more photos that my husband took.  I also added a Better Homes & Gardens 5" Square Appetizer Bowl in white on the shelf to put his lei necklaces in that we got while in Hawaii.
I can't believe the transformation that this man's office space took over the last couple of months!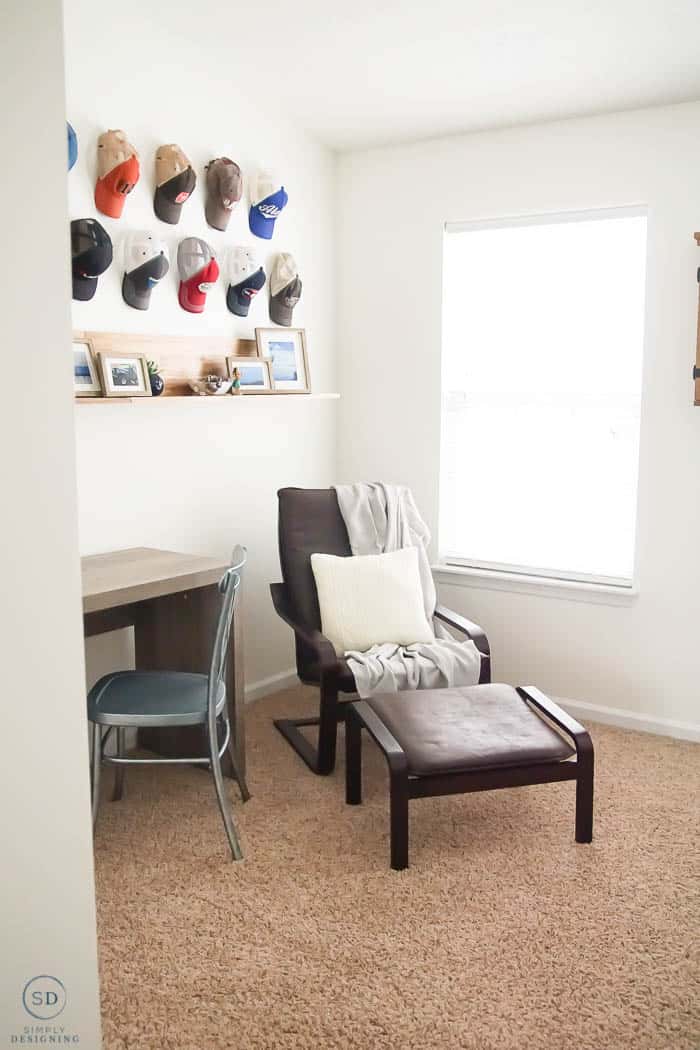 Getting farmhouse office decor, using furniture that is proportional in size to the room and then rearranging the office space made such a huge difference in how the space functions and feels.  This room now feels so much lighter and spacious and I love the farmhouse design in it!  But even more important, my husband loves it too!

YOU CAN PURCHASE THE BETTER HOMES & GARDENS ITEMS I USED IN THIS MAN'S OFFICE WITH FARMHOUSE DESIGN USING THE LINKS BELOW: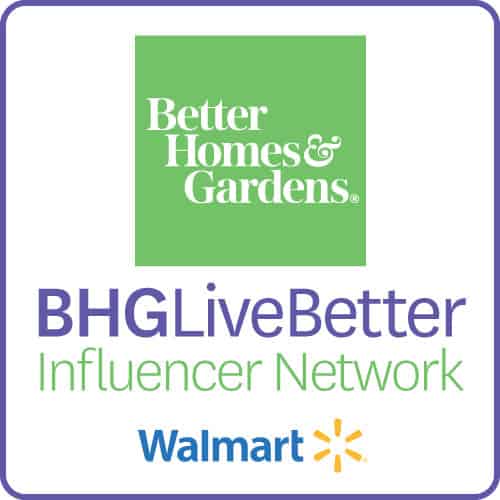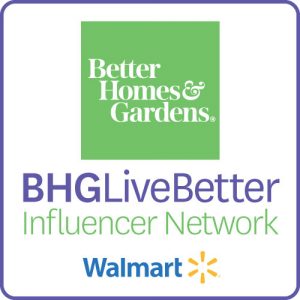 You might also enjoy these posts too:

Farmhouse Office Makeover Part 1