I am so happy that fall is here and today I am excited to share my Fall Family Room Update with you!  And if you are looking for more fall inspiration, you should definitely check out my beautiful Fall Hoop Wreath HERE.  I love how easy it is to incorporate simple touches to update your home for the fall and I love how cozy my home always feels when I do this.  This update is fairly neutral but I still think it exudes FALL!  So keep reading to check it all out.
A big thank you to Better Homes & Gardens at Walmart for sponsoring today's post.  All opinions and ideas are mine.  Affiliate links may be included in this post for your convenience.  If you make a purchase through these links, you will never pay a penny more, but I receive a small commission for it.  Thank you for supporting my blog.
Fall Family Room Update
We bought new furniture for our family room fairly recently.  We took our well-loved couch out of the room and added a fun chesterfield-inspired sofa and two beautiful chairs.
I haven't done much else to the room though besides throw a couple of pillows in there and call it good.  My kids play in this room a lot so I like to keep things simple so that clean up is easy.
However, I have really been wanting the space to feel more warm and cozy and I needed a coffee table in there badly!  So I decided to finally tackle this space, give it a fall, warm and cozy feel, while still keeping it kid-friendly and neutral because neutral makes my soul happy.
This is what the space looked like before.  You guys, this is so embarassing.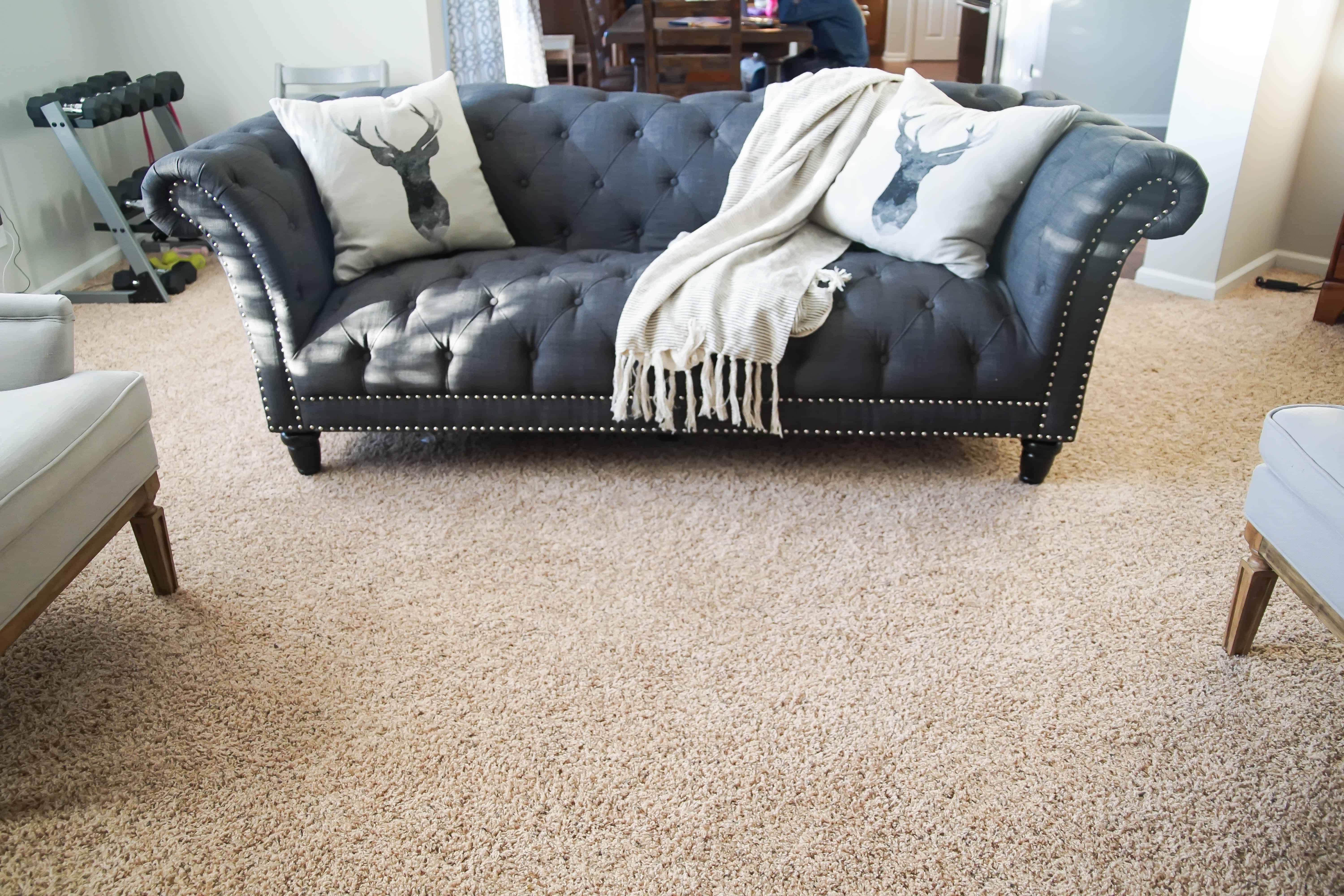 This is what the space looks like, every day, except most days you can find a few more toys scattered around the room.  Not at all inspiring, I know.
When I think of fall I think of cozy blankets and lots of pillows.  I want a comfy place to snuggle up with a cup of hot cocoa and good book.
So I set about to transform my space into a warm and cozy spot.  Isn't the after incredible?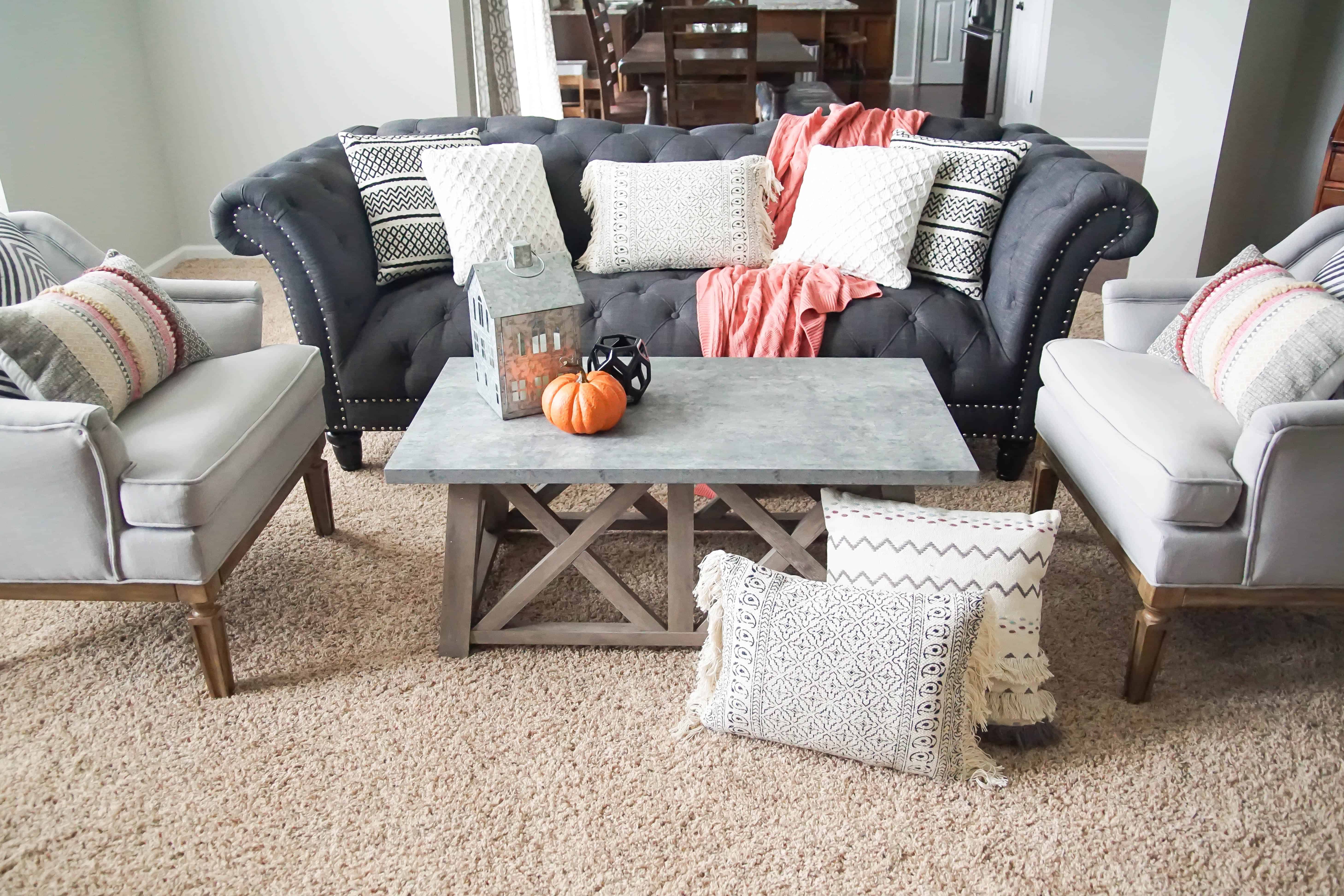 What do you need to do a fall family room update of your own?
I decided to add more pillows to my couch, a fall-colored throw, a coffee table and some coffee table decor to make my family room a little more inviting.  Let me walk you through everything...
I began by adding a coffee table to our family room.  We have really been missing a place to rest our feet and the room is just not complete without one.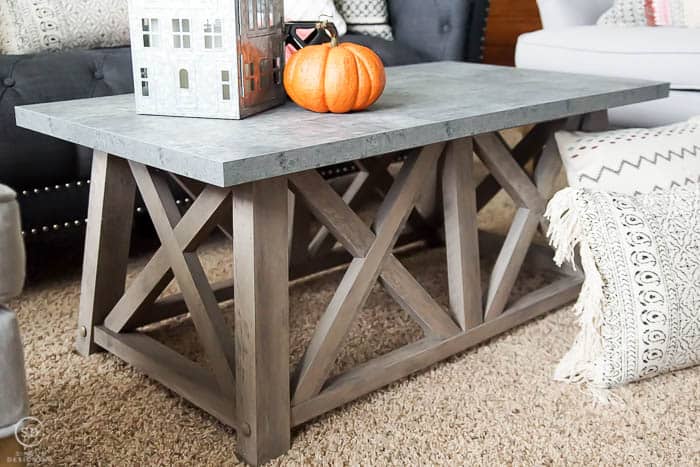 I chose this Granary Modern Farmhouse Coffee Table in Rustic Gray from Better Homes & Gardens sold exclusively at Walmart.  When it arrived, it took my husband and me just a few minutes to put it together!
It has a fun concrete-look top and a rustic wood-look base.  It is a fun addition to the room and my family was instantly excited to have a coffee table in the family room.
With a coffee table in place, I felt like I could finally decorate it for fall in here!  Woot woot!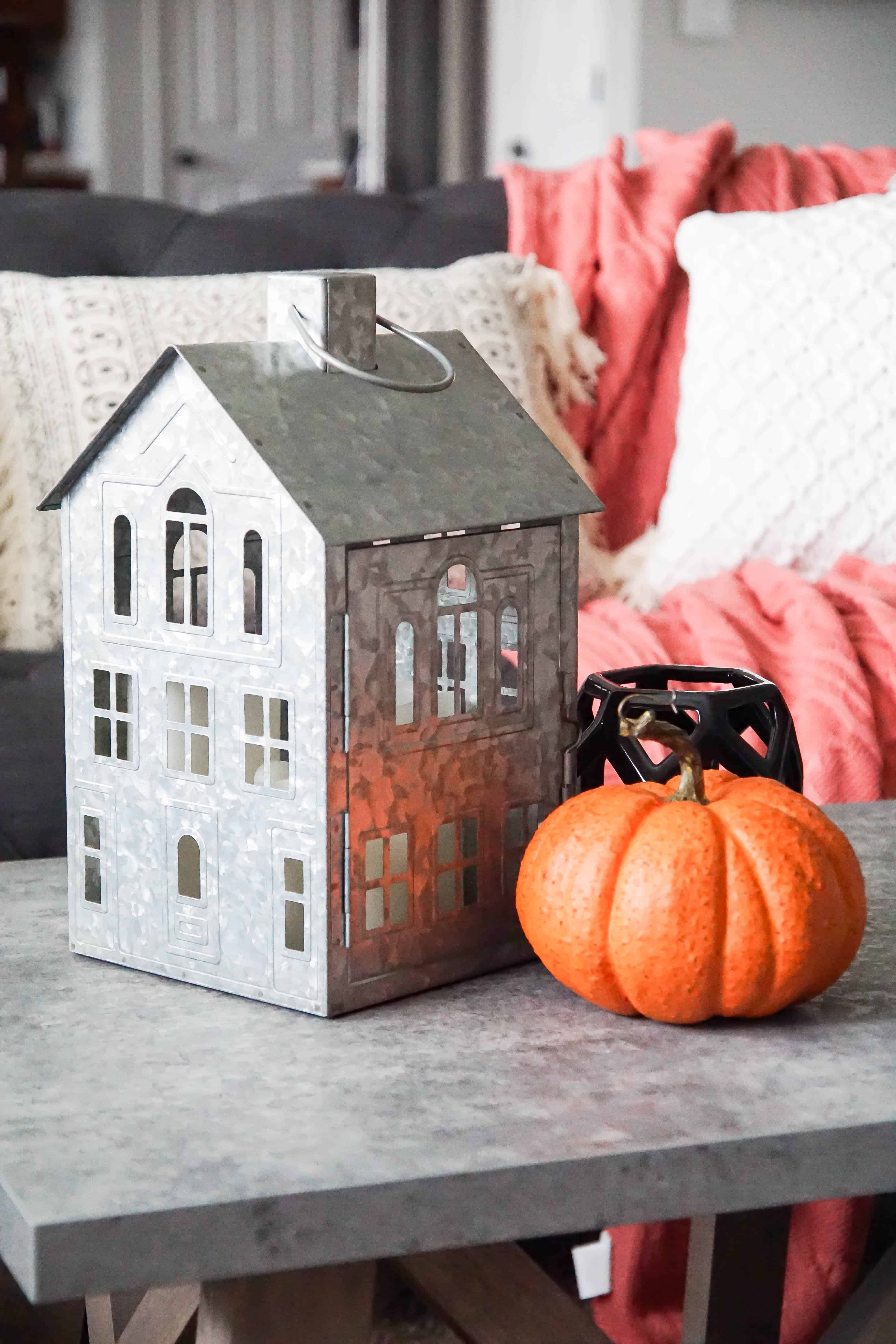 I absolutely fell in love with this Galvanized House Candle Holder and knew it would be so fun on the coffee table.  I think the beautiful lighted metal home adds such a warm and cozy touch to the family room, perfect for the fall.
Because I don't burn candles in my home, I snagged these Flameless LED Pillar Candles to put inside instead.  They add the most inviting light to the metal house and add to the fall feel of the room, especially at night when I turn them on.
I placed a faux pumpkin that my littlest picked out at the craft store on the coffee table along with a Ceramic Geometric Votive Candle Holder in Black.  This adds the perfect pop of color along with a grounding black geometric vase to the coffee table.
I love how these simple touches on my coffee table help to make the space look decorated for fall!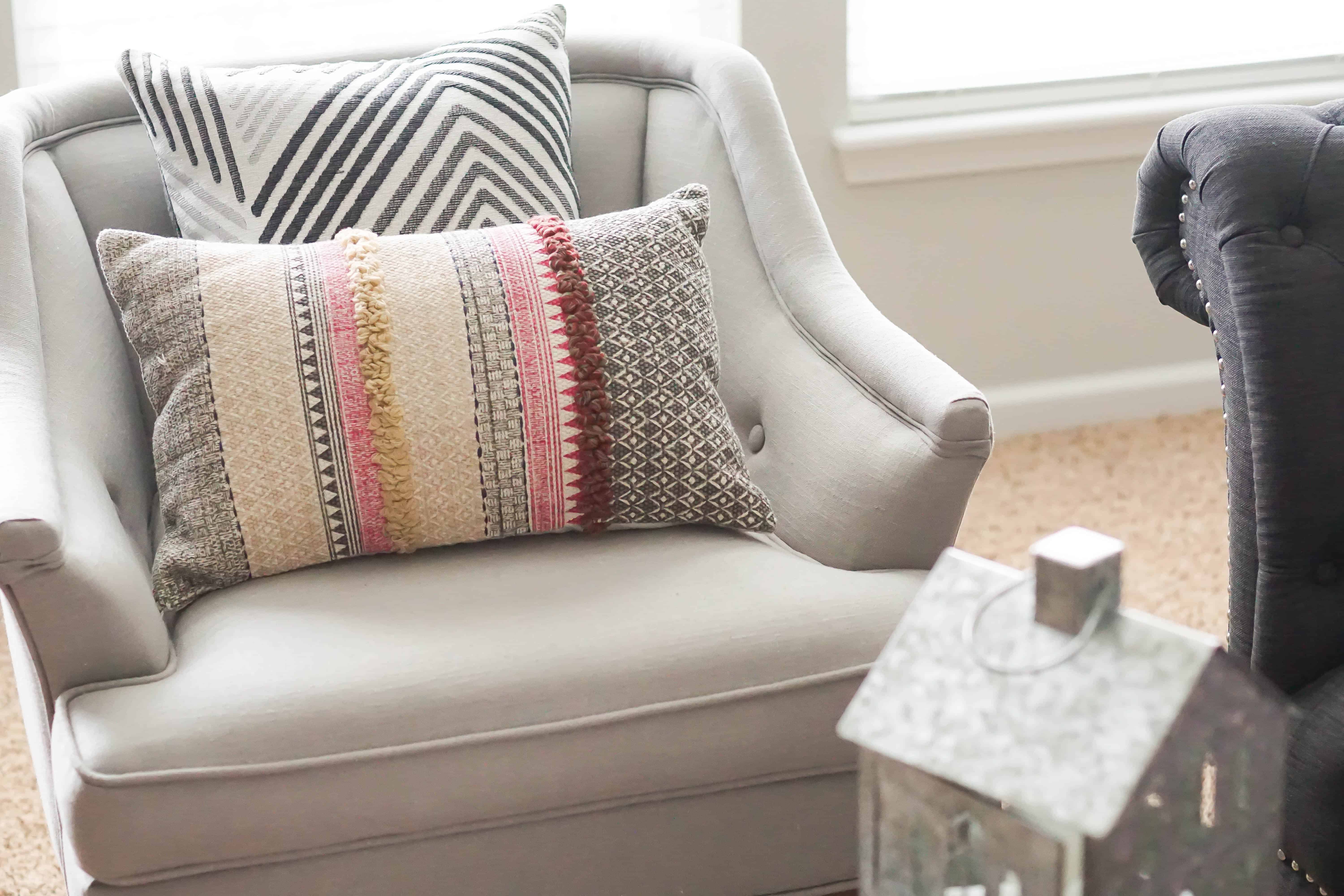 For the grey chairs, I kept the pillows I currently had on them but decided to layer a second pillow with it.  I chose these Chevron Decorative Throw Pillows because I love the clean lines and simple colors.  But the second layer of pillows adds dimension and luxury to the chairs.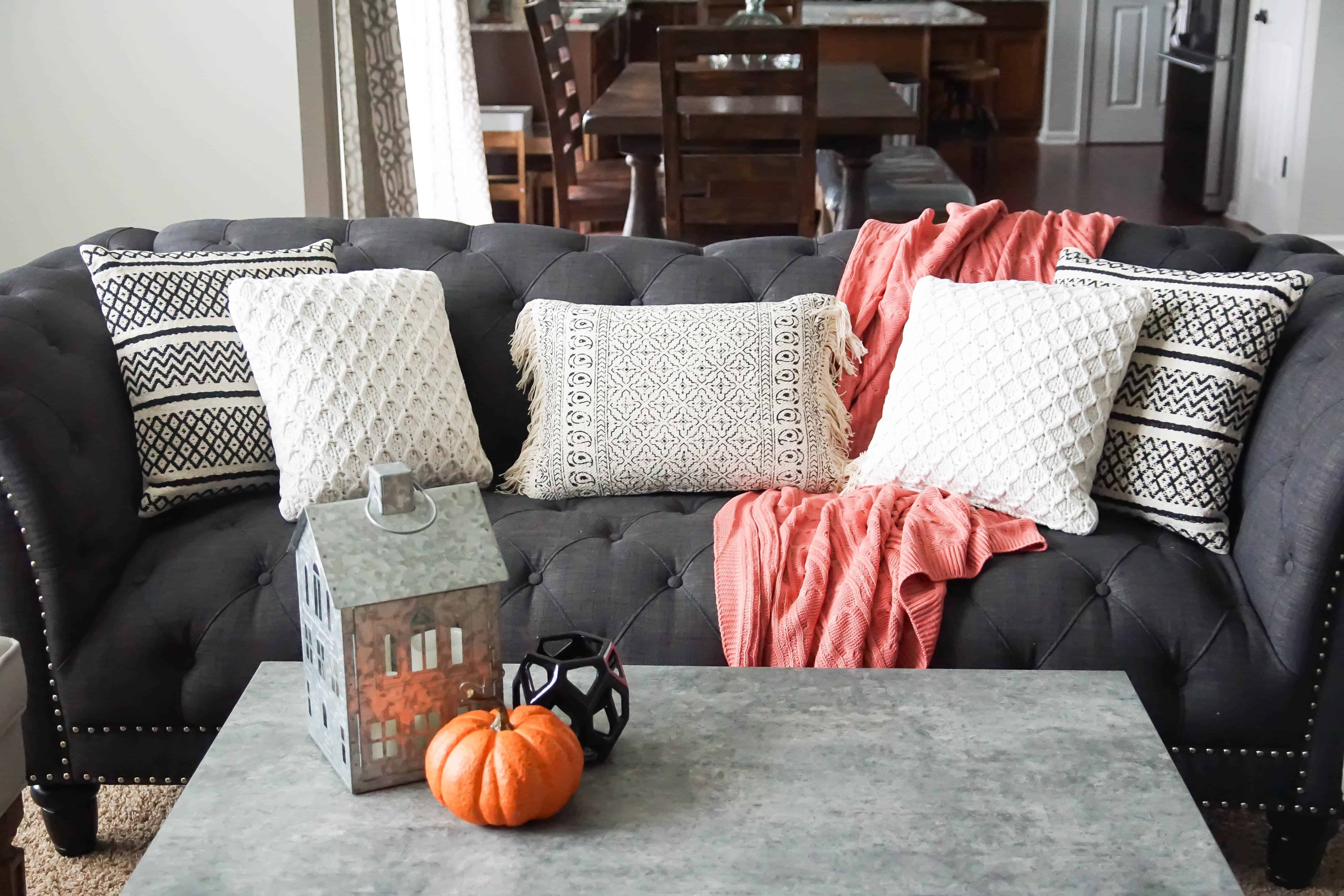 To my sofa, I added two Striped Chevron Diamond Decorative Pillows, two Sweater Knit Decorative Throw Pillows and one Block Print Decorative Pillow.  This makes my couch feel so much more complete, and it looks super comfy and cozy.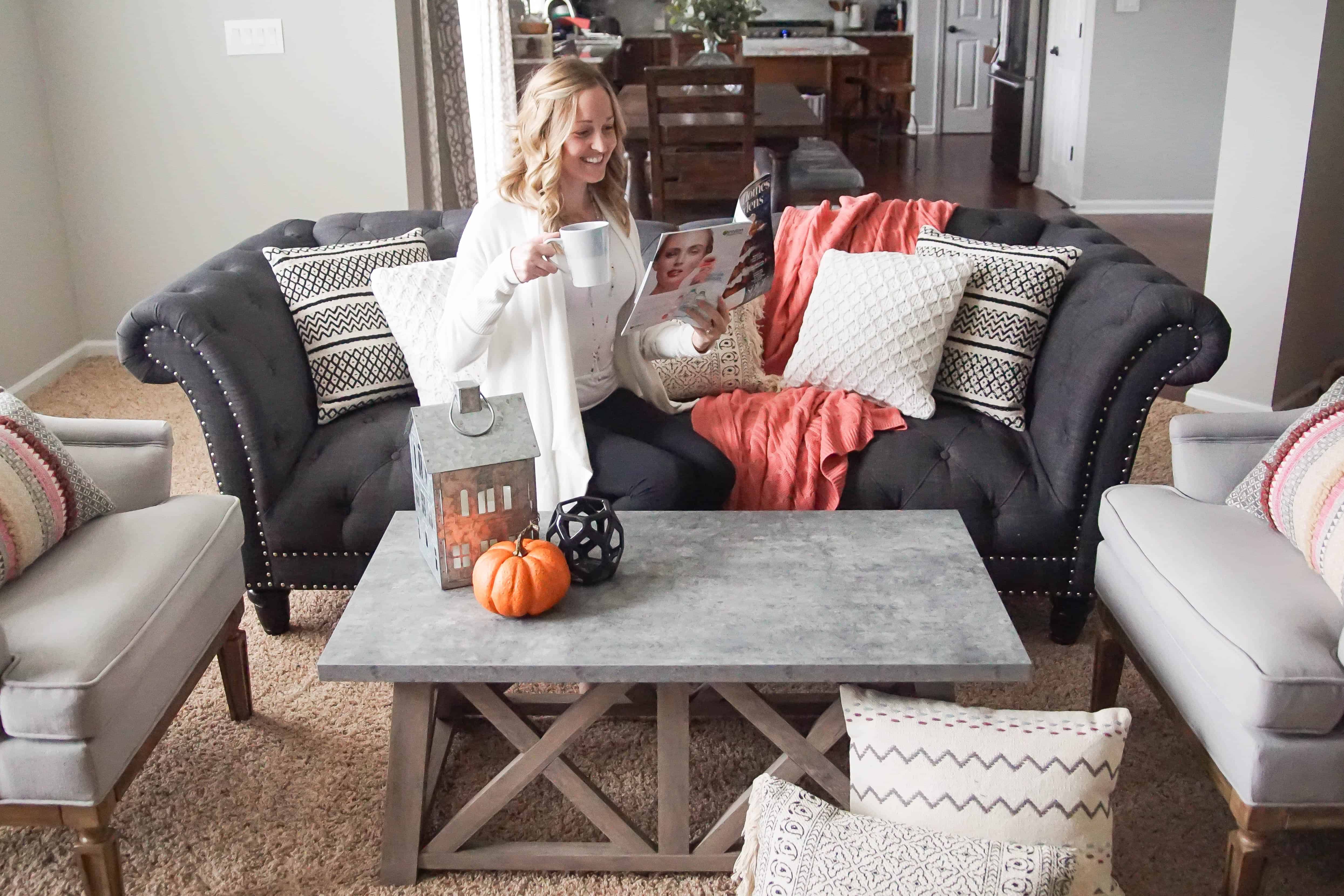 I just love snuggling in between these pillows with a good book and hot cocoa in hand.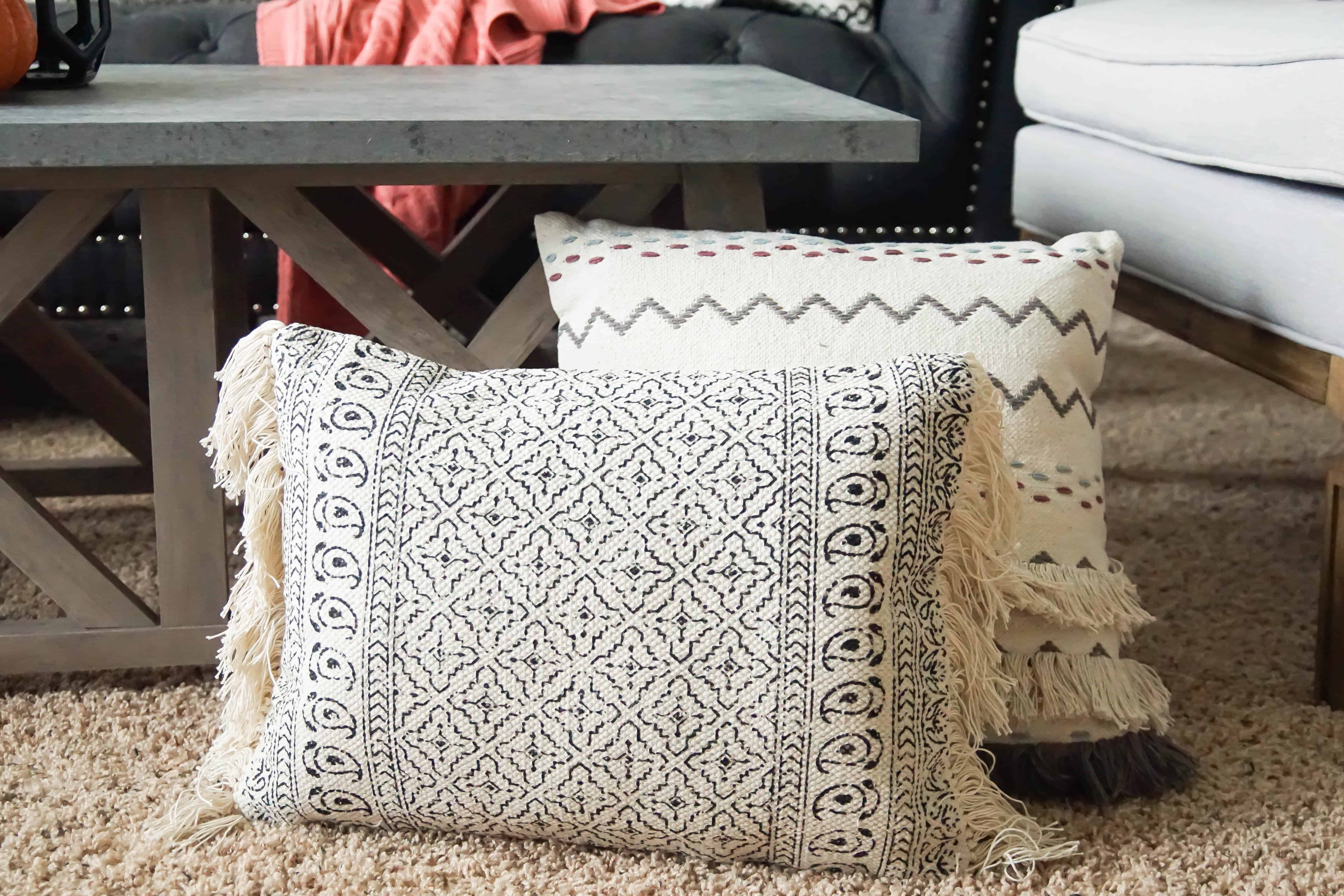 My kids LOVE to sit on pillow on the floor or use pillows under their feet so I try to keep extra pillows on hand.  I added a San Pablo Chevron Decorative Pillow and a Block Print Decorative Pillow to the floor so we would always have a few extra pillows close by.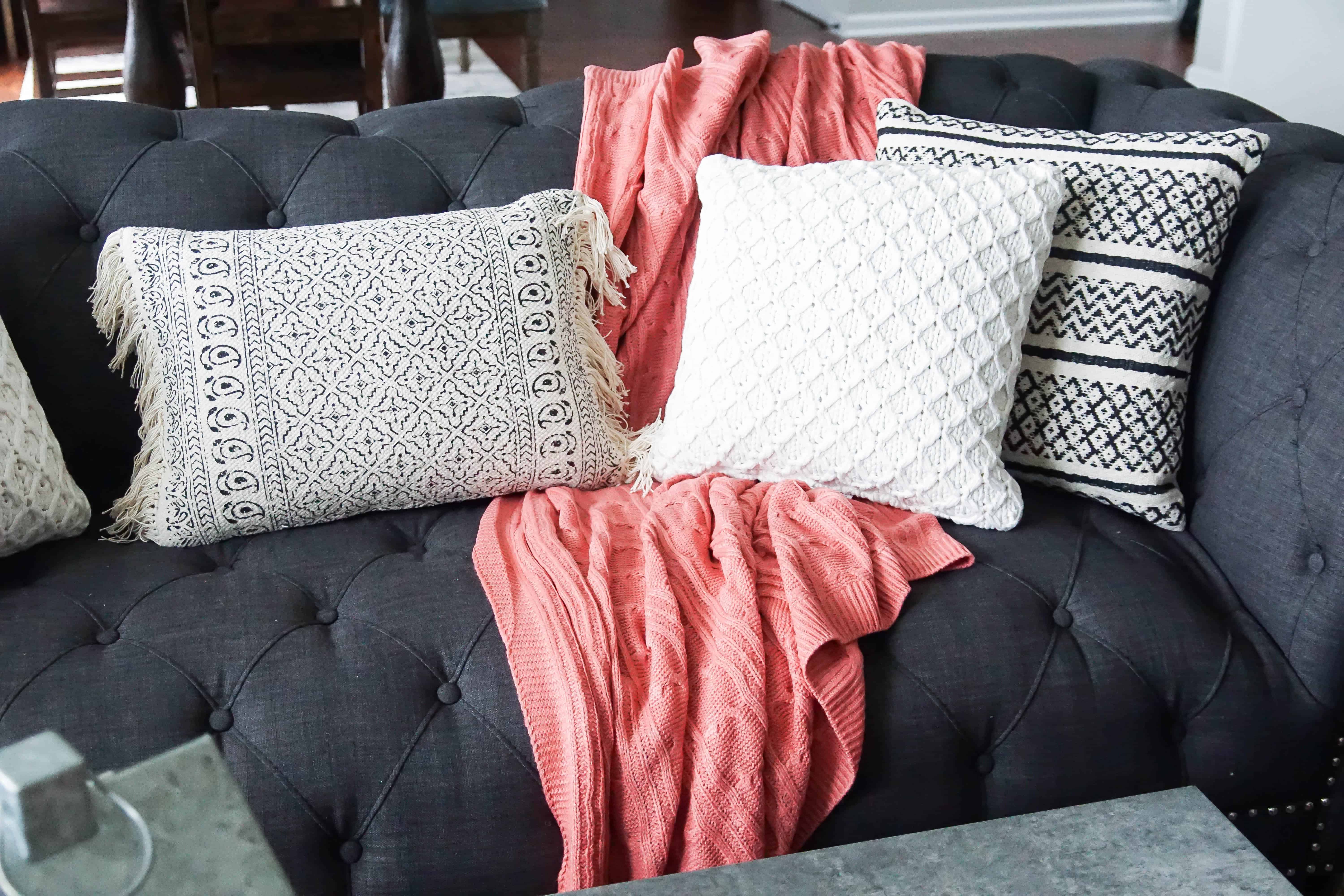 And of course, I found the perfect fall throw blanket for my couch.  I love this beautiful fall coral color and the knitted sweater texture, this Coral Cable Knit Throw is truly a beauty and a great fall addition to my cozy family room.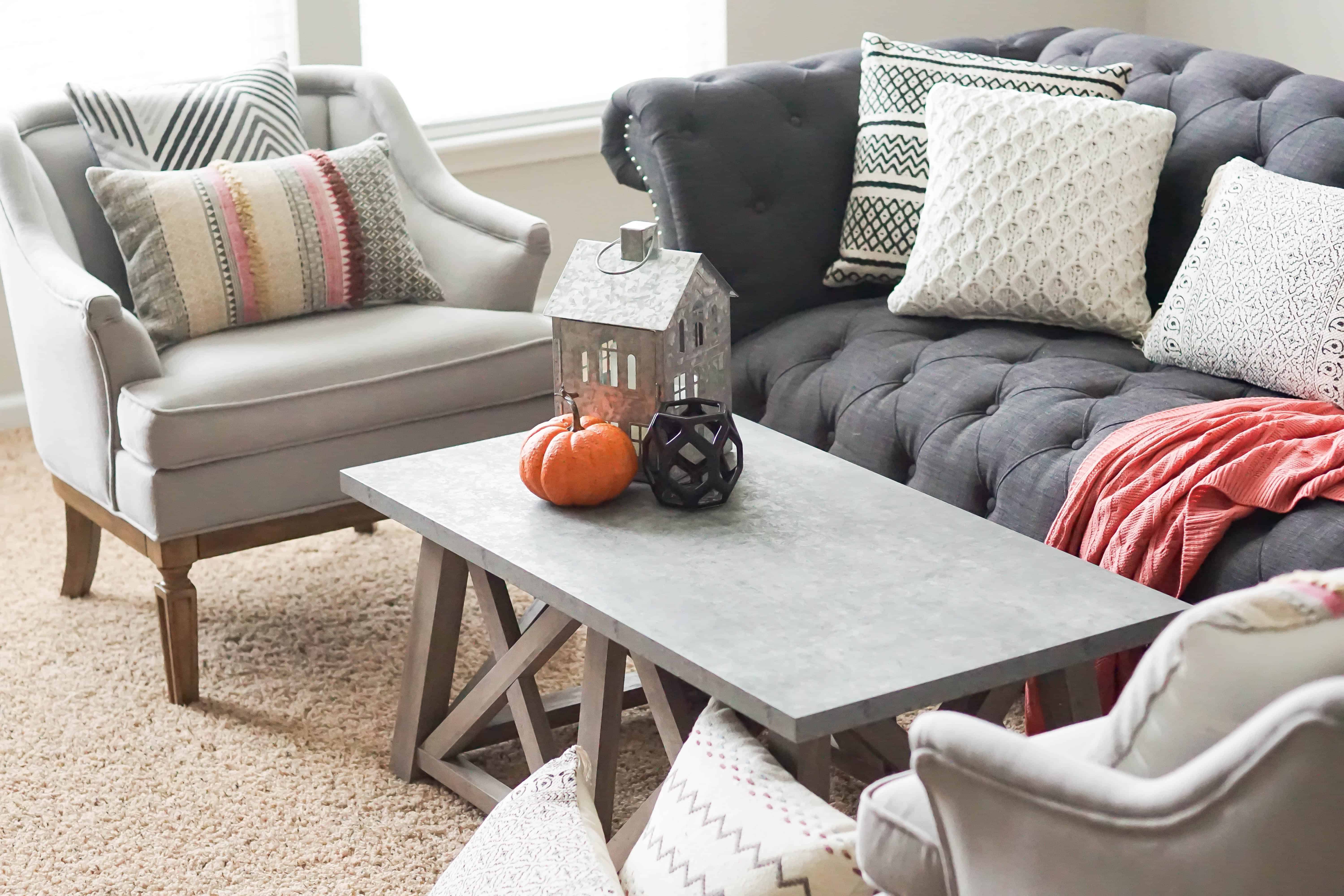 Goodness, I love how inviting and cozy this space feels now.  And with the few warm touches of color it feels just like fall and this fall family room update makes me oh-so-happy!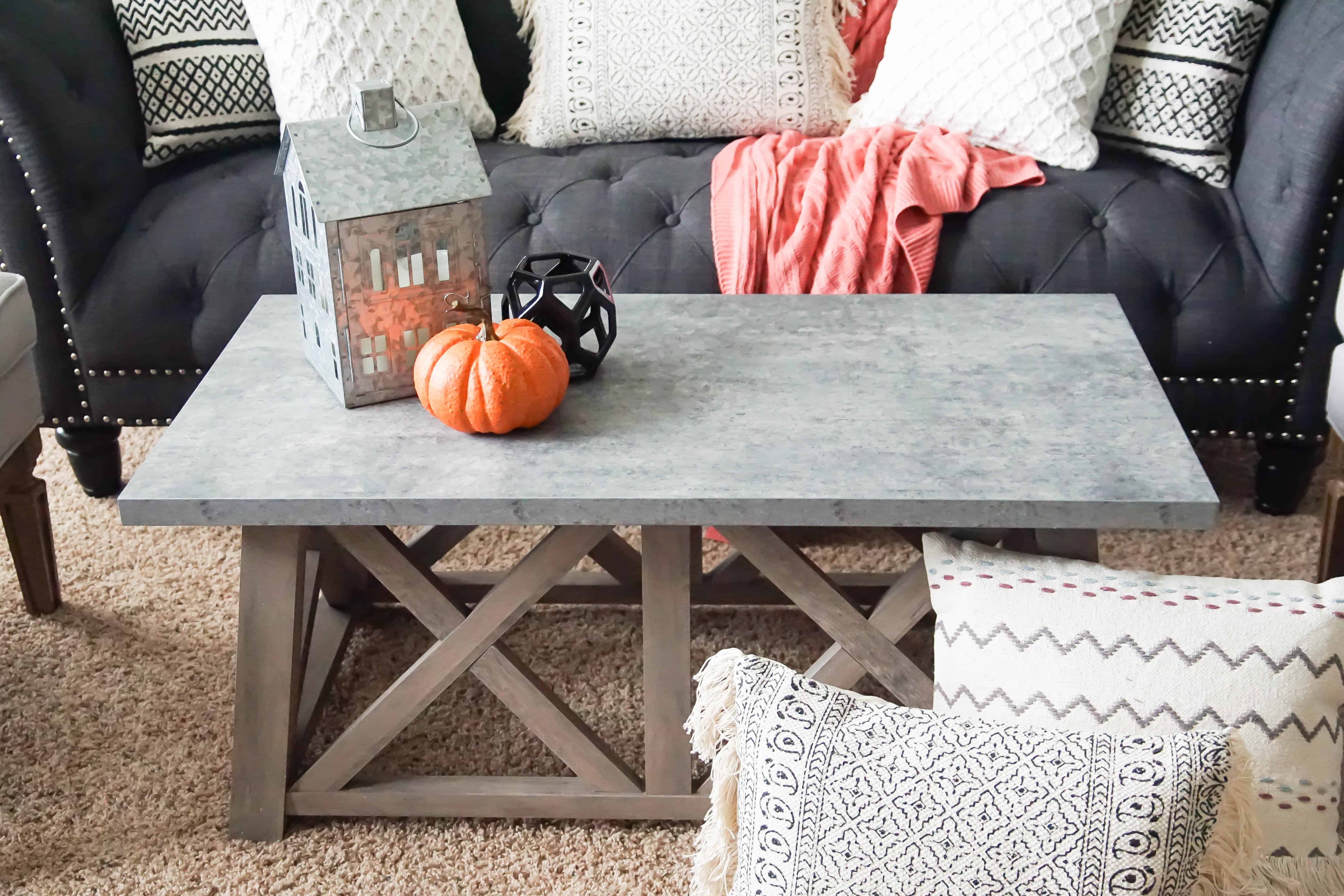 And the best part about this update is that it was totally affordable!  I am sharing my shopping list complete with links and prices below.
Shop this fall family room update:
If you like this fall family room update, you might also enjoy these posts: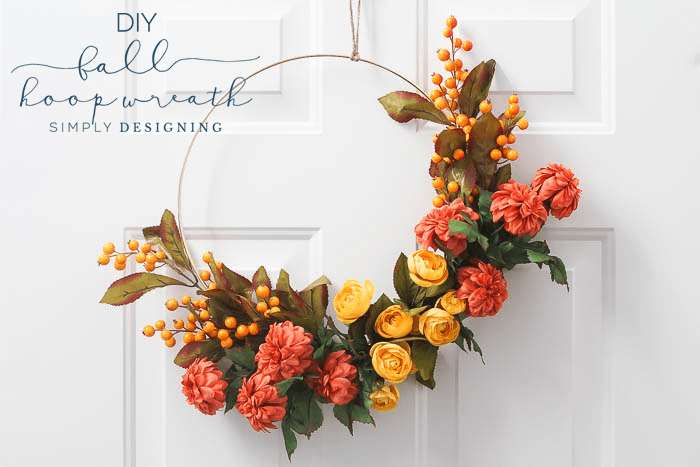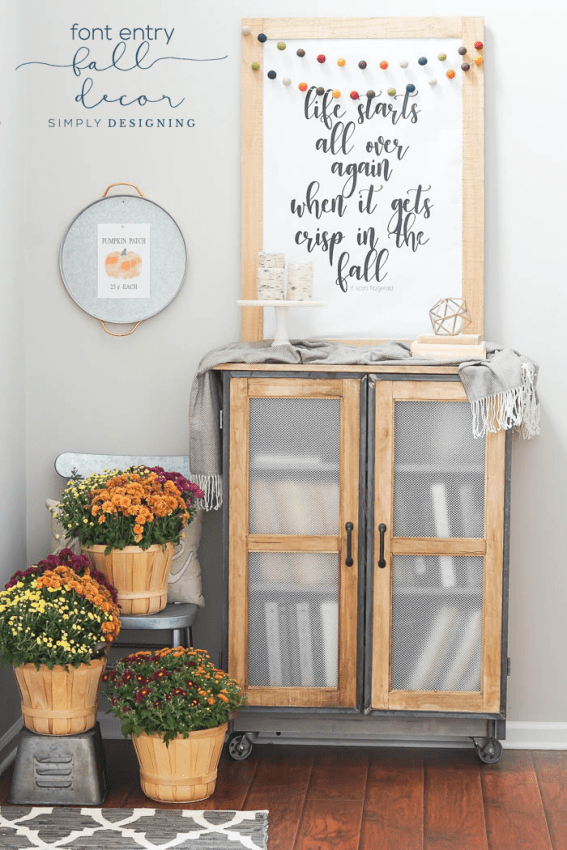 Fall Front Entry Decor and Free Fall Print