I always say that my husband's office is where all of our old college furniture went to die.  My husband is so sweet and has never ever complained.  But since his office is attached to our bedroom, and we have been working hard to make-over our bedroom, I thought it was time to do a little updating updating in there!  Besides being the home of all our old college furniture, it was also the room where all the random office supplies got stashed and where all the electronics were stored and charged every night.  It was a hodge podge of furniture and things really.  We had an old tv in there we never use, a printer that really should be moved downstairs, too much furniture and also, too many office supplies that we really needed to either get rid of (like old programs we don't use anymore) or organize.  But we also had a lot of good stuff we just needed to organize!  We are not done with our farmhouse office makeover yet, but we were able to make some really good progress so today I am thrilled to be able to share that with you!

A big huge thank you to Better Homes & Gardens for sponsoring this post today.  All opinions are mine.
Farmhouse Office Makeover : Part 1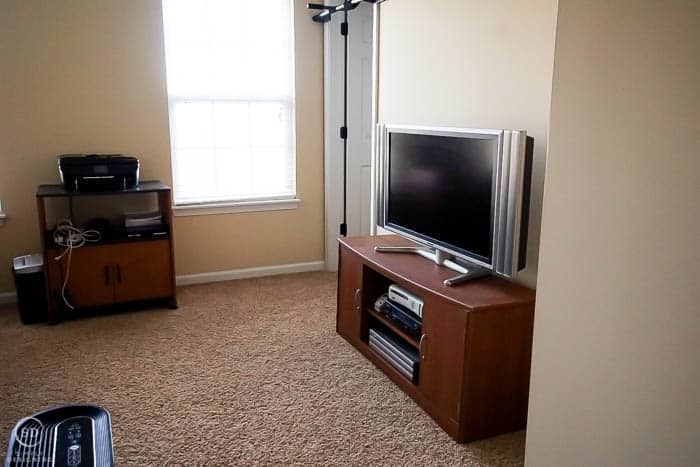 This is what two of the walls in my husband's office used to look like.  Very uninspiring.  Slightly embarrassing actually.  Nothing on the walls.  Old cheap furniture.  No real look...just stuff in a room.  We ALL have a space like this, am I right?  (I am not going to show you the rest of the office yet because it is still a work in progress!  I will show it to you when we have that side finished.)
So the first thing we needed to do was to get those two pieces of furniture out of the space completely!  Move the printer downstairs, get rid of the tv and go through a lot of random office supplies and old CDs.
After we moved all of that out of the space, we got working on refreshing the space!  I decided to repaint the room using the same white paint I used in our bedroom (Sherwin Williams Alabaster) since these spaces are connected.  I am always amazed at what a fresh coat of paint can do to a space!  It lightened, brightened and completely modernized the space!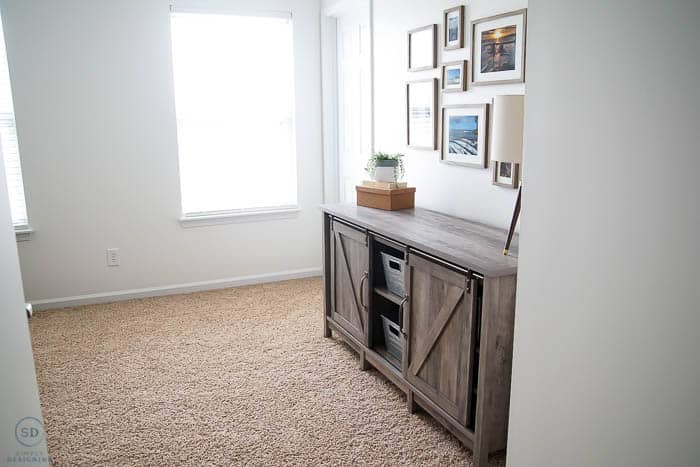 Then we brought in one, more proportionally sized piece of farmhouse furniture into the room.  We assembled the Better Homes & Gardens Modern Farmhouse TV Stand in a Rustic Gray Finish and put it against the rather large wall in the office space.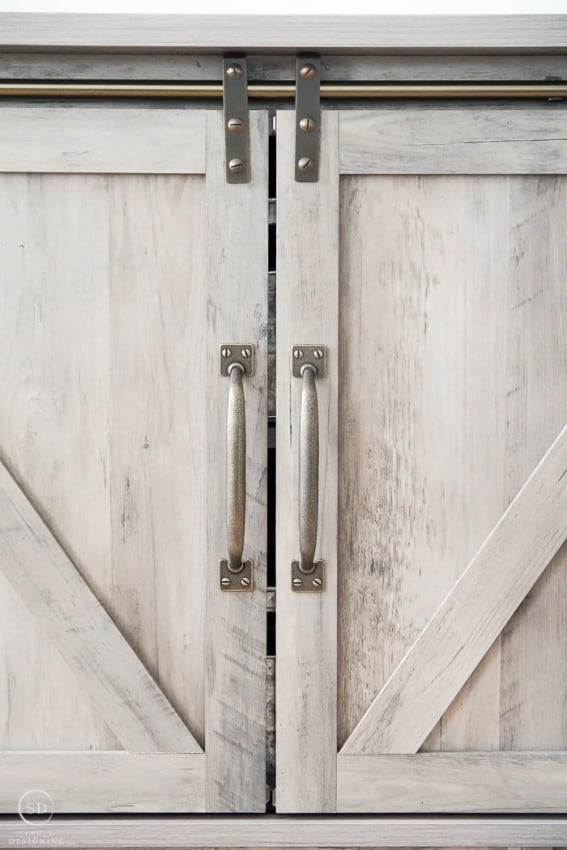 Aren't these barn doors on the cabinet just delicious!?
We didn't intend to use it as a tv stand though as we don't watch tv in there, but it was the perfect size piece for the space and has lots of fantastic storage in it!  It really is a great farmhouse cabinet!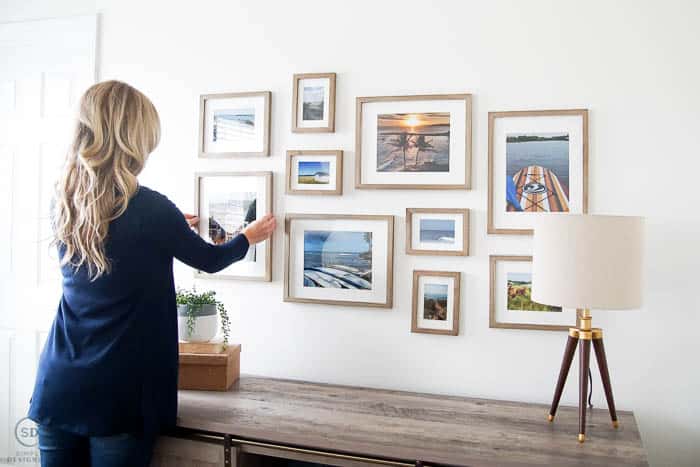 I created a gallery wall above the farmhouse cabinet using Better Homes & Gardens Natural Rustic Frames in a variety of sizes: 11 x 14, 8 x 10 and 5 x 7.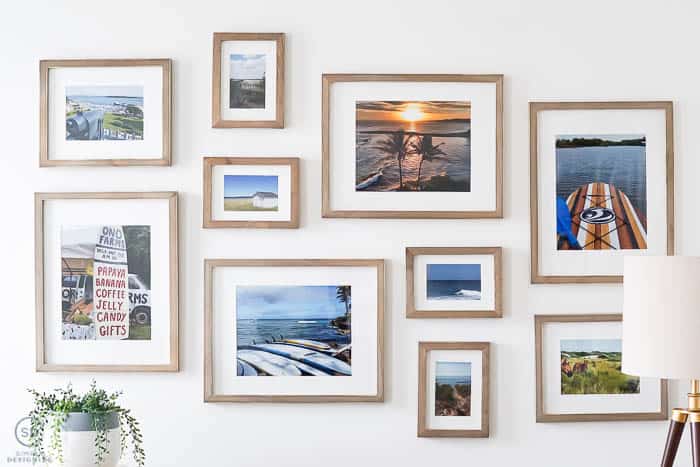 The frames come with a white mat in them and so we printed photos that my husband took on our various trips, put them into the frames and hung them up!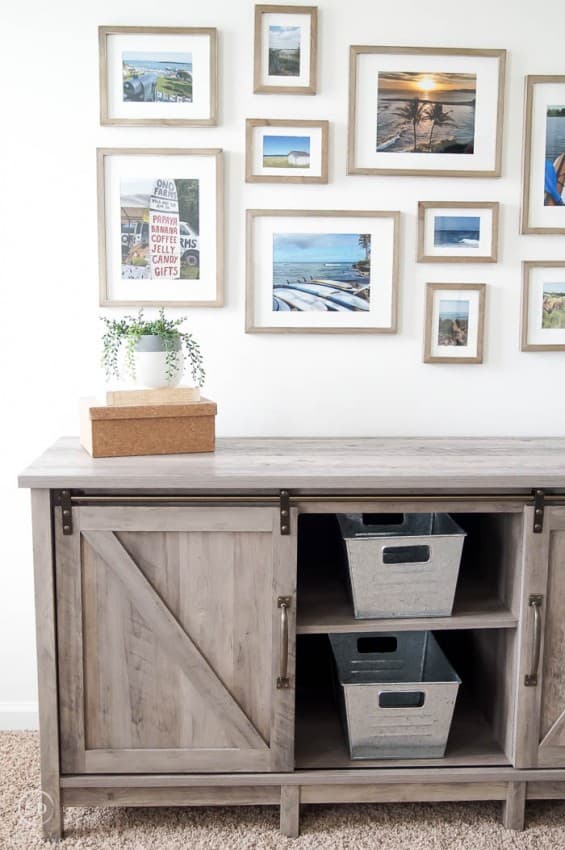 I love that we were able to fill this large wall with beautiful photos that have meaning and sentimental value to my husband and to our family.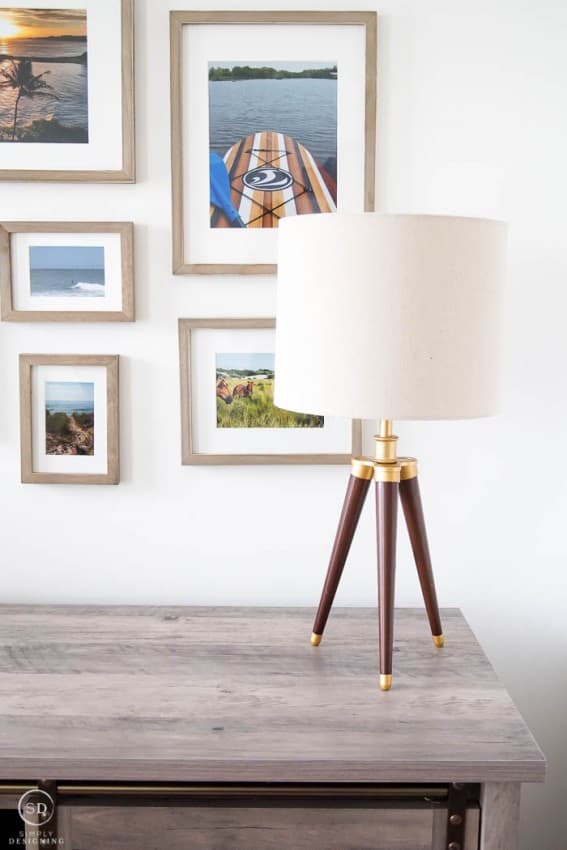 We added the Better Homes & Gardens Tripod Table Lamp to one end of the cabinet.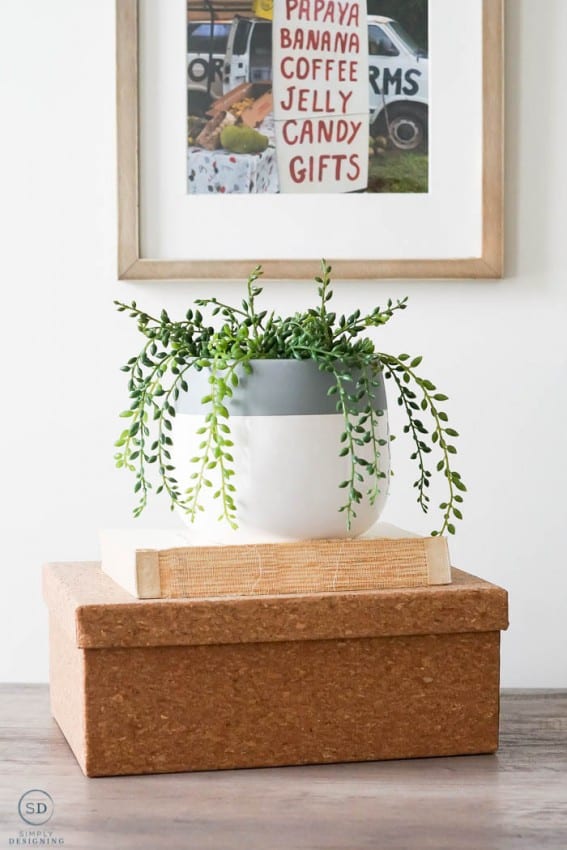 And a few home decor items I already had on hand to the other end.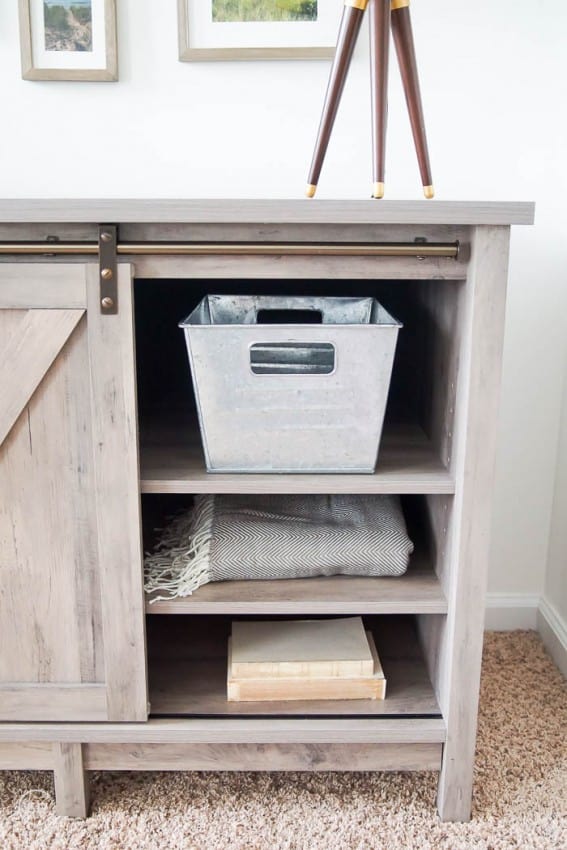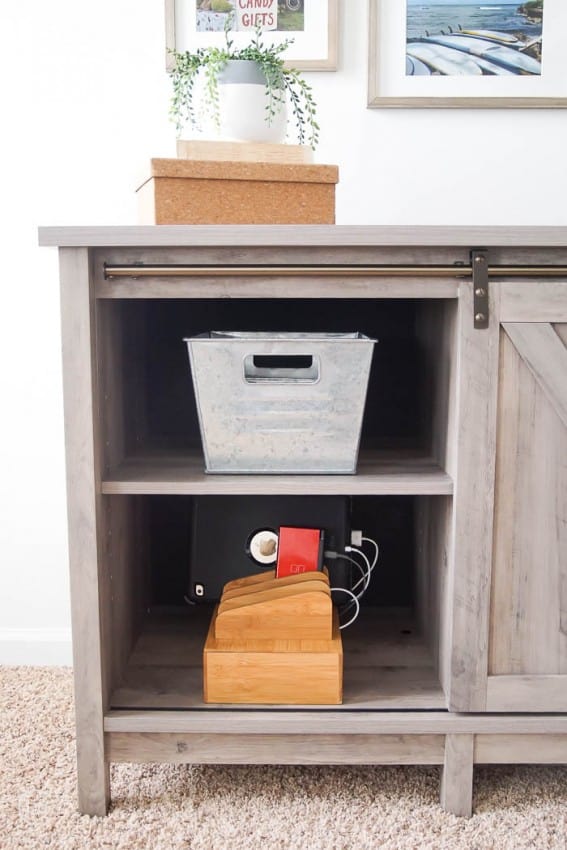 Inside the farmhouse cabinet I added 4 small Galvanized Bins from Better Homes & Gardens, a beautiful woven fringe throw, a few more decor items I had on hand and a charging station for all of our electronics!  Inside the bins we organized the office supplies that we actually need and use and got rid of the rest.  I always love a good purge!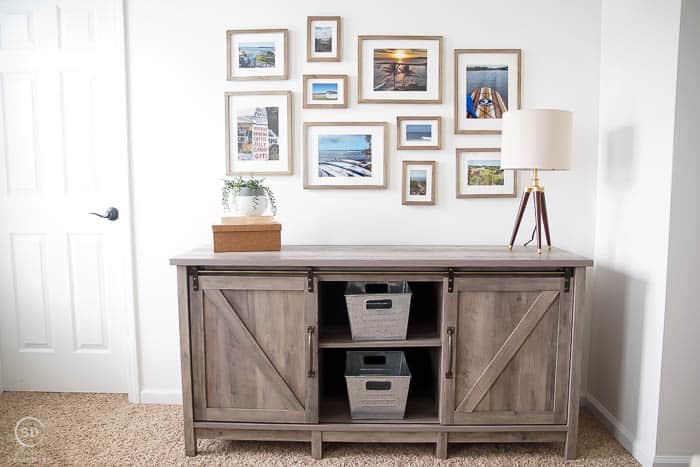 I love that (at least a portion of) his office is now organized, beautiful and ready to handle the range of duties this space fulfills!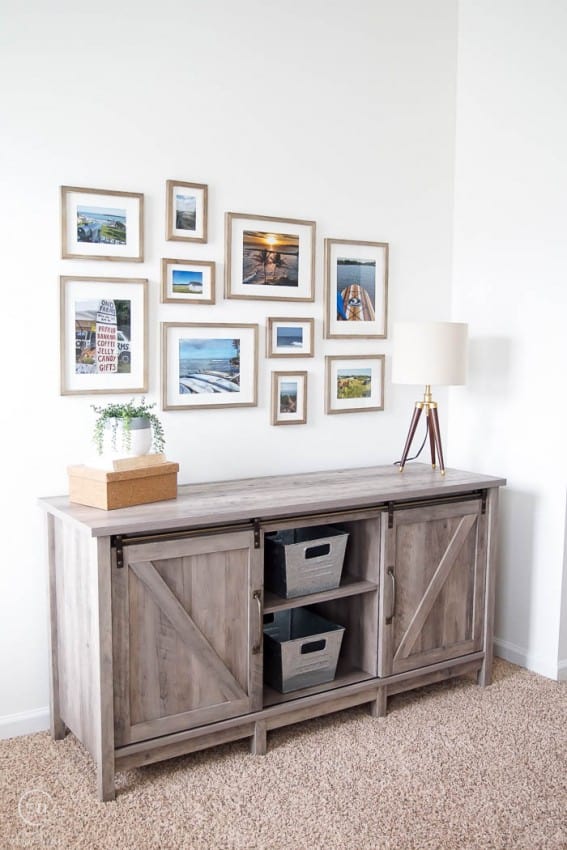 From doing homework, to needing pencils and scissors, this space is much more ready to handle both back to school needs and just every day bill paying too.  And I really love how this piece of furniture, gallery wall and accessories add so much style to this farmhouse office makeover.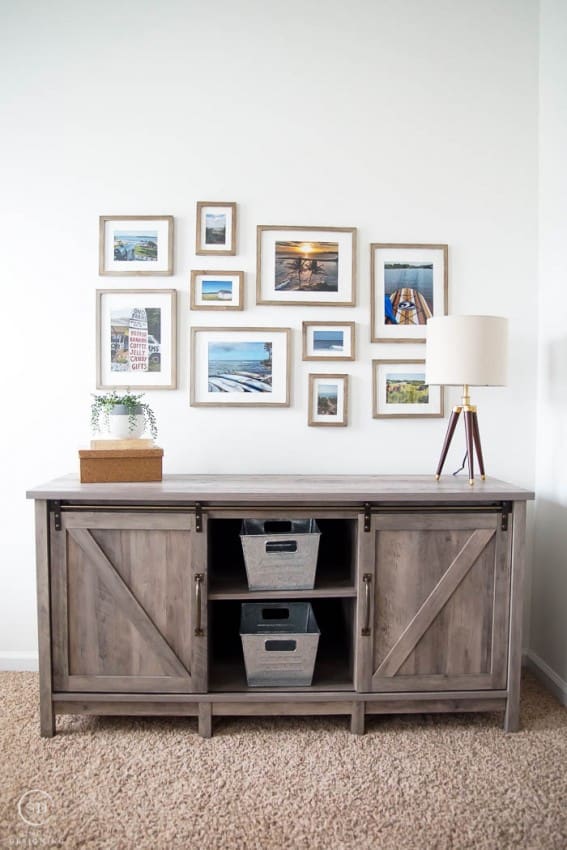 You can purchase the Better Homes & Gardens items I used in this farmhouse office using the links below:
And because I know someone will ask, I snagged this Charging Station for our Electronics from HERE.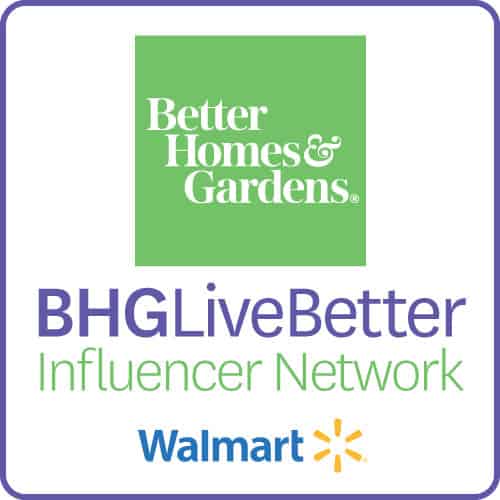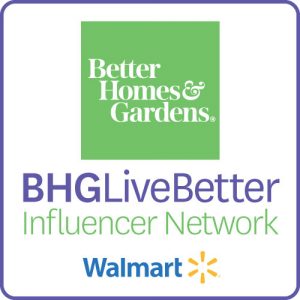 Check out these other post using Better Homes & Gardens products too from a few of my favorite bloggers: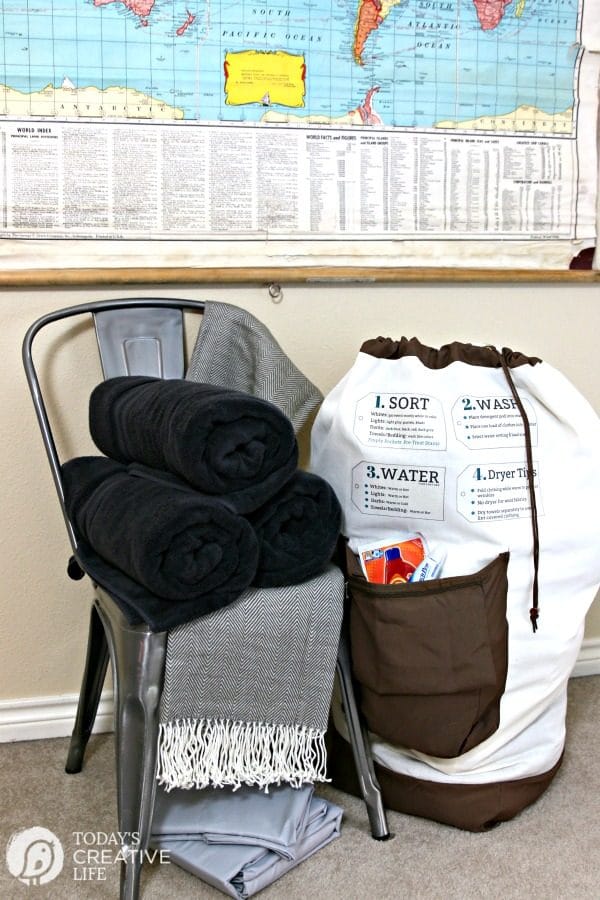 Dorm Room Essentials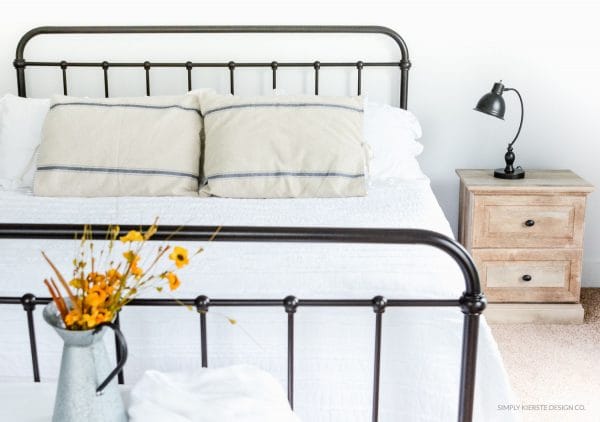 Farmhouse Bedroom Decorating Ideas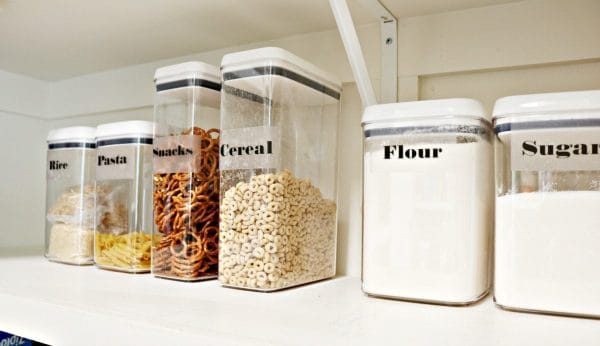 Easy Organized Pantry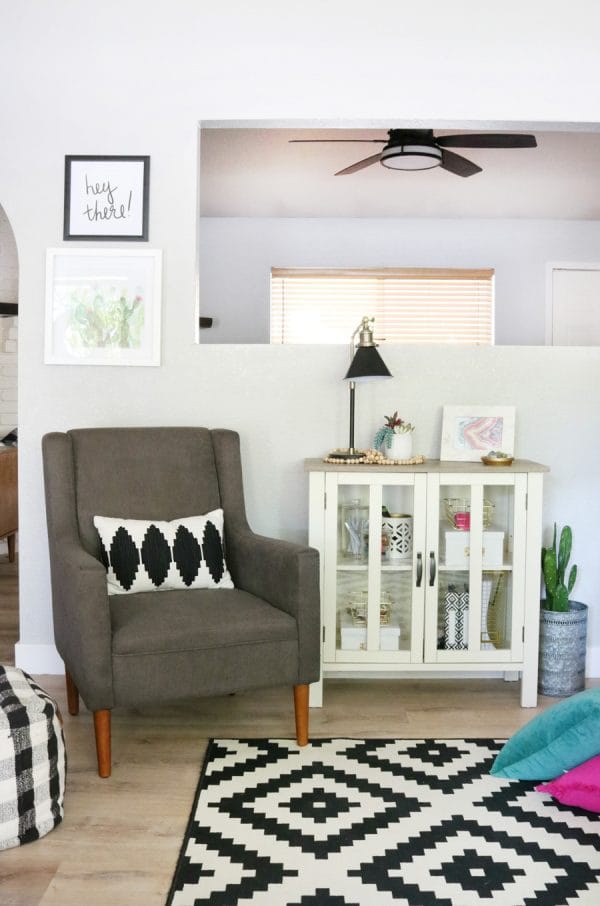 Create the Perfect Study Area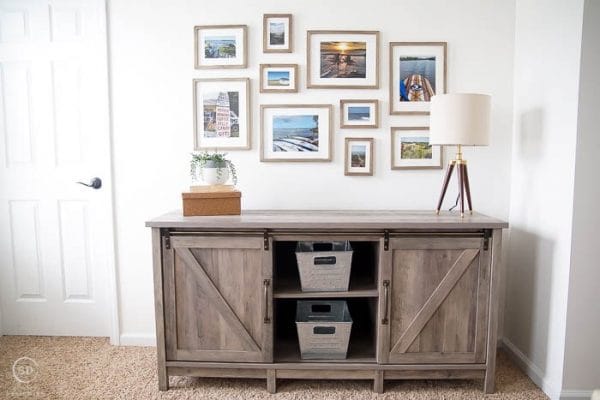 Farmhouse Office Makeover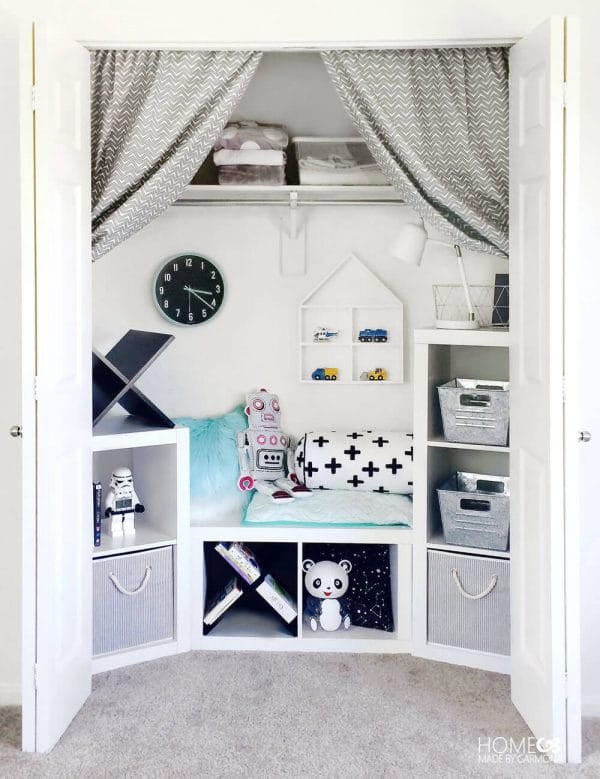 Kids Closet into Play Nook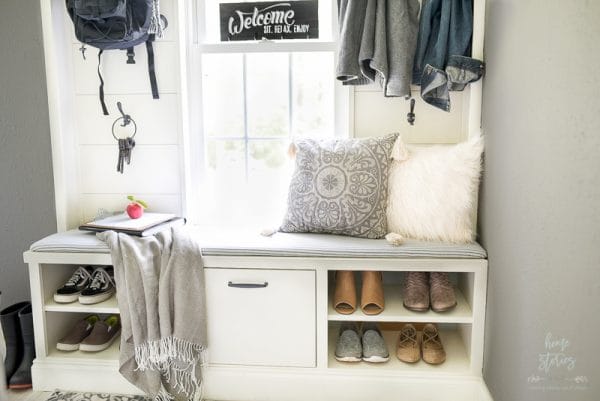 Mudroom Makeover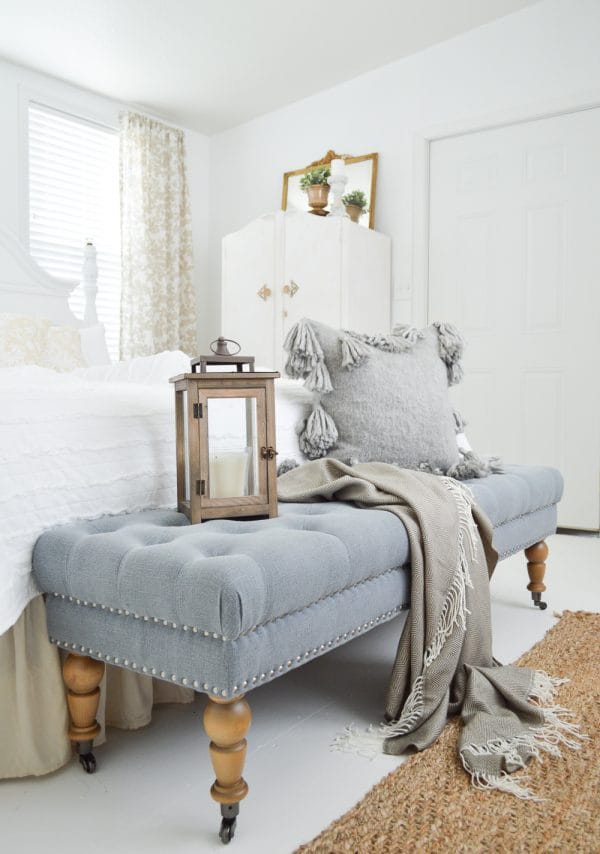 Vintage Guest Bedroom Makeover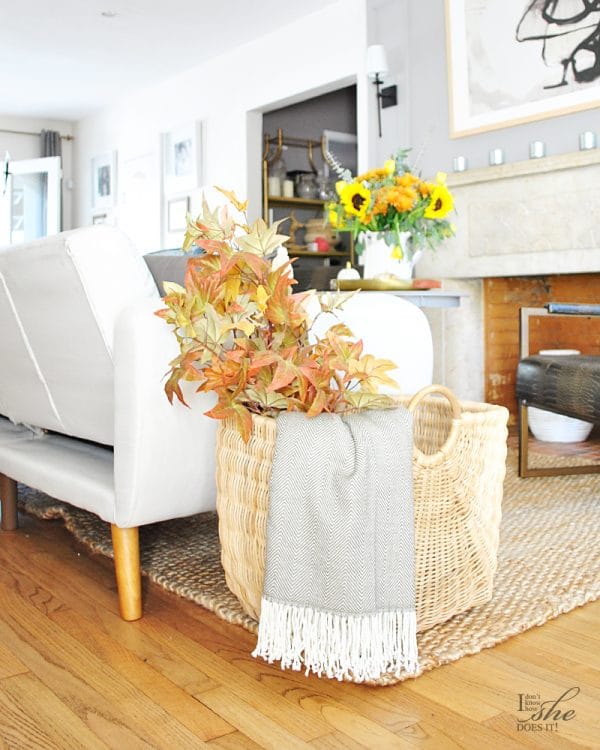 8 Tips for Fall Decorating
You might also enjoy: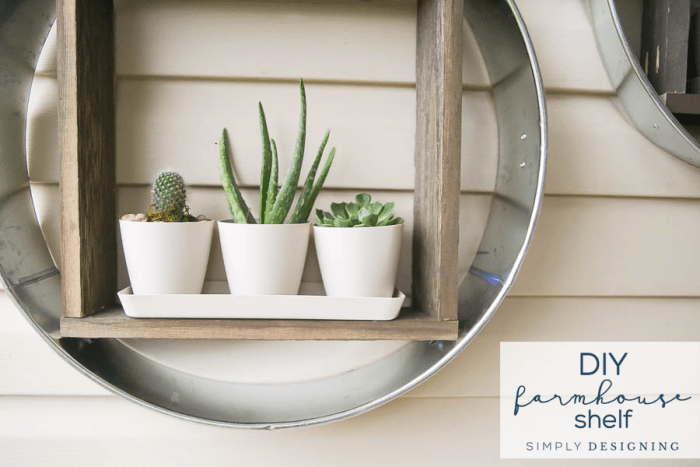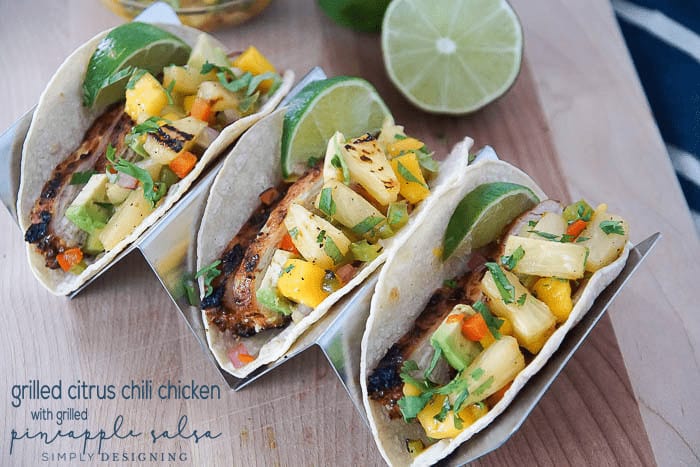 Grilled Citrus Chicken Tacos with Grilled Pineapple Salsa