Today is a really exciting day because I get to share a beautiful Front Room Makeover that I did for someone else!  I don't often design for other people anymore, although I did recently have a lot of fun decorating this Cool Boy's Bedroom for a family friend, you can see the details here.  But today we are talking about how we transformed a front room from an undecorated space to something functional and beautiful and perfect for the family.  Ready?

Front Room Makeover
Whether you have a front room, a living room, a study room or any old room, often there are places in our home that just aren't fully functional or that don't look the way we would like them to look.  I love transforming rooms in easy ways.  It's amazing what a few changes can do.
We have loved making over nearly every space in our home (don't worry, I am not done yet), but we were excited this month to be challenged by Better Homes & Gardens to be able to bless someone else with a room makeover.
So I took to social media and created a survey for people to apply for a room makeover.
I had some amazing applications, but one application stood out at me the most.
In the application, I asked, what makes you deserving of a room makeover and the response that stuck out at me (along with other answers of course) was, "We've been in our home for about five years, and while it's basically functional, a lot of it doesn't feel like it has personality or style or feel finished. I'd love for at least one room to be decorated and feel finished!"
I understand that feeling.  Sometimes it can completely change the feel of a whole home by having one room decorated and feeling finished.
I went over to their home a few days later and the wife showed me a couple of possible spaces, from there we started picking items, made the final room choice, and got to work.
We decided to update their front room!  They already had bookcases in this space, but no seating and no decor on the walls.
And the homeowner had been dreaming of turning this into a reading space!  And I thought this would be the perfect space for it.
This room is right off the entrance to their home, so by making it over, we were also helping to enhance the feel of the whole home when they enter in.
We decided to add some furniture to the space and decorate it a bit to create a beautiful reading area that would enhance the feel of their home, be beautiful and functional.
Here is what the front room looked like before:
And here is an after photo of the front room: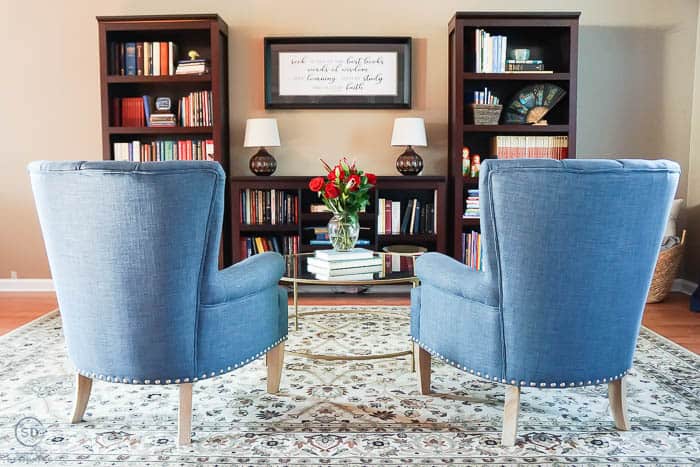 Isn't the transformation amazing!?  This just makes my heart so happy!
A big thank you to Better Homes & Gardens at Walmart for sponsoring today's post.  All opinions and ideas are mine.  Affiliate links are included in this post for your convenience.  If you make a purchase through these links, you will never pay a penny more, but I receive a small commission for it.  Thank you for supporting my blog.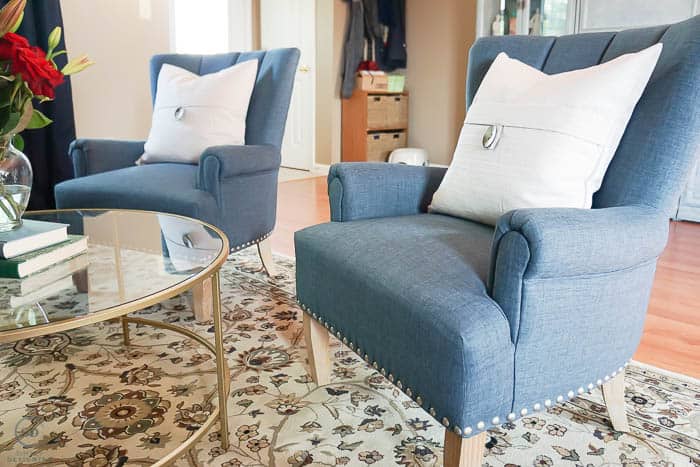 Here is what we did to transform this front room:
We tried to use as many items as the homeowner already had so that we could stretch the budget as much as possible.  They currently had a red and blue rug in the room but also had a more neutral rug in the room too.  We decided to use the neutral rug in the space and move the red and blue rug elsewhere.
We also kept their existing bookcases.  But we moved them in a bit to create a more cohesive look between the three pieces of furniture.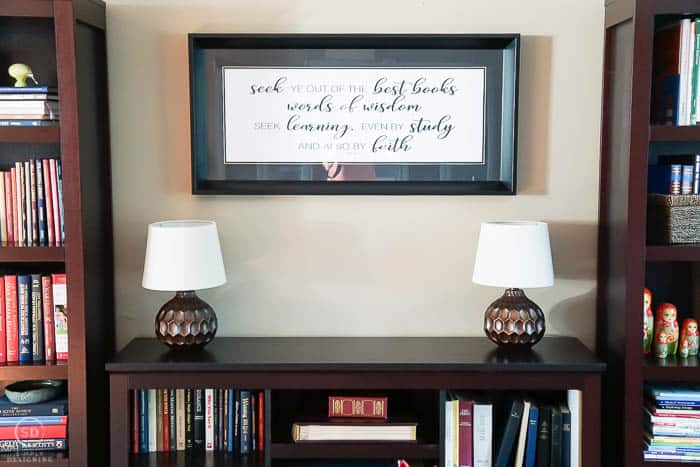 We moved some of the items that were no longer needed out of the room and repurposed a frame they had to add new art to their space.  I created a fun print with a meaningful quote that they chose, to hang on the wall.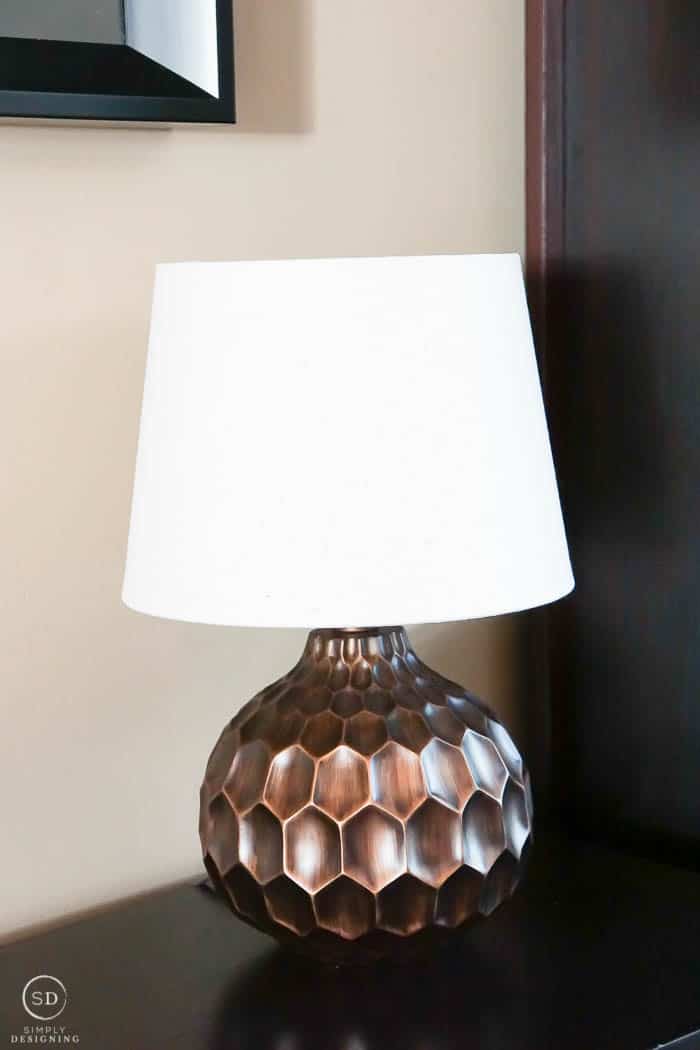 Below the art, we added two new light fixtures.  I love how these Better Homes & Gardens Faceted Table Lamp with Linen Shade light fixtures really give the space a warm, reading nook, old library feel!  And they add a lot more light to the space which will be particularly helpful when reading in the evenings.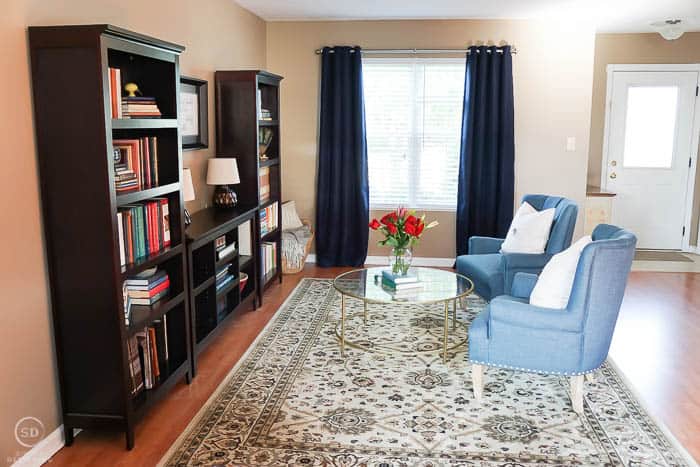 The room needed seating and the homeowner loves navy blue.  These Better Homes & Gardens Accent Chairs are so pretty and a lovely shade of blue, so we ordered a pair for their space.
I really love how their chairs look.  They are a nice balance of casual and formal and such a beautiful shade of blue!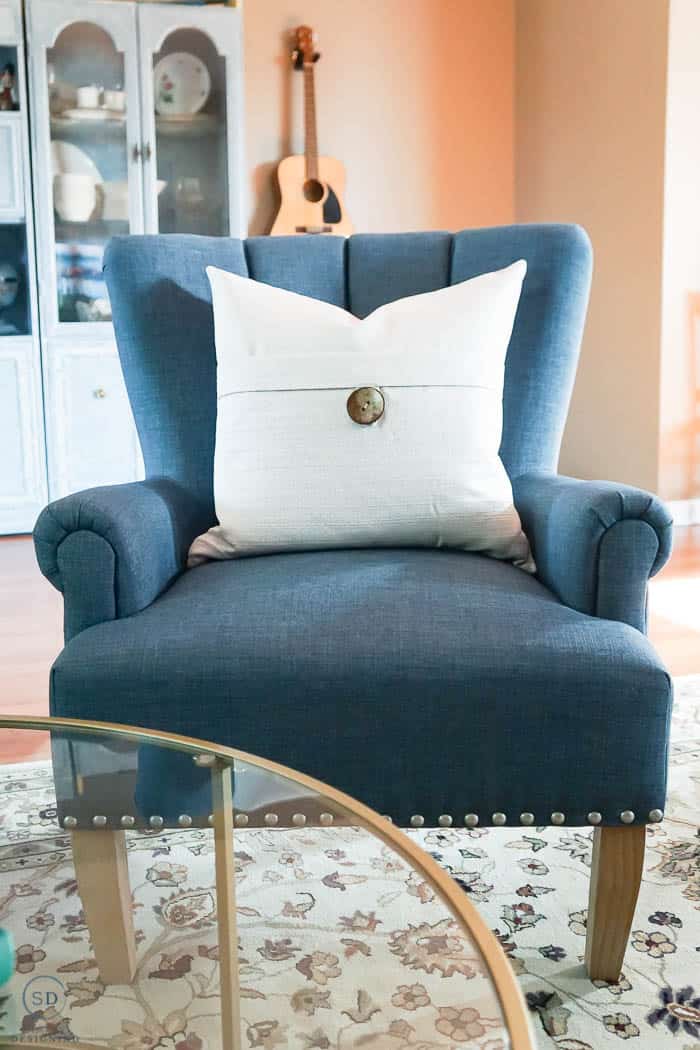 We ordered these Better Homes & Gardens Feather Filled Banded Button Decorative Throw Pillows to sit on the chairs and they ended up being the perfect compliment to the chairs.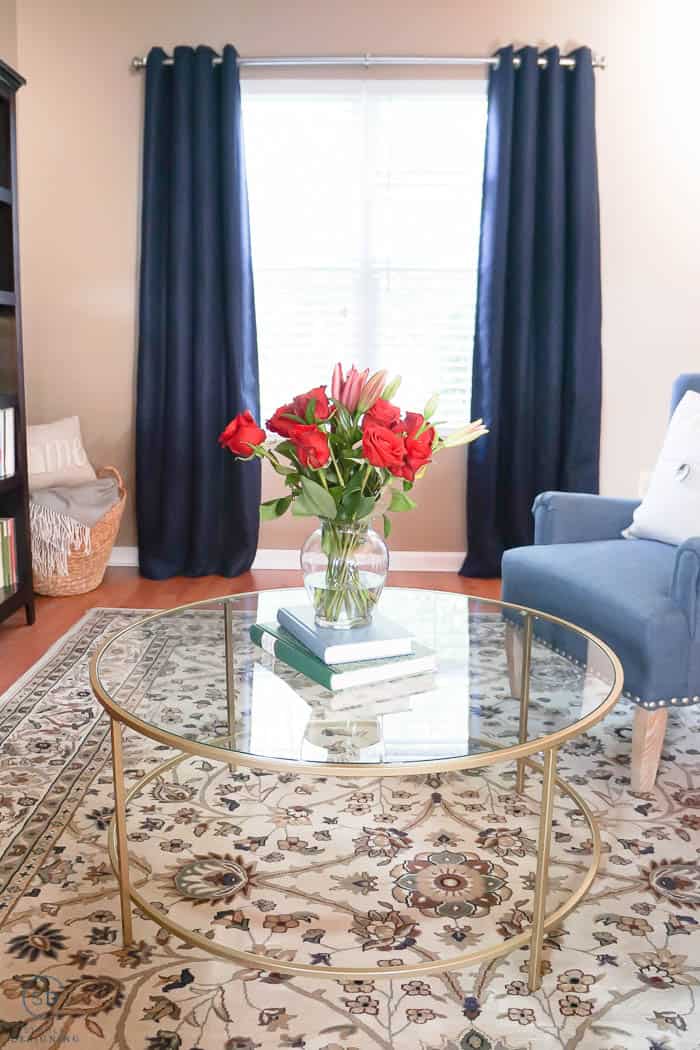 We also removed the existing curtains and replaced them with Navy Blue Better Homes & Gardens Basketweave Curtain Panels.  I really love how nice these curtains are.  They are thick and great for blocking light in a room if needed.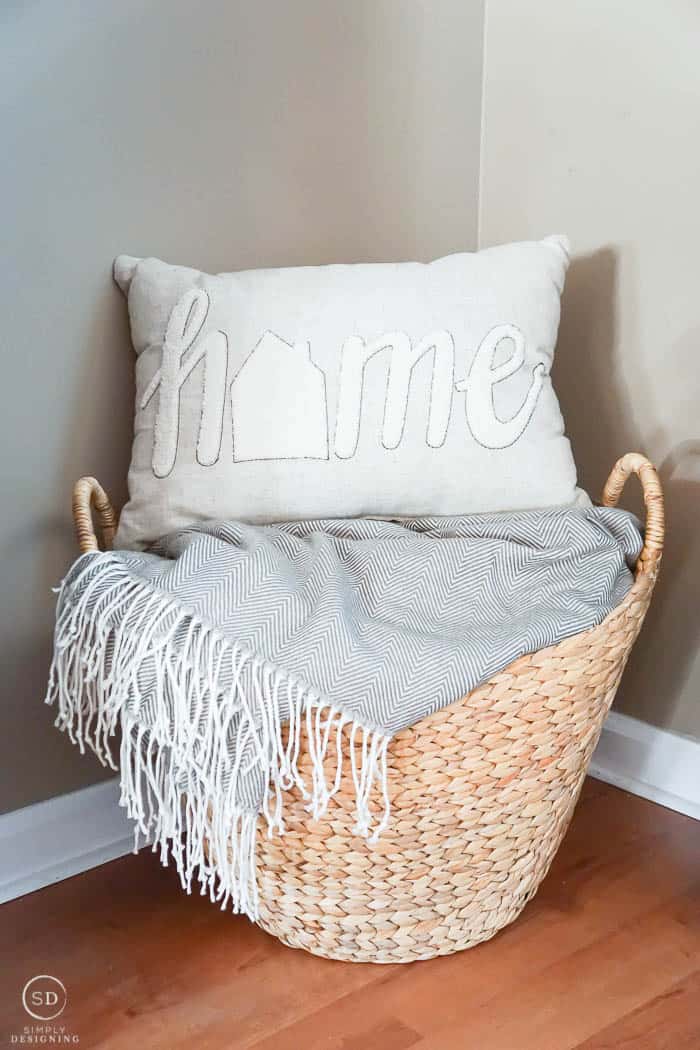 I placed a basket in the corner and a few blankets like this Better Homes & Gardens Woven Fringe Throw Blanket and a fun Better Homes & Gardens 14" x 20" Oblong Decorative "Home" Pillow in it.  I love having blankets and extra pillows nearby any seating area in case you want a blanket or extra pillow while you are cozily reading in the front room.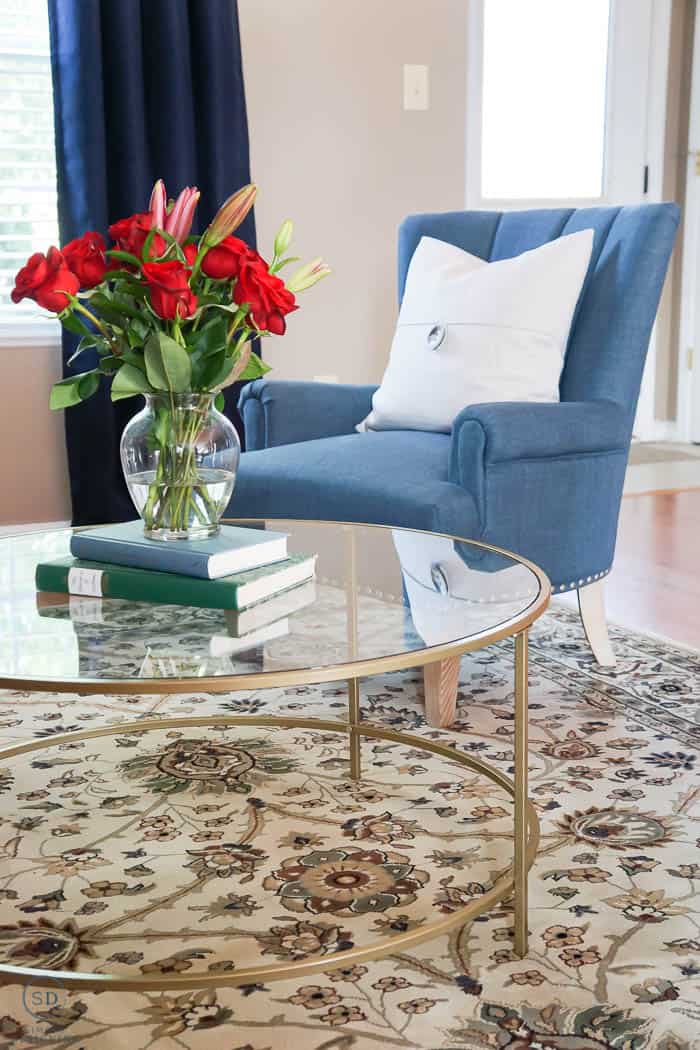 And to make this room complete, we found the perfect round coffee table to go in the room! Because everything in the space was rectangle, I wanted to mix it up and add a round coffee table.  This Better Homes & Gardens Nola Coffee Table is gorgeous, in an amazing gold color, big, sturdy and oh-so-pretty!  (I seriously want one of these in my home!)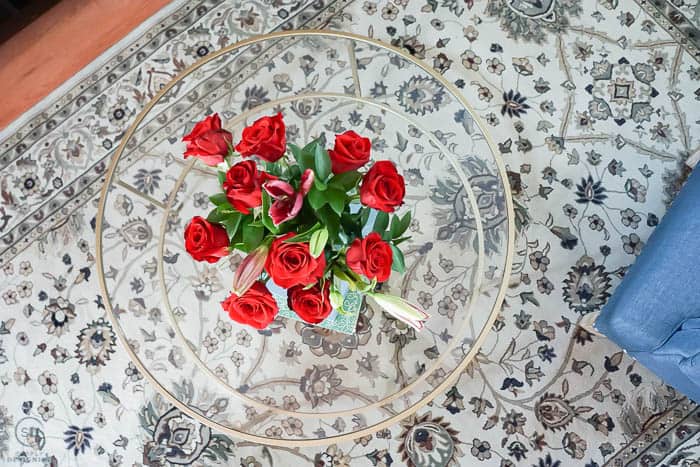 We added a couple of books from their shelves to the coffee table and some fresh flowers to finish the decor.
I love how the room was able to be completely transformed into a functional and beautiful space!  The chairs are comfortable for sitting to read a book, and there is a coffee table for your water and plenty of shelves for all of their books!
I always think it is so fun being able to transform a space into something completely different.  And I am so excited that they will be able to use this space in a more effective way now!
And the best part is that the homeowners love having this space decorated, function and complete!  Nothing could make me happier than that!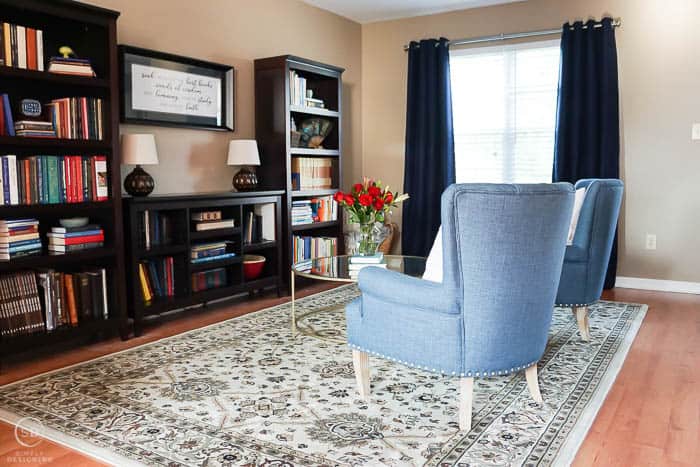 Front Room Makeover Shopping List:
If you enjoyed this front room makeover post, you might also enjoy these fun posts too: