You guys!  I am so excited about this DIY project today!  I don't pull out the sewing machine very often, but this project...oh, it is TOTALLY worth it!  Of course, I don't mind pulling it out more often now that I have an amazing spot in my Craft Room for my sewing machine to be...  Anyway, I am sharing a very simple tutorial for how to make your own Faux Leather DIY Earbud Holder.  And it is one of my favorite craft projects I have done in a while, I am really excited about it!  This is perfect for you to use or to make as a gift to give to a friend, neighbor or family member.  And if you grab a color of faux leather that the men in your life would like, this would make a perfect gift for the holidays, a birthday, or any time of year!  So grab your sewing machine (or a needle and thread) and follow my easy tutorial for this Faux Leather DIY Earbud Holder!  A big thank you to Hobby Lobby for inspiring and sponsoring this post today.  All ideas and opinions are mine.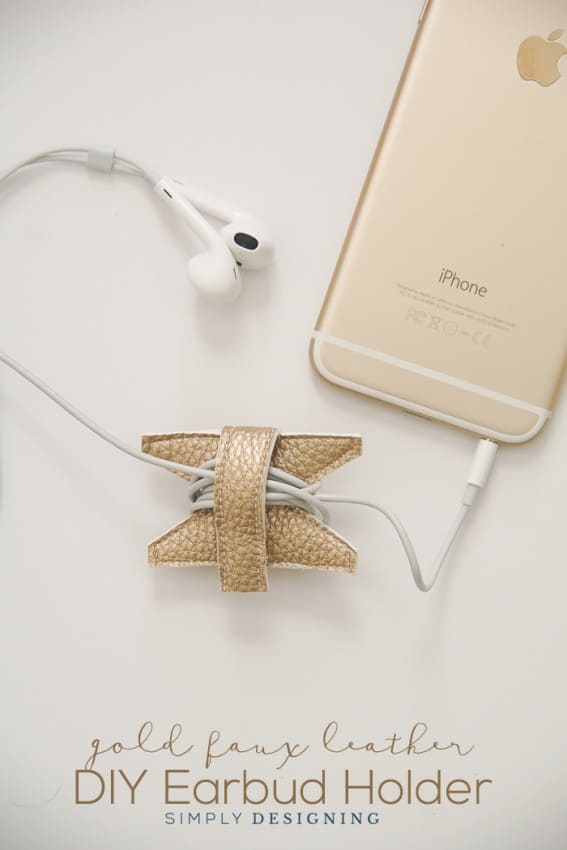 If your home is like my home, there are earbuds and phone cords everywhere.  And they are a bit unruly to say the least.  So I wanted to devise a way to keep all of the earbuds or other cords in check that was fun, pretty and unique.  So after a bit of inspiration with a trip to Hobby Lobby, I was ready to create a really fun solution for keeping phone cords under wraps.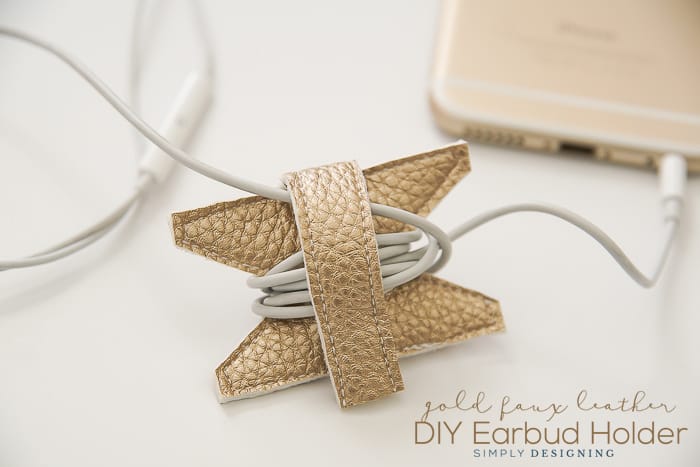 I love shopping in Hobby Lobby's fabric section.  They have a great selection of fabric, notions, trims, pillow covers, curtains, tassels and more!  And they always carry beautiful and unique options.  I can almost always find exactly what I need there.  In case you aren't familiar with it, here are a few things you can find in the fabric section of Hobby Lobby: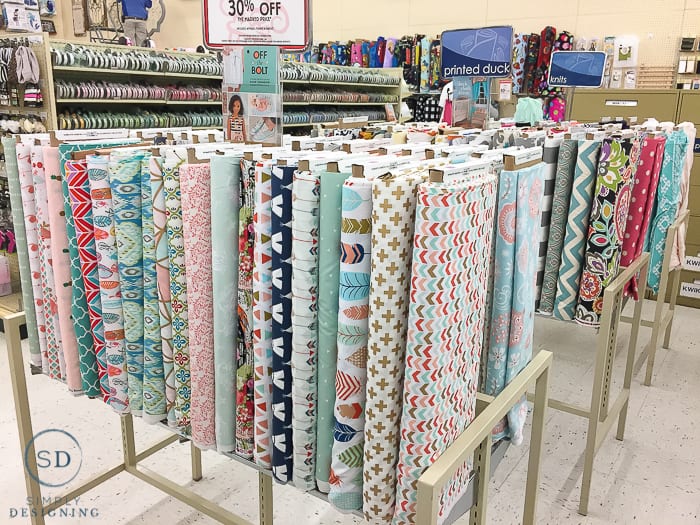 Beautiful off-the-bolt Fabrics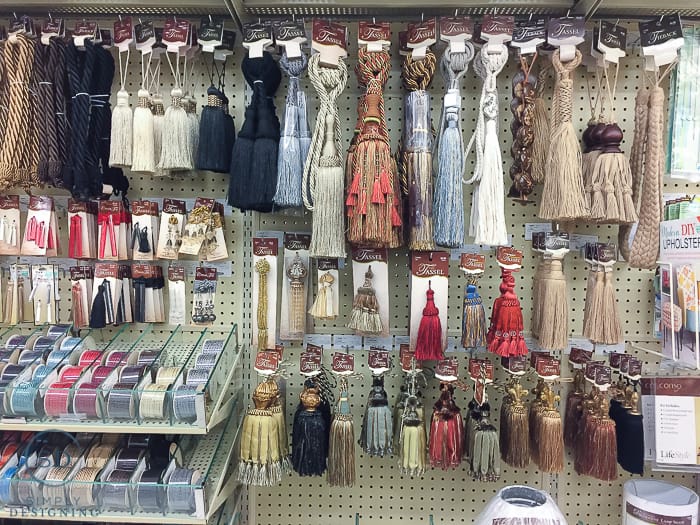 Tassels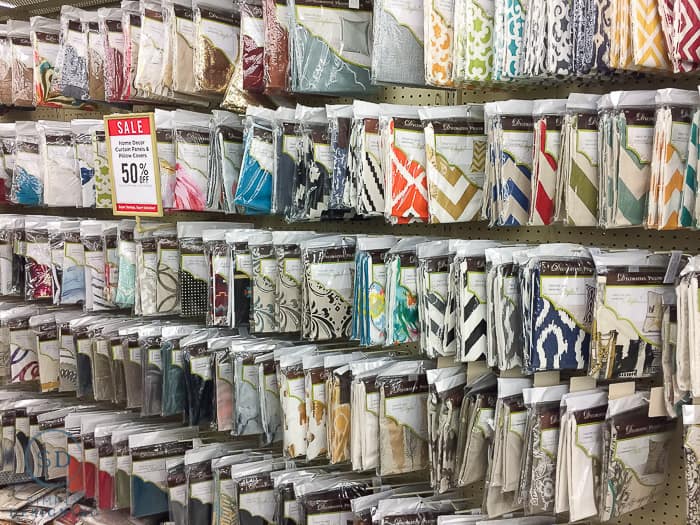 Pillow Covers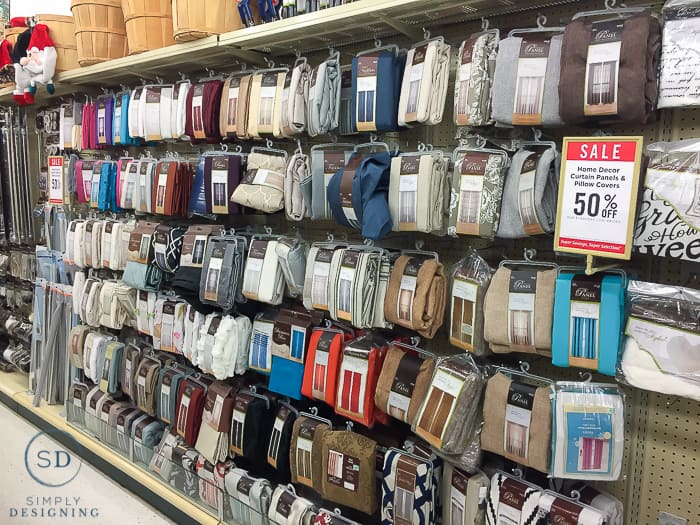 Curtain Panels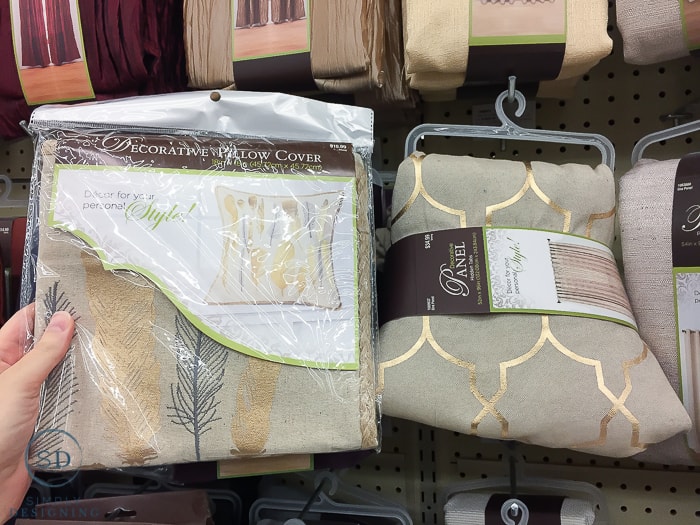 I love the gold in this feather pillow cover and curtain panel!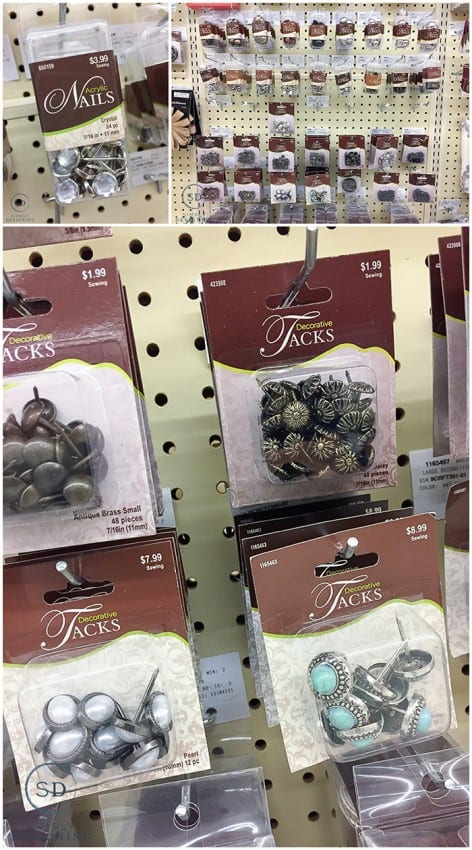 Upholstery Tacks and Nails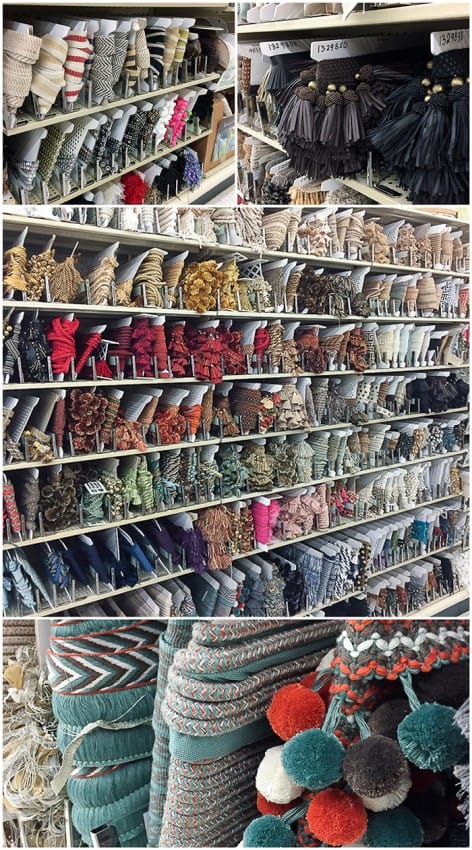 Trim, trim and more trim!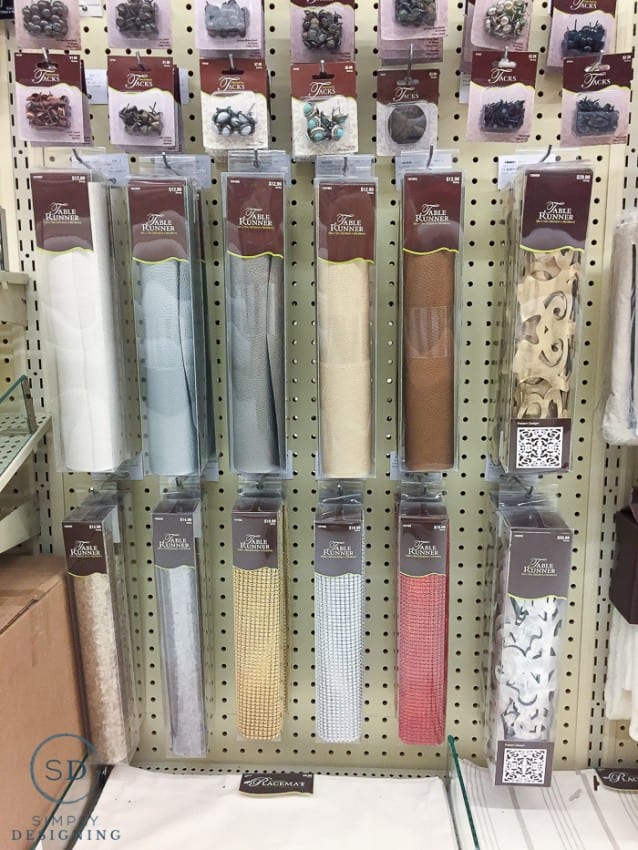 In my most recent trip I discovered their section of faux leather table runners.  They have both plain and laser cut designs and I think they are fun and would look great on my table.  But I love to use things in different ways, so I can imagine many ways to use these cute faux leather table runners for decorating and crafting!  And so I decided to snag a cute gold table runner and use it to create my new Faux Leather DIY Earbud Holder!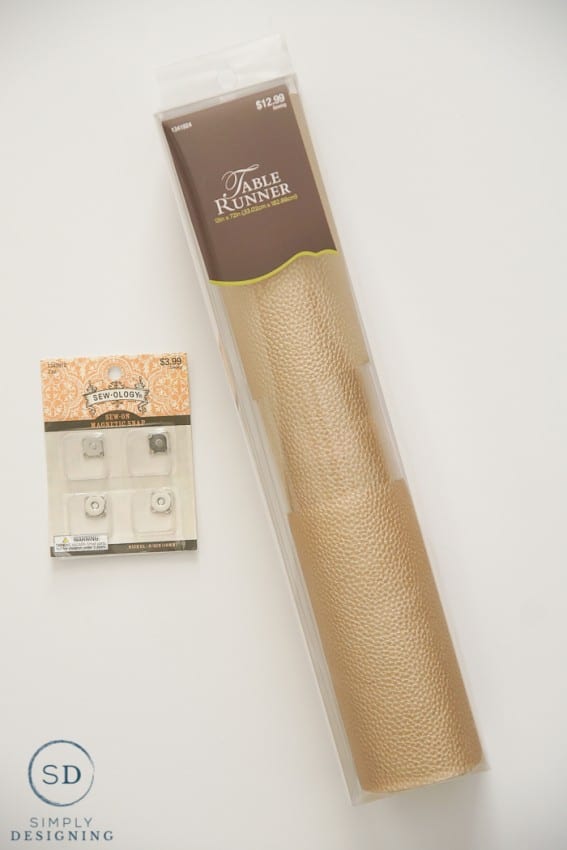 Gold Faux Leather DIY Earbud Holder
To create this DIY Earbud Holder, you will need:
Faux Leather Table Runner, Gold
Sew-On Magnetic Snap
Sewing Machine (optional)
Needle
White Thread
Sharp Scissors
3x5 Index Card or other paper
Sharpie Marker
Scotch Tape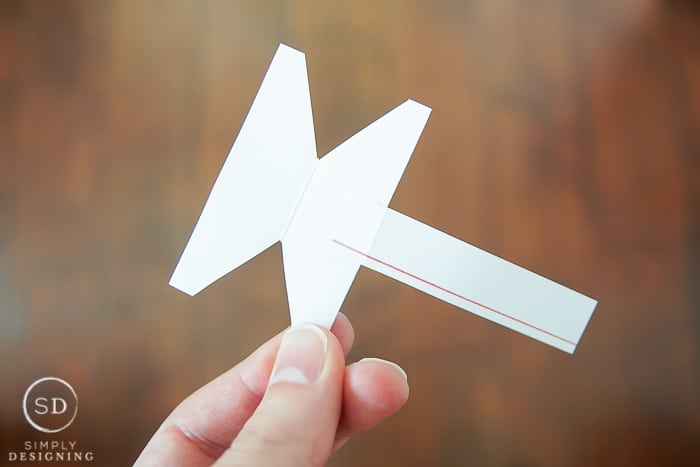 You will begin by creating your template.  I cut a 2 ¼" x 1 ½" rectangle out of an index card.  Then I cut a ½" wide strip out of the same index card.  You will fold the rectangle in half lengthwise and cut a diagonal to create the v-shape in each end.  Use a piece of tape and attach the ½" wide strip onto the rectangle shape and then your template is ready to go!  (Please note that these dimensions don't have to be exact, but they will give you a pretty good starting point for a nice sized diy leather earbud holder.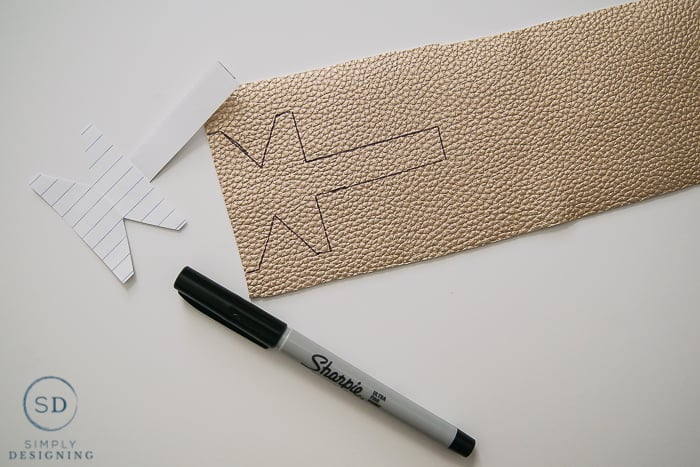 Use a sharpie marker and trace around your template onto the front of the faux leather.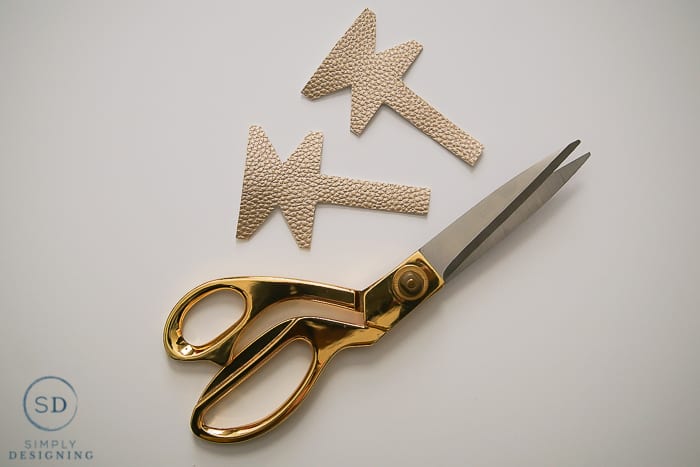 Cut out the template on two pieces of faux leather at the same time (insides facing each other).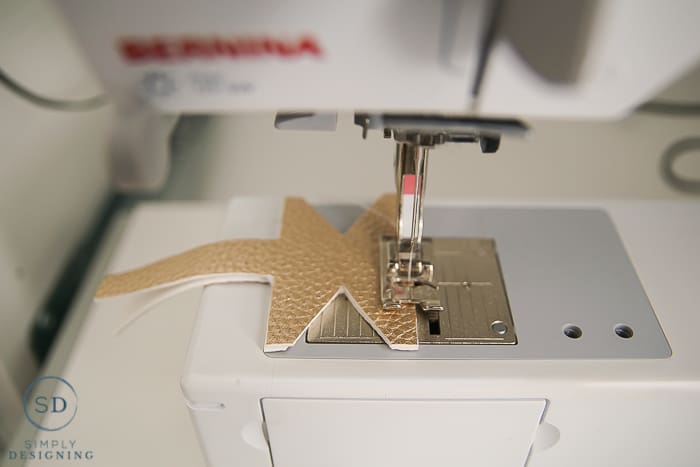 With the insides together, use your sewing machine to sew around the outside edges of your earbud holder.  If you don't have a sewing machine, you can hand stitch this with a needle and thread.
Use your scissors to trim any uneven leather off of the holder.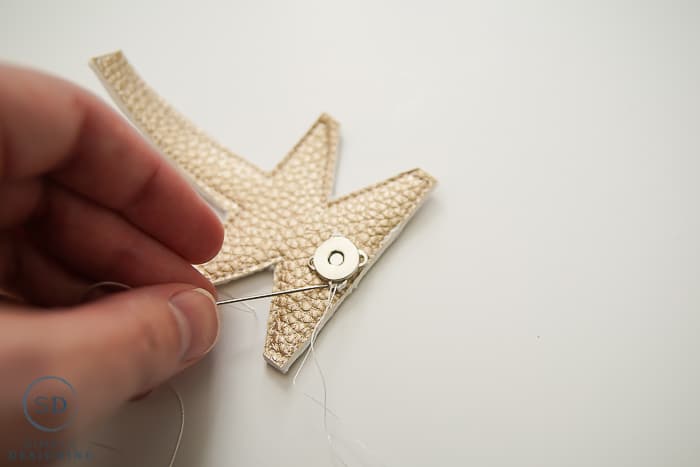 Using your needle and thread, sew on a magnetic snap.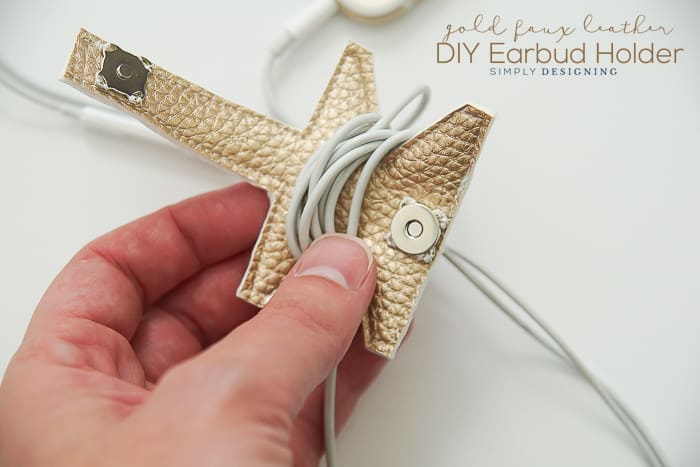 That's all there is to it!  It really is pretty easy to make and I really love how fun this is!  It would also make the perfect stocking stuffer or gift for the holidays.  I am thinking of getting a different color of leather and making a few of these for the men in my life.  Aren't men always hard to find gifts for?  Well this is the perfect gift for a man any time of year!  But I love the look of the gold for me!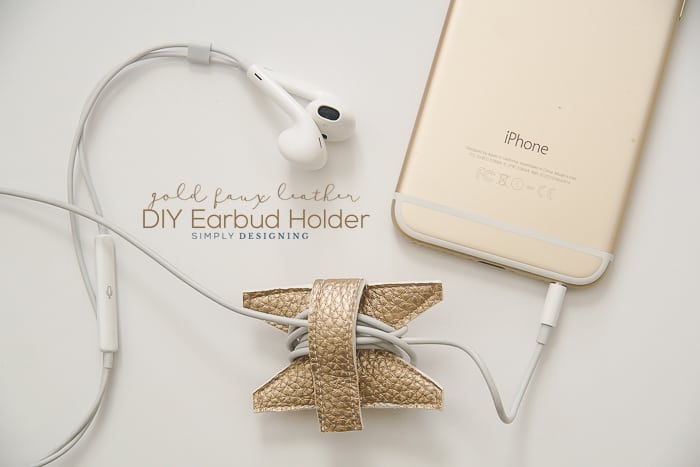 What color of leather would you want to use to make your own Faux Leather DIY Earbud Holder?
This is a sponsored conversation written by me on behalf of Hobby Lobby.  The opinions and text are all mine.
You might also enjoy: