I have a new cooking obsession...grilling!  I know that may sound silly, but we have a charcoal grill and I simply don't like messing with it.  I wanted the flexibility to grill anytime without the mess (and extra time) and so I was absolutely THRILLED when my dear friends at STOK agreed to send me one of their grills to test out!  And I have to tell you how much fun I have been having with my new grill!  I have had so much fun experimenting and today I am really excited to show you how I created a Grilled Chicken Alfredo Pizza on our new grill!  Oh!  And you also have the chance to win one of these amazing grills for yourself today too!  (Read all the way to the bottom of the post for the grill giveaway.)
I chose to receive the STOK Quattro Gas Grill and am absolutely in love with it!  The cool thing about this grill is that it has a normal grill grate, but there are two portions of the grate that are removeable.  Once you remove those grill portions, you can place another grill insert into the space!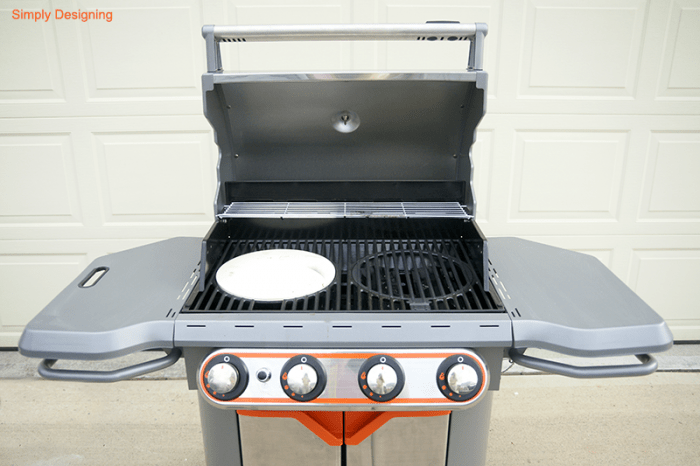 I received the pizza stone, wok, veggie tray and the rib/kabob rack!  But I was most excited to try to the pizza stone!  Grilled pizza is delicious!  So after a little brainstorming perfect pizza combinations with a friend, I decided that the first pizza I needed to make would be a Grilled Chicken Alfredo Pizza!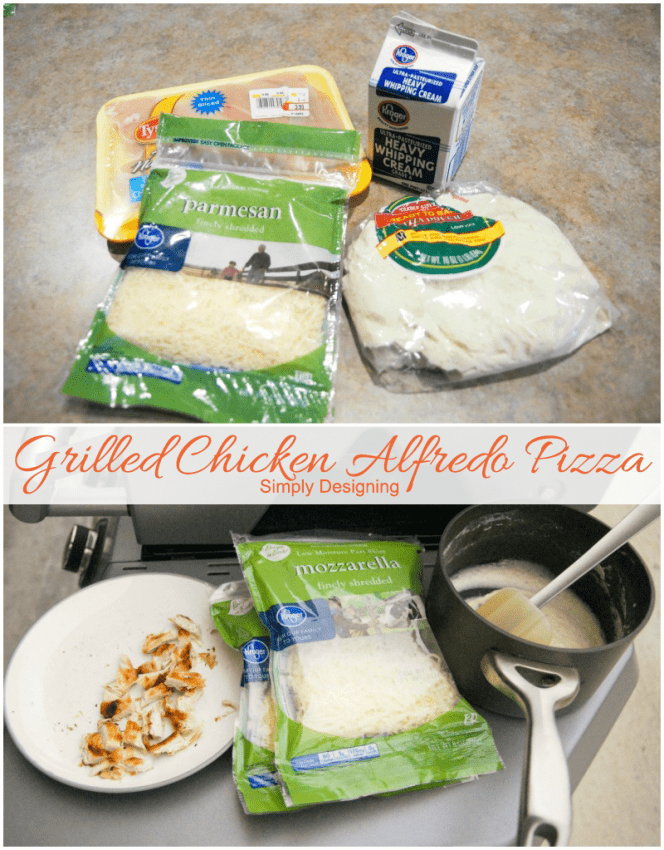 Grilled Chicken Alfredo Pizza
Ingredients:
Pizza dough (I used Trader Joe's refrigerated pizza dough.  But you can make it from scratch if you prefer.  My only recommendation is to use refrigerated dough, not a pre-made crust.)
1 chicken breast
1 cup heavy whipping cream
1 cup (approx) Parmesan cheese, plus more for topping
kosher salt
fresh cracked pepper
1 ½ - 2 cups mozzarella cheese
1-2 tbs butter
Garlic powder
Directions:
Place pizza stone insert on STOK grill and pre-heat the grill.
Grill chicken breast.  (Can sprinkle with a little garlic powder on the chicken if desired.)
Bring heavy whipping cream to a slow simmer on the stove.  Remove from heat and whisk Parmesan cheese into cream until smooth.  Add kosher salt and fresh cracked pepper to taste.  Set aside.  (Sauce will thicken as it sits.)
Slice grilled chicken into bite-sized pieces and set aside.
Roll the pizza dough out until it is about the size of the pizza stone.
Carefully place rolled pizza dough onto the pre-heated pizza stone.
Working quickly, spread sauce onto pizza dough, top with mozzarella cheese and chicken.  Sprinkle a tiny bit of Parmesan cheese on top too if desired.
Close the grill and allow pizza to cook.
When pizza in nearly done, melt butter and add a sprinkle of garlic powder to the mixture.  Baste this butter mixture onto the crust of the pizza and remove from the grill.
Let cool and enjoy!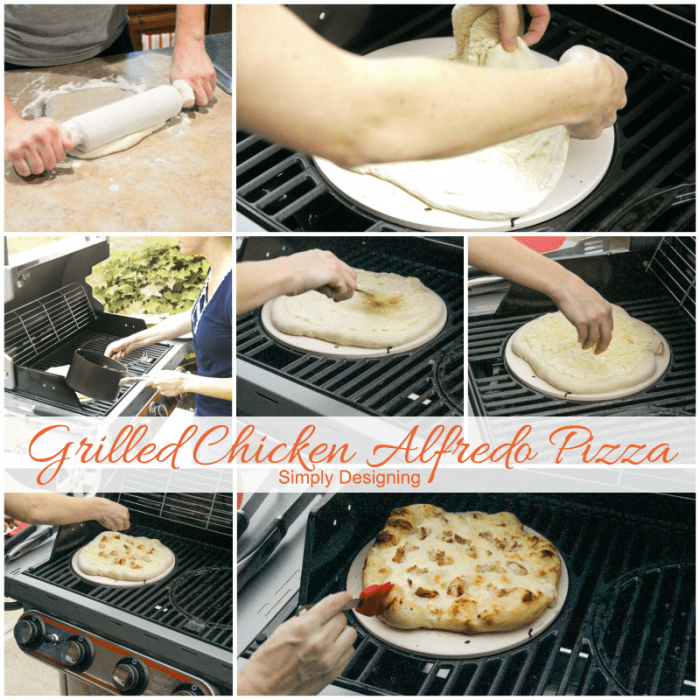 This pizza was so simple to make and did not take very long either!  I love that I was able to make fresh homemade pizza without turning my oven on!  And honestly, grilled pizza is so incredibly delicious!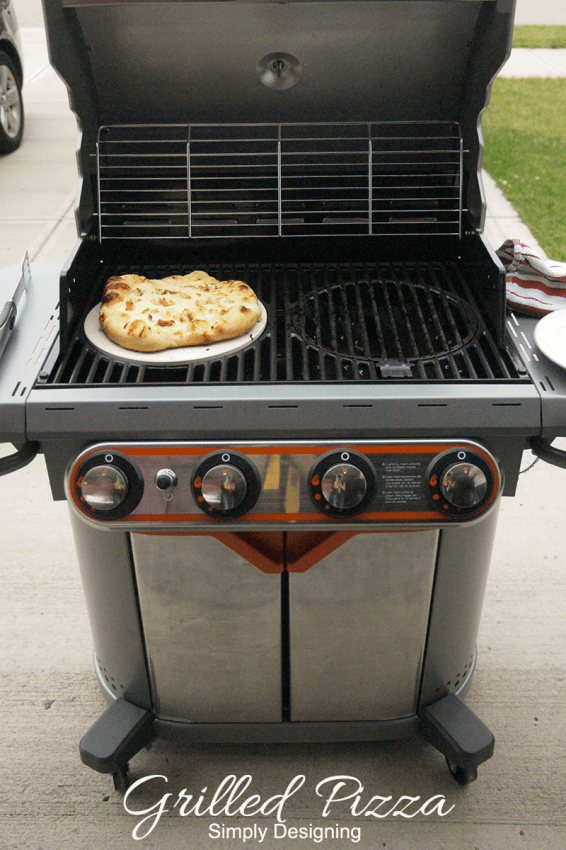 The combination of this simple yet flavorful white cheese sauce with the grilled chicken made for an amazingly delicious grilled chicken alfredo pizza!
My husband and daughter have been begging for more ever since I made it!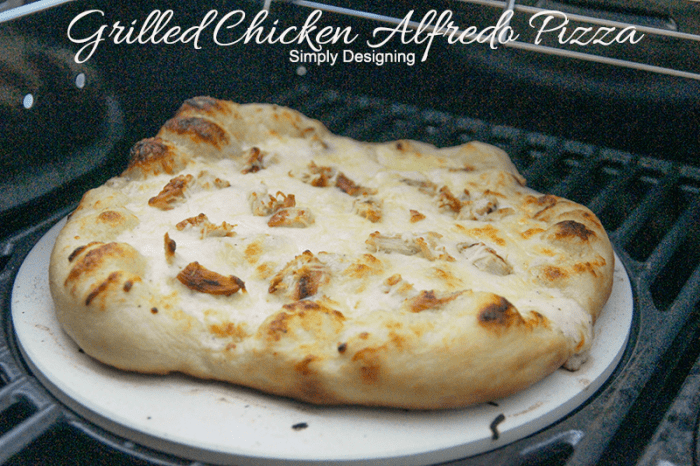 We also whipped up a pepperoni pizza as well.  This was equally as delicious and so simple to make!  But the Grilled Chicken Alfredo Pizza was definitely our favorite!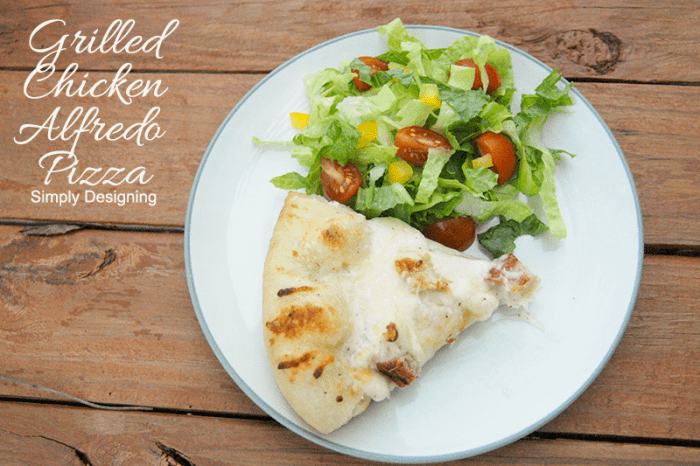 I honestly LOVE cooking on my new STOK Quattro Grill!  It was so simple to use and everything I have made on it cooks up evenly and beautifully!  It is my new favorite way to cook!  And I am so happy that I no longer have to heat up my kitchen while cooking in our hot August weather.
So do you want to make your own Grilled Chicken Alfredo Pizza!?  Well you totally can!!  STOK was kind enough to offer my readers the chance to win a STOK Quattro Grill and inserts of your own!  Woot woot!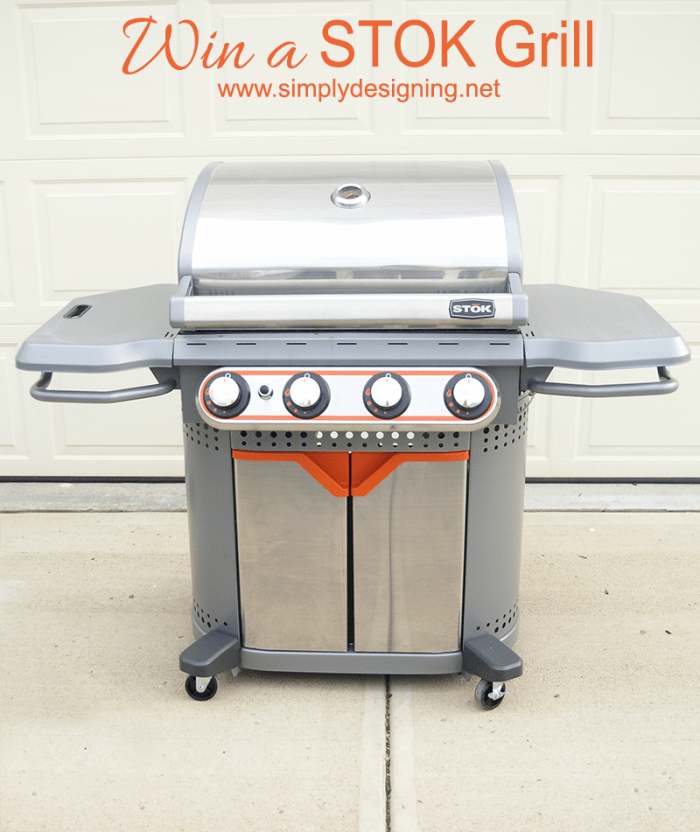 STOK Prize Package Includes:
1 STOK Quattro Grill (gas and gas tank not included, assembly required)
Pizza Insert (included in grill box)
Veggie Tray Insert
 Wok Insert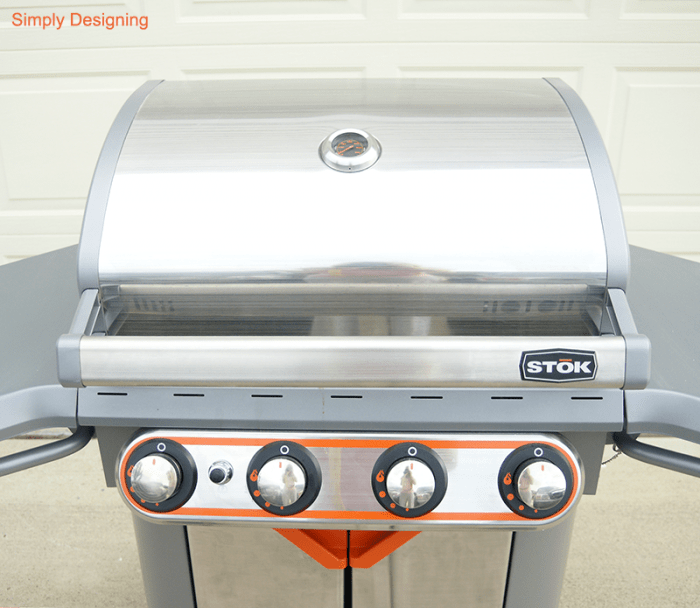 To enter to win, please wait until the Rafflecopter loads completely!
*Winning entries will be verified.  This giveaway is in no way affiliated, administered or endorsed by Facebook, Pinterest, Twitter or Instagram.  No information will be disclosed to Facebook, Pinterest, Twitter or Instagram by entering this giveaway.  No purchase necessary to win.  Odds of winning are based on number of entrants.  Winner for prize package will be chosen randomly through Rafflecopter.  Giveaway will run from August 29, 2014 at 6:30am EST until September 8, 2014 at 6:30am EST.  Winner will be announced on September 8, 2014 in this blog post and the winner will need to respond within 48 hours of announcement via email to claim their prize or another winner will be chosen.  Winner must be 18 years of age or older and a US citizen with a US mailing address in order to win.  Winner is responsible for paying any necessary taxes on winnings.  Blog owner(s) involved are not held responsible if the prize is not fulfilled.  A list of winners may be requested after the giveaway has ended.  Please email me with any questions or to obtain additional information at: [email protected]