Hi friends!  I love a good giveaway don't you!?  Well today I have joined with a few of my favorite friends to offer you an AMAZINGLY HUGE, FANTASTICALLY SPECTACULAR giveaway!  Woot woot!  We have all picked out a few of our favorite things and are excited to send them to you!  All you have to do is enter to win HERE (below) and then follow the links around to enter all of my friend's giveaways!  There is no limit on how many different giveaways you can win!  So enter them all and cross your fingers, because this is going to be incredible!  And not only is this a great giveaway, but there are also some amazing gift ideas for Mother's Day!  Woot woot!  So even if you don't win, snag a few of these ideas and send them to your mother or mother in law for mother's day and they are sure to be a bit.
You can see some of my ideas for mother's day gifts below and also enter to win what I am giving away!  But be sure to scroll down to see the rest of the giveaways!
I decided that since it is spring / summer, some of you may still be working on your spring cleaning (eh hm ME!).  As many of you know I am working to rid my home of so many toxins and unnecessary chemicals and generally just live a better healthier life.  So I decided to put together a little CLEAN spring cleaning giveaway!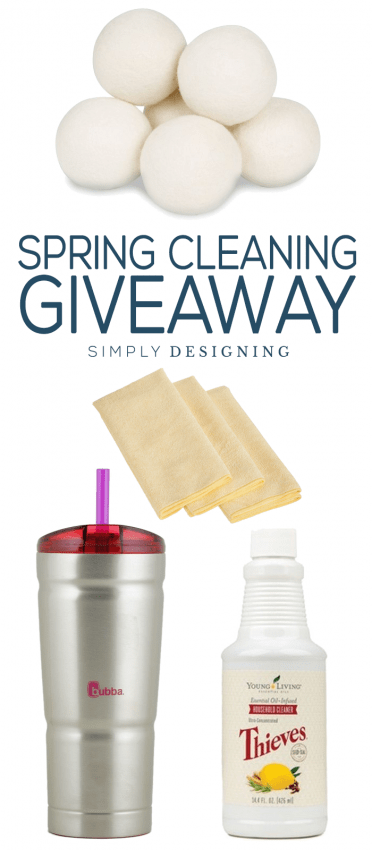 I picked out 4 of my favorite things for you to win!  Let me tell you about them...
(I am sharing affiliate links below for your convenience.  If you purchase any of these products using these links, I will receive a small commission, but you will never ever pay a penny more.  Thank you for supporting my site.) 
There are so many other ways I try to keep my home and body chemical free but these are a few of my favorite ways!  Drink more water, clean with a non-toxic chemical-free cleaners, use microfiber cloths to get the job done faster and better and replace those dryer sheets with wool dryer balls!
Yes, those are a few of my favorite things that I use every single day of my life and I am so happy to share them with you!  Also, I hope this gave you a little inspiration for things you could get for your mom for a Mother's Day Gift Idea!
*Winning entries will be verified.  This giveaway is in no way affiliated, administered or endorsed by Facebook, Pinterest, Twitter or Instagram.  No information will be disclosed to Facebook, Pinterest, Twitter or Instagram by entering this giveaway.  No purchase necessary to win.  Odds of winning are based on number of entrants.  Winner for prize package will be chosen randomly through Rafflecopter.  Giveaway will run from May 8, 2017 at 5:00am EST until May 15, 2017 at 6:00am EST.  Winner will be announced on May 15, 2017 in this blog post and the winner will need to respond within 48 hours of announcement via email to claim their prize or another winner will be chosen.  Winner must be 18 years of age or older and a US citizen with a US mailing address in order to win.  Winner is responsible for paying any necessary taxes on winnings.  All prizes will be mailed / emailed / fulfilled by me, via Amazon.  Once the order leaves the seller, Simply Designing does not take any responsibility if the prize is not fulfilled due to the shipping company's error or wrong shipping address given.  A list of winners may be requested after the giveaway has ended.  Please email me with any questions or to obtain additional information at: [email protected]
Here are some more amazing Spring GIVEAWAYS you can enter to win:
Below are the 14 gifts from 14 friends. I just love to see new things, or be reminded about something I had forgotten. Each of them can make great gifts for your loved ones. To see each gift up closer, and to enter to win, you must HOP to each site to fill out the entry forms. It's possible you could win more than ONE!
To enter--
Check out the 14 gift collage below
Scroll to the bottom of this post to enter to win MY gift giveaway
HOP to all of the other sites to enter to win their gifts
Look around and enjoy the sites of the other home bloggers–they will not disappoint!
*Note- if you receive an error message w hen you HOP, click to the blog's home page, then it should be the top post (some times there are glitches on day 1)
The collage of giveaways...
***Make sure you HOP to each site, and enter for each gift on those pages.***
The numbered images above, correspond with the numbers/blogs below
1. Honeybear Lane //2. Refresh Restyle // 3. Design Dazzle //4. Pretty Providence // 5. Sincerely Sara D. //6. Simply Designing // 7. The Tale of an Ugly House // 8. Maybe I Will // 9. All Things Thrifty //10. Blooming Homestead //11. Design, Dining, and Diapers // 12. Capturing Joy // 13. Thrifty and Chic // 14. Lolly Jane
GOOD LUCK!