Hot Chocolate Brownie Cake with Marshmallow Frosting.  This name, doesn't even begin to describe this yummy and delicious dessert.  It begins with a simple brownie layer covered in a delicious rich ganache and topped with an amazingly light layer of a homemade marshmallow frosting that resembles a rich, sweet and fluffy meringue.  We thought about renaming it S'more Brownies, but that seemed to take away the elegant sophisticated touch that this dessert truly has even though it is reminiscent of a delicious gourmet s'more.  After thinking on it for quite some time (while eating a sliver or two or three of this rich dessert) I decided that Better Homes and Gardens really does know best sometimes, and decided to stick with their name of Hot Chocolate Brownie Cake with Marshmallow Frosting for my blog post today!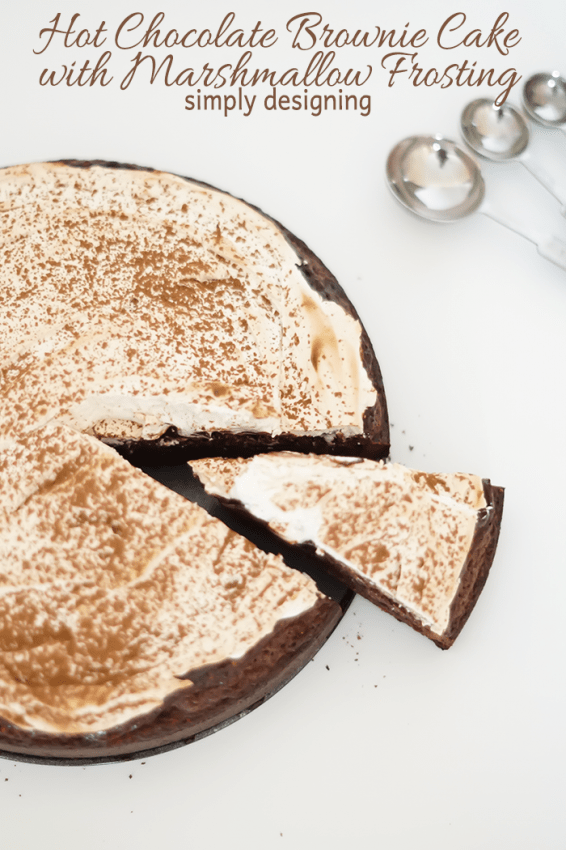 I teased about this dessert on Instagram yesterday.  But I need to tell you, this dessert, is to-die-for.  It is incredibly rich and luxurious.  And really quite simple to make!  And I found it in the brand new (released in September of 2014) Better Homes and Gardens New Cook Book, edition 16.  Better Homes and Gardens has asked me to share a recipe with you today and to give one of their fabulous cook books away to one of my amazing readers!  Wahoo!  (giveaway near bottom of post.)
But first, the recipe...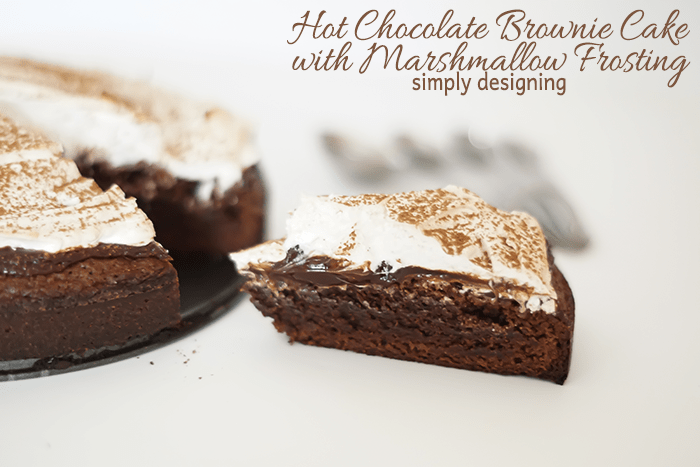 Hot Chocolate Brownie Cake with Marshmallow Frosting
Ingredients:
(1) 18.3 oz package brownie mix (and necessary ingredients to make them)
⅓ cup whipping cream
4 oz. semisweet chocolate, chopped
¾ cup sugar
3 Tablespoons cold water
1 egg white
¼ teaspoon cream of tarter
1 teaspoon vanilla
unsweetened cocoa powder, optional
Directions:
Preheat oven to 350 degrees F.  Grease and flour a 9 x 1 ½ inch round cake pan, set aside.  (I used a springform pan and this worked perfectly.)
Prepare brownie mix according to package diretions.  Pour into prepared pan.  Bake according to package directions for a 9 x 9 inch square pan.  Cool thoroughly on a wire rack.  Remove brownie from pan.  Place cooled brownie on a baking sheet.  (I left mine on the springform pan bottom but removed the sides.)
Meanwhile, in a small saucepan bring cream just to boiling over medium-high heat.  Remove from heat.  Add chocolate (do not stir).  Let stand for 5 minutes.  Stir until smooth.  Spread chocolate evenly over top of brownie.  Chill for 30 minutes.
Preheat oven to 450 degrees F.  (Prepare Marshmallow Frosting.)  In the top of a 2-quart double boiler combine sugar, water, egg white and cream of tarter.  Beat with an electric mixer on low speed for 30 seconds.  Place the double boiler top over boiling water (upper pan should not touch water).  Cook, beating constantly with the electric mixer on high speed, until stiff peaks form (tips stand straight), about 13 minutes.  Remove the pan from heat.  Beat in vanilla.  Spread Marshmallow Frosting over top of brownie to cover chocolate layer.
Bake about 7 minutes or until frosting is lightly browned.  Cool thoroughly on a wire rack.  If desired, sift cocoa powder over top.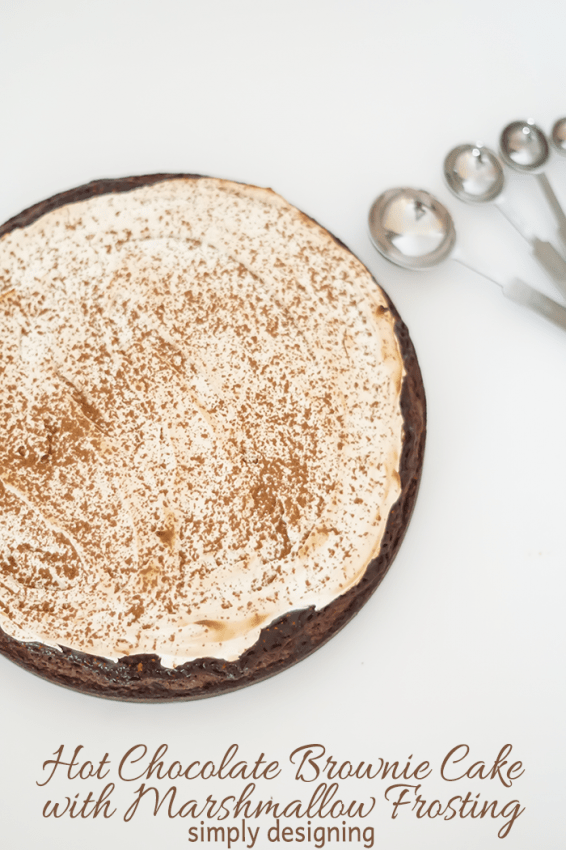 I received the BHG Cook Book 12th edition when I was newly married and it has been a staple in my life.  I have found many great recipes and cooking basics in it and it is one cook book I refer to time and time again.  I was thrilled to be able to check out this new 16th edition cook book and am so surprised how much I still love it!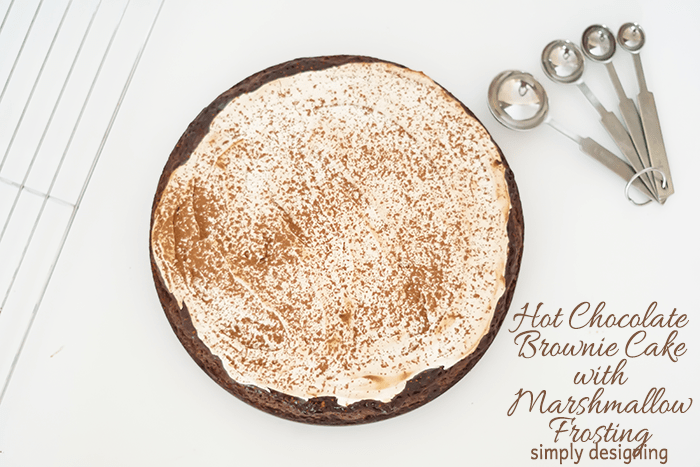 BHG continues to perfect it's recipes like their chocolate chip cookie recipe is now slightly different in this edition!  This edition shares special Cook's Secrets that help you know what ingredients are being used why and helps give hints and tricks so that we can all have amazing results in our own home!  I love how on page 240 under the cook's secrets it has a photo of what the creamed butter and sugar should look like.  I failed at chocolate chip cookies for years because I didn't ever get this step right!
And I especially love the Make It Mine recipes as well!  For example on page 229 there is a Noodle Casserole Recipe that allows you to choose your own pasta, meat, soup, vegetables, cheese, seasonings, toppers and extras to create your own casserole with what you have already in your home, or to create something specifically for your family's taste preferences!  I think this is such a fun feature and I know my daughter would especially love cooking from these Make It Mine pages!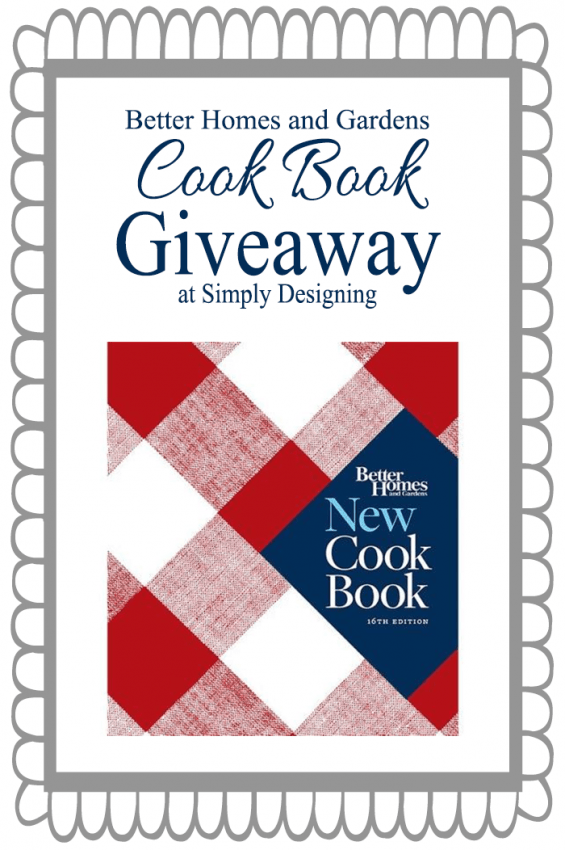 And now it's time to enter to win the new 16th edition Better Homes and Gardens Cook Book!  Please wait until the Rafflecopter fully loads below and then enter to win:
By entering to win, you agree to these Terms: Winning entries will be verified.  This giveaway is in no way affiliated, administered or endorsed by Facebook, Pinterest, Twitter or Instagram.  No information will be disclosed to Facebook, Pinterest, Twitter or Instagram by entering this giveaway.  No purchase necessary to win.  Odds of winning are based on number of entrants.  Winner for prize package will be chosen randomly through Rafflecopter.  Giveaway will run from December 1, 2014 until December 8, 2014 at 11:59pm EST.  Winner will be announced on December 9, 2014 in this blog post and the winner will need to respond within 48 hours of announcement via email to claim their prize or another winner will be chosen.  Winner must be 18 years of age or older and a US citizen with a US mailing address in order to win.  Void where prohibited.  Winner is responsible for paying any necessary taxes on winnings.  All prizes will be mailed / emailed / fulfilled by the sponsor and the blog owner(s) involved are not held responsible if the prize is not fulfilled.  A list of winners may be requested after the giveaway has ended.  Please email me with any questions or to obtain additional information at: [email protected]