I love getting comments! They seriously make my DAY! I read each and every one of them and I try to respond to all of you!
However, I am always jealous of those who have "cool" commenting systems. Since I use Blogger I thought I was stuck, I thought only WordPress blogs could install cool commenting systems. But then I read a post over at Mad in Crafts and was so excited at what I learned! (I was so excited I even stole borrowed the name of her post!)
Anyway, I finally found a commenting system that has all the bells and whistles I wanted with EASY installation! (Easy installation was very important to me!)
So I did it. I disabled blogger comments on all future posts and installed the IntenseDebate widget for all new posts!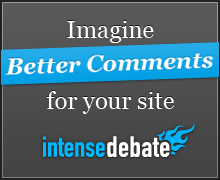 IntenseDebate also offers the option of using CommentLuv which is really neat because it is instant advertising for your blog! You have the option of adding your blog/site URL while commenting on my blog and CommentLuv will automatically post a link to your last post! So you get instant, free publicity!
I can't tell you how many times I have actually clicked over to a post this way and ended up finding a new blog I LOVE! So it is a great way to get more visits and gain new followers!
This system will also allow me to more easily reply to your comments, and it will allow other people to reply directly to your comments! How cool is that!? It also allows you to give other comments a thumbs up or a thumbs down: think of this as your "like" button on Facebook (FB needs a dislike button too...but that's a topic for another day 🙂
I've also added buttons to the bottom of my post that allow you to FB, Tweet, Digg, Buzz, Stumble, Email, Bookmark etc etc etc my post. So if you see something you like, please SHARE IT!
I wanted a commenting system that would make it easier for YOU to leave me comments because I want to hear what you have to say, but I know some commenting systems can get so complicated. So I tried to make it easy, simple, no pop-up windows or new tabs created and simple and easy for YOU and ME!
So, please be honest, do YOU like my new comment system?
I participate in the link parties found here.
Subscribe to Simply Designing by Email