With a new season comes new decor (I'm not alone in that, right?) and other new things like our sweet baby girl. 😉 So, I decided to create a new wreath for my front door!  A cute little burlap wreath that is perfect for fall!  It is fun and bright and a great way to transition from summer to winter with a pop of color! Sure, Halloween is right around the corner, but I wanted to go with something rustic and a bit different for the beginning of fall.
Plus it only takes a few minutes to throw together, maybe 20-30 minutes tops!  And is a great way to update your front door without a lot of time or expense!
And I really love the burlap flowers on it too!  Don't worry, I bought those!  You don't have to make them!
To create this you will need:
First you will begin by cutting your burlap ribbon into 12" long cuts.  They do not have to be exact, but if they get too much shorter then 12" it will be difficult to tie these on.  I used nearly 2 full rolls of burlap ribbon to complete this.
Then you will take your burlap cuts and tie it around the wire wreath form.  I did not knot it, I just did one tie and it was really secure.  If you plan to do two, you will need to allow for more ribbon on each cut.
Smush the tied ribbons close together so that no wreath form shows.  Fill the entire wreath form in this manner.
Next use the hot glue gun to attach the flowers!
I glued a smaller burlap flower into each of my three large flowers.  You don't have to do this, but I wanted the extra depth, dimension, variety and visual interest in my wreath.
After you have glued all your flowers on, your wreath is ready to hang!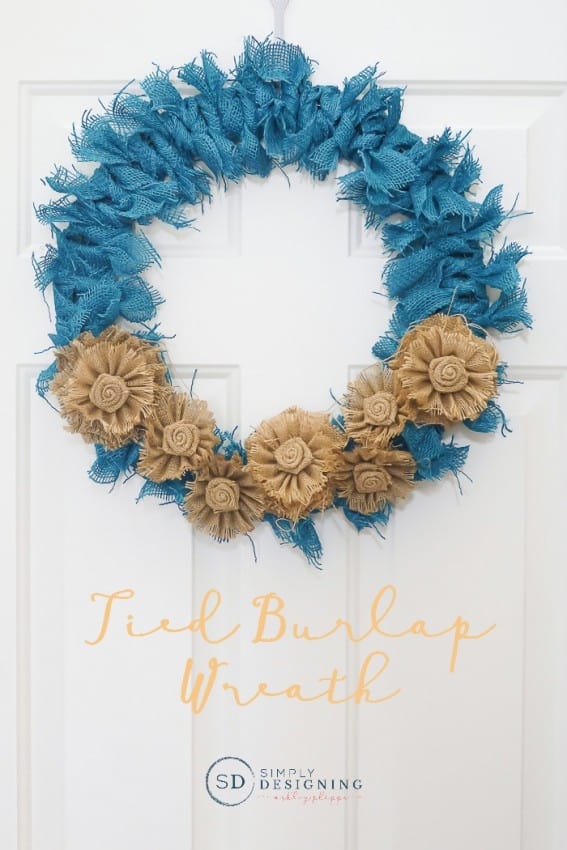 I love how simple yet beautiful this is!  And I think the jeweled tone turquoise is perfect for fall!  It doesn't feel like a holiday wreath so it will last all fall season long!