A big huge thanks to Moen for sending us product to help make this post possible.
At long last, I can finally say, our Master Bathroom Remodel is complete!!  Woot woot!  If you haven't been following along, be sure to begin HERE.  We have completely remodeled our bathroom from building and installing a brand new tile shower, to installing heated flooring, to new counters and sinks to even a fun tile accent wall!  But the icing on the cake as with many projects is in the details.  I am so incredibly grateful that Moen partnered with me to help finish off our amazing bathroom transformation with so many of their beautiful fixtures from their 90 Degree line!   Today I am sharing the last few final touches that we worked on to truly make our transformation from builder-blah-bathroom to STUNNING Master Bathroom complete!  Today am sharing how to install bathroom accessories!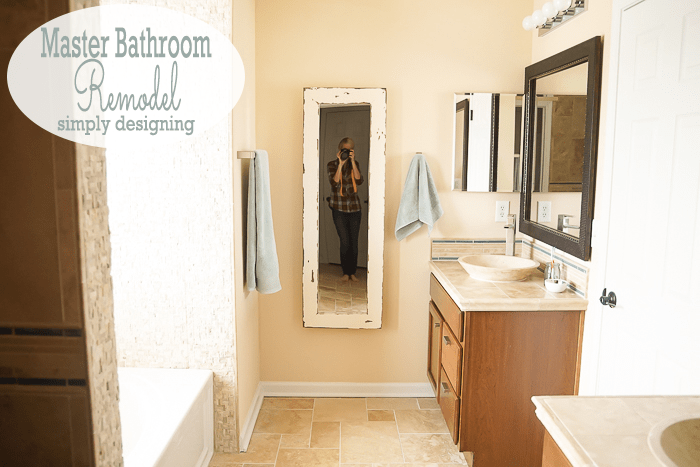 First of all I need to take a moment to let you know how in love I am with Moen's 90 Degree line!  We looked at many different lines before deciding on this one, but it is the perfect combination of beauty and sleek lines without being overly modern.
I think that it makes our bathroom feel  like a spa!  The perfect combination of rugged architectural texture, traditional travertine tile, modern sinks and these sleek, streamline bathroom fixtures!  It is perfect in my opinion!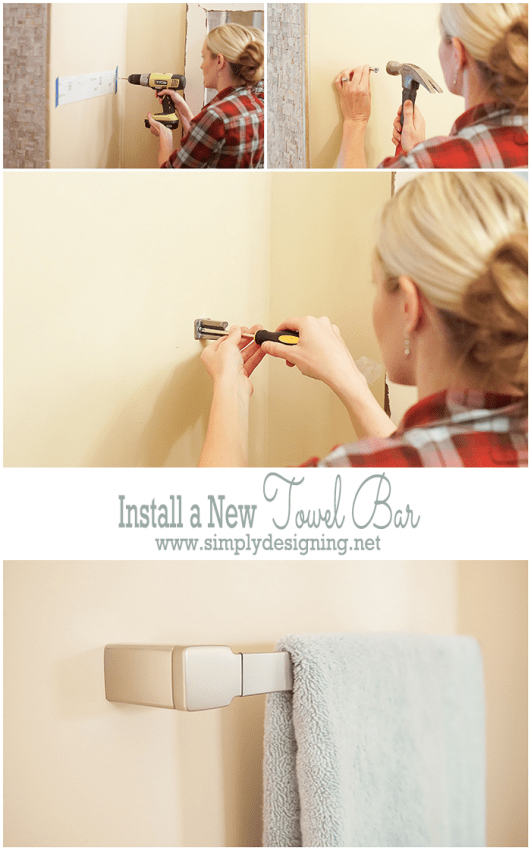 Most of Moen's 90 Degree accessories install in the same fashion, so once you've done one, the rest go very quickly.
The new towel bars we installed were Moen 90 Degree 18" Towel Bars and they came with an amazing diagram that we taped onto our wall and used to drill the holes in the exact right spot without needing to guess or measure.  We simply taped this to the wall (with painters tape), used a level to ensure it was level and then we drilled our holes into the corresponding spots for our exact towels bar length.
Then we screwed the mounting plates into the wall, and attached the towel bar to the mounting plates with an Allen wrench.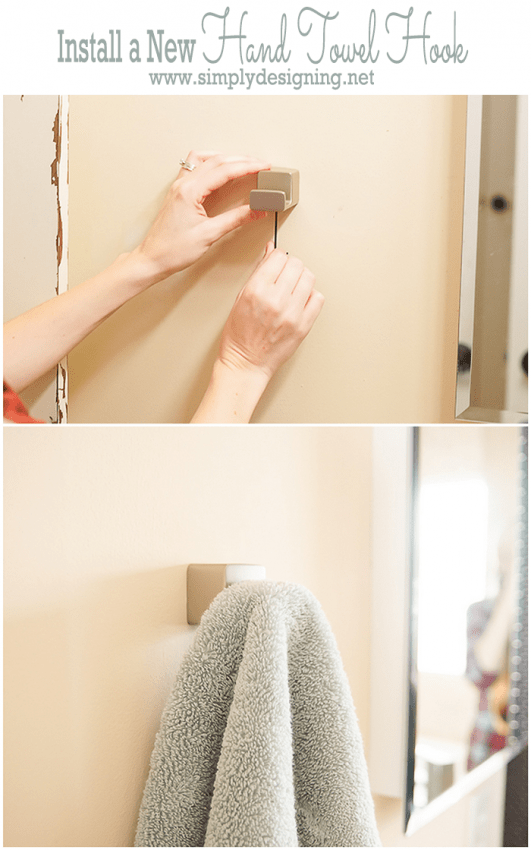 And then my husband and I, who generally agree on most things, had differing opinions on the whole hand towel thing.  He wanted a bar, I wanted a hook...we won't talk about who won because really we both won 🙂  Right!?  Our bathroom is beautiful!
We used Moen 90 Degree Robe Hooks as our hand towel hooks.  We installed the mounting plate directly to the wall and then used an Allen wrench to secure the hook in place and within minutes we had two hand towel hooks.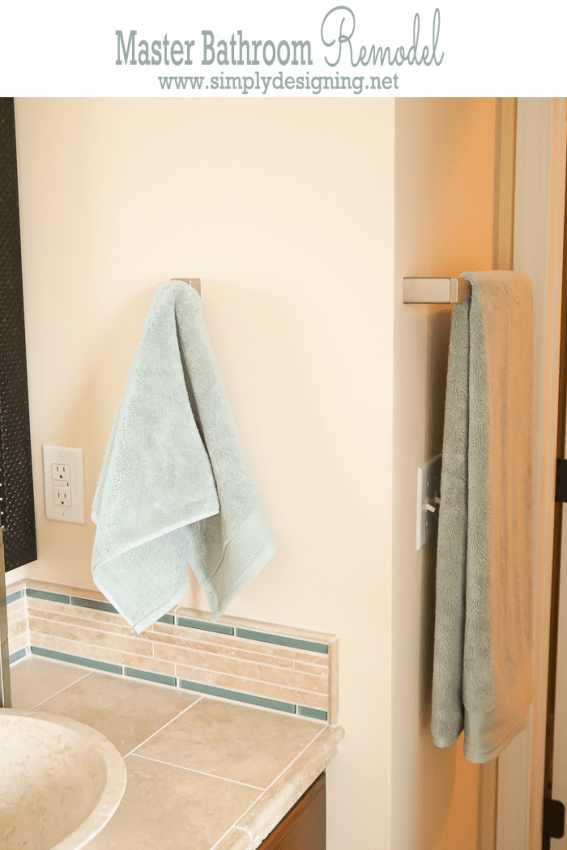 Since we have separate sinks, we both have a hand towel hook and a towel bar.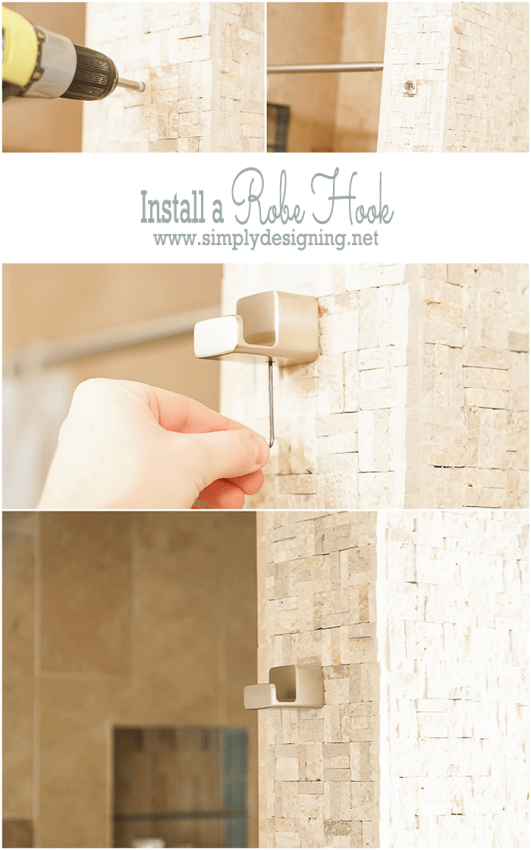 We ordered a third  Moen 90 Degree Robe Hook to use just outside our shower as an actual robe or towel hook while we are in the shower.  Can I just tell you how amazing it is to have my towel close by when showering!?  It is the little things like this that make a bathroom fully functional and amazing!
For this we used our drill with a special tile drill bit to drill through the tile and into the wall.  After that, this installed like the other robe hooks.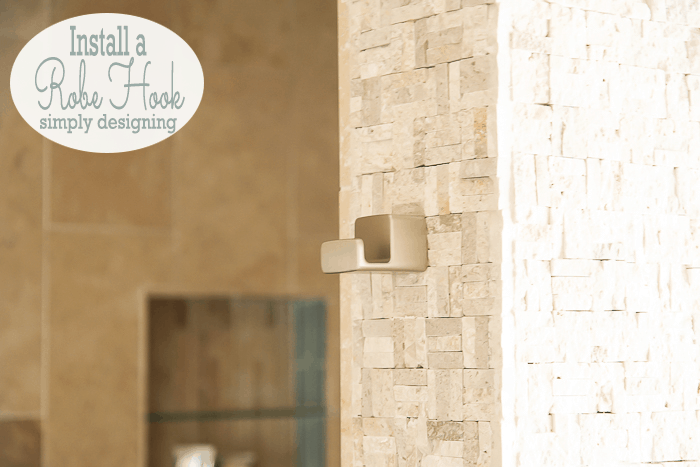 And it is beautiful and so incredibly functional!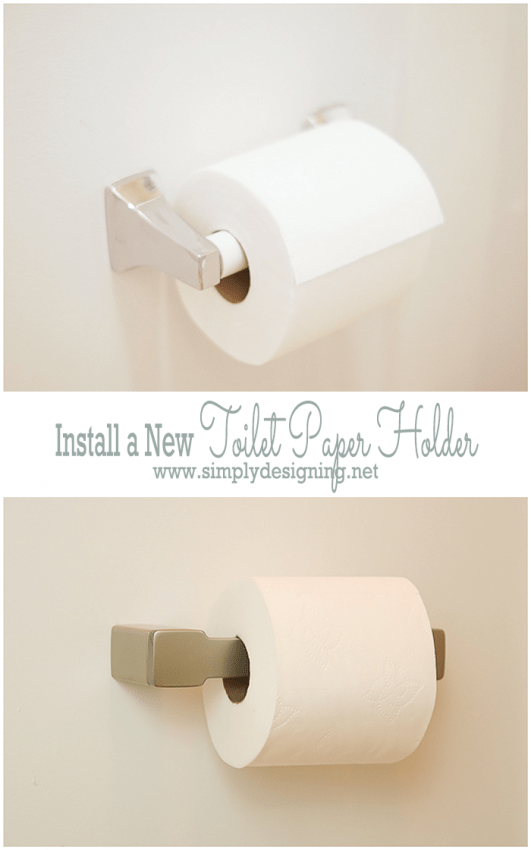 Moen really does toilet paper holders right!  That sounds weird, but we replaced our chrome and plastic toilet paper holder with this beautiful well- made Moen 90 Degree Pivoting Toilet Paper Holder and it is amazing!
No one ever leaves an empty toilet paper roll on there any more because it is just so simple to change now!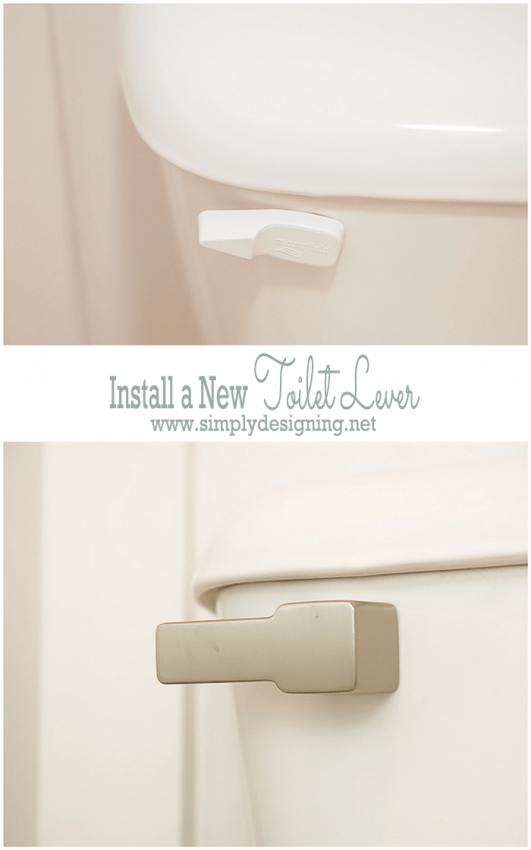 Another small but amazing upgrade we did was to replace the toilet lever.  We swapped out our plastic one for the Moen 90 Degree Tank Lever.  Who knew a tank lever could be so beautiful!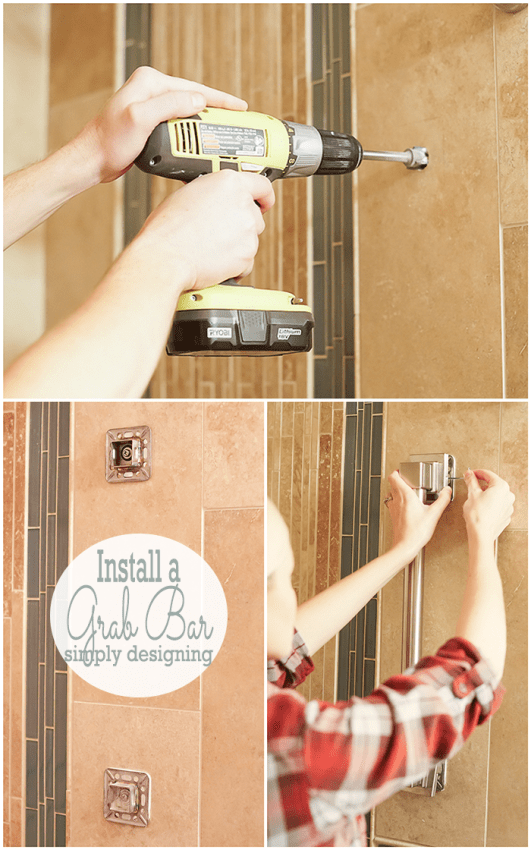 One of the most important updates we did was to add a Moen 90 Degree 18" Grab Bar in our shower.  If you remember, we installed a towel and grab bar combo in our kid's bathroom HERE.  Safety is so important to me and my family so having a grab bar allows us to have a safe place to hold on to as we exit and enter the shower.  We know that this grab bar will support our weight if we slip, trip or fall.  It is also just nice to have something to hold on to as we are stepping over the shower curb.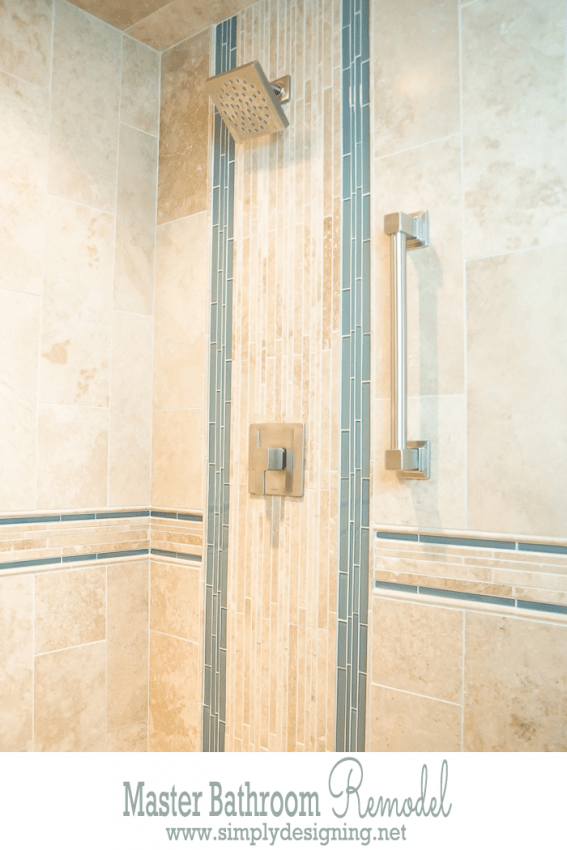 I was a little concerned about drilling holes into our newly tiles shower to install this, but with the right tools the installation was flawless.  And the grab bar really does look nice too!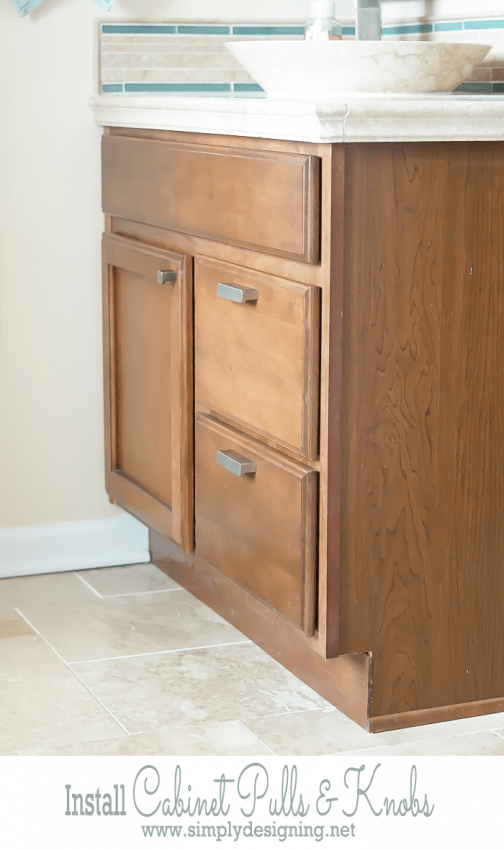 An easy way to update the look of cabinets is to add hardware.  We installed Moen 90 Degree Drawer Pulls and Moen 90 Degree Drawer Knobs.  These were simple to install and they really upgraded our cabinets!  I love how these match the rest of the accessories in our bathroom!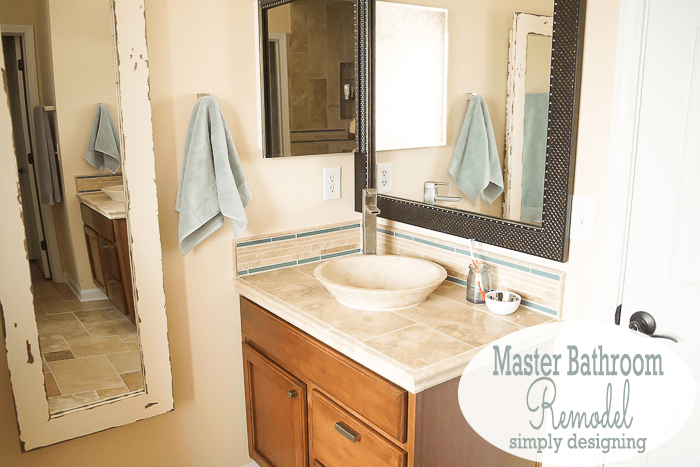 Overall I am simply in love with our new master bathroom!  It was one of the bigger projects that we have tackled but we are so happy with how it turned out!  And the Moen fixtures truly help make this space amazing!
Be sure to check out our previous posts about our bathroom remodel to see the latest details!
Check Out Our Master Bathroom Remodel Series:
Part 1:  Master Bathroom Inspiration
Part 6:  Installing Moen Posi-Temp® Shower Fixtures
Part 7:  How to Install Radiant Heated Tile Floors
Part 8:  Install New Tile Counter Tops
Part 9:  Install a Tile Accent Wall
Part 10:  Install a Bathtub Faucet
Part 11:  Install a Vessel Faucet
Part 12:  Install Bathroom Accessories
How to Install a new Shower Door
How to Install new Bathroom Mirror Frames (in about 10 minutes!)
DIY Framed Mirror with Hidden Jewelry Organization
Please note that I am not a professional.  I am just sharing what worked for us.  As always please use all proper safety precautions and read and follow all manufacturer instructions.  Please note that I am not responsible in any way for any outcome if you try this yourself.  I am not liable for any injury or additional cost or expense incurred.  I always recommend consulting and hiring a professional if needed.  And always be sure to check with local building codes to obtain all permits needed for any DIY project.