Today is finally the day!!  Woot woot!  Today is the day that we are finally installing new SmartStrand Forever Clean carpet throughout our home!  Wahoo!  (Happy dance!)  We are beyond excited that we have had the opportunity to work with Mohawk to make this happen!  And I am thrilled to share our progress with you on this big project!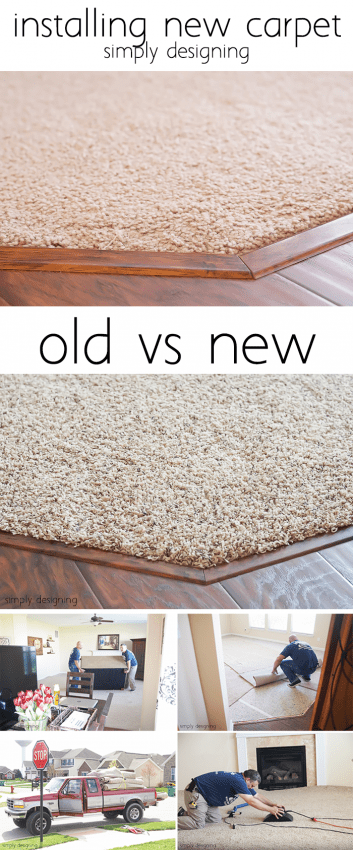 And when I say that "we" are installing new carpet, let me be clear, I mean professional installers.
You know me, I LOVE a good DIY, but carpet, in my humble opinion is better left to the professionals with the proper tools.  I think good carpet installation is an art form learned over time and only done well with the right tools by experienced professional.  There are tools I simply don't have and that would be hard to find for proper carpet installation.  So while I am an avid DIY-er, this is a good time to outsource and bring in the professionals in my opinion.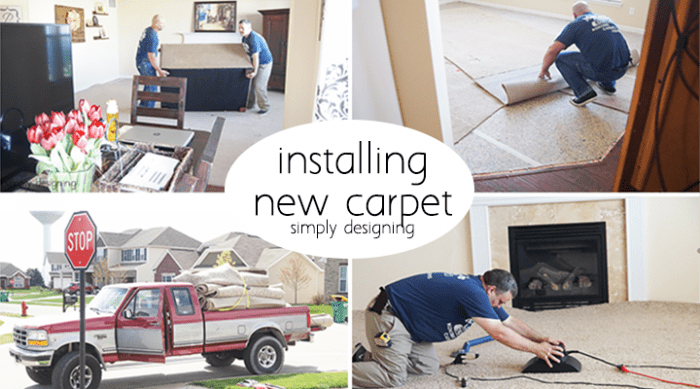 I've shared several times how our carpet is just awful.  It isn't particularly stained, it is just incredibly worn, not-soft, forever matted, and doesn't match.  In my book, that categorizes it as awful.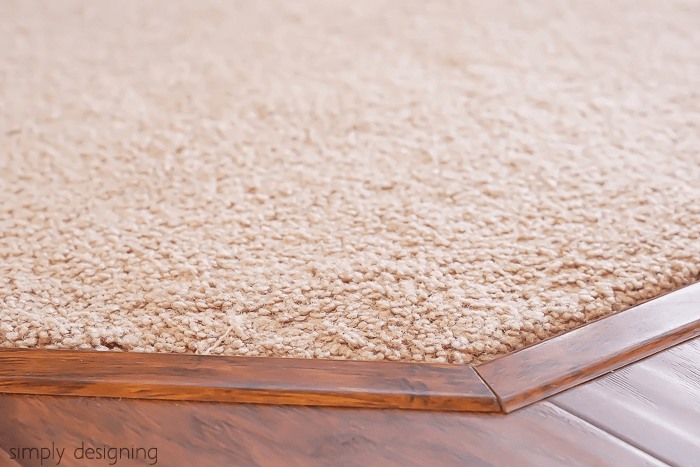 We shopped long and hard to find the perfect carpet and you can read more about my Tips for Choosing Carpet for Your Home HERE.  If you ever think you might want to buy new carpet, check out that post.  I also shared my tips for How to Prepare Your Home for New Carpet HERE.  And if you want to see how and why we began this new project, start HERE.
Since we had already chosen carpet and prepared our home for installing new carpet, we just simply had to wait until it was carpet installation day!  And it has finally arrived!
We chose to install our carpet over a period of two days.  We did our main floor and two rooms upstairs on the first day and the remaining rooms on the second day.  McCool's Flooring sent two installers out and I was impressed at how fast and good they were!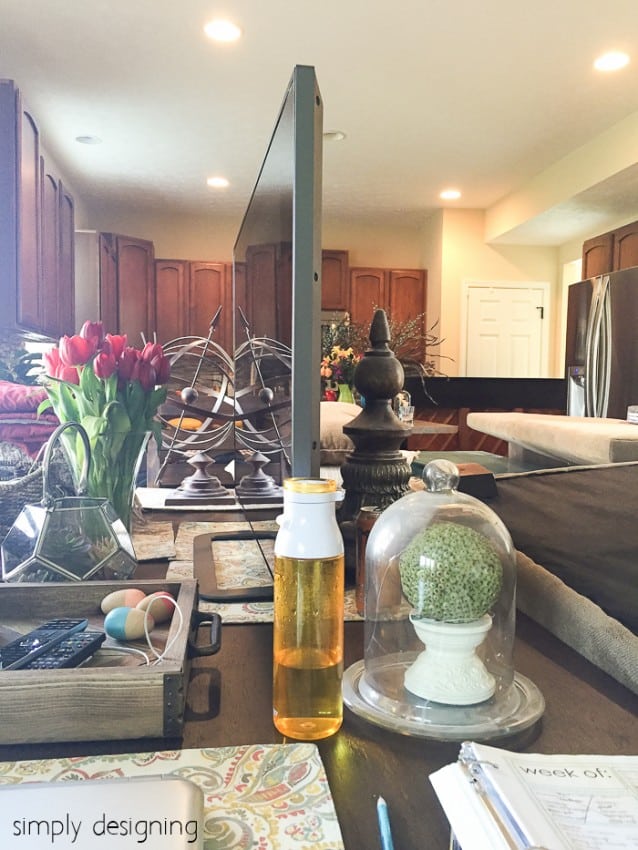 You know it is going to be a good day when your tv, couch and piano are all in your kitchen!  (Wahoo!  It's pizza for dinner tonight!)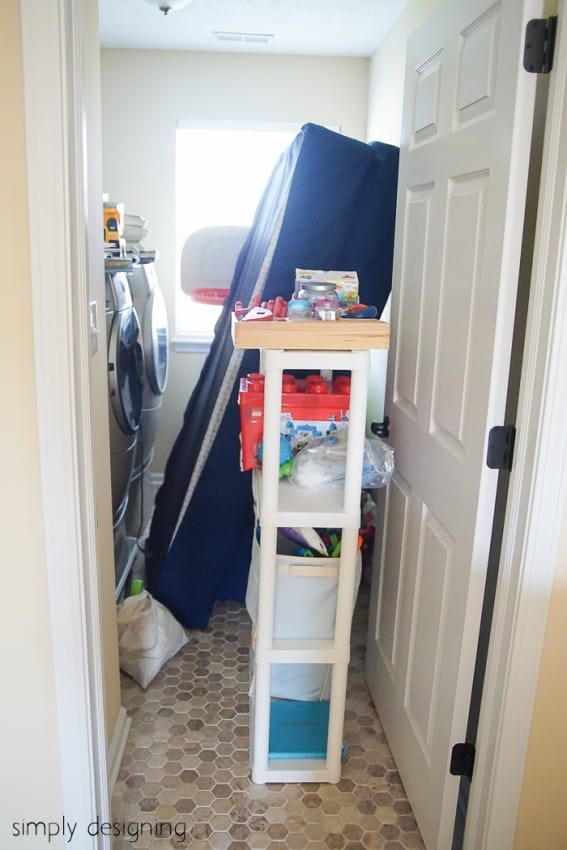 Or when you have a bed in your laundry room.  (Oh darn...I can't do laundry today...)
And let's not even discuss the random things we found under my kid's beds...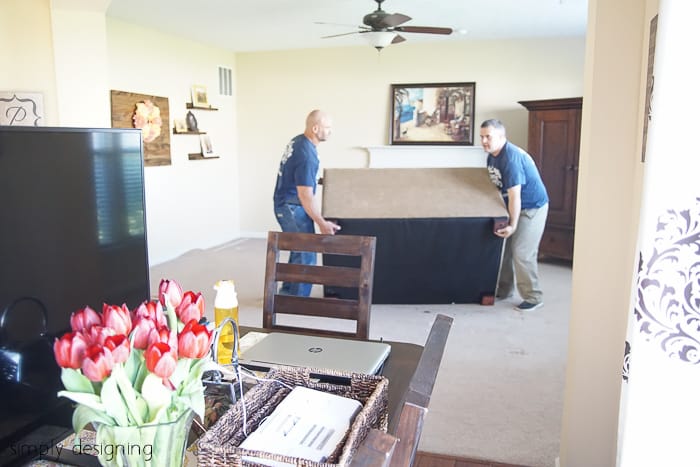 The installers moved all of our furniture for us (because we had contracted with them to do so) and ripped up our old carpet and padding.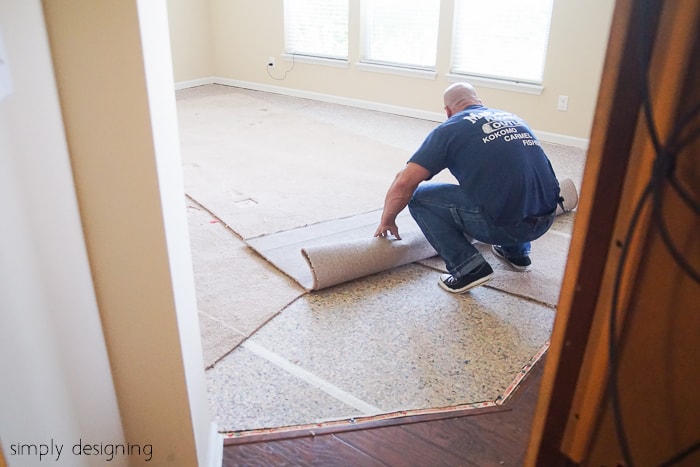 I was happy to say good-bye to our old carpet!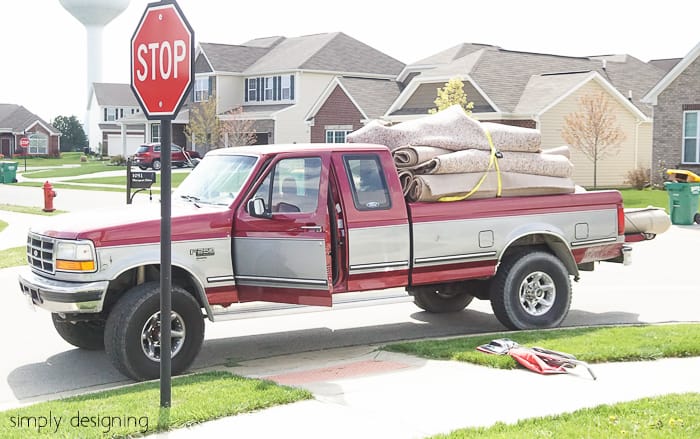 Then they began by installing brand new padding.  We choose Mohawk's SmartCushion pad.  After they laid the padding they taped the seams together.
We were really excited to install SmartCushion because it is Mohawk's exclusively engineered carpet pad that adds cushion and performance to the carpet.  And installing it adds an additional 10 years to the warranty!  SmartCushion has Spillsafe Moisture Guard which prevents moisture from soaking into the cushion and onto your subfloor.  And I love that the SmartCushion is pink because Mohawk donates a portion of every SmartCushion to Susan G. Komen® for ongoing breast cancer research.  You can learn more about SmartCushion here.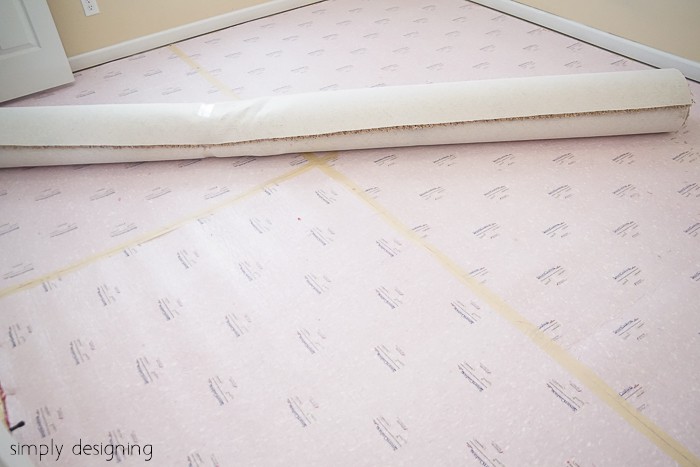 The took great care to ensure the padding covered the entire floor, wall to wall.  Unlike the padding that was previously laid in our home...but let's not talk about that...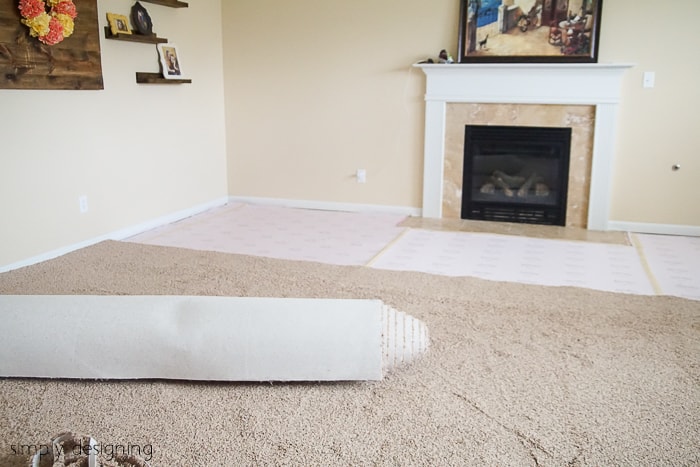 Then they laid, cut and installed the carpet.  I have seen many newly installed carpet jobs and McCool's installers did an amazing job!  They were very professional, very kind and courteous.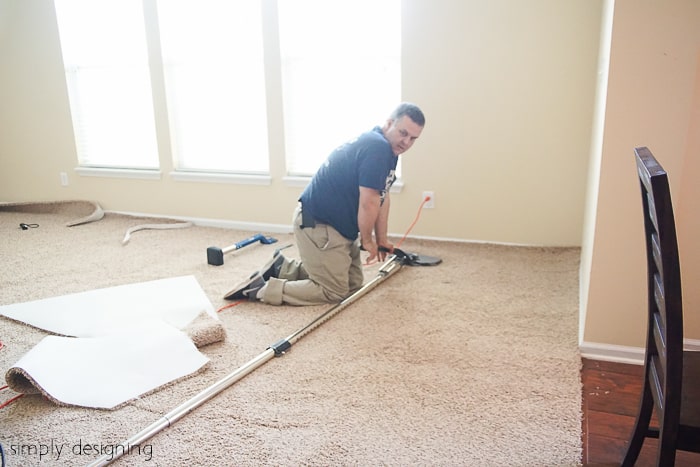 They choose family friendly music to play while they worked which really meant a lot to me.  And they did a good job of cleaning up as well!  They really were quite pleasant to have in my home.  I was really impressed with how wonderful the whole process went!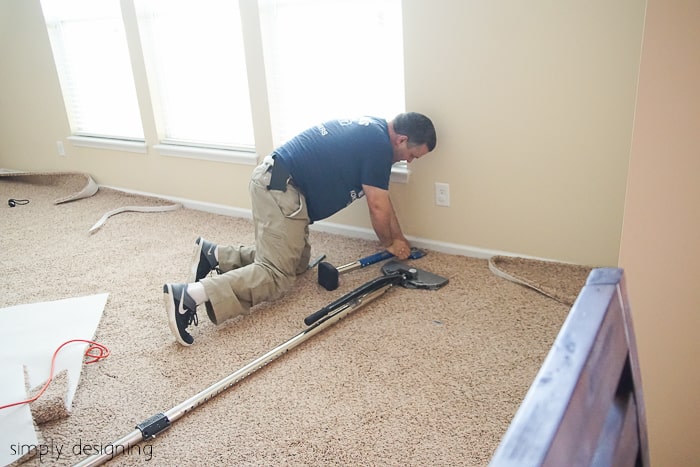 By the way, the carpet we ended up choosing was Mohawk's Bonita Springs carpet in Wheatland.  And it is A.MAZ.ING!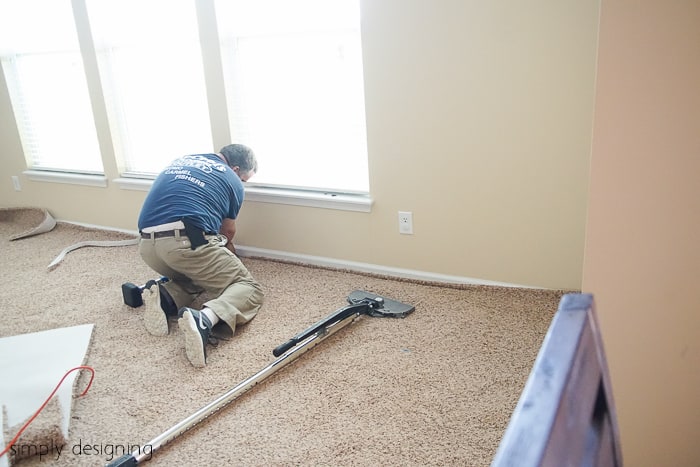 The installers really did a great job with the installation!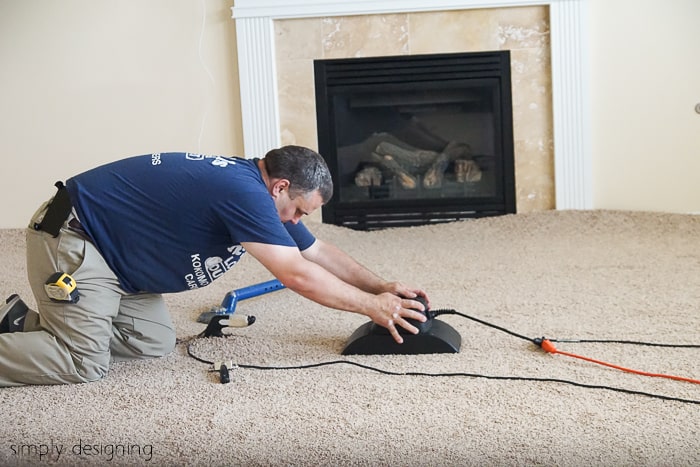 The seams are nearly impossibly to see!  Part of that is proper and careful installation and part of that is that the type of carpet we choose.  The long loose texture of our carpet make it easier to hide the seams.  This is actually something good to remember when you are choosing carpet; some carpet hides seams better then other carpet.
The installers told me several times how nice our new carpet is and that it is great to work with.  One of the installers even said he is planning to put it in his own home one day.  For a person who works with carpet every single day of his life, to choose THIS carpet for his own home, I know I have an awesome product!  (By the way he has six kids so it speaks to the durability of this carpet as well!)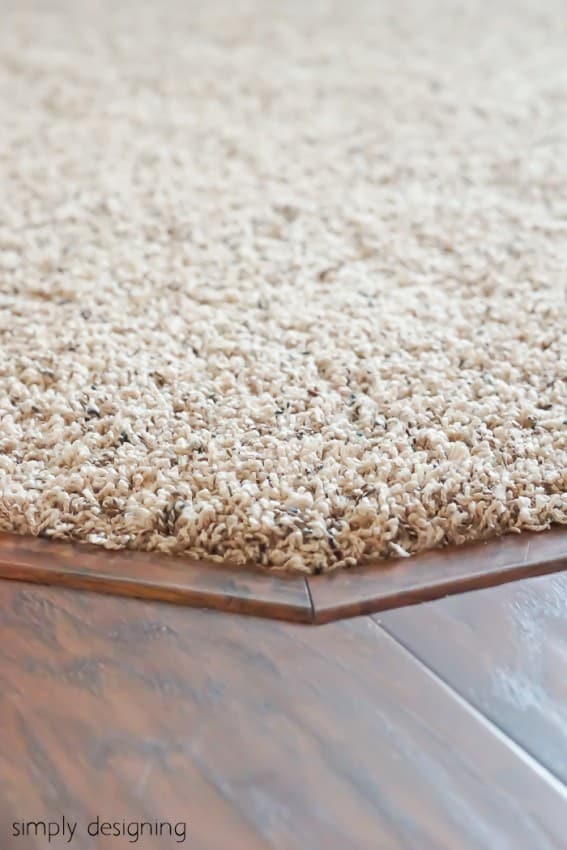 I love how our carpet is a warm neutral with specks of dark grey.  This means it will look great with either warm or cool colored decor!
One of the tips I was given though was to get a new vacuum.  I LOVE my Shark vacuum, but many vacuums are simply not made for frieze, shag or longer types of carpet styles and many vacuums will actually ruin your carpet.  Yikes!  I don't want to ruin my brand new carpet by vacuuming it!  That is just wrong for so many reasons.  Thankfully I was given a list of vacuums that are carpet friendly.  HERE is a list of recommended vacuums compiled from the Carpet & Rug Institute to consider.
Of course I forgot about this until my carpet was being installed and so I quickly ordered a vacuum off the list from Amazon.  I purchased this CRI-certified vacuum HERE: a Eureka AirSpeed ONE Pet Bagless Upright Vacuum.  I chose this one mainly because it got good reviews, was bag-less and had washable filters.  I haven't used it yet so I can't tell you how good it is, but at least I know it won't ruin my carpets!  Thank goodness for two-day shipping!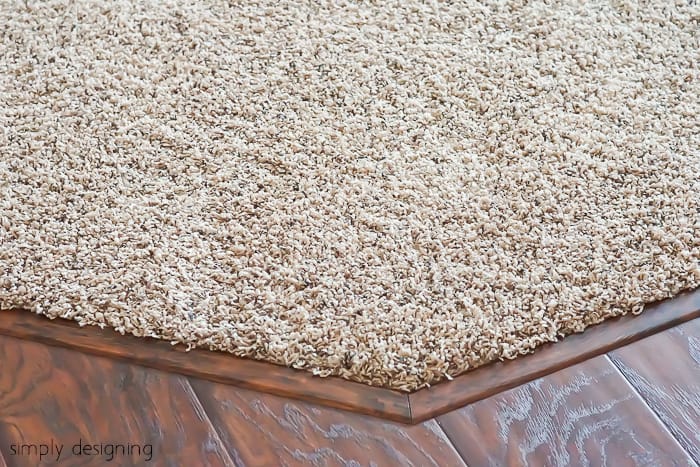 So far we LOVE the new carpet.  I can't even begin to tell you how soft it is!  The color is amazingly beautiful and it looks fantastic in our home!  And as of right now, there is hardly any noticeable new carpet smell!  Which for me means, no headaches from stinky off-gassing!  Wahoo!   This is a huge benefit of CRI Green Label Plus certified carpet!
Do you want to see my before and after photos!?  Don't worry, I am not done sharing our new carpet story yet!  I promise to tell you what I think about our new carpet after living with it for a few days and share many more photos!  So stay tuned for the big reveal full of before and after photos and tons more information, coming soon!!
Be sure you check out my other posts in this series: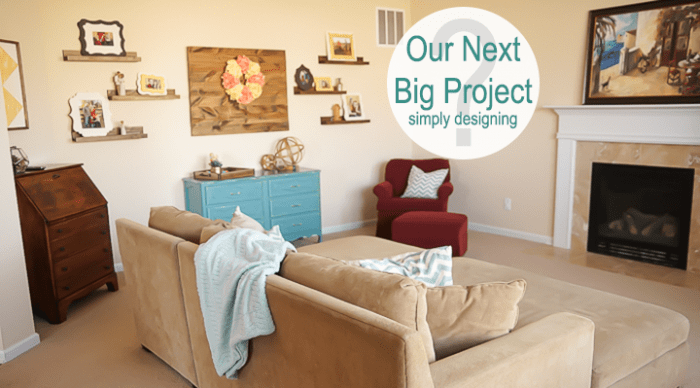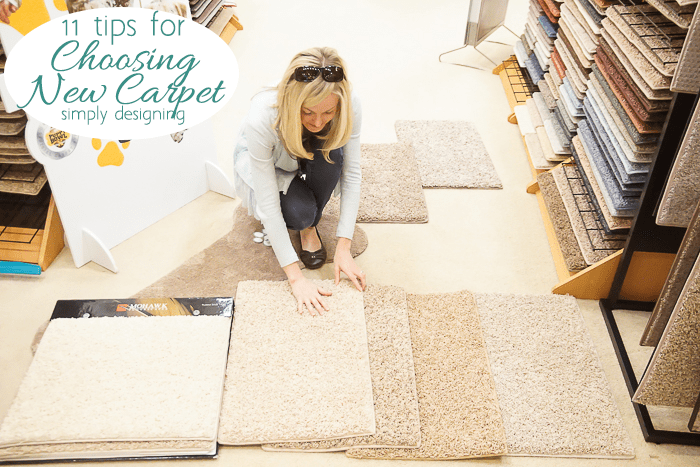 11 Tips for Choosing New Carpet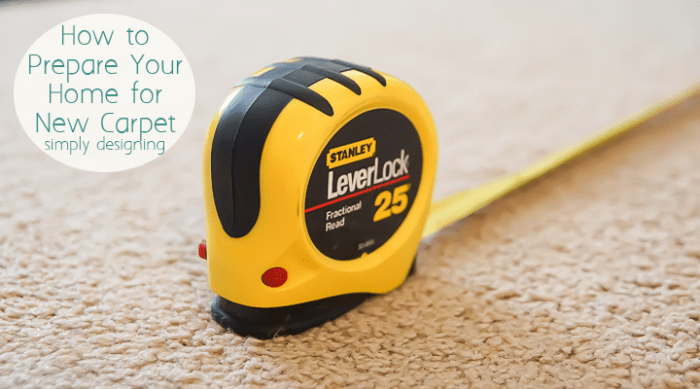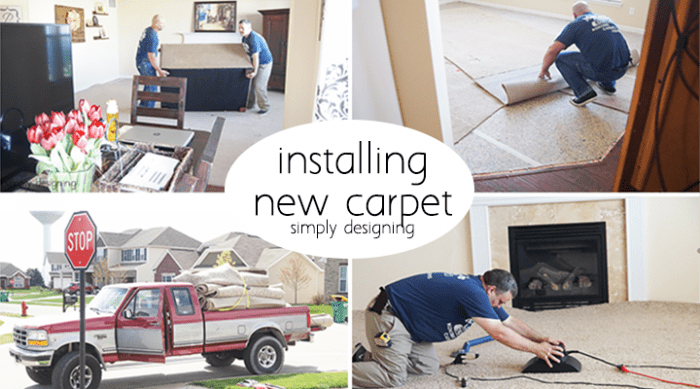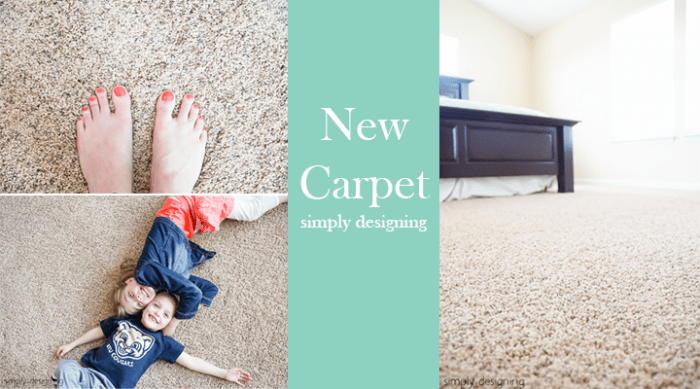 You might also enjoy this post too: