When we moved to Indiana a few years ago, my children and I discovered how fun it was to pick strawberries!  The first time we went strawberry picking we came home with 10 lbs of strawberries.  Which seemed like a good idea at the time, until I realized that I had no idea what to do with that many strawberries!  A dear friend suggested I make jelly and walked me through the entire process.  And ever since then, my family is completely hooked!  In fact, no one likes store bought jam anymore.  So every year we pick strawberries and make jelly for the entire next year.  We made our traditional Strawberry Jelly this year but I decided I wanted to do a small batch of  something different.  Today I am really excited to share my Raspberry Pomegranate Jelly Recipe with you and how easy this really was to make.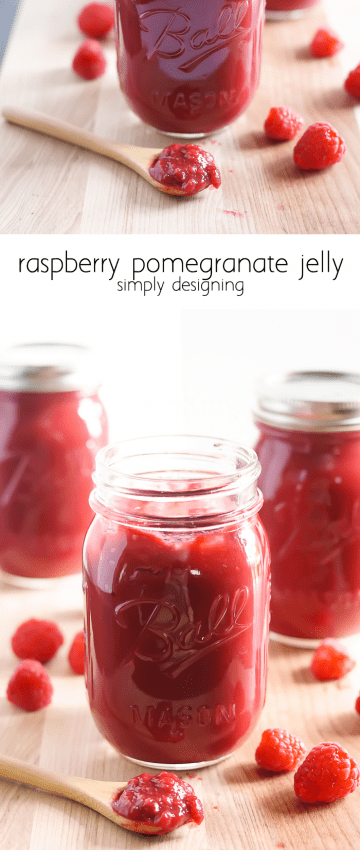 A big thank you to Jarden Home Brands for sending me a case of pint jelly jars, their Ball Blue Book Guide to Preserving and their awesome FreshTECH Electric Water Bath Canner and Multi-Cooker for purposes of this blog post.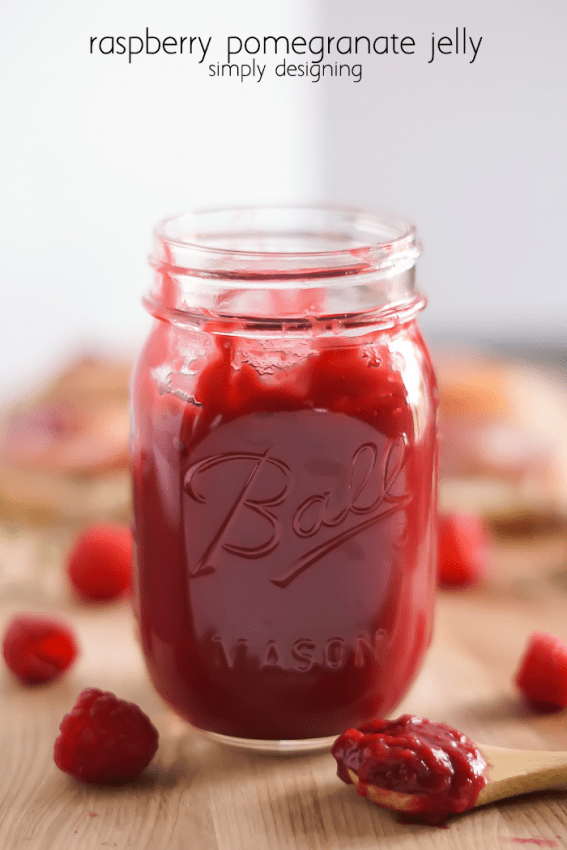 After receiving the awesome package from Jarden Brands, I started looking in the recipe book and the book that came with the canner.  In that recipe book, there was a recipe for pomegranate jelly and I was immediately intrigued!  So I decided to make my own version of a pomegranate jelly, using raspberries too!  And this yummy and delicious recipe was born!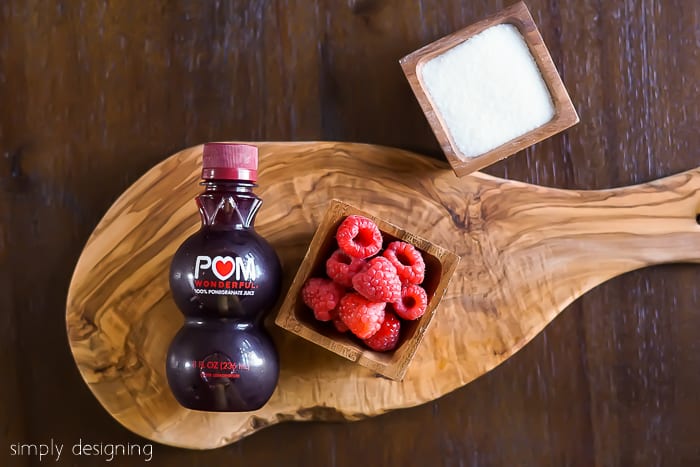 Raspberry Pomegranate Jelly
Ingredients:
1 cup Pomegranate Juice
4 cups pureed Raspberries (about 8-9 small 6 oz containers, or approximately 48 oz, pureed)
1 ½ cup sugar
4 ½ Tablespoons Low-Sugar Pectin
1 ½ teaspoons butter
Directions:
Place raspberries into a Vitamix, food processor or other blended and puree until smooth.  If you prefer bits in your jelly you can crush the raspberries instead.  But my kids don't like bits in their jelly so I pureed it until smooth.
Put raspberry puree, pomegranate juice and butter into a large pot.  Add pectin slowly and stir.
Bring to a boil that can not be reduced by stirring.
Add sugar and bring back to a boil.
Boil for 1 minute, stirring constantly.
Remove from heat.
Preserve as desired.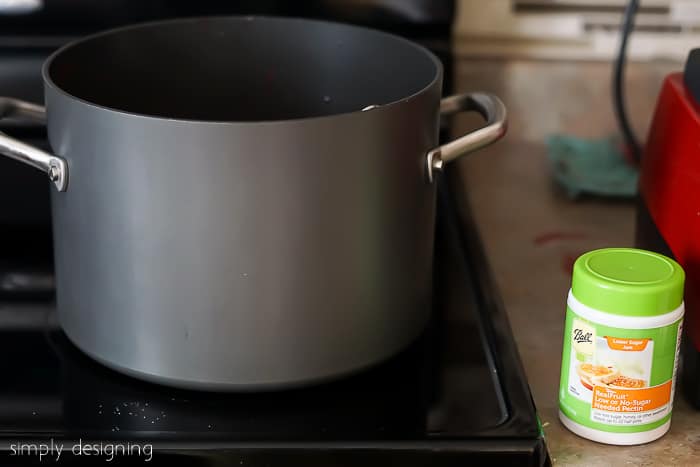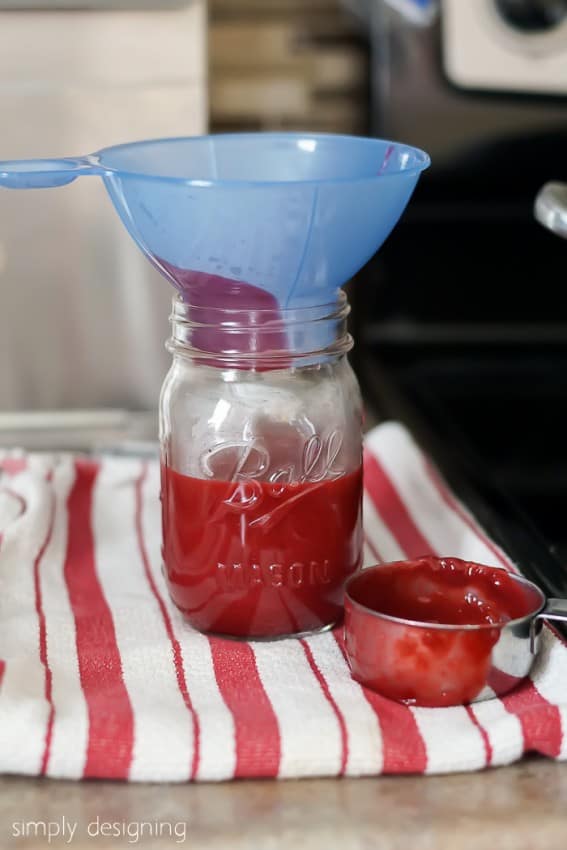 This recipe makes a really tasty preserved jelly!  It is just a little tart but the right amount of sweet too!  Yum!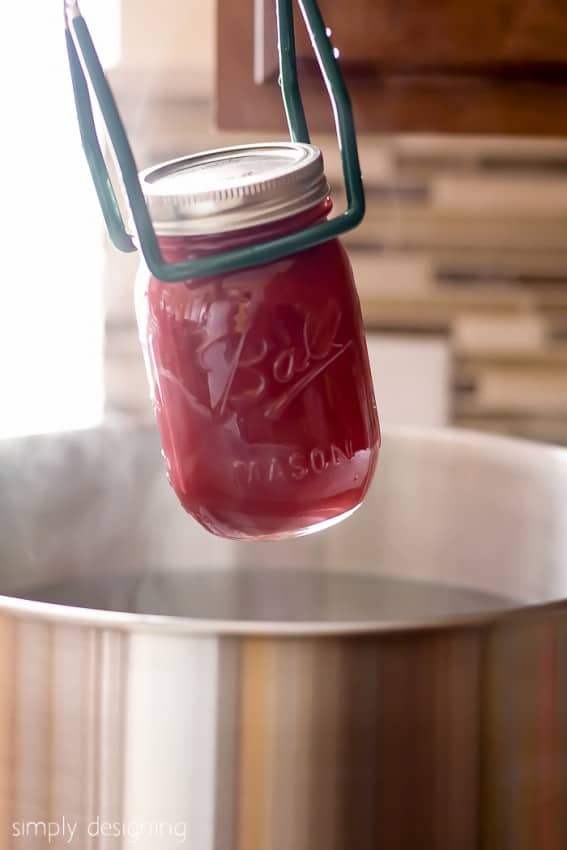 I was able to get 3 pints of Raspberry Pomegranate Jelly from this recipe.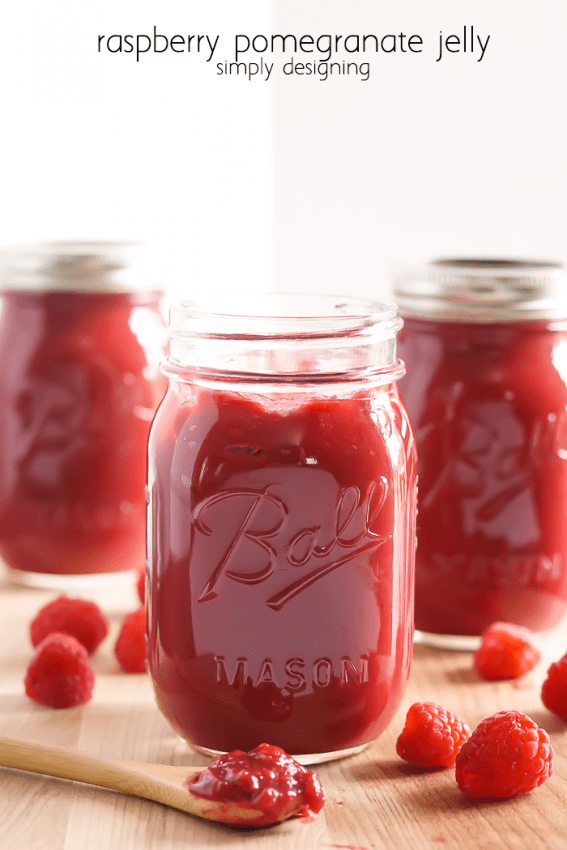 After your jelly is made, you will need to preserve it!  You can just place it in a jar, let it cool for 30 minutes and then place into the refrigerator to use immediately.  Or you can preserve it like I did!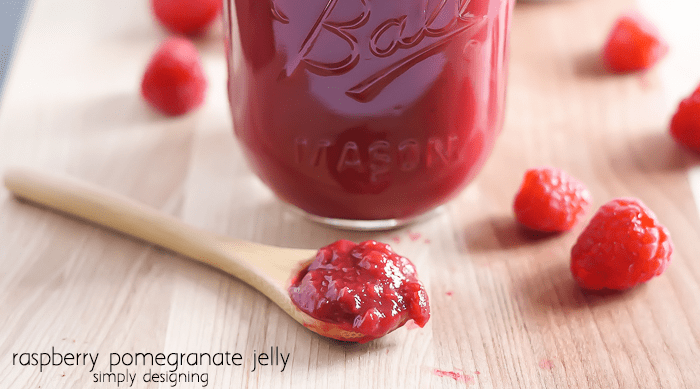 To preserve this jelly I used the FreshTECH Electric Water Bath Canner and Multi-Cooker.  I love that this did not take up counter space and it canned my jelly quickly!  I even used this to heat my jars prior to filling!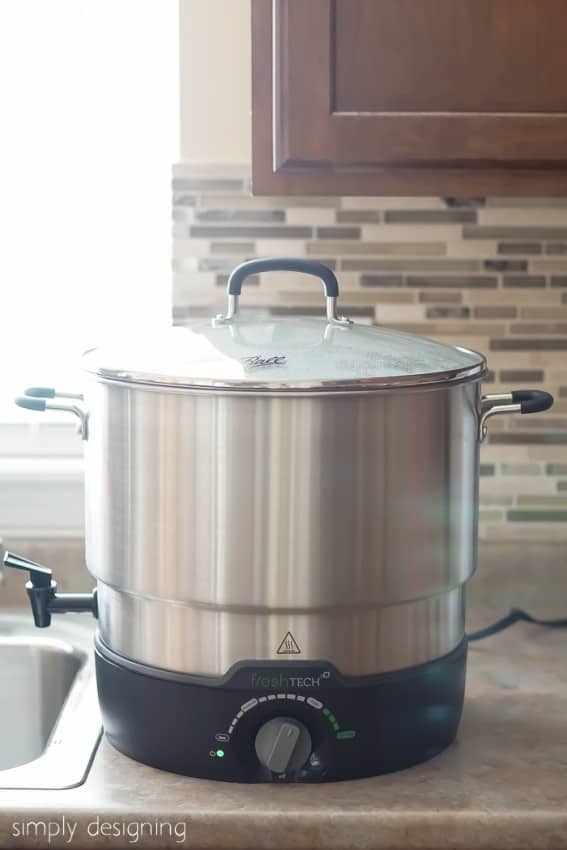 Then I followed the directions and used this to seal and preserve my jelly for later!  It really worked well and I am excited to be able to use it again soon!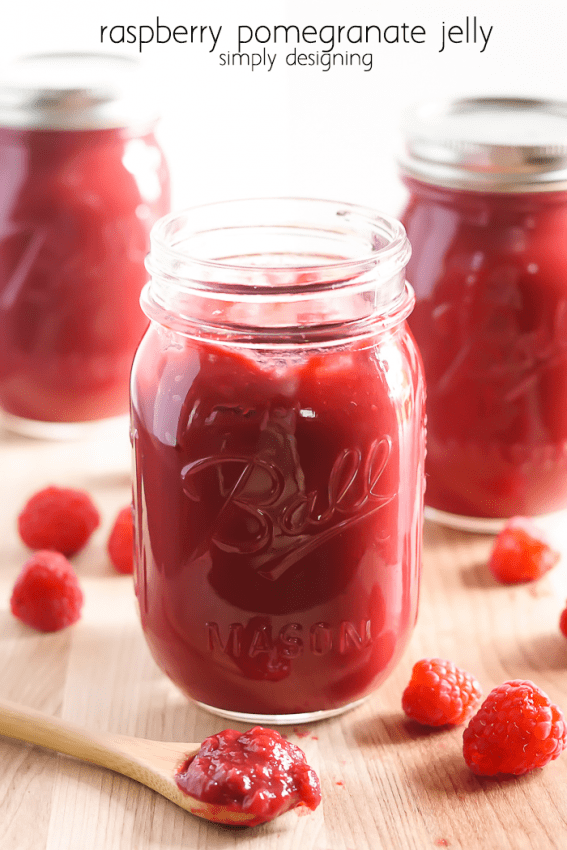 This jelly is so good we decided to try it on a few things.  It is of course really good on biscuits...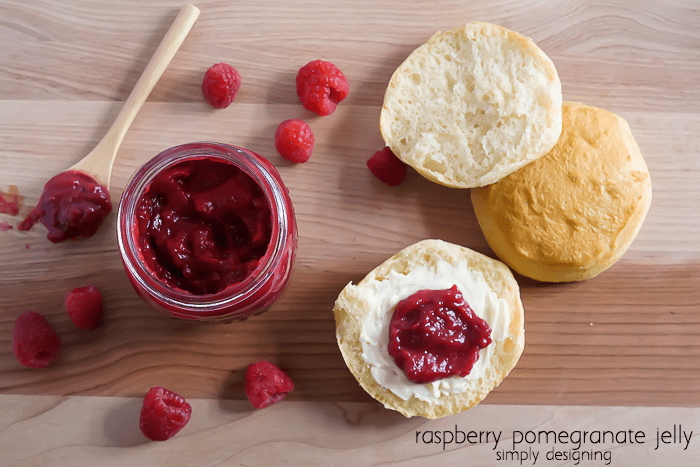 But it is absolutely to die for delicious on yummy bread with a bit of soft cheese (I used a Port Salut cheese and it was divine!) and a bit of ham...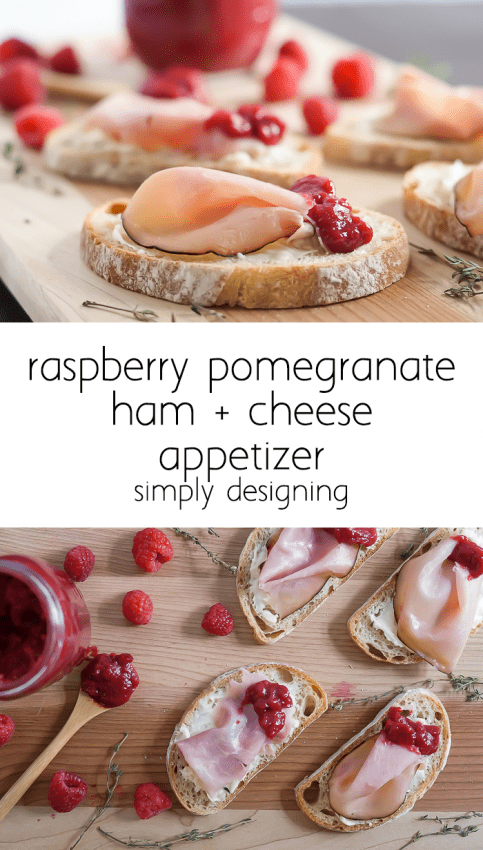 Seriously, this is amazing!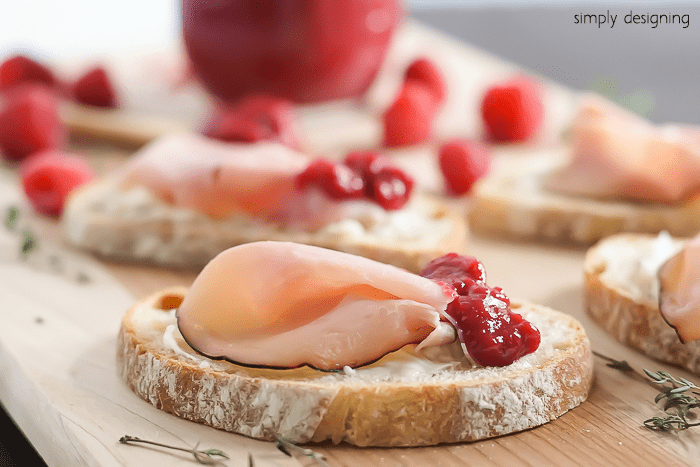 Even my kiddos were begging to try this!  And they liked it too!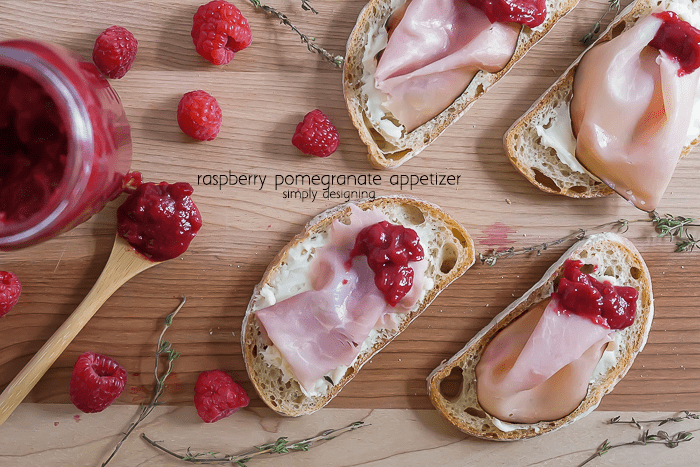 On August 1st, Jarden Home Brands is celebrating it's 5th annual Can-It-Forward-Day and you'll be able to join in by watching a broadcast on the Fresh Preserving site or on my site this Saturday, August 1, 2015 from 11-4 EST.  Be sure to stop back here to check it out.  My sweet friends from Hoosier Homemade will be one of the bloggers in this broadcast so I can't wait to check it out!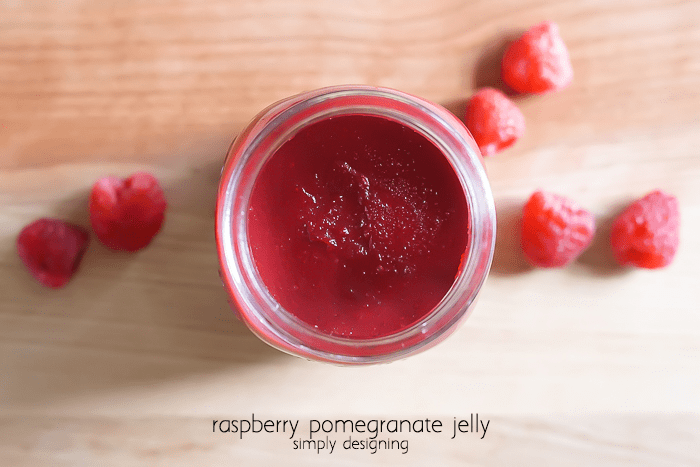 And I am so thrilled to be able to GIVEAWAY your own Jarden Home Brands Prize pack today!
This awesome prize includes:
(1) FreshTECH Electric Water Bath Canner and Multi-Cooker
(1) case of Pint Regular Mouth Jars
(1) Ball Blue Book Guide to Preserving
So please wait until the Rafflecopter fully loads below and then enter to win!  (If you are on a mobile device, you might need to click the Rafflecopter link to be taken to the entry page.)  Good luck!
By entering to win, you agree to these Terms: Winning entries will be verified.  This giveaway is in no way affiliated, administered or endorsed by Facebook, Pinterest, Twitter or Instagram.  No information will be disclosed to Facebook, Pinterest, Twitter or Instagram by entering this giveaway.  No purchase necessary to win.  Odds of winning are based on number of entrants.  Winner for prize package will be chosen randomly through Rafflecopter.  Giveaway will run from July 31, 2015 until August 10, 2015 at 6:30am EST.  Winner will be announced on August 10, 2015 in this blog post and the winner will need to respond within 48 hours of announcement via email to claim their prize or another winner will be chosen.  Winner must be 18 years of age or older and a US citizen with a US mailing address in order to win.  Void where prohibited.  Winner is responsible for paying any necessary taxes on winnings.  All prizes will be mailed / emailed / fulfilled by the sponsor and the blog owner(s) involved are not held responsible if the prize is not fulfilled.  A list of winners may be requested after the giveaway has ended.  Please email me with any questions or to obtain additional information at: [email protected]