You all know that I love to celebrate the holidays!  I also love topiaries...and candy.  And I also happen to have a lot of leftover candy from Halloween...do you?  Not much...but a little bit...about a month ago I shared these really cute Monster Topiaries on my blog.  I thought these were so stinkin cute, I couldn't resist whipping up a set for Christmas!  Because obviously Christmas + candy + topiaries = Awesomeness!  So today I am really excited to share a super cute idea for Santa and his Reindeer Candy Holiday Topiaries!  These are such a fun holiday decoration and they are easy to make too!  And.  Because.  Candy.  Keep reading to see exactly how to make these yourself and to learn how simple it is to turn your favorite (or just leftover) candy into holiday decor!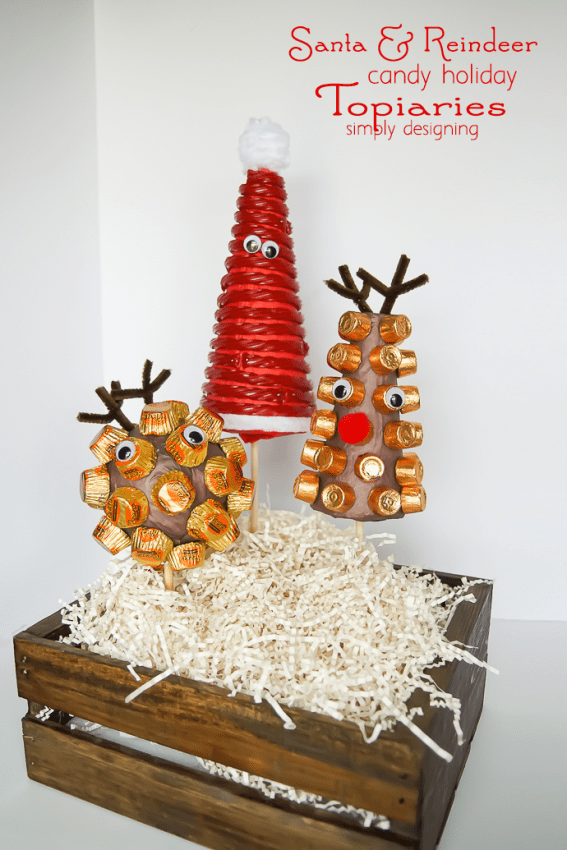 Santa and his Reindeer Candy Holiday Topiaries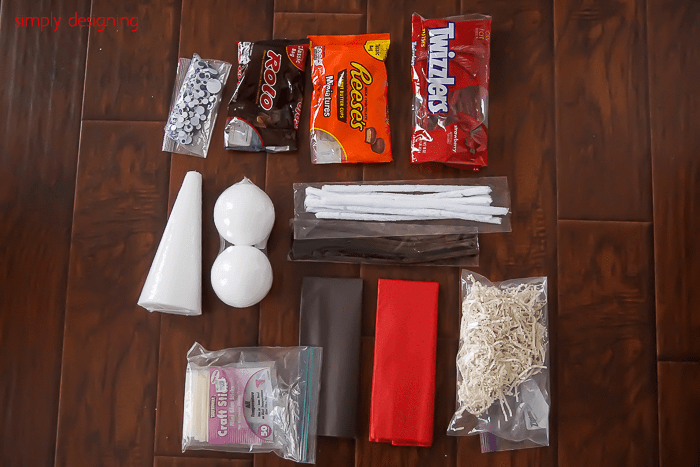 Here is what you will need to create these topiaries:  (This post contains affiliate links.)
Directions:
You will begin by wrapping the ball and small cone in brown tissue paper and securing with hot glue.  Wrap the larger cone in red tissue paper and secure with hot glue as well.
Use the FloraCraft® StyroCutter® Plus to cut the sheet of foam to fit inside of the crate.  Put it in place and add hot glue if neccesary to secure.
Wrap licorice around the large cone in a diagonal fashion and secure it in place using straight pins ONLY at the ends of the licorice.
Use hot glue to adhere Rolos onto the small cone and peanut butter cups onto the ball.
Add a brown pipe cleaner bent to look like reindeer antlers to the top of the ball and the small cone with your hot glue gun.
Add a red pompom as Rudolf's nose to the small cone.
Wrap white pipe cleaner around the small ball and secure with hot glue.
Use hot glue to attach small ball covered in white pipe cleaner to the top of the large cone.
Add one layer of white pipe cleaner to the bottom of the large cone with hot glue.
Use hot glue to secure the wiggly eyes on all three topiaries.
Place a wooden dowel into the bottom of the cones and ball.  Secure with hot glue.
Place the other end of the wooden dowels into the foam block and then push the dowel through the block and into your sheet of foam so that the wooden dowel goes through the block and into the sheet of foam.  Secure the wooden dowel in place with hot glue.
Add cream crinkle paper into the crate to hide the foam.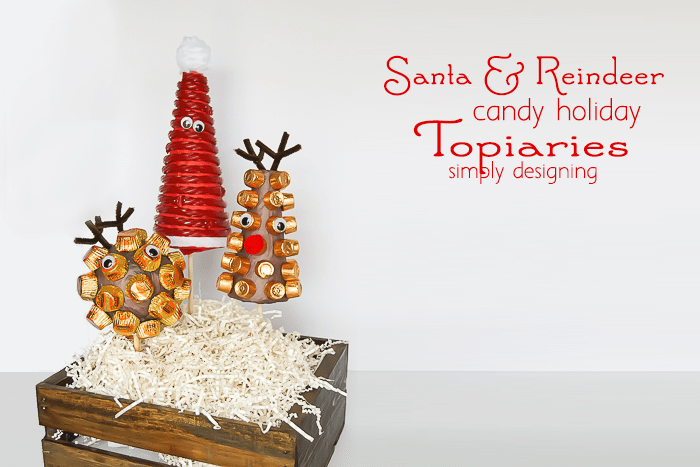 This is a fun craft to for older children to help with too!  Don't be surprise if some of the candy goes missing though.  I love how festive it is while still being whimsical and fun!
Here are a few up close photos of the holiday topiaries: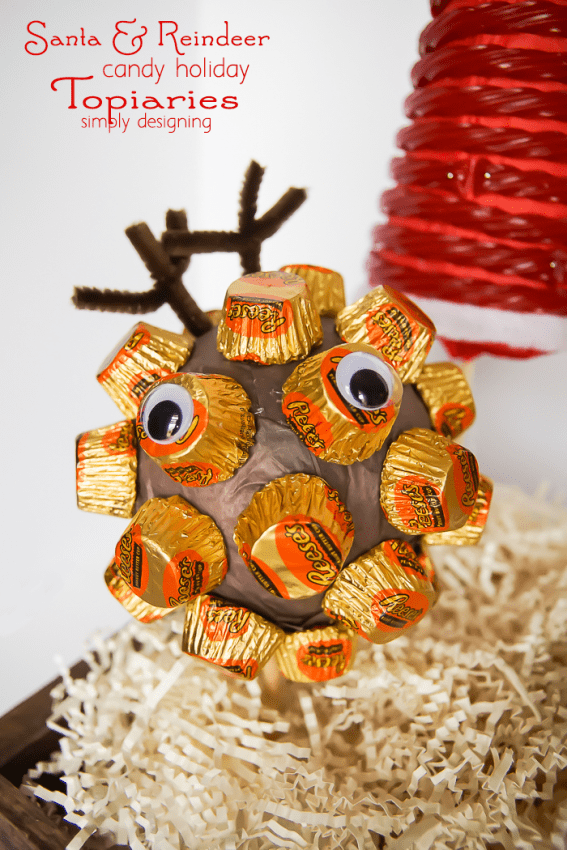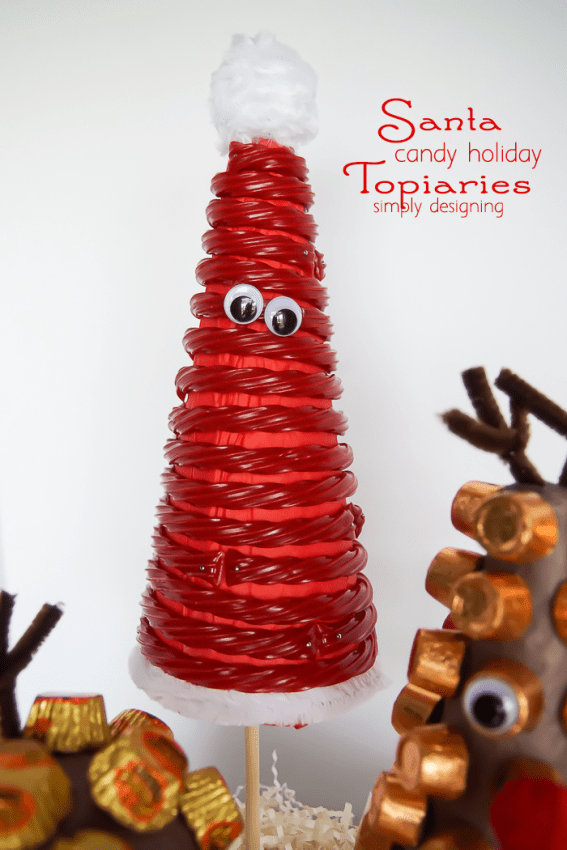 I can't wait to display these this holiday season!  I will probably put them near my Natural Glam Holiday Mantel or maybe as a centerpiece for this year's How to Have a Stress-Free Christmas Season.  While you are there, be sure to check out my post on How to Have a Stress-Free Christmas Season to help keep your holidays merry and bright!
You might also enjoy: