If you stop by here often, you know that I already decorated my Holiday Mantel this year!  I know, I know it's a bit early, but I just couldn't help myself!  I loved the rustic glam Christmas decorations I found this year and I just couldn't wait to put it up!  After that, I decided it wasn't worth fighting it any longer and I gave into my urge to decorate my home for Christmas early this year!  No, my tree isn't up...yet.  But I have added a few more Christmas decorations to my home and my Christmas cards are nearly all ready to go!  Wahoo!  But you know what?  I want a Stress-Free Christmas!  And today I am going to share my plan to do that this year!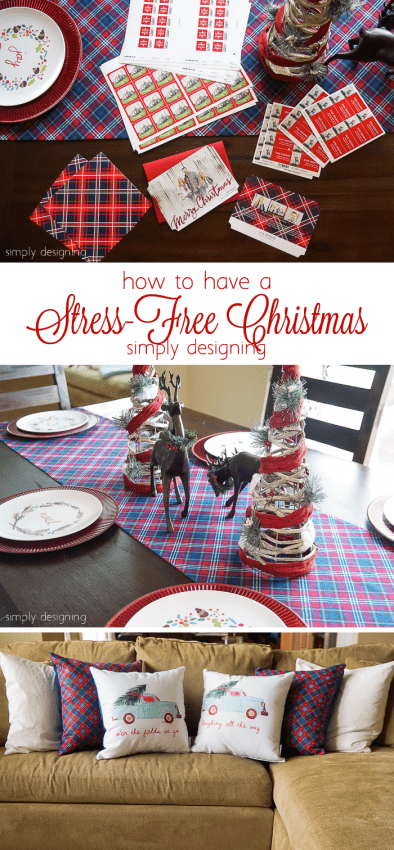 A big huge thank you to my friends at Shutterfly for making this post possible today!
The key to having a stress-free Christmas is truly to plan ahead.  I know that sounds so simple, but really!  Begin everything early!  I know, I know.  Most people don't love seeing Christmas decor up in the stores before Halloween, but I have found that if I start thinking about Christmas before the holidays arrive, my holiday season is much less stressful!  Even if you don't decorate early, begin by getting your family photos taken in September or early October (or take your own family photos) (it's not too late to take them this year though so don't feel discouraged!)  But if your photos are taken early, you can order your Christmas cards early and avoid the last minute rush!  So today I am sharing how we have begun our holiday preparations early this year in hopes of a stress-free Christmas (or at least mostly stress-free!)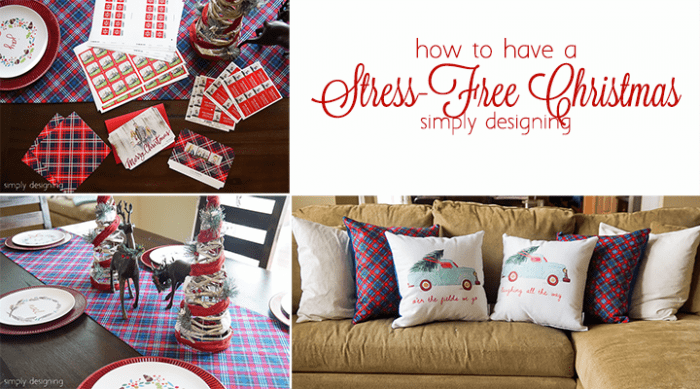 We ordered our Christmas cards from Shutterfly last year (you can see them here) and I just loved how they turned out!  We honestly thought that we had peaked with the cool Christmas cards and would probably never come up with a better card ever again.  Until...I realized that Shutterfly has FOILED Christmas Cards and beautiful envelope liners!  What!?  How cool is that!?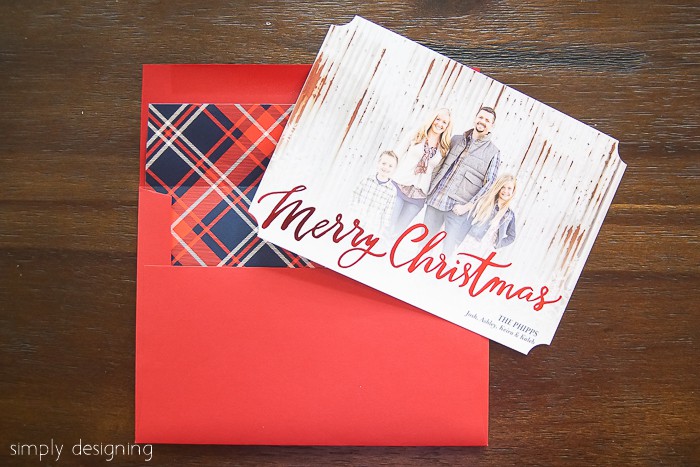 What I also discovered is that you can design your own pillows, table runner and plates at Shutterfly too!  Seriously.  How cool is that!?
So I set about custom designing a few fun holiday pillows, a table runner, holiday plates, and I ordered a few Christmas cards as well, and you know what!?  I think we might have topped our cards last year!  These are so cool!  I really love the red foiling on them!
Before I did any of this though, we needed family photos!  Which we took the begining of fall.  We decided once again to take our family photos ourselves.  You can see my 11 Tips to Take Your Own Family Photos HERE in case you want to take your own too!  We found another fun barn (when in Indiana...embrace the barns right!?) and took a few family photos.  We love how they turned out!  Then I set about creating our Christmas card designs!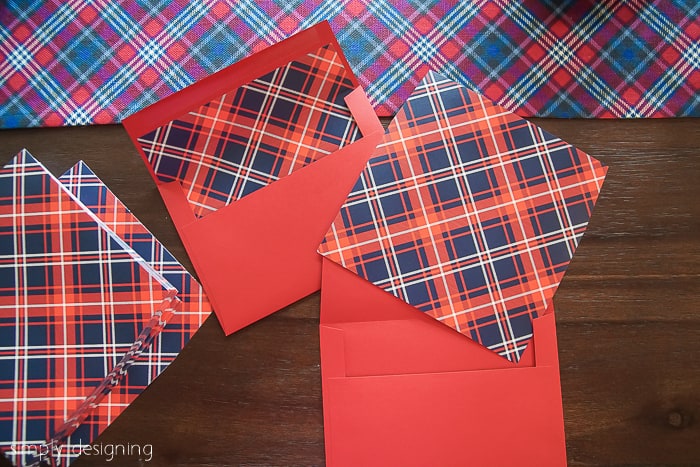 Shutterfly has so many options, it is so hard to choose!  But we ended up falling in love with Susurration Of Frost Christmas Card with the foil-stamp in sed.  We added ticket corners and a back design as well with a cute plaid background!  What was extra fun was that we added a plaid liner into the envelope to match the cards!
Because I hate licking the back of envelopes, I customized stickers to go on the back of our Christmas cards to seal them shut.  We ordered the Enchanted Frame stickers and personalized them.  This might seem silly, but not having to lick 75 envelopes makes doing Christmas cards seem more doable.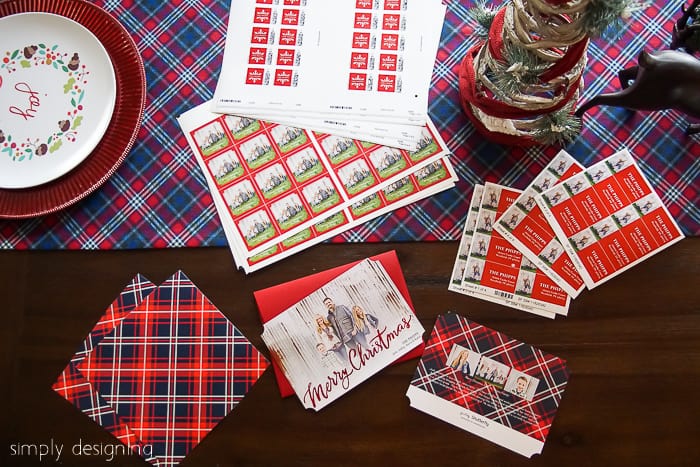 We also ordered a few Classic Band address labels which we were able to personalize as well!  And did you know, Shutterfly will customize stamps for you too?  I love the Snowflake Name stamps!  I also love that I don't have to fight post office crowds to buy stamps this time of year because they are shipped to my door.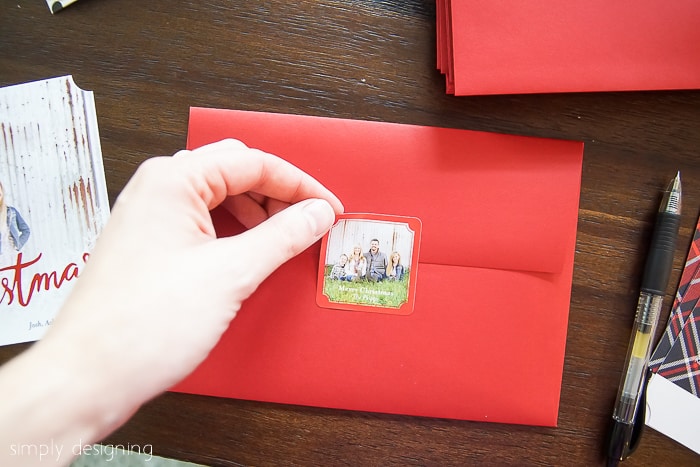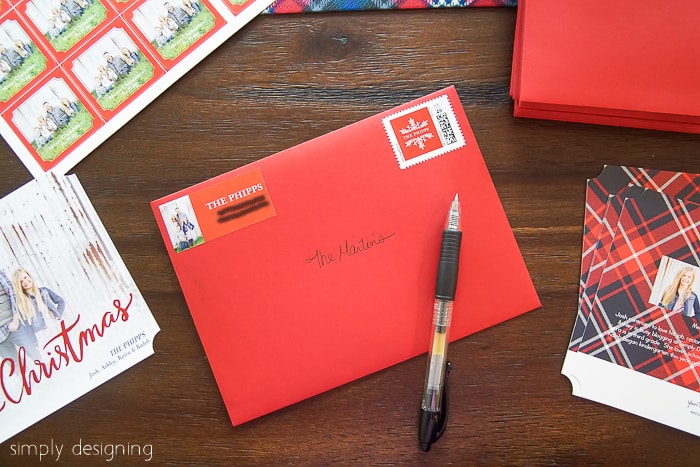 This is the best way to do holiday cards because everything is shipped to my home, and all I need to do is assemble them (which my kiddos help me do) address them (which I enlist my husband to help me with) and mail them out!  I don't have to fight lines at the post office to get stamps, I don't have to write my return address 75 times and I don't have to lick the back of 75 envelopes!  This is how we do stress-free holiday cards in our family!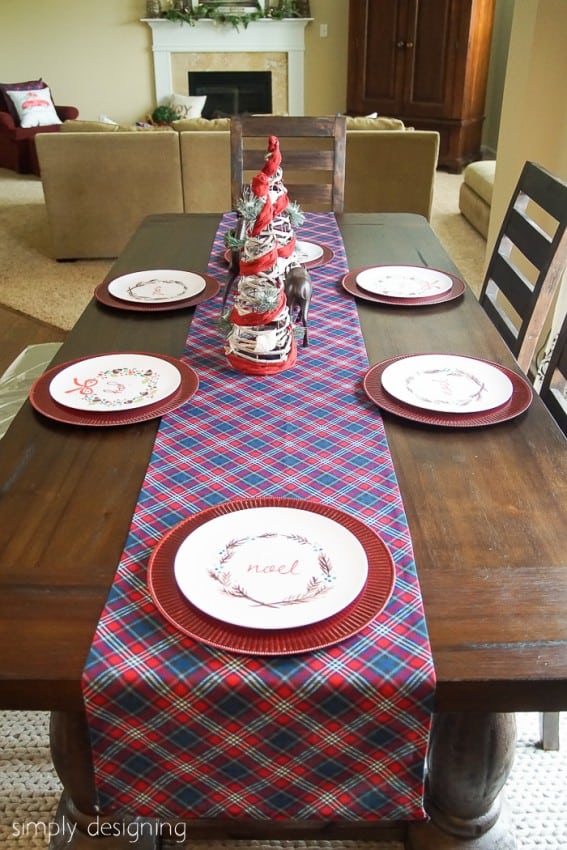 Like I mentioned before, I decided to order some other fun personalized holiday decor from Shutterfly this year too!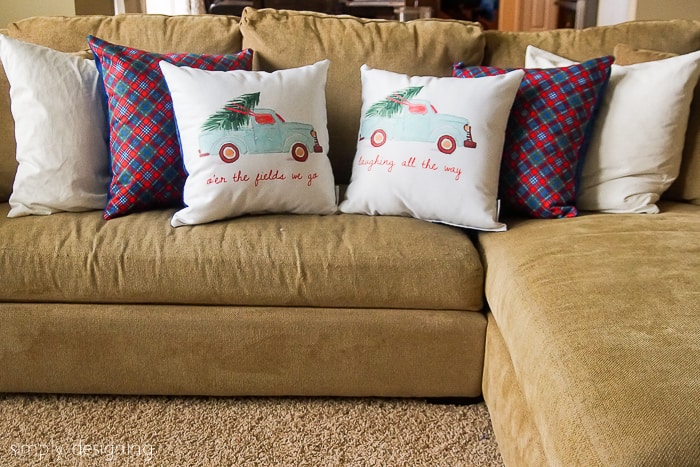 I bought clip art I fell in love with on Etsy that had the appropriate rights for me to use it like this, and then I designed these super cute pillows!  I love the truck and car!  I added the song lyrics to the pillow design too and I just love how they turned out!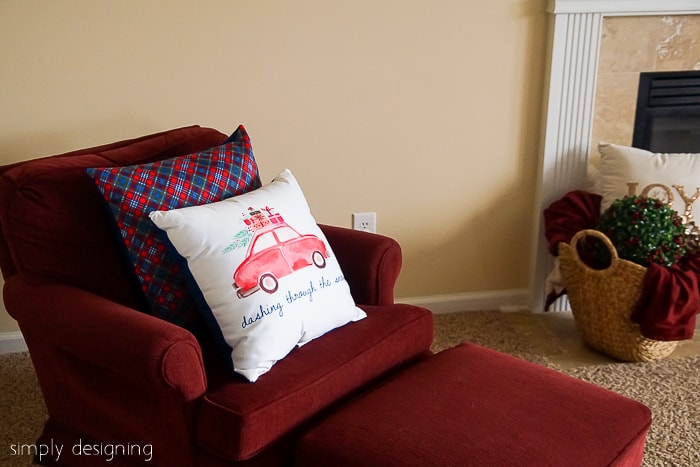 I decided that I wanted to add plaid to my home this year!  So I designed plaid pillows and a plaid table runner as well by uploading my own designs onto Shutterfly!  I love that I can take my own designs and turn them into almost anything on Shutterfly!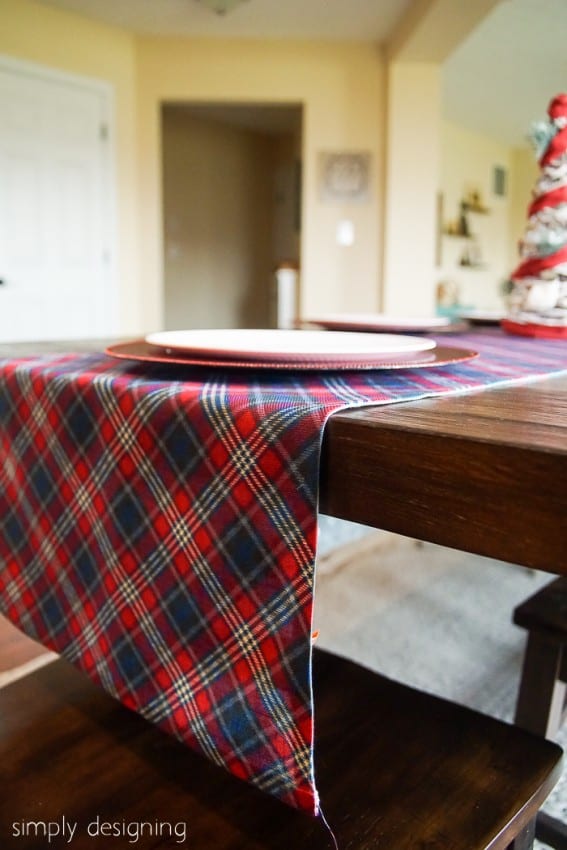 I also designed some beautiful holiday plates!  I really really love how these turned out!  I don't have fine china and I don't have Christmas plates.  And with little children, having Christmas plates was never practical.  But these personalized melamine plates are perfect because they are easy to store and they are kid-friendly!  I am actually excited to host Christmas dinner this year!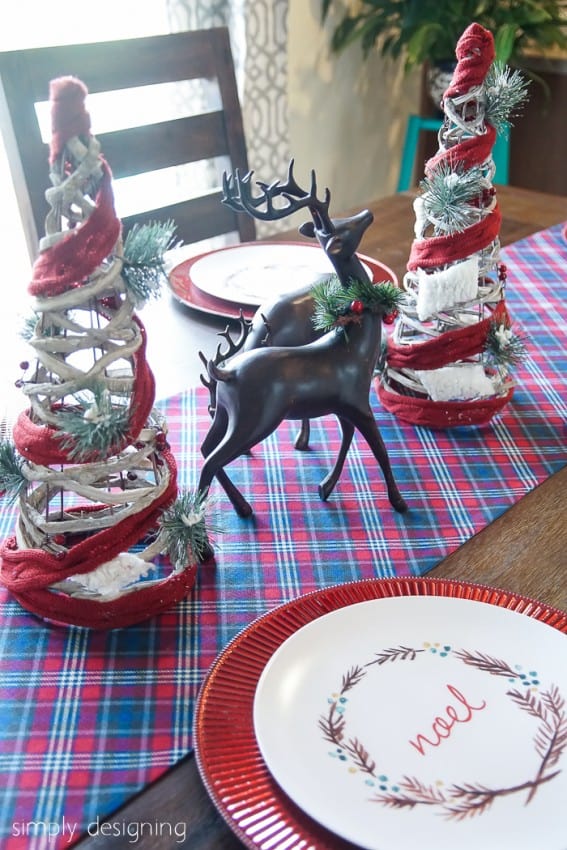 I designed two different plates and I love them both!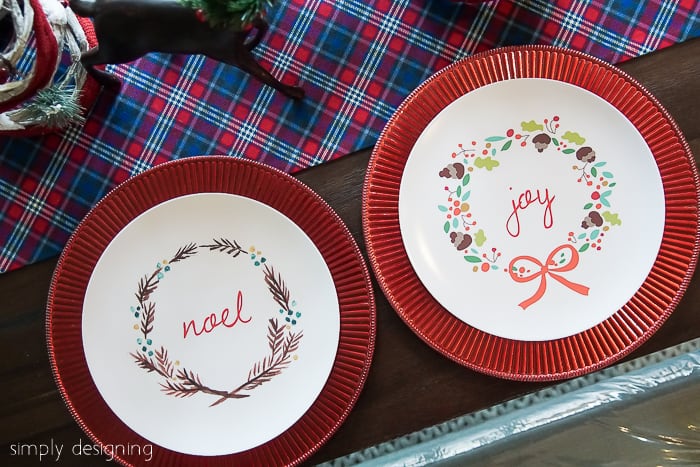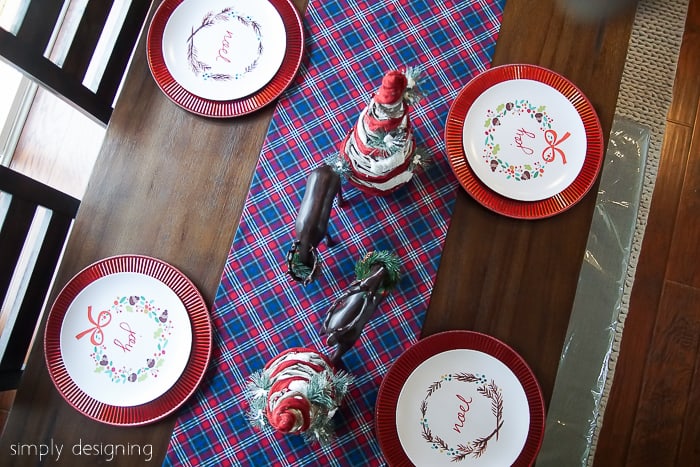 The best part about all of this is that I was able to create my own unique designs on Shutterfly and it all ships to my home so I don't have to fight the holiday crowds.  Because I ordered everything early I am able to sit back and enjoy my holidays in a decorated home, with my cards out early and I won't be scrambling at the last minute this year!  Also, ordering personalized items from Shutterfly make wonderful gifts for anyone on your gift list this year!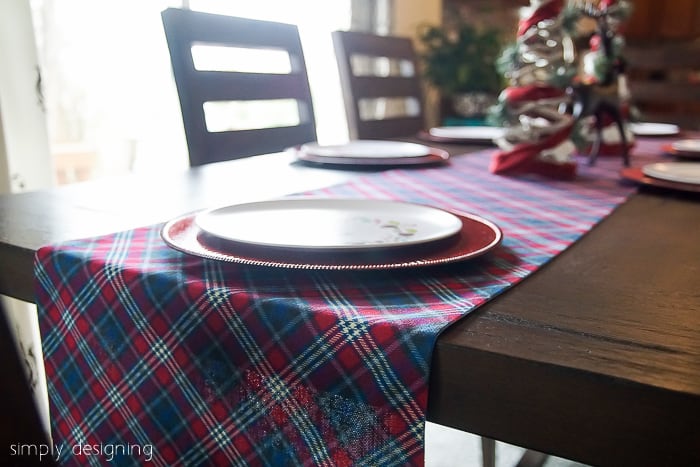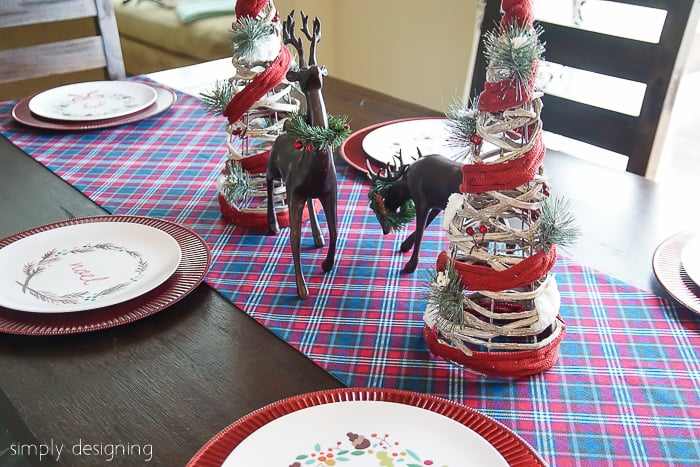 Besides starting early, I love having things shipped to my home so that I don't have to fight holiday crowds to get things done.  This leads to a very stress-free Christmas season for me and my family.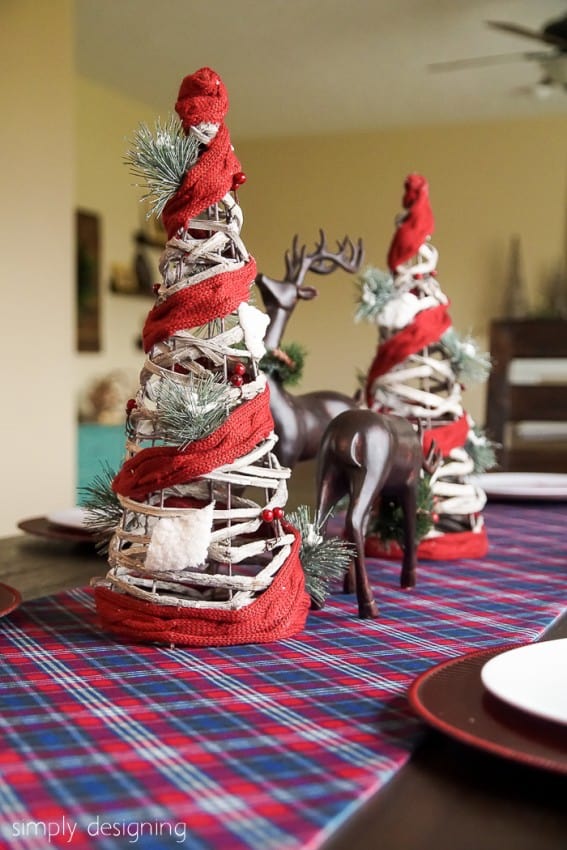 What are your favorite tips to keep the holidays stress-free?
You might also enjoy:
11 Tips to Take Your Own Family Photos