It has taken me a little while to write this post because of...well...life! But I am really excited to be able to share this post with you today because it is a good one and all about the best things to do in NYC with kids. At the end of last summer, I had...what one might call...a end-of-pregnancy-crisis. I was not new to having children, no I already had two kids, but with number three on the way I realized that things were about to change. You see, we had tried to have another baby for quite some time, but a few miscarriages and a loss at 28 weeks meant that as much as I had tried to enjoy my pregnancy, it didn't completely sink in that we were actually going to get to keep this baby until quite late in my pregnancy. Well, honestly I'm not sure I even believed it until after I had given birth to a healthy living baby. But, that's a discussion for another time. You see, by the time the end of summer hit and I only had about two months left of my pregnancy, I realized that some of those things I wanted to do "one day" with my kids either needed to be done now, or in another 6-8 years. I completely realize that having a baby doesn't mean you can't do things. I am a person who goes-goes-goes and doesn't let a baby slow me down...too much. But certain things would become a lot more complicated. For example, my children recently began LOVING Broadway show tunes. (Major mom win over here!) I had recently seen Finding Neverland and fell in love with it and then subjected my kids to listening to the music on rerun. They ended up loving it! I let them listen to the Wicked soundtrack and even the Matilda soundtrack. I had budding Broadway show tunes singers and my heart was full! And I really wanted to take them to see those shows! But, we weren't planning to get them in Indiana any time soon, and both Finding Neverland and Matilda were scheduled to leave Broadway in a few months, so I decided at the last minute, at 32-ish weeks pregnant, to take my two big kids to New York City, see some sights and also see a lot of shows! I know, it was slightly crazy, slightly mid-life-crisis-y and slightly...nuts. I'll just say it again, I was a bit nuts. But the kids and I were soooooo excited! And we had sooooo much fun! This was literally a trip that we will all remember! So many good memories were made. So today I wanted to share with you the BEST things to do in NYC with kids because honestly, you don't have to wait until you have older kids to take them there and enjoy shows!

First, a few tips for traveling with kids in a big city:
Be sure to plan everything out ahead of time to make the best use of your time while you are there.
Check theater age restrictions, buy your tickets and make any reservations you can ahead of time. But allow flexible time in there in case things don't go as planned.
Determine your mode of transportation. Walking will allow you to see more, subway may take a bit more time to learn how to navigate but isn't too expensive, or taxis. Taxis are definitely the most expensive option, however when you are in a place for a short amount of time, and you want to see a lot, sometimes a taxi is the best way to do that! Also, I knew that traveling in a big city, bring pregnant and having two young children with me meant we would need a little time to rest our feet. So we choose to walk or take a taxi.
Allow for time to go potty every where you stop, potties are not plentiful in a big city. So be sure to go every time you have a chance, especially with small kids!
Be flexible and enjoy the time you spend with your children.
Consider bringing breakfast with you. This may seem odd, but I wanted to get up and go every morning without spending an hour or more eating breakfast. So we brought some yummy protein bars with us that we ate in the morning to get us through until our first treat stop of the day. it is a great way to fill hungry tummies first thing in the morning and a great way to save time and money as well.
I will preface this trip by saying that I had already taken my kids into NYC a year or two before for a few hours, and we had seen the view from the top of the Empire State Building and The Statue of Liberty. So we planned this trip knowing we had recently seen those and wanted to do different things this time.
This trip was all about good shows, good food and good sites. I planned the days strategically to make the best use of our time while ensuring we had plenty of treats in our body. I told my children ahead of time that we would be stopping lots of places to get lots of treats, but that we would be sharing them because I wanted to try lots of different things! They weren't sure about this plan at first, but as soon as they realized that I wasn't joking about the amount of treats we would have, they got on board real quick! This made the trip so much more fun because we were able to try lots of different things without getting sick or breaking the bank.
Oh, and also I planned to wear my kids OUT before the shows every night so I wouldn't have squirmy kids during the show. This plan worked out really well!
So here is a run down of what to do in 3 days in NYC with kids:
DAY 1
We arrived in the city by plane and took a taxi to our hotel. We stayed at the Marriott Marquis near Time Square. We choose to stay there because I was familiar with the location and also because I wanted to be able to walk home after the shows each night so I wanted someplace close, where we felt safe and where I wouldn't be trying to hail a cab after a show let out. This hotel is super close to all of the theaters we were planning to go to (and even on the same side of Time Square which is a big deal) and it was a nice hotel. So it was the perfect spot to stay in for this trip.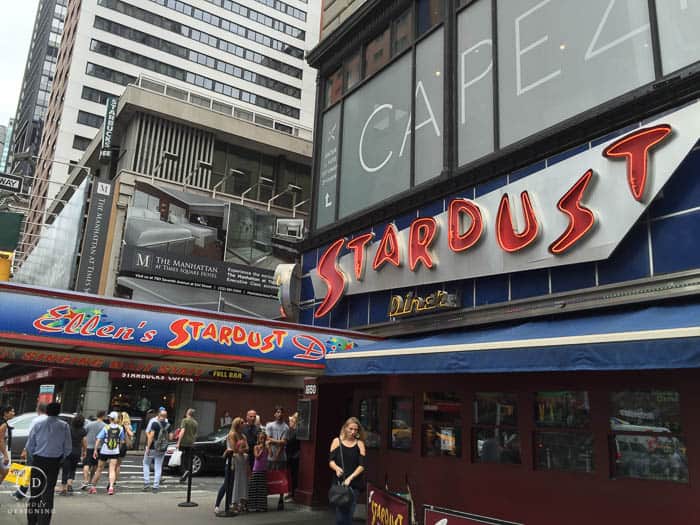 After we got settled in, we headed into Time Square and ate at Ellen's Stardust Diner at around 3pm. It is a small diner, and the food is only ok, but it is soooo fun watching the servers sing and entertain you while you eat! The kids loved it.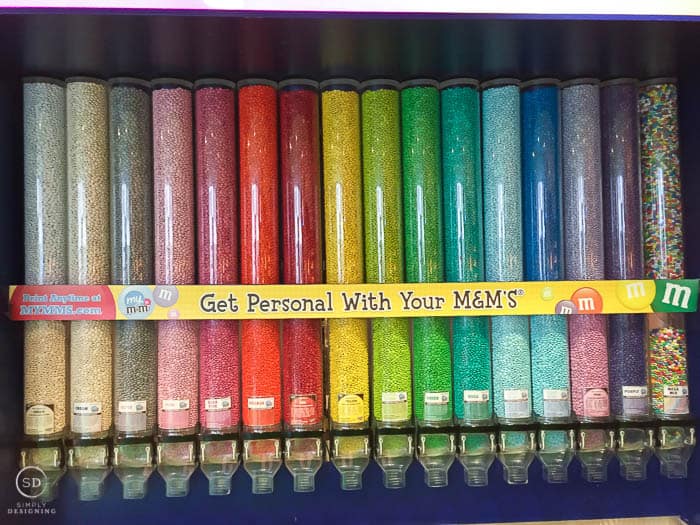 Next we headed over to M&M World and I let my children share a $20 container of customized M&M's! Yes, I know $20 is a lot for some M&Ms but it is seriously so fun! You can customize your M&M's with names, images, words etc and then choose the color of M&Ms you want and then they are printed right there for you! It is so fun and my kids think it's an absolute treat! We wandered through Time Square for a bit, but in all honest it is a bit of a crazy place with kids. I just held on to their hands tight, told them not to take anything from anyone and walked. My kids were sooooo good at just following and holding my hand on this trip! They were troupers.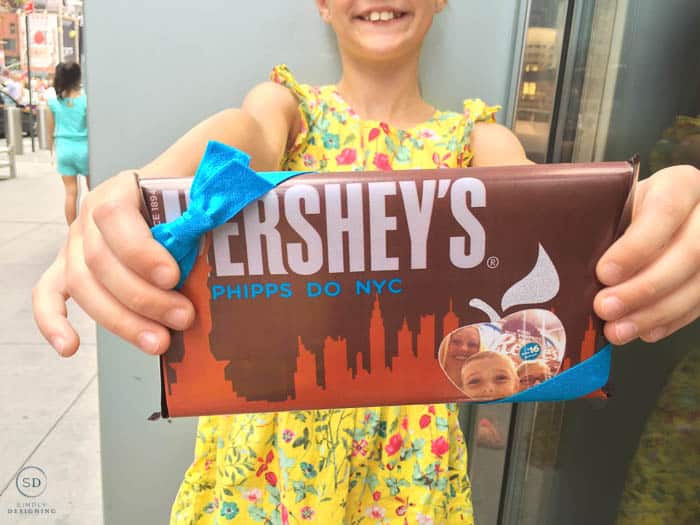 We also decided to go into the Hershey store while we were in Time Square. We got a fun candy bar with a custom printed label on it! It was super fun and my kids loved it!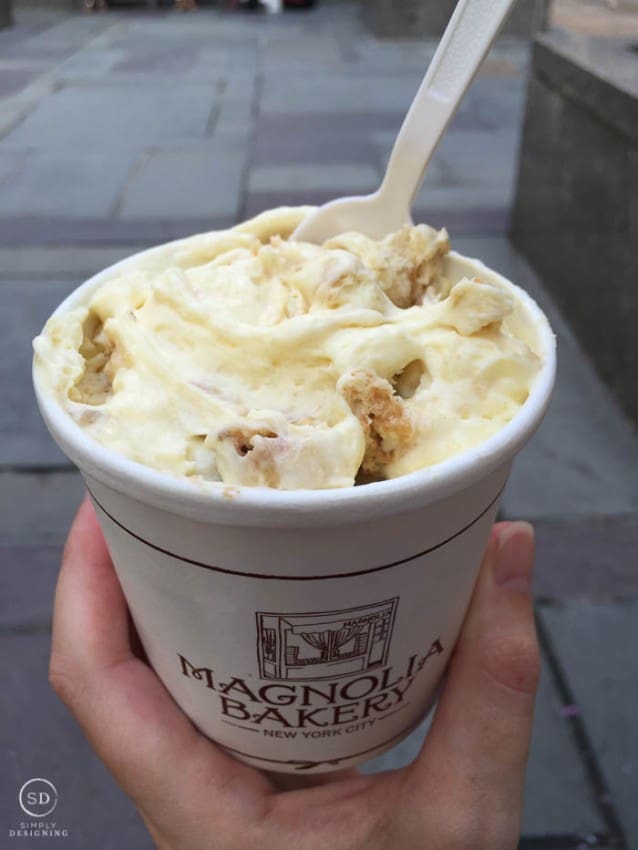 And in case we didn't have enough treats yet, we headed over to Magnolia Bakery and grabbed another treat! We got one banana pudding to share and ate it in Rockefeller Plaza! It was sooo yummy! (But in all honesty, I have been to Magnolia Bakery several times and you can not go wrong with anything there! It is all so delicious!)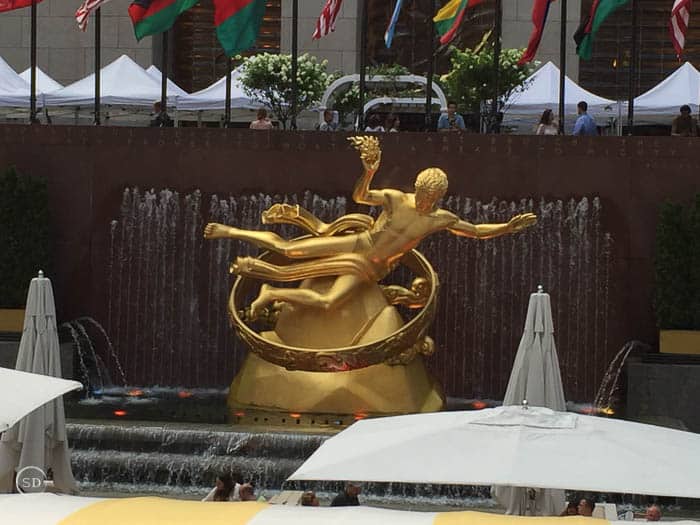 And Rockefeller Plaza is the perfect place to sit, eat a treat and people watch! We walked around the area just a bit too. There are fun shops (the best French chocolate shop ever!) and it is just a pretty and fun place to walk around and explore.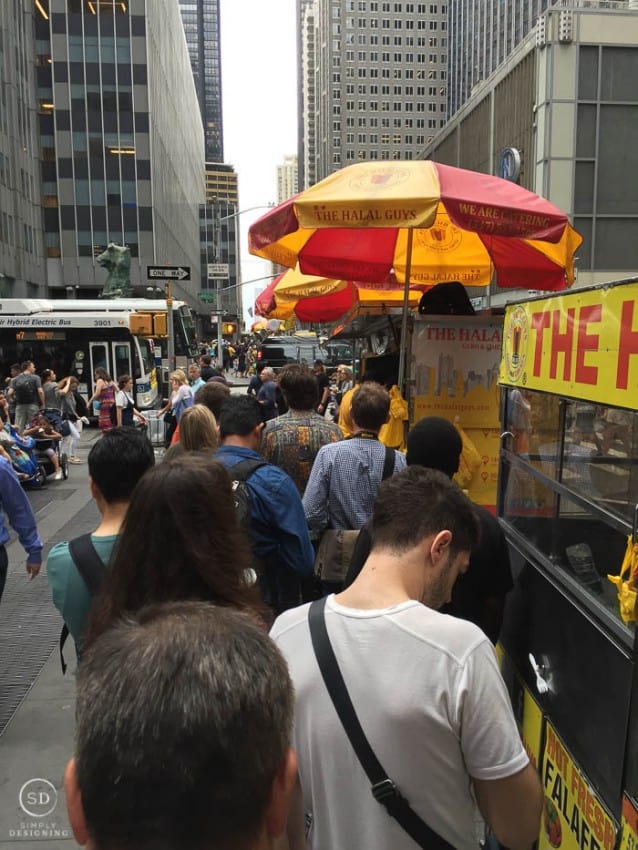 Then we headed over towards the Museum of Modern Art. We didn't stop at the museum, but hit the Halal Guys Food Cart! Look for the one with the big long line near the museum. There are lots of Halal Guys, but I hear that this one is best. And oh, my, gosh was it ever delicious! My son didn't really care for it too much, but my daughter and I scarfed it down! Yum! Yum! Yum!
(And yes I realize at this point my kids have eaten a lot of treats. This is NOT normal for our family, but it is part of what made this trip extra special and fun for us all. So judge away, more treats to come!)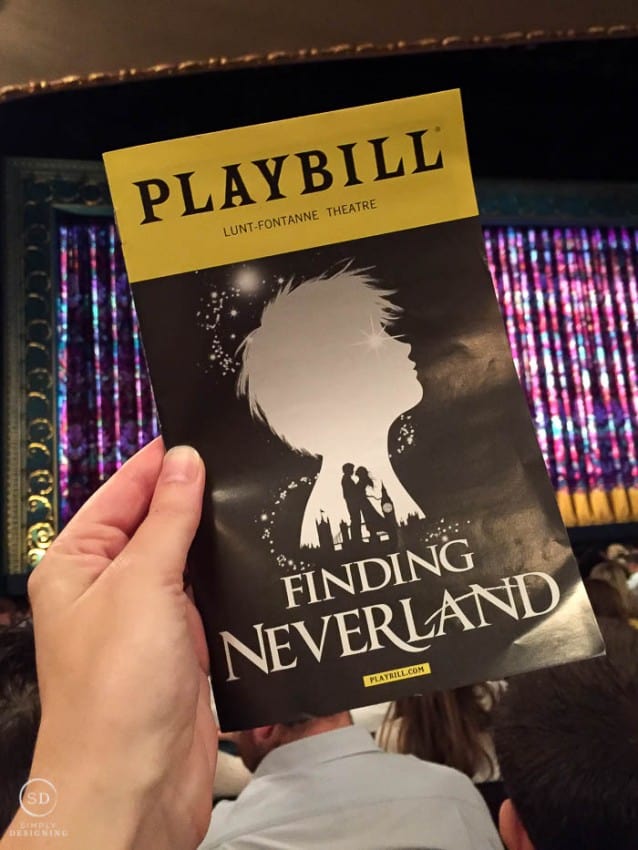 Then we headed back to the hotel to shower and clean up and then headed to see Finding Neverland. This is probably one of my favorite shows of all time. It is so good! (And if you've seen the movie (which I hadn't seen before I saw the play) it has a very different feel to it...the movie felt sad and depressing to me. And while I did shed some tears during the play, it has a much more lighthearted feel to it!)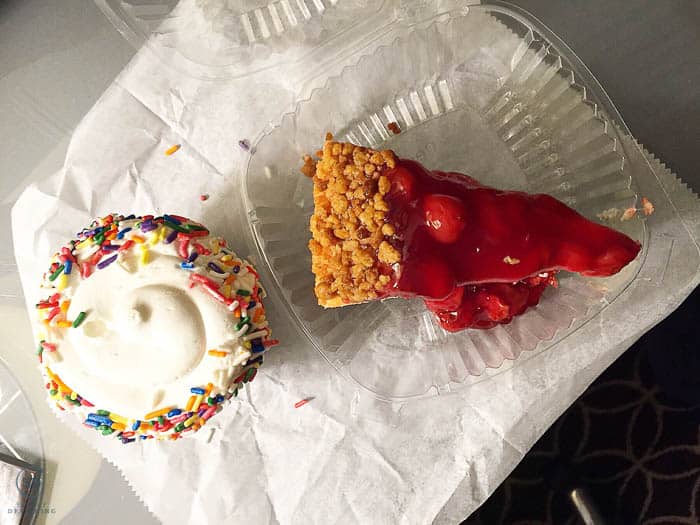 After the show we walked across the street from our hotel to grab a slice of cheesecake from Juniors. It is amazing. And delicious. And oh-s0-good. It is so good guys! You can't go to NYC and not have Junior's Cheesecake.
DAY 2
We woke up early and headed to Columbus Circle to rent bikes and bike through Central Park. We began biking at about 8:30am.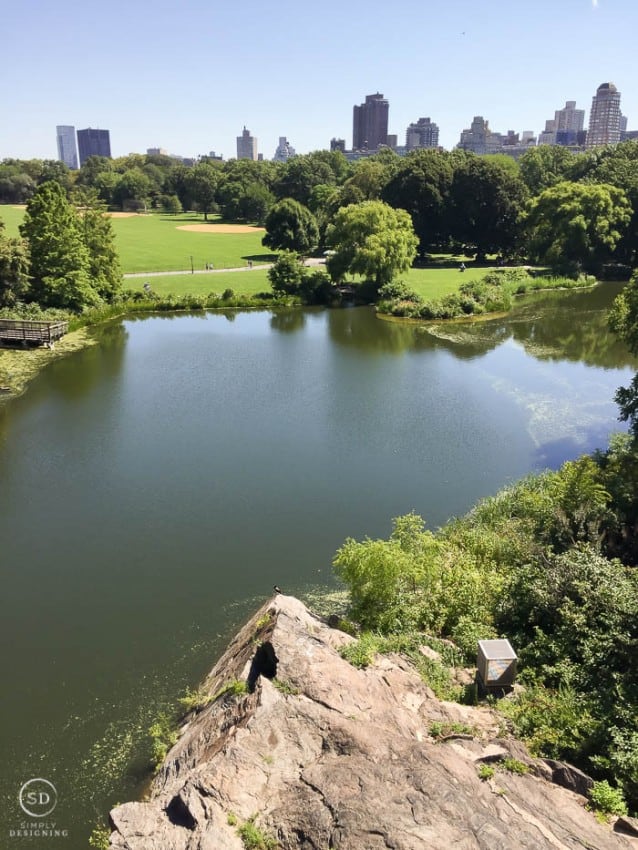 Central Park is a bit of a crazy place to bike in while they still let traffic in there, but after I think about 10am (don't hold me to that time), cars are not allowed to go in there and it is quite nice.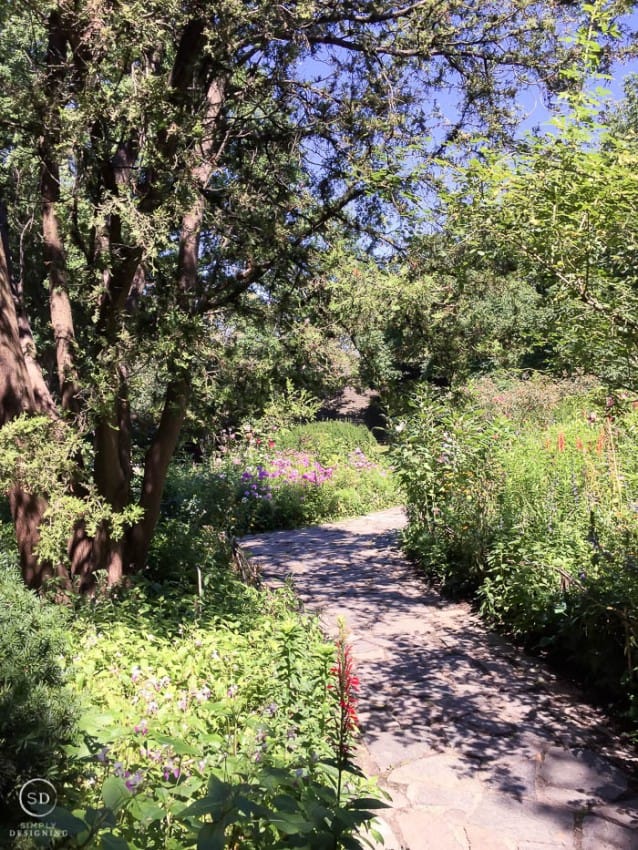 Here is the deal though. You can bike on the main path around the park. But to get into the park and see things, you have to walk your bike on those paths. So just be warned there is a lot of biking and a lot of walking.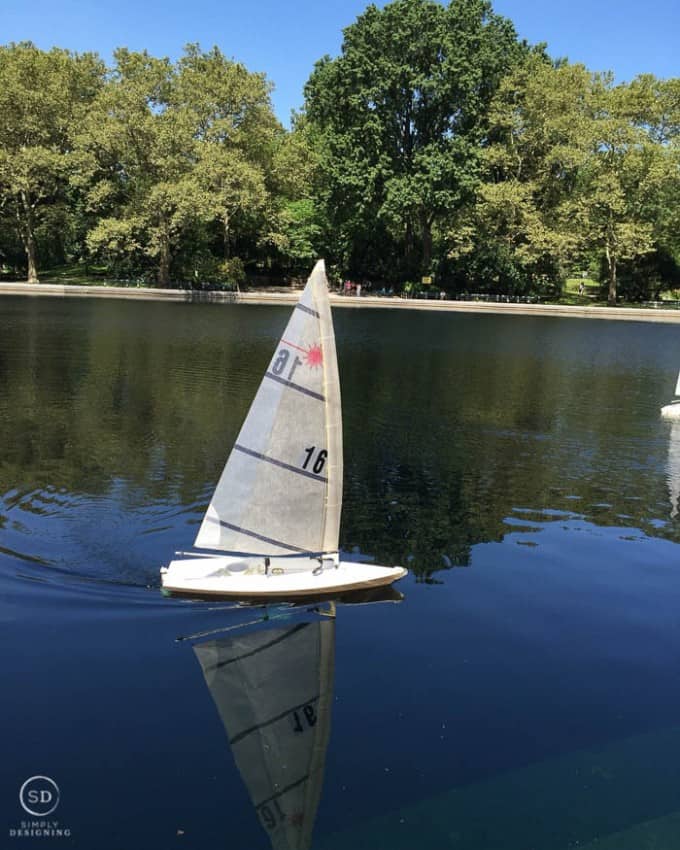 We hopped off the bike path at many times to see statues, we sailed boats at the Conservatory (which was soooo much fun!!!) and we took a ride on the Central Park Carousel! We may or may not have gotten a little lost trying to find the carousel and then trying to find out way out of the park, but honestly, it was SO much fun! it wore us all out!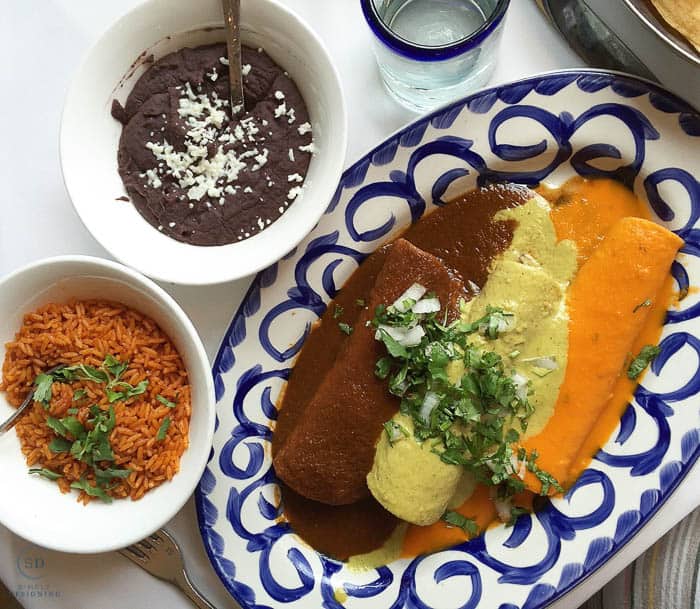 We returned our bikes around 12:30 and the headed over towards Lincoln Center. We walked past the LDS Temple and then ended up at Rosa Mexicano at about 2pm. I made a reservation for this restaurant because it is amazing and delicious and I did not want to miss it!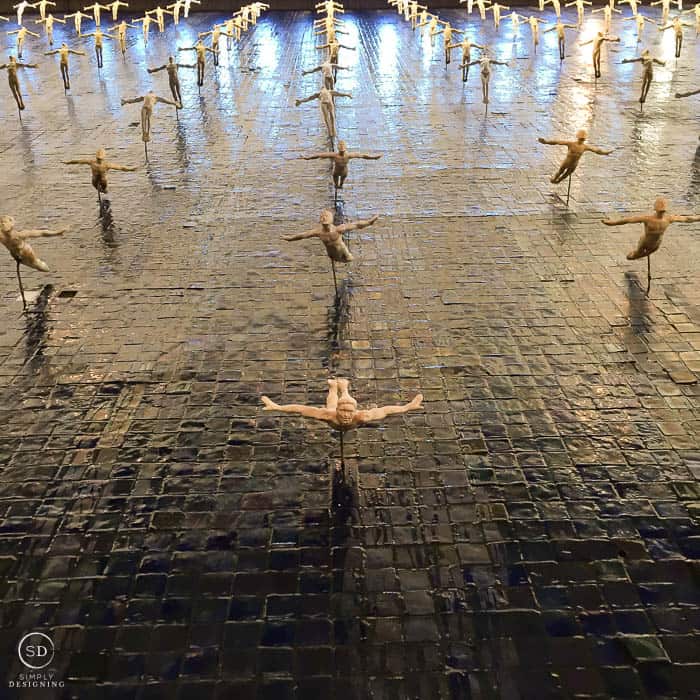 By this point my kids were pretty exhausted so it was really nice to be able to sit and eat a yummy meal! They have some amazingly delicious Mexican food and their table-side guacamole is amazing! Everything there is good and my kids both LOVED the food there!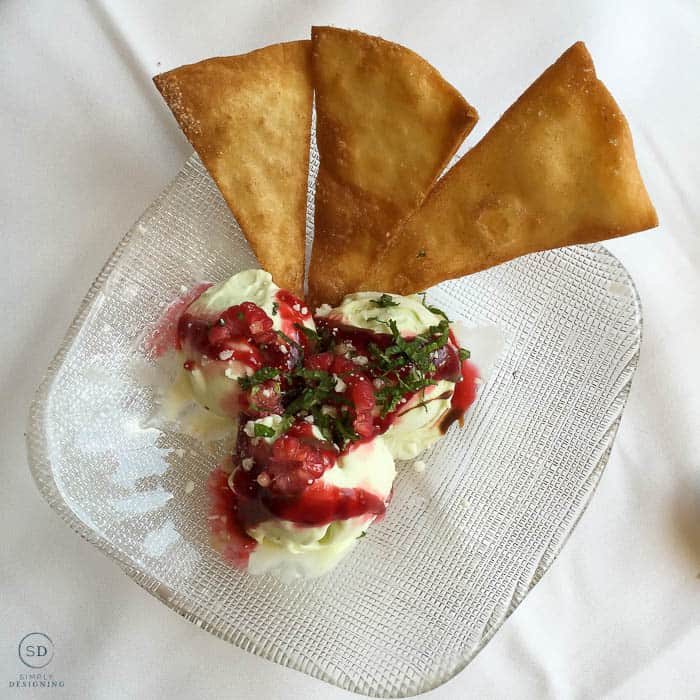 And their Avocado ice cream with raspberry sauce was to-die-for delicious! It was all so so yummy and made everyone's belly's full. And after that we were ready to keep exploring for the day!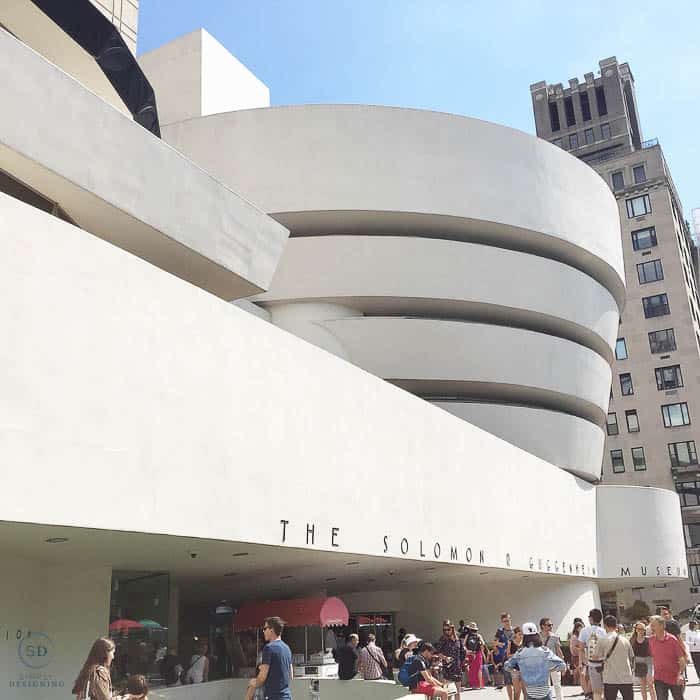 We headed to the Guggenheim which is one of my favorite museums because of the building it is in! (Interior designer over here with a love for architecture!) We started at the top and walked down to the bottom and my kids enjoyed seeing the fun and sometimes weird art in the museum. We enjoyed it so much. This museum is a GREAT art museum for kids because, my kids (at least at their current ages) were free with adult ticket purchase. So I think it only cost about $20 or $25 for all three of us to go to the museum! And, it is a fairly quick museum to go through because it isn't a huge one. So it is the perfect amount of art for most children, in a fun building that kids love walking down. It is really a great art museum to take kids to.
We happened upon Dylan's Candy Shop and had fun looking around in there but we didn't buy anything.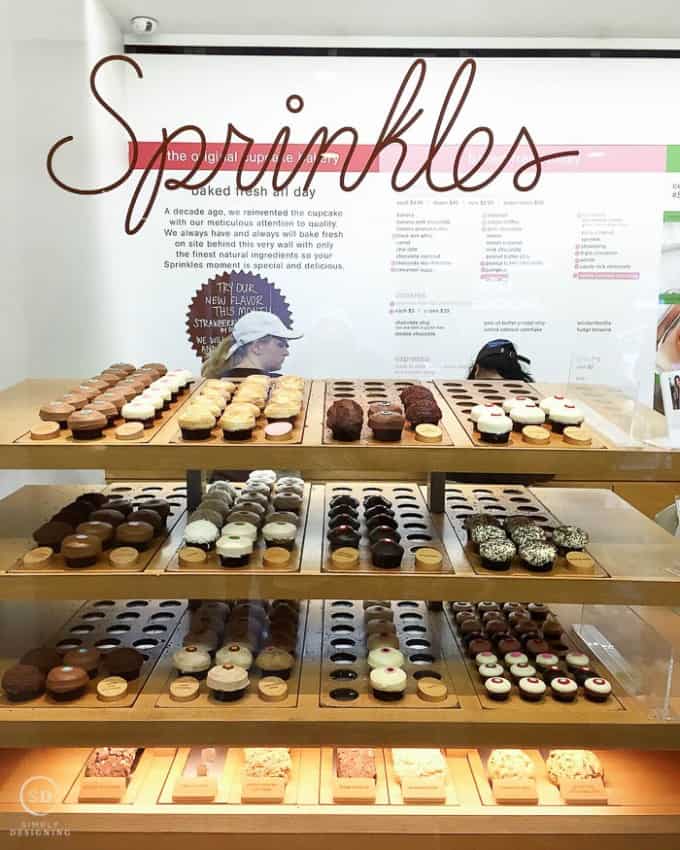 But when we passed a Sprinkle's Bakery we stopped to grab a yummy S'more inspired cupcake.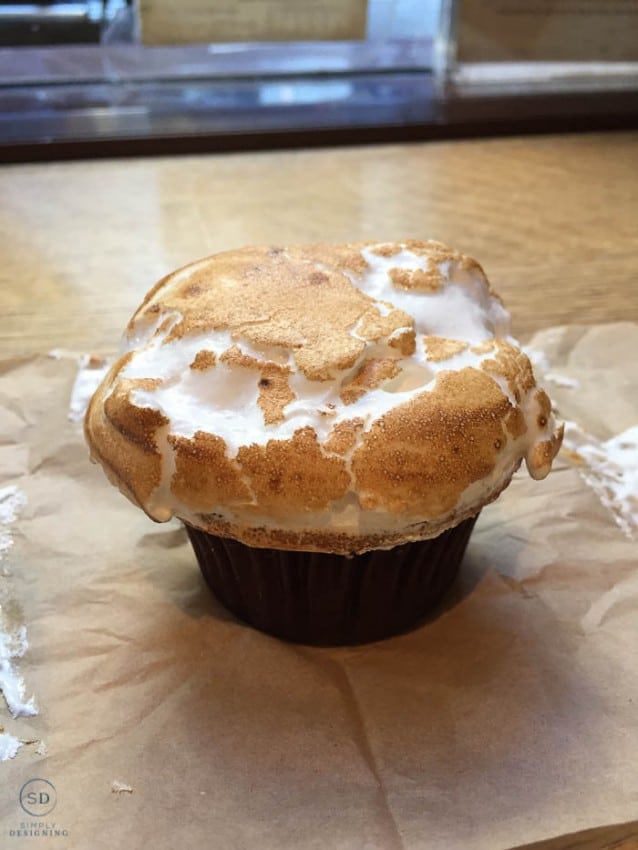 Yum!
We walked back to the hotel, showered and went to see Wicked!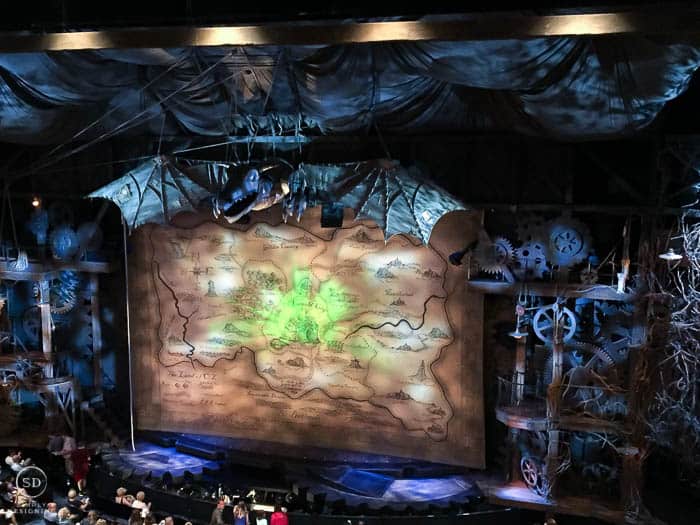 My kids really loved this show!
And if I am being honest, we grabbed cheesecake from Juniors again!
DAY 3
We woke up early again and snagged a breakfast of bagels from Juniors.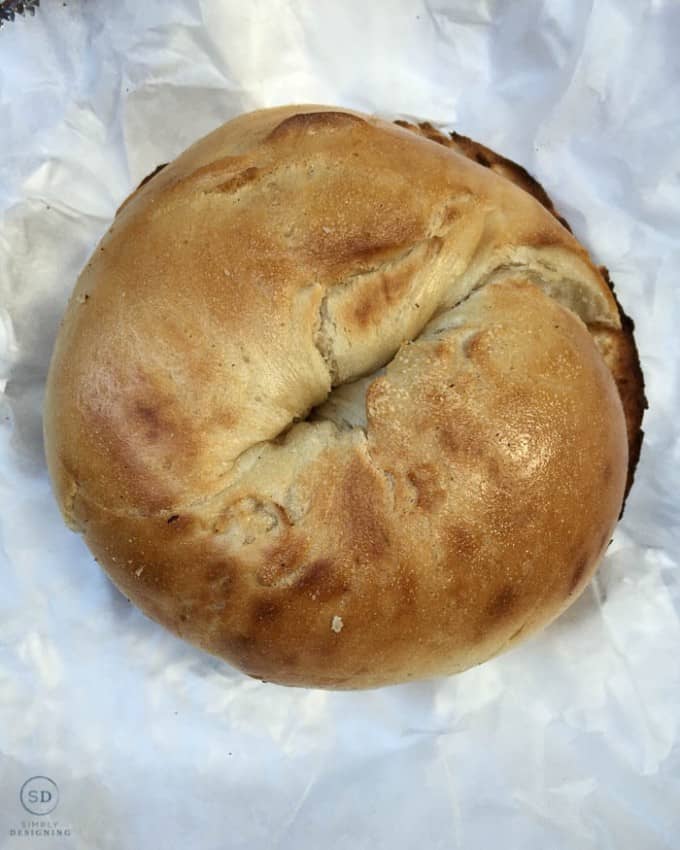 NYC bagels are simply the best ever!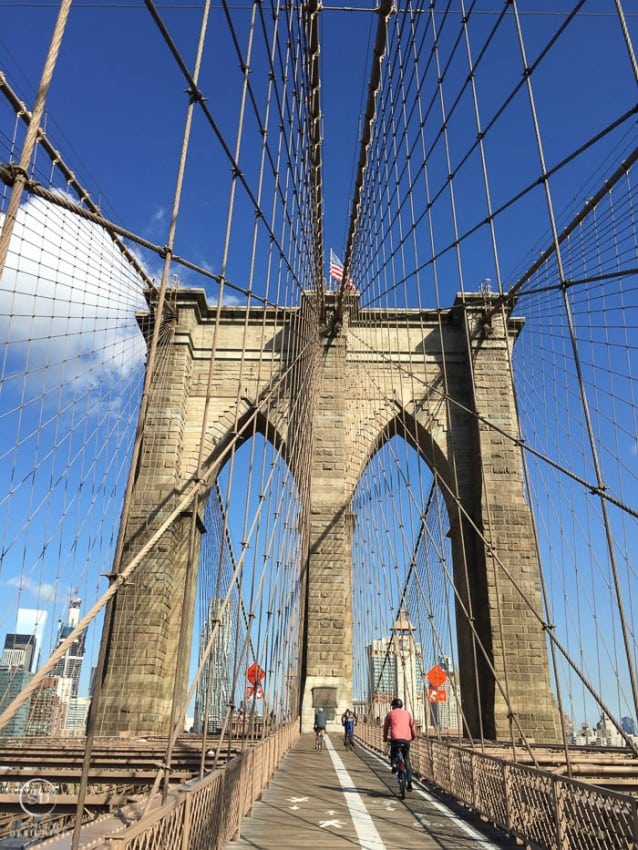 And then we headed straight to the Brooklyn side of the Brooklyn bridge! We began walking at around 8am. I knew that it could be a hot walk, so I wanted to do this first thing in the morning, and I wanted to walk towards the Manhattan side for two reasons. One, so that we could enjoy looking at the beautiful Manhattan skyline. And two, so that the sun was behind us, not in front of us. And the sun was hot and bright that day, so I was really glad not to be walking directly into it. So if you walk it in the morning, start on the Brooklyn side!
Our legs needed a little rest so we hopped into a taxi (that my children were PROS at hailing by themselves now!) and headed towards the One World Trade Center.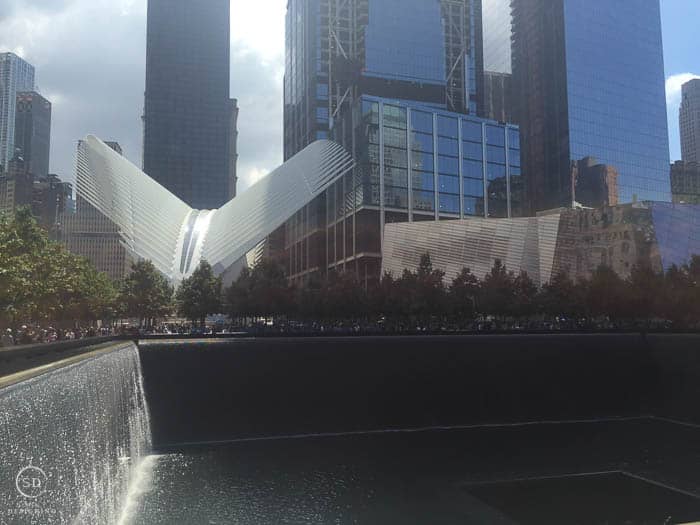 We bought tickets ahead of time so that we could skip the lines. This day there wasn't much of a line, but I have seen the line out the door before and we didn't have time to sit in a line, we wanted to see things!! So I highly recommend buying timed entrance tickets to skip the line ahead of time if you can squeeze them into your budget.
We went to the top of One World Trade Center and enjoyed the views. For $15 you can rent an iPad that helps you know what you are looking at in the city and also tells you about it. Both my kids had so much fun using that to learn more! We did not do the Trade Center museum on this trip, I had done it another time and it is done very well, and it is very touching. But I thought it might be a bit too intense for my young children so we skipped it. But we did take a moment to look at and pay respects at the lovely memorial outside.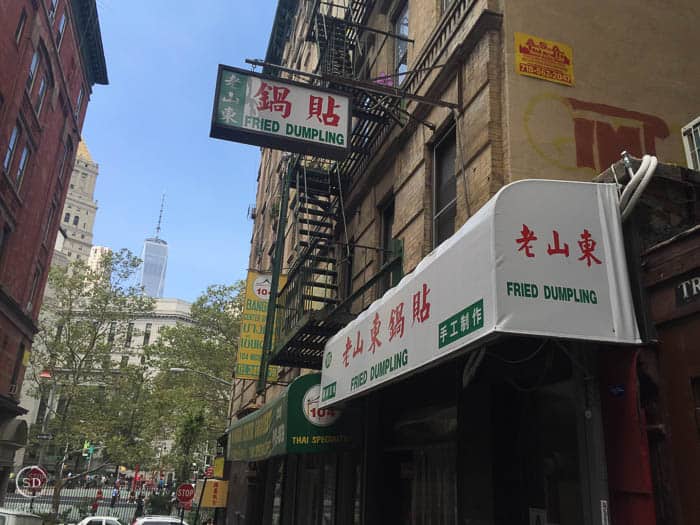 Then we headed over to Chinatown and snagged the best dumplings for super cheap! My kids LOVED them and it was by far the most inexpensive thing we ate all week! And one of their favorites! Ha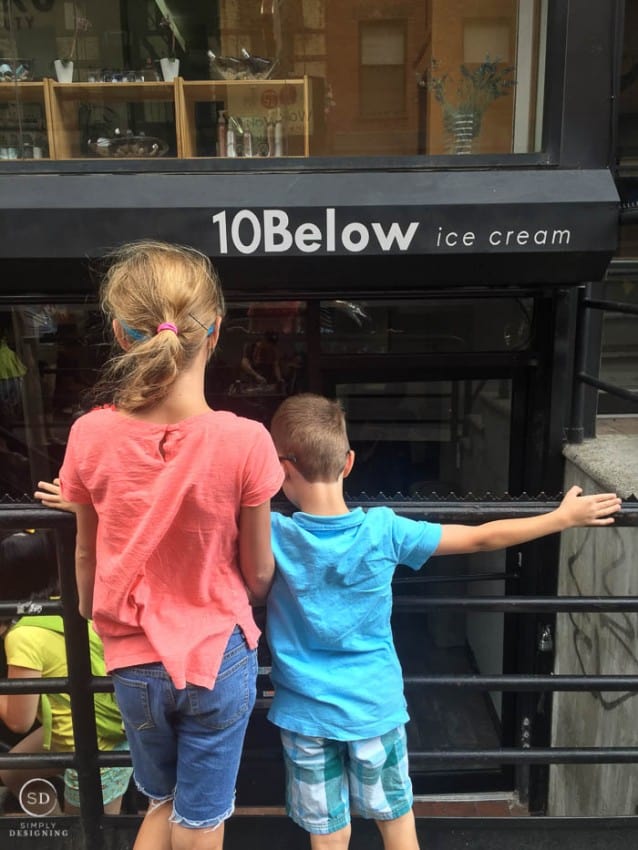 We also snagged some of the most yummy ice cream at 10 Below.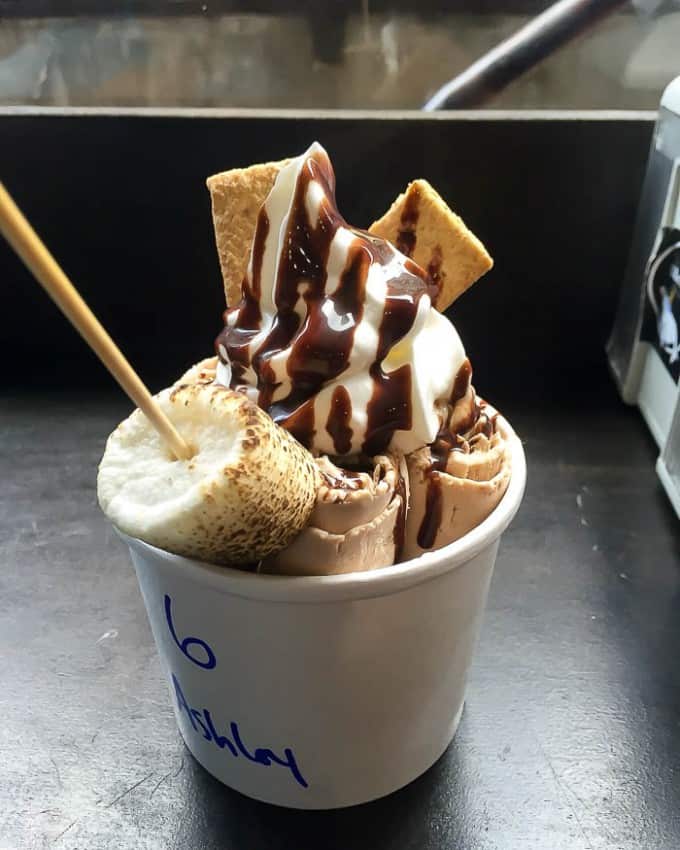 So delicious and so fun to watch them make it.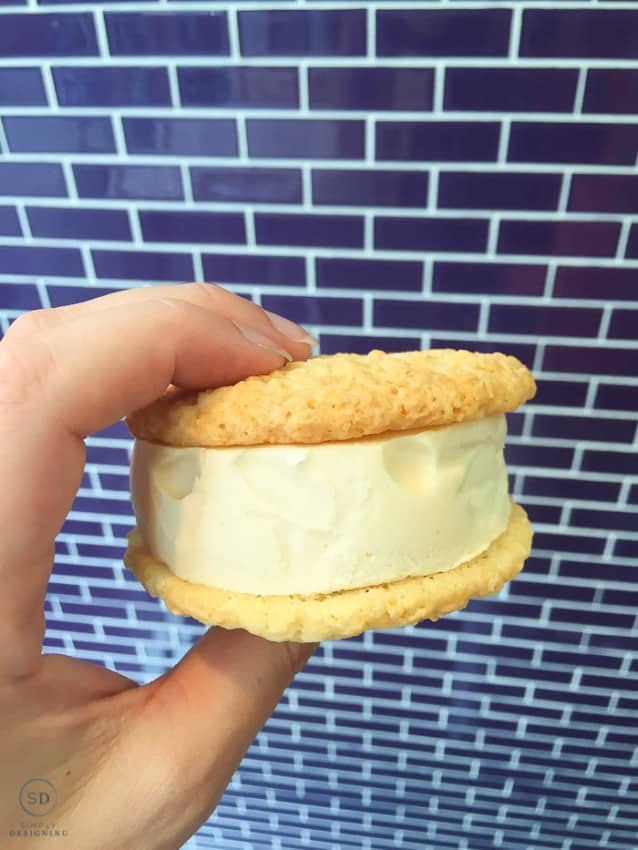 We walked a bit and grabbed a delicious ice cream cookie sandwich from Melt Bakery.
We walked to Parm which is a yummy Italian restaurant and enjoyed sitting and eating a meal there. It was delicious.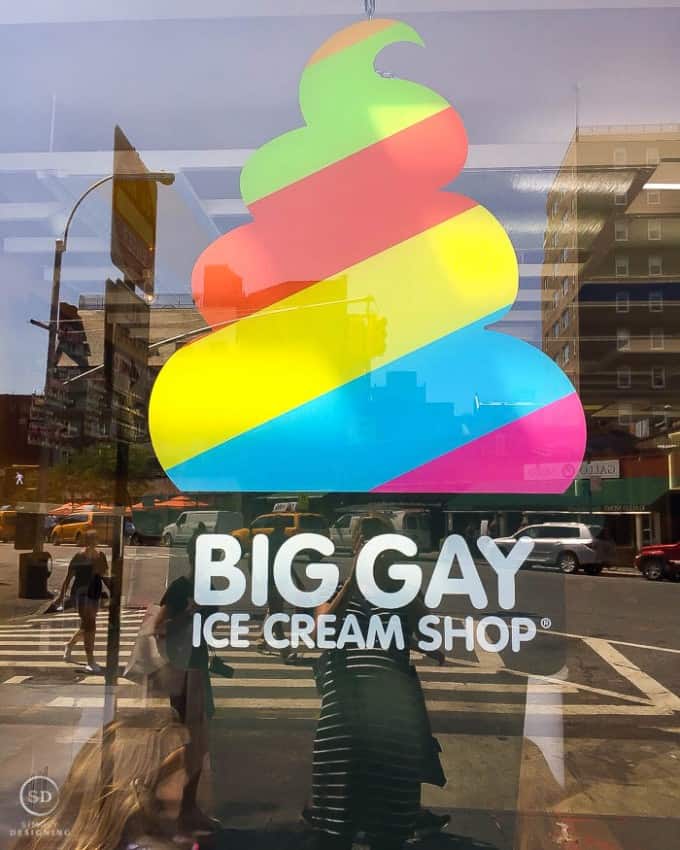 We hit the Big Gay Ice Cream Shop and had amazing ice cream! So so yummy! (Note they do NOT have a bathroom here, but the Starbuck's across the street does.)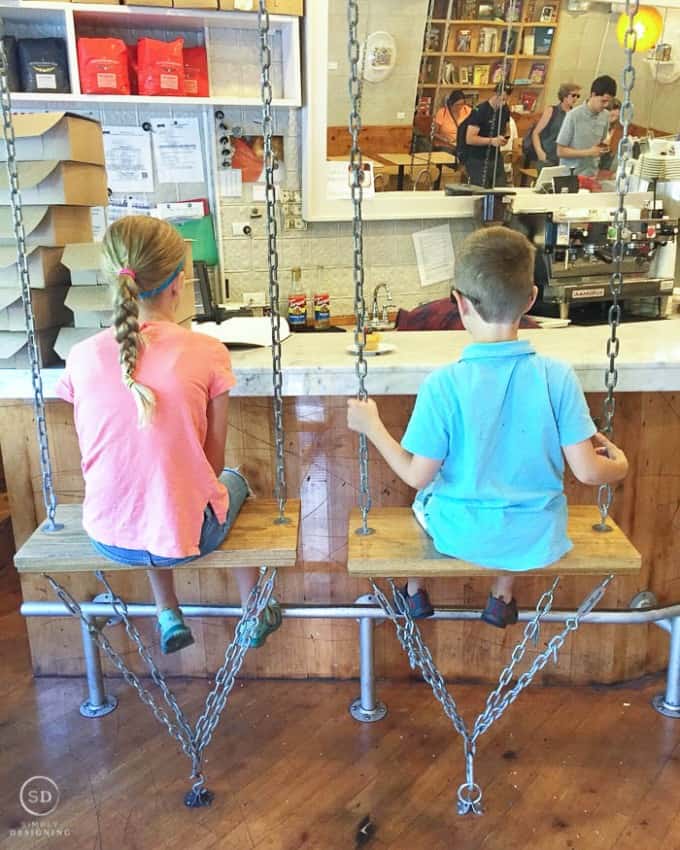 We weren't planning to stop here, but when we passed by Molly's Cupcakes (winner of cupcake wars) we had to stop in!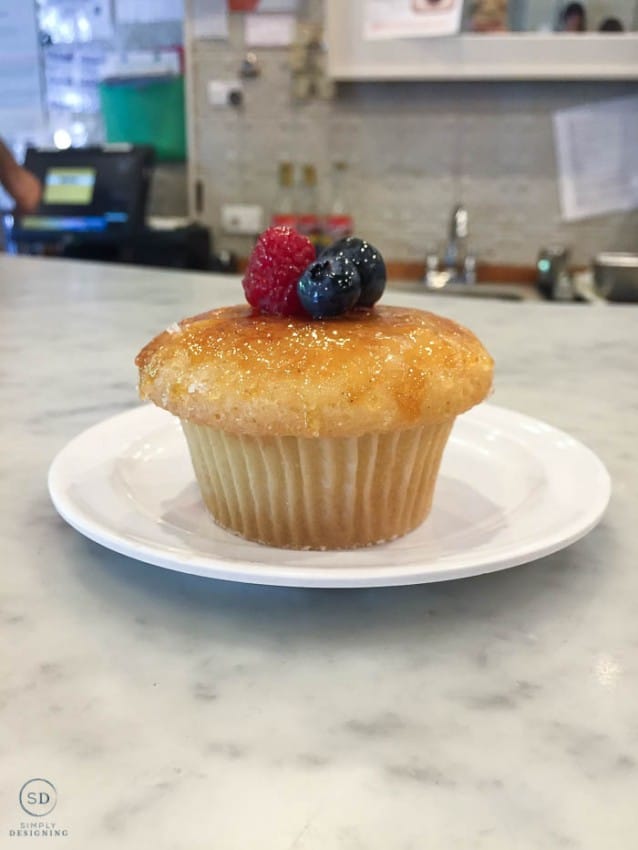 They have the coolest little shop and delicious cupcakes!!!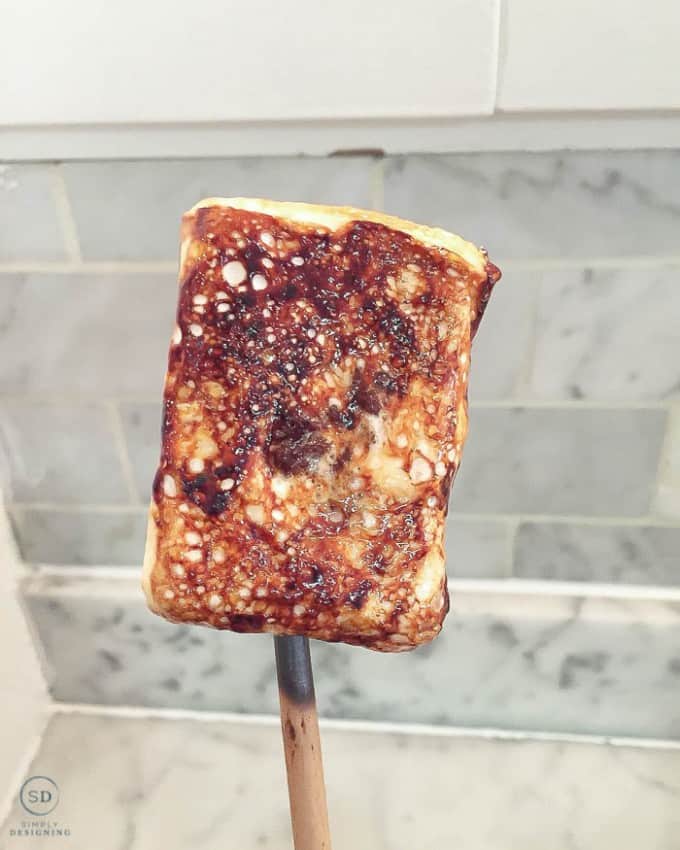 Then we grabbed a treat or two from Dominique Ansel's Kitchen! We had a cookie and milk shooter and a Frozen S'more on a stick. (Yes they have real names, but to be honest I don't remember them! They were both delicious though!)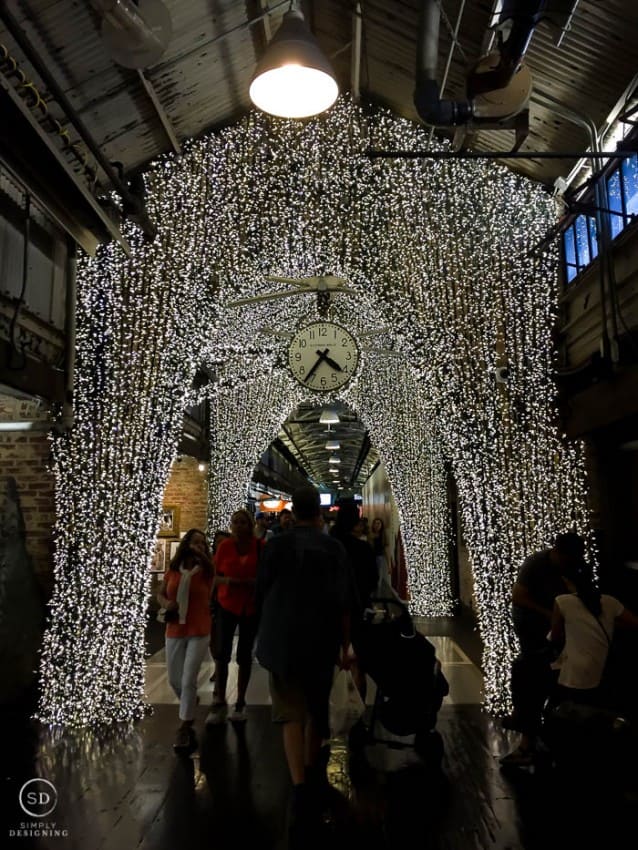 Then headed over to Chelsea's Market.
Can I just say I adore Chelsea's Market? The building is just amazing and I love the feel and all the fun places to eat and shop in there! I had no idea I would like this place so much, but it is so much fun! I really loved it.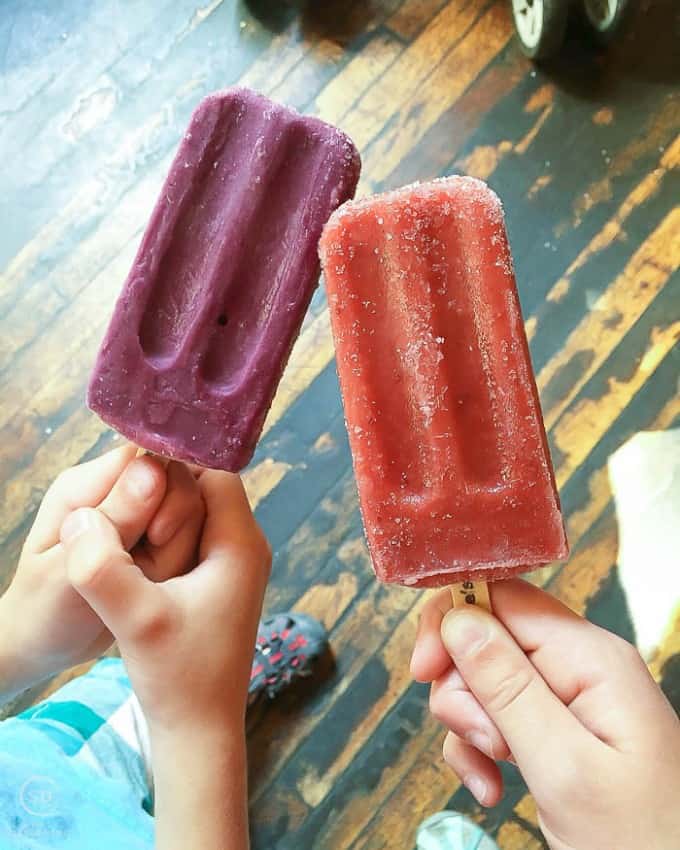 We grabbed the most delicious popsicles (and I am not a popsicle person) from People's Pops. They are made with all natural ingredients so they are really yummy and delicious and not syrupy or gross.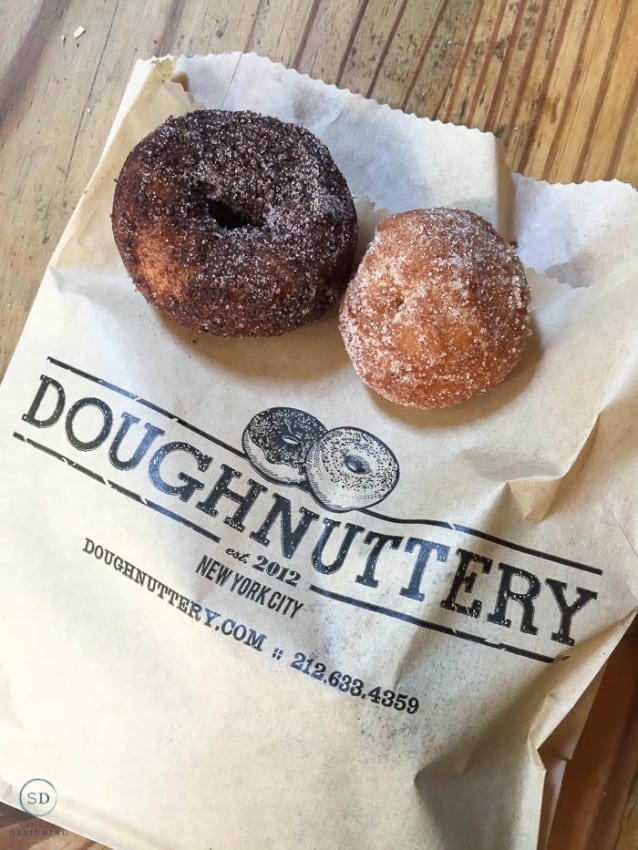 We also had some really yummy donuts from The Doughnuttery.
Very close to Chelsea Market is an entrance to High Line! This is a really fun spot to walk, rest, see interesting sculptures and enjoy a bit of an oasis from the city. We walked a little way down and then came back.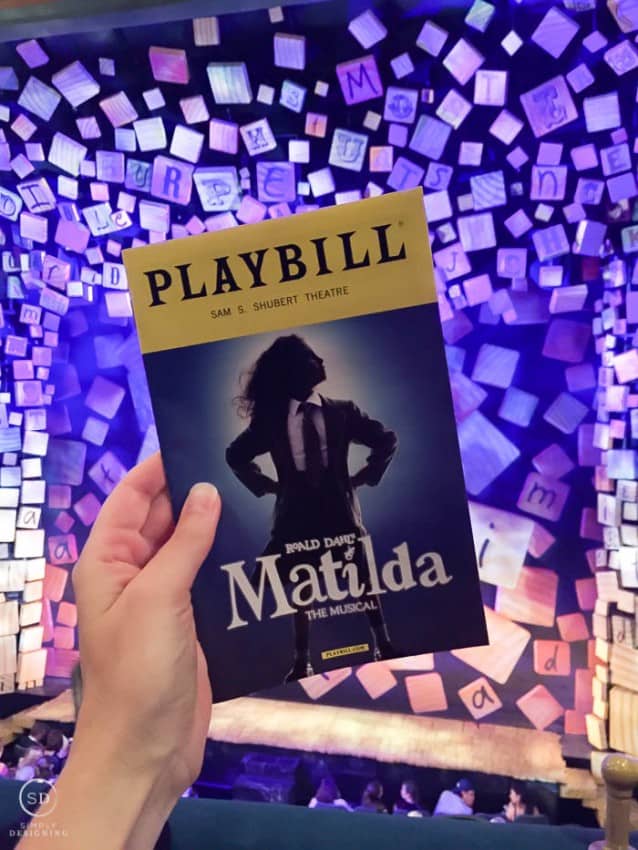 Then we hopped in a taxi, washed up and went to see Matilda.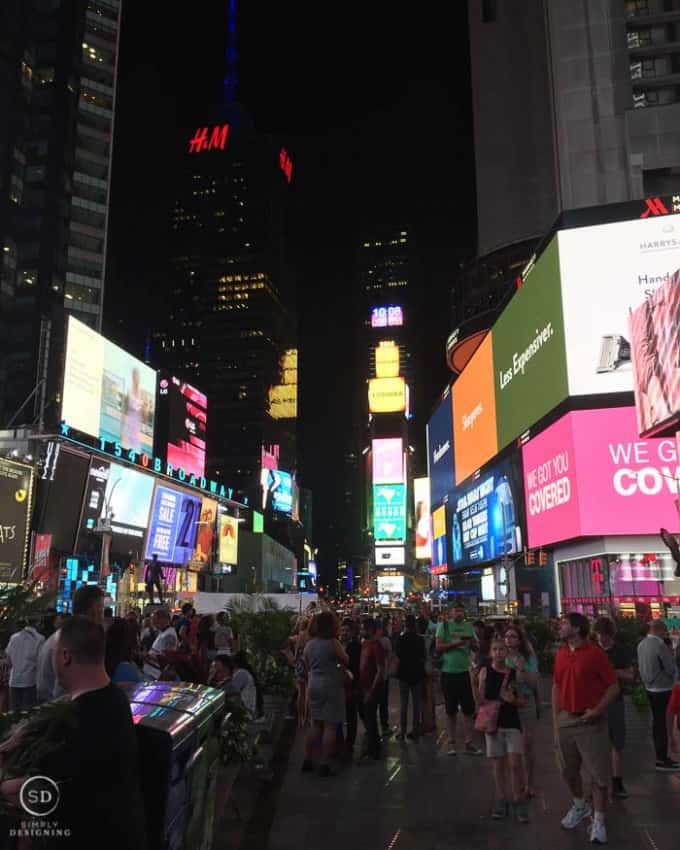 And even though it is a bit crazy, Time Square does have a certain beauty to it at night!
I can neither confirm nor deny if we ended the night with another slice of cheesecake from Juniors. 🙂

The next day we slept in, snagged burgers and shakes from Shake Shack for lunch and then headed home. It was bitter sweet to leave such a fun city and such a fun adventure.
And I love how much we were able to do in less then 3 days in New York City! We really fit a lot in. Of course if we hadn't already seen the Statue of Liberty and gone to the top of the Empire State Building I would have rearranged a few things to make that happen. But we all loved what we saw, had a wonderful time, ate a ton of delicious food and had so much fun together! And did I mention all the yummy treats!?
You might also enjoy: