We love travelling and my kids are roller coaster junkies, so recently we decided to indulge a bit of nostalgia for me, and take our kids to Hershey Park! So today I wanted to share my tips and tricks for doing Hershey Park in One Day.
I am sharing what we did, what we ate and how we divided and conquered with kids ranging from ages 2-12.
Keep reading for all the details on our day at Hershey Park.

Hershey Park in One Day
I was born in PA so Hershey Park was the first amusement park I went to.
As such, it holds a lot of great childhood memories for me!
We decided to visit the park a few weeks ago and we just had the best time.
A big thank you to Hershey Park for giving us tickets to enjoy the day at the park!
We also visited Hershey Chocolate World while we were in Hershey, PA, and that was amazing too.
But I will save that information for a different post. Today, it's all about the PARK!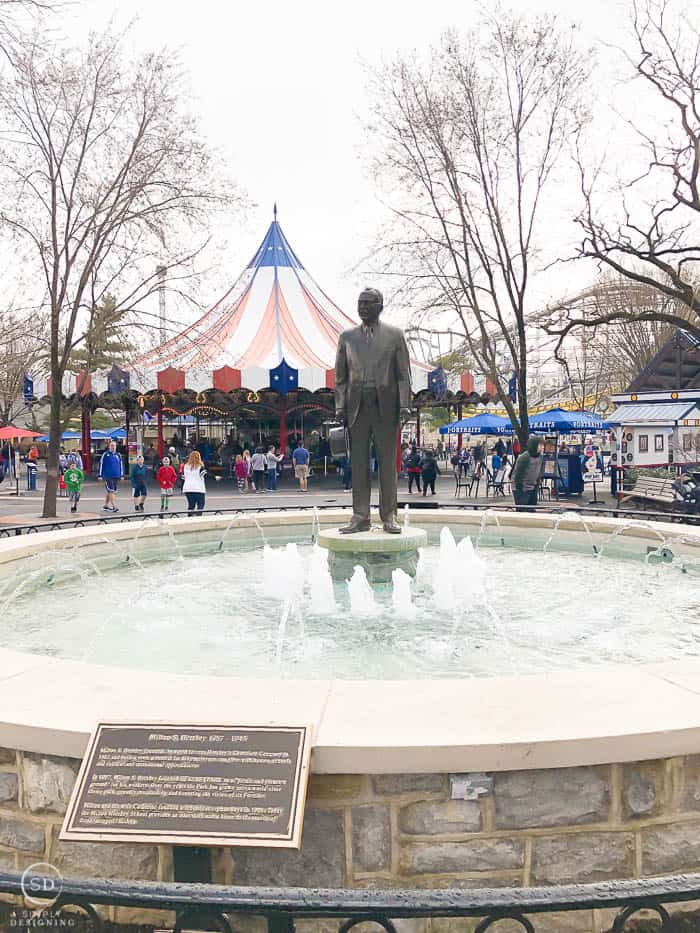 How many days do you need at Hershey Park?
When we do amusement park days, we typically start early, end late, and spend all day going and doing as much as possible!
For us, one day was enough to do everything we wanted to do, and some things, multiple times.
We did spend a second day at Hershey's Chocolate World.
So we spent 2 full days in total (3 nights) in Hershey and saw and did everything we wanted to do.
However, the waterpark was not open when we went. If the water park is open, and you want to spend time there, you may have to either pick and choose a bit more on the rides you want to do or spend an extra day for the waterpark.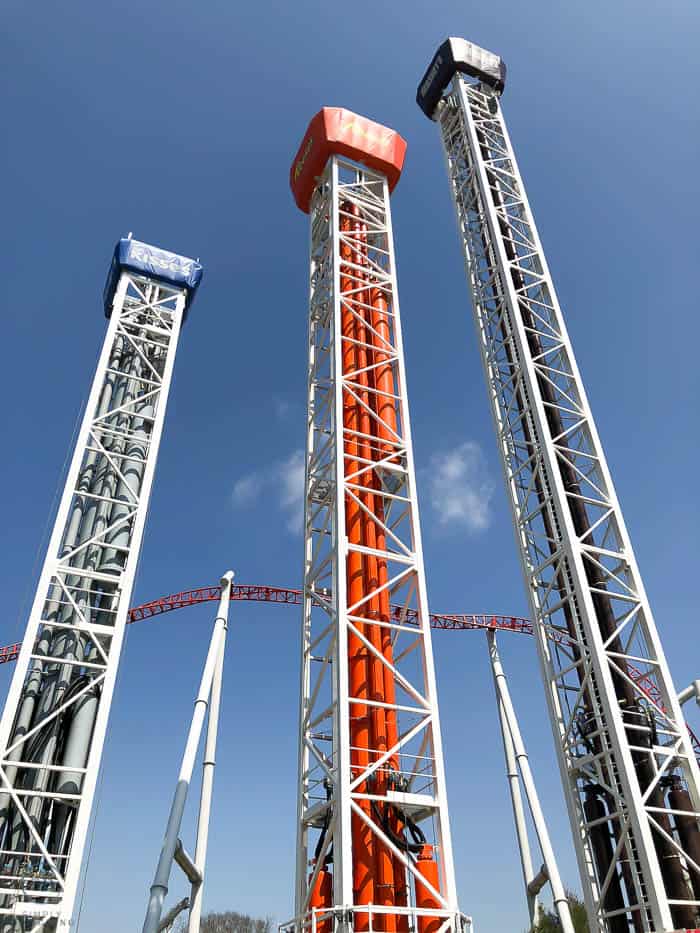 What is the best time to go to Hershey Park?
You will have fewer crowds during the week and when school is still in session.
But to be honest, we went on a Saturday and it wasn't too bad.
I am sure it can get busier but we had a great time and didn't wait in any line longer than 20-30 minutes.
Many rides we got on in minutes without any wait at all!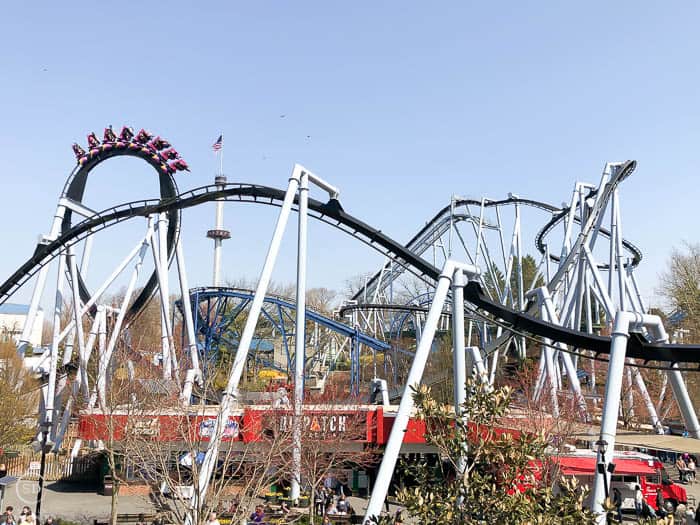 What should you bring to Hershey Park?
Hershey Park is really a nice park.
There is some uphill and downhill walking but there are also trees to provide occasional shade!
Nevertheless, Hershey gets hot and humid in the summer and you will be in the sun most of the day.
So I suggest bringing the following items with you:
Sunscreen
Comfortable shoes
Wear comfortable clothing
Lip balm with SPF
Money / Credit Card for food, drink and incidental purchases
A change of clothes and towel if you plan to go to the water park
A small bag to carry everything
A stroller if you have a baby or young child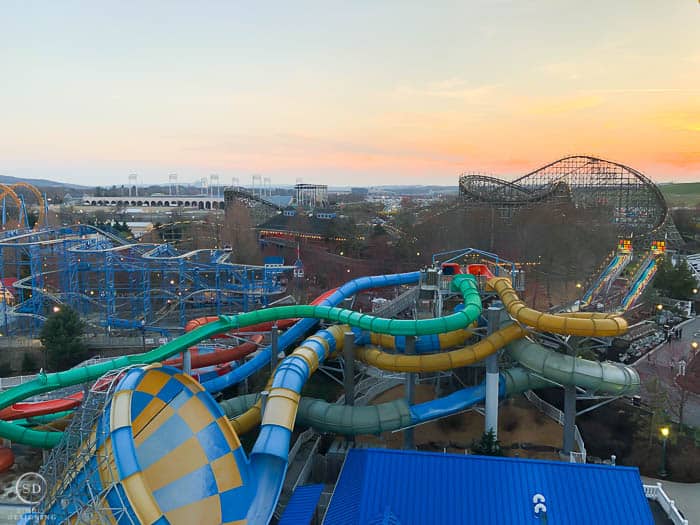 Can I bring a backpack to Hershey Park?
Yes, you can bring a backpack to Hershey Park.
But because you will be walking a lot, I suggest you don't bring anything too big or too heavy.
There are also storage lockers in Hershey Park if you want to use one.
All bags are subject to search at the entrance.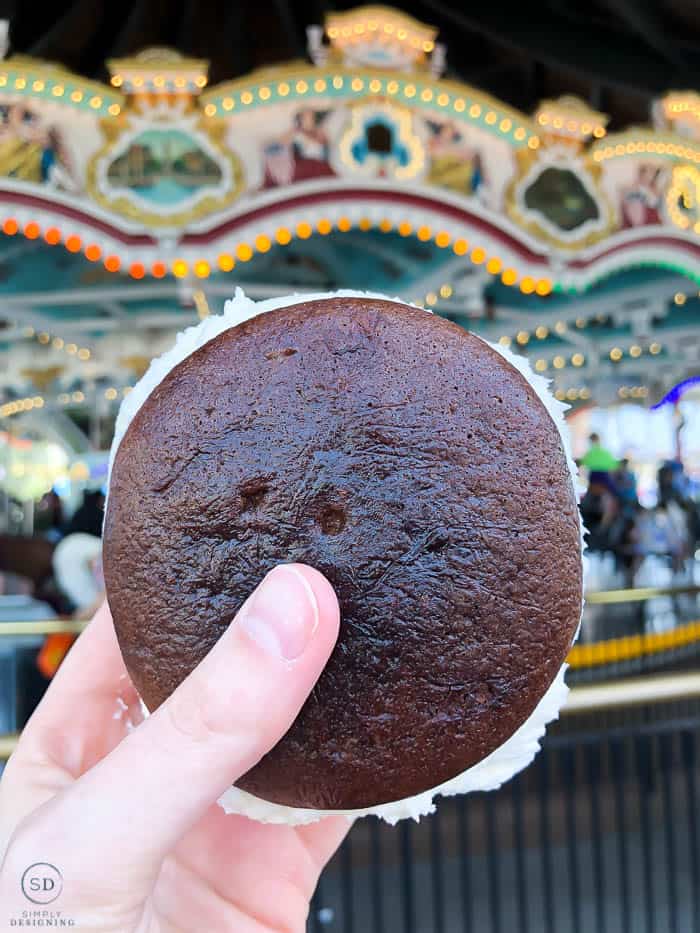 What is there to eat at Hershey Park?
There are actually a lot of place to each at Hershey Park!
Here are a few places that we checked out while we were there:
The Overlook - walking tacos, chicken fingers, fries
Makin' Whoopie Pies - a whoopie pie of course! Yum!
BBLz - delicious drinks!
Comet Creamery - I am a sucker for twist soft serve ice cream
Simply Chocolate - we may have gotten huge milkshakes and called them dinner haha
And we refilled our refillable cups everywhere we could!
You can check out the full lineup of places to eat at Hershey Park HERE.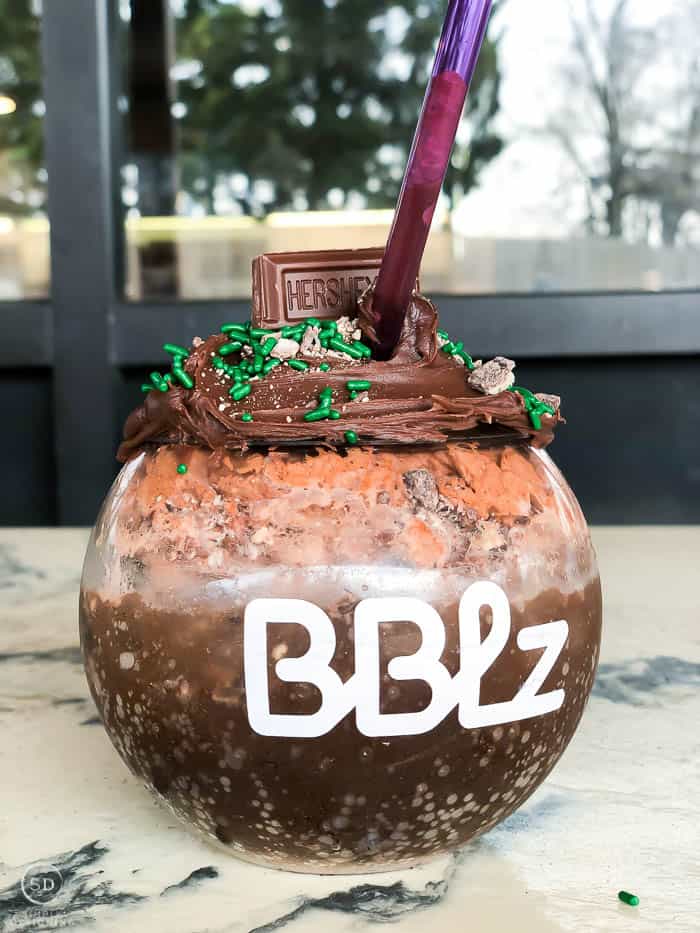 What to do in One Day
Here is a rundown of how we did Hershey Park in one day, hitting many rides multiple times!
I am not noting where we hit rides multiple times, but most of the big rides, my husband and I each took a turn riding with one of our big kids while the other took the baby on smaller rides.
This means that it is completely doable to do all of Hershey Park in one day!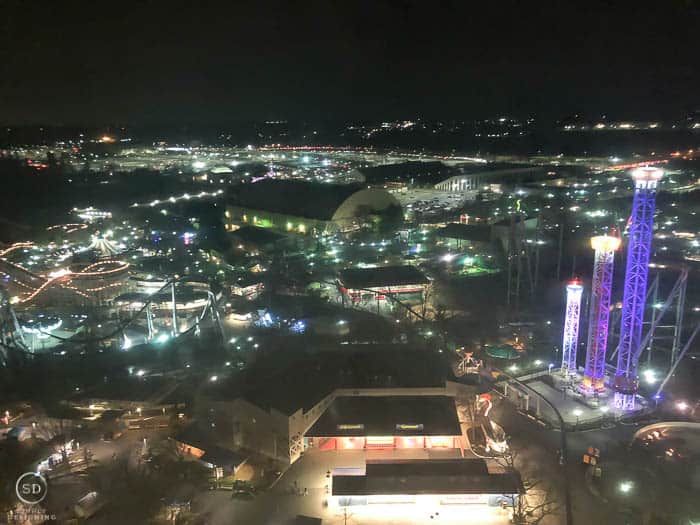 Tips for making the most of your day:
Buy a refillable souvenir cup to help stay hydrated all day long, it is worth it, I promise
Hit the rides you really want to ride right away before the lines get too long
If you have little ones and big ones, divide and conquer, they do have ride swap, but we found it a bit tricky since so many people were trying to ride rides at the same time, so we ended up splitting up and hitting some rides with the big kids and some with our little one so that everyone had a really fun time!
Know what is closed ahead of time. Some rides need to be a certain temperature before they will open like the water rides for example. When we went, the water park, Coal Cracker, Sidewinder and Fahrenheit were all closed.
Download the app to get updates on wait time and ride closures.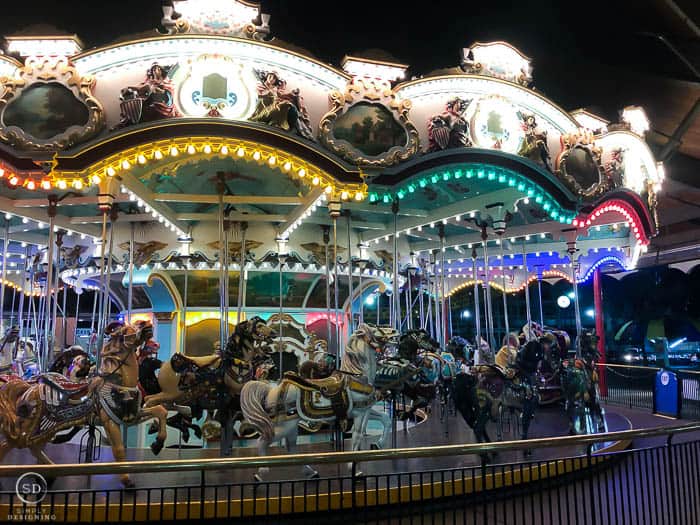 Here is what we did in order:
Comet
Superdupperlooper
Sweet Swing
Tea Cups
Comet Creamery - grabbed a twist cone
Misfit Bug
Swing Thing
Dizzy Drums
Cocoa Coaster
Great Bear
BBLz - grabbed a delicious drink
Triple Towers
Carousel
Makin' Whoopie Pies - grabbed a whoopie pie to share as a snack
Balloon Flight
Starship America
Skyrush
Wave Swinger
Late Lunch / Early Dinner at The Overlook - ate walking tacos, chicken fingers and fries
Wild Cat
Wild Mouse
Laff Trakk - this had the longest line, but was super fun!
Granny Bugs
Pony Parade
Tiny Tracks
Musical Express
Whip
Lightning Racer - did both Lightning and Thunder
Ferris Wheel
Storm Racer
Trail Blazer
Kissing Tower - I love this at night to get the light up, nighttime view from up high!
Simply Chocolate - grabbed a huge milkshake to end our evening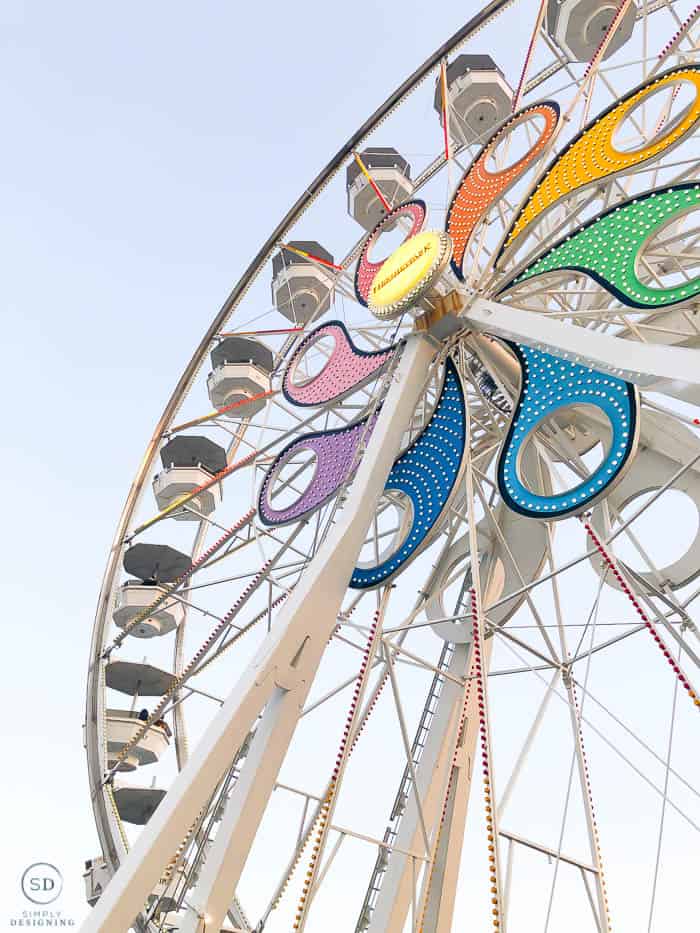 We let our kids make a lot of choices, and they chose to ride some of the rides multiple times!
We did not make it on all the rides, to a show or to Zoo America, but we probably could have done all of it if we hadn't done some of the things multiple times.
Overall this was a really fun park to revisit as an adult and my children loved going to it!
My big kids had a lot of fun riding all the big rides they wanted to ride!
They all had favorites but enjoyed everything they rode.
We also enjoyed the classic rides too like the swings!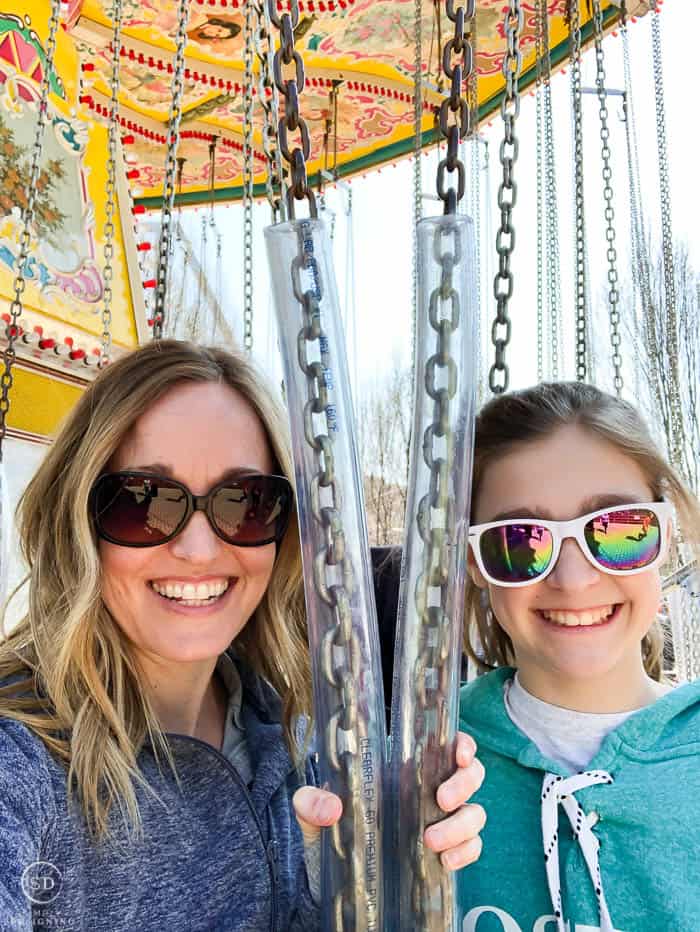 We REALLY loved that Hershey Park has so many rides suitable for little kiddos like my 2-year-old!
She wants to be just like the big kids and ride all the rides and we were grateful for so many great options for her at Hershey Park too!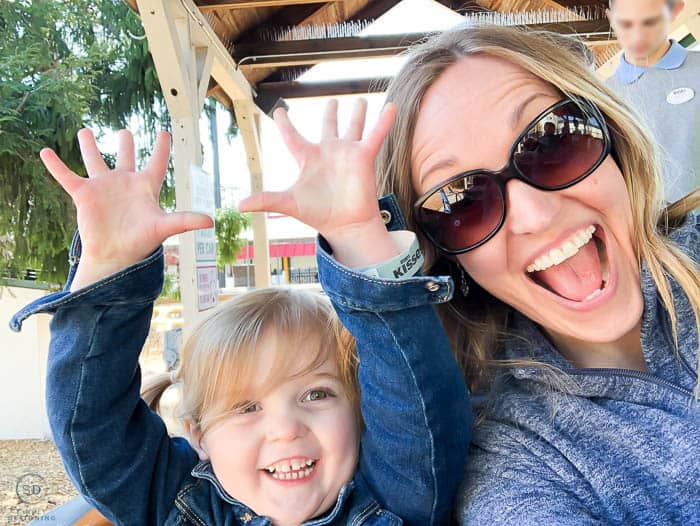 My littlest one was two when we went to Hershey Park and she had so much fun!
This is her and I right before we rode a roller coaster together!
She wanted to ride it again and again and again!
This was probably one of the truly most family-friendly for ALL ages amusement park we have been to all while being not too crowded and not overpriced.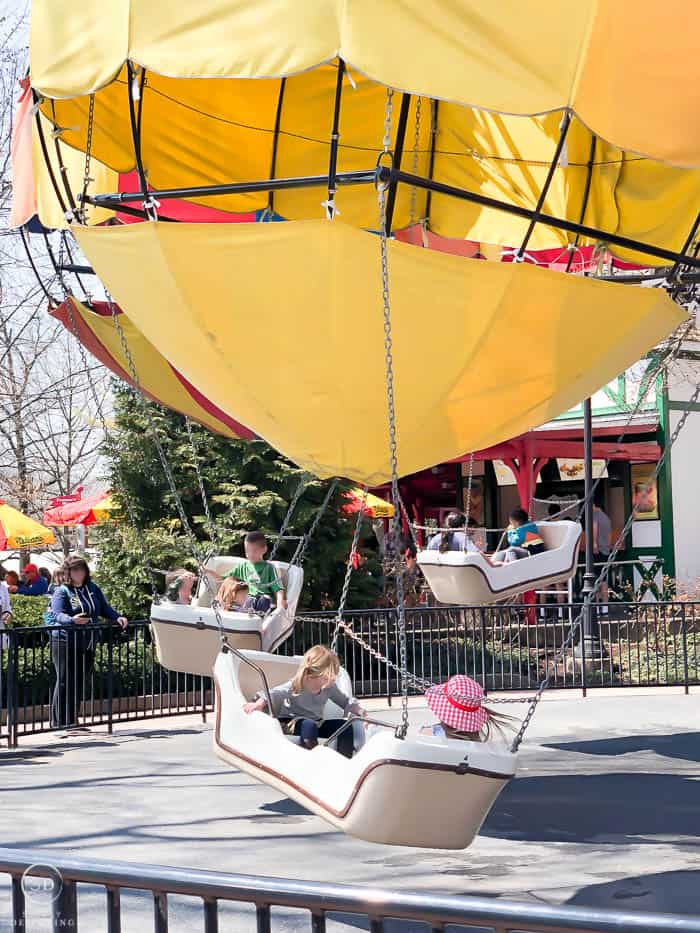 Hershey Park still held a lot of childhood memories for me while being updated with new things too!
I loved that there were rides I had never ridden there while still having some of my old favorites!
It was the perfect blend of new and nostalgic for me!
It is such a fun place to visit and I hope I get to go back there again sometime soon!

You might also enjoy these posts: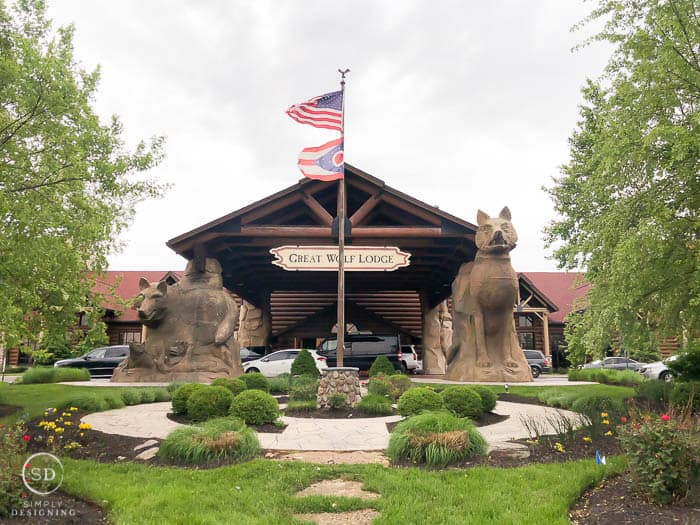 10 Tips for Visiting Great Wolf Lodge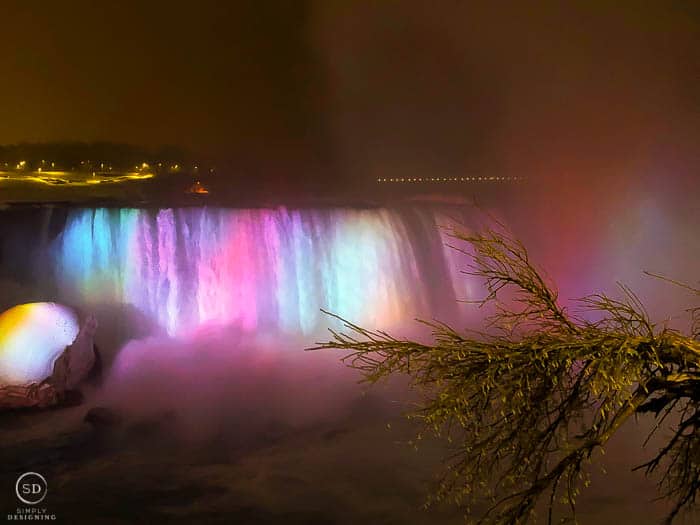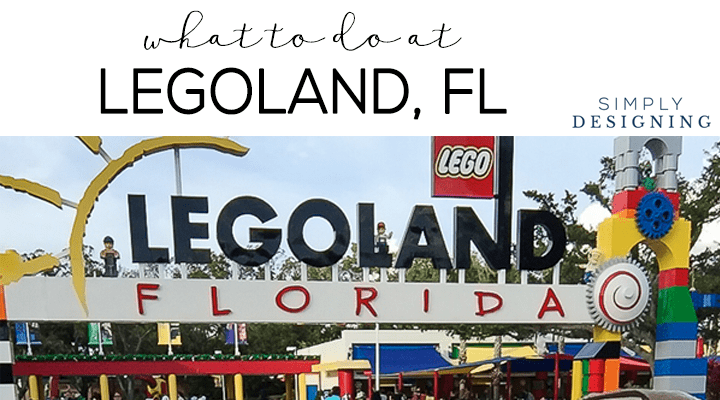 What to do at Legoland Florida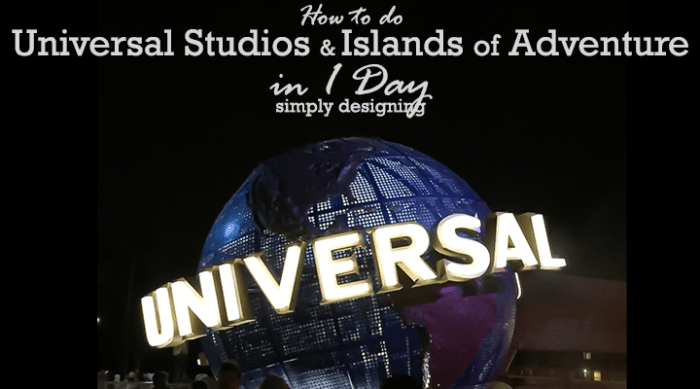 How to do Universal Studios in 1 Day