If you love Universal Orlando as much as we do, you may be interested in learning about their new Aventura Hotel! Today I am thrilled to share with you my thoughts and 5 Reasons to Stay at the new Aventura Hotel at Universal Orlando the next time you go to Universal! Check out my post from our last trip to Universal Orlando HERE, and then keep reading for all the details on this brand new hotel.

A big thank you to The Best of Orlando for sponsoring this post.
5 Reasons to Stay at the new Aventura Hotel at Universal Orlando
A few years ago I took my kids to Universal Orlando and they absolutely loved it! (read all about it HERE) It quickly became one of our favorite theme parks and I keep dreaming of going back now that my children are older.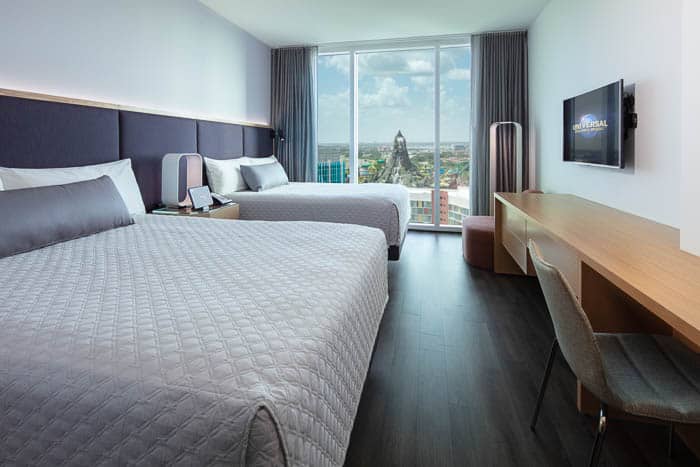 Should we stay on-site at Universal Orlando?
It is always a debate when we travel to theme parks if we stay on-site, or off-site. But after years of travel and staying both on and off-site at various theme parks, I now whole-heartedly prefer to stay on-site!
There are always so many amazing perks and benefits when you stay on-site, plus it is always super convenient, and I am all about convenience, especially when traveling with kids.
And with Universal's brand new beautiful Aventura Hotel...I am seriously saving my pennies to make it back to Universal Orlando ASAP because this hotel looks amazing!
What is the best Universal Orlando Hotel?
While I have not personally been to the Aventura Hotel, after looking into a lot of hotel options and researching this hotel in particular, I think it is the best Universal Orlando Hotel to stay at!
The perks, benefits, and amenities are amazing! Plus you get to stay in a beautifully modern hotel that is also kid-friendly! All while being steps away from Universal! Woot woot!
So let's chat about why you should definitely stay at the new Aventura Hotel the next time you do to Universal Orlando.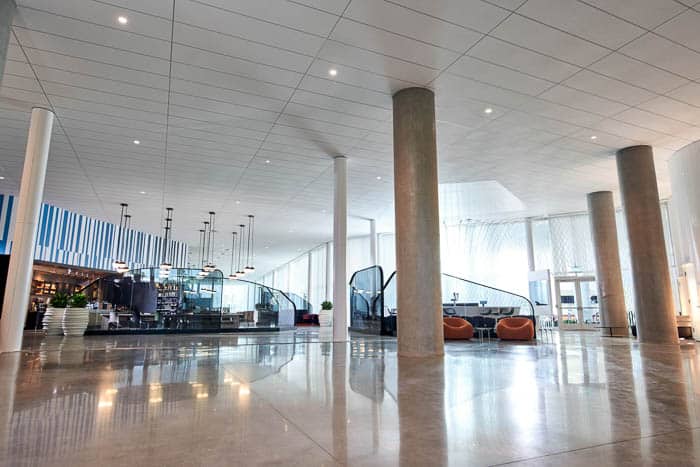 REASON 1: The Benefits of Staying On-Site at Universal Orlando
There are so many reasons why staying on-site at Universal Orlando is the best.
One of my favorite perks though is that you can get early admission to The Wizarding World of Harry Potter and Universal's Volcano Bay! The Wizarding World of Harry Potter can get really busy, so getting early access to this is a huge perk that many parents and kids will be happy to use.
This hotel is really close to Volcano Bay (Universal's water theme park), but you also get free transportation to Universal Studios Florida, Universal's Islands of Adventure and Universal CityWalk! I love that you can stay in one place and easily get everywhere you need to get!
Universal CityWalk offers complimentary access to select live entertainment venues while you stay at the Aventura Hotel. Of course, you need to check with them to see what offers are available during your stay, and it may vary, but it is definitely a perk worth checking out.
And when you shop at select stores, they will deliver all your packages to your room for FREE so no more lugging packages through theme parks with you! Woot woot!
REASON 2: It's Cool and Modern Yet Totally Kid Friendly
I LOVE staying in modern hotels! They are totally my jam. But so many modern hotels are not kid-friendly.
Thankfully, the Aventura Hotel super cool and modern yet it is totally kid-friendly!
From Kids Suites that sleep up to 5 to the Splash Zone, this hotel is definitely the perfect place for you to enjoy a swanky modern hotel, without worrying that your kids are out of place.
THANK YOU for making a hotel that I would love to stay at and that is welcoming to my children too!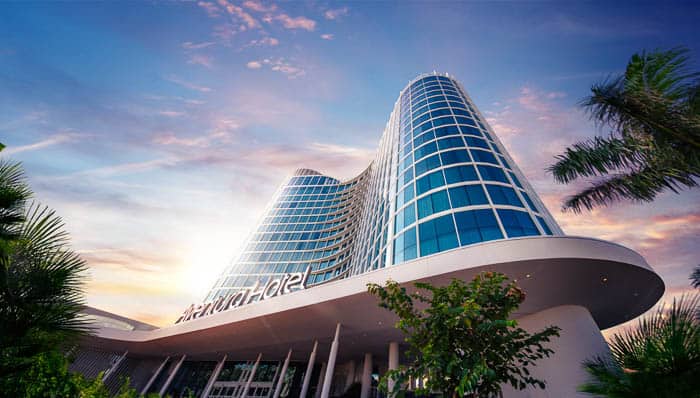 REASON 3: Brand New and Affordable
Who doesn't love staying in a brand new hotel!? I sure do! But often it costs a fortune.
Thankfully, the Aventura Hotel is completely affordable, especially considering the perks of staying there.
At the time of writing this article, standard rooms start at $120 a night (plus tax based on a 4-night stay) and Kid Suites start at $220 (plus tax based on a 4-night stay).
I absolutely can't wait to check out the Kids Suite. It has two twin beds in a separate sleeping area from a King Bed with a pull-out couch. So we can easily put our younger kids in bed early and enjoy a little quiet time by ourselves in the separate space.
Both rooms offer the upgrade option of beautiful views too.
REASON 4: Yummy Food Options
When we go to a theme park, our days are long, and we are often tired. Sourcing food is often done while exhausted and we never want to get in our car and drive somewhere.
Thankfully the Aventura offers some amazing food and drink options right on site so you never have to buckle tired kids in car seats in search of sustenance.
I love that this hotel has a Starbucks right on site! Yum!
But you can also grab drinks and food at Bistro 17 Bar on the rooftop (hello beautiful views) or head to the barVentura in the lobby for drinks during the evening.
And if you are hanging out by the pool, grab a mock-tail or frozen drink at Bar Sol.
The Urban Pantry is a food hall where you can pick and choose from an ever-changing option of food. From burgers to pizza to custom wok dish cooked just for you, you can easily feed the whole family here multiple times a day without complaint!
I am pretty sure my kids would ask to eat at the Urban Pantry every day!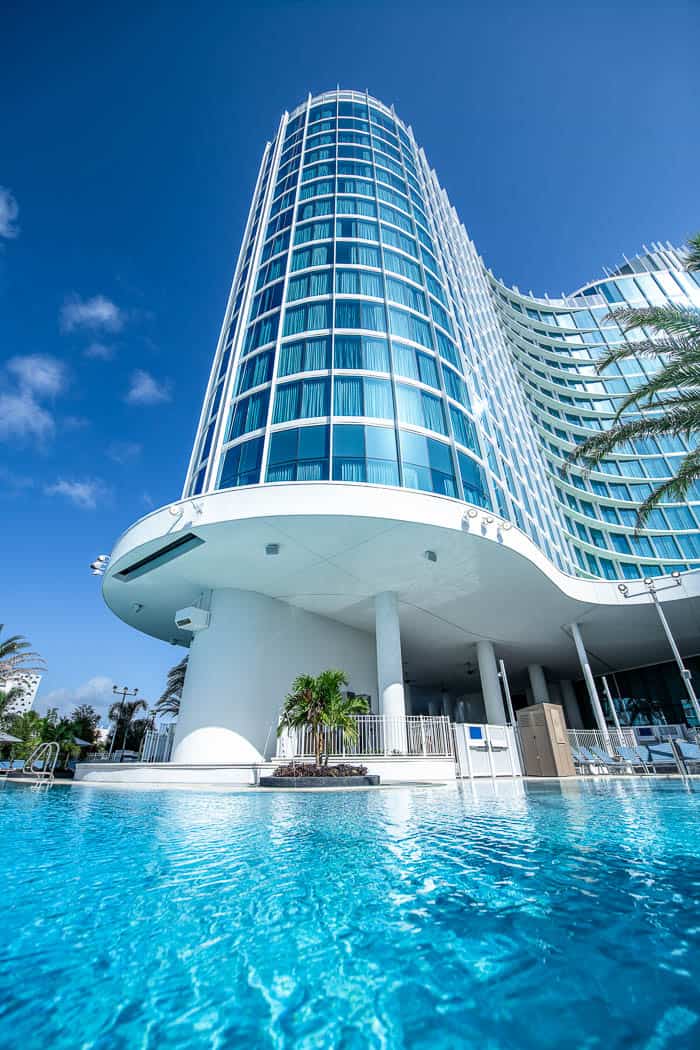 REASON 5: Amazing Amenities
Let's be real. Hotels with lots of amenities are the best! And the Aventura Hotel is not short on amazing amenities!
Here are a few of my favorite amenities at the Aventura Hotel:
Pool
Kids Splash Zone
Fitness Center
Virtual Reality Game Room
Resort Kids Camp (reservations recommended) (This has an additional fee, but you can let your kids have a great time at the Kids Camp while you enjoy some quiet alone time!)
Golf Universal Orlando
You guys, this hotel seriously looks SO amazing and I can tell you that the next time we head to Universal Orlando, we will for sure be booking a room at the amazing, modern and kid-friendly Aventura Hotel!
Head to The Best of Orlando to book your next Universal Orlando vacation.
If you enjoyed this post, you might also enjoy these too: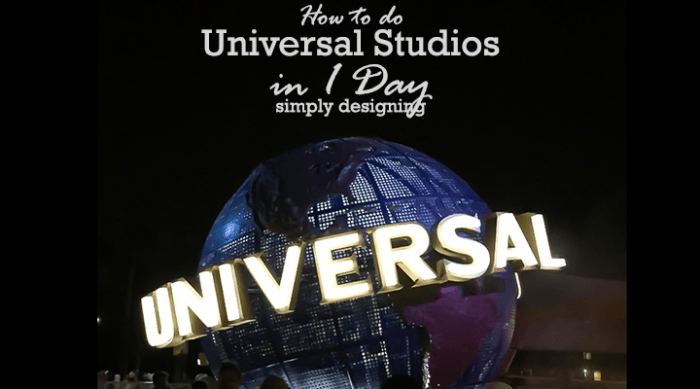 How to do Universal Studios in One Day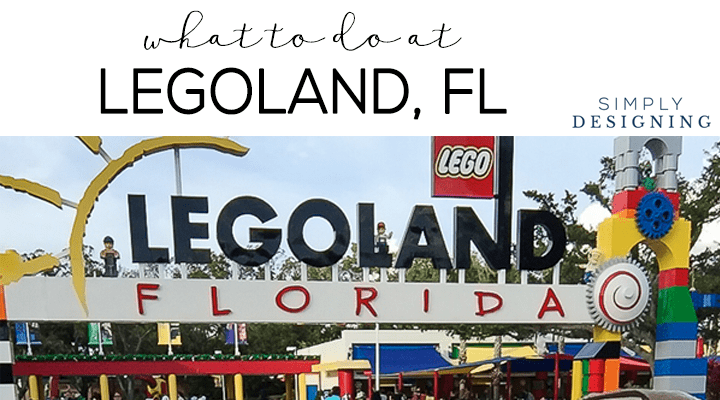 What to do at Legoland Florida