The other day I shared our favorite things to do in Oahu Hawaii!  We really just loved our time there.  After spending 3 days in Oahu, we boarded a plane and island hopped over to Maui!  I didn't know if we could love another island more than we loved Oahu, but Maui was amazing and definitely is tied for us.  We simply fell in love with Maui while we were there!  Oahu and Maui are different and our experiences on each island were very different, but we truly loved them both!  And I would go back to either of them in a heartbeat of course!  So today I am sharing my tips for what to do in Maui Hawaii!

I am going to share our trip like I shared our Oahu one.  I will share what we did each day so that you can see what is possible to do in about 4 days in Maui.  As a background for this trip, we knew Oahu would be busy.  We packed our days full while we were there.   But we wanted to relax a bit more on Maui.  So we took it a little easier and just enjoyed being in Hawaii, at the resort and near the ocean on this amazing island.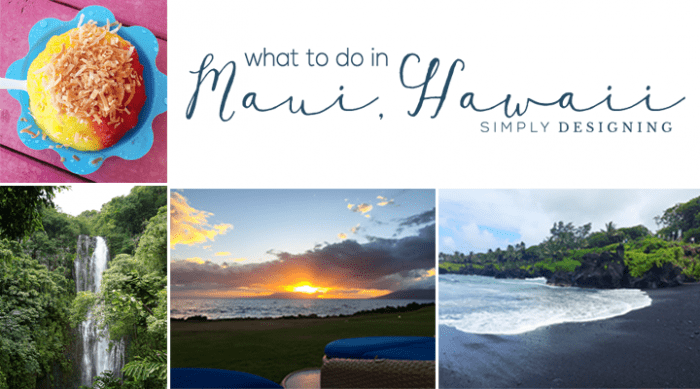 Here is what to do in Maui Hawaii in 4 days:

Day 1
We traveled from Oahu to Maui on a teeny tiny plane.  When we arrived we headed towards our hotel: the Marriott at Wailea Beach (affiliate link).  This hotel had been recommended to us by a friend and it did not disappoint.  We upgrade our room for an ocean view and it was so beautiful!
The pools at this resort were fantastic!  They have a family pool and an adults only pool.  The adults only pool is an infinity pool and it overlooks the ocean.  It is amazing!  On our way in we grabbed food at Monkeypod.  I had the fish tacos and they were to-die-for amazing!  I have never had better fish tacos then those.  Yum!  We checked in at the resort, walked around, went to the pool and watched the sunset.  The sunset from this resort was incredible.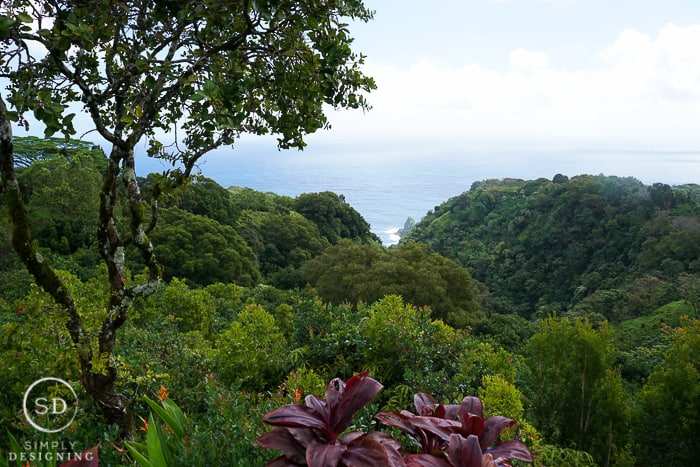 Day 2
We decided to travel on the Road to Hana on day 2.  We knew it would be a long day so we got an early start!  We stopped at most of the major places to stop at along the way!  I suggest getting a map or guide book ahead of time because there really are too many places to stop in one day and many of the places you will flat out miss if you don't know what to look for.  We were given a CD and book to use on our trip and it was so helpful.  It was a long trip, but it is definitely possible to hit all the major highlights in one day.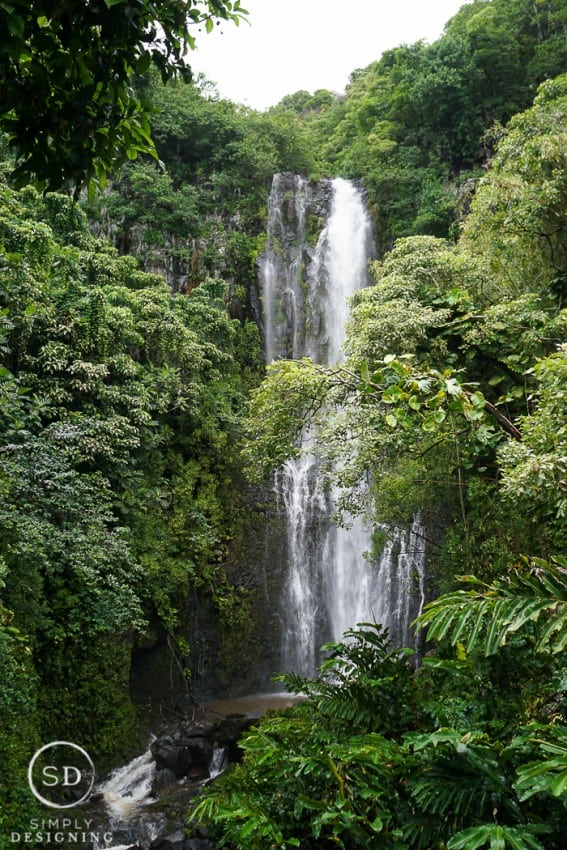 We saw beautiful forests, the spot where the beginning of Jurassic Park was filmed, painted trees, amazing flowers, so many incredible waterfalls!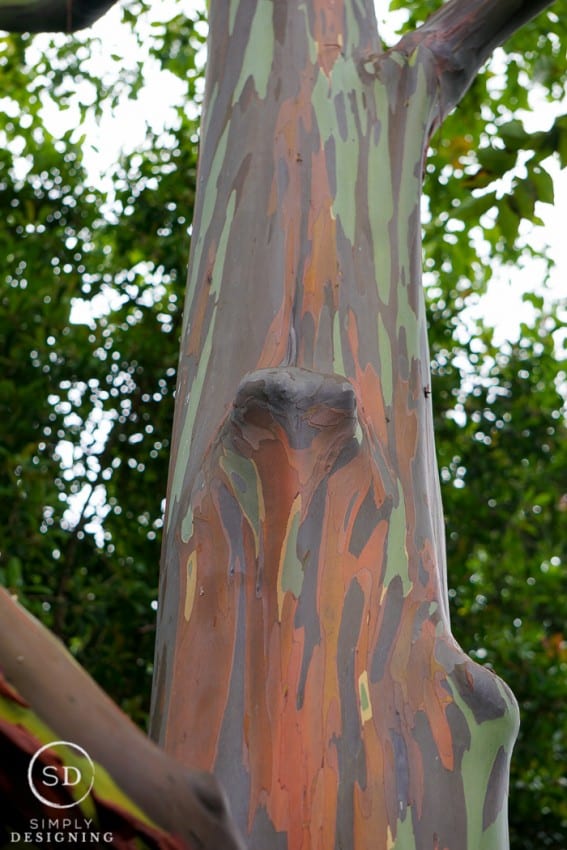 The trip up the road to Hana was incredible!  But it is a very narrow and windy road, it often becomes one lane and you need to be really careful while driving it because there is a cliff on one side of the road.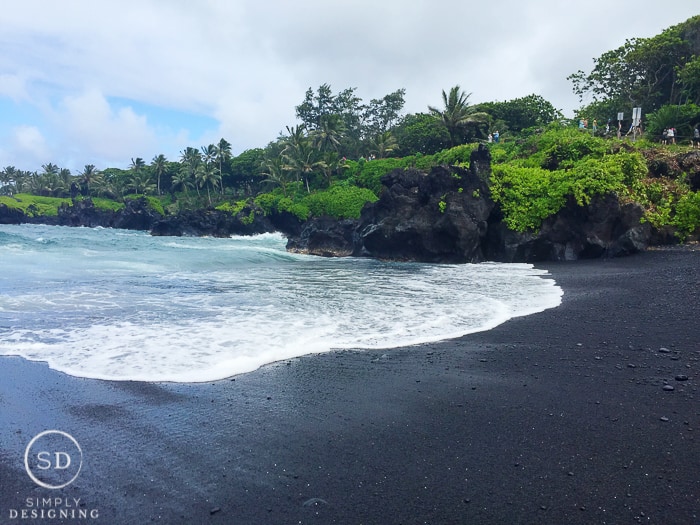 The Black Sand Beach was stunning!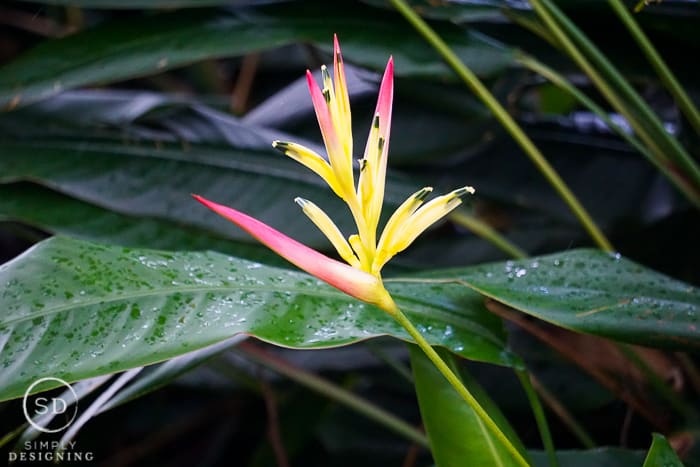 It sprinkled rain off and on during the day but it was ok.  It just made the colors more vibrant and beautiful!  When we got near the end, we couldn't see the seven sacred pools because they were flooded.  We could see them from the road a little bit, and we could just tell they were absolutely flooded.  I was a little sad that we couldn't see them, but it happens and it was ok.  We were at the end of the road and decided to head back to our hotel.
We were making great time until we came to a sudden and complete stop.  On a one lane portion of the road...with a steep cliff on one side of us.  After about an hour or two, we were told we needed to back down the windy, one lane road.  Not far in front of us, there had been a mudslide.  They needed to get proper vehicles through in order to clear the mudslide so that we could again travel on this road.  We were stopped for a couple of hours in total.  We tried to make the best of it of course by listening to music on my iphone and talking.
When we were able to pass through we could see where the mudslide had gone.  And we were just incredible grateful that we had been kept safe on our trip.
So the moral of the story is, the Road to Hana is incredible!  But take extra snacks just in case you end up stuck on the Road to Hana for a few hours.
When we got back to the hotel, we ordered room service and went straight to bed!  We were exhausted from our full day of driving and sightseeing!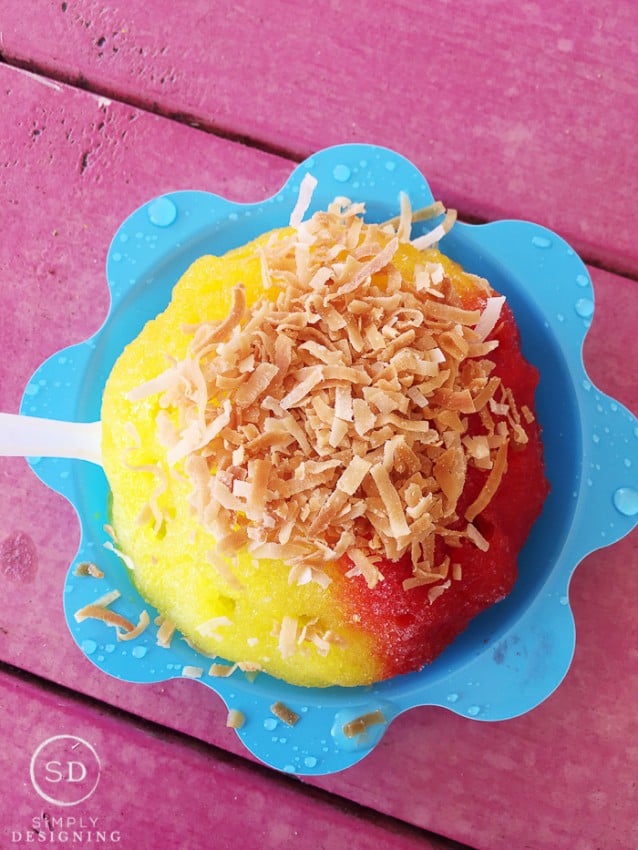 Day 3
On day 3 we went into Kihei and rented a surfboard for my husband at Maui Wave Rider.  He surfed in Cove Park in Kihei for about an hour.  And then we headed to Ululani's for the best shave ice that exists in the whole wide world, ever.  Like for reals.  This stuff is amazing!  I do not like shaved ice typically, I find it gross and I just don't like the syrupy flavors we get where I live.  But they use real, actual fruit juices and they taste amazing!  It makes shaved ice super super yummy!  I ordered mine with Macadamia Nut Ice Cream on bottom with Li Hing Mui (plum), Mango and Pineapple flavor with Toasted Coconut on top.  It.  Was.  Amazing.
We grabbed lunch at a local place in Kihei: Eskimo Candy.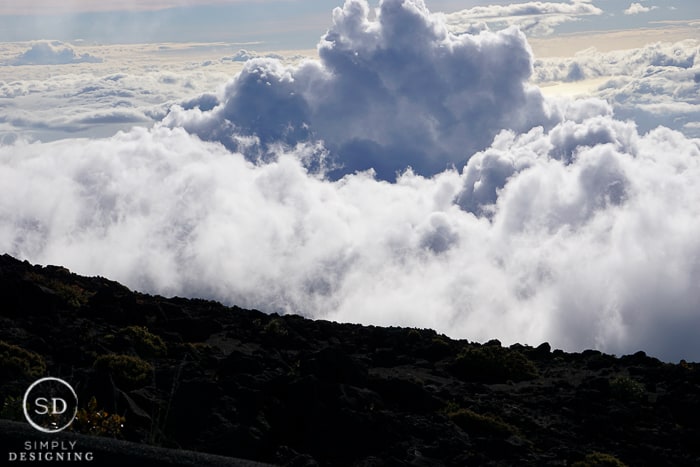 They we drove up to Haleakala Crater.  It was a beautiful drive.  But it was so cloudy and misty we couldn't see the fantastic view from the top.  But what we could see was simply amazing!
By the end of the trip I was feeling a bit sick because I was pregnant and it is a windy road up and down the crater, so we just grabbed food from a Safeway grocery store for dinner.
Day 4
We went to the beach at the hotel and tried to do a little snorkeling but it was too choppy of a morning.  We took the morning easy and just enjoyed being on Maui and spending time at the ocean.
We ate lunch at 808 Deli in Kihei.  I got the Porkie Sandwich and it was amazing!  I had a side of Potato Mac Salad and Lili Koi Passion drink and I got a yummy Chocolate Banana Pudding for dessert.
We drove to Maluaka Beach and snorkeled for a bit.  The water was choppy but not too bad and we saw a couple of turtles, tons of fish and coral.
We spent some time at the adults only, infinity pool at the hotel!  (Oh my gosh we loved love love this pool so much!)  We ate dinner at the Coconut Fish Cafe.  The fish tacos were yummy!  We topped off dinner with yummy gelato at Ono Gelato.
Day 5
We got up early and went to Maluaka Beach again.  The water was calmer in the morning and we saw so many beautiful and amazing fish!  We saw tons of pretty coral and three sea turtles (see the video above)!  Sea turtles are just amazing to see in person!  This was definitely a highlight of our trip!  It was such a fantastic and wonderful morning!  This is a great beach to go to on this side of the island for turtles.
We drove to La Perouse which was the last lava flow on Maui and was such a neat place to go visit.  And we snagged lunch at Nalu's Cafe.  Their Apple Brie Burger was quite delicious and the Malasadas were yummy too.
Then we took some time and just shopped in the local shops!  We found some fun things to bring home and we had so much fun just shopping for a bit.
We snagged one last shaved ice at Ululani's!  I got their No Ka'oi (Mango, Coconut and Passion Fruit) with Macadamia Nut Ice Cream on the bottom and Toasted Coconut on top!  Yum!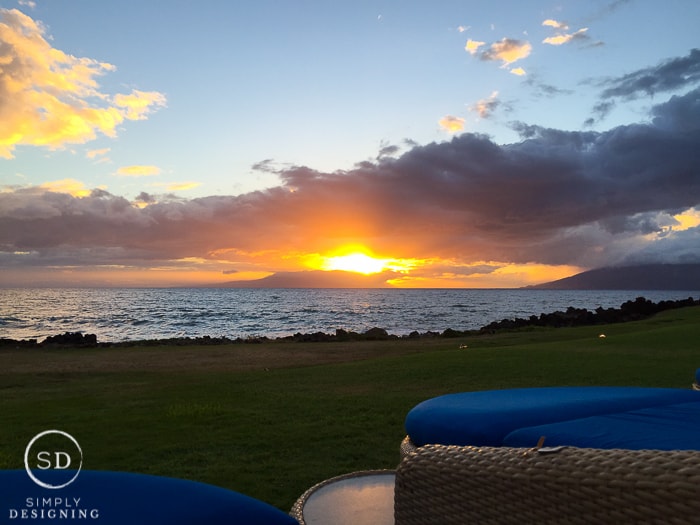 We enjoyed the rest of the relaxing evening on Maui and back at the hotel in the pool.  I really loved snagging a huge lounge chair for both my husband and I to sit on and watching the sunset.  The sunrises and sunsets in Hawaii are simply amazing and the view from the hotel of the sunset was stunning.  It is only made better by watching it set, while snuggling with your sweetie with a virgin Pina Colada in hand!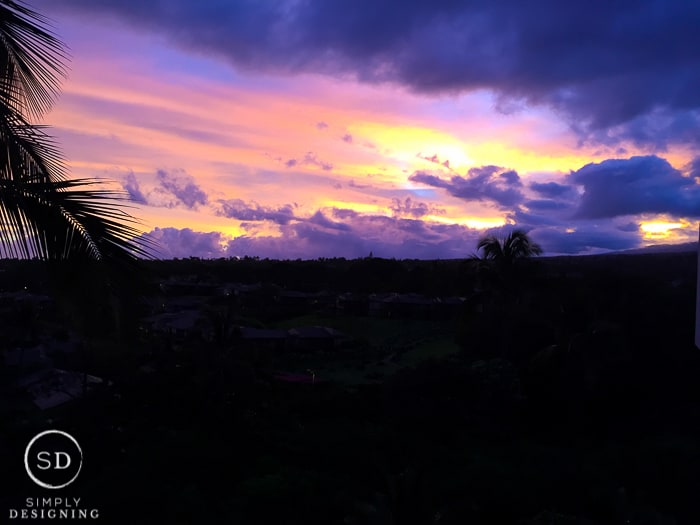 The sunrise was just as pretty!
Sadly the next day we had to leave to go home.  We really truly hated to leave.  This was honestly probably one of the most fun trips my husband and I have ever been on!  We just loved it so much!  And we are hoping to make it back there again sometime soon.
You might also enjoy: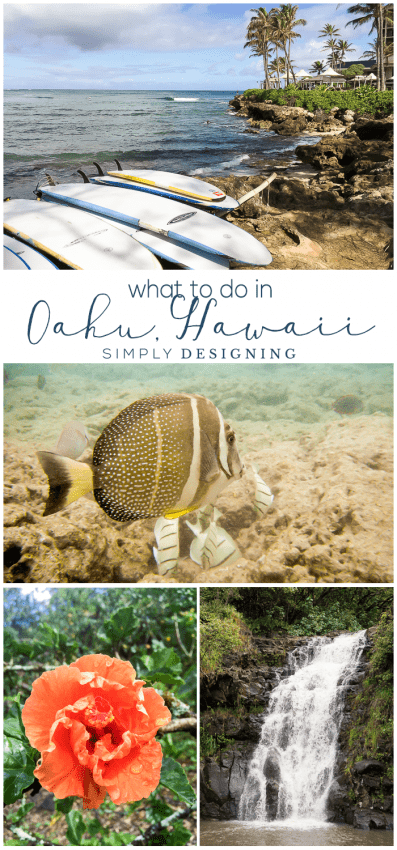 Family Guide to Visiting French Lick Indiana