Without the rain there would never be rainbows.  This is a quote that has been around for as long as I can remember, but it never struck real meaning with me until October of 2013.  So today I am really pleased to be able to share this amazingly beautiful free printable with you, share a little bit about my new printer that I printed it on, and also share why this quote has such great meaning to me.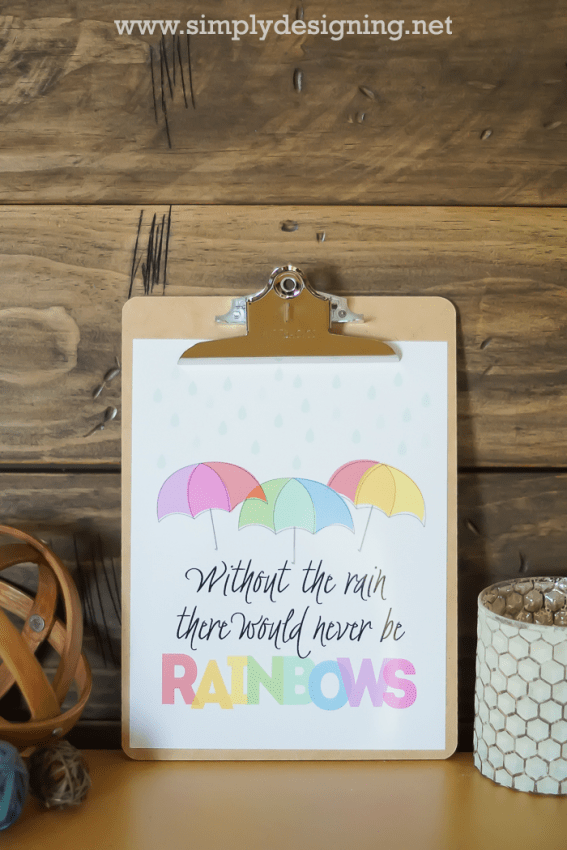 If you have been around here for a while, you know that in October 2013 we lost our son at 28 weeks.  (You can read all about it here.)  Back in 2013 I wrote a lot about our experiences and the little angel baby that came into our lives.  I have been meaning to write his birth story, but I didn't, for many reasons.  I worry about how posts like this will be perceived and I wasn't sure how to write about this experience with the amount of reverence and respect it truly deserves.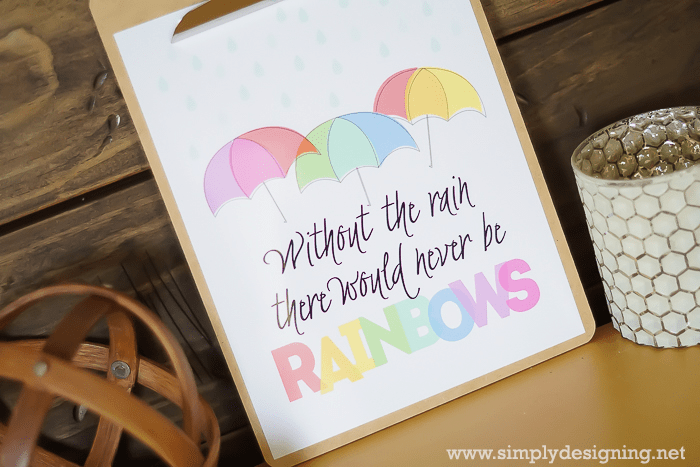 And while I won't share much, this little portion of his story needs to be told today.  I have had several friends and family members ask if I was planning to finish my story and I always indicate my good intentions.  And this has started to weigh heavily on me; that I needed to share more.  So when I asked my amazing talented friend from Paperelli to design a spring printable for me, without any guidance at all, she picked the phrase, "without the rain there would never be rainbows."  That's when I knew it really was time to write more.  So please bare with me today as I get a little personal.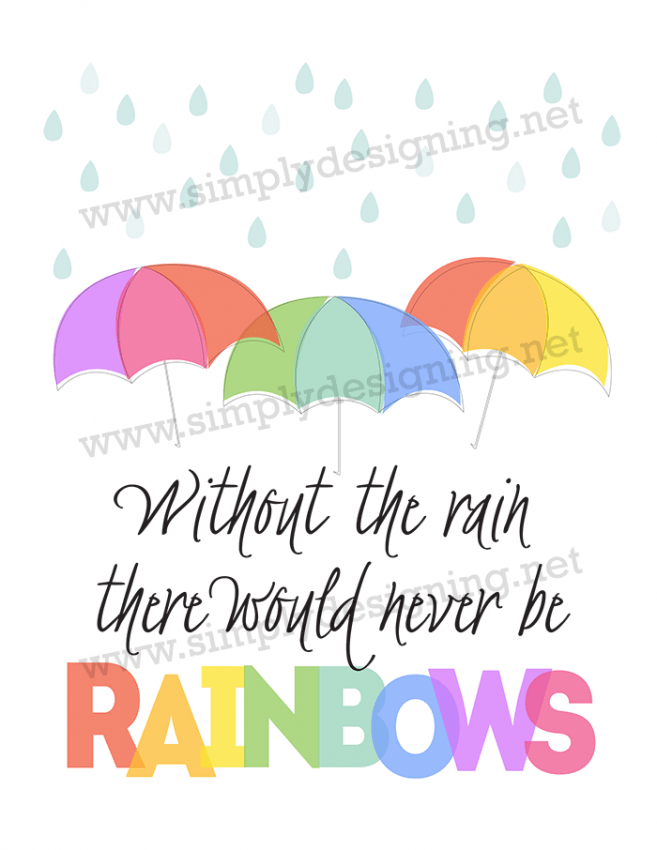 click HERE to download this free printable for personal use only
On October 17, 2013, a chilly and very dreary morning, my husband drove me to the hospital to give birth (although I didn't actually give birth until the 18th, but that's a story for another day).  I was 28 weeks along, but we had already lost our son.  Our spirits were as high as could be expected but I actually noticed that the dreary day reflected the somber mood in the car.  We knew that heaven had just gotten an angel and we believe that he will always be a part of our family, but we were about to embark on one of the most difficult days we had ever had.
While my husband was driving and I was gazing out the window, a perfect, beautiful rainbow appeared.  It was a complete rainbow that could be seen from end to end!  A sight that is so rarely seen, yet on this morning, we could not have missed it.  It took my breath away and I almost couldn't speak because the symbolism was so strong.  We felt like this rainbow was just for us.  We were coming close the the end of a challenging storm in our life, and here was our rainbow, our reminder of all the promises God has given us.
We both felt as if it was our own personal sign that God was aware of us on this day.  That as we truly faced one of the most challenging things in our life, He was aware and He was with us.  We were not alone.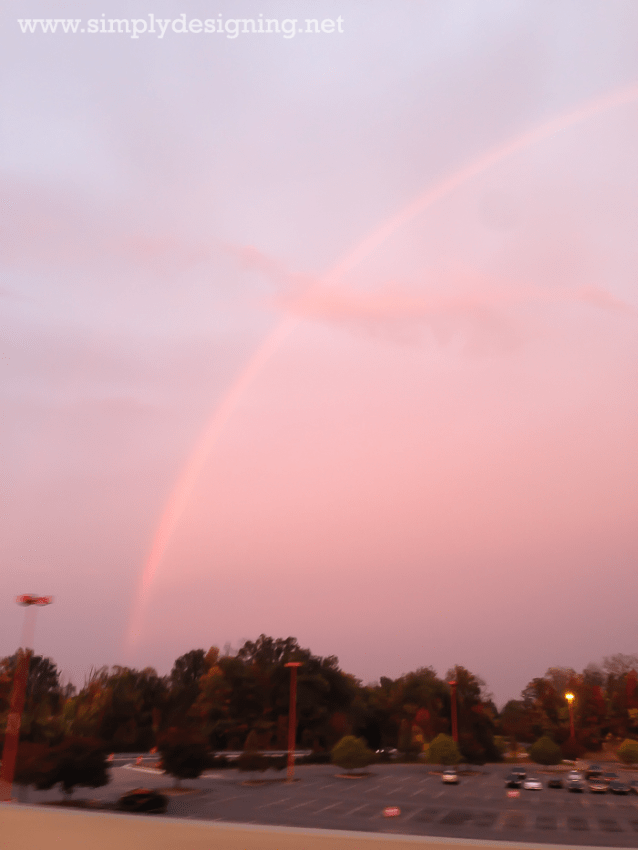 Without the Rain there would never be Rainbows.  We all have trials in our life and those times when our life is filled with rain, we need to remember that rainbows come only because of the rain.  And with every hard trial, blessings and good things will come too.  Sometimes we just have to look out our window and take the time to notice them.
That day, in the midst of the most difficult storm we had weathered, we were so grateful for the no-so-subtle reminder that God was with us and that even in the storms, there are always rainbows.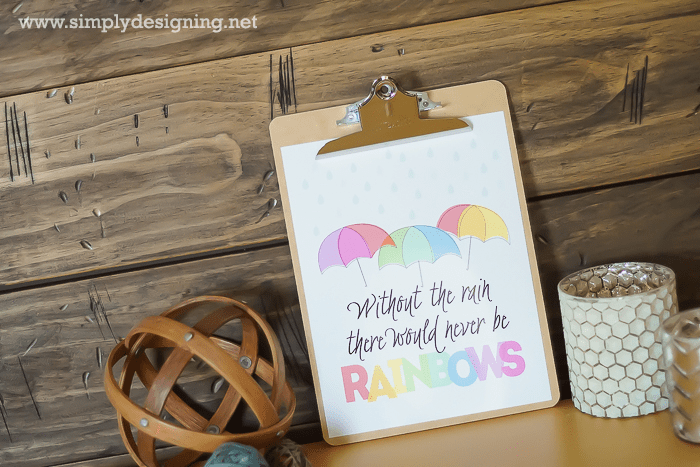 If you haven't read my other blog posts about our journey, please be sure to start HERE.
And feel free to download this super cute printable HERE
And isn't this printable just so beautiful!  For the last several months I have been having all my printables printed at a local print shop.  It is neither convenient nor cheap.  But my printer has been giving me such issues!  So when HP reached out to see if I wanted to try out one of their new printers with their Instant Ink program, I was absolutely thrilled at the chance!  Thanks HP for making this post possible today and for helping me to get a little personal on my blog today!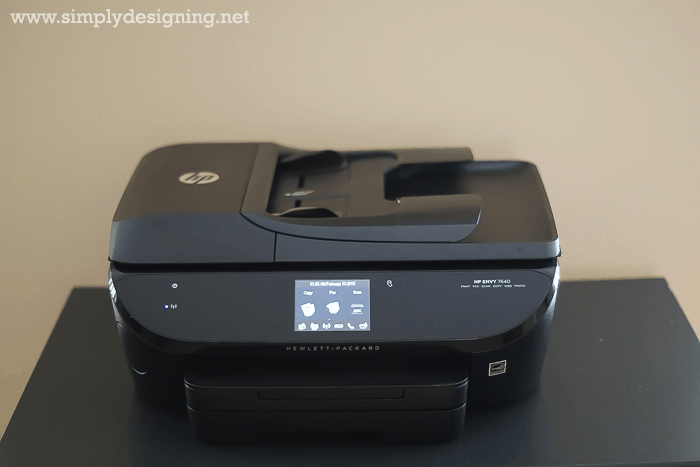 I printed this beautiful printable on my new HP Envy 7640 and let me tell you it is a dream!  It prints quickly and quietly (at least quicker and quieter then my last printer) and the colors are simply stunning!  It was fairly quick to set up (although I had a slight complication getting my printer web enabled) but once I figured it out, I was able to print from anywhere!
The thing I love about this printer is that I am able to print from my computer (wirelessly) from my iPhone and iPad, and even remotely!  Yes, I can be in another state and send something to my printer to print!  It is pretty awesome!  In fact, I actually printed this very print above from my iPhone just because I wanted to see how it worked.  And honestly, the quality was so impressive!  (I printed this on HP Everyday Glossy Photo Paper.)
I also am thrilled about their Instant Ink program.  This only works on certain HP printers, but it is an awesome feature of this printer.  They monitor the printer usage and for a monthly fee, automatically send me ink in the mail before I run out!  Oh I can't tell you all the times I have run out of ink!  This is such a convenient feature that I am so excited about!  I am really happy to have a new printer that works seamlessly and fills all the needs we have!
And I am so grateful and touched to have this new printable in my house!
So now I want to know, have you had a time when a "rainbow" has appeared in your life after a storm?  Leave a comment and share your story!
Here are all the posts in this series about our family's journey: