I participated in an Ambassador Program on behalf of Influence Central for Vanity Fair Lingerie.  I received product samples to facilitate my review and compensation to thank me for my participation.  #WomenWhoDo #IC 
The other day I found an old scrapbook.  My daughter and I had a lot of fun looking through it and laughing.  As I looked back at photos of me, I wondered if I even cared at all about what I looked like!  I was pretty into big, huge, baggie (ie things that belonged to by 8 year-older-then-me-brother) clothing and wondered what in the world I was thinking!  Then I realized that's what everyone wore back then (yes I'm old) and I remembered that I was actually quite stylish.  Hm.  Funny how fashion changes.  Although wearing my older brother's big clothing is probably not the most flattering look for me, I also get sick of hearing what I "should" and "should not" wear based on my age, body shape and features.  Because at the end of the day, what's in today will be out tomorrow and fashion is all a matter of time and perspective.  (Believe me, I know, I lived through the 80's and now many of those styles are back.)  So today I want to share with you 5 Fashion Myths you need to ignore.  Really...just forget you ever heard them...they are rubbish...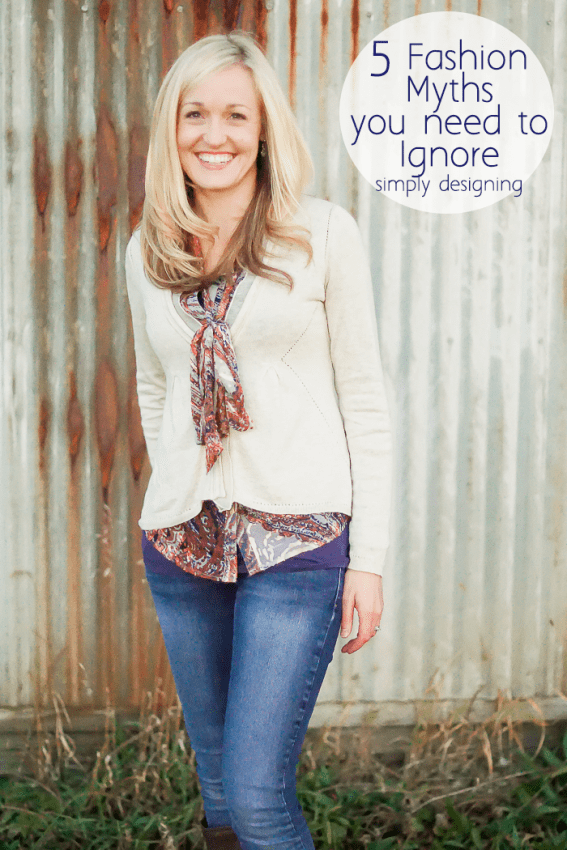 5 Fashion Myths You Need to Ignore
Some rules really are meant to be broken and when it comes to fashion, here are 5 myths that need to go away for good:
Don't Wear White After Labor Day
I grew up hearing this myth!  And while I agree that some white doesn't work after labor day, it is usually a matter of the style and fabric and not color.  White linen pants should probably not be worn after labor day, but a warm cream sweater, a beautiful ivory pea coat or that pretty white scarf can all be beautiful additions to your wardrobe all year long.
Don't Mix Prints
Hm.  This one can be tough because sometimes, prints do NOT work together.  But I am all for mixing prints, judiciously!  Ensure that the prints have similar "feels", colors and styles to them.  Mix and match prints, just don't over-do it and aim for patterns with similarity to ensure coordination.
Don't Wear Brown and Black (or black and navy, or silver and gold...)
This falls under the same category of don't mix prints together.  Black and brown, black and navy, silver and gold, these color combinations our mother's told us did not work together, can totally work together if done carefully!  So be bold and wear your brown boots with your charcoal sweater, you can totally pull it off as a modern and trendy outfit!  Also, mix gold and silver with reckless abandon!  Mixing metallics is very chic and sophisticated right now!  And some of the most sophisticated outfits I have seen include both navy and black.  So don't be afraid to mix and match these together.
Stripes will make you look Heavier
Nope.  The key is to ensure you have well-fitting garments and that you love how they look!  Stripes (and any bold pattern) will draw attention though.  So if you love stripes but feel a little uncomfortable in them still, try pairing a striped shirt with a plain cardigan.  You will still have a beautiful patterned look, without being quite so bold.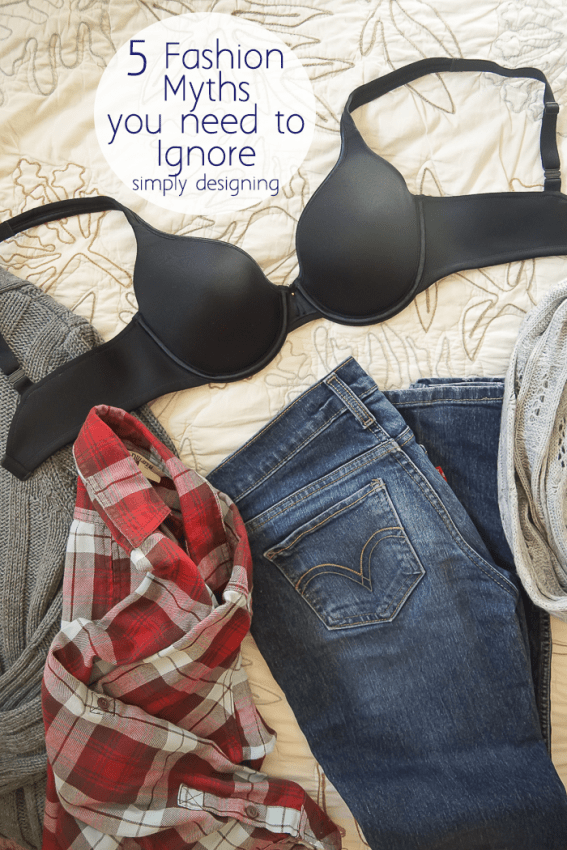 Undergarments Don't Matter
It is not ok to just care about your outer clothing, your undergarments matter too!  In fact, one of the key elements to feeling confident in any outfit (no matter what fashion "rules" you may or may not be breaking) is to begin by having well fitting, well supporting and beautiful undergarments!
I fully believe that you can wear whatever you feel most comfortable in and feel confident if you begin with a foundation that fits well, enhances your natural beauty and provides a smooth silhouette underneath your clothing.  Which is one of the reasons that I am happy to be partnering with Vanity Fair and Dress for Success to help and empower women everywhere, in every walk of life, feel comfortable and confident.
Vanity Fair recently sent me a surprise in the mail: a Body Caress Full Coverage Underwire Bra.  This is one of the types of bras that I tried on when I was in NYC this past summer, but I did not choose to bring any home at that time.  So I was excited to be able to have the opportunity to try this bra out!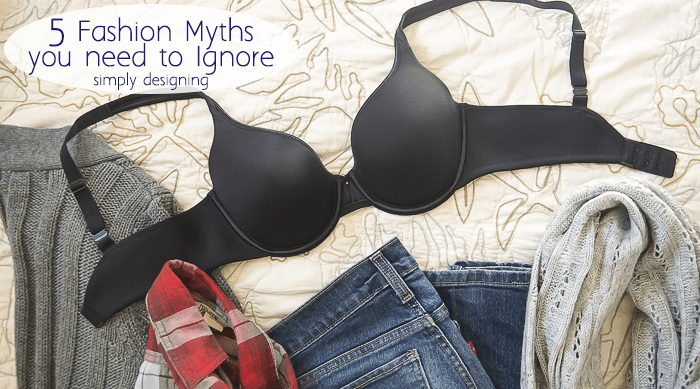 The Body Caress bra is designed for everyday wear and provides support while still ensuring a smooth look just like my other Vanity Fair bras do!  What is neat about this particular bra is that the straps are convertible so it is very flexible.  While my clothing doesn't have the need for me to convert my straps, I did like this bra a lot.  I found it really comfortable to wear and very supportive too.  And I love that I get the same beauty back features on this bra that I do on my other ones!  And most importantly, it made me look good and feel confident in my every day (and nicer) clothing!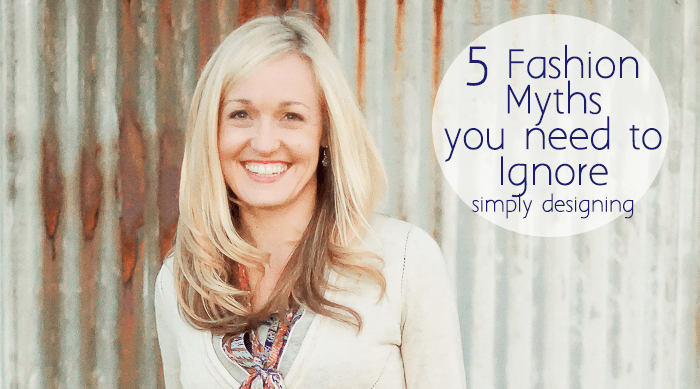 The most important fashion RULE in my book is to feel good about how you look!  And I truly believe that beginning with well-fitting and well-supporting undergarments is one of the key ways to do that.  So whether you wear white after labor day, or horizontal stripes...you can feel confident knowing you look and feel good!
You might also enjoy: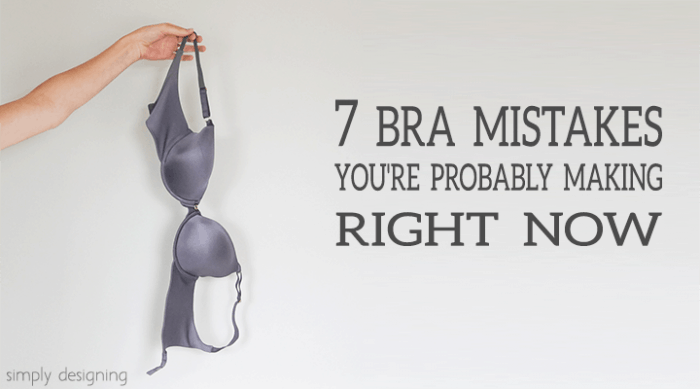 7 Bra Mistakes You Are Probably Making Right Now